What Is Overlanding?
Overlanding refers to vehicle-based, off road travel with a large focus on self-reliance. When it comes to overlanding, the journey is the adventure.
Traveling to remote destinations can range from a single night trip to year-long expeditions.
Overlanding requires specific gear and techniques to get your vehicle through rough terrain and across landscapes that traditional vehicles would not be able to cross.
Overlanding Gear
---
---
---
---
---
---
---
---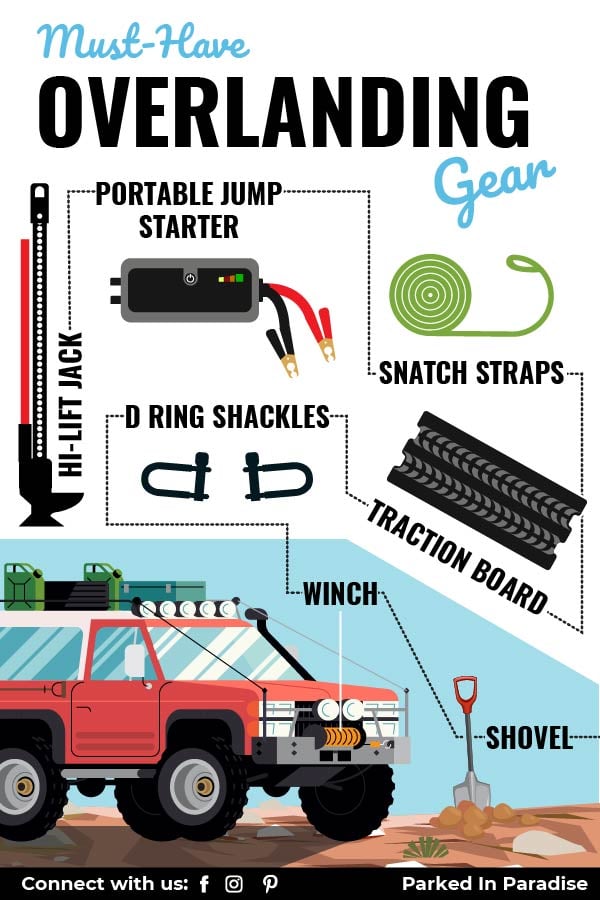 Overlanding VS Four Wheeling
Overlanding fulfills the desire to travel to new and unfamiliar locations. Often that includes traveling through undocumented roads or regions, interacting with other cultures, and most importantly, being self-reliant.
Four wheeling and off-roading are more focused on overcoming obstacles. These activities are more commonly done close to amenities with less emphasis on living from the vehicle. There are many variations ranging from mud bogs to hill climbs to rock crawling.
There is a lot of overlap in the gear and techniques for overlanding and four wheeling, but there are some major differences related to trip duration and planning.
Someone overlanding for the first time should have some background experience in four wheeling, backcountry camping, and route-finding (or at least partner with someone who does!)

Recovery Gear And Equipment
If you want to go overlanding without getting stuck, there are a few pieces of equipment you should always pack. These are examples of the basic gear that you should travel with at a minimum.
Shovel: A fiberglass shovel has great strength capacity for the weight. We recommend D-handle shovels because they are easy to work with and will give you a good amount of leverage for recovery.
Winch: Using a strong steel or synthetic rope cable, winches can pull your vehicle out of precarious situations and get your vehicle un-stuck. Coupled with snatch straps, shackles, and a nuanced approach you can drag your vehicle up and out of danger.
Traction boards: A recovery board can be slipped under your tires in snow, sand or mud to prevent the tires from spinning out.
Hi-lift jack: Also known as farm jacks, this is a versatile piece of gear that can be used for changing your tires, lifting your vehicle up and out of ditches, or a myriad of other instances.
Snatch straps and D ring shackles: High quality straps and shackles can be used for towing vehicles, pulling equipment, and dragging yourself across rough terrain.
Portable jump starter: While regular jumper cables will do the trick, portable jump starters are becoming increasingly popular. These are small and lightweight devices that can fit inside your glove box. You can charge the battery at home, and keep it in your jeep in case of emergency. They are easy to use and will save you the hassle of having to hook into your friend's truck.