Best Truck Bed And SUV Air Mattress
By
on
This post may contain affiliate links. As an Amazon Associate, I earn from qualifying purchases. Please read my full disclosure.
If you own a pickup or SUV and enjoy camping, it makes sense to add a truck bed air mattress to your gear list. Inflatable mattresses built for a truck make it easy to pull into a campsite then hop straight into bed. You'll sleep comfortably off the ground, and avoid the wind and rain. Plus there's minimal set up required.
Camping mattresses built specifically for off-roading vehicles fit perfectly and are constructed to withstand heavy use. Most models also come with a 12-volt pump included so they can be inflated with your truck's cigarette lighter.
In this article, we'll take a closer look at how to find the best camping mattress for your truck bed or SUV:
TOP CHOICE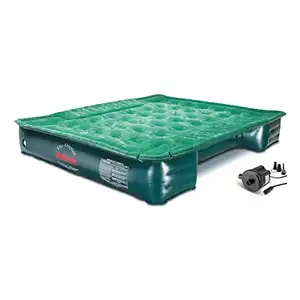 MOST PORTABLE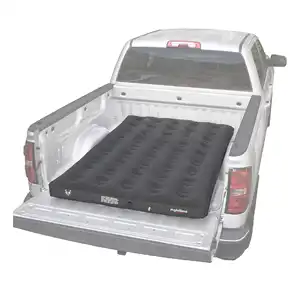 BEST SUV MATTRESS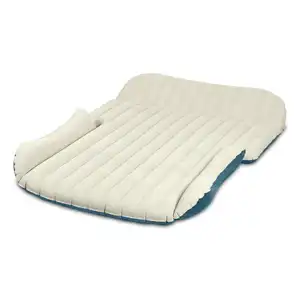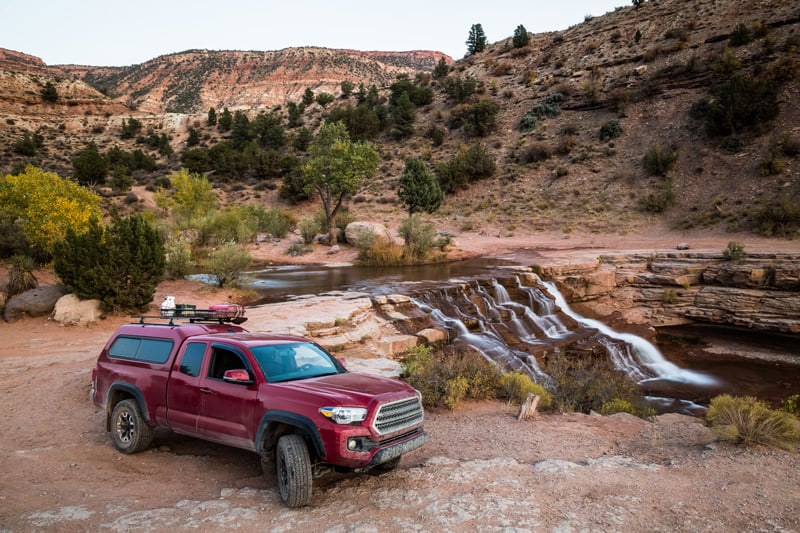 Why Choose a Truck Specific Air Mattress?
A truck mattress is an inflatable bed built for the rear of your vehicle. It's similar to an air mattress used in a tent or house but they're designed to accommodate the unique shape of a vehicle.
The Perfect Fit: Truck mattresses have cut-outs to fit snugly around your vehicle's wheel wells. That maximizes your sleeping space and takes advantage of every inch of your pickup bed.
Similarily, SUV mattresses have folds that make the best use of space when the seats are laid down.
Easy Set-Up: When you're setting up sleeping arrangements for a traditional camping trip you need to pitch a tent, lay down a ground pad, and unroll a sleeping bag. With a truck mattress, you simply plug the product into the cigarette lighter and inflate it. There's no struggling to find an even surface or haul excess gear around.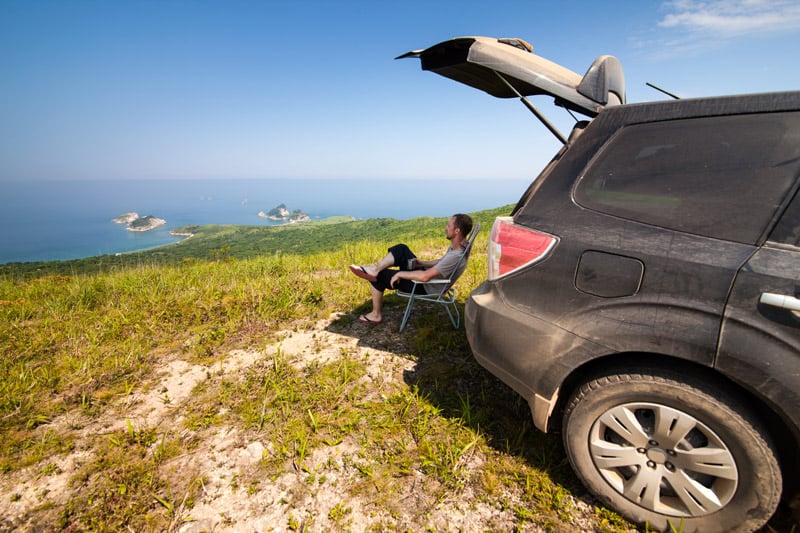 Less Gear: Not only is there less camping gear to pack, but you can prepare a sleeping arrangement for two people at once. Pairing a large air mattress with a double sleeping bag is all you need for you and your partner.
Extra Padding: An inflatable mattress provides up to 12 inches of padding between you and the sleeping surface. With that much cushioning, you won't feel any uneven groves interrupting your sleep.
Withstand The Elements: An SUV can be significantly warmer than a tent; especially in high winds or heavy rain. Plus, setup is practically non-existent. Instead of pitching a tent in poor weather, you only need to inflate the mattress, and your bed is set for the night.
Save Money: These mattresses are also a popular option for anyone on a road trip. Instead of paying for a hotel each night, you can pull over to a rest stop or out-of-the-way location and sleep comfortably in the back of your truck.
Who Is It Good For?
When you go on a camping trip there are a few different sleeping arrangements to choose from. You can tough it out with blankets, sleep on a thin ground pad or cot inside the tent, go hammock camping, or pack an inflatable mattress.
It's easy to see which of these choices would be the most comfortable.
Many campers prefer sleeping on a mattress inside their vehicle than inside a tent. This is especially true if you own a pickup or spacious SUV.
Are There Any Disadvantages?
There aren't many disadvantages to this campground setup, but there are a few potential issues. First, storage can be a problem. Packing up a mattress gets tricky if your truck or SUV is already filled with gear. They're also heavier than a traditional sleeping bag which can be an issue if you don't have the strength to lift a lot of weight.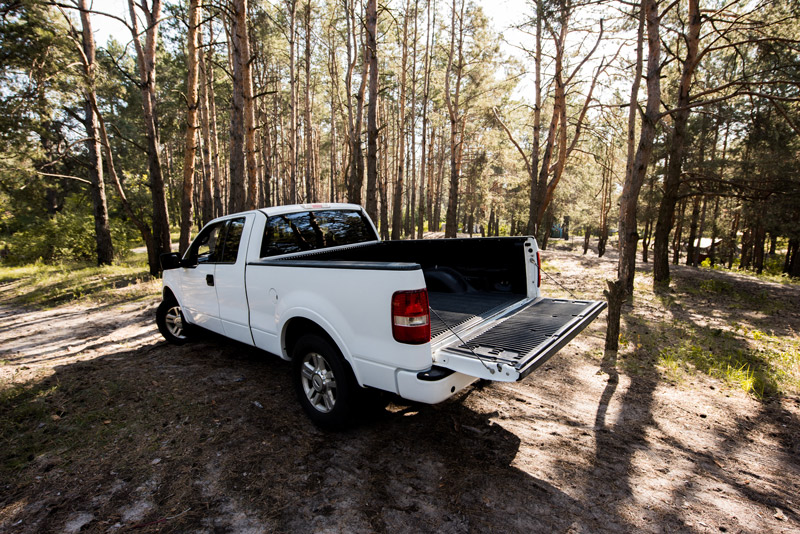 What To Look For In A Pickup Air Mattress
Size and Fit
As long as your vehicle hasn't undergone significant modifications, you should have no problem finding a mattress that fits well. However, to get the best sleep accurate measurements are crucial. You'll want to measure the following sections:
The length of the truck bed from behind the cab or back seats to the tailgate.
The width between sidewalls
The width between the wheel wells
Generally, mattress sizes are divided into three categories:
Full: 54" by 74"
Full XL: 54" by 80" (Designed for long bed pick-ups)
Queen: 60" by 80"
Full-sized mattresses will fit in the bed of nearly any pickup. Full XL mattresses are 6 inches longer so they are best for long-bed pickups. They can also work in a standard truck with the tailgate down. Queen sized mattresses are the largest and will only fit in the largest of trucks.
Similar measurements should be taken for SUV mattresses. You'll want to fold down the seats and measure the narrowest point both lengthwise and widthwise to get a better idea of what type of mattress will fit. SUV mattresses have folds built-in so they can be more flexible in terms of sizing.
Thickness
Generally, an inflatable truck mattress is thinner than the type you would find at home. Most air mattresses for trucks range from 8-12 inches. Thicker mattresses are can be more comfortable than thinner ones, although they can take longer to inflate. You'll also want to pay attention to how many air chambers there are. The more chambers, the better distribution of weights you'll get which makes for more comfortable sleep.
When it comes to sport utility vehicles, you won't need as thick of a mattress. The folded down seats will provide some extra cushioning and you'll be grateful to have a bit more headroom inside.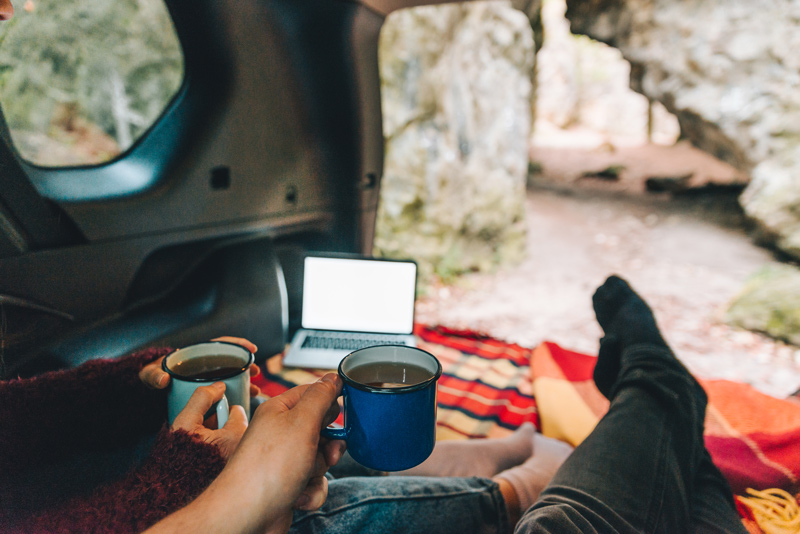 Materials
Most mattresses are made from PVC. This is a tough and durable material while also remaining flexible. Truck beds, especially those exposed to the outside, are likely to be filled with small bits of dirt and debris. PVC is strong enough to prevent accidental leaks. However, it's not the most comfortable material against your skin so chances are high that you'll want to cover it with a bedsheet.
Another option is a brushed fabric. This is a softer, more comfortable surface. If you want to keep an air mattress in your car for occasional or emergency use, brushed fabric is a good choice because you don't have to store a sheet.
Wheel Well Cutouts
The wheel wells are the main reason why traditional air mattresses struggle to fit properly inside a vehicle. You'll want the cutouts in the mattress to fit snugly around your truck's wheel wells.
Many mattresses come with filler pieces that allow you to use it on the ground outside of a vehicle. This can be especially useful if you decide to switch to a tent last-minute.
12-Volt Air Pump
Fortunately, you don't have to blow up the mattress manually. Almost all mattresses include a 12 Volt electric pump. They plug directly into your cigarette lighter and inflate your mattress in minutes.
One thing to look for is pumps that come with a long cord. It should be able to reach from your cigarette lighter all the way to the rear of your vehicle. That way you can inflate the mattress in place. For long truck beds, you'll likely need to run the cord through the cab window.
Best Truck Bed Air Mattresses Reviewed
Sizing, materials, and 12-volt air pumps are some of the most important features to look for in a mattress. We've taken a look at the most popular options out there and narrowed down the list to make it easier to digest. Below you'll find our favorite choices.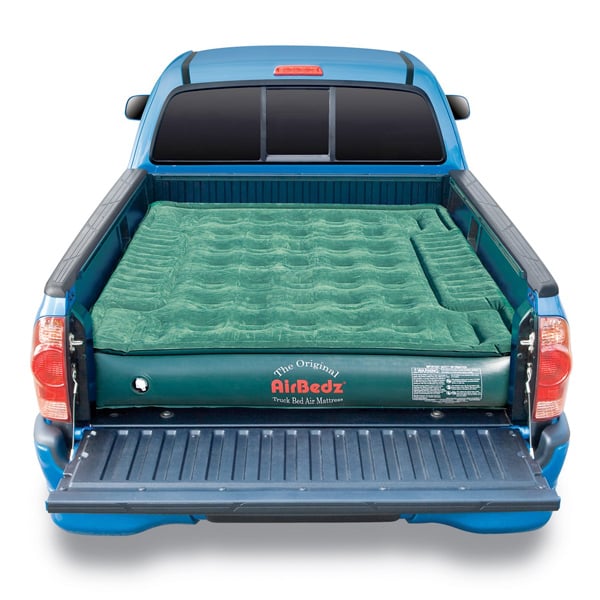 TOP CHOICE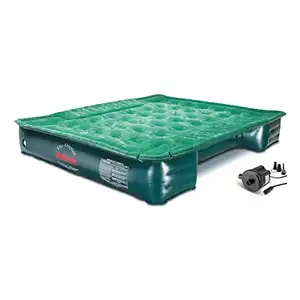 If you're looking for the best all-around choice, we recommend the AirBedz Lite. It's a popular option because of the combination of reliable construction and maximum comfort. This air mattress is made from high-grade PVC so you can use it both in an SUV or pick-ups with beds between six and eight feet long.
There is a Comfort Coil System built inside that helps distribute weight evenly across the mattress to avoid bouncing. Air coils also cover the wheel wells to provide extra padding. The mattress is a comfy 12-inches thick.
What we like about this mattress is the 12v Air Pump and 16-foot cord that comes included. The cord is long enough that you can inflate the mattress in-place from your cigarette lighter. This mattress also comes with filler pieces that can be placed inside the wheel well cutouts so you can use it comfortably on the flat ground as well.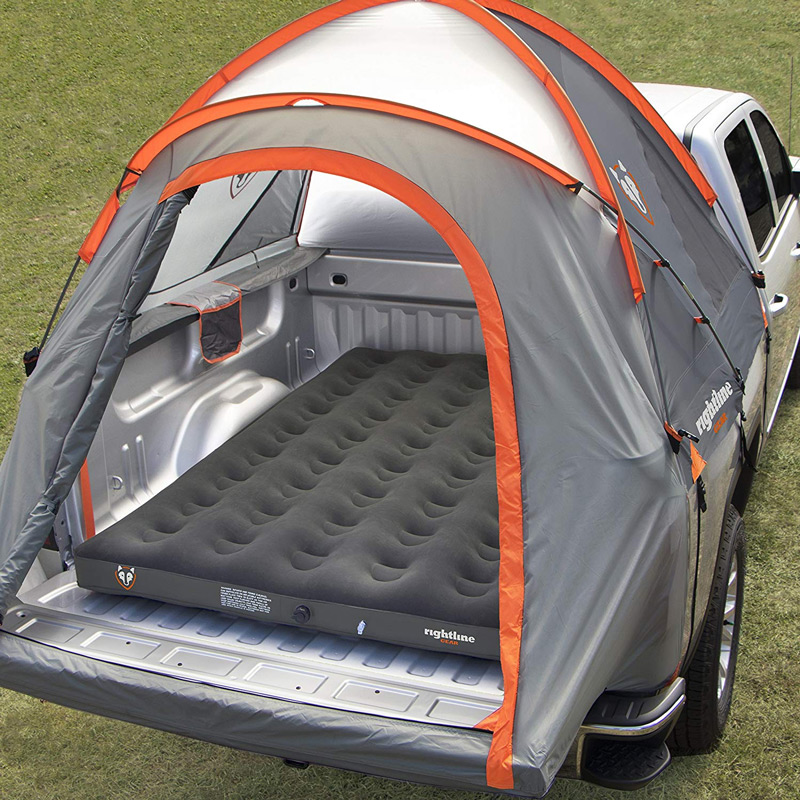 MOST PORTABLE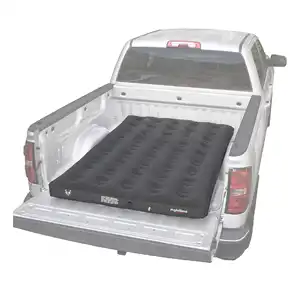 When it comes to portability, the Rightline Gear Mattress is our top choice. This mattress is just 7 inches thick and designed to fit in-between the wheel wells of your truck. That means it's lighter and easier to move around. Plus you'll have more cargo space to store gear in-between the mattress and walls.
Despite the small size, it's still built for comfort. There is an O-beam support system that keeps the mattress firm but flexible. It's also made of PVC construction to withstand exposure to a rough truck bed.
It's small size lets you fill the mattress in a few minutes so set up is quick. The set includes a mattress, pump, patch kit, and carry-all sack.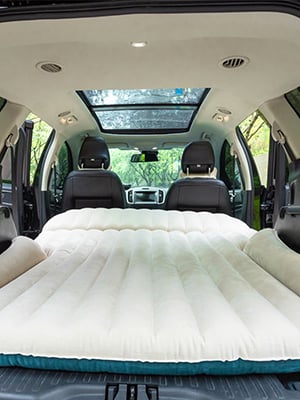 BEST SUV MATTRESS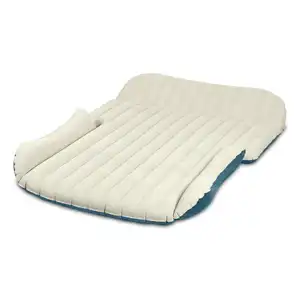 When sleeping in the cozy confines of an SUV, Wey & Fey's SUV air mattress is an excellent option that combines comfort and durability. It's made from thick PVC covered with corduroy and suede so you can sleep on either side comfortably without requiring a sheet.
The mat has four inflatable segments so it's quite versatile. You can inflate it fully for multi-person use, or you can inflate just a section or two for solo sleeping to save space. When deflated, it's the size of a small suitcase.
This is a mattress that you can keep in your SUV year-round for emergencies or spontaneous camping trips. It can handle temperatures as low as -13 degrees and as high as 122 degrees.
That's A Wrap!
With the right air mattress, the back of your truck or SUV can be as comfortable as any luxury bed. If you're looking for the best option for an SUV, check out Wey & Fey SUV Air Mattress. For the best all-around bed, we prefer the AirBedz Lite. And if you're looking to save space, consider the Rightline Gear Mattress. No matter what option you choose from our list, get ready to enjoy a great night's sleep without setting foot outside your vehicle.
Other Truck Bed Accessories: