Installing A Portable 12v Water Heater In A Camper Van
By
on
This post may contain affiliate links. As an Amazon Associate, I earn from qualifying purchases. Please read my full disclosure.
There are plenty of campervans out there with a sink and a pump, but rarely do these include a hot water supply. Electricity doesn't work well for heating- especially things as thermally dense as water- so most people just write it off as a comfort for homes and RV's.
This is completely understandable, but we suspect more builds would include hot water if people knew how simple it is to install a 12v electric propane water heater in their campervan! In this post, we're going to walk you through how to add a 12v water heater to your current 12v sink system.
If you're looking for other ways to get hot water, read our posts on how to find showers on the road, and learn about the portable 'shower in a box' hot water heater.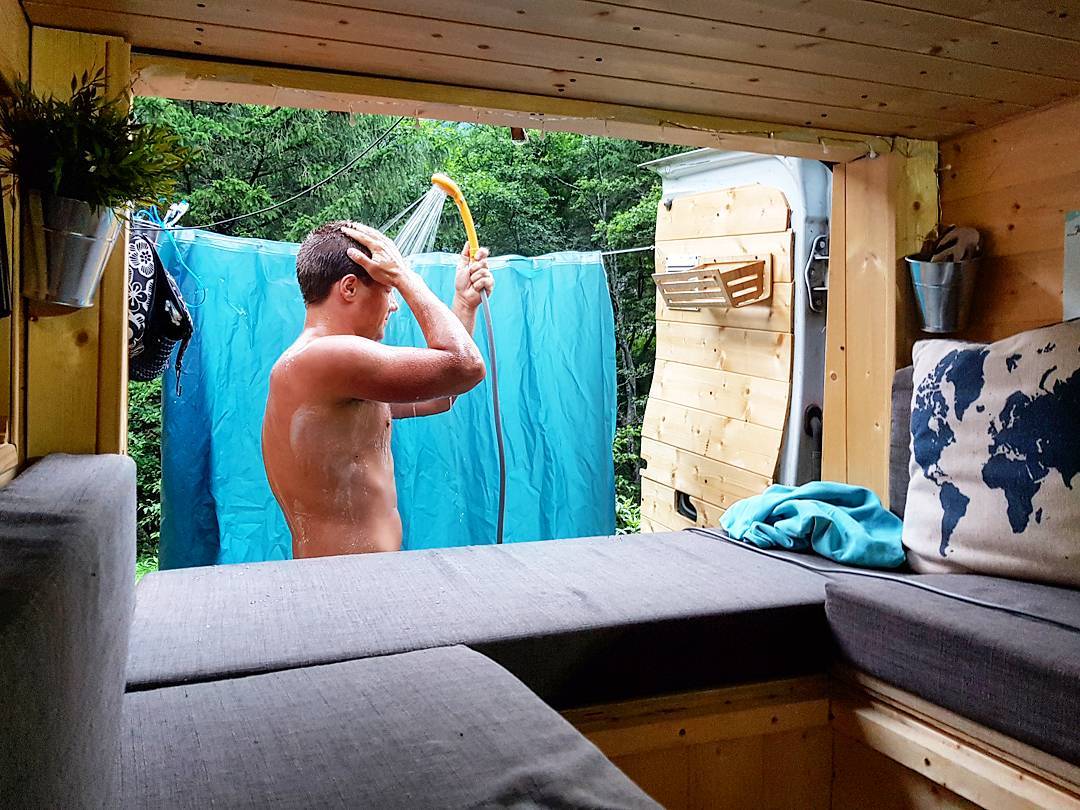 Types Of Propane Water Heaters
When it comes to installing a water heater in a DIY camper van conversion, there are two main solutions:
Tankless propane water heater
Fully portable water heaters are essentially a 'shower in a box'. They come with their own water pumps, faucets and shower heads. There is little-to-no setup involved. They are plug-n-play, safe and easy to tow around. If you don't want to mess around with designing a water system, this is the way to go.
That said, there is a major downside to a fully portable water heater. These systems come with their own water pump built-in, so you can't connect them to your current 12v sink (at least not easily).
That's where tankless water heaters come in!
How Does A Tankless Propane Water Heater Work?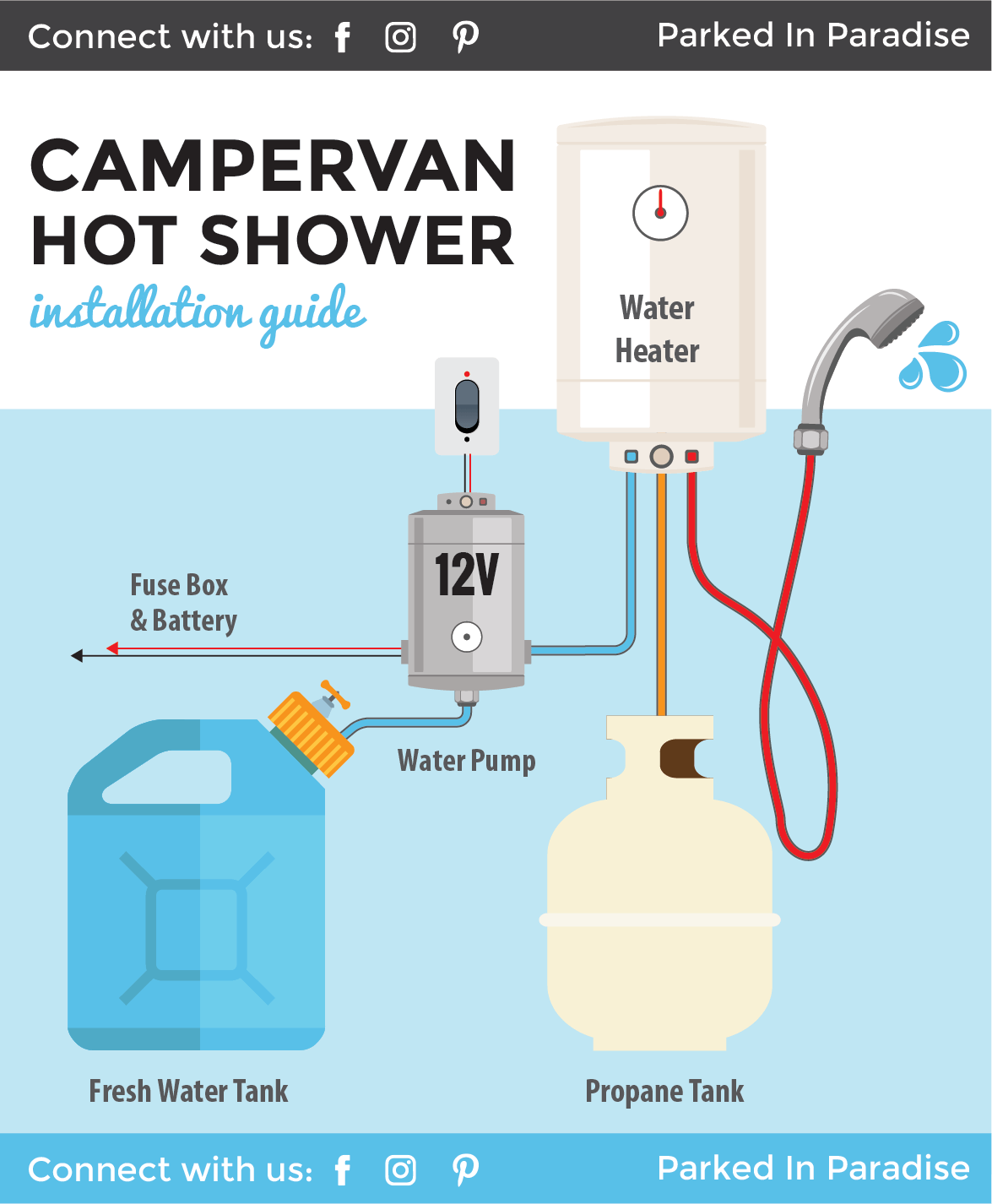 Unlike the shower-in-a-box, there are few parts involved in the tankless water heater. This is a simple design that will use water pressure from a sink pump, heat the water using your propane tank, then push it out through your shower head.
If you want a hot shower, all you need is a 12v pump, fresh water tank, propane tank and a 12V connection.
Things get a little more complicated however if you want to hook it into your sink for both hot and cold water:
Parts Of A 12v Electric Propane Water Heater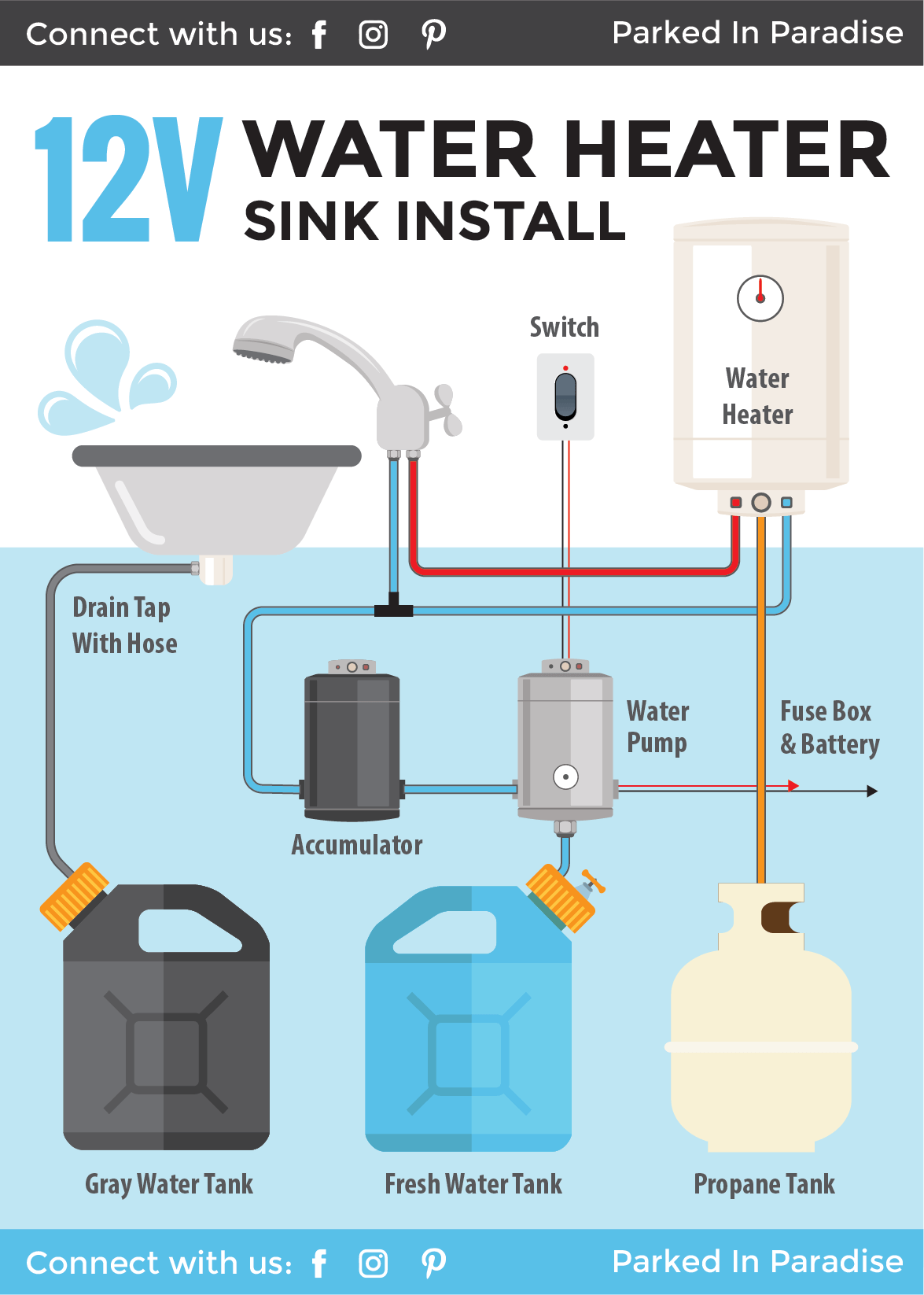 This diagram shows the hot water plumed directly into the sink. This allows the sink to operate like a household one does, allowing you to adjust your hot/cold flows for your preferred temperature.
For a full breakdown of how a 12V sink system is put together read our post: Installing a 12V sink in your camper
Propane Water Heater Safety Tips
When playing with propane, it's always important to take extra precaution. Water heaters need fresh oxygen because they're burning fuel. Give them plenty of ventilation and never use a propane water heater inside a closed vehicle!
Position your water heater in an area with plenty of ventilation like near the back or side doors. Never attach the water heater to the outside of your vehicle. They are not built to be continuously exposed to outdoor elements. Most heaters specifically state that they should not be exposed to rain or snow.
Check your gas lines frequently to make sure there aren't any leaks, and install a carbon monoxide detector nearby.
How To Install Your Water Heater
1. Find the right placement.
Refer to the safety tips above and search out a place in your vehicle that will get plenty of ventilation. You should have access to the heater to regularly check for water and gas leaks. The heater should also be within reach to adjust settings.
Placing it near your water and propane tanks will save you the hassle of having to deal with long tubing and potentially wasting water.
If you're building in a pressurized sink, instead of using the provided shower head, you can double up your functionality by getting a retractable faucet that can be pulled outside of the vehicle for showers!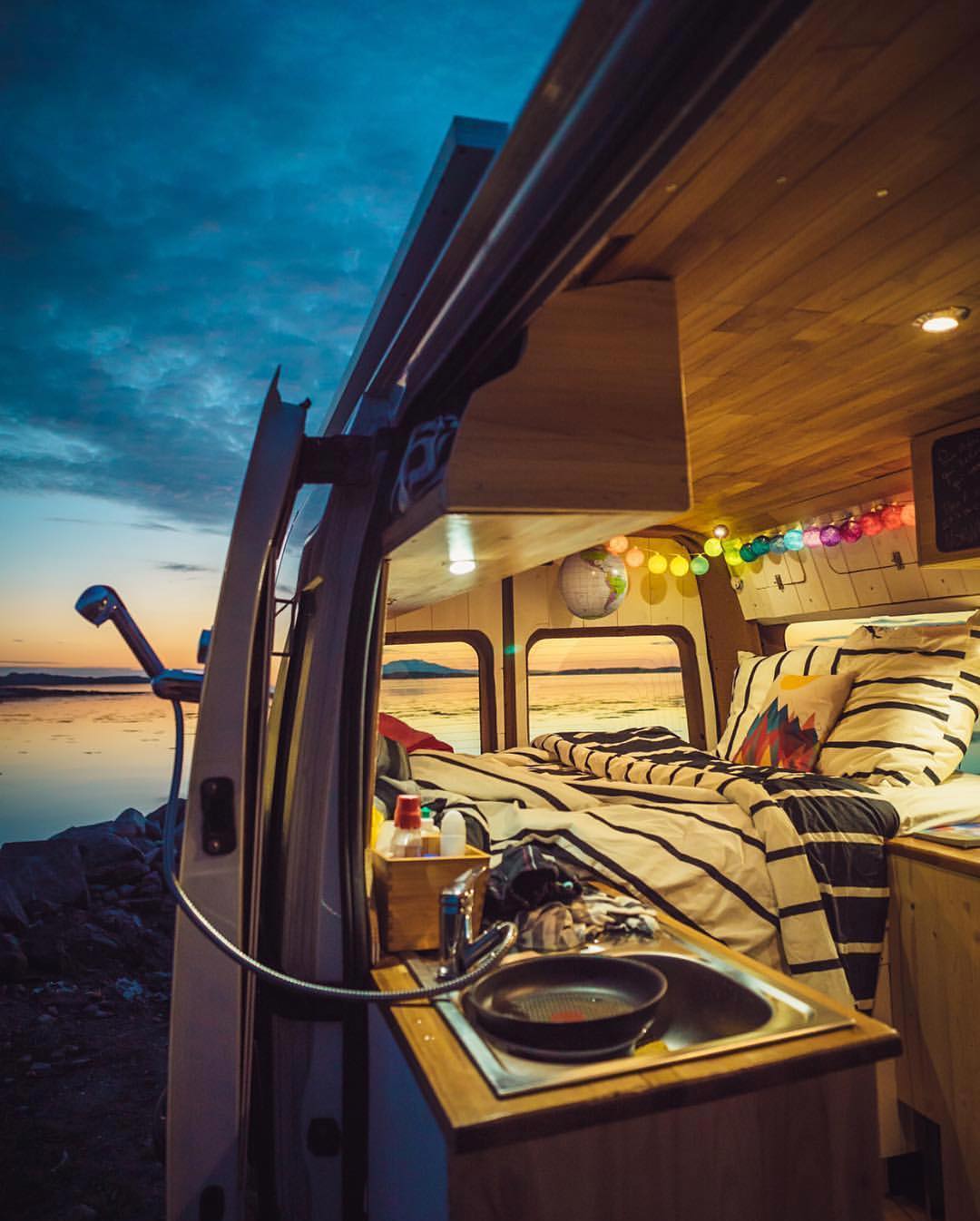 2. Take A Look At Your Connection Points
A tankless water heater comes with three points to attach hoses to:
Cold water inlet
Gas line
Hot water outlet
Before beginning the install, make sure your water line and gas lines are turned off.
3. Attach The Water Lines
To ensure a water-tight fit, wrap the input connectors on the unit in Teflon tape or similar.
Each propane heater should come with it's own water tubing. If you want to swap the tubing for something longer, the standard size is ½" thickness. CPVC tubing should be used for hot water to avoid degradation of the hoses.
For additional security, attach a hose clamp at the water fittings to prevent leaks.
4. Insert Batteries
Insert the two D cell batteries then turn on your water pump. In most cases, the batteries will have to be purchased separately. These batteries are for triggering the automatic piezo ignition of the heater.
Start the water heater to check for any water leaks or loose connections. You should be able to hear clicking in the unit indicating that the igniter is engaging.
Turn the water pump off before attaching the gas supply line.
5. Attach The Gas Supply Line
Like the water supply lines, you should wrap the gas input in Teflon tape before attaching the hose. Make sure you use gas-specific Teflon tape which is yellow. Yellow tape can be used on water fittings, but white tape cannot be used for gas fittings.
Then install the gas fitting. Make sure you do not over-tighten the gas line. This can crack the regulator and cause a gas leak, which is serious!
You can detect a gas leak simply by smelling the air around the fittings for that "rotten egg" scent that is in propane.
After everything is installed, attach your shower head, and hose set. Put the batteries in, and connect the heater to a power source. Most units come with a 12V cigarette lighter plug.
You're all set!
What To Look For In A Tankless Propane Heater
We've reviewed a number of the most popular tankless water heaters to help you decide what will work best for your van. These models work similarly, but there are a few differences you should keep in mind.
TOP CHOICE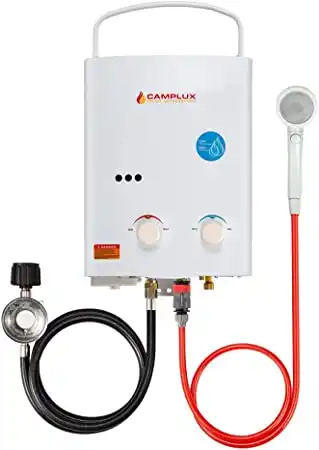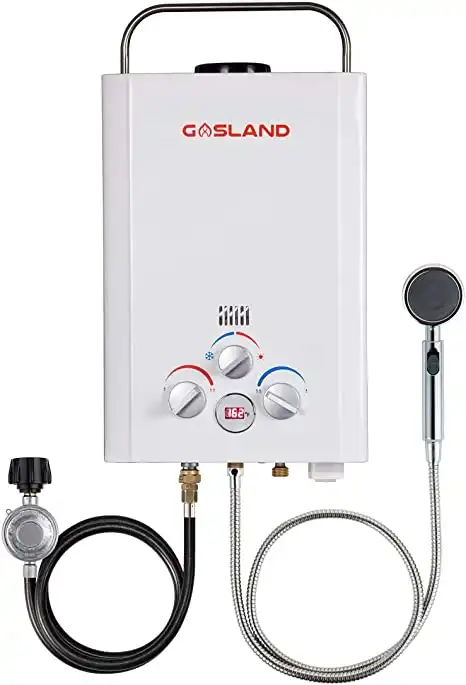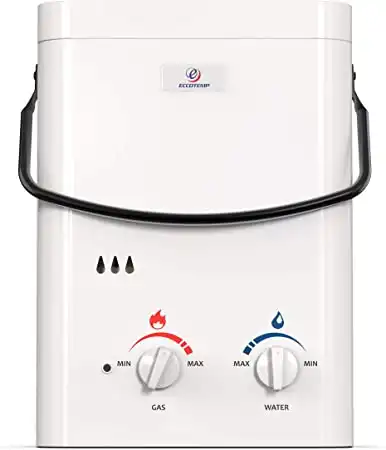 Run Time
The maximum run time is limited by the amount of fuel, water and battery power you have on-hand. D-cell batteries are used to ignite the propane. These can last for weeks with regular shower use. A 12V electric set up will provide you with a constant supply of hot water.
Some units have an emergency cut-off that will shut the unit down after 20 minutes of use. This is a safety feature to prevent carbon monoxide buildup.
BTU
The BTU, is also known as a "British Thermal Unit", and it's essentially what the propane world revolves around. A BTU measures consumption or deliverable power relative to individual gas appliances. Think of it as the "horsepower" of the unit.
A water heater with a high BTU rating will either heat water faster or to a hotter temperature.
Min. Water Pressure (PSI)
Water pressure is measured in pounds per square inch (PSI). These heaters all need a minimum water pressure to trigger the ignition for the heater.
You need to be sure that the 12V pump you have can deliver a high enough PSI for your shower to work. This should not be a problem for most reputable water pumps. The water pressure listed is the minimum amount needed to operate.
For reference, the 12v SURFLO water pump that we suggest delivers 55 PSI
Max. Flow Rate (GPM)
Flow rate is measured in gallons per minute (GPM). This is the amount of water your shower head will deliver each minute of use. Knowing your flow rate (and how long you take showers) can also you a good idea of what size water tank you might like to have on hand.
Temperature Adjustment
Temperature dials are provided on each of these heaters. You will have control over whether you want a lukewarm to seething hot shower. Some tankless water heaters have a maximum heat output to prevent burns.
Best 12v Water Heaters
TOP CHOICE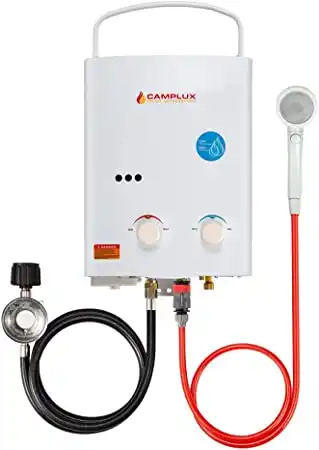 The first tankless water heater on our list, is the Camplux 5L 1.43 GPM Outdoor Portable Water Heater. Camplux is a brand that caters to those who love the outdoors and are meticulous about proper install. They have almost 2 decades of experience in the gas and electrical industry, and have made it their goal to create products focused on portability, energy-saving, and innovation.
This model checks all three of those boxes and more.
One of the most attractive features of the Camplux, is that it operates with the lowest flow rate of the products we've reviewed. It has a GPM of just 1.32 which means you'll use less water and in-turn, won't have to haul as much around.
Camplux recommends using the SURFLOW 12V water pump, which is ideal for most consumers. Ignition is powered by two D cell batteries.
The water heats to a max temperature of 114.8°F and does feature overheating protection beyond that point. While this will protect you from burns, you won't be able to get the water quite as hot as some of the other models.
Because safety is a big concern of Camplux, this heater has a flame failure device. That means if not enough water is running through the pump it will shut-off to prevent carbon monoxide build up. Similarly it also has an oxygen depletion safety shut-off as well as anti-freezing protection.
Anti-freezing protection helps prevent the metal coils inside from getting brittle and breaking when stored in cold weather. Not having anti-freeze protection is a disadvantage we've seen in some other models we've reviewed. The product also comes with a 1 year warranty should anything go wrong.
The top handle of the Camplux can fold down and out of the way. If you don't want to permanently mount this heater into your camper, you can store it then hang the water heater on a tree or other sturdy object when outdoors.
If you feel like that's not going to be enough for you, Camplux also has the 10L option available, which is twice as powerful. This will raise the power output from 34,000 BTU/hr to 68,000 BTU/hr to be able to keep up with a larger 2.64 GPM water flow.
Are there any potential downsides to the Camplux?
Yes. If you live in North America, you may find that the connections are all non-standard for the region. As Camplux is still somewhat new to the USA, this isn't surprising.
This is by no means a deal-breaker or overly difficult, just keep that in mind when you're setting it up, that traditional fittings at Home Depot or Lowe's may not fit.
| What We Like | What We Don't Like |
| --- | --- |
| Lowest Flow Rate | Connections are not your typical North American ones |
| Anti-freeze Protection | Does not get as hot as other models |
| Max Safety Features | |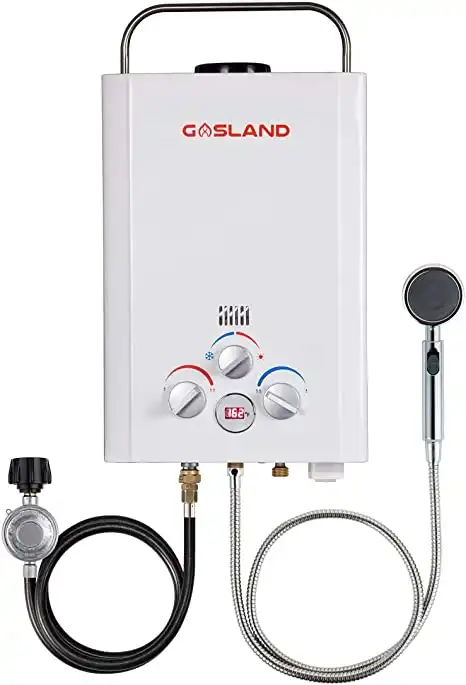 The Gasland 6L Portable Tankless Water Heater isn't the most notable name out there, but it does have a few key features that differentiate it from some of the other heaters we've reviewed.
For one, it has a hight BTU rating: 41,000. This is a monster water heater with no run-time limit and the hottest max temperature cutoff of 167°F.
A heater that gets that hot can be both good and bad. While it's nice to have the option of going super hot, temperatures above 150°F can cause serious burns to your skin rather quickly.
That said, we love the fact that even if you're in a cold environment, you can fully adjust the temperature to suit your needs, and start relaxing. The heat and water flow is completely adjustable, so you can truly have it your way.
The Gasland features standard safety protections, such as a flame failure device, anti-freezing protection, as well as over-heating shutoff protection so nothing goes wrong while you're rinsing off.
This product comes with handy brackets to allow it to be hung for your convenience, and the carry handle easily folds down for quick storage. If something goes wrong, the appliance does come with a 1-year limited warranty, as long as it's been operated and maintained according to the specifications detailed in the included instruction manual.
So, are there any cons to this tankless water heater?
The most notable is the high heat output. If you're very sensitive to heat, or know that children will be using this heater, make sure to be careful with the tube when you turn it on. The water that stays in the tubing after you've switched the shower head off will be much hotter than the temperature you've selected once you've turned it back on.
| What We Like | What We Don't Like |
| --- | --- |
| Highest BTU Rating | May Cause Burns |
| Hottest Water Temperature | Largest Design |
| No Max Run Time | |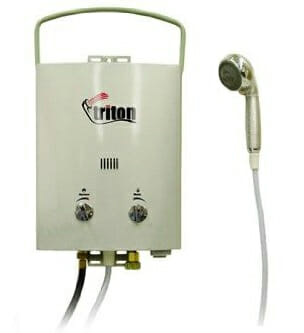 Camp Chef is a company that makes a number popular campervan conversion products. We reviewed their portable camping oven in the past. Because this company has quite a few propane products it's natural that they've designed a highly rated water heater as well.
So how does the Triton stack up against the others we've reviewed?
This unit is a bit larger and heavier than the others on our list. It also requires the highest minimum water pressure to operate: 25 PSI. That means you'll want a solid 12V pump to keep the water moving.
On the plus side, this water gets hot! With a max temp rating of 150°F you could end up with some burns without properly turning down the heat. This design runs at a comparable max flow rate of 1.5GPM and has a 1 year warranty like the others.
A cool feature that makes the Triton stand out is that it has the longer shower head tubing we've seen. It stretches 8′ long! The shower head itself also multiple settings including shower, mist and jet stream.
Overall, we think this is a solid option for a hot water heater. It's features are middle of the pack and it doesn't have too many poor reviews. The only thing we've seen complaints about is that sometimes the igniter will shut off frequently. That may be due to poor wind shielding on the unit.
In addition, there is no anti-freeze protection as we saw on the Camplux. That means, you'll have to make sure the water heater is drained completely when sitting in cold weather so the coils inside do not freeze and get damaged.
| What We Like | What We Don't Like |
| --- | --- |
| No Max Run Time | Ignition May Need To Be Re-lit Frequently |
| Longest Shower Head Hose | No Anti-Freeze Protection |
| Multiple Spray Settings | |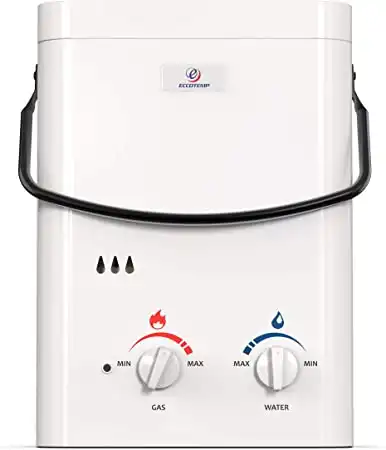 Last up, we have the last product on our list: the Ecotemp L5. It is the lightest tankless water heater we've reviewed, weighing in at a mere 8 pounds. The outer dimensions are comparable to the Camplux, but it has a higher max heat output.
The max temperature capacity on the Eccotemp L5 is 140°F.
This portable hot water heater is operated with two D cell batteries, much like the last two products. It has a safety shut-off which is activated if the appliance happens to run longer than 20 minutes, or is tilted for more than 45 degrees, to make sure no accidents happen.
This one takes a higher 20PSI to kick the ignition on, but that's still well below most pumps that people will use, and it's rated at 1.5 GPM of hot water output.
The shower head that comes with the Eccotemp allows you to choose among various spray settings to find the pressure and pattern that works perfectly for you. This is a bit of an upgraded experience over the other products.
During setup, this heater includes all necessary adapters and fittings in the box. This also includes a 1 year warranty for the device.
So, which parts aren't we fans of?
We have read complaints that with this product you must take special care not to leave it in freezing temperatures. The coils that actually heat the water are very thin and will freeze, bursting the coils, if you're not careful. To prevent this, you need to make sure the water tanks is completely drained in storage on cold days.
Secondly, this heater does not have the most robust windshield. That means in high winds, the propane flame may have some trouble staying lit. This shouldn't be a problem if you're operating the device inside, but it is something to be aware of.
| What We Like | What We Don't Like |
| --- | --- |
| Lightest Design | No Anti-Freeze Protection |
| Tilt Shutoff | Poor Wind Protection |
| Multiple Spray Settings | |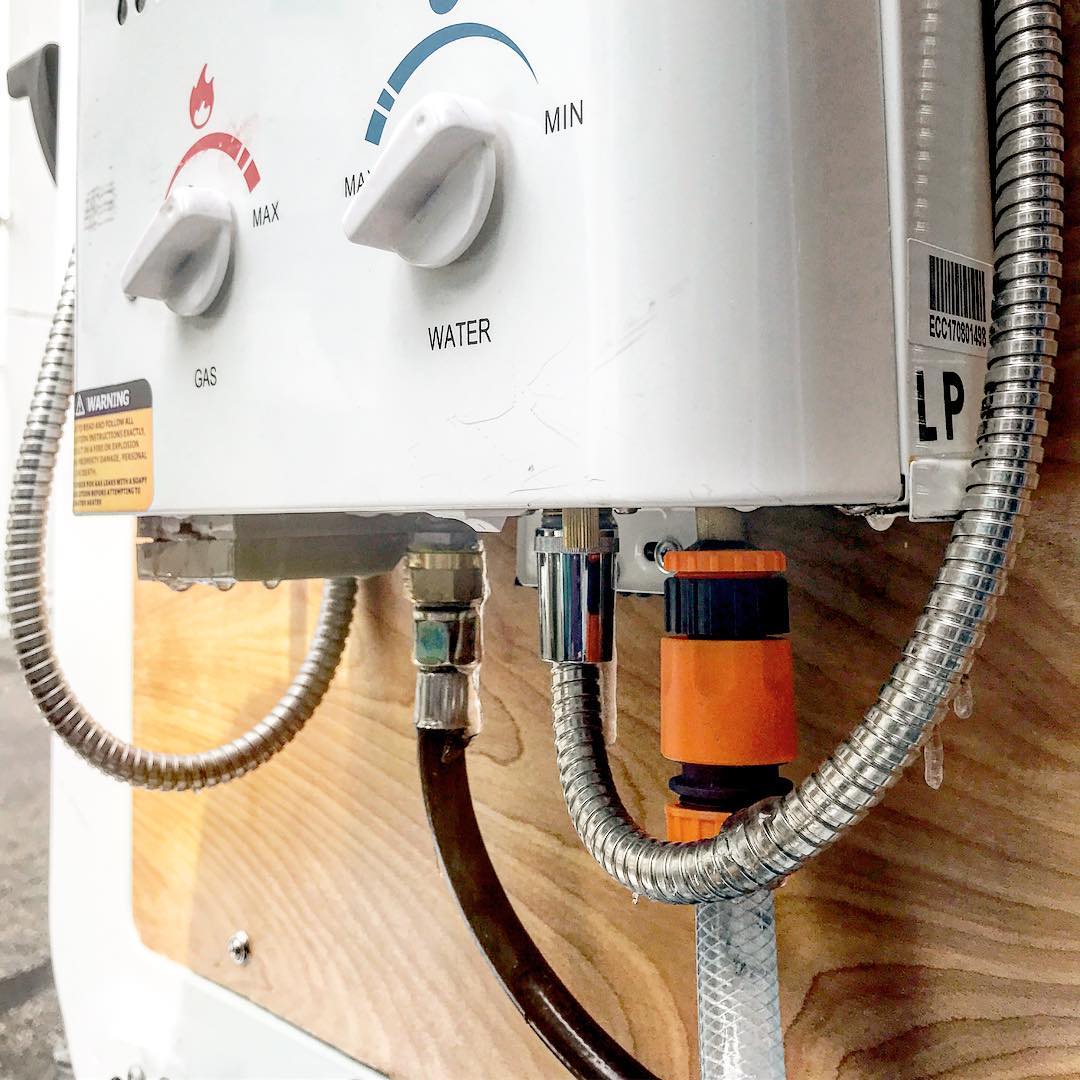 Wrapping It Up
Portable water heaters are a great solution for adding hot water to your camper. The system is easy to set up, versatile, and can be built right into your current 12V sink system.
The three heaters we've reviewed are similar in quality. To pick the best product for your van you'll want to focus on the max temperature, run time and special features such as anti-freeze protection or shower head customization.
If you want a hot shower but are not quite up to designing a system like this, we recommend looking a a portable propane shower which is a simpler design (but cannot be built into a sink). Happy travels!