How To Find Public Showers When Living In A Van
By
on
This post may contain affiliate links. As an Amazon Associate, I earn from qualifying purchases. Please read my full disclosure.
Showers are a necessary aspect of life. It is one of the first things people think of when imagining living in a van for an extended period of time. One thing to keep in mind is living in a van is not like the camping trips you've been on.
You will most likely not be setting up a tent in the dirt or getting roasted marshmallows all over your face and hands. Your daily routine will most likely be cleaner than you expect and you'll be surprised how long you can feel clean for.
With that said; live on the road for just a few weeks and you'll quickly get creative with places to find public showers. If you're used to living in a house, reset your expectations a bit.
Some showers are going to be much cleaner than others. We hope this list will help you come up with new ideas so you'll never have to travel too far without a shower. What we'll cover:
Wet wipes
Sink and cloth
Dry shampoo
Gym memberships
Rec Centers
Campsites
Hotels
Truck Stops
Beaches
Gravity camping showers
Pressurized sprayers
DIY Gravity showers
Portable hot water heaters
Installing a tankless hot water heater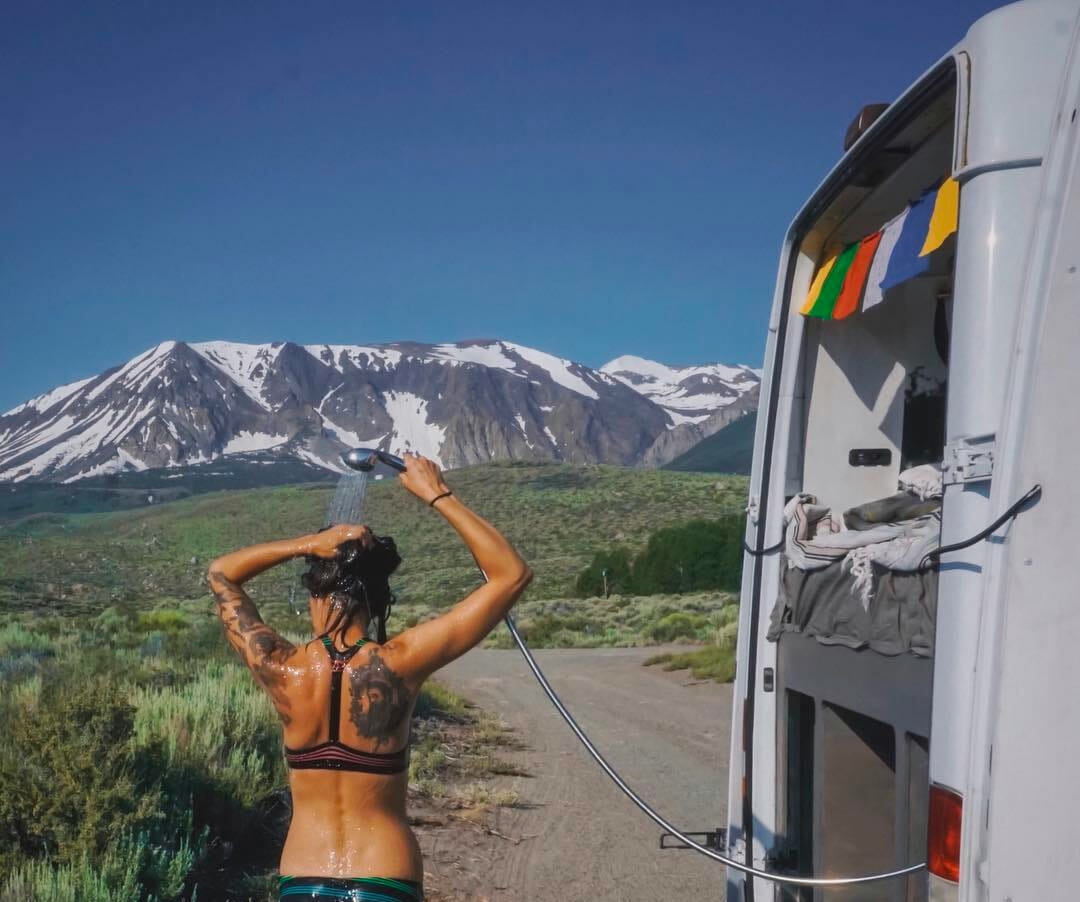 The Imitation Shower Options
Before getting worried about finding a real shower every day, consider how long one can go with an imitation shower. You will be surprised to find that you do not need a shower every single day. You also might not need a shower every other day (if you aren't in a very humid environment). There are a couple of steps worth taking to get you looking, smelling, and feeling cleaner in the times between taking a shower.
Wet wipes
This might not be the most economical or environmentally friendly option, but it does do the job. Having wet wipes around is the best way to freshen up in a pinch.
The Sink And Wash Cloth Method
If you have a sink in your van or are able to find a public sink that comes with a little privacy, sink showers are a good way to go. Just heat up some water in a small stove and use a washcloth to wipe off your hands and face.
Dry Shampoo
For anyone out there with long hair, dry shampoo is a great way to prevent your hair from getting too greasy. I was skeptical at first that this stuff would even work, but for less than ten dollars per bottle, it is pretty effective.
You can purchase dry shampoo at any Walmart and most drug stores such as CVS. They all work similarly, and with just a few sprays you can fluff out your hair and keep it feeling and smelling clean. Each bottle can last well over a month and this is the perfect way to extend your next visit to the shower.
Public Showers
Gym Membership Showers
The most predictable way to find a shower is to sign up for a gym membership. Not only will this give you a clean facility to wash up, but it's also a great way to stay in shape! The gym membership that is right for you will depend a lot on where you plan to travel. Some gyms have more locations on the east coast, and some are more gear towards the west coast crowd.
There are many gyms that have multiple locations and offer memberships across localities. This is by no means a comprehensive list so I will just go over three of the most popular workout facilities. Be sure to do your own research on gym specifics as pricing and offerings seem to change on a frequent basis.
Planet Fitness
Planet fitness is the facility that we currently use to workout and shower. To use one Planet Fitness gym, you can buy a pass for about $10 per month. In order to use multiple Planet Fitness locations, you will be required to purchase the black card. This card is priced at roughly $20 month and requires a 1-year commitment.
Planet fitness has over 1,400 locations across 49 states. You can see a map of all locations here. It is one of the most widespread fitness chains in the US. Despite this, there are a few caveats to consider. Although the black card membership allows you to use multiple gyms, the contract states that you are only allowed to use facilities outside of your 'home' gym 10 times per month.
We have not personally encountered any problems going over this limit, and we have not read about anyone having problems using the gym more than 10 times per month. However, it is something to be aware of; monitoring gym visits is the responsibility of the owner of each facility.
Along with a black card membership, you get a free pass to bring a guest. If you are traveling with a partner, this will allow you to get by with just one pass for the two of you. Keep in mind, you do not have to work out if you just want to go in and grab a shower.
Anytime Fitness
Anytime Fitness has over 3,000 locations and you can see a map of those here. The gym works by giving you a digital key that will unlock the doors. Like Planet Fitness and 24 Hour Fitness, these gyms are open 24/7.
A pass to Anytime Fitness will cost about $40-$50 per month and does have a contract. The specifics of pricing are going to depend largely on where you sign up and what types of specials they are running. After signup, there is a 30 day waiting period before you can access locations that are not your 'home' gym. Anytime Fitness is even more widespread than Planet Fitness (by a long shot), however, it is twice as expensive and does not allow you to bring a guest.
24 Hour Fitness
24-hour fitness is another available option. They have over 420 locations in about 13 states. You can see a map of locations here. Once you have chosen a home gym, you will only be able to use other 24 Hour Fitness locations within a 50-mile radius of that gym. Depending on your travel style this might be a deal-breaker, but if you plan to stay near one location this could be a great option. A gym membership to 24 Hour Fitness will range between $30-$80 per month.
Recreation Centers, Community Centers, Public Pools and Other Public Showers
Aside from 'the big three', you can find local recreation centers in most cities. Many of these facilities will allow you to pay just a few dollars to use their bathrooms and showers. As a bonus, you may find a seating area and some tables to hang out and charge your laptop while there.
Showering at Paid Campsites or Hostels
We have found paid campsites to be a great way to freshen up and reset. This is not something that we do every day or even on a weekly basis as it can get expensive. However, if we happen to be in an area with no gyms nearby, this is our preferred way to go. Campsites can be relatively inexpensive for a night and often you can take the time to refill water jugs and charge up electrical devices along with taking a shower.
Keep in mind that many campsites close in the off-season! If you are in the northern US during the winter, you might not find any facilities that are open. This is especially true for running water. Some campsites will continue to operate in the off-season but shut off the water.
If you are not looking to spend the night, or are on a tighter budget, often campsites or hostels will allow you to just use shower facilities for a few dollars. We have even heard of campsites allowing people to shower for free (although don't expect this) it doesn't hurt to ask!
Some popular trails such as the Appalachian trail will have hiker hostels along the route you can pay to shower at. Be sure to call ahead of time because some will only allow this for hikers. Use your creative muscles and research to find a facility near you.
What do campsite showers look like?
The quality of a campsite shower varies widely. Some are extremely clean and look just as nice as a bathroom. Many are not-so-clean and will make you want to hop in and out quickly. You can expect to find cleaner showers the more you pay, but this is not always the case. It's wise to have some flip flops or shower shoes on-hand.
Keep in mind that not all campsite showers will offer free hot water. We have found this to be especially true in the northeast. Some campsites will offer 'free' showers, but only the cold water will be free and you will have to use quarters to turn on the water heater. This can end up being costly as one quarter can range anywhere from 2-5 minutes of hot shower time. If you plan to pay for a campsite to use the showers, it's wise to see if you can take a look at them first
Truck Stop Showers
If you have $10-12 in your pocket, swing by a truck stop. Flying J travel centers have locations peppered across the US with high-quality hot showers. You can search this map for sites nearby. Most Flying J shower facilities will allow you 30 minutes to shower and come with shampoo, towels, and anything else one might need.
As a bonus, you can also find laundromats here. Paying for truck stop showers would be too expensive to use on a frequent basis, but it is a good thing to keep in mind as you travel. Pro-tip: split the cost with a travel buddy to save money!
Flying J travel centers are good truck stops to use because they are available to the public. There are many truck stops including TA, Pilot, Loves, Wilco/Hess, and countless mom and pop alternatives. Although truck stops are easy to find, some will open their facilities to truckers only. Do not bank on the fact that every truck stop will allow non-workers to shower there.
What do flying J truck stop public showers look like?
From all accounts online, Flying J truck stops have fantastic shower facilities. This company recently renovated their bathrooms and clean the showers after every use. The shower heads produce very hot and high-pressure water. You also get a room to yourself so there is a lot of customer privacy.
Showering at Beaches
If you are a coastie, beach showers are an option available to you! Chances are, this would be a quick outdoor shower in a swimsuit, but keep these facilities in mind. Some research on which beaches have public showers will be required. Here is a map of southern California beaches with showers for reference.
Outdoor cleaning with Biodegradable Soap: Although there are some soaps that are biodegradable, they are still damaging to aquatic life. When using it to wash up, it's important to reduce the amount of impact it will have on the environment. Read this sectionhiker.com article for more details.
Build A Van Shower
Check out these amazing camper van bathroom designs!
Water Bag Camp Showers
Portable camp showers, such as this one from Coleman, are another alternative way to shower. The most basic camp showers work by hanging a water bag from above and either pumping or gravity feeding water out of a showerhead. Water bag camp showers can range widely in price depending on the features you want.
Heating up water for a camp shower can be done in a few ways. The fastest way to heat up water is to do this step yourself using a stove before pouring water into the bag. Alternatively, solar showers can be hung in the sun for a few hours to heat up.
Portable camp showers can pack down pretty small but you will need to have water with you to fill it. A five-gallon gravity fed camp shower can last for multiple short showers. Remember to always use biodegradable liquid soap when washing up outdoors.
Pressurized Sprayers
There are a variety of small, pressurized sprayers that make great compact camping showers. Some operate with a simple foot pump, and others use batteries to control the showerhead. All you need to do is fill the water bag, place one end of the showerhead inside and spray.
In some models, a 3-gallon tank can release about 5 minutes worth of water which should be the perfect amount of time for a quick shower. These are cold showers, but you can heat the water before putting pouring it into the bag to make it hot.
PVC Gravity Showers
More recently we've come across a number of people building their own rooftop showers. You can make this one using a piece of schedule 40 PCV pipe, 6 inches in diameter. Then fit end caps with valves on the ends and you've got a homemade gravity shower! The three connections are input, output and a vent. Just grab a tube and shower head and you're good to go!
If you don't want to build your own, you can buy one! WaterPORT is a company that makes expensive, but ready-made options.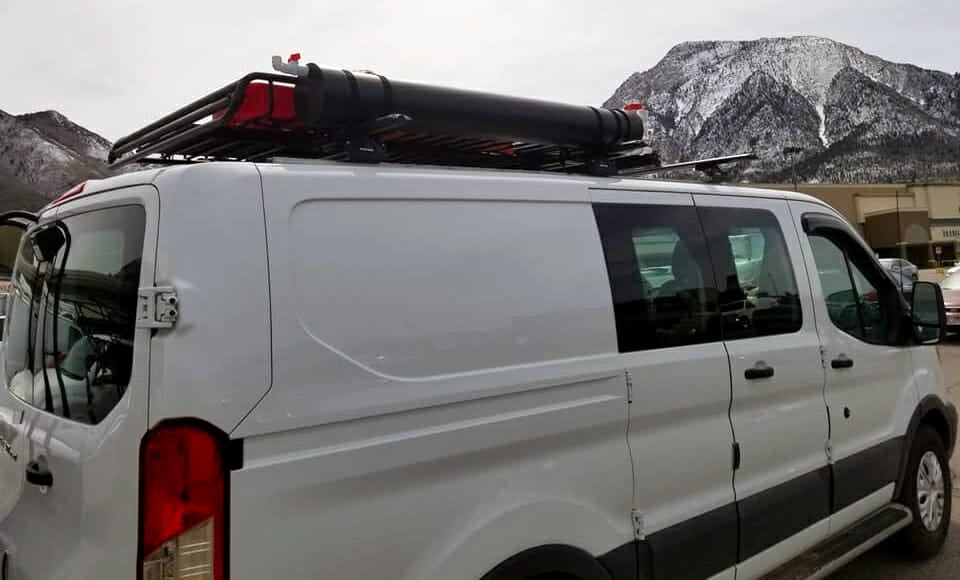 Portable Hot Water Heaters
You can think of a portable hot water heater as a shower-in-a-box. These little devices are powered with 12V DC electricity and a 1lb. propane canister. How do they work? Simply attach the hot water heater to your water tank, flip the switch, and you have pressurized hot water! This is a great add-on to your camper van kitchen.
Most of these devices come with a sink faucet attached so it can double as both a sink and a shower.
You can read more about portable hot water heaters in this post.
Plumbing A Van Shower
For those who want to go the extra mile and add a full bathroom to their camper, another option is installing a tankless propane water heater. This is not the simplest solution, but it is the best way to make your van feel at home. A hot water heater can supply both your shower and your kitchen sink. It uses 12v DC electricity and propane to heat the water from your tank and deliver it to various parts of your camper.
We wrote a guide to installing a 12v tankless water heater in your camper van.
This is the most luxurious way to shower in your van and we recommend it if you have the space and the budget.
Continue Reading: