Guide To Horseshoe Bend Arizona What to Visit & Camping Nearby
By
on
This post may contain affiliate links. As an Amazon Associate, I earn from qualifying purchases. Please read my full disclosure.
Horseshoe bend is a popular curvature in the Colorado River located near Page, Arizona. You may have seen pictures of this place taking over Instagram and Pinterest by storm.
Horseshoe bend appeals to visitors because of the short hike and breathtaking photos.
The overlook is just a quick stopover from the nearby Grand Canyon, and Antelope Canyon. You can walk to the bend in just 10 minutes so it's no wonder this natural attraction has become so popular.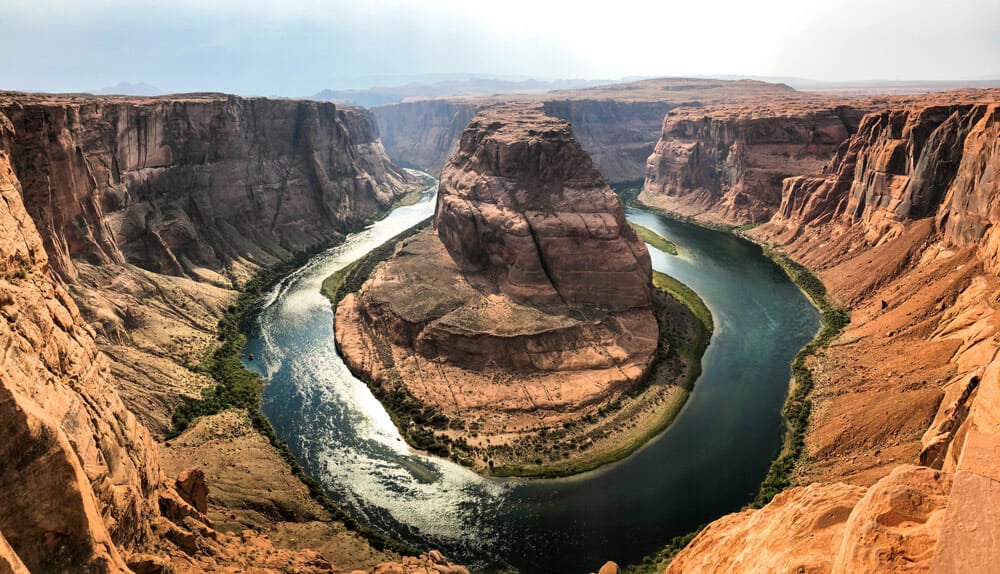 Where Is Horseshoe Bend Located?
Horseshoe bend is located next to Page, Arizona. Page is on the Arizona/Utah border. It is just 10 miles away from Antelope Canyon. If you're coming from another location, Horseshoe Bend is situated:
5 hour drive from the Grand Canyon
2 hours 40 minutes from Sedona, AZ
5 from Las Vegas, NV
Horseshoe Bend is not an Arizona National Park. And despite popular belief, Horseshoe bend is not a part of the Grand Canyon, but they are famous for the same river; the Colorado river.
Getting There
Horseshoe Bend from the Grand Canyon:
Head southwest on AZ-64 E/Desert View Drive, 30 miles towards Cameron
Turn left on Highway US-89 North, drive 79 miles
Look for the sign that reads "Horseshoe Bend Overlook"
Turn left into Horseshoe Bend
Horseshoe Bend From Page, Arizona:
Drive US-89 South about 5 miles from the Page town center
Look for the sign that reads "Horseshoe Bend Overlook"
Turn right into Horseshoe Bend
How Much Does Parking At Horseshoe Bend Cost?
Due to overcrowding, there is now a small entrance fee required to visit Horseshoe Bend. The fees are:
$10 per passenger vehicle (including cars, trucks, SUVs, motorhomes and RVs)
$5 per motorcycle
There is no parking along Highway 89 so if the parking lot is full, you are out of luck! The most crowded times of year to visit Horseshoe Bend is between 9am and 6pm during summer.
How Long Do You Need At Horseshoe Bend?
Most visitors spend just 1 hour there. Despite the pictures, Horseshoe Bend is surprisingly compact.
While you can't drive up to Horseshoe Bend, getting to the overlook from the parking lot is only a 0.6 mile walk (about 10 minutes). The path is also flat and well-maintained so it's easy hiking.
Aside from the Overlook, there are no other official trails that lead off Horseshoe bend. You cannot hike down to the bottom. To fill up the rest of your day: visit Antelope Canyon, Page Arizona, or head to the Grand Canyon nearby.
What is the best time to visit Horseshoe Bend?
The overlook has a small parking lot that gets crowded during the summer months. To avoid the crowds, November-February is the best time to visit. Temperatures this time of year dip just below 50⁰F for the high. During the summer, temperatures are in the 90s.
Best Time For Photography
The bend faces West and shadows during the middle of the day are significant. If you want to get a great picture of Horseshoe Bend, the best time for photography is sunrise and sunset. Anytime before 8am will give you the least crowds and the best photos.
During the summer, sunset can occur as late as 8pm.
Photography Tips
You'll want to use a wide-angle lens to get the best capture of Horseshoe Bend. Bring a polarizer if you can because the sunlight reflects harshly off the water during certain times of day. The edge of the overlook gets windy, so a tripod is going to come in handy; especially if you're taking High Dynamic Range (HDR) shots and blending them together.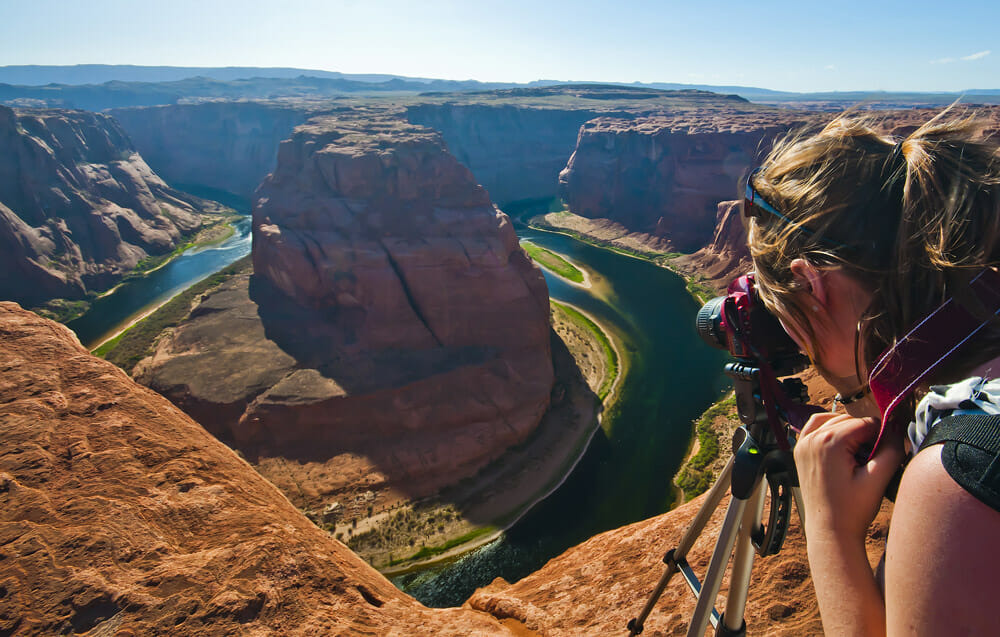 How was Horseshoe Bend Formed?
The famous bend formed from the Colorado River over the course of millions of years. Long ago, a shift in tectonic plates pushed land in Utah and Arizona upward causing an incised meander in the river.
Rock and stone was eroded by the river and gradually the sides grew steeper as the river carved its path. Today, Horseshoe Bend sits 1,000ft above the Colorado river. The overlook itself is 4,200ft above sea level.
Where To Stay Near Horseshoe Bend
Lodging:
Check out the nearby Hotels in Page, Arizona. There are also hotels located in the Grand Canyon.
Modern Campgrounds:
Waheap campground has 112 dry camping sites and 90 campsites with hookups. It is a 19 minute drive from Horseshoe bend. The campsites start at $30 per night and have showers, WiFi, and laundry facilities. Reservations are accepted.
Page Lake Powell campground is an RV park less than 10 minutes from Horseshoe Bend. This campground has all of the modern amenities and cost over $45/night.
Lee's Ferry campground is about 45 minutes from Horseshoe bend. There are 54 campsites all operated under a first-come, first-serve basis. No reservations are accepted. The cost is $20 and they have flush toilets and an RV dump station but there are no showers. While you'll find grills and a boat launch, there are no RV hookups or electricity.
Primitive Campgrounds:
The National Parks Service runs a number of primitive campgrounds in the Glen Canyon National Recreation Area. Stanton Creek, Hite, Farley, and Dirty Devil cost $12 per night. They have vault toilets but no potable water.
Lone Rock Beach primitive campground is $14 per night and has seasonal water and outdoor cold showers.
With these primitive campgrounds there are no designated campsites. You can pick your spot along one of the many dirt roads. Feel free to build your own fire ring but remember to pack in and pack out all of your trash.
Free Camping Near Horseshoe Bend:
You can go boondocking along the Lake Powell shoreline for free (legally) and pets are allowed on the beaches. There are no trash containers or toilets here. And burying waste is not permitted in the area, so your vehicle must be self-contained. Many locations along the shoreline get rocky and might require a 4-wheel drive vehicle.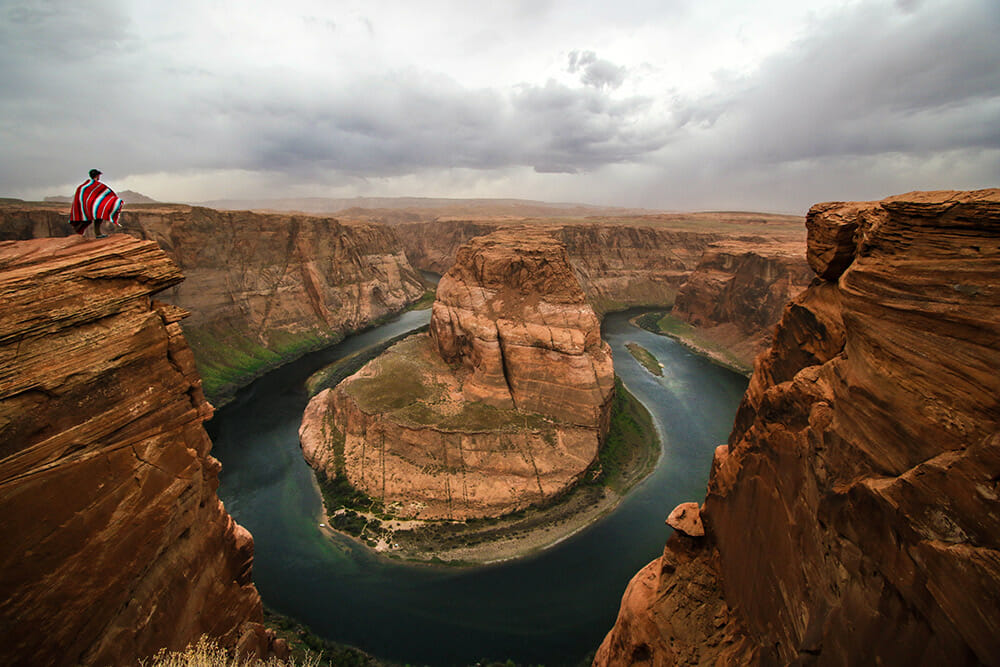 Kayaks, SUP, Canoes and Boats
You take watercraft on the Colorado River at the base of the Horseshoe Bend. There are a number of rental companies in Lake Powell that have shuttle services so you can explore the river on your own. Drop in at Lee's Ferry, Lone Rock Beach or a number of other campgrounds in the area.
Permits to paddle and camp in the Glen Canyon Recreation area are $25. You can go year-round but the water gets dangerously cold in winter. Kayak tours are a fun way to see Horseshoe bend from a different angle without all the crowds.