National Parks In Arizona
By
on
This post may contain affiliate links. As an Amazon Associate, I earn from qualifying purchases. Please read my full disclosure.
When it comes to National Parks in Arizona, most people think of the Grand Canyon. But there are a huge variety of parks, monuments, recreation areas, and historic sites to explore in the state.
Arizona is more than just a desert. The southwest is home to mature cacti, snowy mountain peaks, and pre-historic ruins of the people that once lived in the area.
There are three National Parks in Arizona, two National Recreation Areas, and nineteen memorials, historic sites, and trails affiliated with the National Park Service.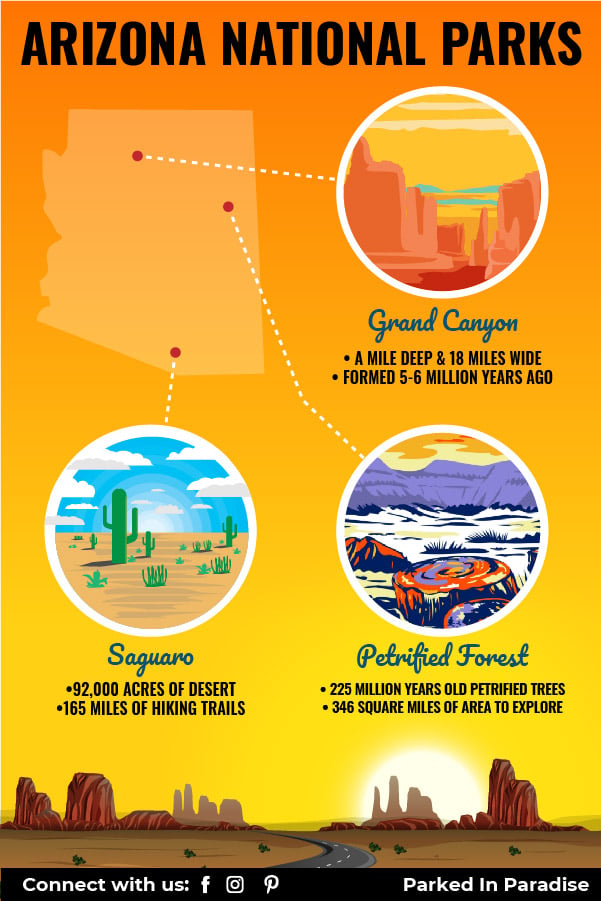 National Parks In Arizona
Grand Canyon National Park
Petrified Forest National Park
Saguaro National Park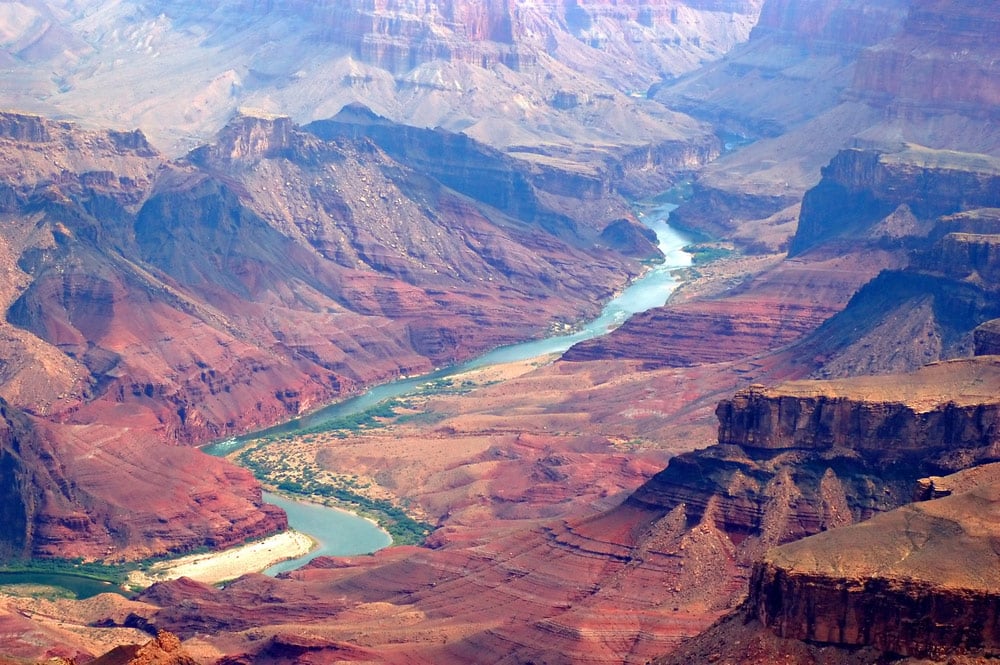 Grand Canyon National Park
The most famous National Park in Arizona is the Grand Canyon. This incredible park has unmatched views and breathtaking overlooks that can't be found anywhere else in the world.
From the top of the canyon you can look across 1.2 million acres and peer 6,000 feet down to the Colorado River below. It's the largest National Park in Arizona.
This popular canyon requires a multi-day trip if you really want to experience the area. The North Rim and the South Rim are located 4 hours apart by car and each have an entirely different feel to them.
The South Rim of the park is famous for its hiking trails, popular campsites, and more developed amenities. The North Rim is secluded and gives visitors a private, and more rugged experience.
As you can imagine, hiking and photography are the main draw to this park. Adventurers can trek all the way down to the Colorado River using one of three trails. The Bright Angel Trail is famous for its shallow switchbacks and spectacular views. There are multiple rest areas along the 9.3 mile route which make good turnaround points for families or hikers who don't want to journey all the way to the river.
Whitewater rafting trips on the river, mule rides, and biking on the roads along the rim are other great activities to experience. Backcountry camping and hiking are both highly popular if you wish to spend more than one day.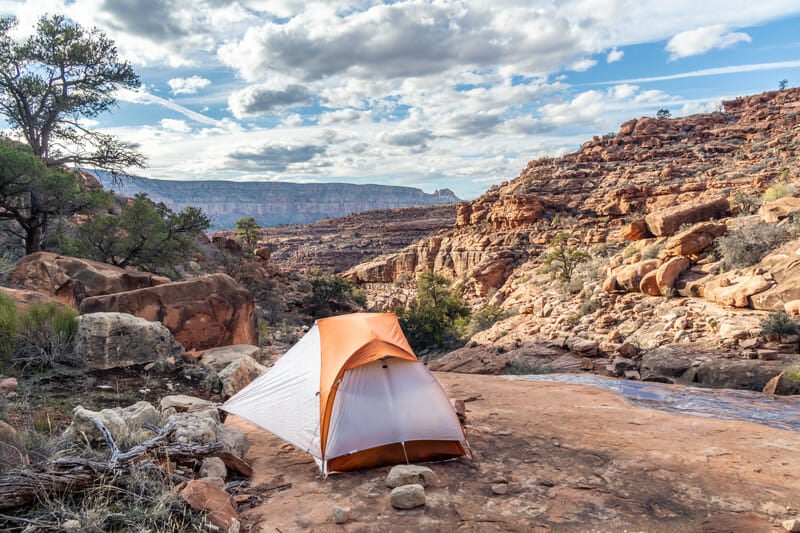 Camping
The Grand Canyon has multiple opportunities for camping on the North Rim, South Rim, and at the base of the canyon near the Colorado River. You can find a mix of RV and tent camping sites that can accommodate vehicles up to 50 feet long.
Some of the campgrounds have full electric hookups as well as shower and laundry services while others are more primitive. Three backcountry campgrounds are available at the bottom of the Grand Canyon and require permits.
Pets
Leashed animals are allowed on the paved hiking trails at the top of the South Rim and in campgrounds. Unfortunately, they are not permitted below the rim because they can attract cougars and coyotes.
If visiting the Grand Canyon with your dog or cat, there is a kennel service available on the South Rim that operates from 7:30am to 5pm giving you plenty of time to hike throughout the day.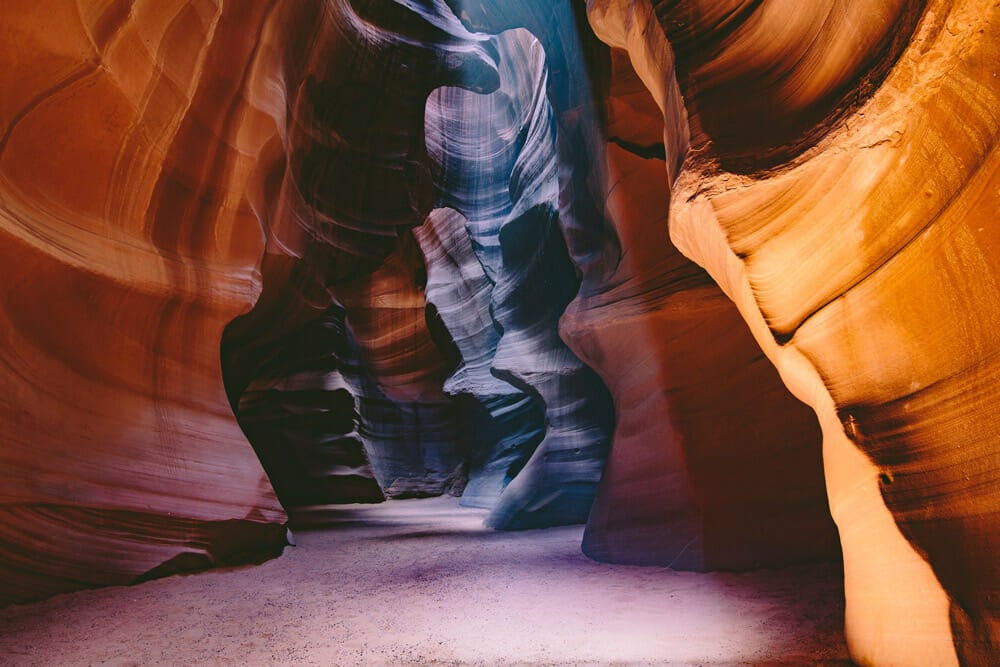 Things To Do Nearby
Antelope Canyon and Horseshoe Bend are located near Page, Arizona near the border of Utah. Antelope Canyon is an incredible sandstone slot canyon with steep walls and tight, narrow passageways. This one-of-a-kind location has been featured on National Geographic and is a favorite among photographers.
Horseshoe Bend refers to a famous curve in the Colorado River which has cut a unique overlook in the landscape. The hike to get there is just 0.5 miles from the parking lot so it is an easy destination to enjoy.
Both Horseshoe Bend and Antelope Canyon can be visited in the same day, just make sure to book a tour of Antelope ahead of schedule.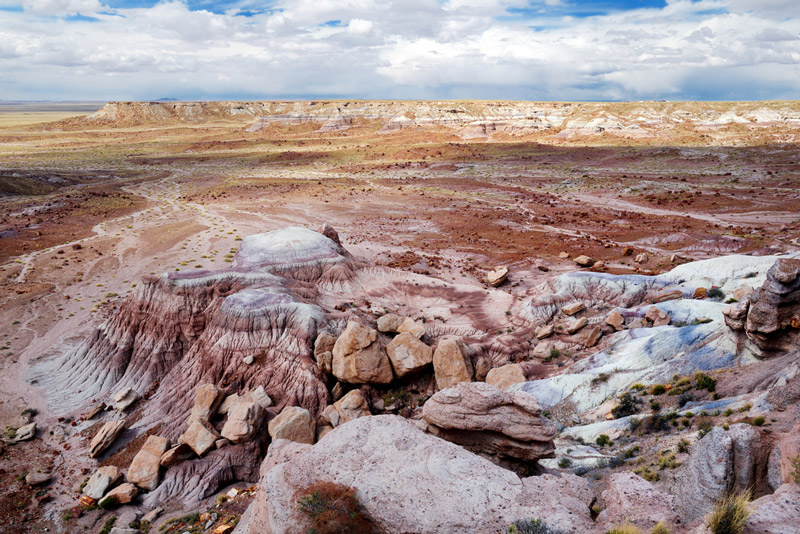 Petrified Forest National Park
An incredible location that is often overlooked in Arizona is the Petrified Forest National Park. This area is situated in northeast Arizona just south of the Hopi Reservation.
Hiking around this expansive desert is a treat the whole family can enjoy. You can find numerous fossils and the remains of fallen trees scattered across the landscape. These now petrified trees lived 225-million years ago during the Late Triassic Ephoch.
Horseback riding, backpacking, and geocaching are other great ways to explore the area. 1/3 of this park is designated wilderness area and there are 346 square miles of area to explore.
Be on the lookout for coyotes, bobcats, and pronghorns. There are also over 400 species of plants.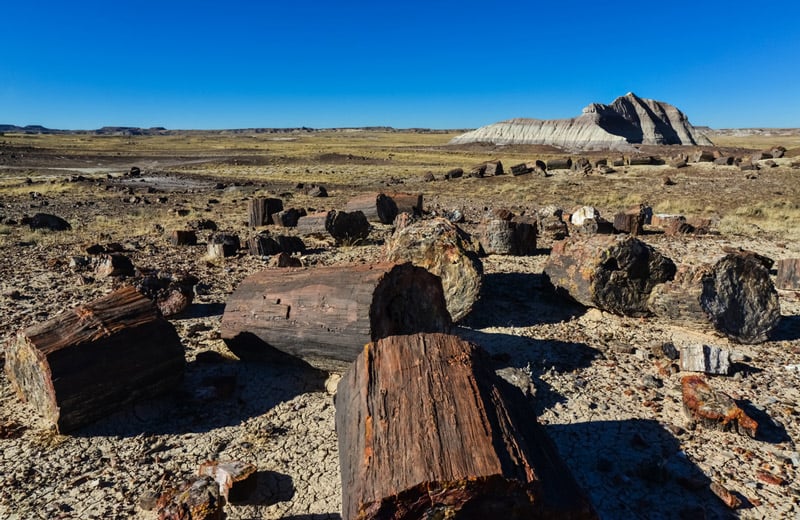 Pets
The Petrified Forest prides itself as being on of the most pet-friendly National Parks in the system. Leashed animals are allowed on every corner and facet of the park with the exception of inside the buildings! That means it's the perfect place to travel with your furry friend.
Camping
There are no established campgrounds within the Petrified Forest National Park. However, backcountry camping is allowed with a free permit. There are also tens of paid and free campgrounds in the surrounding area which are perfect for spending the night.
Consider camping in the Apache-Sitegraves National Forest, or the Coconino National Forest nearby.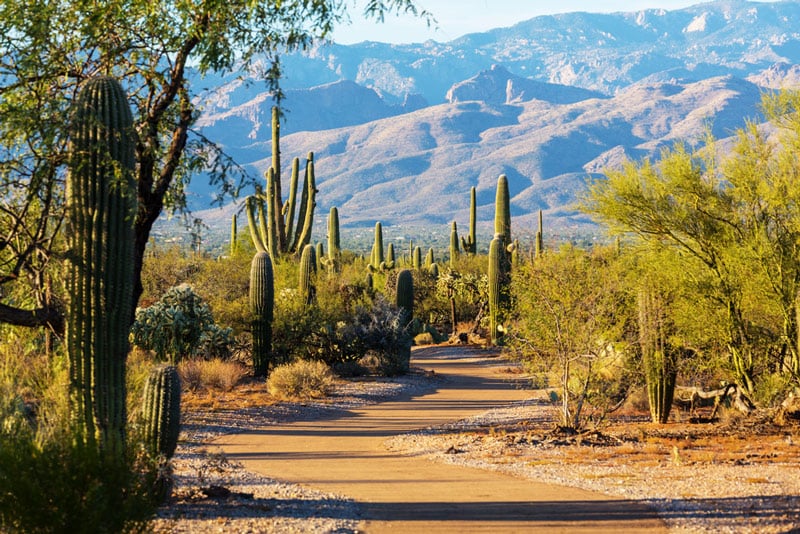 Saguaro National Park
America's largest cacti live in Saguaro National Park. These towering cacti are hundreds of years old and can only be found in the Sonoran Desert near Tucson.
The park itself spans 92,000 acres and gives tourists up-close views of desert landscapes, flora, and fauna. 165 miles of hiking trails are available to travel on foot. Biking and horseback riding are also acceptable on many trails throughout the park.
Photography, wildlife viewing, and admiring the Sonoran Desert flora are activities you would be hard-pressed to find anywhere else in the world. Cactus gardens and plants vary with the elevation. 30 species of mammals roam the park including bobcats, coyotes, cougars, and javelinas.
You can also find over 200 pre-historic Native American Petroglyphs on signal hill which were carved 40,000 years ago.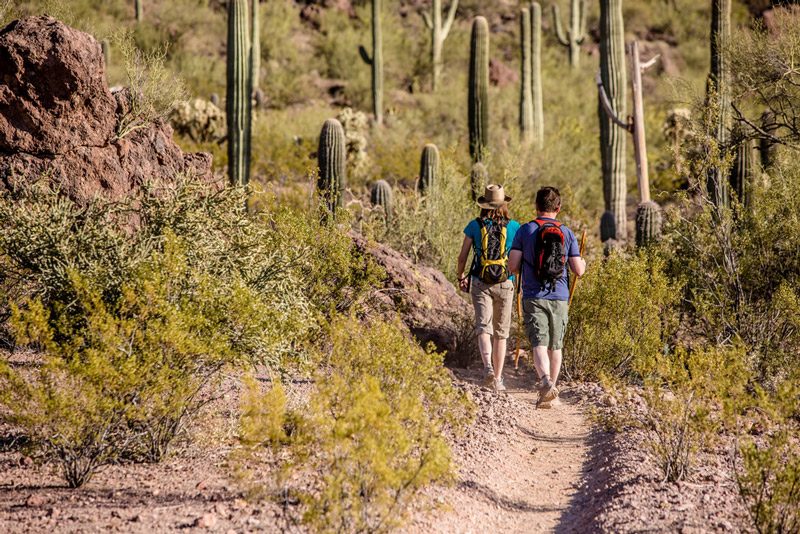 Pets
There are several pet-friendly hiking trails in Saguaro National Park for those who want to bring their dog on a walk.
These trails are split evenly between the Rincon Mountain District (east) and Tucson Mountain District (west).
Camping
While there are no car camping sites in the Petrified National Forest, there are 6 backcountry camping sites available with a permit. These campgrounds require a 4-10 mile hike, but you'll be rewarded with privacy, scenic views, and stunning starry night skies.
National Recreation Areas In Arizona
Lake Mead National Recreation Area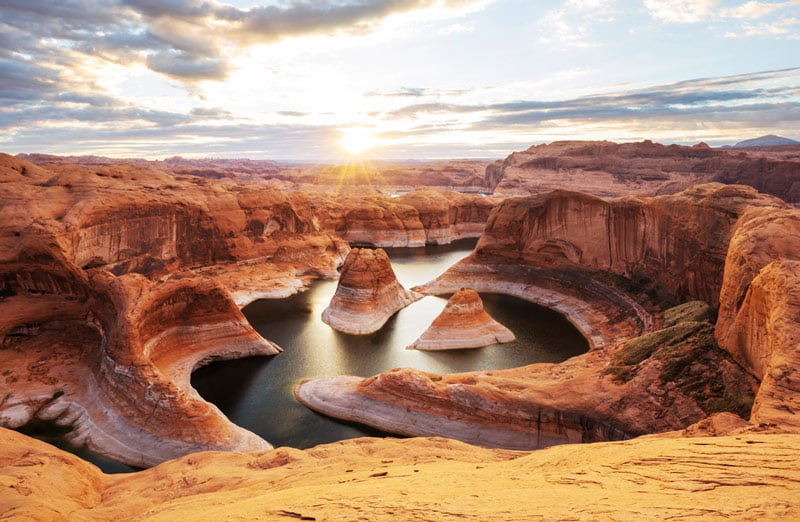 Glen Canyon National Recreation Area
Straddling the border of Utah and Arizona, you'll find the Glen Canyon National Recreation Area. This recreation area is located smack dab in the middle of some of the most famous outdoor attractions in America including the Grand Canyon, Capital Reef National Park, Canyonlands National Park, and Grand-Staircase Escalante National Monument.
Glen Canyon is a fantastic stopping point between any one of these parks. But, it also encompasses a number of prominent features of its own.
Horseshoe Bend is a popular curvature formed by the Colorado River. The hike to get to Horseshoe Bend Overlook is only 0.5 miles long so nearly anyone can do it. The 1,000 foot views are unmatched and gives tourists and unwieldily view of the canyon.
Reflection Canyon is an S-shaped curvature that requires an 18.7 miles hike, or use of a watercraft to explore. This meandering river is best visited in the warmer months and dogs are allowed!
Muley Point gives you a bird's eye view of Monument Valley, Navajo Mountain, and the San Juan River. It's a less-traveled area of the park which gives you the opportunity for a private and secluded experience.
Orange Cliffs are bordered by Canyonlands National Park and offer visitors scenic, dry desert views. Touted as having some of the most spectacular landscapes in the region, this area is a must-visit.
Lee's Ferry offers visitors the chance to drive up to the Colorado River where you can go fishing, camping, or launch a boat into the river. It's the closest spot in Glen Canyon to paddle around the base of Horseshoe Bend, or past the famous Lonely Dell Ranch Historic Sites.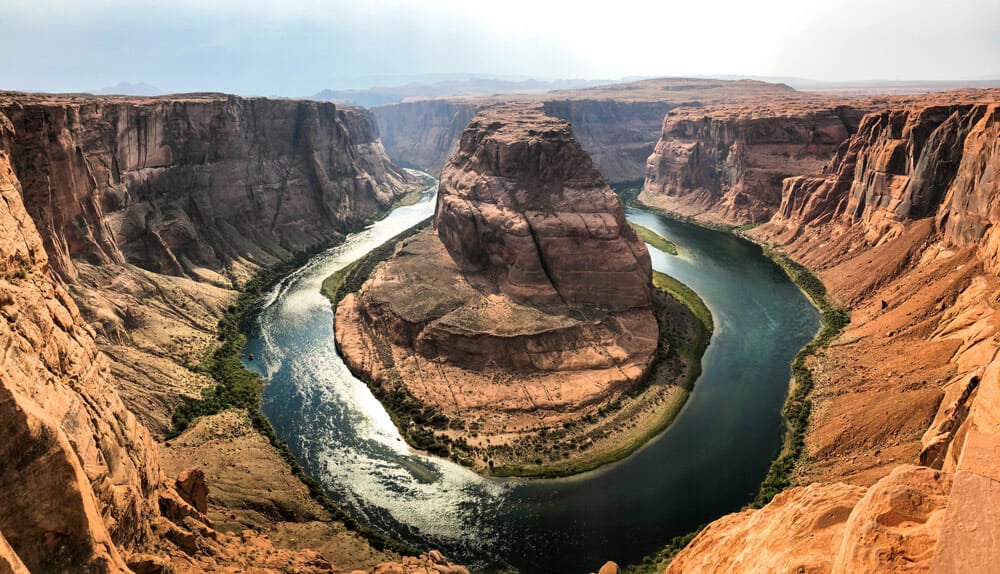 Pets
One of the best parts about Glen Canyon is its pet policy. Leashed animals are allowed in nearly every area of the park with the exception of a few minor locations. You can get special permits to take your dog through the Orange Cliffs.
Camping
Camping is abundant in Glen Canyon which is another reason this recreation areas makes for the perfect stopover between parks. You can find a mix of free and paid campgrounds within the park that are available to tent and large RV campers.
Boondocking and primitive campsites are available as well as backcountry camping with a permit. Dogs are also permitted in nearly all of these campgrounds.
Things To Do Nearby
Rainbow Bridge National Monument is immediately adjacent to Glen Canyon. It is one of the world's largest natural bridges. Rainbow Bridge can be reached by boat from Lake Powell, or by hiking around the Navajo Mountain with a permit.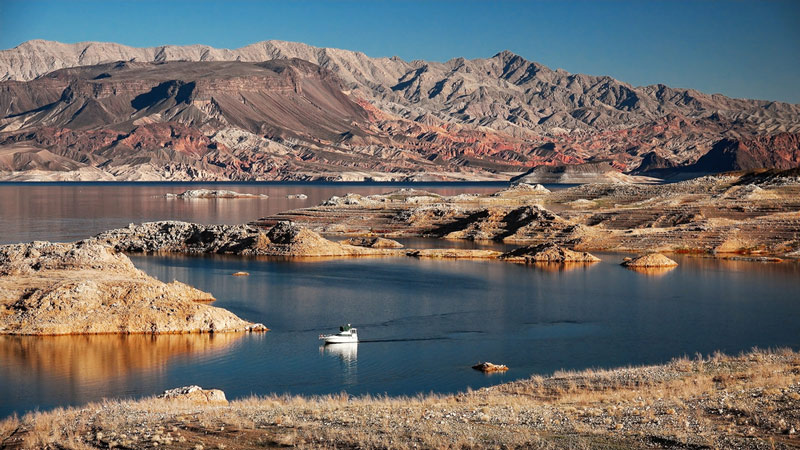 Lake Mead National Recreation Area
On the border of Arizona and Nevada, you'll find a desert oasis called the Lake Mead National Recreation Area. It's a popular spot to rest between Las Vegas, the Grand Canyon, and the National Parks in Utah.
Covering 1.5 million miles, Lake Mead is the biggest Recreation Area in America. It encompasses nine wilderness areas, two lakes, and multiple mountains, canyons, and valleys.
This lake, along with Lake Mohave were constructed using the Hoover Dam on the Colorado River. You can go swimming, boating, paddling, fishing, and even scuba diving in the lakes.
In addition to water activities, a mix of long and short hikes are available for every type of adventure. Horseback riding and biking are also permitted on numerous trails throughout the area.
Pets
Lake Mead is another incredibly pet-friendly National Recreation area. Pets will enjoy walking on all trails, developed areas, and along the beaches.
Camping
Because of its location, camping is a very popular activity at Lake Mead. A wide array of tent and RV campgrounds are available in the park. Numerous RV sites have full hookups and large pull-through spots which are perfect for big rigs.
Free camping and boondocking are also available in the surrounding the area. There are a number of approved backcountry roads where you spend the night.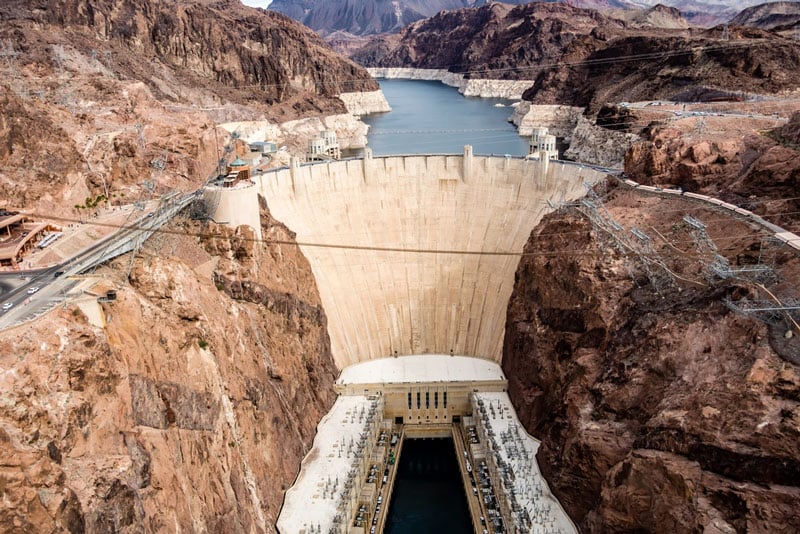 Things To Do Nearby
The Hoover Dam is a can't miss if you're in the area. Of course, this site is nearly impossible to bypass. The impressive structure is free to cross and offers guided tours, a visitor center, cafe, gift shop, and plenty of outdoor areas to grab a bite to eat.
Arizona National Monuments
Canyon de Chelly National Monument
Casa Grande Ruins National Monument
Chiricahua National Monument
Grand Canyon-Parashant National Monument
Montezuma Castle National Monument
Navajo National Monument
Organ Pipe Cactus National Monument
Pipe Spring National Monument
Sunset Crater Volcano National Monument
Tonto National Monument
Tuzigoot National Monument
Walnut Canyon National Monument
Wupatki National Monument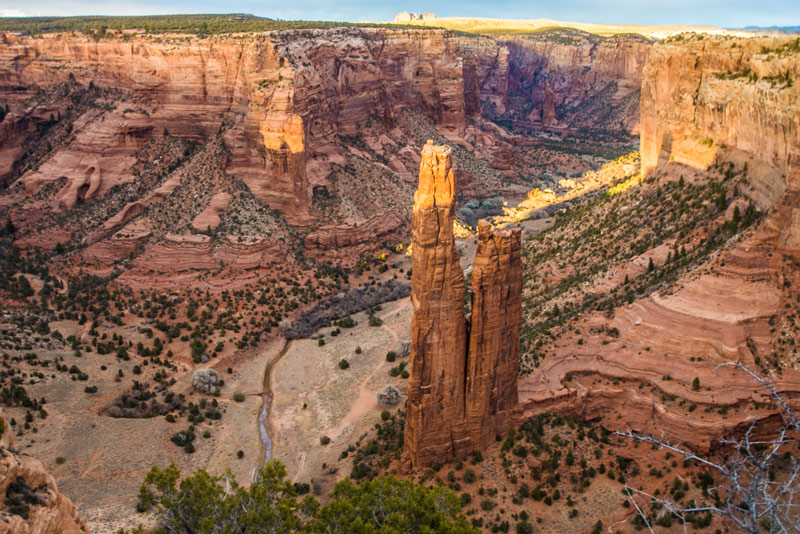 Canyon de Chelly National Monument
The land within northeastern Arizona's Canyon de Chelly National Monument has been populated for nearly 5,000 years, longer than nearly any other location in North America.
Millenia ago, it was home to the Ancestral Puebloans; today, however, its nearly 84,000 acres rests inside the Navajo nation. In fact, many Navajo still live within the three major canyons located in the park.
Visitors to Canyon de Chelly National Monument can enjoy a wide range of activities, from self-guided and ranger-led hikes to canyon tours, camping, and scenic drives around the rim of the canyons.
Casa Grande Ruins National Monument
Casa Grande Ruins National Monument is one of the largest prehistoric communities in North America: built between A.D. 1150 and 1450 by the ancestral Sonoran Desert people, the Casa Grande Ruins National Monument encompasses an extensive number of buildings, communities, and canals.
The name "Casa Grande", or "Great House," was itself coined by an Italian Jesuit missionary named Padre Eusebio Francisco Kino, who visited the ruins in the late 17th century.
The park contains a number of wayside exhibits designed to provide context to the park, and visitors are encouraged to watch the monument's park film, Casa Grande: House of Many Stories.
Chiricahua National Monument
Located in southeast Arizona within the Chiricahua Mountains, the Chiricahua National Monument is an expansive 12,025 acres of volcanic rock formations, forests, and mountainous terrain.
Chiricahua National Monument is remote, but its geographical isolation has no bearing on its potential for activity: visitors to the monument can enjoy scenic drives, 17 miles of hiking trails, and a number of geological and historical exhibits at the visitor center.
The park also contains Faraway Ranch, a pioneer-era homestead founded by Emma and Neil Erickson, Swedish immigrants whose family would themselves one day advocate for the establishment of the monument.
Grand Canyon-Parashant National Monument
The Grand Canyon-Parashant National Monument is one of the largest national monuments in the United States: at more than 1 million acres, its canyons, mountains, and bodies of water could occupy a visitor for months on end.
It's also extremely remote; the monument contains no park services, no cell service, and no bustling crowds.
Visitors can instead luxuriate in scenic drives along the Grand Canyon or Grand Wash Cliffs, or enjoy any of the park's beautiful vistas.
An important note: many of Grand Canyon-Parashant National Monument's scenic drives are only accessible by Jeep or UTV, so be sure to research before visiting.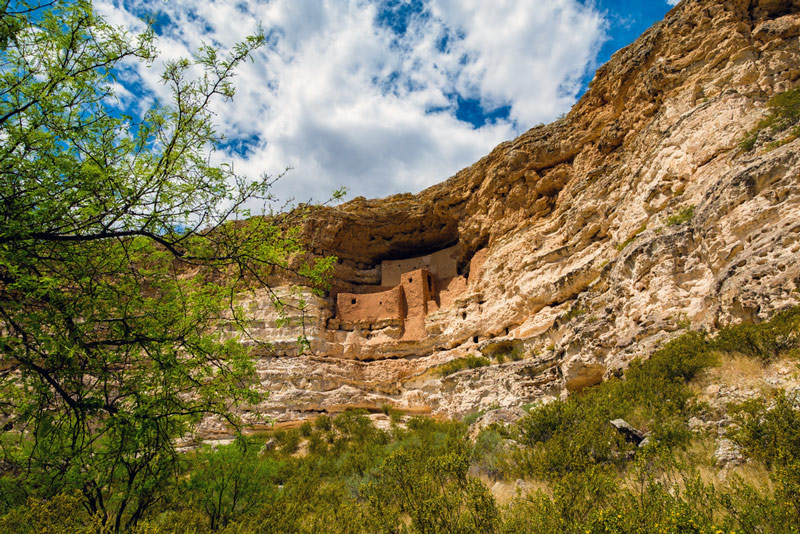 Montezuma Castle National Monument
Located within the Verde Valley, Montezuma Castle National Monument is an 800+ acre park that was once home to the Sinagua, a Native American tribe that lived in the land several hundred years ago.
The main feature of the monument is Montezuma Castle. It's a prehistoric apartment complex including a five-story, twenty-room building carved into a limestone cliff. Amazingly, the castle's first story rests not along the ground, but 90 feet up the cliff; its residents likely accessed the building by climbing up ladders.
The monument is also home to a wide variety of plant life, from mesquite trees to sycamore, and the Montezuma Well, a 55-foot flooded limestone sinkhole, which is home to five species that exist nowhere else on the planet.
Navajo National Monument
The Navajo National Monument was created in 1909 in order to preserve and manage three 13th century cliff dwellings that once belonged to the Ancestral Puebloans: Keet Seel (or Broken Pottery), Betatakin (or Ledge House), and Inscription House.
Homes were built directly into the cliff walls, and while no one has occupied these dwellings for centuries, the villages remain preserved.
The cliff dwellings of Inscription House are closed to the public, but visitors to Navajo National Monument are able to tour the Betatakin and Keet Seel villages, and can enjoy self-guided trails and a museum and auditorium at the monument's visitor center.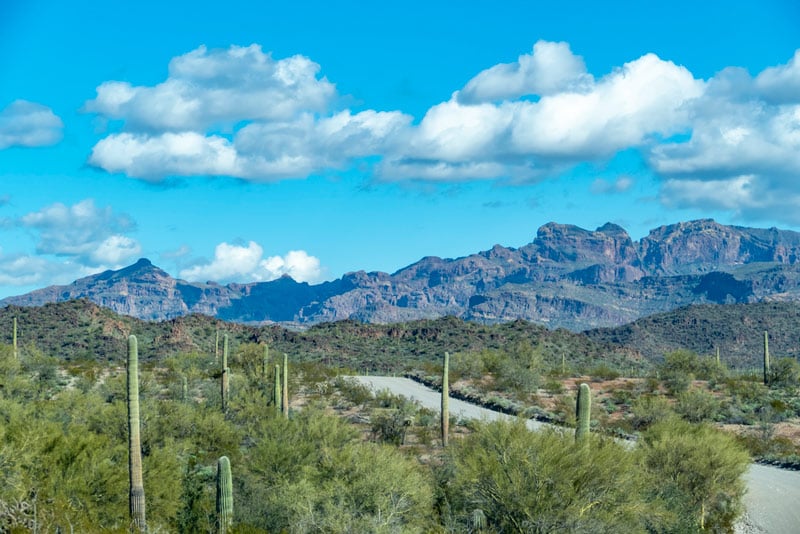 Organ Pipe Cactus National Monument
Organ Pipe Cactus National Monument is both a U.S National Monument and a UNESCO International Biosphere Reserve. Located along the Arizona-Mexico border in southwest Arizona, the Organ Pipe Cactus National Monument is now the only place in the United States where wild organ pipe cacti grow. It's also the only place in the United States where the Sonoyta mud turtle lives.
Visitors can enjoy everything from hiking trails and scenic drives to park ranger-led educational programs. They are also invited to view the Quitobaquito Springs, where the aforementioned mud turtle can be found.
Pipe Spring National Monument
Located in the far north of Arizona, Pipe Spring National Monument encompasses the Pipe Spring oasis, which served for millennia as a source of water and life for the humans, animals, and plants that lived in the surrounding desert lands.
In the 1850s, missionaries from the Church of Jesus Christ of Latter-Day Saints began to settle in the area, often coming into conflict with the Kaibab Paiute Native Americans who had lived on the land for centuries.
The Pipe Spring National Monument now stands as a memorial both to the Native Americans and the settlers who inhabited the area. Travelers can hike along a half-mile trail, pick vegetables from the monument's garden, or tour Winsor Castle, a 19th-century fort built by LDS missionaries.
Sunset Crater Volcano National Monument
Sunset Crater Volcano National Monument is built around the extinct volcano that gives it its name. Sunset Crater is thought to have formed between A.D. 1064 and 1085, and at the time, the ash from the eruption spread more than 800 square miles, resulting in the evacuation of the native Sinagua peoples.
Nearly 1000 years after the eruption, the crater has not yet completely revegetated, and visitors are able to view the Bonito Lava Flow as they walk along the monument's mile-long loop trail.
Tonto National Monument
Tonto National Monument serves as a tribute to the Salado cliff dwellings in the Superstition Mountains. The Salado were a group of people who lived in the Tonto Basin between the 13th and 15th centuries. Famous for their polychrome pottery and iconography, their culture influenced those around them in what is now known as the Salado Phenomena.
The Tonto National Monument is made up of two cliff dwellings: a lower cliff dwelling, which visitors can hike themselves, and an upper dwelling, which is available only via a guided tour.
Guests can also stop by the Visitor Center to watch a park film and explore the museum, or can walk through the trails while enjoying the Tonto National Monument's wide array of flora and fauna.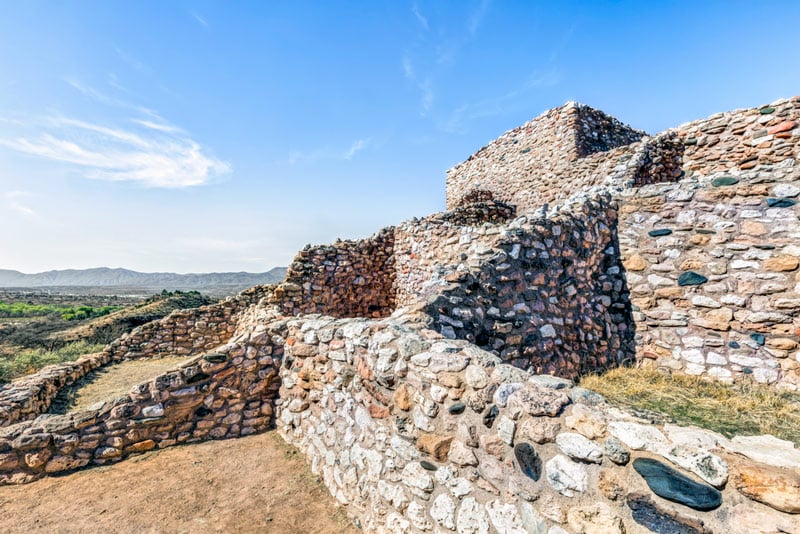 Tuzigoot National Monument
The Tuzigoot pueblo, memorialized by the Tuzigoot National Monument, was built by the Sinagua Native Americans somewhere between A.D. 1125 and 1400.
The Sinagua subsisted on a combination of hunting, gathering, agriculture, and trade, and the remains of their hilltop community, built atop a small sandstone hill, still overlooks the Verde River Valley.
Travelers to Tuzigoot National Monument can hike the 3.7-mile Tavasci Marsh Overlook trail, visit the monument museum, or simply enjoy the view from the top of the hill.
Walnut Canyon National Monument
Just outside of modern-day Flagstaff, Walnut Canyon National Monument preserves a community of cliff dwellings built between A.D. 1100 and 1250 by the Sinaguan peoples.
The Sinagua built 25 cliff dwellings in the limestone cliffs of Walnut Canyon, and visitors to the monument can view those dwellings while hiking along Walnut Canyon National Monument's mile-long Island Trail.
Walnut Canyon National Monument is also home to a wide variety of plant life, from agaves to walnut trees.
Wupatki National Monument
Built out of the Moenkopi sandstone that gives the pueblo its distinctive red color, the Wupatki villages that now make up Wupatki National Monument serve as a memorial to the Ancestral Puebloans who once lived there.
The monument is home to the remains of more than 800 dwellings. Several of the largest, such as Kaibab and Antelope House, are accessible to guests.
Visitors can take advantage of a number of guided hikes of varying difficulty levels, including a two-day hike to Crack-in-Rock, a pueblo sitting atop a mesa in the backcountry.
Arizona National Memorials And Historic Sites
Coronado National Memorial
Fort Bowie National Historic Site
Hubbell Trading Post National Historic Site
Tumacacori National Historical Park
Coronado National Memorial
In 1540, the Spanish conquistador Francisco Vázquez de Coronado led an expedition through Mexico and what is now the southwestern United States in search of a mythical city of gold.
The expedition never found gold. It did, however, encounter several indigenous cultures, often leaving bloodshed and war in their wake.
No physical memorials remain of the expedition, but guests can stop by an overlook at Montezuma Pass where the expedition first entered the United States, can visit the 600-foot long Coronado Cave, or can enjoy hiking through Coronado National Memorial's eight miles of trails.
Fort Bowie National Historic Site
Located in southeastern Arizona, Fort Bowie was built by the U.S. Army in 1862 following a number of battles with the Chiricahua Apache peoples who lived in the area.
The first Fort Bowie served as a temporary encampment for Union soldiers; the second, built 6 years later, served as a military center of command until its abandonment in 1894. Today, its air of peace and serenity belies its more bloody origins.
Visitors can reach Fort Bowie by hiking up a 1.5-mile trail, and can then view the remains of the fort, stop by the Fort Bowie National Historic Site Visitor Center, or take a walk through the fort's cemetery.
Hubbell Trading Post National Historic Site
Established by John Lorenzo Hubbell in 1878, the Hubbell Trading Post is the oldest still-operating trading post within the Navajo Nation.
Following the Navajo people's return to Arizona after their forced removal to Bosque Redondo in New Mexico (an event known as "the Long Walk"), the Navajo found their ancestral fields and herds destroyed and were forced to increasingly rely on trade.
The Navajo used the trading post to trade everything from rugs and wool to jewelry and pottery, and today the Hubbell Trading Post National Historic Site memorializes the trading post and those who relied on it.
Travelers to the site can purchase handmade Native American goods directly from the still-operational trading post, attend weaving demonstrations, or walk along the site's Veterans Trail.
Tumacácori National Historical Park
Located in Santa Cruz County in southern Arizona, the Tumacácori National Historical Park encompasses more than 360 acres, the remains of three Jesuit and Franciscan missions, and the Tumacácori Museum.
Jesuit priest Eusebio Francisco Kino, also known as Father Kino, established the first two of these missions—the first missions in Southern Arizona—in 1691. The third mission, San José de Tumacácori, was built in 1756, and still stands in excellent condition today thanks to restoration efforts following its establishment as a national monument.
Visitors to Tumacácori National Historical Park can tour the mission grounds (including the church, cemetery, and orchard), or can learn about the history of Tumacácori at the Tumacácori Museum.
National Trails In Arizona
National Parks In The Surrounding Area