Top 15 Things To Do In Glen Canyon Recreation Area
By
on
This post may contain affiliate links. As an Amazon Associate, I earn from qualifying purchases. Please read my full disclosure.
Glen Canyon Recreation Area is run by the National Park Service in Arizona and Utah.
It's located smack dab in the middle of five picturesque outdoor destinations in America including:
Grand Canyon National Park
Capital Reef National Park
Canyonlands National Park
Grand-Staircase Escalante National Monument
Vermillion Cliffs National Monument
If you ever find yourself traveling through southern Utah or northern Arizona, Glen Canyon is a can't-miss experience. Not only does this place make for the perfect stopping point between parks, but it also has a number of famous features of its own.
Best Things To Do In Glen Canyon Recreation Area
Covering 1.25 million acres, there are endless things to do at Glen Canyon. You may not have heard of Glen Canyon itself, but chances are good that you've seen pictures.
Photography Horseshoe Bend
Hiking Reflection Canyon
Waterskiing Lake Powell
SUP At Lees Ferry
Paddling In The Escalante River
Backpacking Coyote Gulch
Jeeping In Hite
Camping At The Muley Point Overlook
Canyoneering In The High Spur Slot Canyon
4×4 Up The Flint Trail
Boat To Rainbow Bridge National Monument
Drive Across Hole-in-the-Rock Road
Cross The Glen Canyon Dam
Rafting Through Cataract Canyon
Free Camping In Glen Canyon Recreation Area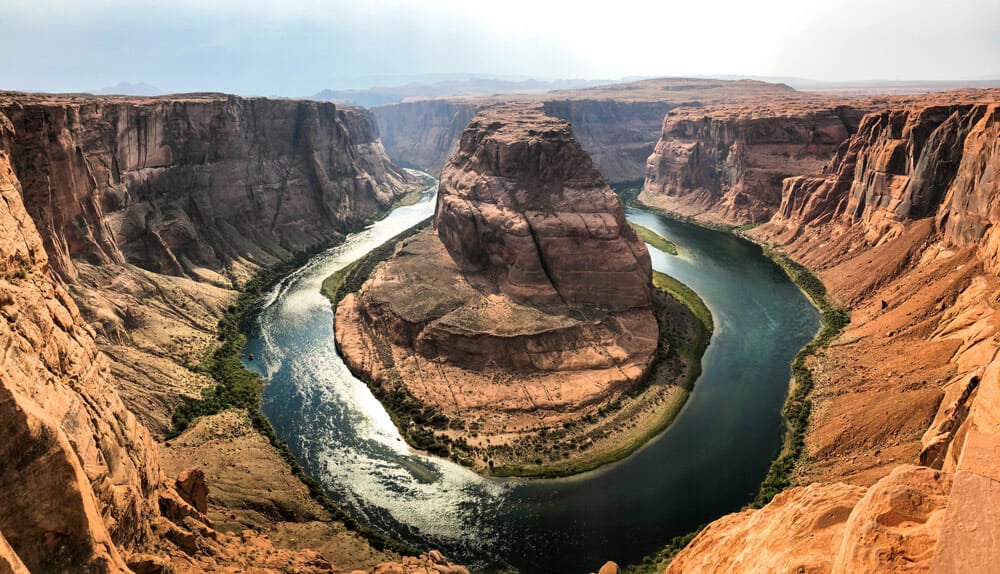 Photography At Horseshoe Bend Overlook
One of the most famous overlooks on the Colorado River is Horseshoe Bend. The U-shaped curvatures is particularly attractive because of it's incredibly steep walls and ease of access.
The hike to Horseshoe Bend Overlook is just 0.6 miles one direction and most of the path is flat and well-maintained. That makes it easy for everyone in the family to access including young children.
At the end of the trail, you'll be greeted with most spectacular view of the river below. There are no guard rails or obtrusive signage to block the view.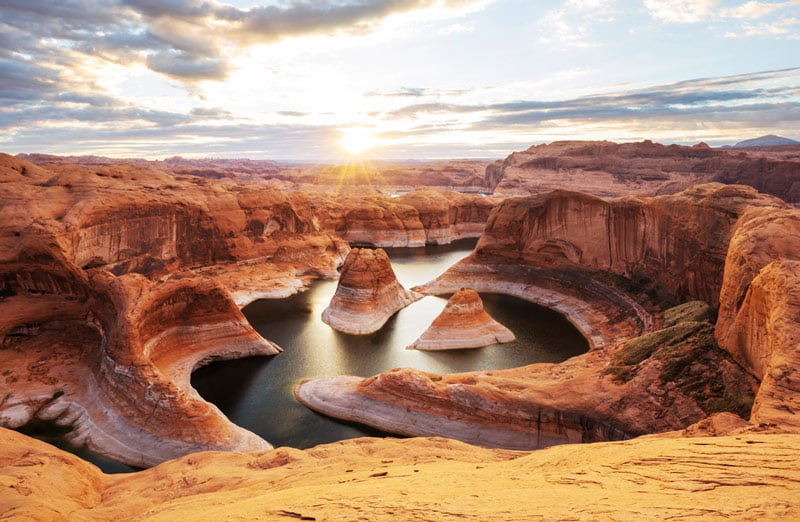 Hiking To Reflection Canyon
For the more adventurous traveler, the hike to Reflection Canyon in Glen Canyon is a challenging and rewarding experience. Because of the remote location most visitors only get to enjoy Reflection Canyon by boat or air, but it is possible to hike there as well.
The journey starts with a 4-wheel drive down Hole in the Rock Road in Grand Staircase Escalante. After nearly 50 miles you'll enter Glen Canyon where a small parking lot can be found.
From there, an 18-20 mile round-trip hike awaits. Fortunately, backpacking is permitted and so are pets! So you can bring your furry friend and make an adventure out of the whole ordeal. The hike itself has minimal elevation gain, but it is highly remote and isolated. You won't find any cell phone service or facilities on the way to Reflection Canyon!
In the end, the hike is worth it. You can take a dip in the water and sleep next to the canyon for a prime photo op in the morning!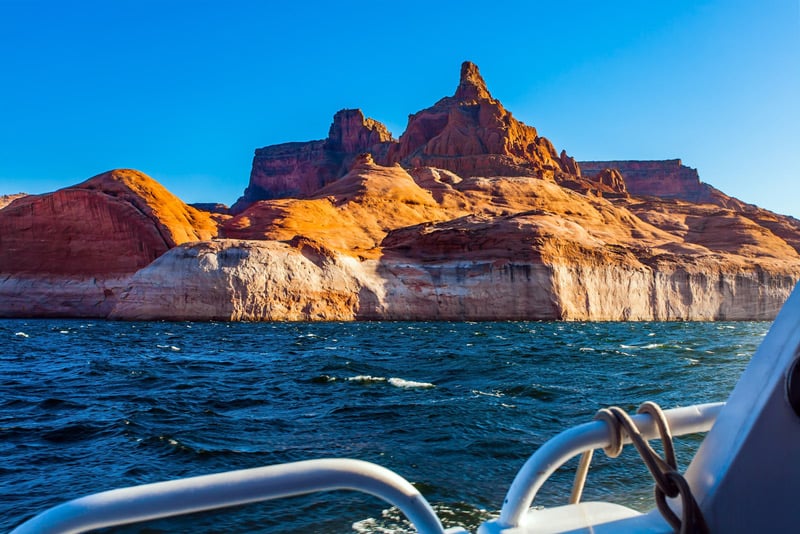 Waterskiing On Lake Powell
Lake Powell is a recreation area of all of its own. There are five area marinas and four boat launches where you can take watercraft up and down the Colorado River. If you're looking to rent a houseboat, go fishing, or camping along the lake there are plenty of opportunities to do so.
The primitive campsites along the Lake Powell shoreline are free, dog-friendly, and require no permits.
Wakeboarding and water-skiing are popular activities for thrill-seekers to the area. Sandy beaches also make it a great place to go swimming or picnicking.
For those who prefer landmarks, taking a boat from Lake Powell is the fastest way to reach Rainbow Bridge National Monument; the largest freestanding natural bridge in the world.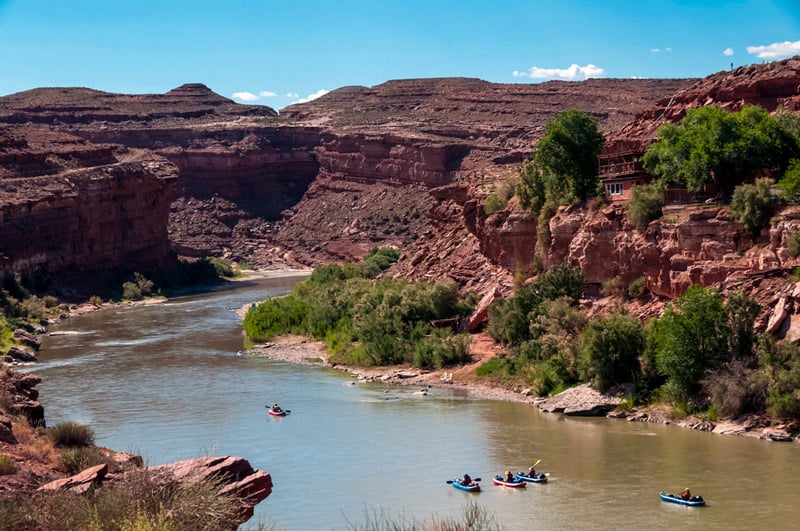 SUP At Lees Ferry
Located on the Colorado River, Lees Ferry is the closest takeoff point if you wish to paddle the base of Horseshoe Bend and beyond. At Lees Ferry you can find an established campsite for tents and RVs, a boat launch, and tens of miles of hiking trails. Water activities are popular in the area including trout fishing upstream.
Rent a kayak, paddle board or canoe, and go camping along the waters edge. There are several campsites perched along the cliffs next to the river which are perfectly positioned for night sky viewing and waking up for a swim.
Five designated camping areas are free and available on a first-come, first-served basis. They are equipped with pit toilets and fire rings for your convenience.
Along the popular hiking trails at Lees Ferry, multiple historic buildings dating back to the early 1900s still stand. Scenic, sandstone cliffs surround you in every direction and the area has a quieter feel then bustling Lake Powell.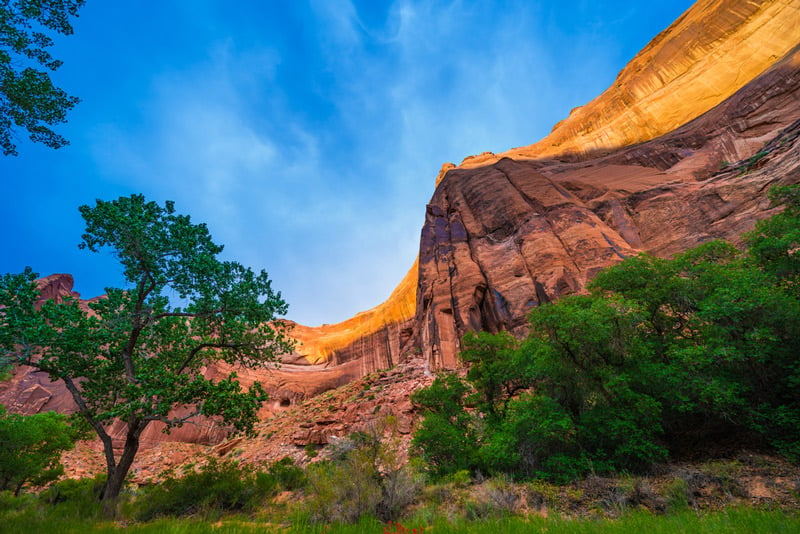 Paddling In Escalante River
Towering cliffs that could give Horseshoe Bend a run for its money await you at Escalante River. This redrock canyon makes for the perfect float trip when conditions are right.
A trip down the Escalante River is not for beginners. Peak water runoff is unpredictable and it's recommended that you set aside six days for the trip from Highway 12 Bridge to Coyote Gulch.
Although this is a Class II river, Class III skills are highly recommended because it's so isolated and remote. You'll want a short, and shallow boat like an inflatable kayak to get through the sharp twists and turns of the river.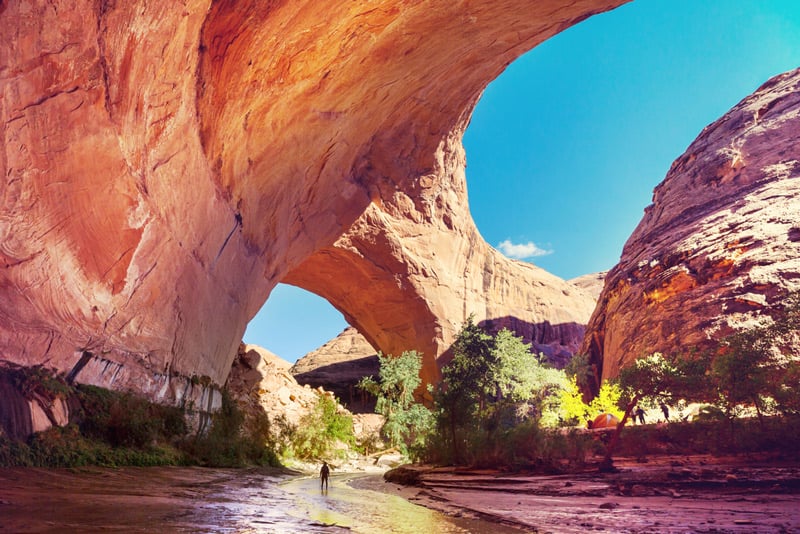 Backpacking In Coyote Gulch
Coyote Gulch is one of the most popular canyons to backpack in Escalante. The area encompasses a natural bridge, two arches, and multiple waterfalls. Several trailheads are available to start, then cairn-lined backpacking routes lead you across the landscape.
Hikes range from 12-28 miles and weave beneath the shadows of vertical sandstone walls and hanging gardens. Along the way you'll pass by petroglyphs, a riparian zone, and a wide variety of wildlife. You'll also have the opportunity to visit Steven's Arch; the fourth-largest arch in the world.
While pets are not permitted in this Coyote Gulch, you will find plenty of places for an overnight camping trip. Backpacking permits are free.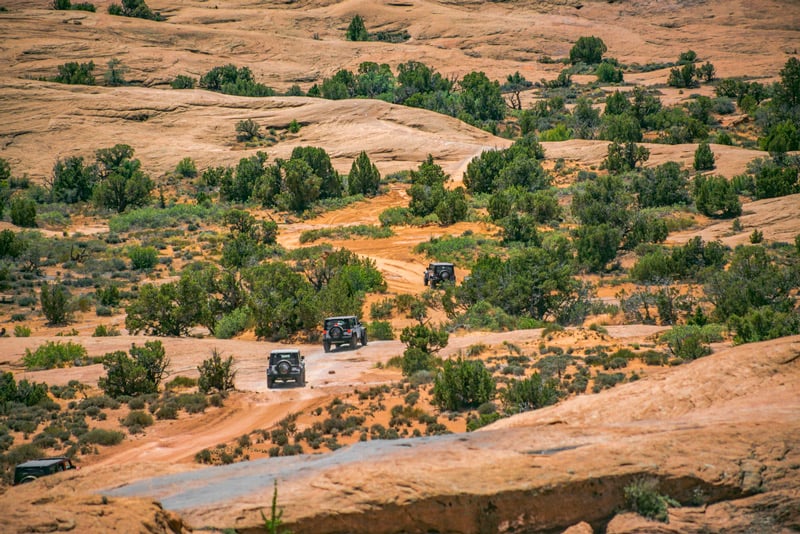 Jeeping In Hite
Located on the top of Lake Powell, nearby the junction of the Colorado and Dirty Devil Rivers is the ranger district of Hite.
Hite used to be the center of the Glen Canyon Gold rush, but today it is a ghost town that offers remote desert play, and water activities.
On land, this recreation area is the perfect place to adventure down jeep trails, take an ATV, or go mountain biking.
Numerous road are within close proximity to gas stations, developed campgrounds, and rental companies. That means you can grab your gear at the local shop and hit the trails for an exhilarating afternoon.
On the lake, fisherman can enjoy catching Walleye and Stripper. This area has the best fishing on Lake Powell. You can also jet ski, kayak, or paddle through the water while enjoying Arizona's spectacular slot canyons.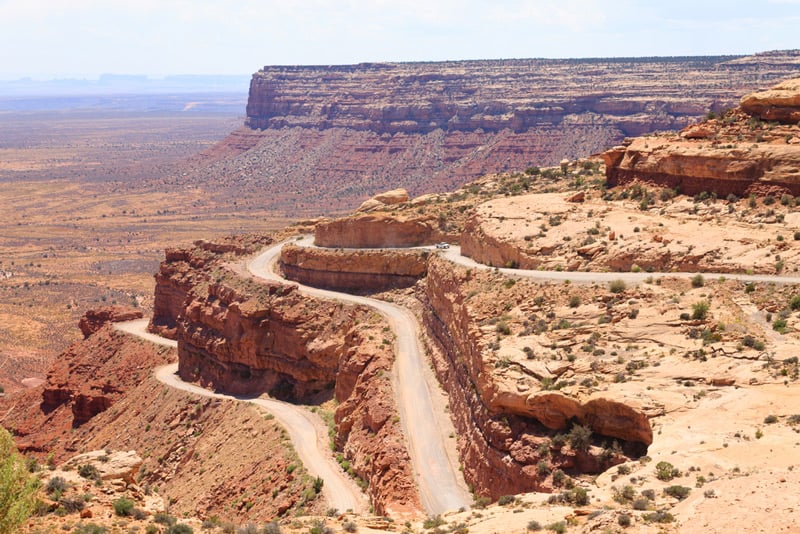 Camping At The Muley Point Overlook
For unparalleled views of Monument Valley, Navajo Mountain, and the San Juan River, there's no better place to relax than at the overlook of Muley Point. You can find Muley Point on the far, southeast corner of the Glen Canyon Recreation Area. It's a 17-mile drive from Mexican Hat, Utah.
The road consists of numerous switchbacks known as the Moki Dugway which are only accessible for vehicles under 25 feet long. Buttes, cliffs, volcanic spires, and a picture-perfect view of Monument Valley will keep you entertained throughout the journey.
Once you've reached the end of the road, the last path consists of a 5-mile gravel track to the overlook. You can hike, bike, or jeep along this rugged and twisty trail. Muley Point is extremely remote and rarely visited. You can take your pets and go camping right alongside the rim for some of the best free camping with a view in Utah.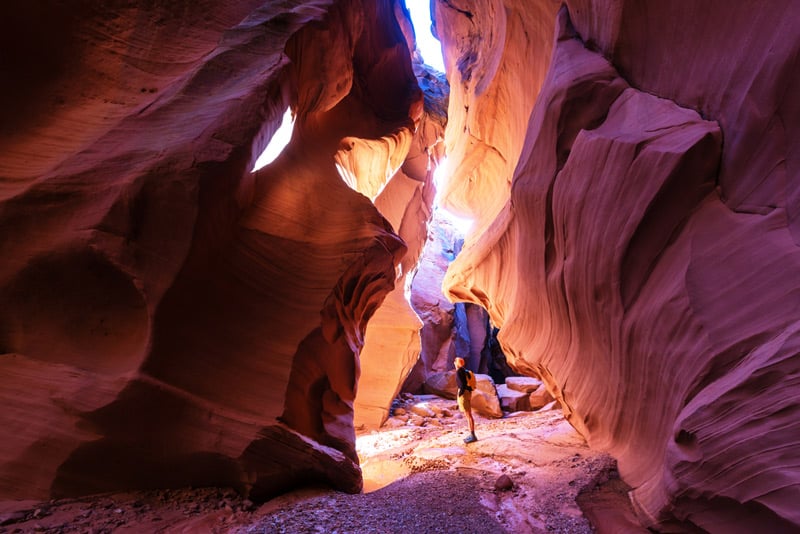 Canyoneering In The High Spur Slot Canyon
Bordering Canyonlands National Park, the Orange Cliffs envelope some of the most unique features in Glen Canyon.
The High Spur Slot Canyon consists of steep and narrow sandstone walls that could rival Antelope Canyon. The area is a photographers dream! A high-clearance vehicle is required to get there and the pathway isn't for beginners.
Trekking through the slot canyon typically takes between 5-7 hours, and the highest repel is 83-feet.
Visitors who are looking for a more tame adventure can enjoy hiking above the High Spur Slot Canyon. Here, you can get up-close views of the Bentonite Badlands, mushroom rocks, and petrified wood scattered throughout the area.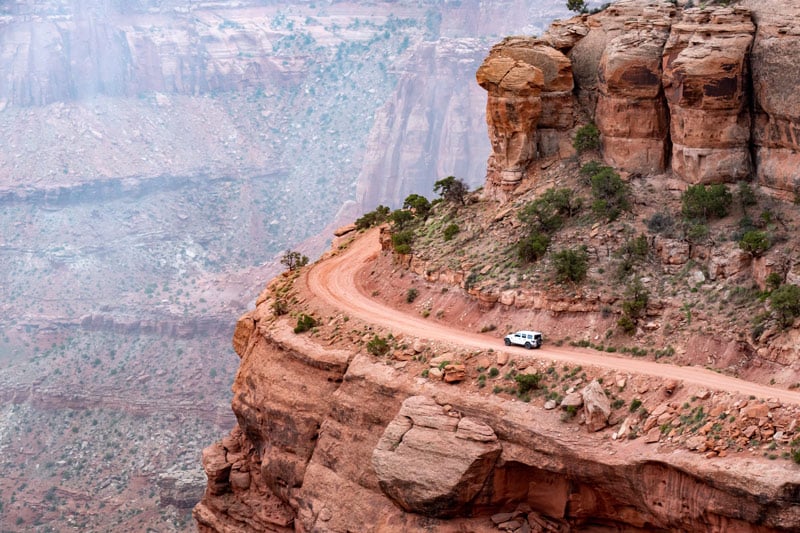 4×4 Up The Flint Trail
Also located in the Orange Cliffs are miles of gut-wrenching Jeep trails. The Flint Trail is 44-miles long and zigzags travelers down tight and narrow switchbacks of the Colorado Plateau.
This road is not highly technical, but it will require a high-clearance 4×4 or overlanding vehicle.
A typical journey lasts around 4 hours and will guide you alongside high ridges. You should not attempt this route if you're scared of heights! Along the way you can find turnoffs for more technical trails, or multiple campsites which make for the perfect weekend adventure.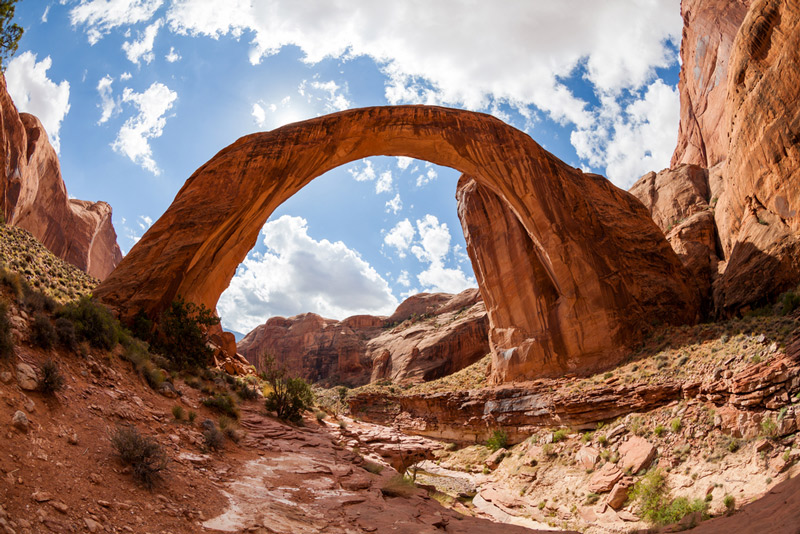 Boat To Rainbow Bridge National Monument
Measuring 275-feet tall, Rainbow Bridge is the largest known natural bridge in the world. This National Monument is the smallest entity of the National Park Service. It's also most accessible via boat from the Glen Canyon Recreation Area.
There are two ways to get to Rainbow Bridge; by boat and on foot. The hike involves a 2-day minimum backpacking trip through Navajo Nation, so most tourists opt for the boat ride.
Boat tours take off from the Wahweap Marina at Lake Powell. You're also welcome to take your own private or rental boat from Wahweap, Antelope Point, Dangling Rope, or Bullfrog and Halls Crossing.
After docking at the mouth of Forbidding Canyon, it is a 2-mile walk to Rainbow Bridge.
The monument is of particular importance to the neighboring Indian tribes who consider the bridge to be sacred.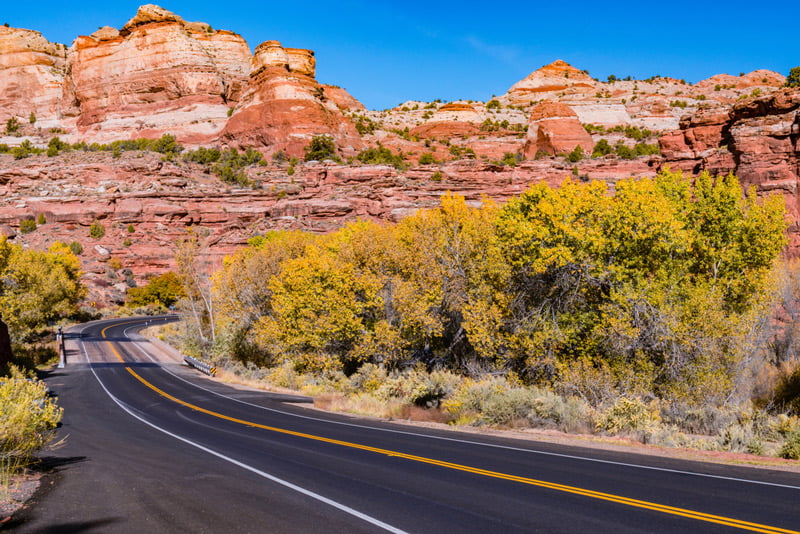 Drive Across Hole-in-the-Rock Road
Travelers can spend multiple days driving Hole-In-The-Rock Road and making pitstops at scenic viewpoints along the way. The entire route stretches 62-miles long and most of it runs through Grand Escalante National Park.
At least 5-miles of the road cross through the boundaries of Glen Canyon National Recreation Area.
Multiple side roads make for great pull-off points for hiking, camping, and letting your pup out for a run. Points of interest along the way include Devil's Garden, 20 mile spring, Dance Hall Rock, the Carcass Wash, and Hole-In-The-Rock itself.
Hole-In-The-Rock is a narrow crack expanded by Mormon Pioneers to allow their covered wagons across the treacherous terrain.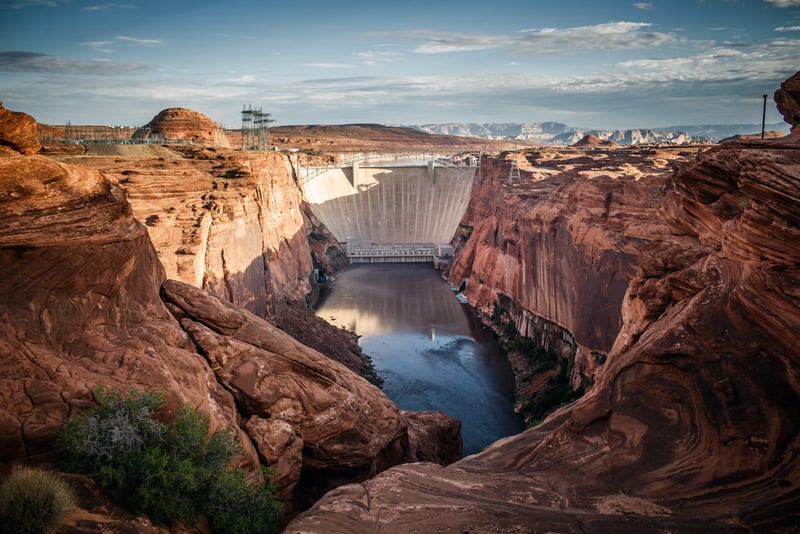 Cross The Glen Canyon Dam
The Glen Canyon Dam is the second-tallest concrete arch dam in America; only the Hoover Dam is higher. This mighty structure stands 710-feet tall and uses the Colorado River to provide power to the west.
Lake Powell is around today because of the formation of the Glen Canyon Dam.
If you find yourself in Glen Canyon and need a break from perpetual outdoor adventures, then a visit to the Glen Canyon Dam is the perfect way to spend the afternoon.
Guided tours of the Dam and the powerplant are available on a daily basis. You can also stop by the Carl B. Hayden Visitor Center for a break from the sun.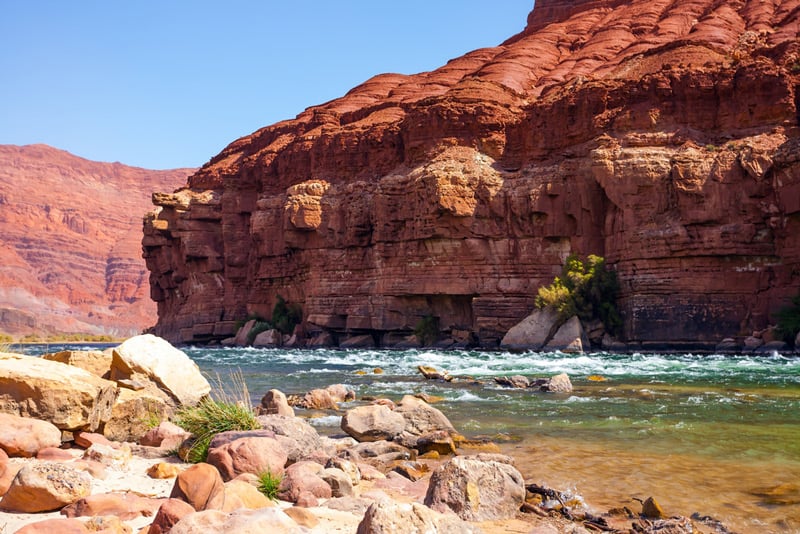 Rafting Through Cataract Canyon
Any experienced white-water rafter has probably heard of Cataract Canyon. This legendary, 96-mile section of the Colorado River stretches between Moab, Utah and the Grand Canyon. It offers some of the largest and most difficult rapids in the southwest.
A particularly popular portion of Cataract Canyon weaves 14-miles from Moab to Hite in the Glen Canyon Recreation Area.
The Hite Marina on Lake Powell is a favored takeoff point to start the journey.
River Permits are required, and this trip is not for beginners. You can find a number of guided white-water rafting tours in the area if it's your first go-around.
Cataract Canyon will take your raft on a wild adventure over Class III, IV, and V rapids. Along the way, you'll be awed by stunning sandstone walls that tower above the river on all sides. But there won't be time to look up for long. Rapidly changing water levels and technical rock formations will keep your attention the entire ride.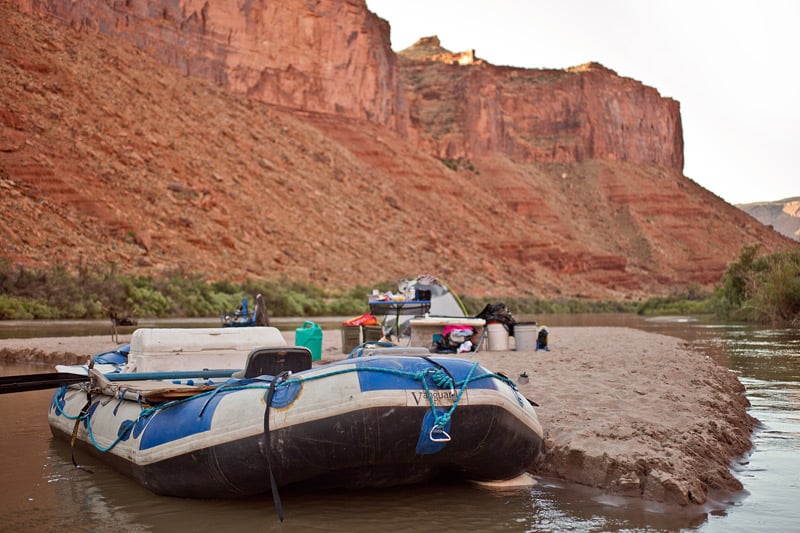 Free Camping In Glen Canyon Recreation Area
One of the best parts about the Glen Canyon Recreation Area is that you can find free camping everywhere. As avid travelers, we truly appreciate being able to spend the night on a budget while making pit stops between our favorite parks.
Many areas of Glen Canyon have few restrictions so you can set up camp nearby your desired destination and even bring pets! It's the perfect place to go boondocking or dry camping in an RV as well.
While there are too many free camping locations to cover in Glen Canyon, we'll give you a list of some of our favorite locations to check out.
Camping along the Lake Powell Shoreline
Undeveloped camping along the Shoreline of Lake Powell is free. There is no permit required, but you may need to pay a park entrance fee. These sites are pet-friendly, and completely primitive. So you'll need to pack out all of your gear and remember to leave to trace.
Free camping along the Colorado River in Glen Canyon
Five designated campsites are available along the Colorado River between the Glen Canyon Dam and Lee's Ferry. These sites are first-come, first-served, free, and require no permit.
They are paddle-in only and completely primitive. You can find maps of the campsites at the Lee's Ferry Boat Launch when entering the recreation area and online here.
Ropes Trail Camp
Ferry Swale Camp
9-Mile Camp
8-Mile Bar Camp
6-Mile Camp
Backcountry Camping in Glen Canyon
Primitive, dispersed camping is available throughout all of the Glen Canyon backcountry with the exception of developed recreation areas like trailheads and picnic areas.
Permits are required and can be obtained from many of the nearby park visitor centers including Canyonlands National Park, and the Escalante District of Glen Canyon.