By
on
This post may contain affiliate links. As an Amazon Associate, I earn from qualifying purchases. Please read my full disclosure.
Antelope Canyon is a picturesque slot canyon located near Page, Arizona on Navajo land. The canyon is made of sandstone that was eroded with rainwater over millions of years.
You may recognize Antelope Canyon from the old Microsoft Wallpaper. And a picture taken there was once the most expensive photo ever sold in a private collection.
Visiting Antelope Canyon is no doubt a memorable experience and unlike anything else you can discover. If you find yourself in Northern Arizona or Southern Utah, it is a must-see destination.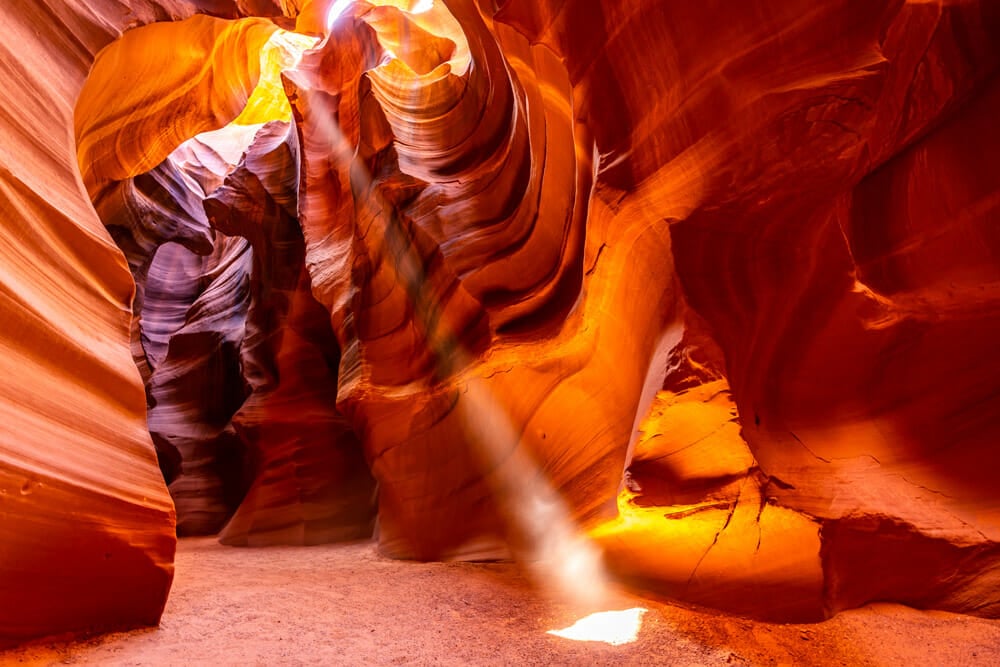 How to get to Antelope Canyon
Page, Arizona which is next to Antelope Canyon is: 2 hours from the Grand Canyon, 4.5 hours from Las Vegas, and 3 hours from Sedona, Arizona.
If you have enough time, many adventure travelers will visit the Grand Canyon, Horseshoe Bend, and Antelope Canyon all in one vacation.
To get to Antelope Canyon from Page, AZ take Highway AZ-98 E about 5 miles, then turn right when you start to see the tour company signs like Adventurous Antelope Canyon and Ken's Tours. The road is very clearly marked. (open in maps)
What to expect in Antelope Canyon
Even though we thought we knew what to expect, when driving there we were surprised to find the area did not look like a point of interest at all. The top of the canyon rests at ground level so you won't see a magnificent build up.
There is simply a dirt parking lot, porta potties, and a few tourist shops along the road. Tour guides will take you in 4×4 jeeps to the slot canyon itself after you arrive.
The canyon is located on restricted Navajo land. You cannot visit Antelope Canyon without a tour. And those tours fill up fast! You'll have to book ahead of time, sometimes months in advance, if you want to get in during the best time of year.
Your experience in the canyon is going to differ whether you choose to visit Upper Antelope Canyon or Lower Antelope Canyon.
Antelope Canyon Tours
Tours run daily all year round and the lowest ticket prices start around $40 in the off-season. There are three different Navajo tours you can book in Antelope Canyon:
Upper Antelope Canyon
Lower Antelope Canyon
Additionally, you can book tours that will pick you up from a nearby city and take you through Antelope Canyon. Some of the most popular are: Antelope Canyon from Sedona, Flagstaff and Las Vegas.
Upper vs Lower Antelope Canyon
Upper and Lower Antelope Canyon each have their own qualities. You can book both in the same day if you wish. Upper Antelope Canyon tours run about 1.5 hours, and Lower Canyon tours take about an hour.
For the best lighting, you should book the Upper Antelope Canyon tour earlier in the day and the Lower Canyon afterward.
| Upper Antelope Canyon | Lower Antelope Canyon |
| --- | --- |
| Darker, famous beams of light | Ladders and Staircases |
| Wider footpaths | Narrow, uneven footpaths |
| Easier walking | More strenuous |
| More expensive | Less expensive |
| Harder to book | Easier to book |
| Photography tours available | No photography specific tours |
Upper Antelope Canyon
The upper canyon is famous for its beams of light, and it's the only place you can take a photography tour. The most famous photos of Antelope Canyon have been taken in the Upper Canyon.
The base of Upper Antelope Canyon is a wider than the lower canyon. That makes it easier to maneuver and the best choice if you tend to get claustrophobic. The path is relatively flat, and there are no ladders or staircases to climb.
It has taller walls that get narrower as they reach towards the sky making it darker and cooler than lower canyon.
Upper Antelope Canyon tours are more difficult to book. They can sell out months ahead of time during the busy season. And they're more expensive.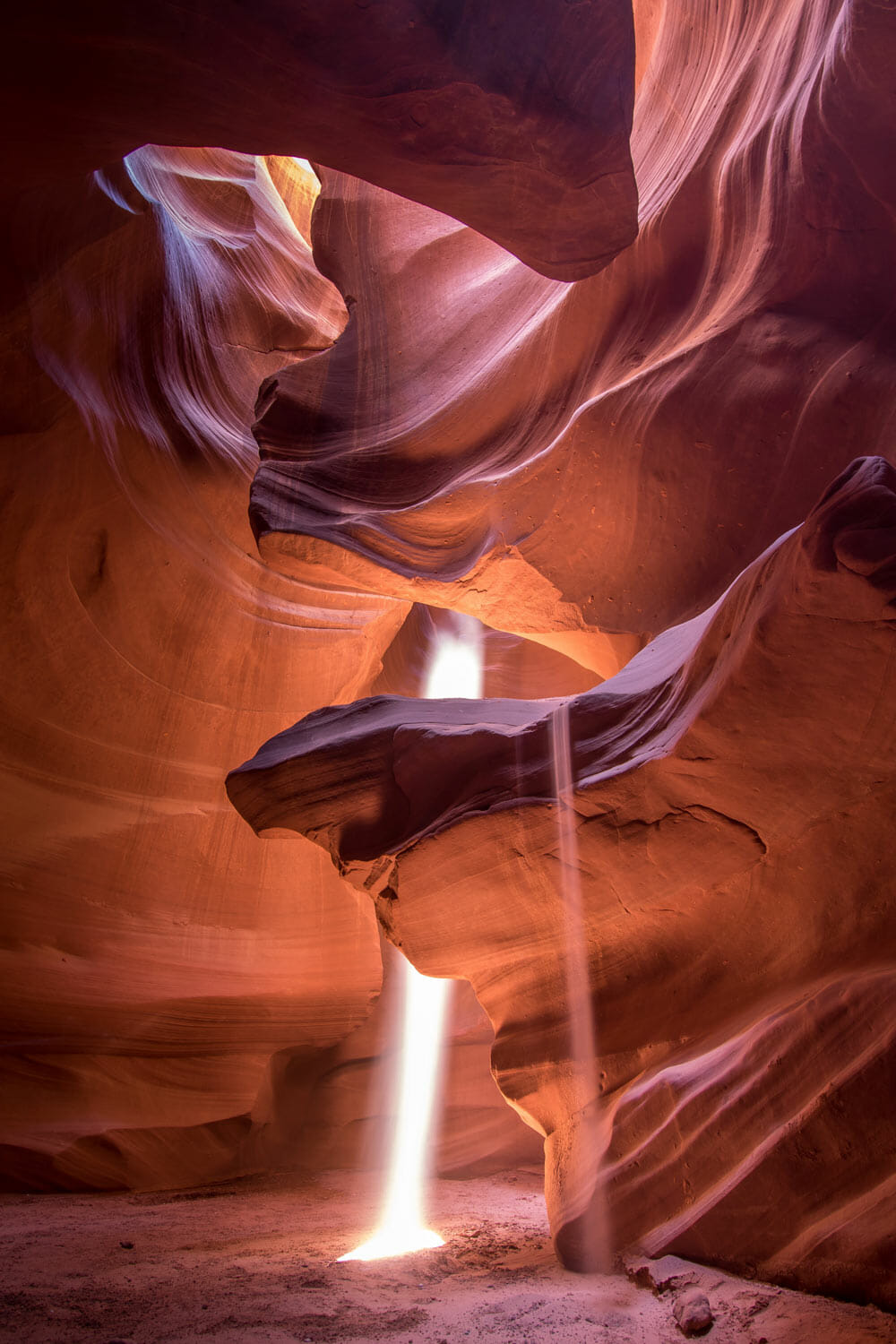 Lower Antelope Canyon
Lower antelope canyon is easier to get tickets for and less crowded. We booked with Ken's Tours which run every 30 minutes from 8am-4pm.
While the paths in Lower Antelope Canyon are narrower, the opening to the sky is much larger and brings in more light. Unlike Upper canyon, the lower portion is well-lit throughout the majority of the day.
Footing in Lower Canyon is more angled and includes deep sand, rocks and gravel. There are no benches to stop and sit and the passageways are too small for wheelchairs or strollers. It is considered a strenuous hike even though it's short. The round-trip walking tour is 1 mile long.
Lower Antelope Canyon is also famous for its ladders and staircases. Once you get into the canyon, steep and narrow staircases are the only way out. So if you have mobility issues you should visit the Upper canyon instead.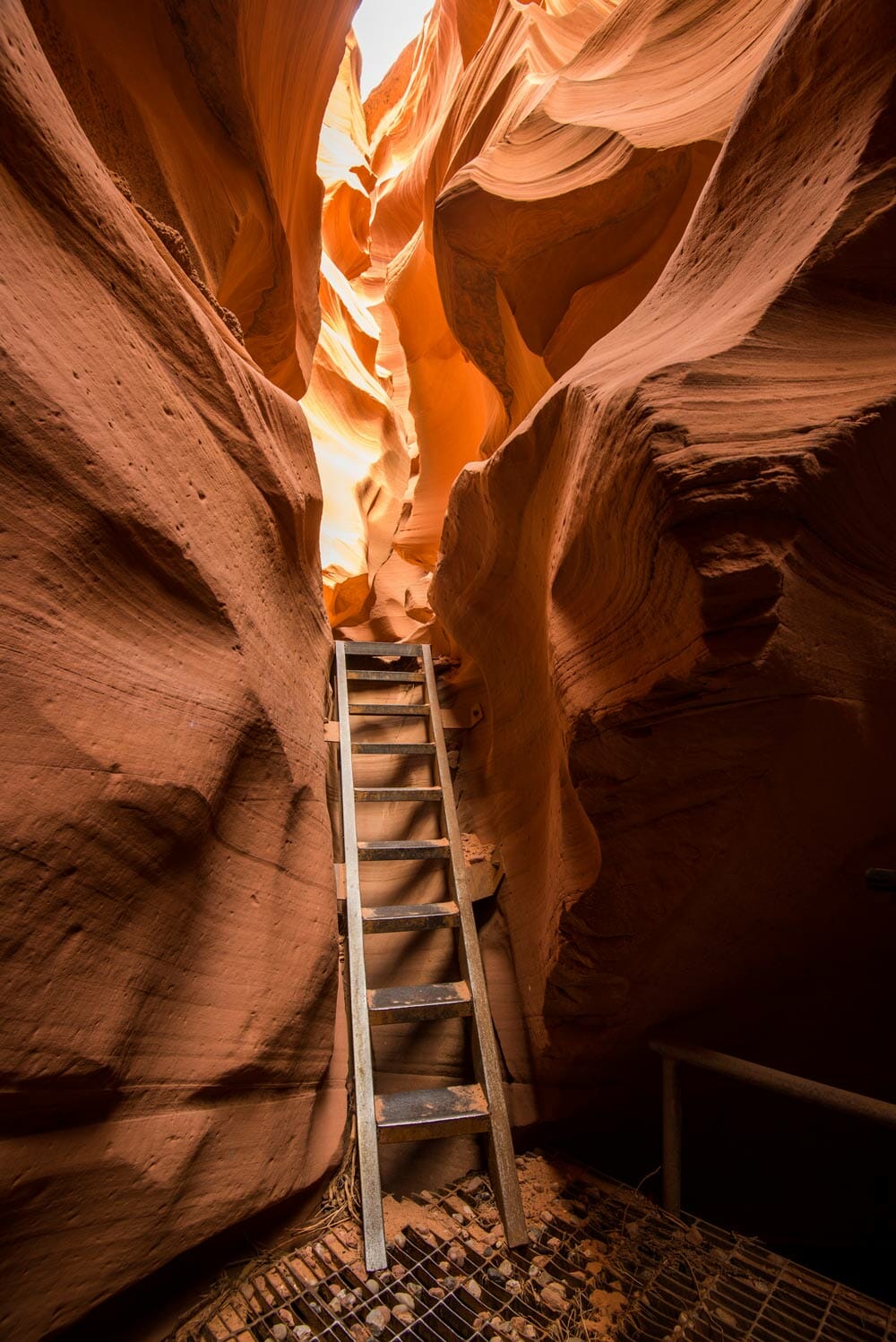 When Is The Best Time Of Year To Visit Antelope Canyon?
November through February is the off-season for Antelope Canyon. You'll find cheaper tickets to the tours, and temperatures are cooler during the day.
Weekends will always be crowded. Even during winter.
Best Time Of Year For Photography
While Antelope Canyon looks spectacular throughout the entire year, light beams do not shine mid-October to mid-March. You'll want to visit in the summer and early fall to catch that special feature.
In addition, mid-day is the only time you can see the beams of light in Upper Antelope Canyon. That's because the walls are so tall, the sun only gets to shine through for a few hours around 10:30am-1pm.
Both slot canyons are busy and your chances of taking a picture without people in it are slim on the main tours. If you're serious about photos, you should book a photography tour which greatly limits the number of guests.
Photography tours are the best way to get some private time to capture the canyon untouched.
Antelope Canyon Weather
While the bottom of the canyon cools off considerably, the summer months can be blazing hot. Keep in mind if you visit during the summer, you'll be standing in a desert parking lot waiting to get below the earth. There is little relief from the sun aside from some crowded tourist shops.
We highly recommend booking an early morning tour unless you're trying to capture those special beams of light.
Trust us, a LOT of people visit in the summer. There are long lines to get into the canyon, little shade, and you're responsible for bringing your own water. It gets hot!
Bottom line – book early, and visit during the off season.
Flash Floods
Flash floods are extremely dangerous in the canyon. While they don't happen often, tours will be immediately canceled if there's any sign of rain. You'll quickly notice once you're in the canyon there's no way out except the stairs on either end.
In the event of a flood, backup rope ladders are situated along the upper rim. Nevertheless, tickets are non-refundable in the event of rain, so check weather conditions ahead of time.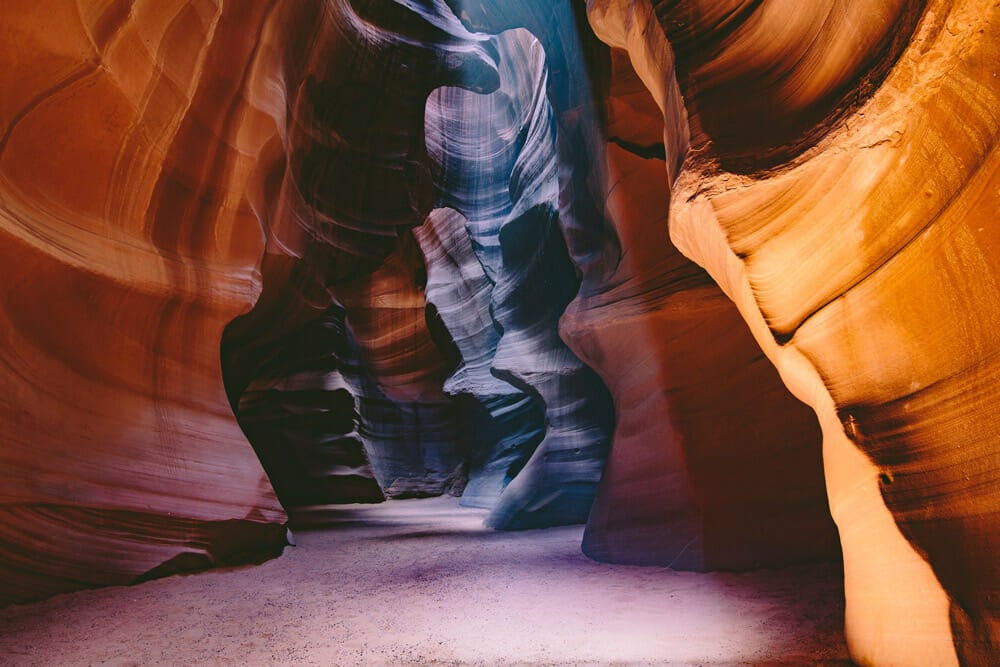 Where to stay near Antelope Canyon
The closest place to book a hotel or Airbnb near Antelope Canyon is in Page, Arizona. There is also lodging in the Grand Canyon if you want to make a big trip out of your visit.
Camping near Antelope Canyon
Modern Campgrounds:
Waheap campground has 112 dry camping sites and 90 campsites with hookups. It is a 30 minute drive from Horseshoe bend. The campsites start at $30 per night and have showers, WiFi, and laundry facilities. Reservations are accepted.
Page Lake Powell campground is an RV park approximately 12 minutes from Antelope Canyon. This campground has all of the modern amenities and cost over $45/night.
Lee's Ferry campground is about 1 hour from Antelope Canyon. There are 54 campsites all operated under a first-come, first-serve basis. No reservations are accepted. The cost is $20 and they have flush toilets and an RV dump station but there are no showers. While you'll find grills and a boat launch, there are no RV hookups or electricity.
Discounted Campsites
If you're an RV camper that wants all of the hookups: electricity, internet service, dump stations and more; consider camping at one of the private campgrounds in the area. We recommend getting a discounted camping membership if you plan to go camping for more than one week out of the year in any location.
Discount camping clubs cost a small yearly fee to join and allows you to save up to 50% on participating campgrounds. Our favorite membership clubs to join are:
Primitive Campgrounds:
The National Parks Service runs a number of primitive campgrounds in the Glen Canyon National Recreation area. Stanton Creek, Hite, Farley, and Dirty Devil cost $12 per night. They have vault toilets but no potable water.
Lone Rock Beach primitive campground is $14 per night and has seasonal water and outdoor cold showers.
With these primitive campgrounds there are no designated campsites. You can pick your spot along one of the many dirt roads. Feel free to build your own fire ring but remember to pack in and pack out all of your trash.
Free Camping Near Antelope Canyon:
You can go boondocking along the Lake Powell shoreline for free (legally) and pets are allowed on the beaches. There are no trash containers or toilets here. And burying waste is not permitted in the area, so your vehicle must be self-contained. Many locations along the shoreline get rocky and might require a 4-wheel drive vehicle.
Things To Do Near Antelope Canyon
If you're touring Antelope Canyon for the day, don't miss Horseshoe Bend Overlook. It's located just 10 miles west of Antelope Canyon. The overlook is a short, 0.6 mile walk from the parking lot and you'll get an incredible view of the Colorado River below. Visiting Horseshoe Bend is free and most people spend just 1 hour there so it's worth the stop.
Finally, the Grand Canyon North Rim – one of the seven wonders of the world is less than 2 hours south of Antelope Canyon.
To get to the Grand Canyon from Page, AZ take Coppermine Road south for 40 miles until it turns into US-89 S. Continue for an additional 32 miles until you see the traffic circle to AZ-64 W. (open in maps)