How To Find Dry Camping Sites + 11 Tips For Dry Camping
By
on
This post may contain affiliate links. As an Amazon Associate, I earn from qualifying purchases. Please read my full disclosure.
Dry camping is a great way to save money during travel and get a secluded, quiet experience that can't be matched at a public campground.
What is dry camping?
Dry camping is when you camp without the use of any hookups such as water or electricity. Many people refer to this practice as boondocking, or dispersed camping.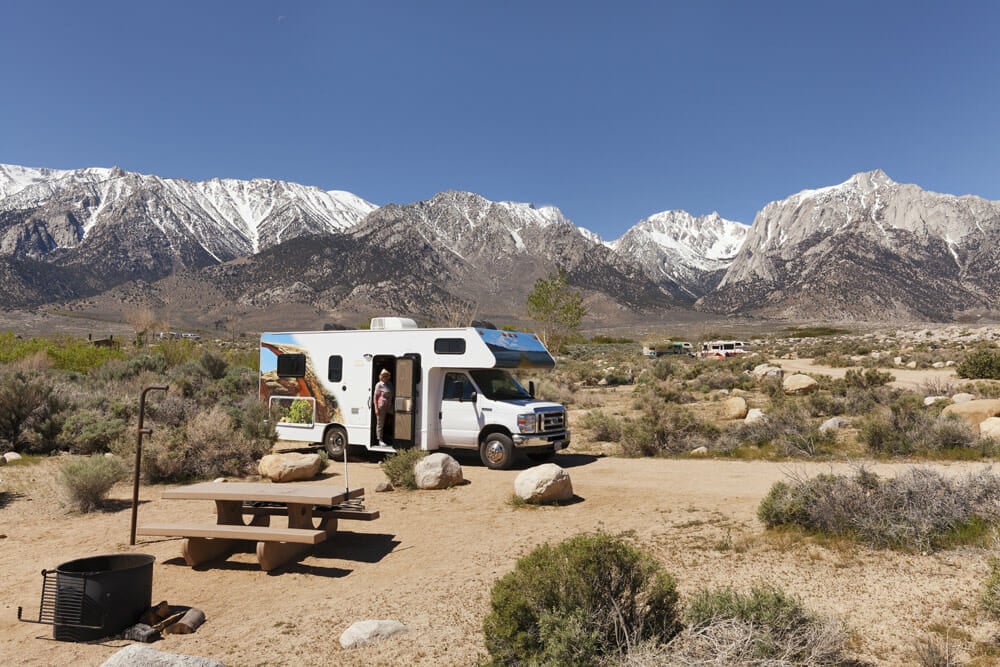 Why Go Dry Camping?
As van lifers, it's no secret that dry camping is our favorite way to experience van life. There are a lot of advantages over staying at at paid campground.
Dry camping is free
Private and secluded
No neighbors
Fewer pet restrictions
More scenic
RV parks and other paid campgrounds can get expensive fast. Especially if you're road tripping for more than a week at a time. Joining a discount camping club can help reduce the cost, but nothing beats free.
Our favorite part about dry camping is that you get to spend the night at secluded locations far away from other campers. You won't have to worry about generators or porch lights waking you up at night. And you won't have to deal with that neighbor that's blasting music way too loud into the night.
If you travel with pets, there are a lot less restrictions. You can let them roam around a much larger area (on a leash of course) and you won't have to keep them tied up next to your camper the entire day.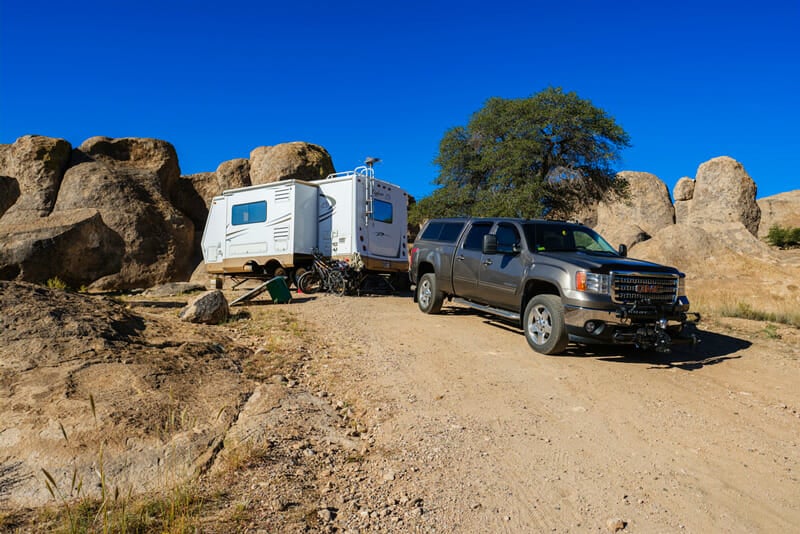 How To Find Dry Camping Sites
Finding dry campsites used to be sort of an art form. Way back in 2018 you had to sort through multiple maps, visit ranger stations, and scour the internet for information on where it's legal to camp.
Since the definition of dry camping is: camping without hookups. It can be done in many locations. That includes everything from forests, beaches, to your friend's backyard, and even the Walmart parking lot.
But if you're anything like us, you'll want to find somewhere scenic! Our favorite places to stay are:
National Forests
Bureau of Land Management Areas (BLM)
Wildlife Management Areas
National Parks
All four of these places offer dry camping in some capacity; although the specific rules may vary.
Apps For Finding Dry Camping
By far, the simplest way to find dry camping sites is with an app. Unfortunately for us, good apps didn't come about until relatively recently. But now that they exist it's our #1 way to find campsites.
The Dyrt offers a Pro Membership designed specifically to hunt for dry camping sites.
There is a section within the app called "Map Layers" which overlays colored boundaries indicating Bureau of Land Management Areas, U.S. Forest Service Sites, and National Parks.
When you turn on the map layers, you can see exactly where free camping is available.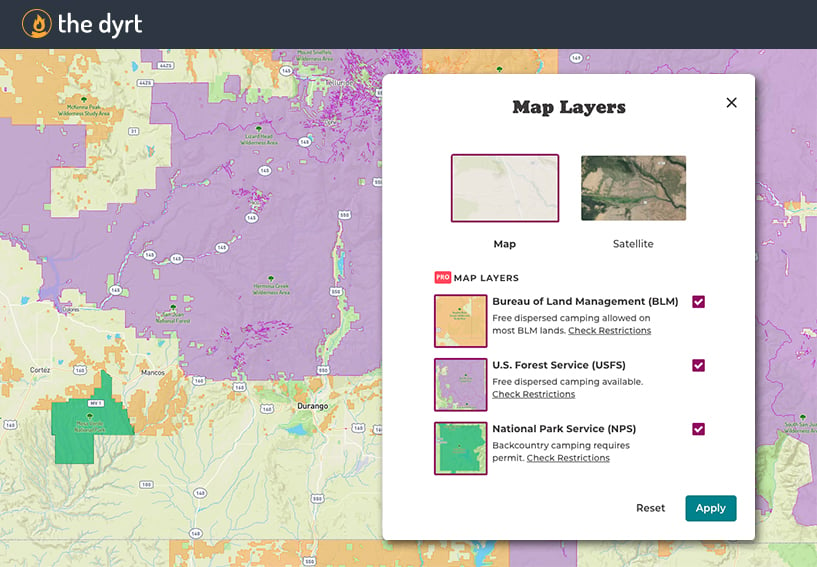 The best part about map layers is that it can be saved for offline use. That's particularly helpful in those tree-filled mountainous areas where we inevitably seem to run out of phone service at the exact wrong time.
Aside from map layers, The Dyrt also has thousands of user-generated campground reviews that include pictures, campsite conditions, and restrictions. These reviews cover both paid and free campgrounds so you know exactly what you're getting into.
The Dyrt Pro is a paid membership, but as far as we're concerned the amount of time it saves over googling individual areas and weeding through less organized reviews is more than worth it.
PS: Kate loves it so much she's obtained the coveted "Ranger Level" membership status for contributing campground reviews and edits.

What Are The Alternatives?
Of course, The Dyrt Pro isn't the only way of finding dry camping sites. Many RV campers swear by Campendium.
Campendium.com is a website–no app included; which similarly offers user-generated reviews with images and information about each campground. This website is catered more towards RV campers.
They don't have the cool map layers feature (you'll have to search each individual campsite to find out the cost). But the website is free and pretty well organized compared to some others we've seen.
Freecampsites.net used to be our go-to resource for finding dry camping sites. This website has a lot of campgrounds listed. But it's not mobile-friendly at all which makes it really difficult to navigate when you're already on the road.
We've also found that many of the reviews are pretty dated. On more than one occasion we've shown up at a site late in the night only to find out it no longer existed or is no longer legal to camp for free.
iOverlander is another resource that's worth a mention. This one is both a website and an app. The best part about iOverlander is that it does include an offline maps feature; and it's free! The downside is that there aren't as many campsites listed and you won't get to see any photos.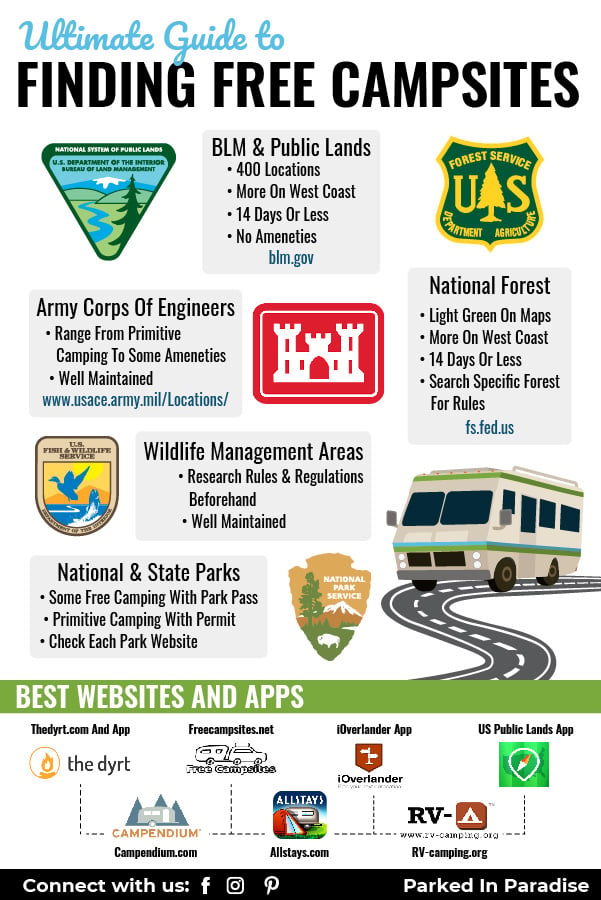 Finding Dry Camping The Old Fashioned Way
If you're only going dry camping for a weekend or two, it may not be worth investing in an app. In this case it might make sense to come up with your own plan using google maps or the appropriate website.
The first thing you should do is search for National Forests or Bureau of Land Management Areas near you.
On Google Maps, National Forests are shaded with green.
Once you've found one, look up the location on FS.USDA.gov to find specific information on where dry camping is permitted.
Similarly, try searching for a Bureau of Land Management Area near you using BLM.gov. This website will also list dry camping rules and regulations in the area. The BLM also has maps available which outline where it's appropriate to camp.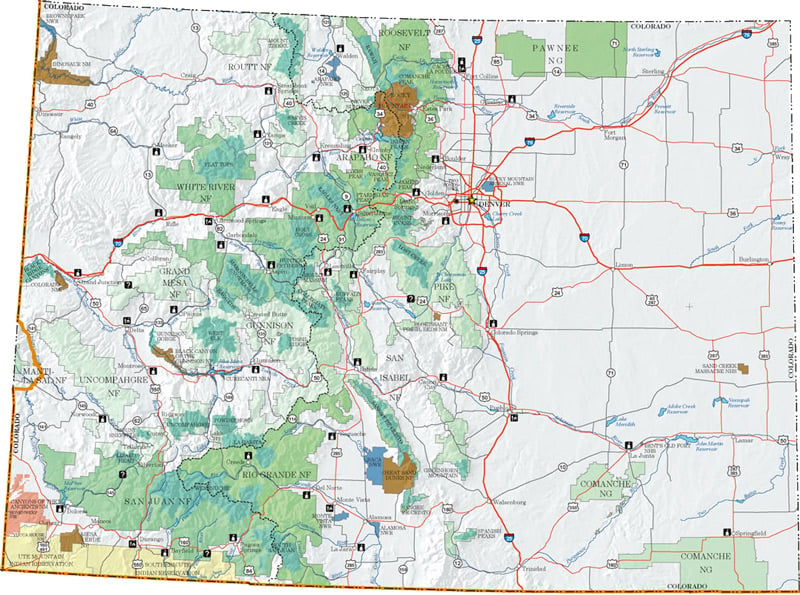 The reason we no longer go this route when searching for dry camping sites is because:
It takes a lot longer
Maps are not readily available offline
It's difficult to read
You don't get user reviews or photos
It's hard to tell when you've actually crossed into a legal boundary
Nevertheless, finding campsites with the manual method is as free as it gets and you'll gain a more intimate understanding of the parks in your local area.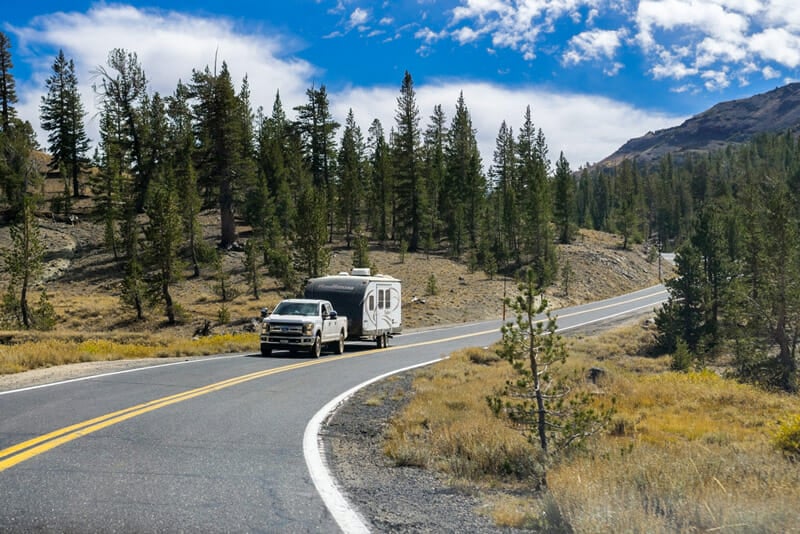 11+ Dry Camping Tips
If you're used to staying at paid campgrounds then dry camping might be intimidating. The lack of amenities may seem like a big drawback. Fortunately there are many ways to make your trip more comfortable.
Making a few changes to your RV camping lifestyle will make a world of difference in how long you can stay off the grid.
1. Use a generator
When you don't have electric hookups, then using an RV generator is the best way to get electricity. Some campers don't like the noise, but using an RV generator during a few critical minutes will provide you with enough energy to power up the battery bank and keep you camping for days at a time.
2. Hook up to solar
Solar power has come a long way in the last 10 years and these days you can add it to your camper for relatively cheap. RV solar panels can provide you with enough electricity on sunny days to keep you camping for weeks at a time with minimal changes to your lifestyle.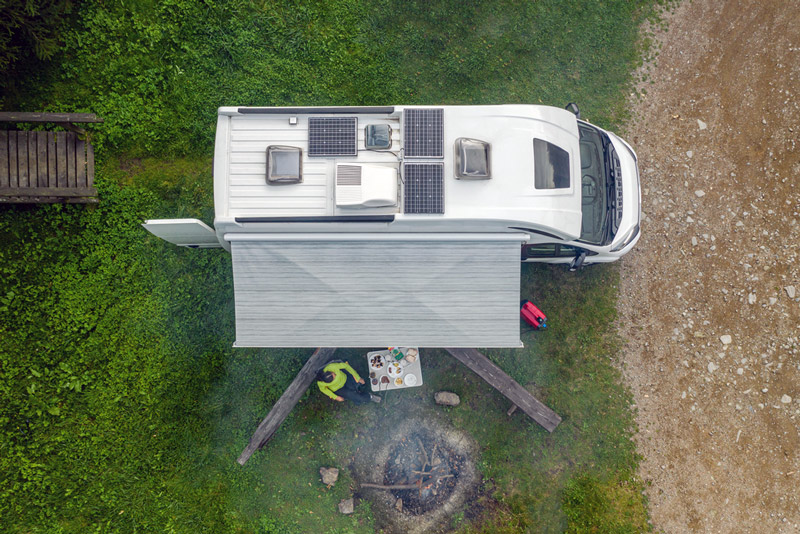 3. Heat using fuel
Running a heater is one of the most inefficient ways to stay warm when dry camping. For this reason, many campers will turn to using the hot water bottle method or layering up at night to stay comfortable.
4. Use 12-volt devices
When you're dry camping, you won't have access to 120V electricity like you would in a house. DC power is much more energy-efficient and cheaper. Consider switching out your devices like using a vent fan to stay cool rather than running an air conditioner.
5. Reduce your power use
Get creative with ways to reduce your electricity use. For example, neither of us can live without our morning coffee. But instead of using an RV coffee maker for this activity, we turn to alternative methods which use fuel rather than electricity.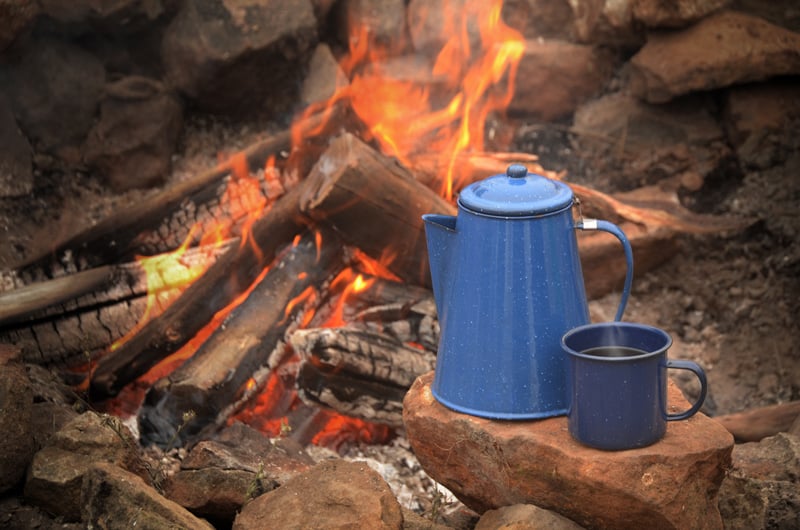 6. Prime your water pump
Before hitting the road, make sure your freshwater tank is full! Then when you get to the dry camping site, you'll need to prime your water pump so that it can deliver water to your faucets and showers. 12-volt water pumps are energy-efficient and designed for off-grid use!
7. Minimize dishes
Dishes can be 10x harder without an RV dishwasher, but this is a great way to conserve water on the road. You can clean dishes efficiently by using a plugged sink and a wet rag. Consider one-pot cooking methods. And if you're really looking to save liquid, consider sanitizing your utensils with white wine and vinegar rather than water.
8. Shorten your showers
Ever heard of a Navy Shower? With this method you can turn on the water to wet your hair, turn it off to lather up, then turn it back on again to rinse. Of course you can always reduce the amount of showers you take, or install a low-flow shower head to keep your freshwater tanks more full.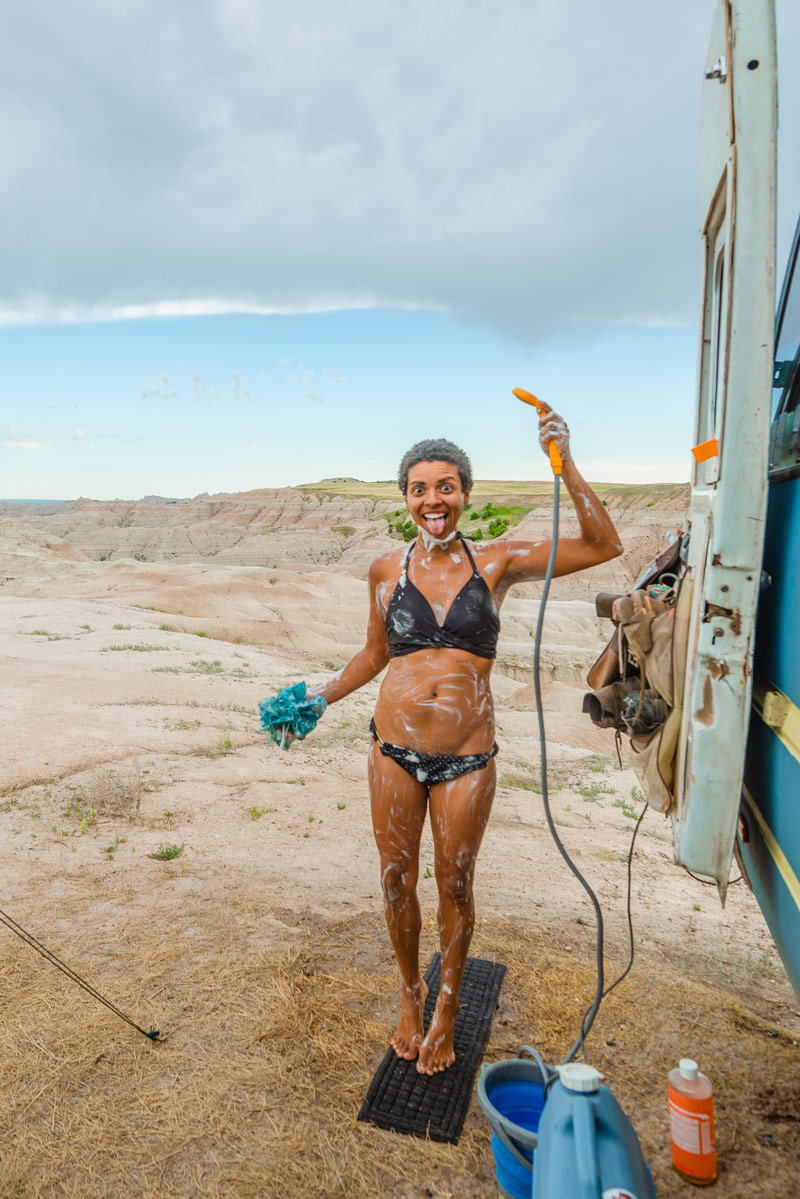 9. Expand your tank capacity
The RV waste tanks get full faster than any other. Instead of heading to a dump station on a frequent basis, consider investing in a portable wastewater expansion tank. These can act as a mini dump station and greatly expand your tank capacity.
10. Switch out your toilet
Most RV campers come equipped with a standard gravity-flush toilet. These are great for staying at a campground, but they don't save the most space when dry camping. People who want to stay on the road longer will often switch to a composting toilet because they eliminate the need for finding a dump station.
And while we're on the subject of toilets, make sure you're using RV-safe toilet paper! It will dissolve completely and leave you with even more tank capacity.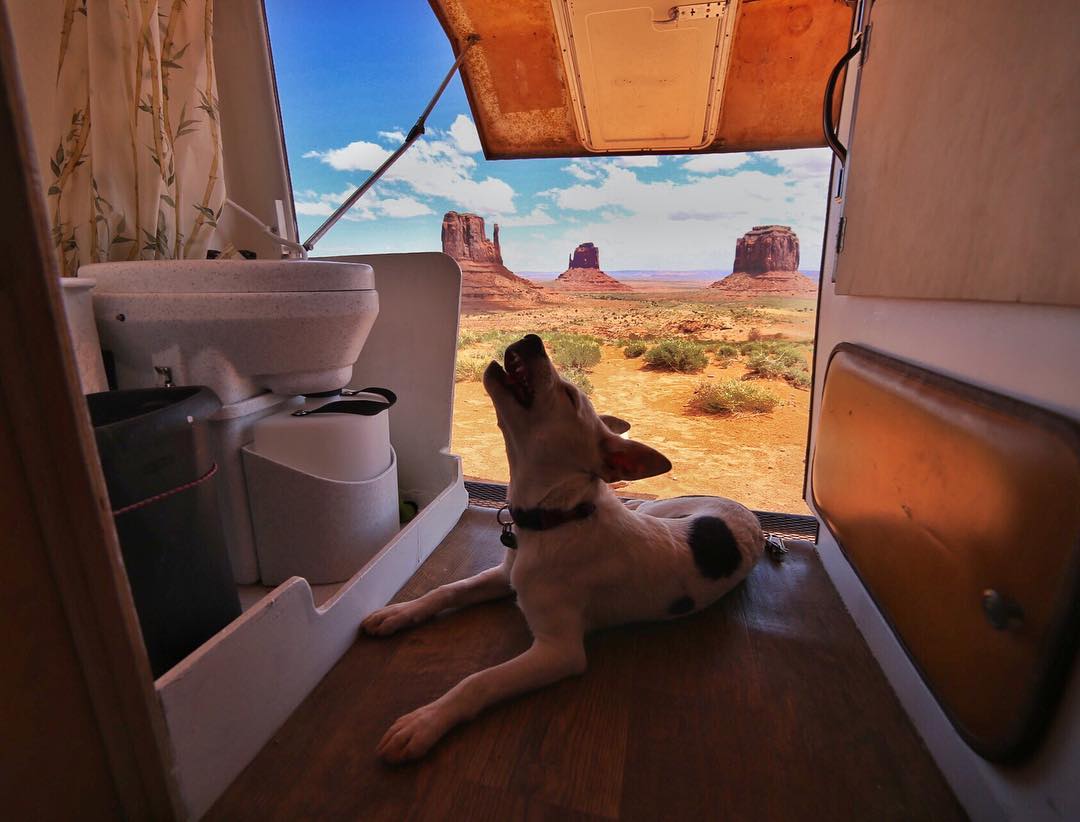 11. Use a signal booster
Nothing is more frustrating than trying to check your email with a weak signal. Cell phone signal boosters can amplify the reach of your signal and give you better coverage in the most remote locations. You'll be surprised at how well these little devices can work. We've been able to stream Netflix off our phones in the middle of nowhere!
Our Favorite Dry Camping Sites
In our opinion, dry camping is definitely the way to go. Some of our favorite dry camping sites including Alabama Hills, California, these dispersed campsites in Colorado, and dispersed camping in Washington.
We highly encourage anyone who loves travel to save some money and give dry camping a shot. You never know where you're going to end up!