The Best Kids Kayak For Summer Fun (Review)
By
on
This post may contain affiliate links. As an Amazon Associate, I earn from qualifying purchases. Please read my full disclosure.
Lakes and rivers can be enjoyed by everyone in the family including some of the youngest members. Getting your child comfortable with the water while they're little will foster a lifetime of adventure.
Kayaking with kids will take a little bit of extra planning and a lot of safety percussions, but the trip is well worth it! In this article we're going to cover some of the differences between kids kayaks and adult watercraft as well as what to look for in the best youth kayak!
SIT ON TOP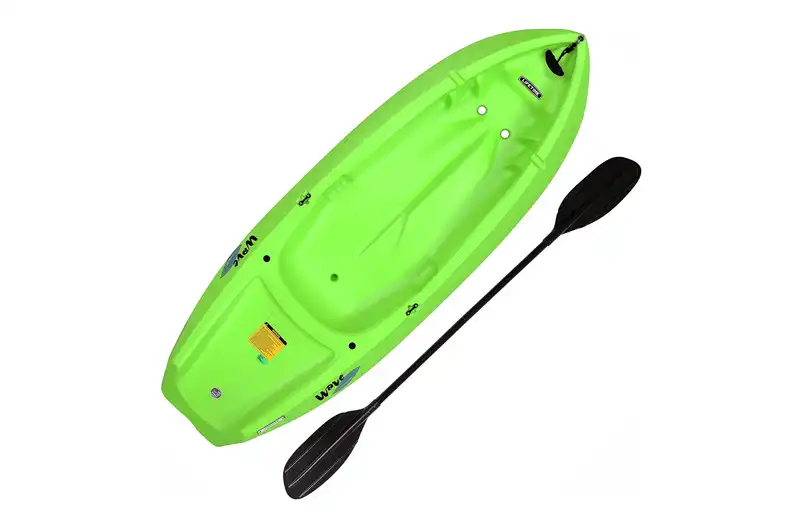 BEST FOR OLDER CHILDREN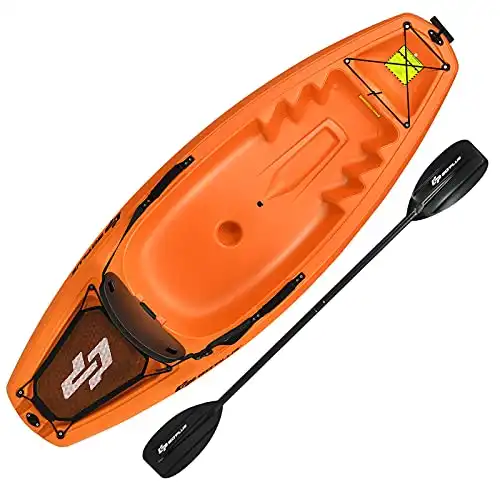 BEST TANDEM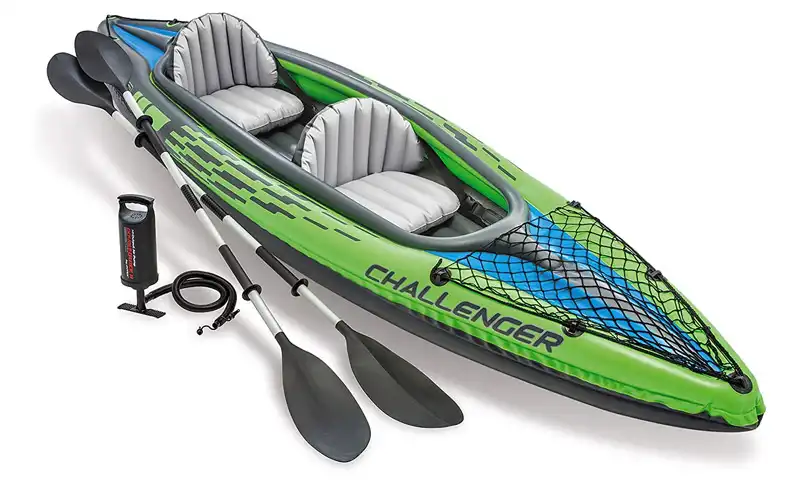 Why Use A Kids Kayak?
Kids kayaks are slightly different from adult kayaks in that they take into account several factors to enhance both stability and fun for your children. Since your kid will more likely than not want to try out the paddling experience, you'll need to provide them with the needed space, stability, length, and more.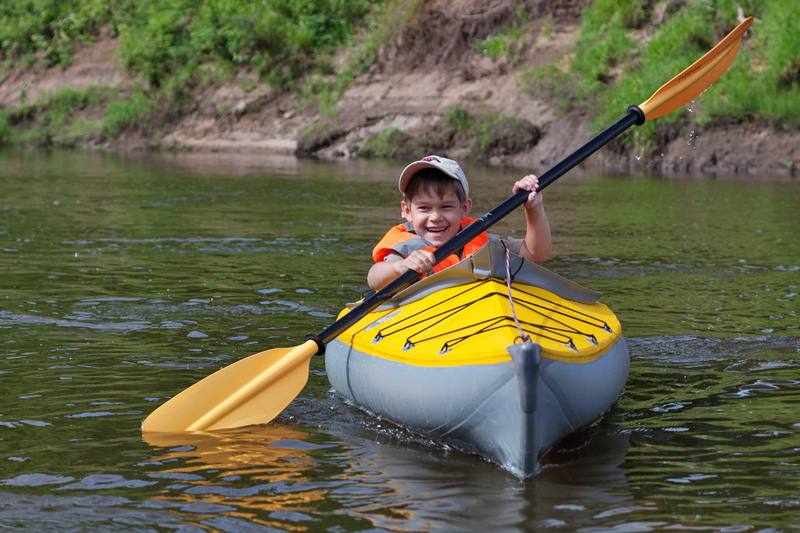 Features to Look for When Buying a Kayak for Kids
Size
When opting for a kayak for your child, you should go for one that's on the shorter side of the spectrum. The reason behind this is that they're more versatile in their movement, and accordingly, they are lighter and more portable.
When you're on the market, you'll realize that the majority of kayaks for kids are categorized by child weight. Therefore, you'll want to look at the recommended weight rating for the kayak of interest.
Tip: If you find that your child's weight doesn't match that of any of the kids' kayaks, it's safe to assume that your little one is now all grown up and can fit into a full-size kayak!
Stability
Three factors can contribute heavily to the stability of a kayak: width, hull design, and chines.
Width: As a general rule, wider kayaks are more stable and less prone to rolling and flipping than thinner ones. While they don't provide the optimum efficiency that allows for professional kayaking, they will give you more balance and provide a better backbone of support.
Rounded bottom kayaks are the most common kind of kayak hull designs. However, if you're taking your kids along, you'll want to look for a pontoon hull or a double hull, since they provide maximum stability. You'll find that double hulls are more common on sit-on-top kayaks.
Chines are a fin-shaped material that extends to stabilize the kayak, and ensure that your watercraft travels straight. This is part of the kayak's hull. You'll want to look for a kayak with reverse chines included.
The Best Type Of Kayak For Kids
Sit-on-Top
There are many different types of kayaks out there, but when it comes to taking kids out on an adventure, the best way to go is to pick a sit-on-top kayak.
Simply put, sit-on-top kayaks are allow you to sit inside the cockpit directly with your legs exposed, which makes them perfect for children. Moreover, they're hassle-free to get in and out of, and the chances of your child rolling and flipping into the water are slim.
Worst case scenario, even if the kayak does flip by any chance, sit-on-tops feature self-draining holes that prevent water build-up. That means all you'll have to do is right the boat and sit back inside, nothing else!
Single vs. Tandem
If your child is around 10 years old or under, they should go on a tandem kayak with you. These kayaks are designed to hold two people, and often, both people can paddle! The adult should sit in the back seat so they have control of the steering.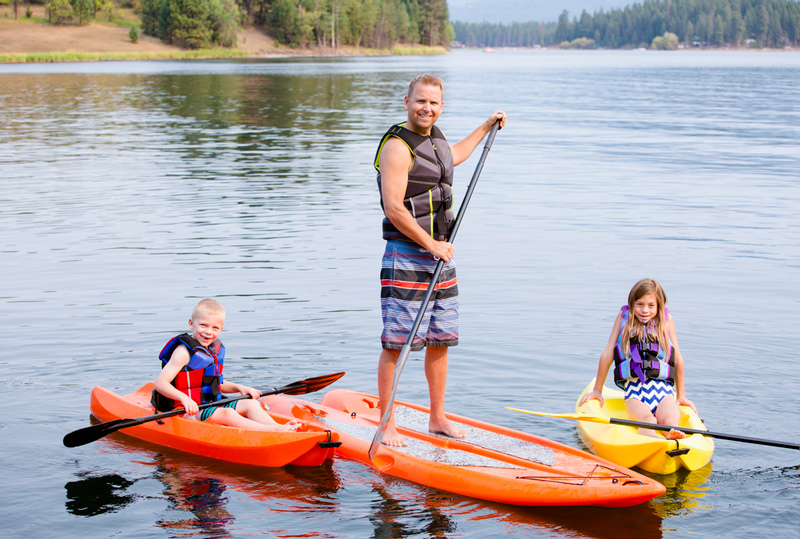 Safety Precautions
Kayaking with kids will be a memorable and rewarding experience. But, you'll need to take additional safety precautions to make the most out of your adventure.
Personal Flotation Device (PFD)
PFDs, also commonly referred to as life jackets, are a no-brainer when kayaking with children. Remember, their job is to float your child's head above the water in emergencies, so make sure it fits properly; do not buy them an over-sized one!
PFDs designed especially for children also have crotch straps that keep them in place. Futhermore, they have head support for neck protection in case your child goes into the water, and grab handles to make it easier to get them out of they do.
Tip: If your child is in that phase where they grow up way too fast, you can get a PDF with adjustable sides and shoulders.
Sun Protection
Children have much more sensitive skin than adults do, which is why you can't ever forget sunscreen, especially if it's sunny. Try to remember to reapply it every two hours, particularly on the chest and neck areas.
A sunhat and sunglasses are also a great idea!
Paddles
Your paddles won't be like your kids'. Each of you will need a paddle that's very comfortable to use for extended periods of time. For your child in particular, look for paddles that are thin and light, since they have smaller blades and fit more easily into their hands.
In most cases, a 200cm paddle with a narrow shaft should be just right for your child. However, what's more important is that they feel comfortable holding it. Take them with you on the paddle-shopping trip to add to the fun!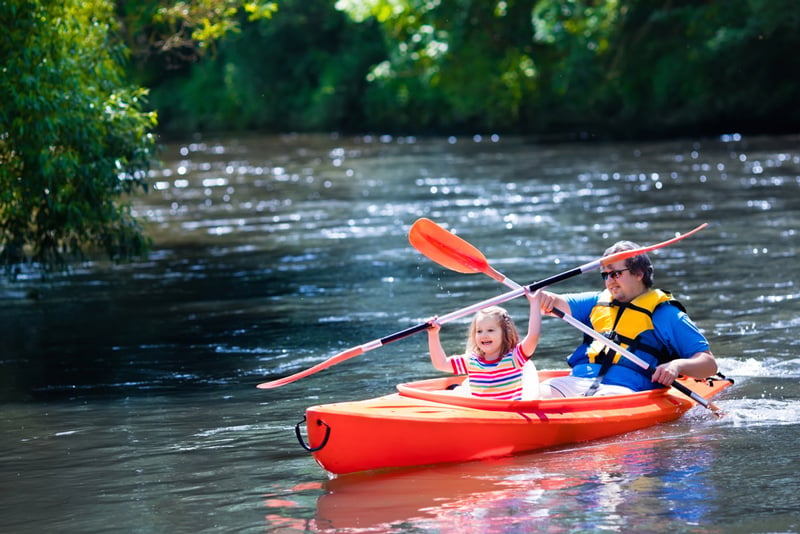 Water
Back to the point of the sun, you also need to ensure that you have enough water bottles on you. Hydration can be an issue when children are exposed to the sun for a long time, and water, in general, makes people thirsty. Don't forget; you're also exerting effort by paddling and rocking in the boat, so pack more water than the usual.
Tip: Make a conscious effort to drink adequately throughout the day. Your body will thank you!
Tow Rope
While some kids' kayaks come with a tow rope, others underestimate its importance and don't include it. We all know how bored or tired kids can sometimes get, and it can simply happen that your kid decides to stop paddling altogether while they're paddling solo.
In this case, you'll undoubtedly need a tow rope! It works well if you tie a 20 foot rope to the front of the kayak so that you can easily tow along or pull off your kid when their 'mood' kicks in.
Kids' Tying
On the note of tow ropes, we just need to remind you to never tie your child to the kayak. That's against all safety precautions. Imagine if the kayak were to flip over with your child attached to it. There would be no way to float on the surface of the water. And if the kayak drifts, so will your child.
Sharp Protrusions
In some cases, you'll find that kayaks have sharp corners that aren't easy to spot. Once you decide on a specific kayak, inspect it thoroughly to check for any rough or sharp edges, particularly around the seams, rails, and corners.
If you don't find any, you're in the clear, but if you do, keep your child away from them or maybe cover them with plastic material to avoid harm.
Frequently Asked Questions:
Where Should I Kayak With My Kids?
To be on the safe side, you should take them kayaking in calm water. Ponds, small lakes, bays, lazy rivers, and the like, would be ideal. Avoid any strong currents, and try to study any situations you may encounter in the given place before determining whether to proceed or not. It's best to stay in places that you know very well.
How To Kayak With Kids For The First Time?
If it's your first time, you should go for a tandem kayak so that you can have your eyes at all times. Then, when your child is old enough to use a single kayak, you'll just need to keep an eye on them and start with a quiet area to help them establish their confidence. Just make sure to take the necessary equipment, and of course, food and water!
Can a 2-Year Old Go Kayaking?
There isn't really an age constraint to kayaking. Unless your baby is a newborn (0-12 months), they should be fine! In fact, 2-5 years old is an ideal age to start introducing your child to kayaking. Also, as a general rule, if they can't fit into a PFD, they shouldn't be kayaking.
How Long Should a Kayaking Trip With Kids Be?
As long as they're happy! While the water and the experience are grabbing your child's attention, stay in the water. However, when you sense that they're starting to get bored or naggy, call it a day. A trip can range anywhere between 20 minutes to a couple of days; it's your call! A rule of thumb, however, is to plan around one-third of the usual adult trip time.
The Best Kayaks for Kids
SIT ON TOP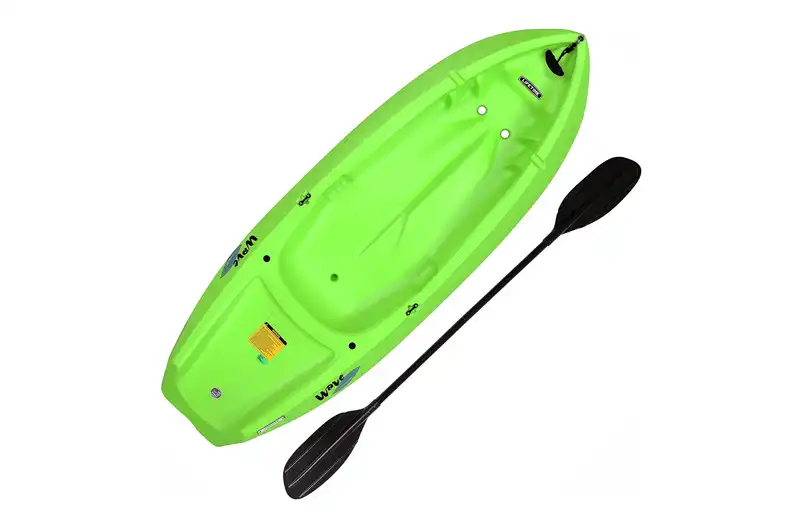 Best Kids Sit On Top Kayak: Lifetime Youth Wave With Paddle
With its attractive bright colors, the Lifetime Youth Wave is an attention grabber. This kayak is extremely portable and lightweight. It's also small enough to easily fit into an SUV or carry around. It weighs just 18 pounds which is perfect for kids.
In the water, it excels! The kayak is sized just for children with molded-in footrests for extra comfort. One of the cool features on this kayak is the rear 'swim-up step' that allows your child to to climb right from the water to it. That makes it easy to get in and get out as needed.
What We Love:
Lightweight and portable
Comes with a paddle
Top-notch stability
Molded-in footrests for comfort
BEST FOR OLDER CHILDREN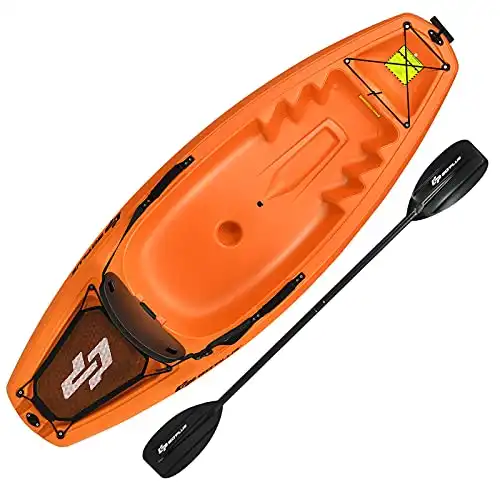 Best For Older Children And Teenagers: GoPlus Youth Kayak
If your child is a little bit older and wants to take on solo kayaking with a larger watercraft, we recommend the GoPlus Youth Kayak. There is a handle up front so you can easily tie a rope for towing as they learn to paddle on their own.
This is a sit-on-top kayak that comes with a foldable back rest, 2 cup holders, and 3 footrest positions to fit your child as they grow. The GoPlus weighs just 20 pounds so it's lightweight and easy to transport. There are also carry handles on the sides so you can get it to the water quickly.
Drainage holes within the cockpit keeps water out of the boat and the tracking keel on bottom will ensure that your child paddles in a straight line.
What We Love:
Multiple handles for towing and transportation
Various footrest positions as child grows
Comfortable backrest
BEST TANDEM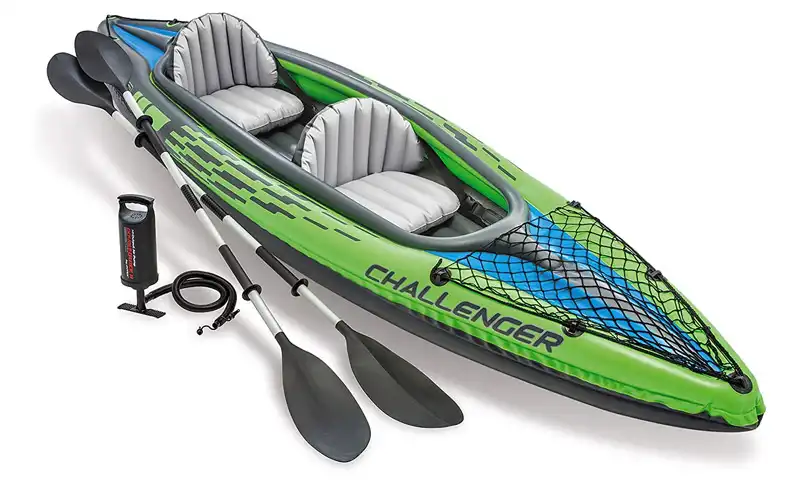 Best Tandem Kayak For Kids: Intex Challenger K1
If you're unsure whether your child will enjoy kayaking or not, and you don't want to make a huge investment we recommend the Intex Challenger K1. This kayak can give you the best of both worlds by combining affordability and quality.
The Intex has long been making headlines as the perfect kayak for parents who are just introducing kayaking to their children, not only because of its affordability but also for its stability and portability.
It's a highly spacious inflatable kayak that can cater to two people up to 400 pounds, and it has inflatable seats with adjustable backrests that tremendously add to the experience.
What We Love:
Affordable price
Extremely spacious
Superior weight capacity
Lightweight
That's A Wrap!
Kayaking with your kid is a perfect opportunity for some quality and bonding time. It's a great way to make memories throughout the summer and embrace a love of the outdoors.
If you're looking for the smallest kayak for youth we recommend the Lifetime Wave. For the older children that want to venture out on their own, the GoPlus is our top choice. Finally, if you're looking for a two-person kayak that can be shared with both kids and other adults, consider the Intex Challenger K1.
Continue Reading: