Best Short And Lightweight Kayaks (Review)
By
on
This post may contain affiliate links. As an Amazon Associate, I earn from qualifying purchases. Please read my full disclosure.
Lightweight kayaks give you the freedom of grabbing your gear in seconds and heading out to the water. The small size makes them easy to maneuver for someone with a short stature, and quick to pack away after a tiring day on the river.
One of the best parts about a lightweight kayak is that many models don't require a roof rack. You can get away with folding them into a car and hitting the road.
In this article, we're going to review the most lightweight kayaks! We'll cover the best kayaks for performance, weight, and convenience.
Why Use a Lightweight Kayak?
Lightweight kayaks are generally easier to carry and transport to the place you desire. And, they allow you to carry more camping equipment with you because there is less weight capacity in the boat itself.
These kayaks are best if you tend to go paddling alone, and if you want to store the kayak at home. The biggest disadvantage to lightweight kayaks, is that their materials can make them costly.
Lightweight kayaks are best for:
Solo paddlers
Adolescence
Small homes and cars
Minimal gear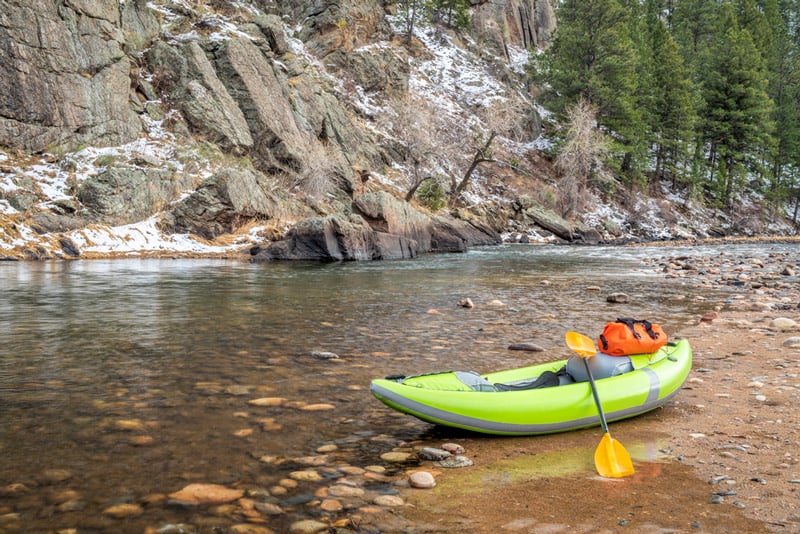 Features To Look For In A Lightweight Kayak
Kayak Types
Long vs. Short Kayaks
Generally speaking, longer kayaks cruise more efficiently than shorter ones. In addition, they tend to offer more storage space. When we say long vs. short, we're referring to a difference of above two feet. In many cases, long kayaks offer more stability than short ones as well.
Shorter kayaks offer portability. Some of them are even small enough to fit in cars. Generally, short kayaks are best suited for lakes and rivers. They offer excellent maneuverability but can be short on speed.
Folding vs. Hard
Folding kayaks, as implied by the name, can be folded if you're hiking to a remote location or want to keep the kayak at home. They're not as rugged as hard-shell kayaks, but they offer similar handling and storage space.
Hardshell kayaks tend to be heavier in weight, usually weighing 55 pounds or above. They're made of heavy-duty materials such as wood, plastic, fiberglass, or composite material.
Performance and Weight
When it comes to performance differences between lightweight and heavy kayaks, there are apparent differences.
Lightweight kayak benefits are crystal-clear, with the most important being that they can be carried and transported easily, even if you're on your own. However, they're easier to tip over, especially if you're in high tides.
Heavy kayaks do perform better in that they're more stable and able to withstand harsh waves. However, when they tip, it's tedious to turn it back, unlike lightweight kayaks.
The 4 Best Lightweight Kayaks Reviewed
TOP CHOICE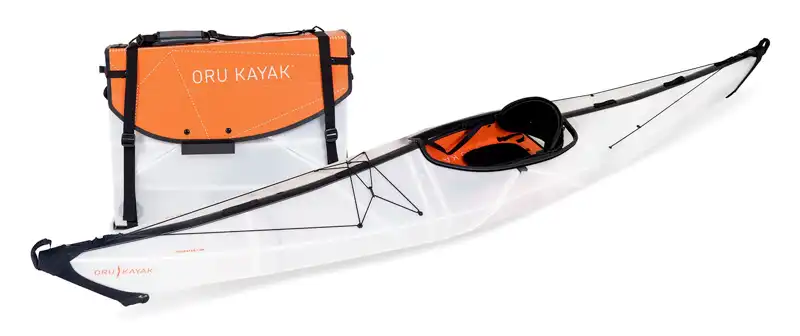 Top Choice: Oru Kayak Bay ST
Commonly referred to as "the origami boat," due to its Japanese paper art inspired design, the Oru Kayak Bay ST has been long-rated as the best lightweight kayak one could get their hands on.
The main distinguishing feature of the Oru Kayak Bay ST is that it's a foldable kayak. In fact, foldable to the extent that when packed away, can easily snuggle into a spacious backpack. That means you'll be able to carry it around wherever you wish.
In addition, it's not even heavy! It weighs around 26 lbs, but still manages to carry a maximum weight of 300 lbs.
If you're a fan of romantic vibes, you'll also like that the kayak can be lit up at night through little LED lights. And to support such trips, it also provides ample storage space for your belongings.
When it comes to comfort, the Bay ST also excels with its foam seat and fully adjustable backrest. There's also an easy-to-adjust footrest available to make sure navigating the water is like a breeze.
Top Features:
Extremely lightweight and easily transported
Folding and unfolding takes only a few minutes
Ample storage space
Comfortable foam seat, adjustable backrest, and adjustable footrest
Best Value: Intex Challenger K1
The Intex Challenger K1 is the way to go if you're looking for a lightweight, comfortable, compact, and budget-friendly kayak. Coming with an 84-inch aluminum ore, weighing 28 lbs, and with a maximum weight of 220 pounds, this one is a can't miss.
Out of experience, this kayak can be steered effortlessly, thanks to its ergonomics and streamlined design. It's also supported by inflatable I-beam floors, so you won't have to worry about stability. Moreover, being made out of vinyl, penetration is resisted tremendously.
Moving on to the equally important part, comfort, the K1 is designed in a composed manner with an adjustable padded seat to your preference. It's even inflatable and further comes with a backrest to ensure maximum comfort. What's more, you get comfort from head to toe – literally – due to the inflatable floor previously mentioned.
Even after you've finished your trip, convenience is at the core; the K1 can be deflated or inflated with the help of the Boston valve right away.
Top Features:
Budget-friendly
Inflatable I-beam floor providing superior comfort
Inflatable, adjustable, padded seat
Effortless paddling due to the modernized design
MOST DURABLE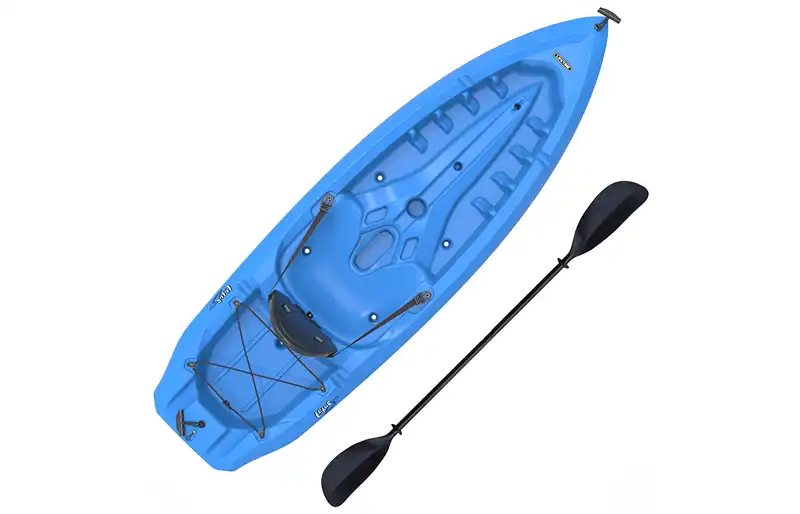 Most Durable: Lifetime Lotus Kayak With Paddle
This sit on top kayak by Lifetime Lotus has been dominating the scene among beginners and advanced kayakers alike, mainly due to the hassle-free experience it provides. Not to mention, it only weighs 38 pounds, which is incredibly lightweight.
Made out of high density polyethylene, you're guaranteed durability with this one. So, if you're still testing the waters and are likely to leave your kayak unused for a while, don't worry about it getting worn, rusty, or damaged in any way.
In addition, the Lifetime Lotus features a molded paddle cradle, one that's super light and has a smooth feel to it. As a direct impact, long trips are no longer a burden. You can now maneuver the waters as slowly as you would like.
It's also spacious at the back, which is suitable for storing luggage. There are also bungee cords to keep your items secure and in place.
Lastly, the Lifetime Lotus features scupper holes in its cockpit, draining out water very rapidly and efficiently. No more worrying about water splashes entering as you paddle!
Top Features:
Comes with a paddle
Guaranteed durability because of high density polyethylene construction
Spacious tankwell for storage
Scupper holes in the cockpit to drain water
BEST FOR BEGINNERS

Best For Beginners: Pelican Maxim 100X
The Pelican Maxim 100X is a versatile kayak known for its matchless maneuvering abilities. In essence, it's a recreational, sit-in kayak offering the perfect blend of stability and agility.
Owing to its lightweight of 39 lbs, the kayak can be rotated in a multitude of directions at a very high speed. Despite that, it doesn't compromise your stability. Therefore, if you're a beginner looking for recreational kayaks but want stability as well, you know what to pick now!
To add, you get to enjoy the fun in comfort; the Pelican Maxim 100X has a padded seat cushion along with a backrest and molded footrests.
Last but not least, its lightweight empowers you to easily carry it around, motivating you to go on that next trip you've been postponing for a while!
Top Features:
Padded seat and backrest cushion, molded footrests
Storage hatch with bungee cord
Versatile navigation at excellent stability
Cockpit table with bottle holder
Final Words
By now, you should've been able to make up your mind about the best lightweight kayak for you. Let's recap!
If you're looking for the best lightweight kayak, our top pick would be the Oru Kayak Bay ST. For a one-time purchase that will last, we would definitely root for the Lifetime Lotus Sit On Top Kayak. As for a budget-pick that will provide you with a bang for your buck, that would be the Intex Challenger K1.
Lastly, if you're new to the world of kayaks and too excited to test the waters, get the Pelican Maxim 100X.
Continue Reading: