Best Kayak Hoists and Lift Storage Systems (Review)
By
on
This post may contain affiliate links. As an Amazon Associate, I earn from qualifying purchases. Please read my full disclosure.
Not everyone gets the luxury of full time travel. If you're a weekend warrior, storage for your adventure equipment is important. Adding a hoist system to your garage will let you store bulky objects like a canoe or kayak out of the way during the winter.
A kayak hoist for your garage will save your back and help you lift heavy objects up out of the way and assist in placing them on top of your car.
If you're looking to spend more time out on the water, and less time trying to find a safe and convenient place to store your baby, then keep on reading.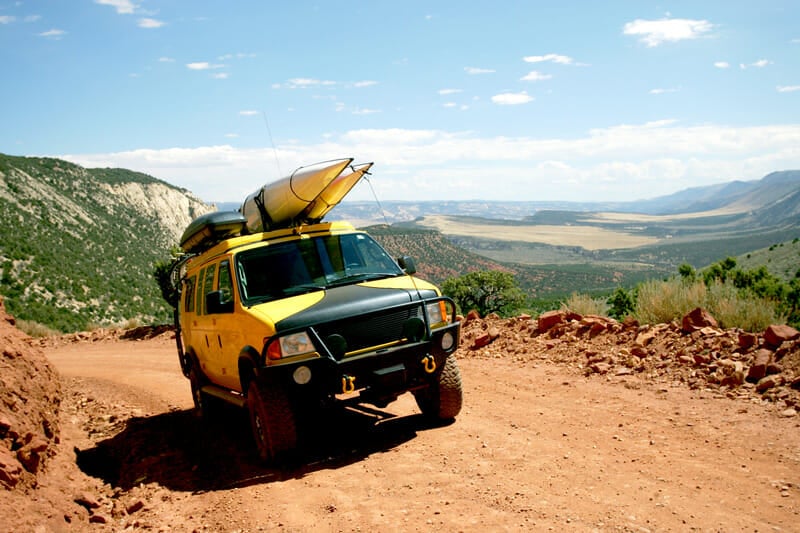 Why Use a Kayak Storage Pulley System?
Kayaks are not the cheapest product in the world, but no matter what their pricing, you probably don't want it to get damaged. This may be a bit easier said than done, as kayaks are notoriously bulky and difficult to maneuver in tight spaces, like garages.
That is why we feel that the best kayak storage method, hands-down, is the kayak garage hoist. It's easy-to-use, and keeps your kayak free of dings/scratches, while ensuring it doesn't take up valuable space in your home.
Features to Look for In A Kayak Lift System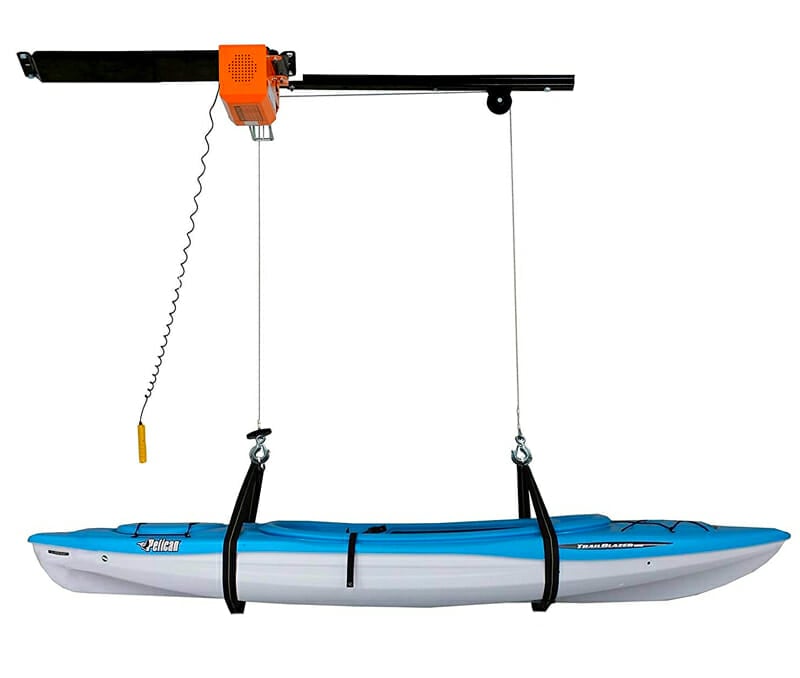 Before you decide one a particular kayak lift, you're going to want to look a bit deeper into what each one has to offer, and which one is going to work best for you and your situation.
Garage Size
How big is your garage? Are you barely squeezing in between the walls and your car doors just to get in and out or do you have enough room to fit a skate ramp in there? If you have a garage where you can't really afford to waste space, then the best option would be a kayak ceiling hoist. In choosing a hoist system, make sure you know the exact ceiling height, as you can't risk having it scraping up against the roof of your vehicle.
With that being said, if your ceiling proves too low for these, or simply doesn't have a strong enough structure to support the weight comfortably, a wall mount or standing racks could be a viable option for you.
Electric vs. Manual Lift System
We all know how exhausting a good kayak outing can be. That's why it's also important to take into consideration the different types of kayak hoist systems out there. You have the option of a manual or an electric system. As you probably guessed, electric motors require much less physical strength and effort to operate. However, the convenience does come at a price, and has the risk of malfunctioning. In addition, you're going to need to make sure that there's a power socket nearby so that you can actually plug it in. If you don't have one, you're going to have to switch spots or use an extension cord, which can be a safety hazard in itself.
In contrast, manual hoist systems are less expensive, while still being relatively easy to operate. However, the downside being that you can get rope burn if not used with caution. Not only that, but not everyone is strong enough to operate them.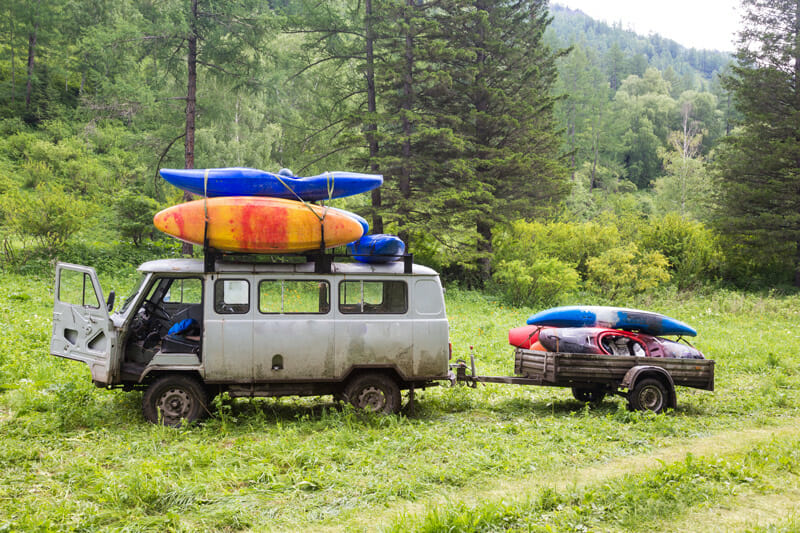 Kayak Weight
Make sure you know how heavy your kayak is before making your purchase. The best systems will typically store anywhere from 125 – 250 pounds comfortably, however, it's not a rule.
Assembly
Despite most looking pretty similar, you'll find that most require some amount of assembly. However, some require more assembly than others. Depending on how comfortable you feel, and how much time you want to put into assembly, also take this into consideration. Also make sure that you have all of the tools required beforehand. You may need a stud finder, wrenches, and screwdrivers, among other things.
Price
Price plays a pretty important role in selecting a product, for most consumers. We often associate value with how much a product costs, but this isn't always a rule. The trick is to finding the best value for your buck! That's not to say that an inexpensive product is going to be a "worse" or lower-quality product than one with a higher price tag. It's all about finding what works for you and your situation.
TOP CHOICE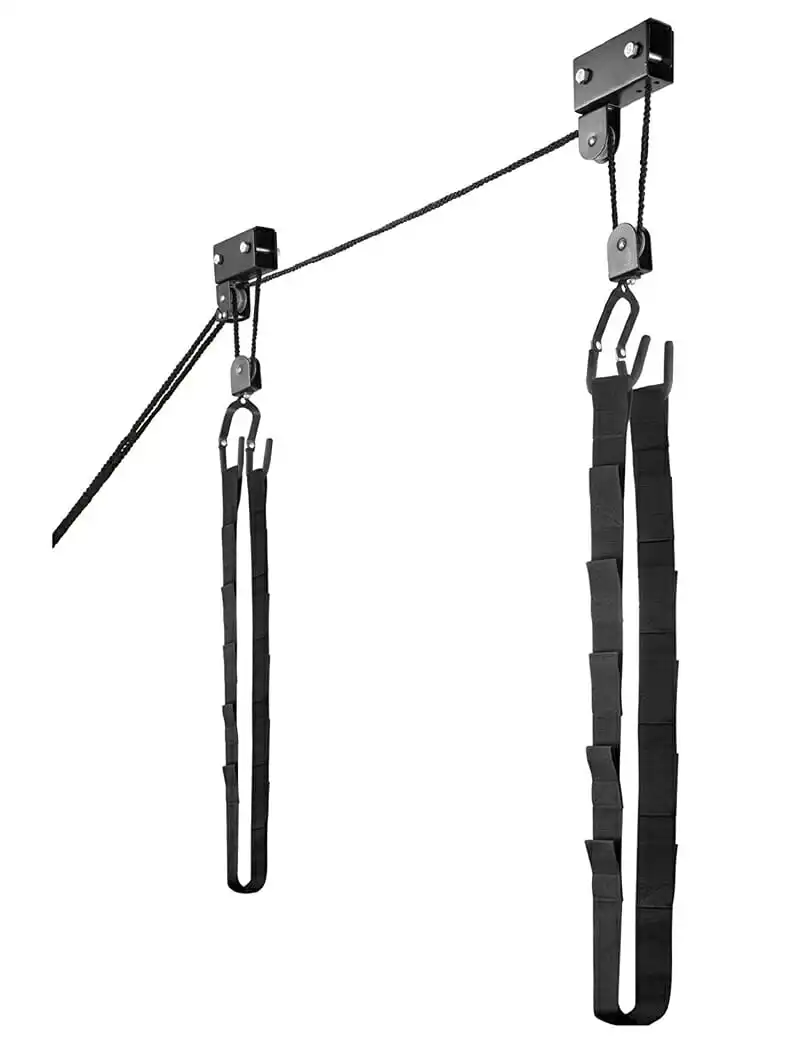 The RAD Sportz Kayak Hoist is easily one of the best on the market today. It's easy to use, is relatively inexpensive, and it features engineering that is made to last. While it's not for everybody, it's definitely attractive to many kayakers out there.
The reason why RAD made our best value product was due to the relatively low price, in comparison with how well it works, and how convenient it was to people of all experience levels. Installation is a breeze, and is quite intuitive if you follow the included instructions. This is definitely a bonus for many, as not everyone enjoys putting together complicated contraptions!
Thanks to the smooth pulleys and latches, you can easily customize where you keep your kayak (or canoe, if you choose), depending on how your garage is laid out. The kayak pulley system can also hold vessels comfortably, up to 100 pounds. This is generally sufficient enough for most kayaks or canoes, but it's always a good idea to double-check . It also works with ceilings up to 12 feet tall, which works for most consumers.
Where this kayak hoist system really shines, however, is in the construction. The pulleys, wheels, and installation brackets are all made heftily, and are practically bulletproof. Each hook is designed with a rubber coating, ensuring your vessel is scratch-free.
Worried about your kayak falling?
With their safe locking system, you no longer have to. It prevents unnecessary releases from happening, giving you peace of mind while keeping it stowed away. In addition, you can use it for your kayak, just as well as a canoe, ladder, or your bike!
Should you be dissatisfied in any way, they also offer a generous lifetime warranty, with 100% full money back guarantee!
Is there anything less-than-satisfying?
Yes. We felt that the quality of the ropes could definitely be improved upon. While they aren't necessarily cheap, they aren't quite up to the level of quality that many others on our list were. While we didn't have issues personally, there were some others who had issues with failing strap buckles. Due to these cases, the manufacturer has since improved upon their clamps.
Overall, if you're looking for your first lift, we feel this is a great option due to how simple it is to assemble, and how easy it is to use time and time again. It's also a wonderful budget product, so if you're looking for one of great value, this could very well be a viable option for you and your kayak storage needs!
Check Current Price: RAD Sports
| Pros | Cons |
| --- | --- |
| Very easy to assemble and use | Rope quality could be improved upon |
| Excellent value for the price | Doesn't work with all ceiling heights |
| High-quality safe locking system | |
Are you searching for a kayak hoist for garage use, but need something that maybe works with something other than, well…kayaks?
If that's you, then check out the Racor PHL-1R HeavyLift.
This ceiling-mounted kayak hoist system allows you the freedom to load and lift various items and keep them out of the way, giving you more space while also keeping your products safe. The issue for some kayakers, is that they frequently use their kayaks for a large chunk of the year. This means that they don't want to keep it up on a hoist during this time, but during the winter, they want a solid place to keep it away.
This 4-by-4-foot steel platform is perfect in these cases, because during the time of the year that you won't be using it for your kayak, you can easily store other things, such as: boxes, tires, tools, snowblowers, ladders, canoes, and so much more. By using the lift, it frees up approximately 16 square feet of floor space for you to use however you choose. Perhaps you can use it to store a lawnmower or some wintertime equipment, too.
Just how much can it handle?
The durable hoist is made to hold up to a whopping 250 pounds. This is definitely one of the most sturdy lifts out there on the market, today. The heavy-duty product features steel support beams, and the platform itself is also made from high-quality materials. The rack itself weighs 74 pounds packaged, so keep this all in mind and make sure that your support beams can comfortably handle this, in addition to the weight it will be carrying.
When you receive the package, it will come with all of the hardware needed for setup, however, you're going to need some extra tools for the actual installation.
So, how does it work?
It works by utilizing a unique pulley system to raise and lower heavy items with a very small amount of effort. It's very smooth and perfect for someone who doesn't have a lot of upper body strength. The winding axel is very strong, as well as the nylon cables.
What are the downsides?
While it is undoubtedly a tough product, we felt a bit disillusioned by just how much. You must make sure that the rack is completely balanced, or else it can become weakened and break. We didn't have this happen, but there are reports of it happening occasionally to others. The product does come with a 1-year limited warranty, which is better than nothing, but we feel just pales in comparison to some others' 100% moneyback lifetime guarantees.
Overall, we felt that if you're simply looking for strength, that this was a great option. It has its flaws just like any other product, but we felt that the good outweighed the bad, and that it was absolutely one of the best systems out there!
Check Current Price: Racor
| Pros | Cons |
| --- | --- |
| Made of very sturdy, high-quality materials | Must be completely balanced before using |
| Very smooth, easy-to-use pulley system | Only comes with a 1-year limited warranty |
BEST HEAVY DUTY LIFT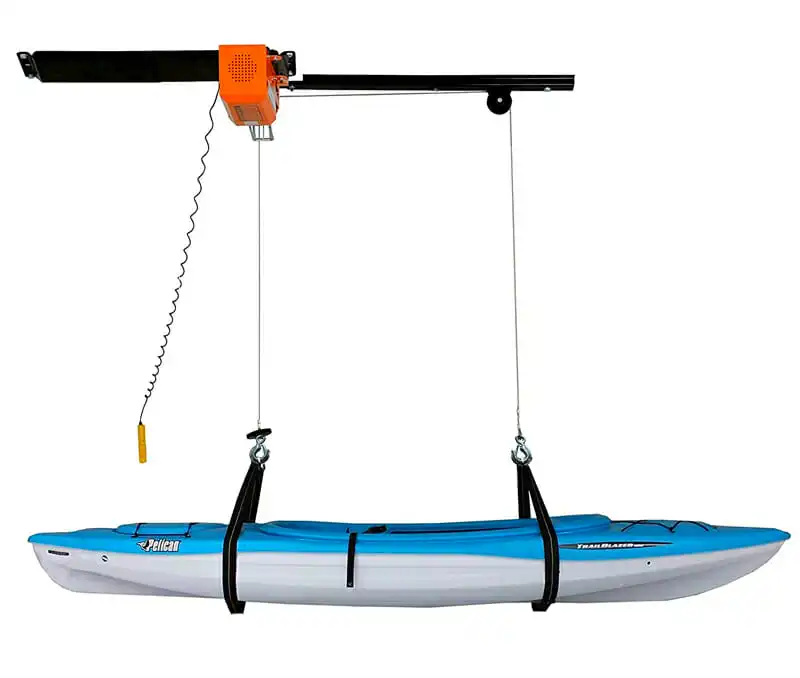 Best Heavy Duty Kayak Hoist: Garage Gator
While we found some amazing kayak lifts throughout the countless we tried, none could quite live up to what we experienced with the Garage Gator 66051K Motorized Storage Lift. If you're looking for an easy, smooth, convenient, high-quality product, then we can't recommend this one enough!
Both easy and enjoyable to use, it comes with a 4-foot lift bar, along with two adjustable 8-foot straps. This design gives a generous amount of clearance when the yak is tied and hoisted completely.
Many kayak hoist systems tote themselves as a "heavy-duty" product, but through extensive experience, we unfortunately found that to not be quite true most of the time. With that in mind, we didn't go into this expecting the Garage Gator to be particularly strong. We have to say, that we were pleasantly surprised. Not only is it super user-friendly, but it's also quite sturdy. Without-a-doubt, we felt the most confident with this unit holding over 200 pounds of stuff!
With some other products, we felt that the straps were their biggest downfall, which seemed a bit odd to us, as creating strong straps seems like the easiest part of it. The straps on this system are high-quality, durable 8-foot nylon straps. You can tell immediately that these things are made to last.
In addition, the rest of the storage lift is made from top-notch steel that won't budge or fail, even under pressure.
The lift comes with various hooks and cables, too, making it very versatile in the sense that you can use it for various products, and create multiple types of configurations for whatever you need to store!
How does it work?
The system easily installs into the indoor garage ceilings. It utilizes a wired key-access controller to bring the storage lift bar up and down, smoothly. It works quickly, and is perfect for those who don't have the strength to do it manually, or simply prefer not to. If you have a car roof rack, you'll love the fact that this lift lets you do a direct transfer from the vehicle's roof right to convenient storage!
While it's definitely an amazing kayak garage hoist, it unfortunately isn't perfect. It does have some downsides, too.
One of them, is the fact that it works on a 120V/60Hz AC/DC, aka your everyday power socket. While this may not be an issue for everybody, if you don't have a power socket where you want to install your lift, you'll need to use a single socket power cord, which could be a hassle or even a tripping hazard, potentially.
Furthermore, it's not recommended for use with sloped ceilings. This is due to the fact that the weight load will not be evenly distributed, potentially causing malfunctions or even causing the load to slip. You could, of course, install some rafters if you'd like, but this may be too much time and/or energy invested for some people.
Finally, it is notably more expensive than any of the other products on this list. It may be too much of an investment for some consumers, but we can say that you definitely get what you pay for. There are plenty of reasons why we felt we had to place it as our absolute favorite, and once you receive your package, you'll understand how we feel!
Check Current Price: Garage Gator
| Pros | Cons |
| --- | --- |
| Extremely high-quality, durable product | Not recommended for use with sloped ceilings |
| Ultra-convenient with smooth electric system | More expensive than others |
| Can hold up to a whopping 250 pounds | Can be difficult if a power socket isn't nearby |
BUDGET PICK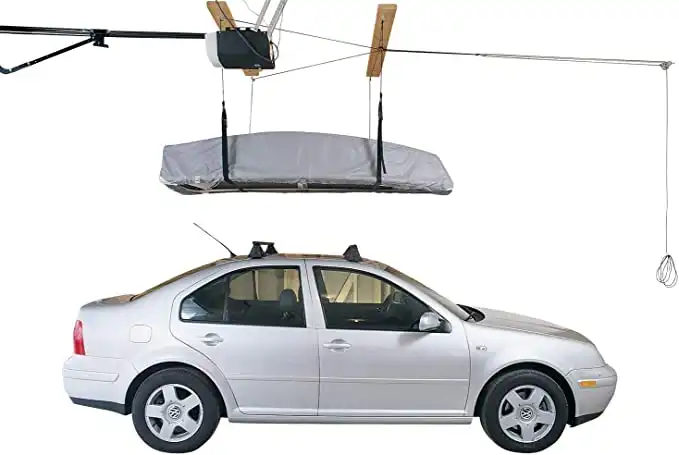 Are you having a hard time finding a high-quality kayak hoist system on a budget? We understand! There aren't too many worth buying that aren't going to empty out your wallet. Luckily, we found an exception in the Harken 4-Point Hoister System!
This system may not be as heavy-duty as some of the others out there, but it gets the job done, and does it right. If you need to keep your canoe or dinghy out of the way and don't need it to hold a ton of weight, then this may be the one for you.
It can hold up to 90 pounds comfortably, so make sure you weigh your vessel before hitting "check out". You can mount it just as easily in your garage, as in your apartment or even a small shop. It works just as well for ladders, lawn and garden equipment, boxes, and so on. In fact, some people have even used this system to hoist their Jeep's hard top with the convenience and ease of a much more expensive product!
How does it operate?
It works by raising and lowering the kayak with a single control rope. The patented design transports loads evenly, so as not to risk malfunction or the load falling off. It's perfect for one-person operation, and doesn't require a ton of upper body strength, despite this.
Worried about safety?
That's understandable. However, with their self-locking safety clean, it grips on right away if the rope is accidentally released or something like that. It won't be prone to just falling straight to the ground, which is safe for you as well as your things that you'll be storing.
One of the first things we noticed about the Harken, was the quality of each part of the system. It features stainless steel hardware, double-braid rope to keep them strong and sturdy, and make sure it lasts for a long time.
Perhaps one of the most difficult parts of setting up the system, is the assembly, itself. It is rather complex and time-consuming, even if you read the instructions. The instructions aren't always very clear – even for very experienced users. You'll have to install mounting boards, know the length and width of what you're storing, be able to locate the rafters, etcetera. The point is, that if you're not prepared for it, you may be too nervous or unmotivated to set it up yourself, and we don't want to see you waste your money.
While we're talking about the downsides, we'd also like to mention that it isn't the most sturdy out there. If you're simply looking to hold more bulky items that aren't super heavy, then this could be a wonderful option for you! It's simple once you have it all installed properly, and really works well.
Check Current Price: Harken
| Pros | Cons |
| --- | --- |
| Very affordable, simple system that works well | Installation can be a bit confusing – even more so because the instructions aren't always that clear |
| Made of high-quality stainless steel and nylon construction | Can't hold items over 90 pounds |
Wrapping It Up
Hopefully by now, you've already found one of the best kayak hoist systems that perfectly fit you and your situation. However, if you haven't, that's okay! It can be a difficult decision to make, as you're hanging heavy objects from various feet off of the ground! It's important to know that what you're purchasing is reliable and well-reviewed, in addition to suiting your needs.
We really would love to reiterate how much we absolutely loved the Garage Gator. It isn't for everybody, but it is very convenient and simple to use, along with having high-quality construction that is made to last. For those reasons, among many others, it was easily for us, the best kayak garage hoist out there.
Regardless of which hoist system you use, though, know that no matter which one you choose from our list, that you will be satisfied. These are all great products that are made to perform a service for the consumer, and we loved each and every one of them!
Continue Reading: