National Parks In Washington State – What to See
By
on
This post may contain affiliate links. As an Amazon Associate, I earn from qualifying purchases. Please read my full disclosure.
Washington State has a huge mix of National Parks for every type of traveler to enjoy.
Mountaineers can find challenging climbing routes. Hikers can take their pick between coastal trails, and trekking through a temperate rainforest. History buffs may enjoy one of the many historic parks in the area.
There are three National Parks in Washington State. There are also 11 sites affiliated with the National Park Service; and three National Trails in Washington.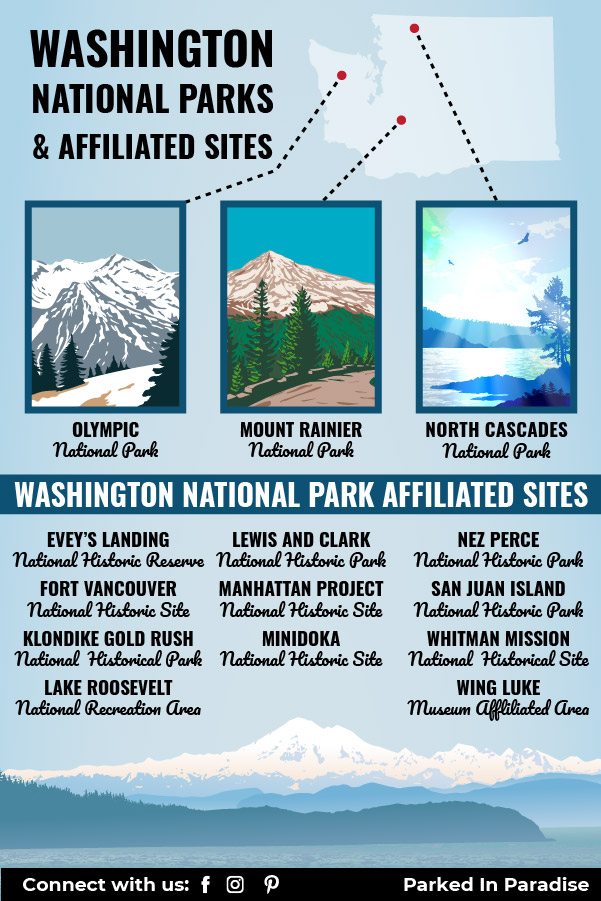 National Parks In Washington State
Mount Rainier National Park
North Cascades National Park
Olympic National Park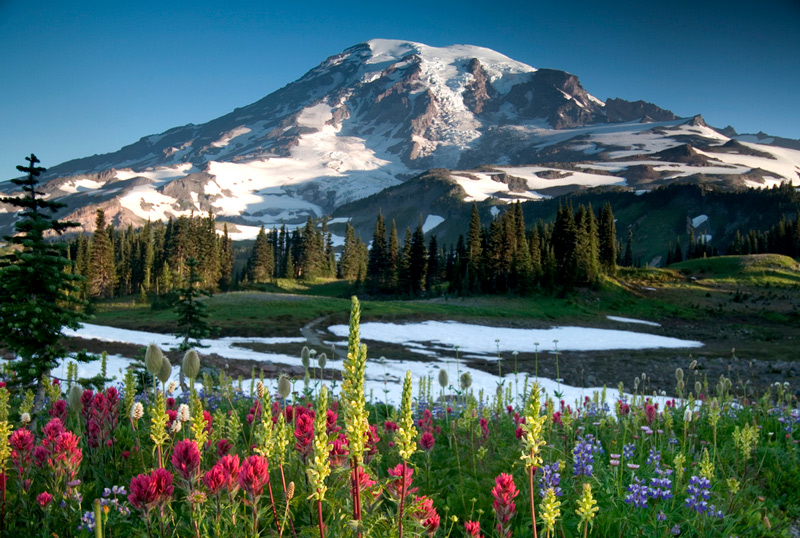 Mount Rainier National Park
Towering 14,000 feet above the Washington landscape, Mount Rainer stands out on the horizon. This National Park has a satisfying mix of wildflower meadows, icy volcanic rock, and ancient forests.
The park is open year-round and has a variety of outdoor activities to enjoy whether you want to backpack the wilderness, or stay within the confines of your car.
Hiking and climbing are the most popular sports. Over 260 miles of maintained trails wrap around the active volcano and zig zag through river valleys and forests. You can find a mix of short and long trails that are blooming with wildflowers and bursting with wildlife.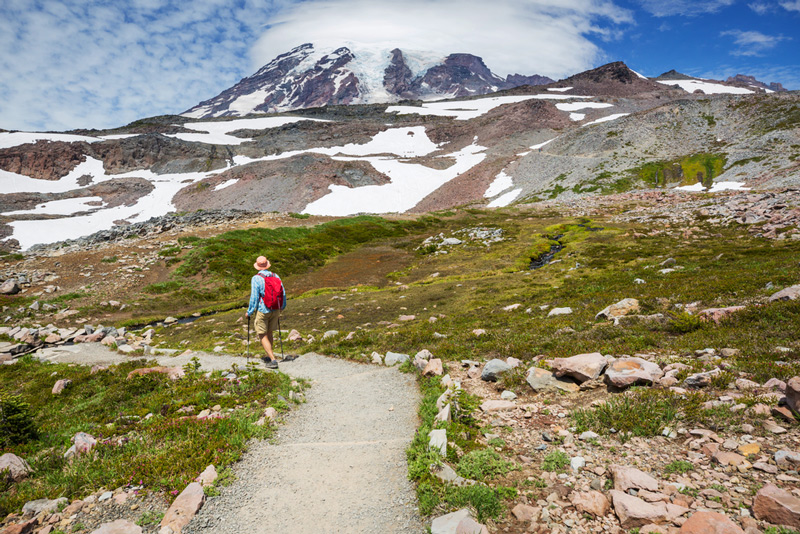 Backpackers will enjoy the secluded campsites and stunning night skies.
For those who wish to enjoy the park at a more leisurely pace, bicycling, fishing, and boating are a great way to relax. Melting glaciers on Mt. Rainer are the starting point of five major rivers so there are also some fantastic waterfalls to be found.
The most ambitious climbers may choose to ascend Mount Rainier itself. This is the most heavily glaciated peak in the continuous US so it requires a lot of advanced preparation. You must be willing to rope up! An elevation gain of 9,000 feet over 8 miles may require ice axes, crampons, pickets and harnesses–especially during the colder times of year.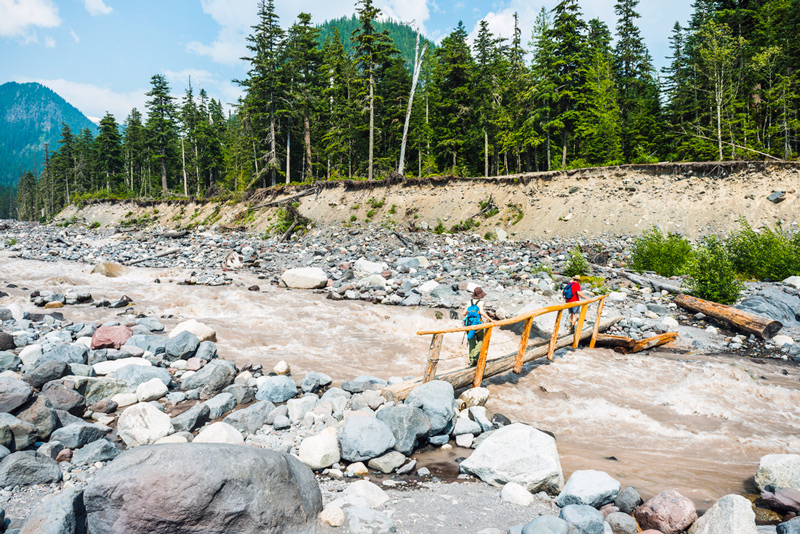 Pets
Mount Rainer is not the most dog-friendly National Park. Pets are not allowed on any of the trails and there are no kennel services run by the NPS.
Camping
Four campgrounds make Mount Rainer and excellent place to spend the night. All of the sites are available on a first-come, first-served basis. Most of the sites come with flush toilets but you won't find any showers or electric hookups. RVs are limited to 35-feet in length at Cougar Rock, and 32-feet long at the Ohanapecosh campground.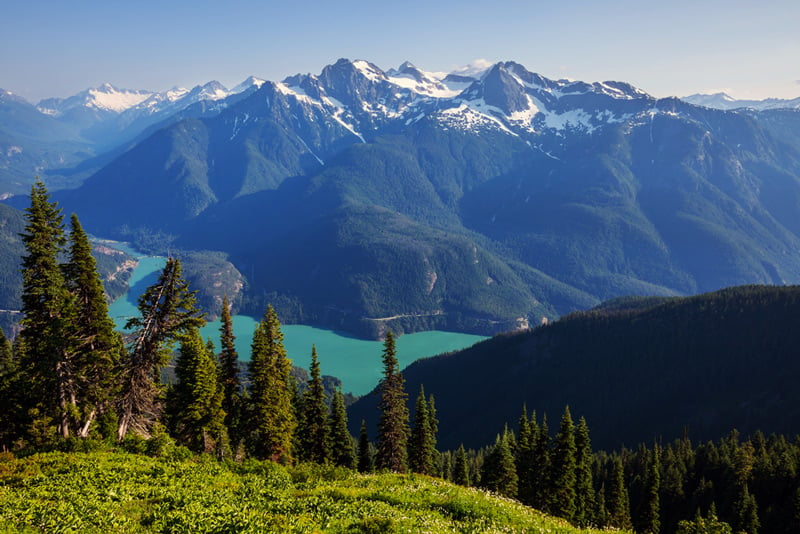 North Cascades National Park
Driving into North Cascades National Park is an impressive site. The steep jagged mountains loom over glistening blue lakes below. The area is home to over 300 glaciers which melt into hundreds of gorgeous waterfalls.
Exploring this rugged landscape from the mountains to the water is a bucket-list activity. The North Cascades are renowned for their rugged rock climbing routes and steep terrain.
When it comes to hiking, the park has a mix of easy and strenuous trails that stretch over 400 miles long. This park gets all of the seasons. You'll find freezing conditions during the winter which makes June-September the driest and most popular time to visit.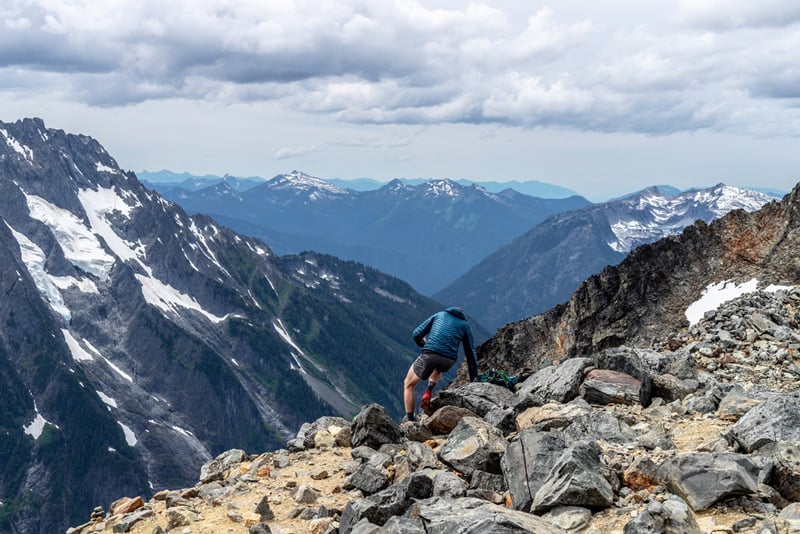 Backpackers will enjoy all of the options available from high point routes to river trips. There are over 140 designated backcountry campsites which allows you to find some really private and secluded rest areas.
Water activities are another big thing to do in the North Cascades. Ross Lake is popular for boating amongst the mountain wilderness. You can also go kayaking, and canoing on Gorge Diablo, and Chelan Lake. The Skagit and Stehekin rivers attract whitewater rafters.
Pets
Leashed pets are only allowed on a few trails within North Cascades National Park including on the Ross Lake and Lake Chelan National Recreation Areas. You will not be able to take them in most areas of the park.
Camping
Although the North Cascades has tens of campgrounds, most of them are primitive for backpackers or tent camping only. You'll find five car campgrounds in the park which have space for small RVs. Newhalem Creek and Colonial Creek have flush toilets.
Backpacking and boat camping sites are available with a permit.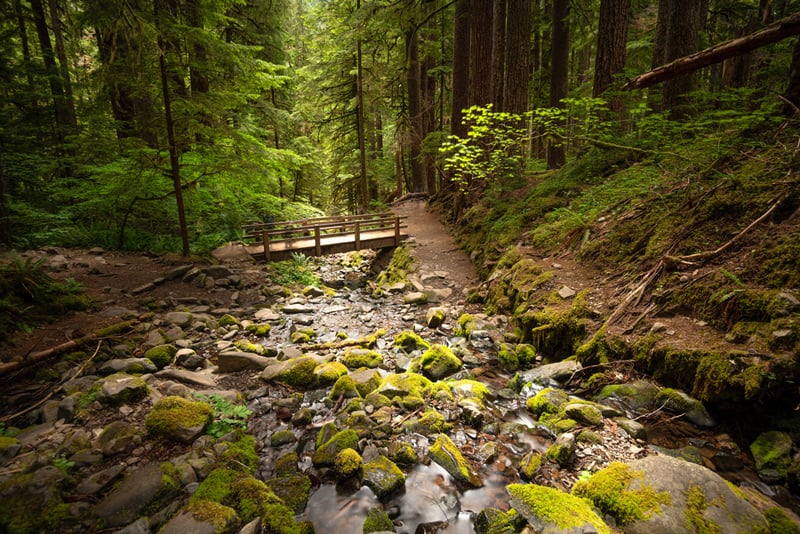 Olympic National Park
Located less than 2-hours from Seattle, taking a trip to Olympic National Park is like stepping into another world. This green paradise includes a mix of old-growth rain forests, glacier-capped mountains, and Pacific Ocean views.
The park covers almost 1-million acres and includes 70 miles of coastline. Hiking, enjoying the oceans, and dispersed camping beneath the stars are some of the best ways to experience the park.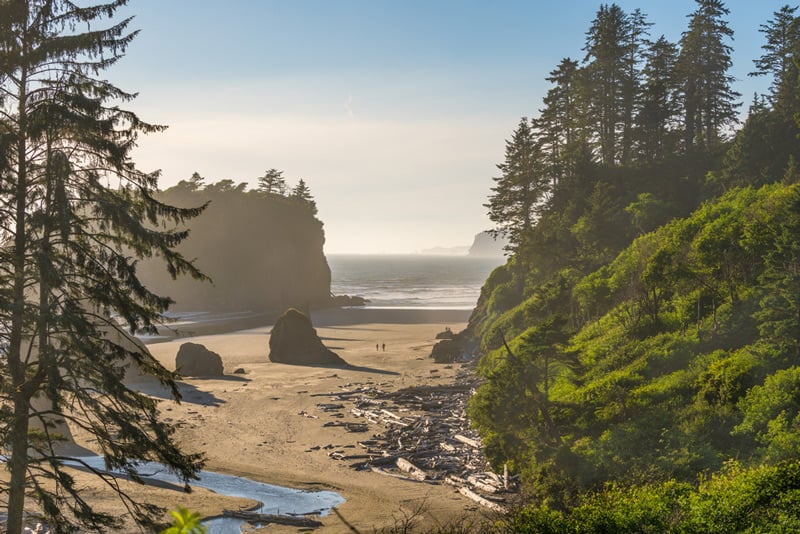 Tide pools in Olympic National Park are home to barnacles, mussels, and sea snails. Colorful dungeness crabs and starfish also live in the waters. Along the whale trail in the spring and fall, you can look out for migrating orcas.
Hikers can enjoy a variety of birds, deer, elk, marmots, and even black bears hidden deep within the forest. A mix of hiking trails including coastal routes and rugged trails through the old-growth forest are can't miss opportunities.
Climbing, boating, fishing, and auto tours are other things to do. Mountaineers have a number of peaks to choose from. Mount Olympus is the highest peak in the park at 7,980 feet tall.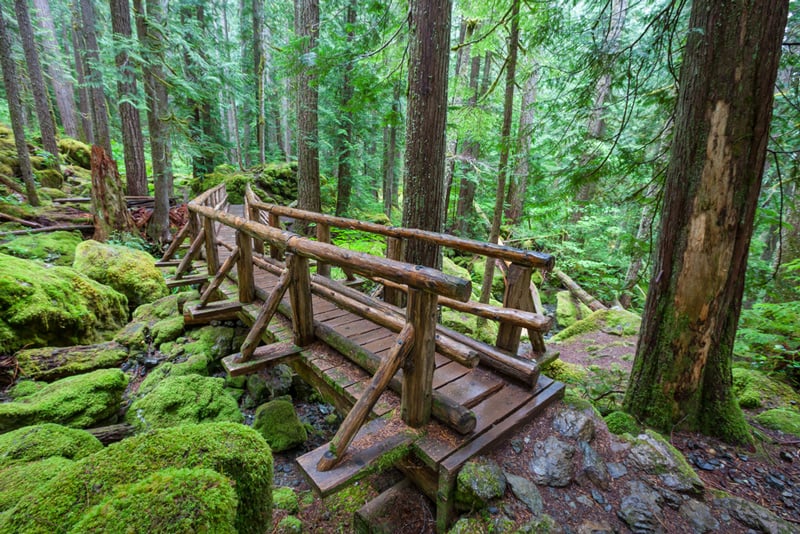 Pets
While not allowed on most of the park's trails, there are 6 trails that you can take leashed animals on. The Hoh and Kalaloch beach areas are also open to pets.
Camping
Olympic National park has 14 campgrounds available to tent and RV campers. Most of these sites are primitive with minimal amenities.
There are also dozens of backcountry camping sites for backpackers with a permit. And you can find free, dispersed camping sites in the surrounding area.
Washington National Park Affiliated Sites
Ebey's Landing National Historical Reserve
Fort Vancouver National Historic Site
Klondike Gold Rush National Historical Park
Lake Roosevelt National Recreation Area
Lewis And Clark National Historic Park
Manhattan Project National Historic Park
Minidoka National Historic Site
Nez Perce National Historic Park
San Juan Island National Historical Park
Whitman Mission National Historic Site
Wing Luke Museum Affiliated Area
Ebey's Landing National Historical Reserve
With native settlements dating back to the 1300's, this entrance to the Puget Sound has a fascinating history. For enthusiasts of the past, the Island County Historical Museum offers exquisite insight into the days of yore, while Fort Casey takes a glance into the harrowing military narratives of the area.
Those who prefer to spend their time in nature have a plethora of options as well. The reserve contains over thirty miles of hiking trails and gorgeous beaches perfect for exploration.
Lodging and dining are available for anyone who would like to relax after enjoying the reserve's outdoor adventures.
Fort Vancouver National Historic Site
Nestled along the Columbia River, Fort Vancouver is host to a lush, vibrant network of ecosystems. This area is home to many threatened or endangered animal species, such as several types of salmon, and is the perfect place for educators and students alike to learn more about wildlife preservation.
For those interested in the captivating local histories, there are many options for education. The Pearson Air Museum explores the history of Pearson Field with delightful murals and fascinating exhibitions. There are also cultural demonstrations, with exciting presentations in disciplines like blacksmithing and gardening, featuring period appropriate clothing and tools.
Klondike Gold Rush National Historical Park
The Klondike Gold Rush National Historical Park gives an in-depth look into the early days of the Seattle metropolis, with an emphasis on events surrounding the world's last gold rush.
Featuring rotating exhibits that enlighten visitors on the details of 1800's life and free informative video presentations, the museum is filled with engrossing exhibits and engaging entertainment for all ages.
There are even ranger-led gold panning events for those who really want to experience the 1851 Gold Rush. This dip into history is sure to entertain and delight all who visit.
Lake Roosevelt National Recreation Area
Formed by the Grand Coulee Dam and burrowed amidst ancient stone, Lake Roosevelt promises limitless possibilities for recreation. This immense lake offers prime kayaking and canoeing experiences, while the surrounding areas include scenic backroads perfect for leisurely drives.
Free ranger-led programs are available for those interested in learning about the particulars of the area's history and wildlife.
There are also opportunities for children to become junior rangers and learn how to preserve the knowledge and well-being of the national parks. Hunting and fishing are welcome pastimes for those following the local rules and regulations.
Lewis And Clark National Historic Park
Named for the most famous explorers in American history, this National Historic Park features several year-round hiking trails encompassing a variety of difficulty levels.
These paths display exquisite views of Washington wildlands, waterways, and even the Pacific Ocean. The park offers programs out of Fort Clatsop over the summer and winter months, with activities such as guided walks, tool demonstrations, and historical presentations.
Additionally, guided river tours are available by reservation, with boats and gear included. Camps for children interested in learning about exploration and survival are offered during the summer season.
Manhattan Project National Historic Park
This fascinating exploration into the development of the atomic bomb is stationed at the Hanford Engineer Works, a site built to create large quantities of plutonium for the Manhattan Project.
The park contains exhibitions such as the B-Reactor landmark, where materials for the Trinity test and plutonium bomb were manufactured, and insight into the displacement of the communities who occupied the area prior to the construction of the facility.
The Manhattan Project National Historic Park is the perfect spot for those who want a hands on scientific journey into one of the most momentous events of modern history.
Minidoka National Historic Site
Post-Pearl Harbor U.S. saw an increasing hostility toward the Japanese, culminating in the forced displacement and internment of 120,000 persons of Japanese descent.
The Minidoka National Historic Site delves into this dark chapter of American history. An homage to the Japanese-Americans who served is represented through the reconstruction of the famous Honor Roll, while trails guide visitors through historic reminders of these internment camps.
The remote area offers insight into the lives of those most affected by World War II on U.S. soil.
Nez Perce National Historic Park
Spread throughout the lush grasslands and mountains of the northwest, Nez Perce National Historical Park is comprised of thirty-eight locales integral to the lives and culture of the Nimiipuu people.
These incredible folk endured and adapted to unfathomable changes. The park explores 11,000 years of human settlements in the Nimiipuu homelands. Visitors can walk along several interpretive trails, such as the one leading to Buffalo Eddy, where beautiful displays of petroglyphs and pictographs can be seen, or learn about the history of the area through the museums and many events that dive into the incredible past of the Nimiipuu.
San Juan Island National Historical Park
Home to enchanting views, immaculate shorelines, and peaceful woodlands, San Juan Island is the ideal location for leisurely outdoor activities.
Visitors can learn about the Pig War that nearly erupted between Great Britain and the US in 1859 by watching the reenactments throughout summer at the English Camp, or exploring the artifacts on display at the visitor centers.
The six miles of beach offer multiple opportunities for whale and bird watching. Tidepools present perfect family friendly learning experiences. With prairies formed from glaciers and gorgeous lagoons, this area protects some of the most delicate and diverse ecosystems in the world.
Whitman Mission National Historic Site
This enclave delves into the history of the Cayuse, the Whitman Mission, and the fur trade, among many others. The Whitman Mission Museum offers exhibits on the impacts of the missionary settlement on the First Peoples of the area.
Showings of A Prophecy Fulfilled are provided as an introductory glimpse into the hopes and hardships of those initial meetings. Visitors can enjoy pleasant walks through the missionary grounds on paved trails, and even experience a small section of the infamous Oregon Trail.
There is also a sheltered picnic area where guests can enjoy a charming outdoor meal.
Wing Luke Museum Affiliated Area
Beautifully immersive, the Wing Luke Museum takes an incredible look into the history of Asian Americans. This immersive experience is unique in its ability to show guests what life was like for these early immigrants.
Guided tours through a historical hotel take visitors into intriguing places, otherwise inaccessible to the public. Exhibits of gorgeous artwork and iconic people explore the intricacies of the cultures the early Asian settlers brought to the West.
There is even a demonstration on the magnificent Bruce Lee. From the delectable herbs and spices to the exquisite art and fashions, the wonderful displays offered are sure to educate and delight.
National Trails In Washington
Ice Age Floods National Geologic Trail
Lewis And Clark National Historic Trail
Oregon National Historic Trail
National Parks In The Surrounding Area