National Parks In Nevada, Camping Options and Pets
By
on
This post may contain affiliate links. As an Amazon Associate, I earn from qualifying purchases. Please read my full disclosure.
When most people hear the word "Nevada" they think of Las Vegas. But the state has some incredible landscapes that often fall off the radar.
Snow-capped mountains, deep canyons, lakes, and the lowest basin in the US are all a part of Nevada's geologic features.
Nevada has 2 National Parks. It's also home to the largest National Recreation Area in America, as well as an unforgettable National Monument. This is a can't miss destination if you want to visit some of the most stunning scenery in America.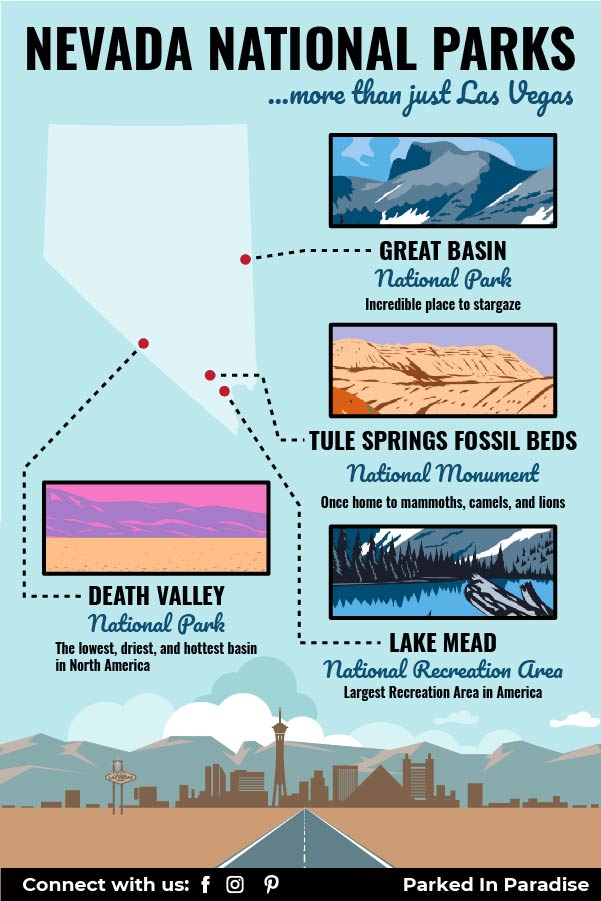 National Parks In Nevada
Death Valley National Park
Great Basin National Park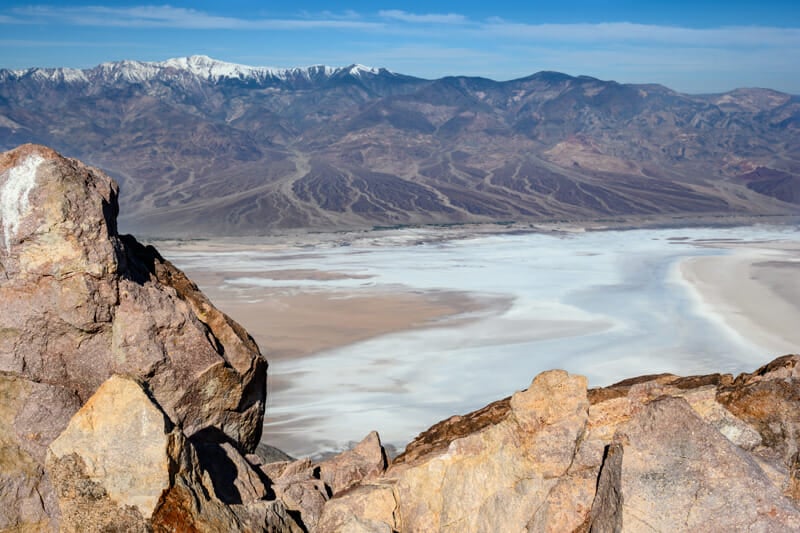 Death Valley National Park
The majority of Death Valley National Park is located in California, but parts of this desert spill out into western Nevada. This huge National Park has over 600 miles of roads to explore and stretches over 140 miles in length making it the largest National Park in America.
It is the lowest, driest, and hottest basin in North America.
While at first glance, Death Valley may look like a desolate wasteland, the park has a surprising array of features including spectacular wildflower blooms in the spring, snow-capped mountains in the winter, and impressive ecological diversity.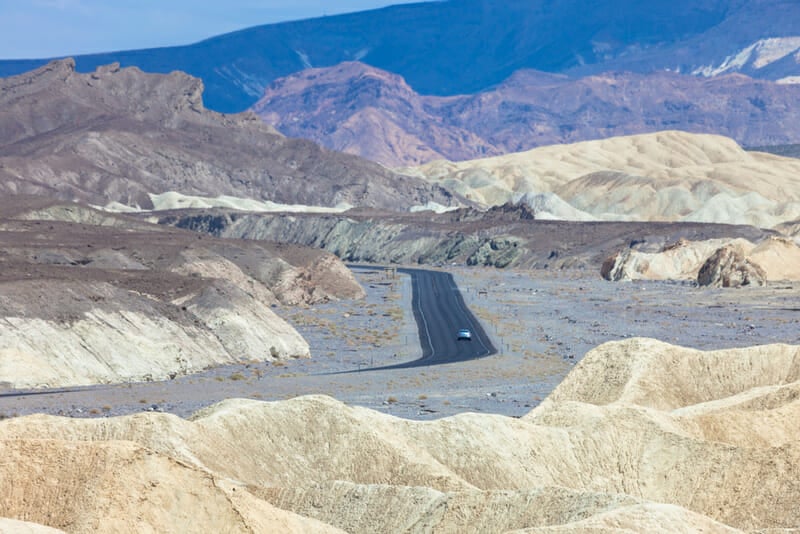 If you plan to visit this park, the best time of year is any season that's not summer! Temperatures regularly exceed 120°F during the day which doesn't make for the most comfortable road trip.
Hiking and auto tours are the most popular activities. You'll want to gas up before you hit the park because services are extremely limited in the area.
If you only have 1-3 hours to visit the most popular things to do in the park include:
Badwater Basin: The lowest location in North America. You can hike just a short ways from your car to see the famous polygonal salt flats that seem to extend for miles.
Artists Drive: A nine-mile scenic drive with beautiful desert landscape.
Devil's Golf Course: Jagged rock salts created from millions of tiny salt crystals.
Golden Canyon: A popular hiking trail that winds 4.5 miles through winding narrow canyons.
Zabriskie Point: The most famous overlook in the park.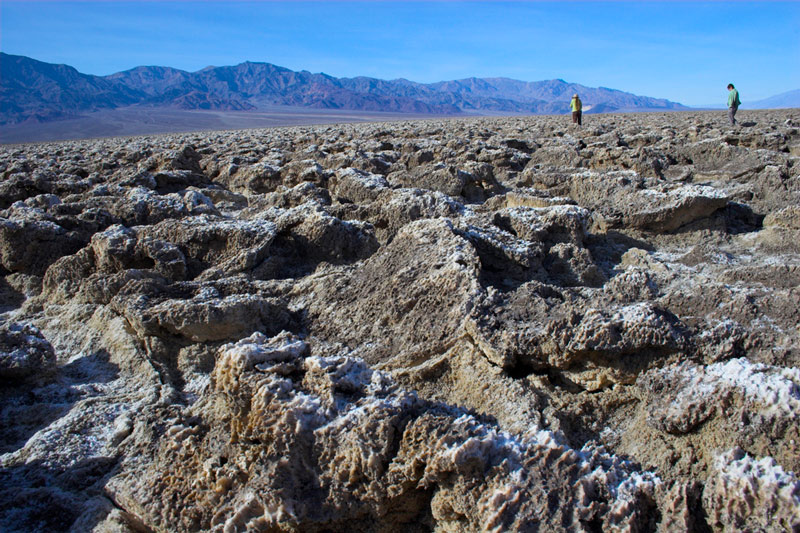 Camping
There are over 800 campsites in Death Valley National Park spread out across 9 campgrounds. You can find a mix of both RV and tent camping sites in the area. The RV sites come with flush toilets and dump stations but no electric hookups.
The tent camping sites are more rugged, but many of them are free of charge. There is also backcountry camping available throughout the park with a free permit.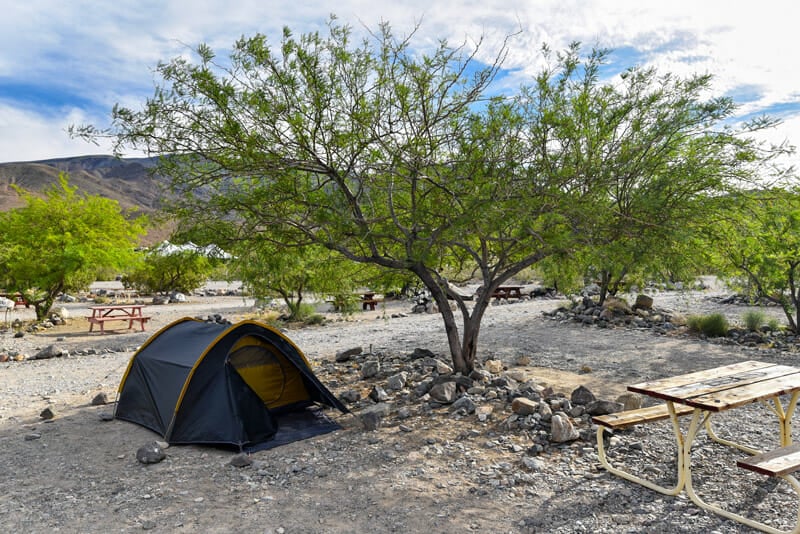 Pets
Leashed not allowed on any of the trails. However, Death Valley has many miles of gravel roads where you can walk your pets. These road have little or no traffic so it feels as if you're going on a desolate hike.
Keep in mind, this area gets hot even in the cooler times of year, so be sure to pack lots of water for your animals!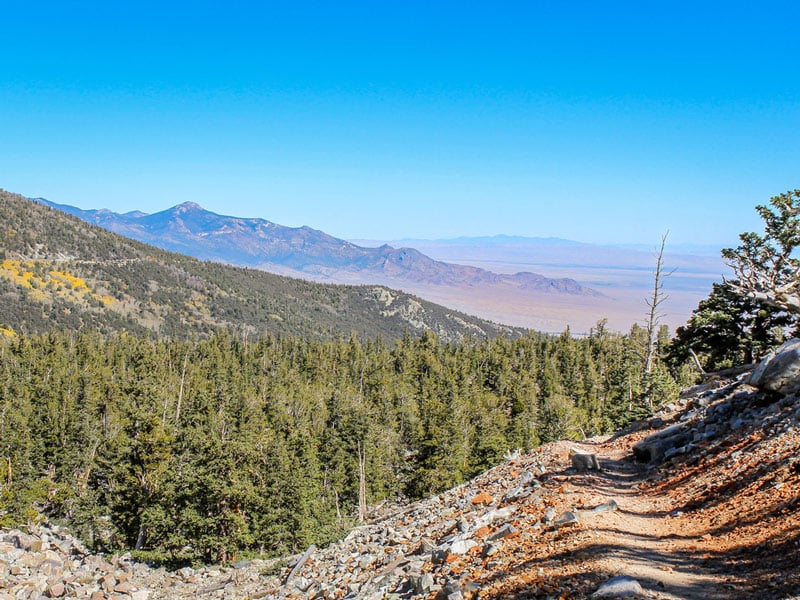 Great Basin National Park
Located in eastern Nevada about 4.5 hours north of Las Vegas is Great Basin National Park. This little-known park has a huge variety of landscapes to explore. From the top of Wheeler Peak at over 13,000-feet to the caves underground, there are plenty of things to do for every type of traveler.
60 miles of developed hiking trails guide you through the park. They range from flat and short to steep and strenuous. Along the way you can view a diverse array of wildflowers and birds such as the golden eagle, northern harrier, and red-tailed hawk.
Some of the backcountry trails are open to horses, llamas, and mules if you want to take a pack-animal on a longer trip. There are also various backcountry campsites that accommodate these animals.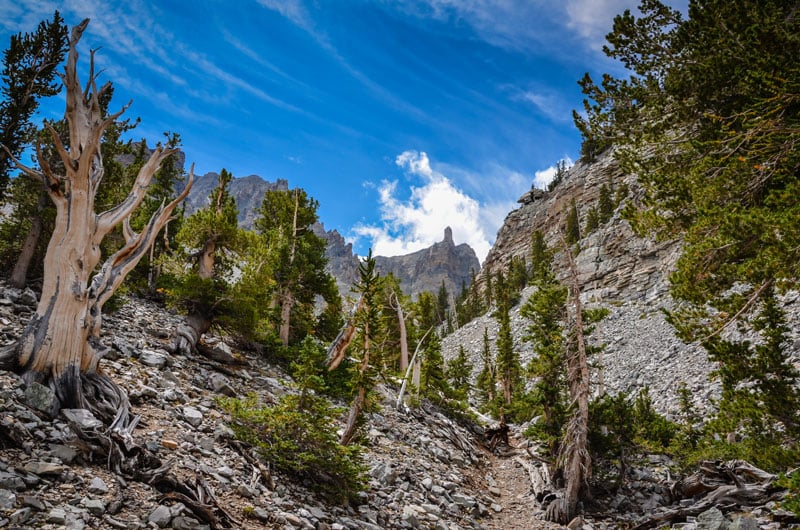 Other things to do in the park include cycling, climbing, and auto touring. Fishermen can enjoy catching various types of trout.
Underground, there are over 40 caves that have been discovered in Great Basin; seven of which are open to the public. These wild caves are fun and crawly, with some requiring ropes and other technical equipment to explore.
With as much as there is to see and do in Great Basin, the parks may be most known for its pitch-black night skies. The stargazing is incredible from every angle of the park. The Mather Overlook and Baker Archeological Site are some of the best locations to view stars because you get an open view of the horizon.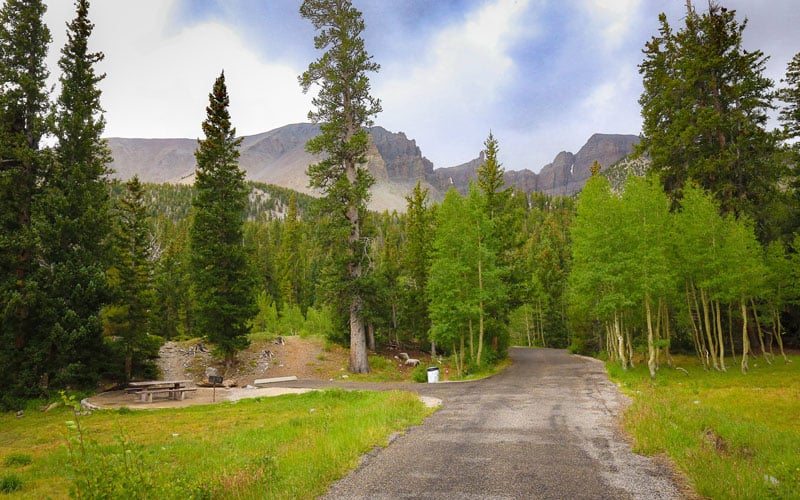 Camping
Seven campgrounds are available in Great Basin on a first-come, first-served basis. These are primitive campsites with no electric hookups and vault toilets only. The Lower Lehman Creek campground has pull-through sites for large RVs.
Backcountry camping is also available with a free permit.
Pets
Pets are not permitted on any of the trails in Great Basin or in the caves. There are kennel services available in Baker, Nevada.
National Monuments And Recreation Areas In Nevada
Tule Springs Fossil Beds National Monument
Lake Mead National Recreation Area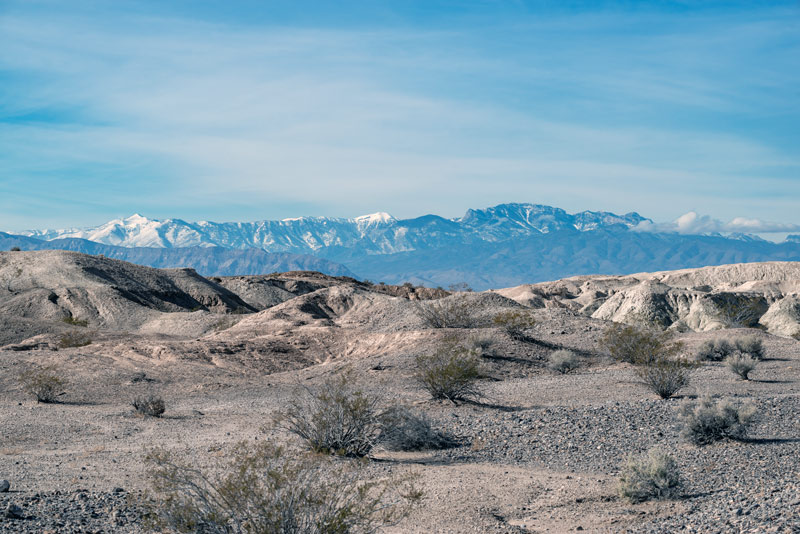 Tule Springs Fossil Beds National Monument
Located just 20 minutes north of Las Vegas is Tule Springs Fossil Beds National Monument. This impressive landscape was once home to mammoths, camels, and lions.
Hiking and horseback riding are the most popular activities in the National Park. Here, you can free-roam across the badlands and through the trenches. There are very few marked trails in the area.
Be on the lookout for fossils as you walk around! Ancient artifacts and rocks are scattered throughout the area. In 1962 Archeologists conducted a "Big Dig" at the park and were able to discover lots of large animal fossils!
Photography is another fun way to capture the Tule Springs landscape. This park does not get a lot of visitors, so you'll have to perfect opportunity to capture the deserts, flowers, and sunsets unobstructed.
Pets
Tule Springs is a very pet-friendly National Park. You can bring leashed animals on all trails throughout the area.
Camping
Unfortunately, there are no campsites within Tule Springs National Monument. However, dispersed and established campgrounds are abundant throughout the surrounding area. You can find the closest campsites in: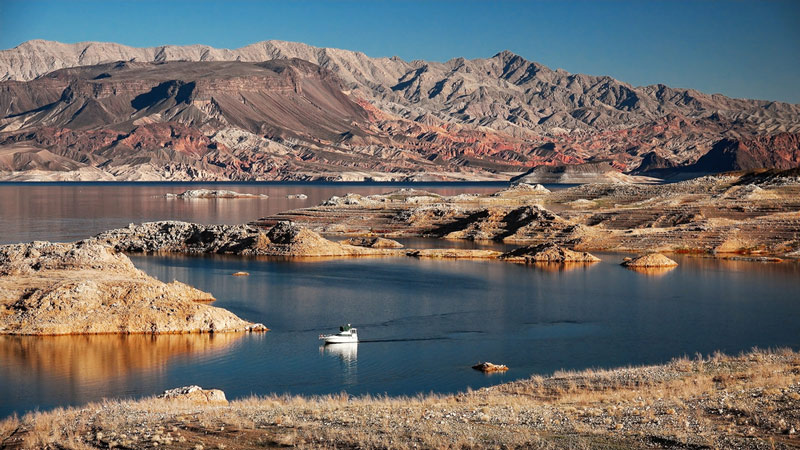 Lake Mead National Recreation Area
Coming across Lake Mead National Recreation Area is like discovering a fresh oasis in the desert. This is a popular route to drive between Las Vegas, the Grand Canyon, and Utah's National Parks.
This is the largest Recreation Area in America. It covers 1.5 million miles, nine wilderness areas, and includes two lakes, mountains, canyons, and valleys so there is no shortage of outdoor activities.
Lake Mead and Lake Mohave were created by the Hoover Dam on the Colorado River. These lakes are open for swimming, boating, paddling, fishing, and even scuba diving! Divers might be surprised to find white gypsum reefs, a sunken tow barge, and a B-29 superfortress airplane hidden underneath the waters.
Things to do at Lake Mead are not limited to the water. 87% of the park covers the Mojave Desert where you can find a mix of short and flat hikes to challenging scrambles. Horseback riding and biking are also permitted on many trails throughout the area.
Pets
Lake Mead is a very pet-friendly National Recreation area. You can bring your furry friends on all trails, developed areas, campgrounds, and along many beaches. Just be sure to pack some extra water because this park gets hot in the summertime!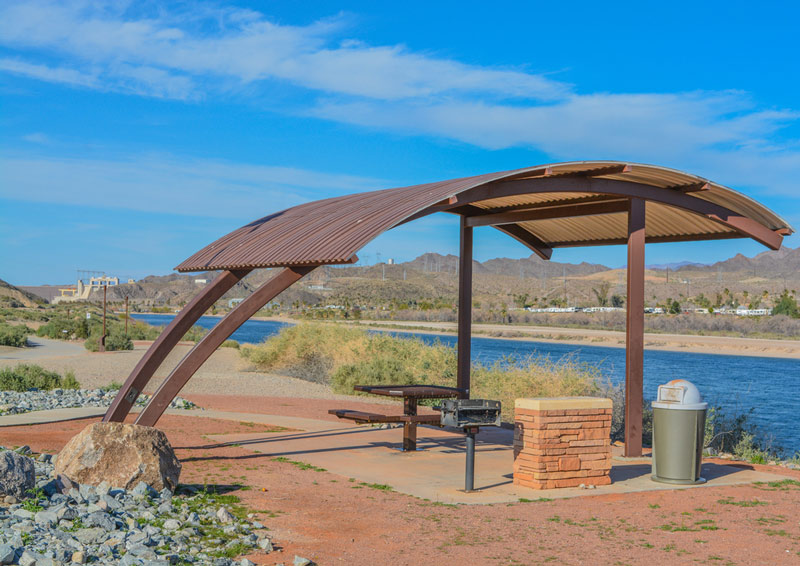 Camping
Camping is another hugely popular activity at Lake Mead. The recreation area makes the perfect resting spot between Las Vegas and the Grand Canyon. You can find a wide mix of tent and RV campgrounds in the park.
Many RV sites have full hookups including electric, water and sewage as well as large pull-through sites for the largest of rigs.
Free camping and boondocking are also abundant throughout the area. There are a number of approved backcountry roads where you can pullover and spend the night. Some of these are quite desolate, and others have quick access to the lakeshore so you can take a dip in the morning!
Visit The Hoover Dam Nearby
If you're visiting Lake Mead, don't forget to miss the Hoover Dam! Of course, this site is nearly impossible to bypass. This impressive structure is free to cross and offers guided tours, a visitor center, cafe, gift shop, and plenty of outdoor areas to grab a bite to eat.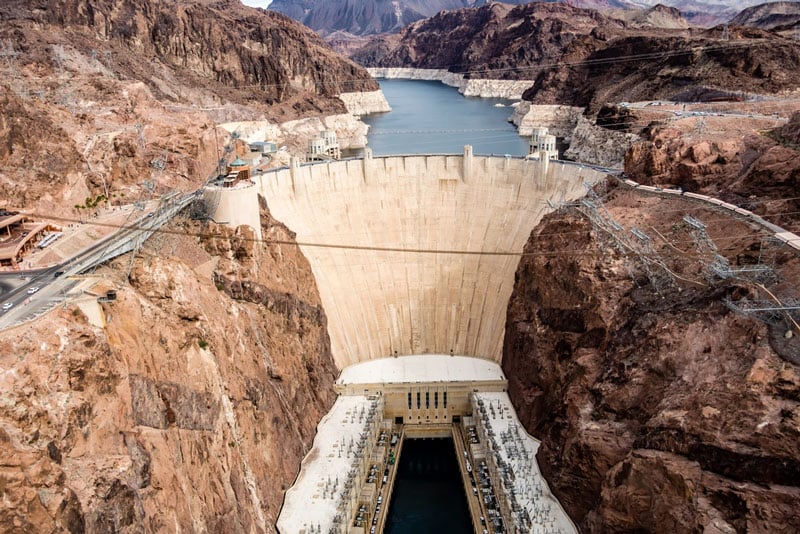 Nevada National Historic Trails
National Parks In The Surround Area