Camping In Pinnacles National Park
By
on
This post may contain affiliate links. As an Amazon Associate, I earn from qualifying purchases. Please read my full disclosure.
Located 1.5 hours south of San Jose, California is Pinnacles National Park. Pinnacles is known for its unique rock formations that have eroded from an extinct volcano. The rocky spires are popular among climbing enthusiasts where hundreds of bouldering, single-pitch, and multi-pitch routes can be found.
Aside from climbing, Pinnacles National Park has a stunning cave system with 13 different species of bats. There are also a number of challenging hikes including "The Pig Fence," which may require the use of handrails to guide you up the lofty rock surface.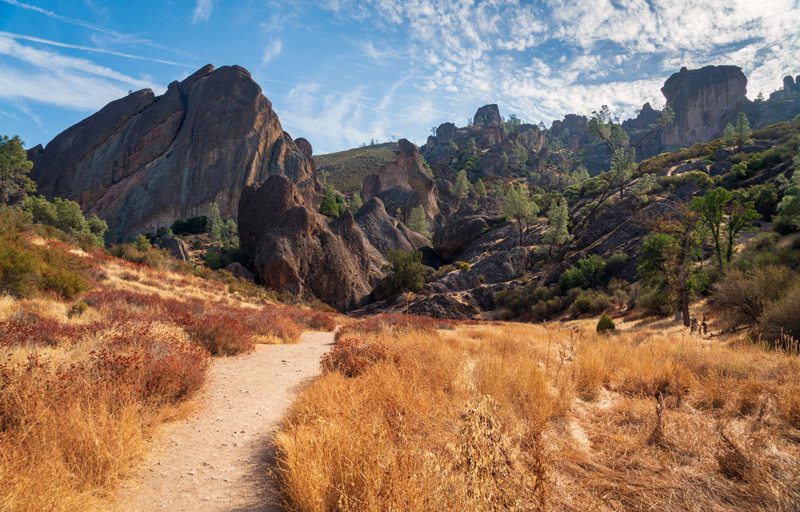 Pinnacles National Park has two entrances–one on the east, and one on the west. The roads do not join in the middle so you'll need to drive all the way around the mountainous formations to get from one side to the other.
There is one campground at the National Park aptly named Pinnacles Campground.
Camping In Pinnacles National Park
Pinnacles Campground is located on the east side of the park. This is where the majority of the park amenities are including the Bear Gultch Visitor Center. It's also shadier than the west side which makes for a more comfortable experience.
You can get to Pinnacles Campground through the east entrance station off Highway 146. It's 32 miles south of Hollister.
As far as National Park campgrounds go, Pinnacles is pretty developed. There are 134 campsites for both tents and RVs up to 70 feet long. Most RV campsites have electric hookups, and nearly all of the sites are shaded with oak trees which are especially welcoming in the summer heat.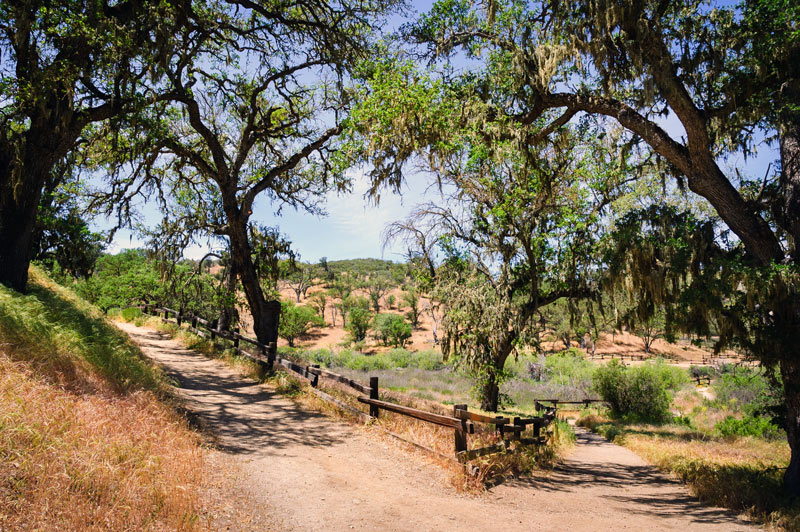 The campsites are spaced out so you get a good amount of privacy throughout the night.
Pinnacles Campground has running water, flush toilets, coin-operated showers, and even a pool that's open April-September.
Many hiking trails and activities are located within walking distance including the Bench Trail and the South Wilderness Trail.
From the east side of the park, you can also enter the Balconies Cave and Bear Gulch Cave to check out the bats!
Pinnacles Campground Features:

Backcountry Camping
There are no backcountry or wilderness camping areas within Pinnacles National Park.
The Best Time To Go Camping In Pinnacles National Park
Spring and fall are the most popular times of year to visit Pinnacles National Park. Summer temperatures can reach sweltering degrees in the hundreds while winter temperatures dip below freezing during the night.
Pets
Leashed pets are welcome on at Pinnacles Campground, but you can't bring them on any of the trails or in the caves of the National Park. This place also gets extremely hot during summer so it's really not the best place to visit with a dog.
If you need a dog sitter while hitting some of the rock climbing routes, we recommend Rover.com which is like an Airbnb for pets. The hosts can watch your dog for as little as a few hours while you explore the park.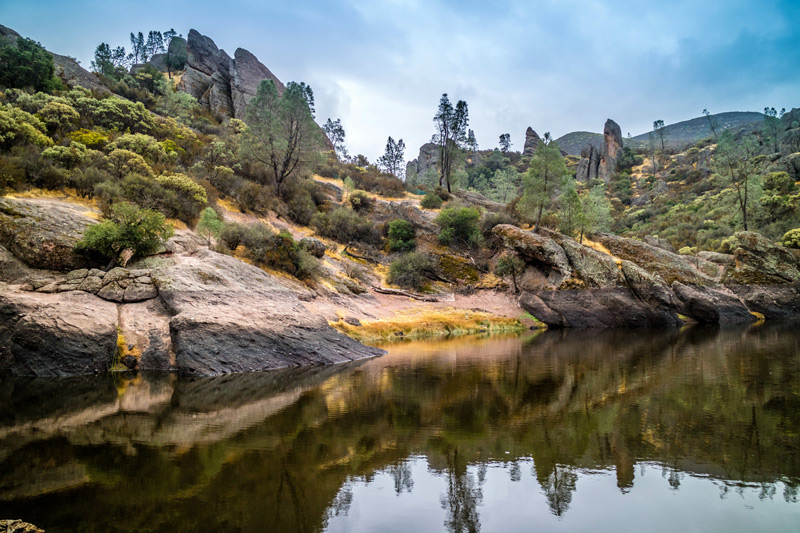 Free, Dispersed Camping Near Pinnacles National Park
If you're looking to save some money, there is free dispersed camping in the Panoche Hills Bureau of Land Management Area about two hours east of the park.
Boondocking and dispersed camping require that you park within 15 feet (roughly one vehicle length) of any roadway but more than 200 yards away from wildlife watering improvement. You must also follow leave no trace principles, including packing out any trash.
Private Campgrounds Near Pinnacles National Park
Private campgrounds are abundant in central California, but the most popular for camping near Pinnacles are:
You Might Also Like: