Camping In Joshua Tree National Park – Where to Stay
By
on
This post may contain affiliate links. As an Amazon Associate, I earn from qualifying purchases. Please read my full disclosure.
Joshua Tree National Park is located in southern California; two hours east of Los Angeles. The park is known for its picturesque Joshua Trees, starlit skies and thousands of rock-climbing routes.
The climate makes Joshua Tree an ideal spot to go camping year-round. In July, average temperatures peak at 97°F. In the winter, the average low temperature is just 35°F.
There are nine campgrounds in Joshua Tree with 500 available campsites for tents, RV campers, and equestrians. All of the campsites come equipped with vault toilets, fire rings, picnic tables, and trash collection. There are also free campsites and overflow campgrounds in the surrounding area which we'll cover in this article.
Reservations: All of the campgrounds are available on a first-come, first-serve basis. During the peak season (October-May) Black Rock, Indian Cove, Sheep Pass, and Cottonwood Group campsites take reservations. You can reserve a site through recreation.gov
Water and Bathrooms: Blackrock and Cottonwood Group are the only sites with potable water. They are also the only two campgrounds with flush toilets; all of the other campgrounds have pit toilets. None of the campgrounds in Joshua Tree have showers.
RV Camping: Most sites allow RV campers up to 35 feet. Hidden Valley, Indian Cove, Sheep Pass, and White Tank are restricted to vehicles up to 25 feet. There are no electric hookups or shower houses in any of the campgrounds. Blackrock and Cottonwood Group are the only sites with potable water. Each of those sites has dump stations as well.
Equestrians: Blackrock and Ryan campgrounds can accommodate equestrians but they must be reserved ahead of time through recreation.gov
Cell Phone Service: Blackrock Campground is the only site with reliable cell phone service.
Pets: Dogs are not allowed on any trails within Joshua Tree National Park, but they are allowed within the campgrounds and on paved roads.
| Campground | # Sites | Reservations | Water | Flush Toilet | RV* | Price |
| --- | --- | --- | --- | --- | --- | --- |
| Belle | 18 | | | | | $15 |
| Black Rock | 99 | | | | | $20 |
| Cottonwood Group | 62 | | | | | $20 |
| Hidden Valley | 44 | | | | | $15 |
| Indian Cove | 101 | | | | | $20 |
| Jumbo Rocks | 124 | | | | | $15 |
| Ryan | 31 | | | | | $15 |
| Sheep Pass | 6 | | | | | $50 |
| White Tank | 15 | | | | | $15 |
*RV campsites accommodate vehicles up to 35 feet
Campgrounds In Joshua Tree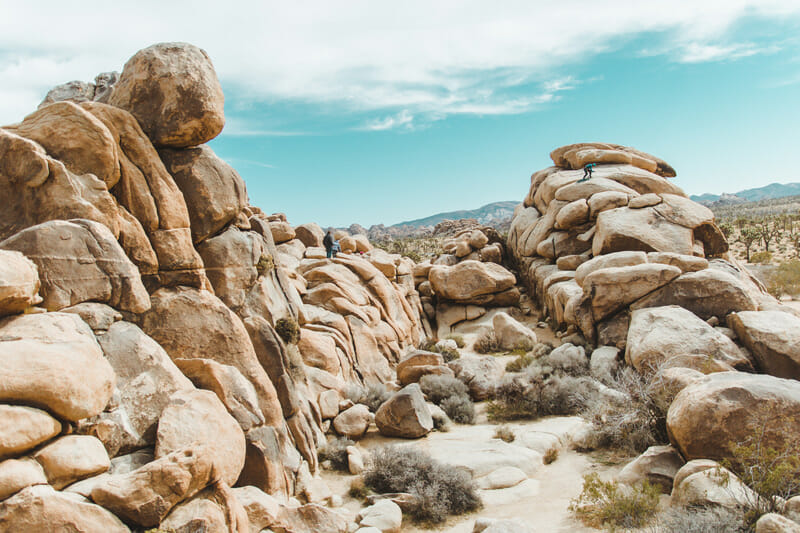 Belle Campground
Belle Campground is one of the smallest in the park with just 18 sites. It's located on the east side of Pinto Basin Road making it more secluded than many of the others. You'll find large boulders and a sprinkling of Joshua Trees throughout the area. This is a great place to see the stars at night because of its naturally dark skies.
Skull Rock is located only 1 mile up the road so you can easily walk there along Pinto Basin Road which is paved.
If you love climbing, Belle Campground is the place to stay. It's centered around Castle Rock, a large formation with 24 named routes. This is a great place to do trad, bouldering, and sport climbs.
First come, first serve only
6 tent sites, 10 RV friendly sites
Pit toilets
Trash collection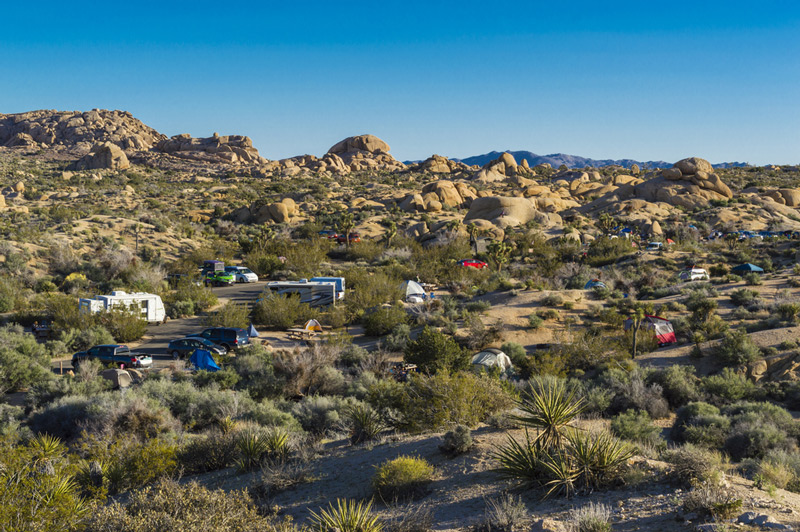 Black Rock Campground
Black Rock Campground is the most established in the park. It has potable water, flush toilets, a dump station. It's also the only campsite with cell phone coverage. Only 13 of the 99 sites are suitable for RVs and trailers up to 35 feet, so you'll want to make a reservation to ensure your spot. There are also 20 equestrian campsites available by reservation only.
Located on the north end of the park, Black Rock has a high concentration of Joshua Trees. But it is far away from the most popular climbing routes and rock formations.
Yucca Valley is only 5 miles north and has shopping and restaurants. There are also hotels in the area if you're not up for a camping trip.
Reservations required August-June
66 tent sites, 13 RV sites, and 20 equestrian campsites
Cell phone reception
Flush toilets
Potable water
Dump station
Trash collection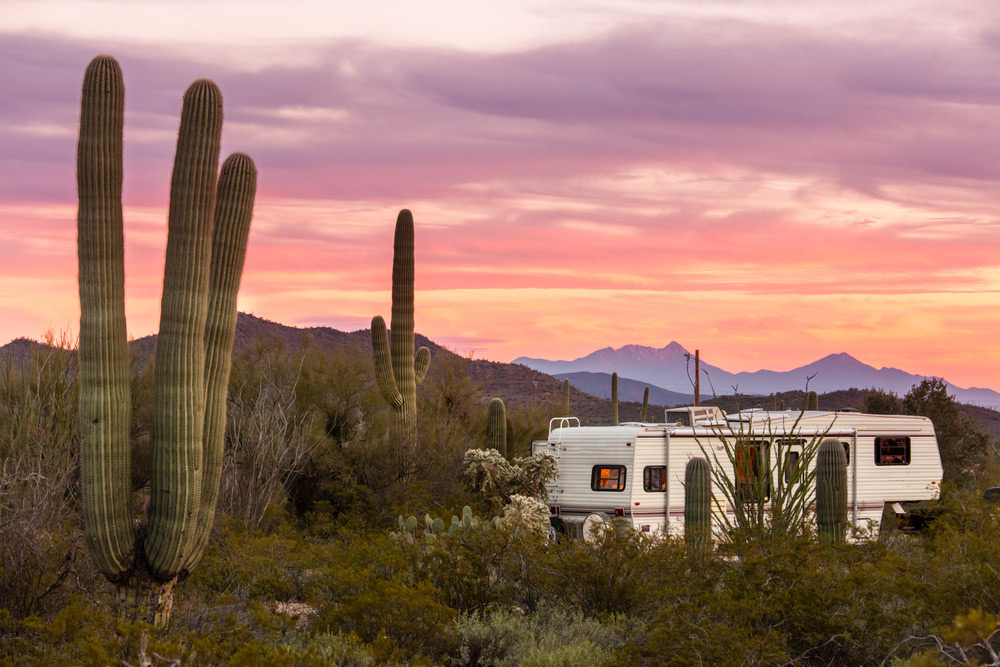 Cottonwood Campground
Cottonwood Campground is on the south end of the park located near the Cottonwood Visitor Center. If you're looking for good hiking, there are a few trails that stem from the area. Lost Palm Oasis and Cottonwood Springs are the most popular. It's also the nearest campground to Interstate 10 if you're traveling from that direction.
Cottonwood is in the Sonoran Desert so you won't find any Joshua Trees there! It's also flatter and hotter because it sits at only 3,000ft. elevation which can be a good thing during the winter months. Some would consider Cottonwood the least scenic campground because it lacks the large boulders and climbing routes that you'll find in the north. It is also far removed from the most picturesque areas of the park.
As far as amenities, it has potable water, flush toilets, and a dump station. There are 62 sites here for tents and RVs up to 35 feet including 3 group sites that require reservations.
First come, first serve
32 tent sites, 27 RV sites, 3 group sites
Flush toilets
Potable water
Dump station
Trash collection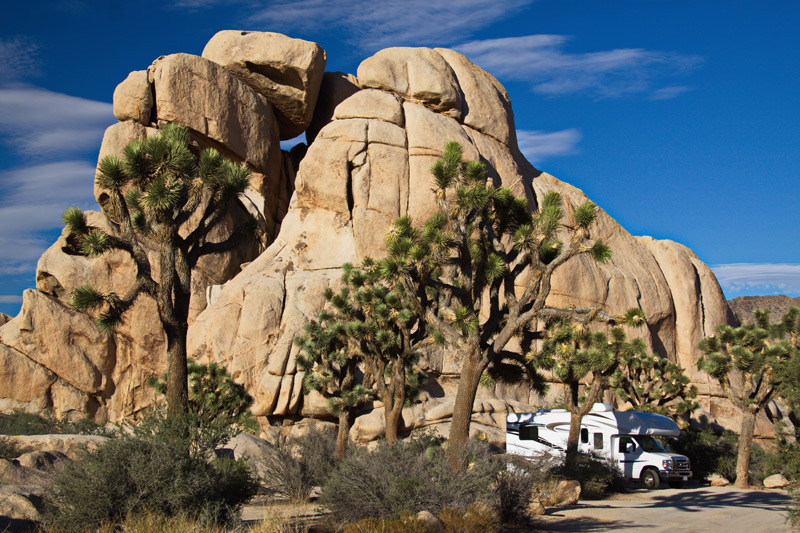 Hidden Valley Campground
Hidden Valley Campground is one of the most sought-after locations among rock climbers. It's also the most popular campground in the park. At Hidden Valley, you'll find nearly 200 named routes for bouldering, trap, and sport climbing. The campsites are spread out among big boulders and mature Joshua Trees.
The area is very scenic and located among a number of great hikes. RVs longer than 25 feet will not fit here so the whole area is considered tent camping only.
First come, first serve
44 tent camping sites
Pit toilets
Trash collection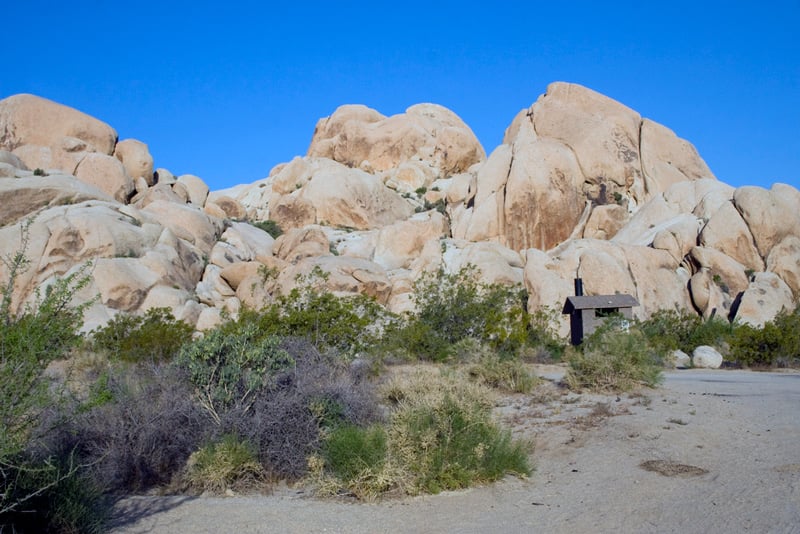 Indian Cove Campground
Indian Cove Campground is another great spot for climbers with over 600 routes located within walking distance. This campground is located outside of the park entrance gates off Highway 62. Trees and vegetation are scarce, and the area is piled with boulders.
You'll want to bring plenty of water because there are only pit toilets here and the location is secluded from other areas of the park. To get to the most famous arches and formations in Joshua Tree you'll need to drive nearly 45 minutes.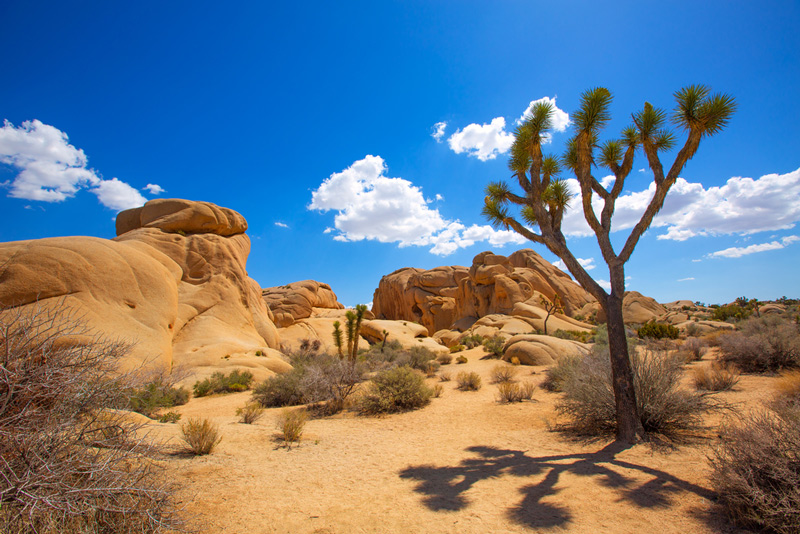 Jumbo Rocks Campground
Jumbo Rocks Campground is the largest in the National Park with 124 total campsites. The great thing about Jumbo Rocks is that it's right at the center of so many points of interest. There is a mix of large and small campsites making it ideal for families and solo campers alike.
When it comes to climbing, there are over 120 established routes for bouldering, trap and sport climbs. You can walk to skull rock for a picture, and there are two large picnic areas nearby.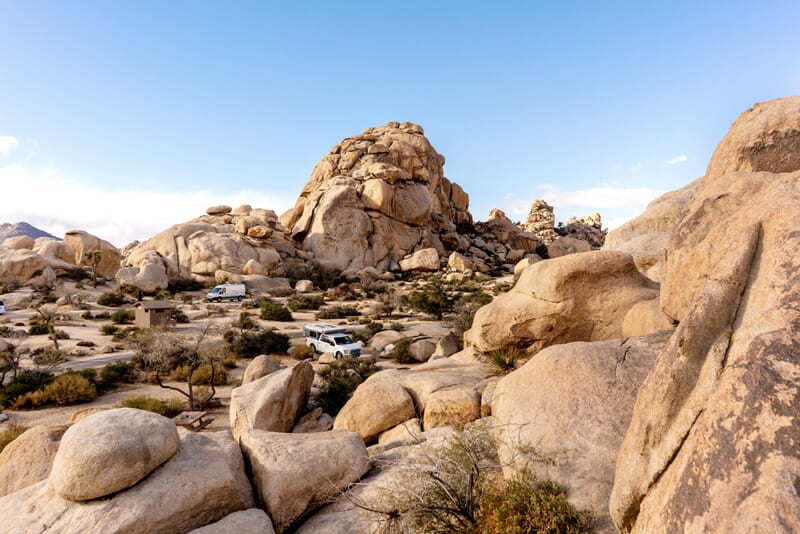 Ryan Campground
Ryan Campground is small, with only 31 sites for both RV and tent camping. There are 4 equestrian sites here, but no potable water so it's not the most accommodating for horses. Some campers refer to this area as overflow for the Hidden Valley Campground.
It is not very private but does have 25 climbing routes located on the premises so it's a good location to spend the night nonetheless. You can go hiking to the Ruins of Ryan Ranch and along the California Hiking Trail nearby.
First come, first serve
31 tent and RV sites, 13 group sites
4 equestrian sites require reservations
Pit toilets
Trash collection
Sheep Pass Campground
If you want to go camping with a large group of friends, Sheep Pass is one of the best places to stay. This campground has just 6 sites for groups of 10-60 people. It's in a great location on the west side of the park so you'll get to enjoy a landscape of Joshua Trees and big boulders.
Sheep Pass is popular with boy scout troops and other large groups. Campsites are reservations only and not suitable for RVs.
6 group campsites
Pit toilets
Trash collection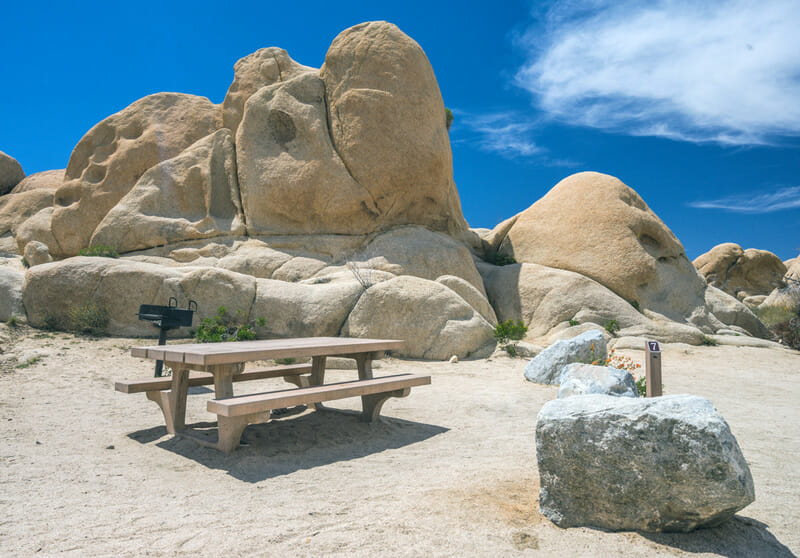 White Tank Campground
The smallest campground in Joshua Tree is White Tank. It's secluded and located in one of the darkest sections in the park which makes it the perfect location for stargazing. You'll get a quiet and private camping experience here because there are only 14 campsites that are just large enough for tents.
The whole campground is first-come, first-serve so you'll want to get there early to snag a spot.
First come, first serve only
14 tent sites
Pit toilets
Trash collection
At A Glance: The Best Joshua Tree Campgrounds
Best campgrounds for climbers: Belle, Hidden Valley, Indian Cove, Jumbo Rocks
Largest group campgrounds: Sheep Pass, Ryan
Best for RV and travel trailer camping: Black Rock, Cottonwood, Jumbo Rocks
Most horse-friendly sites for equestrians: Black Rock, Ryan
Darkest campsites for stargazing: Belle, White Tank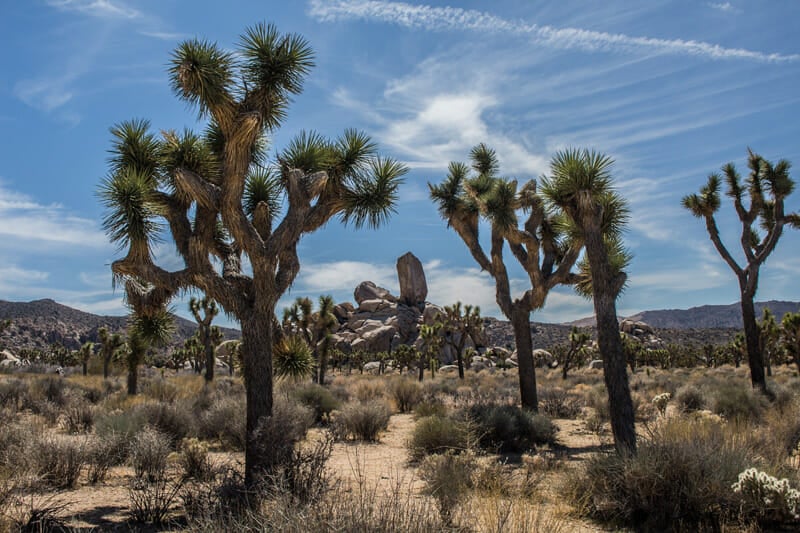 Joshua Tree Backpacking
Backpacking is available in Joshua Tree National Park. There are 13 staging areas where you can park your vehicle and begin the journey. Each staging area has a registration board where you can get a permit and register your vehicle.
Joshua Tree backpacking permits are required.
Remember to leave to trace and pack out all of your belongings. You can set up camp 1-mile from roads and 500-feet from trails or water sources.
Camping Near Joshua Tree
With Joshua Tree being so popular, the campgrounds fill up quickly. Luckily, there's plenty of overflow camping in the surrounding area.
Free Camping Near Joshua Tree National Park
If you're looking to save some cash or go boondocking in an RV, there is free dispersed camping surrounding Joshua Tree to the north and the south. This area is run by the Bureau of Land Management (BLM).
On BLM land there are no facilities. That includes water, fire pits, bathrooms or trash collection. The entire area is "pack it in pack it out" so you'll have to follow leave no trace principles.
This is a great way to spend the night under the stars, get quick access to the park, and avoid the crowds. You can find BLM area maps for Joshua Tree here.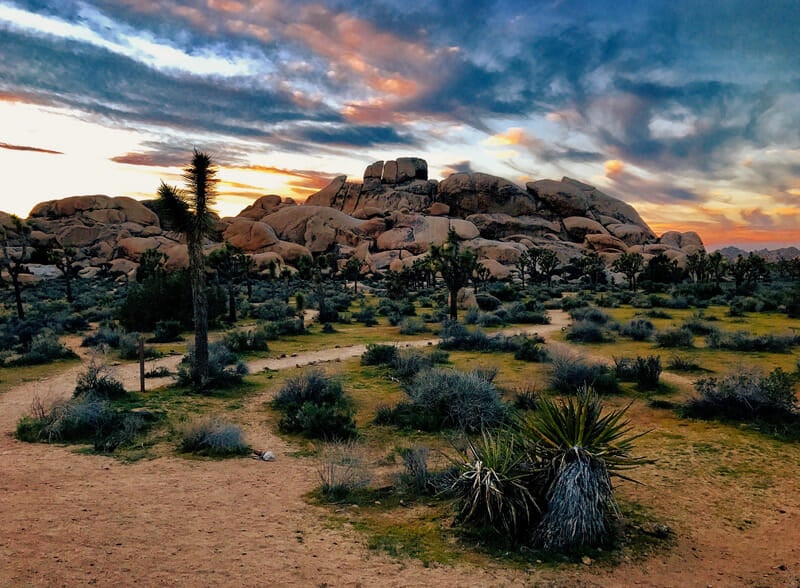 Campground Rules
Where To Get Water: Many of the campgrounds within Joshua Tree don't have potable water. To refill your water containers you can stop by the Black Rock or Cottonwood Group campgrounds. There is also potable water fill stations at all of the park visitor centers.
Campfires: Within Joshua Tree, campfires are only permitted in fire rings. Each campsite has its own fire ring. You're not allowed to collect or burn vegetation. Firewood should be acquired locally and you can purchase it in the nearby town of Twentynine Palms.
Generators: Are permitted from 7–9 am, noon–2 pm, and 5–7 pm. Quiet hours are from 10 pm–6 am.
Pets: Leashed dogs are only allowed on the paved roads, picnic areas or campgrounds. They are not allowed on any of the trails and cannot be left unattended. You can read more about the pet policy here.
When Is The Best Time To Go Camping?
Joshua Tree is a popular park with lots to do including climbing, stargazing, hiking, and birding. It's full of rich geology and a large array of picturesque Joshua Trees.
Mild climates make this park a great place to go camping year-round, but it's especially popular in the winter months. October to May are the most crowded months to visit. During this time, serious rock climbers can practice their skills while the most popular mountains are covered in snow.
For the best chance at snagging a campsite, you should arrive early. To get the best spot for a weekend camping trip you'll want to get there by Thursday or Friday. You can expect the smallest and most popular campgrounds to fill up by Friday afternoon.
Travel during weekdays or in the off-season if you want to sleep in the most picturesque destinations.
Luxury Camping And Lodging At Joshua Tree National Park
If camping is not your thing, or if you need something with more amenities we recommend checking out these nearby hotels.
There are also multiple options to stay in a Yurt, Tipi, or Tiny House near Joshua Tree.