13+ Best Road Trip Planners For Travel
By
on
This post may contain affiliate links. As an Amazon Associate, I earn from qualifying purchases. Please read my full disclosure.
Planning a cross country road trip is one of the most overwhelming parts about travel. With so many destinations available, it's hard to decide where to start.
Fortunately, there are a number of road trip planners and mappers available to arrange the perfect vacation. These maps and apps will help you find the perfect route with the click of a button.
Best Road Trip Planner With Stops
BEST TRIP PLANNER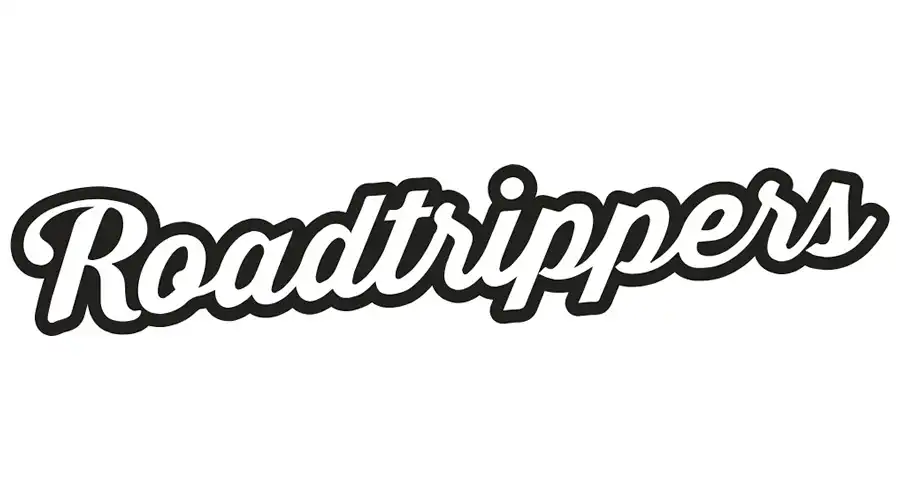 Roadtrippers
Use the trip planner to design your route and easily connect top-rated destinations with turn-by-turn navigation.
DOWNLOAD APP
If you have a few destinations in mind and are looking for a more efficient way to travel, Roadtrippers is one of the best websites (with an app) out there.
All you have to do is create a trip, put in a list of destinations, and it will automatically re-order the list, mapping out the fastest route to get to all of them. I like to add cities to my list then leave notes about what I want to do there.
Roadtrippers has a fantastic user interface with pictures of the most popular destinations and suggestions on other things to do in the area.
If you decide to put in extra information such as your vehicle and gas mileage, it will also give you an estimate of how much you will spend on gas!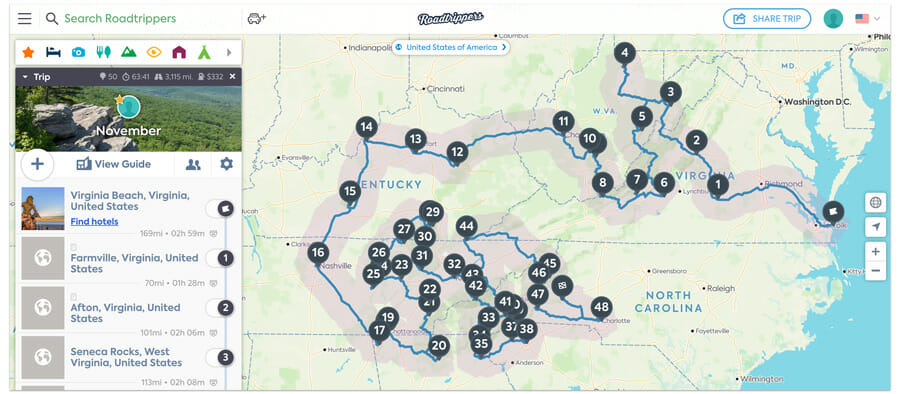 The Roadtrippers App
Roadtrippers.com can be used without creating an account, but we recommend creating a free one to save your trips. On a smartphone, you can download the free roadtrippers app and it will sync everything from your desktop to multiple phones. The app often saves enough data to work well even without internet service.
I prefer to add my destinations in a desktop where I can explore the area, then save the trip and access it on my phone as we're driving. Clicking on destinations within the roadtrippers app will open up directions in either Google or Apple maps making it easy to get where you want to go.
One of the disadvantages of Roadtrippers is that you can only add 50 destinations at a time. This may sound like a lot, but those destinations add up fast when you are traveling long term. I prefer to make a couple of maps for each region that I'm traveling.
Best App For Finding Free And Paid Campgrounds
#1 CAMPING APP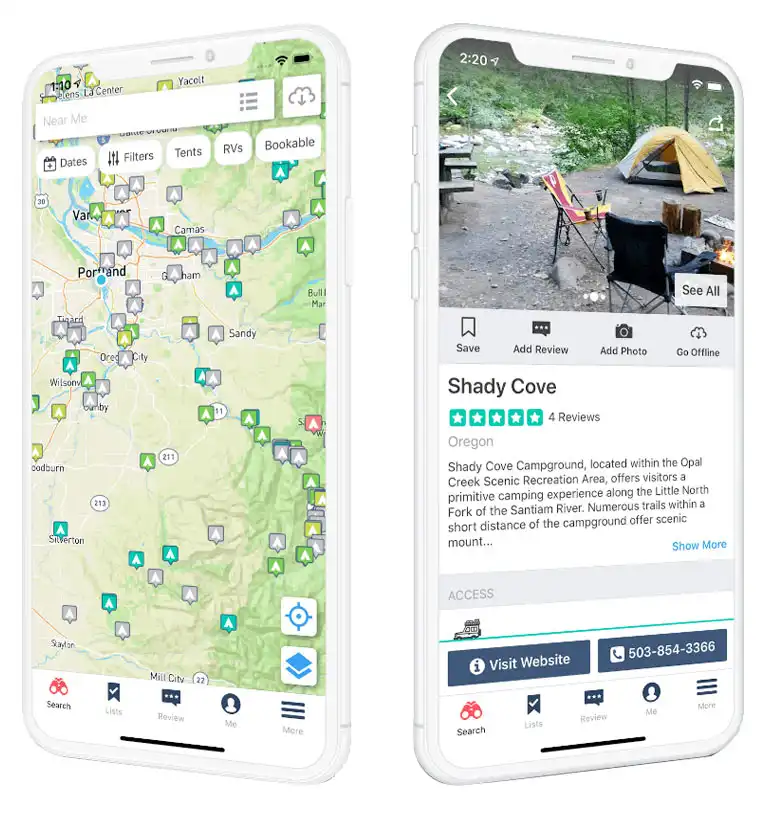 The Dyrt Pro Membership
This is our favorite app for finding free campsites and planning road trips.
Download offline maps with Public Lands, National Forest, and Bureau of Land Management boundaries.
44,000+ public and private sites listed. Over 1 million campgrounds reviewed.
TRY 30 DAYS FREE
The Dyrt is the most comprehensive camping app available. It has a database of over 44,000 private and public campgrounds plus over 1 million user-generated reviews.
It's also our favorite app for finding free camping.
The downloadable maps out National Forest and Bureau of Land Management (BLM) boundaries so you always know where it's legal to camp. The pro version also gives you discounts on campgrounds and other camping gear.
Best App For Finding Roadside Attractions
ROADSIDE ATTRACTIONS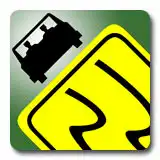 Roadside America
A guide to uniquely odd tourists attractions right beside the road! Make pit stops along your route take pictures with one of a kind features.
DOWNLOAD APP
One of our favorite things to do when driving a long, boring stretch of road during a cross country trip is make it a point to stop at some roadside attractions. There are more than you would think!
The Roadside America app will find odd and whimsical features along your route which is the perfect place to get out of the car and stretch your legs.
Our only complaint about this app is there are too many to choose from!
Best App For For Avoiding Traffic
BEST TRAFFIC PLANNER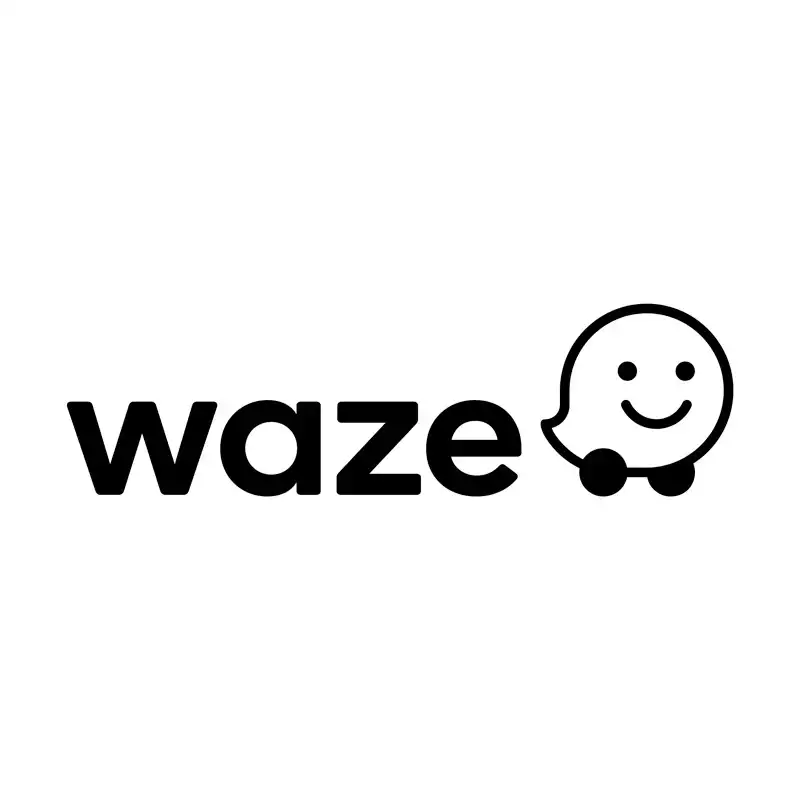 Waze
Driving directions and up-to-date-traffic reports to get you to your destination faster.
FREE DOWNLOAD
Hopefully there's not too strict of a time schedule if you're planning a leisurely road trip. But if you are, the Waze app will give you real time updates and traffic stats to help you get to your destination faster.
You can use Waze to estimate your arrival time which can be especially helpful around big cities and when planning for a tour.
Most Accurate Weather App
BEST WEATHER APP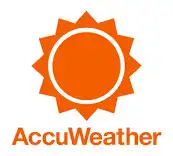 AccuWeather
Up-to-date weather forecasts and alerts. Input multiple destinations around your route to find temperature information, humidity, wind, dew point, and UV index.
FREE DOWNLOAD
One of the first things to look at when planning out a trip is the weather and time of year. Poor weather will quickly kill the fun when you're out in it so is important to keep this in mind.
If you have the choice, aim to head south in the winter and north in the summer. Summer heat can be unbearable in many states, so you don't want to find yourself stuck in Phoenix, Arizona during that time of year.
Watch out for bugs!
Some states have bug seasons that would be nice to avoid. Mosquito season begins hitting Minnesota in mid-May, so perhaps that is a good time of year to head to a drier climate.
Ticks are also the most active from May-August on the east coast of the US. You won't be able to avoid all bad weather and bugs, but with appropriate planning you can make the trip much more enjoyable.
Bug patterns may not be in the app, but we can tell you from experience it's worth looking up!
Best App For Saving Money On Gas
CHEAPEST GAS PRICES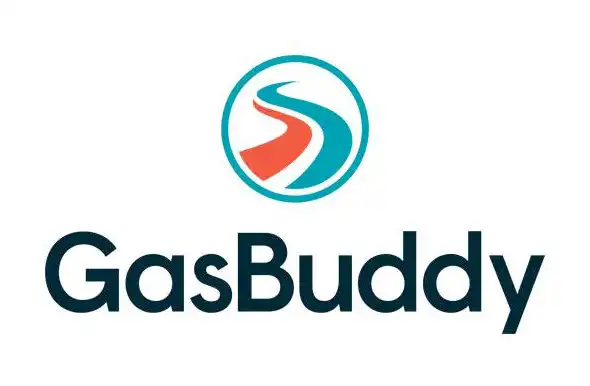 It's always a good idea to have more than enough gas on hand when heading out on a road trip. You don't want to end up driving through Death Valley only to find that there's one gas station in the park. Not to mention, it's the most expensive in the area!
The GasBuddy app tracks local gas prices so you can find the cheapest fuel on the road. The app also lets you earn rewards, further saving money along your route.
Best Paper Map Road Trip Planner
BEST TRAVEL MAP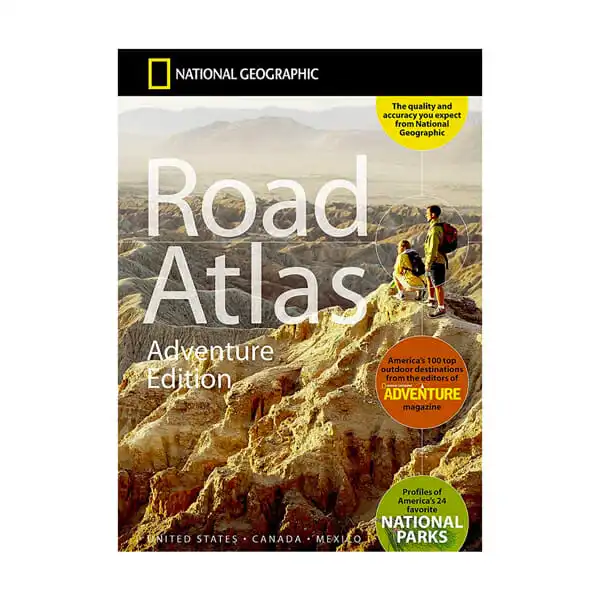 NatGeo Road Atlas
Adventure Edition Road Atlas by National Geographic includes road maps for all 50 states.
Marked National Parks, points of interest, and popular hiking, climbing, biking and skiing destinations.
CHECK LATEST PRICE
Even with all of the technology we have at our fingertips, one thing we can't recommend enough for safety purposes is traveling with a paper map.
The National Geographic Road Atlas – Adventure Edition is one of the most unexpectedly useful things we had purchased before beginning our cross country trip.
The atlas is big and detailed, it has a sturdy cover and lists all 50 states in the US. Not only does it have the roads marked out, but because it is an adventure edition map, it has extra sections dedicated to explorers.
Throughout the atlas, you can find little red dots that indicate pitstops and points of interest. Many of these points of interest are quite well known. However, we have found quite a few destinations on this map we hadn't seen listed in our initial searches of the area.
Catwalk Canyon in New Mexico, for example, was something we decided to stop at on a whim because we were driving by one of those red dots. This turned out to be a fantastic find! Catwalk Canyon is a scenic walk along waterfalls and pools built around an abandon mine.
We never would have thought to visit this canyon without the map.
There are also a few pages in the front of the book that point out the best destinations for hiking, climbing, paddling, winter sports, biking and birding in each region of the US. These are not the most detailed descriptions, but it does give a good starting point further research.
Campsites are also listed in the map, but we found other resources for finding campsites more valuable.
How I planned my road trip with an Atlas
Using the Adventure Edition Road Atlas, I planned my road trip using sticky notes. Before headed to each state, I checked out Pinterest, the National Parks booklet, and asked friends and family for their expert opinions on where to go.
I wrote down each destination on a different colored note and stick them to the map. Then all I had to do was connect the dots!
Placing sticky notes on the map allowed me to make visual clusters of the areas we might want to spend the most time. I don't like to travel too strictly, so this gave me a good overview of which areas of the state each destinations was located.
On top of this, I searched these free camping resources to figure out if where I wanted to go had overnight stays nearby. If there were no free accommodations, I had to decide if it is worth staying in a paid campsite, or driving further to visit the places we want to see.
This strategy helped to keep the cost down and prevented me from having to unexpectedly travel a few hours for a campsite.
There are a lot of great apps out there, but you can't always rely on an internet connection for a long-term road trip. Sometimes it's more fun to visualize it the old-school way and discover things without the use of an app.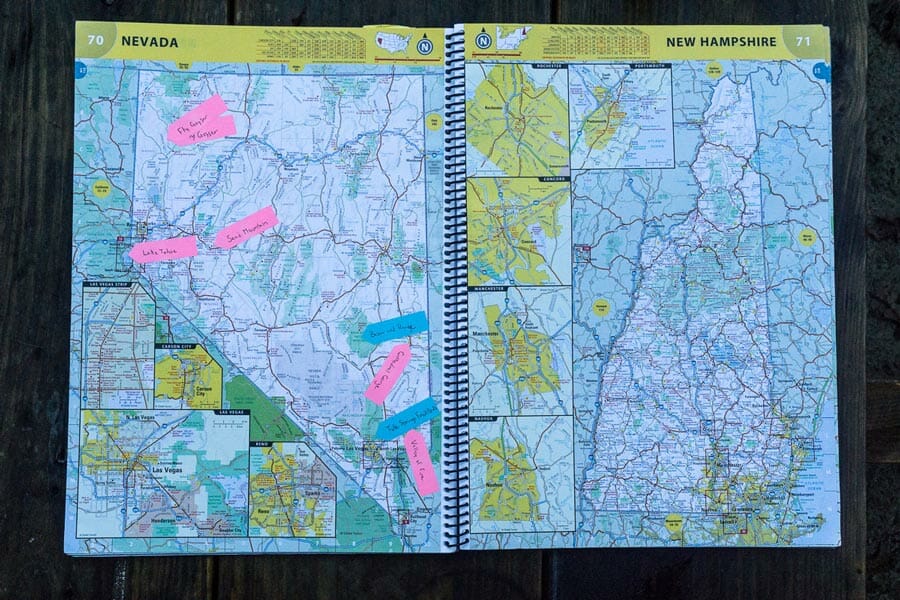 Best App For Navigating a Large RV
BEST MOTORHOME NAVIGATION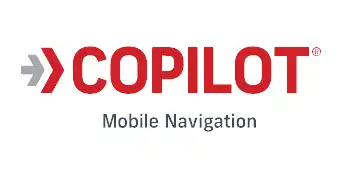 CoPilot GPS
Routing and navigation designed for large RV campers. Enter your height, weight, and length to get the smoothest route. Avoid tight turns, low bridges, and steep grades.
DOWNLOAD
Anyone driving a large motorhome or travel trailer will appreciate RV-specific guidance on which roads to take.
An RV GPS unit is our preferred method of naviagtion for full-time travelers. But if you're looking for an app that will work in a pinch, or just for a one-time road trip we recommend CoPilot GPS.
With this app you'll get many of the same features you would in a truck GPS such as height restrictions, steep grade, and narrow road alerts.
Best Road Trip Planner For Finding Resources
USER GENERATED RESOURCES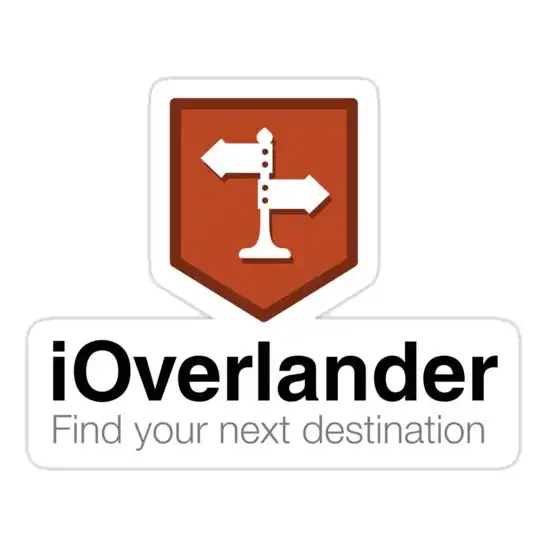 iOverlander
User-generated database of mechanics, water, propane stations, campsites, hotels and restaurants.
FREE DOWNLOAD
The iOverlander app is a catch-all user generated resource for finding all sorts of useful pitstops along your road trip. This includes everything from campsites, to mechanics, propane fill stations, places to fill your freshwater tanks, and even restaurant reviews.
The app is a volunteer project built amongst travelers.
Best Cross Country Accommodations
BEST ACCOMODATIONS

Airbnb Rentals & Experiences
Unique and memorable rentals ranging from tiny homes to treehouses, yurts, campers, and earth houses.
You can book Airbnb rentals to go glamping next to National Parks or let your pets relax in a home while exploring the city.
SEE LISTINGS
Airbnb is our preferred way to spend the night when we're not out camping. We like this platform because it's cheaper than a hotel and you can find some truly picturesque accommodations.
The app is quickly expanding to include uncommon residence such as tiny homes, yurts, treehouses, houseboats, campers and more.
Best Planner For Finding Unique Overnight Stays
BEST EXPERIENCE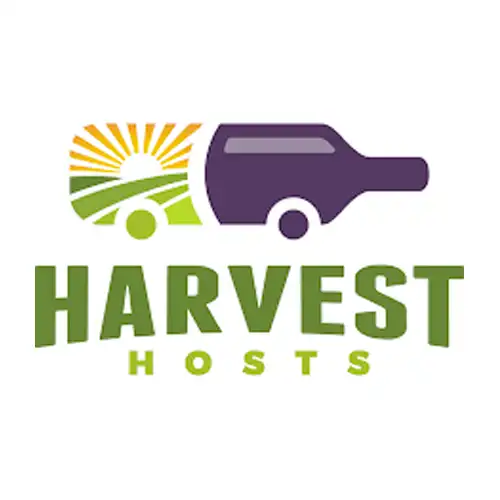 Harvest Hosts
Memberships costs less than $100 per year to join.
Then camp for FREE at unique locations including farms, vineyards, breweries and museums.
HarvestHosts.com
For those of you road tripping in a self-contained RV, we can't recommend Harvest Hosts enough! This is an inexpensive membership club you can join and then stay at destinations like vineyards, breweries, museums, fruit farms, and golf courses along your route.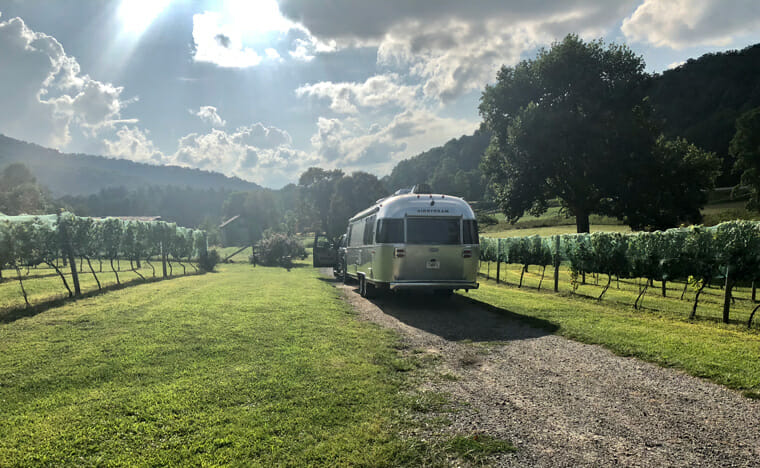 Best Free Road Trip Mapper
BEST FREE PLANNER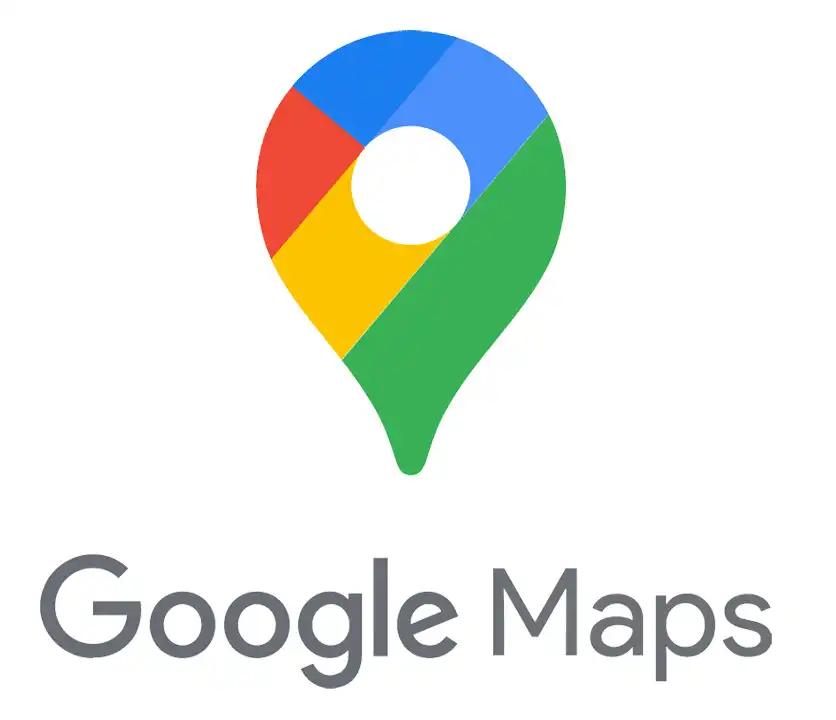 Google Maps
Map and route your destinations using the Google search engine. Getting ratings and reviews, travel times, and more. Offline maps are completely free.
OPEN MAPS
Google maps may not be the best way of exploring an area, but there are a couple of tricks that can be helpful while you travel. Did you know you can save a section of a map for offline use?
Not every area is going to have great cell reception, so as we approach a new city, we like to save a large section of the google map for offline use.
This will store all of the roads and addresses in your phone for 30 days and allow you to access it even with no service.
How to save an offline google map:
Open up the app on your phone and click the three lines on the top left corner of the search bar.
Select 'offline maps' on the left sidebar
Select 'custom map'
Draw a square around the area you want to save
Select 'download'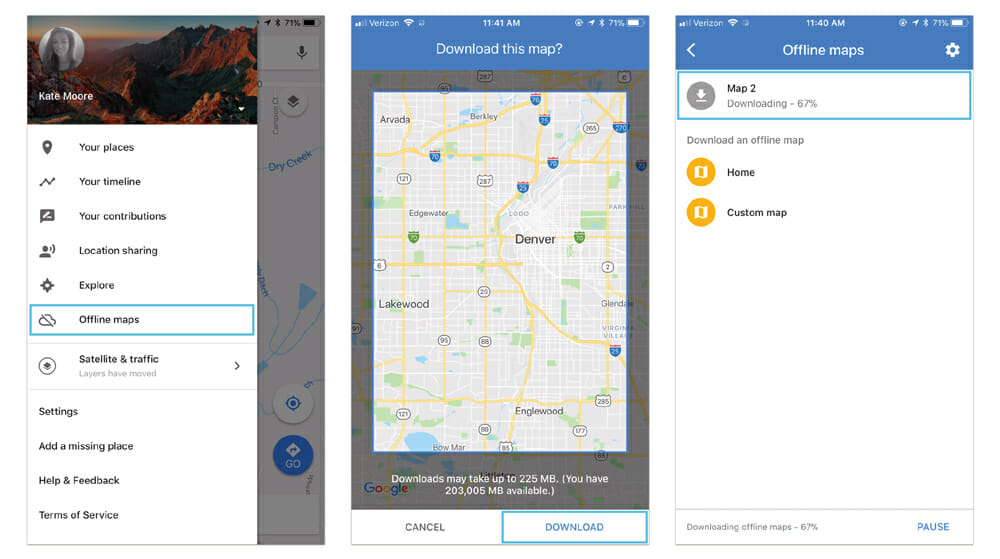 Downloading a google map for offline use can take a long time, and the larger the map the longer the download time will be. We recommend doing this over wifi or with a strong connection. Depending on the size of the map, it could take up a lot of space on the phone. Because of this, we only recommend downloading areas you know you are going to be. The offline map will be automatically deleted from the phone after 30 days from the app.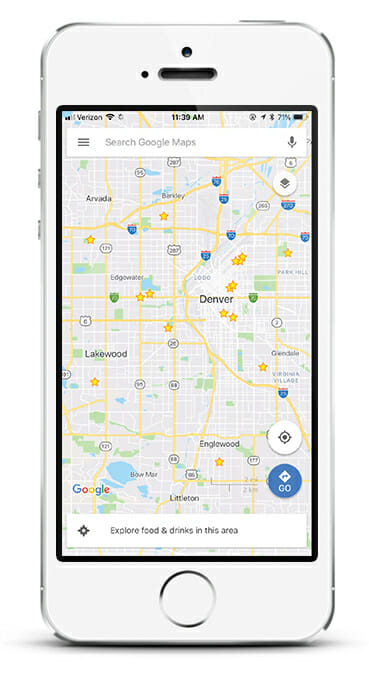 Star google map destinations
Maybe you've recently found an awesome free camping spot and you want to remember where it's at. Maybe there is a place that a friend told you about that you really don't want to forget. Google allows you to save your favorite places directly on their maps for easy access later.
How to star a google map destination:
Open up the google map app on your phone
Select a location or donation on your map
Select 'save'
Select 'stared places'
How to open starred places on a google map:
Open up the app on your phone and click the three lines on the top left corner of the search bar.
Select 'your places' on the left sidebar
Select 'saved'
By opening up saved places, you will see stars all over the map of locations you would like to remember. Keep in mind that the number of destinations that you can star is limited. This is different for each user, but 200 locations has been a common maximum number, so use this feature sparingly.
How to transfer a Google Map route from your desktop to your phone
Sometimes it's just easier to plan your route using a desktop computer instead of a phone. If you decided to plan a complex route using google maps on your desktop, there is an easy way to transfer that plan to your phone.
After creating a map on your desktop computer, simple go to the left sidebar and click 'send to your phone.' This will send your phone a text message with a clickable URL that opens the full map right in your phone app.
Most Inspiring Road Trip Planner
ROAD TRIP INSPIRATION
Pinterest
Plan your road trip around top-rated travel destinations. Pinterest is the perfect app for finding amazing locations and beautiful scenery in every state and country.
OPEN PINTEREST
How to use Pinterest to plan a road trip
We've found Pinterest to be one of the best resources for finding picturesque and little-known places in each state.
You will of course find all of the most popular destinations on Pinterest, but many people upload their best shots from travel on there and it is a gold-mind of information.
Setting up a Pinterest account is free and easy. Once you have one, you can create boards for places you want to visit, or upload pictures of places you've already been. On our Pinterest account, we've created boards for every state in the US and some European countries.
Pinterest has been one of our go-to solutions for road trip planning and has allowed us to find destinations we haven't seen listed anywhere else. With Pinterest, you can be as specific or as broad as you want when searching for places to visit.
When we were looking for places to go in New Mexico for example, Pinterest led us to the Bisti Badlands. This turned out to be one of the most unique and out-of-this-world places we've ever visited. Because the Bisti Badlands is a Bureau of Land Management wilderness area, it was not listed in many other places.
You will not find the Bisti Badlands when searching for National Parks, in adventure maps, or "Top 10 Things to Do" lists. And because it was BLM land, we were able to camp for free and explore anywhere we wanted. We would have never found the it without Pinterest!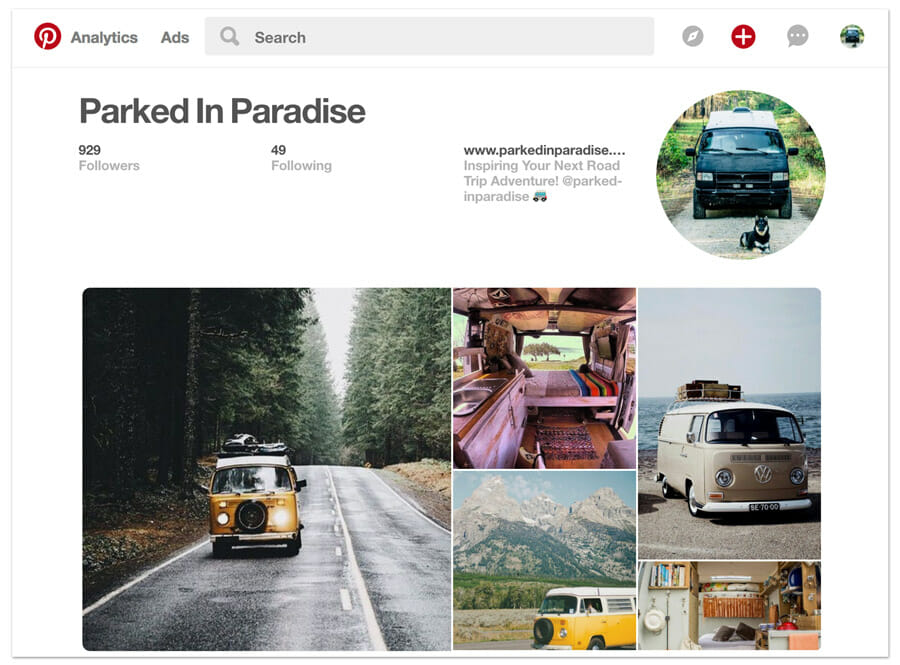 Best Road Trip Milestone Booklet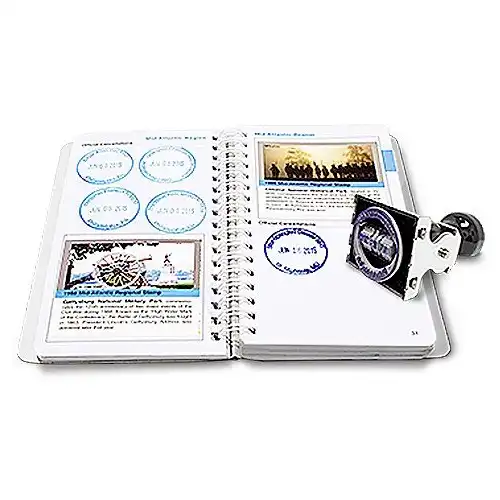 Visit any National Park, and for just a few dollars you can purchase a "Passport Book". Passport books are a really fun way to keep track of your travels. In every US National Park, you can go into the gift shop or information area and find a kiosk with free stamps representing the park.
Each morning the park ranger sets the date on the stamps so you have a ready-made souvenir with the name of the park, city, date and a little picture. We have found this to be a really fun free souvenir.
The front of the book also has a map of all of the National Parks, Seashores, Monuments and other cool places to visit. We often use this book to blindly visit map dots when we're not sure where to go; and have been pleasantly surprised with the places we've seen.
If you plan to use a National Parks Passport book to help guide your travels, I highly recommend picking up a yearly National Parks Pass as well.
The National Parks pass is very affordable, covers everyone in the vehicle and pays for itself after just a few visits and can be bought at any of their visitor centers.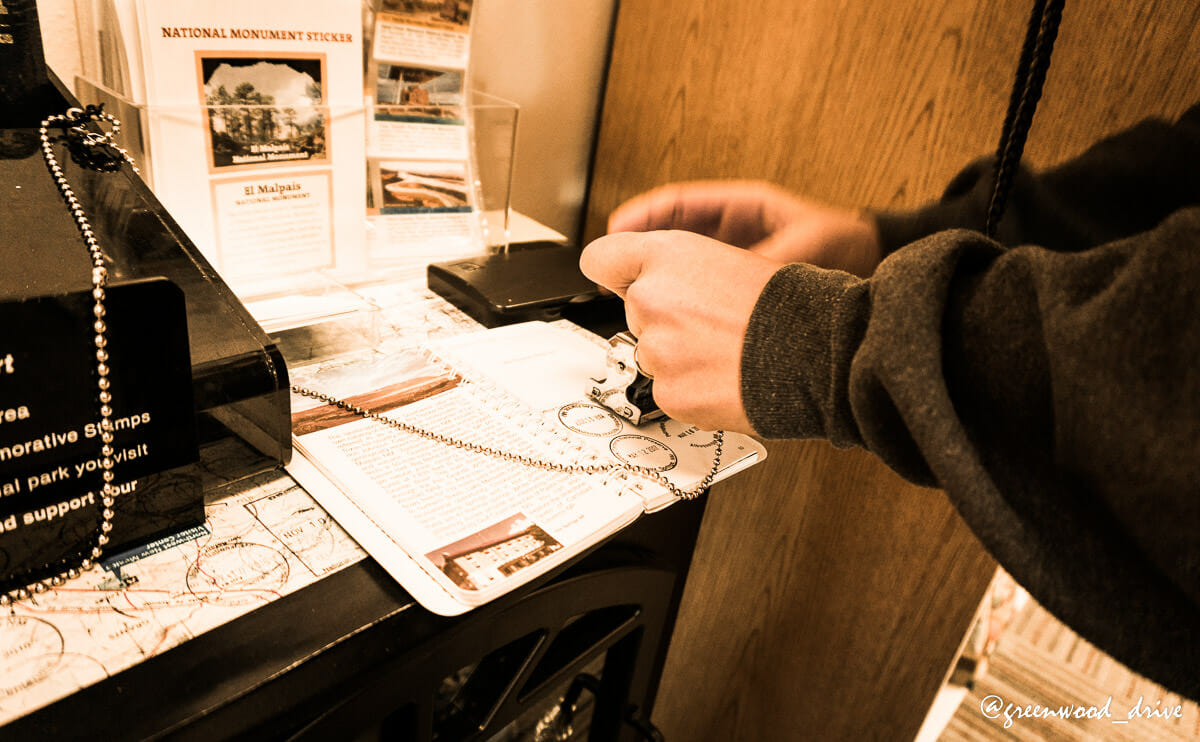 What To Look For In A Road Trip Planner
Affordability
Off-line maps
RV and camper services
Campground database
Destinations and reviews
Multiple waypoints
Trip guides
Road Trip Driving Tips:
If you have the time we recommend planning for shorter drives each day. There is a lot to see out there, and if you're shooting through the states in a couple of days you will miss out on a lot of the things smaller towns have to offer.
We have found stopping at visitor centers gives us a lot of insight on things to do in the area. They can provide you with maps, upcoming events and even local discounts. Some welcome centers even have free coffee!
Spend time eating at local restaurants, visiting parks and walking around the town center.
Not only will shorter drives give you more time to find good camping spots, but you will feel less exhausted at the end of the day.
Keep in mind, if you have the time not every day has to require driving. Sometimes it's best to stay in an area for a few days (or weeks) at a time. We recommend adding a buffer to your trip so if something looks cool you won't feel rushed to leave right away.
Visit friends and family
This is probably one of the more obvious ways to plan a trip, but don't forget about your friends and family along the way! We make sure to always mark down friends and family in the areas we plan to visit.
Locals have the best lay of the land, so they'll be able to let you know what the best restaurants, museums or parks are along the way as well.
If you don't have friends or family in the area, utilize online forums or Facebook groups to find someone who is. They will be able to give you a good idea of "can't miss" destinations where you are going.