The Best Portable Campfire Pits (Review)
By
on
This post may contain affiliate links. As an Amazon Associate, I earn from qualifying purchases. Please read my full disclosure.
An evening spent camping outdoors isn't complete without a roaring fire to keep you company. Unfortunately, a traditional wood fire isn't always possible due to fire bans, logistical issues, and other restrictions.
Because of this, more campers and RV owners are turning to portable fire pits instead of the traditional type of fire. A portable campfire is safe, clean, and easy to transport.
But not all pits are built the same. One of the biggest decisions is choosing between wood vs propane. In this article, we'll break down the differences between each type of fire pit and help you pick the best one for your adventure.
Why Choose A Portable Campfire Over Building Your Own?
Many fans of traditional fires are reluctant to make the switch to a portable option. However, portable camping pits have several advantages over traditional metal fire pits.
Safer: According to the Insurance Information Institute, approximately 90% of wildfires are caused by people. You don't want to ignore a fire ban; the dangers (and penalties) for doing so aren't worth the risk.
Fortunately, portable campfire pits are still allowed in many areas under a fire ban. Of course, you'll want to check with your camp host to learn the specifics before starting a fire.
With a propane pit, you can cut off the fuel source at the end of the night and you don't have to worry about dousing the flames in water to put them out completely. Portable campfires also a sit higher off the ground so there's less chance of sticks, leaves, and debris lighting up.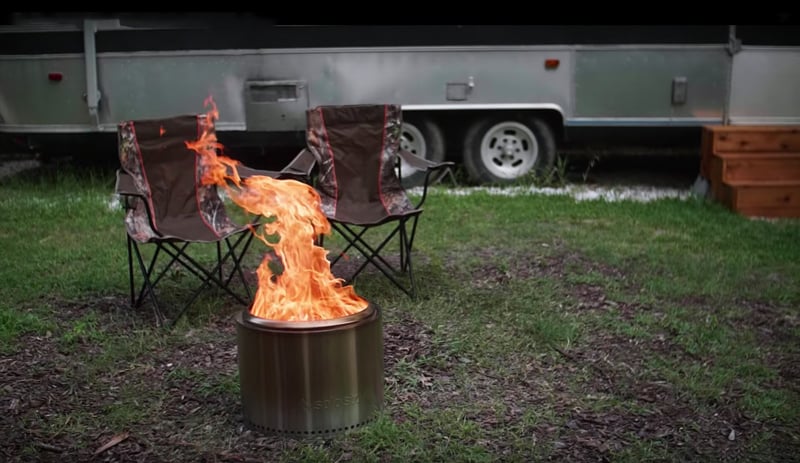 Portability: The ability to move the fire to a safe, clear area away from your tent or RV only adds to its safety. You can set up the campfire over a rocky or gravel area as opposed to grass. It also adheres to the leave no trace principles because it's easy to clean up and you won't be leaving fire rings behind.
Smokeless: Both wood-burning and gas-powered fire pits emit less smoke than a traditional campfire. That's because the shape of a portable pit is designed to produce a hotter flame. Many models also maximize airflow with vent holes at the base to help feed the fire from below.
Why does a hotter flame lead to less smoke? Very hot campfires have complete combustion of materials. They emit carbon dioxide and water only. Campfire smoke occurs when tiny, uncombusted particles are released. Smokeless pits are designed to channel the heat and provide proper airflow underneath; which leads to more complete combustion. In short, the hotter the flame–the fewer particles escape into the air.
Not only are smokeless campfires more pleasant to sit around, but you won't smell like burning wood the next day.
Grilling: Many portable fires include a grill on top for the easy and convenient cooking of burgers, hot dogs, or anything else you can cook on a traditional grill. That makes your kitchen set up easier, and you won't have to wrestle with a portable grill on uneven surfaces.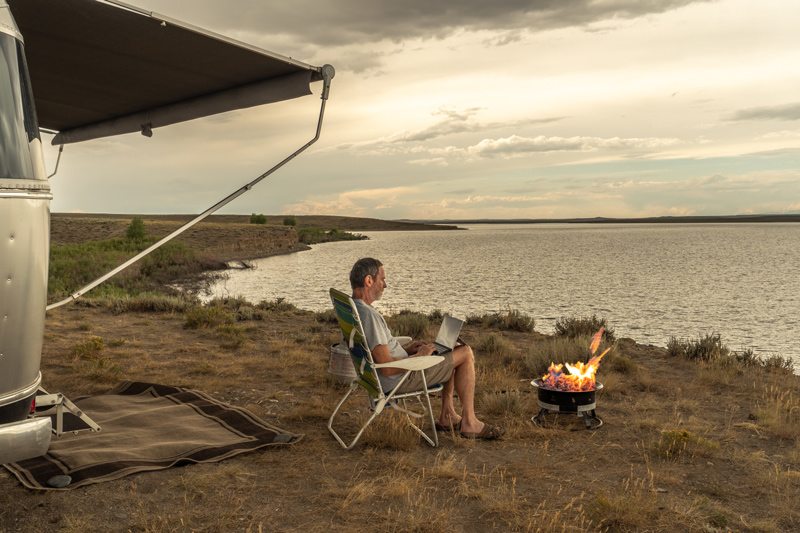 Who Should Buy A Portable Campfire?
Considering how widespread fire bans are across the country, portable campfires are popular among just about any camper. Plus, they're a good option for anyone who hates the smell of campfire smoke.
These portable pits are most popular among RV owners. No matter where you go, you'll have access to a safe, convenient fire for warmth and outdoor cooking. Not to mention, many pits come with covers or carry cases so they're usually easy to store inside your vehicle.
Are There Any Disadvantages?
The disadvantages are minimal, but a few do exist. First, you do miss out on the classic feel of a traditional fire. Many campers have an understandably nostalgic attachment to sitting around an old-fashioned wooden fire.
Another potential downside is weight. Carrying around a portable pit, propane tank, or even extra wood isn't always the most convenient option, especially if you have a small car or RV.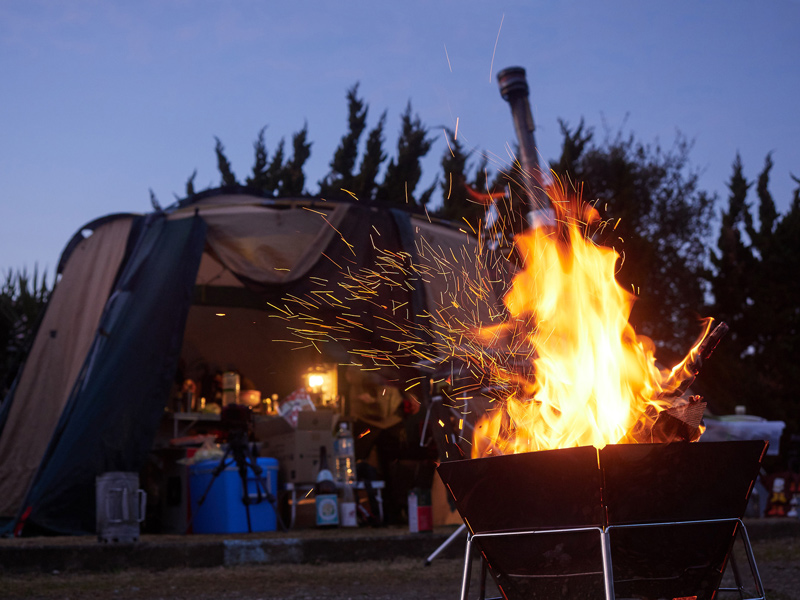 Types of Fire Pits
The most important decision you can make is choosing between a wood-burning pit and a propane pit. You can find some fire pits powered by gasoline, but generally, wood and propane are the better options. A gas fire pit often creates a needless fire risk. Also, storing a spare tank of gas is usually messy and potentially dangerous.
Wood Burning Pits
Wood burning pits are most similar to your traditional campfire. You'll get the familiar crackle and pop as well as the woody smell. An advantage to these pits is you don't have to carry around excess fuel. You can cut or haul wood from practically anywhere, and the fuel is essentially free if you're willing to put in the manual labor.
While some portable fire pits burn wood logs in the same way as a ground pit, others have a fairly sophisticated system that injects oxygen for clean, smokeless burning.
The biggest downside to wood-burning portable fire pits is they likely won't be allowed in areas with a fire ban.
Propane Pits
Propane fire pit tables are typically cleaner and safer than wood. These pits are practically smokeless, but they do lack the traditional campfire feel. With propane, you get more control over adjusting the heat and flame height, and they can be shut off in an instant. Because of that safety feature, they're typically allowed in areas with a fire ban.
Clean up after a fire is also simple. You won't have to deal with ash and unburned wood–just pack up and go!
When it comes to downsides, propane pits are more cumbersome to travel with because they require a propane tank. The tank can be awkward and heavy to carry; not to mention the extra expense.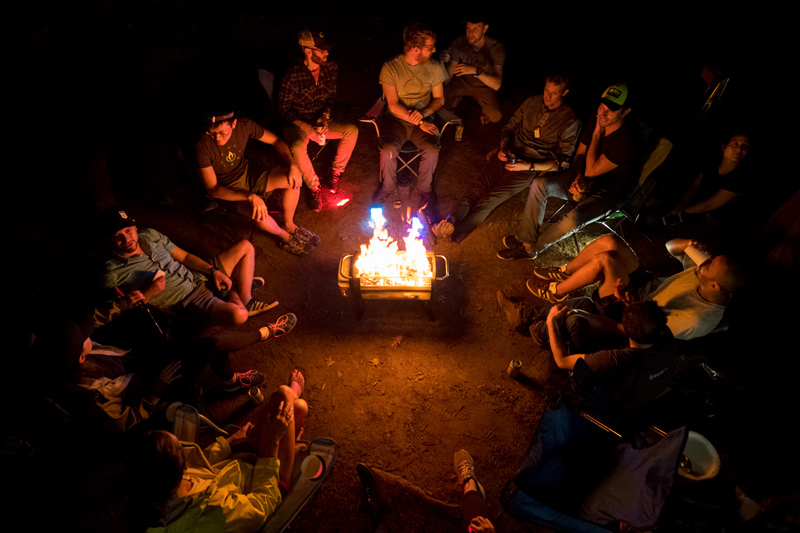 Features to Look for in a Portable Campfire
Once you decide on the type of pit you want, there are a couple of features to consider that will make your camping experience that much more enjoyable.
Weight/Size
The type of camper you're driving makes a difference in how big of a pit you want. Firepits can get large fast so you'll want to plan out space for it. For a group of 4-6 campers, typically an 18″ fire ring will be sufficient.
If you have a compact vehicle, you should consider looking into the collapsible options. Some firepits get quite small when the legs are folded down.
Ease of Use
Wood burning pits can be more difficult to use than the propane style. They're basically a metal dish. If you can build a fire on the ground, you can use these basic pits without a problem.
With propane pits, the designs are far more sophisticated. You can even find pits that can be controlled with a smartphone! While technology can make operation easier, some people prefer to leave the high-tech gear at home when camping. Look for extra features like vent holes to improve the airflow, and location of the igniter switch for the easiest operation.
Smokeless Fire Pits
For the most comfortable camping experience, consider fire pits that are labeled "smokeless." These will be able to channel heat and provide airflow to keep the flame burning hot. Smokeless fire pits tend to be more expensive than a basic metal bowl, but the extra expense is often worth it.
Grill
A select number of firepits come with their own grill. We like this type because that's one less accessory to drag to the campground. Consider the shape and size of the grill included; you'll want to be able to feed every camper on your trip!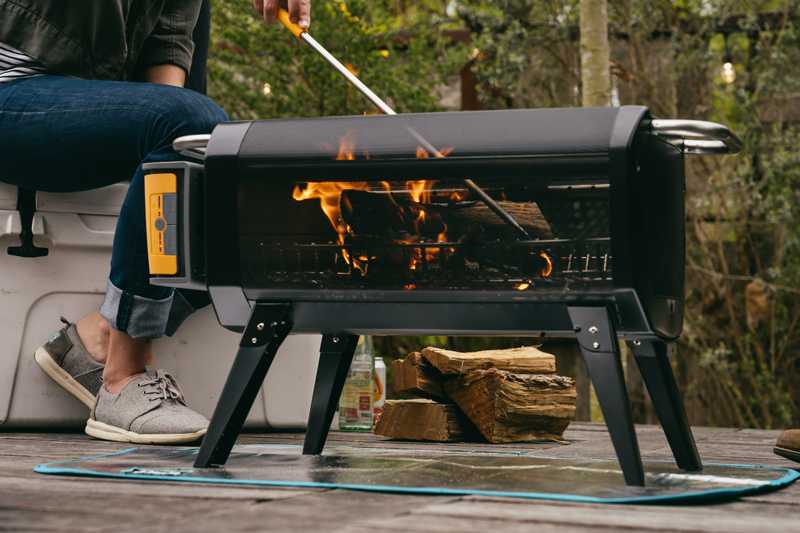 Accessories
Marshmellow sticks: When you're camping with friends and family, roasting marshmallows or hot dogs over a roaring fire is a can't-miss experience. We recommend adding some extendable sticks to your packing list because they're inexpensive and easy to store.
Propane hose: Another feature to pay attention to when purchasing a propane pit is the length of the LP hose that comes along with it. Longer hoses mean that you can place the campfire further away from your camper which is safer overall. It's also a good idea to have a spare hose with you in case there's any leaks or cracks from a lifetime of use.
Lava rocks: This accessory is more of a luxury item, but if you plan to set up camp for longer periods of time you may enjoy the ambiance of lava rocks over a propane-powered fire. They make a classy looking base and are simple enough to transport if you're already committed to traveling with a larger portable pit.
Frequently Asked Questions
Can you put a portable fire pit on grass?
You can, but it should never be left unattended. Generally, portable fire pits are safest when used on brick or cement surfaces.
Can you leave a fire pit burning overnight?
You shouldn't leave a gas or wood-burning fire unattended overnight. Leaving a propane fire burning is slightly safer, but there's still a risk of malfunction. Generally, the safest option is to completely extinguish your portable fire pit before turning in for the night.
Best Portable Fire Pits Reviewed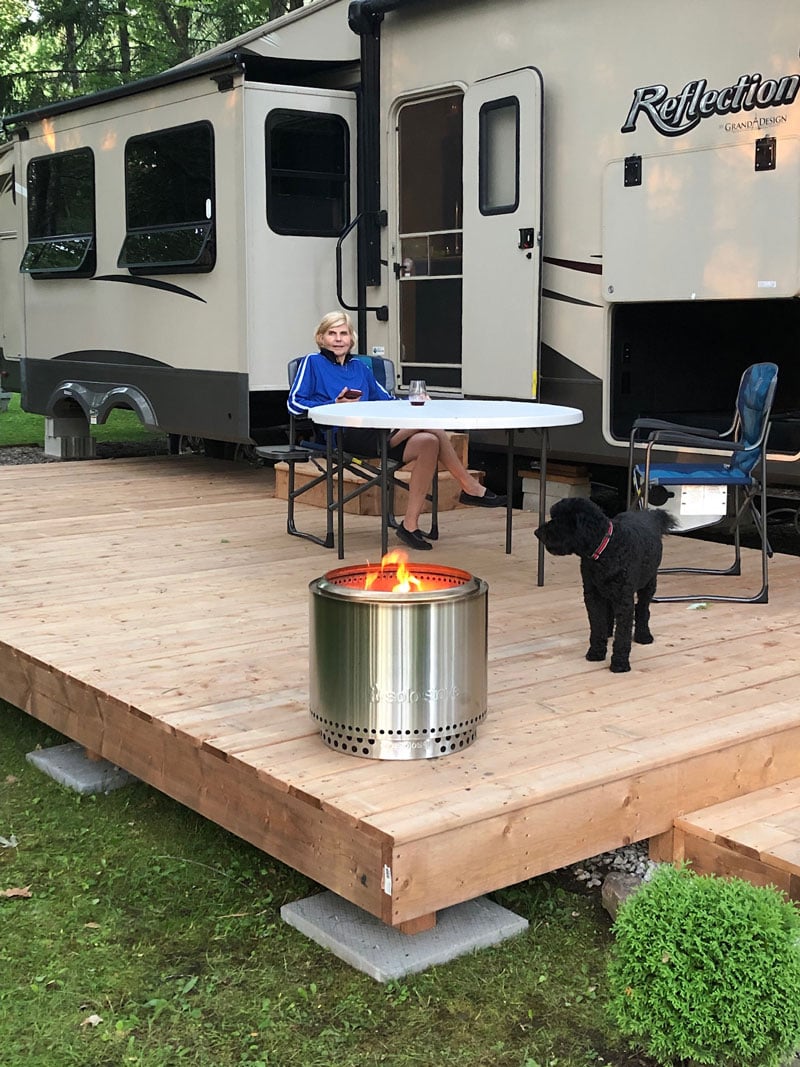 TOP WOOD-BURNING PIT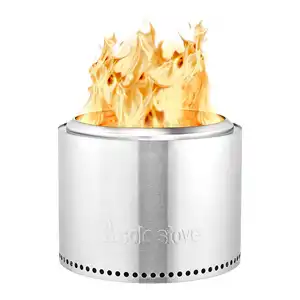 There's nothing else out there quite like the Solo Stove Bonfire. This is a 19.5" stainless steel fire pit that uses natural wood. It's initial Kickstarter launch generated over $1.1 million in sales.
There are many things to like about this unit in addition to its modern design. Assembly isn't just easy; it's practically non-existent. The single-piece construction is ready-to-use right out of the box. Double-walled construction circulates oxygen through the fire for maximum efficiency so almost no smoke is generated. Also, it leaves behind virtually no traces of wood, making cleaning minimal.
If you're not too concerned about price and want a top-of-the-line option, Solo Stove's Bonfire Fire Pit is our favorite option.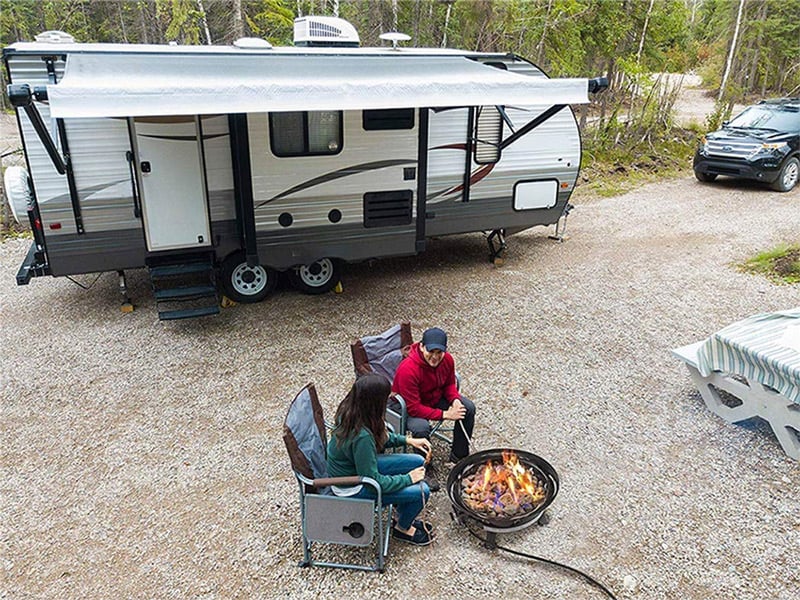 TOP PROPANE PIT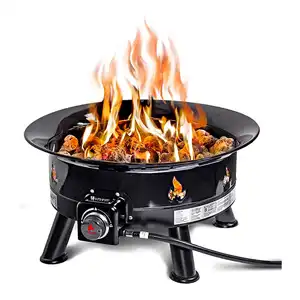 When it comes to propane, our favorite option is the versatile and easy-to-use Propane Fire Pit from Outland. It's an all-weather bowl with a lava rock design that creates realistic flame flickering.
Setup is simple and requires no tools. Even better, propane pits aren't banned by most fire restrictions, so that you can use it just about anywhere without worry.
The unit measures 24 inches long by 24 inches wide and 13 inches high. It emits 58,000 BTUs, which is perfect for both warmth and cooking. We like this pit because of its solid construction, inexpensive price tag, and easy to use automatic ignition.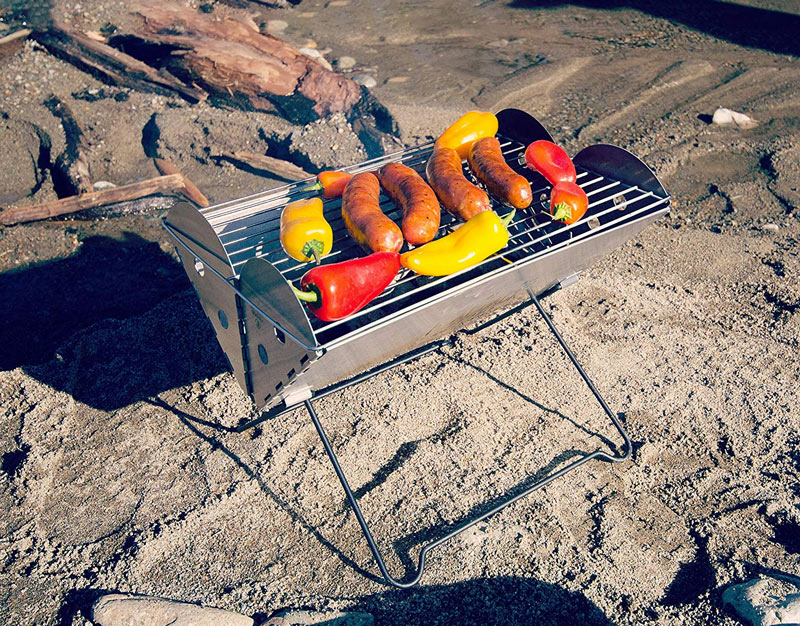 MOST PORTABLE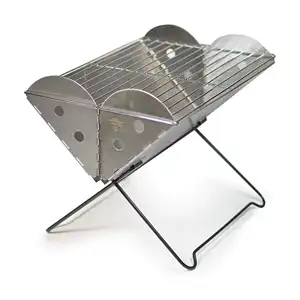 In terms of portability and price tag, we like the UCO Flatpack fire pit. This is a wood-burning pit made from rust and corrosion-resistant stainless steel. The steel keeps flames away from the ground while the sides of the pit act as a reliable wind guard.
The two sizes available are 13"x10" or the 9x"6.75" mini version. When not in use, it folds down to a small 1.5" thick rectangle that easily fits into a standard backpack. The regular model weighs just 3.2 pounds making it ideal for lightweight camping trips or even backpacking.
We like this pit because not only is it small, but it also comes with a grill. You can cook up to six servings at once which is plenty for a couple of friends.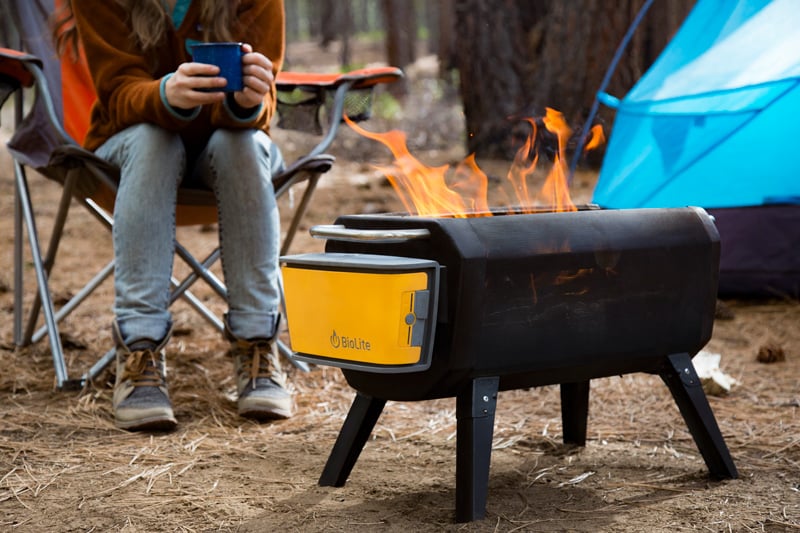 MOST UNIQUE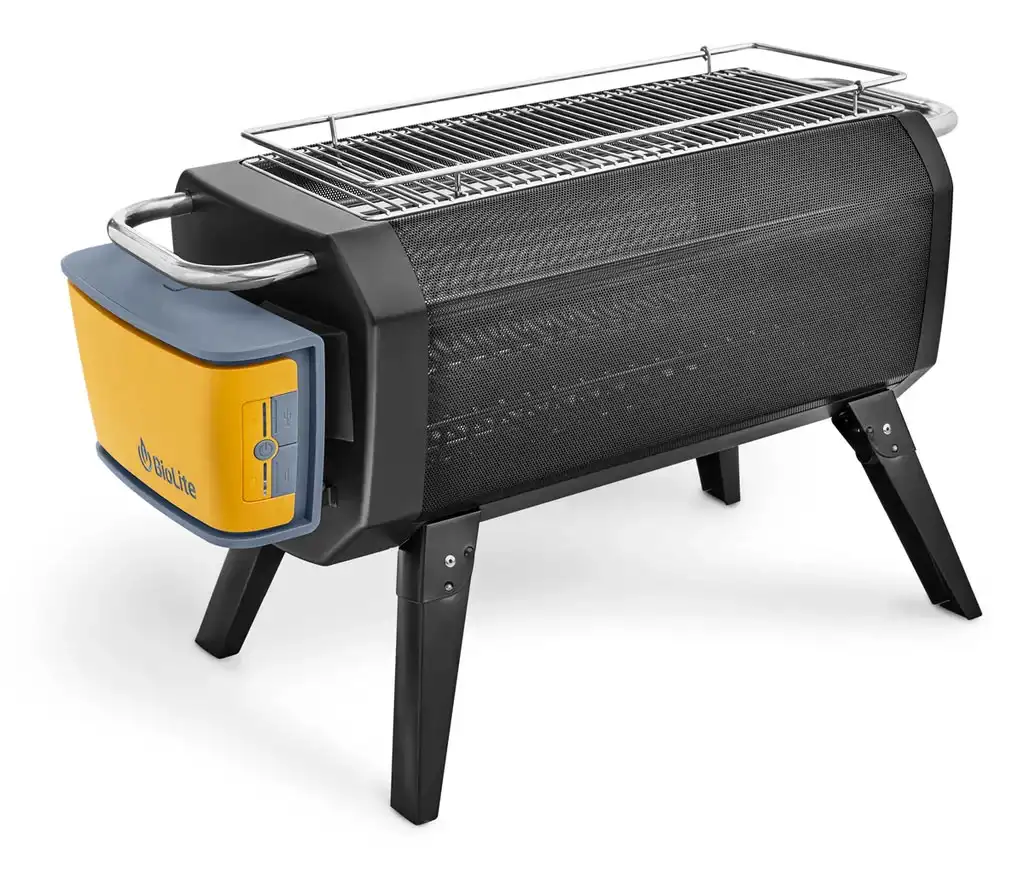 BioLite's FirePit uses an impressively high-tech system to create a fire without the drawbacks of a traditional metal fire pit.
An air jet injects oxygen into the fire to create uniform temperatures and reduced smoke. It burns either logs or charcoal.
You can control the height and intensity of the flames via controls on the unit or even with an app for your smartphone.
It's also designed with safety in mind. The body has an x-ray mesh so you can see the entire fire from top to bottom. Plus, the interior fan controls the fire for up to 24 hours on the low setting.
This is an excellent option if you like the warmth and smell of a wood fire but want additional portability and safety features.
That's A Wrap!
A portable fire pit is an ideal option for campers and RV owners who are looking for a safe, warm fire no matter where the camp is set up. All of the options on our list are well-made products sure to enhance any camping trip. Get ready to break out the s'mores!
If you're looking for the best all-around propane option, we like Outland's propane fire pit. For a modern wood-burning pit, take a look at Solo Stove's portable campfire.
Continue Reading: