The Best Portable Grills For RV Camping (Review)
By
on
This post may contain affiliate links. As an Amazon Associate, I earn from qualifying purchases. Please read my full disclosure.
There's nothing quite like cooking on a roaring campfire under the stars. But fires are difficult to control. And they don't give you the precision that it takes to grill a meal of veggies and fish without careful watch.
Portable grills give you the freedom of cooking over a perfectly flat surface with precise temperature control.
You can spread out food on a clean surface, and step back knowing that it's not going to start burning out of control.
After a few meals on the road, a portable RV grill is going to turn into a must-have accessory that you won't want to travel without.
Why An RV Grill Beats The Campfire
Cooking over a campfire has the romantic notion of sparks flying, and smores sizzling over some crispy logs.
In reality, campfires are dirty, uneven, and take quite a bit of time to get roaring. Most campsites come with fire pits but the quality varies greatly.
Often times the grates are bent, hard to move, or non-existent. It's also nearly impossible to get the perfect temperature for cooking.
That's where portable RV Grills come in!
RV grills can be found in gas, charcoal, and electric varieties. And, like traditional grills, they vary in size and function to cater to different needs.
These cooktops are small, and can fold down into sizes of two feet or less. They are designed withstand wind and other outdoor elements. Most importantly, they are easy to cook on, easy to clean, and easy to stow.
Anyone who does a lot of camping (I'm talking more than 1-week out of the year) is going to benefit from cooking on a portable grill.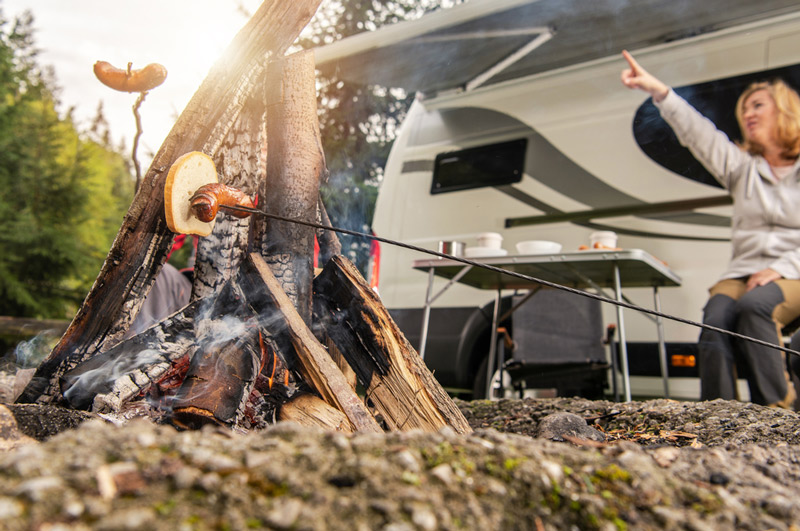 What Is The Best Type Of Grill For Your RV?
There are many options on the market for RV grills, and it's important you choose a grill that is both easy for you to transport and offers all the grill functions you desire.
RV Grills come in three different styles:
Propane is the most popular fuel type among RV grillers. Propane grills heat up faster than charcoal, and you won't have to worry about finding a place to leave your used coals. The biggest downside to propane is that you'll need to carry some fuel canisters with you on your trip.
Fortunately, many RV campers already travel with propane to run their refrigerators or generators, so chances are good that you already have some on-board. This type of fuel is cheap, and easy to control–perfect for cooking!
Charcoal grills offer a rich, smokey flavor that can't be matched by propane or electricity. These tend to be the cheapest choice because there is a lot less technology involved in the design.
Cooking with charcoal is similar to that of a campfire where it can be more difficult to control heat. You'll also need to carry around some bags of charcoal which can take up a lot of space as well.
Electric RV grills heat up quickly, and you won't have to worry about inhaling dangerous fumes. With this type of grill, an electricity source is required! Fortunately most RV parks have power hookups so you simply need to plug it into an outlet and get cooking.
A big advantage to electric grills is the fact that you can cook with them indoors when the weather gets cold or rainy. That makes these grills the most versatile option on the list if you have on-board electricity.
Regardless of the type of grill you purchase, make sure to check local laws to ensure you're complying with environmental and safety regulations. The National Fire Protection Association offers guidance on how to stay safe when grilling.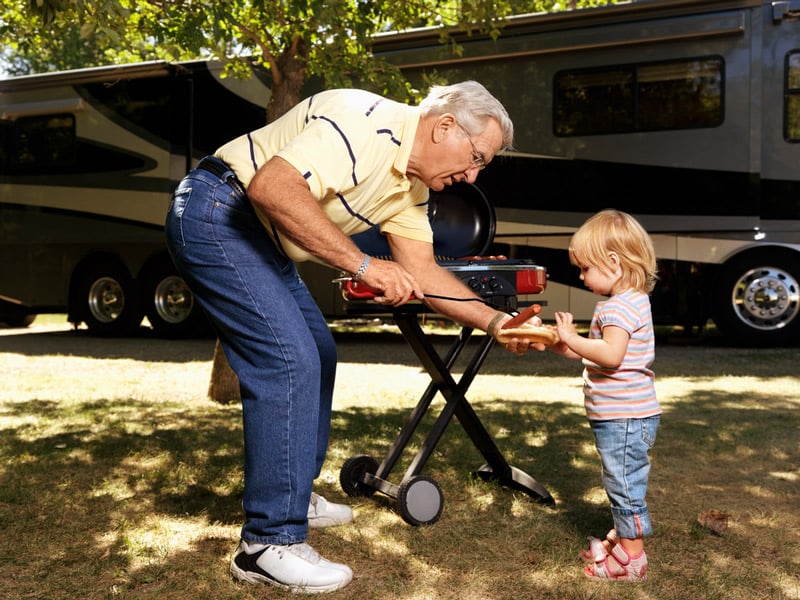 What To Look For In A Portable Camping Grill
Material
A big factor in determining the quality of an RV grill is the material. Ideally you want something that is going to be rust-proof, wind-resistant, and last for years. The most common materials that you'll find in camping grills are:
Stainless steel
Aluminum
Iron
Ceramic
Stainless steel tends to be the most popular option since it's easy to clean. Additionally, stainless steel offers better rust resistance compared to many other materials.
It's also common to encounter grills that have rust-resistant coatings. Since your grill will likely face a variety of climate conditions, paying attention to the quality of its material will ensure you're able to enjoy a long grill lifespan.
Number Of Burners And Temperature Control
Most RV grills contain either one or two burners. If you want to cook multiple types of food at once, you should opt for a two-burner grill.
In addition to that, make sure you're getting a grill with dual temperature controls as well. Some of the cheaper RV grills only have one dial for temperature control which is not going to be that helpful if you're trying to cook steak and veggies at the same time.
The heat rating for gas grills is measured in British Thermal Units (BTUs). The higher the BTU rating, the hotter a burner can get. Higher isn't always better however. Sometimes companies will include BTU ratings for warming trays, and side burners lumped in with the main burner to make the number look larger.
You're also likely to burn through fuel faster if you cook on extra-hot. We recommend aiming for 80-100 BTUs per square inch of cooking space for the most efficient sear.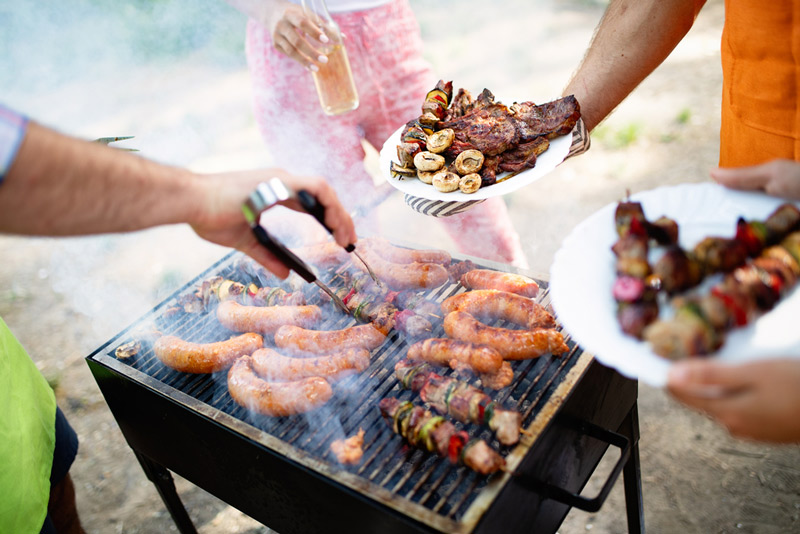 Assembled and Stowaway Size
Perhaps the biggest factor when choosing a grill comes down to space requirements. Obviously you want something that can pack down small when traveling in a tiny travel trailer.
Look for grills that have foldable legs or accessories that can be stored inside the hood during travel. You'll also want to pay special attention to propane hookups or dials that stick out of the exterior and could make it harder to pack away in small spaces.
Make sure that there's a lock or lid latch to keep the item closed during travel. Handles are convenient when the grill is hot, but they can also take up a precious amount of cargo space. You'll have to decide if it's worth the square footage in your rig.
Ignition
If you are opting for a propane grill, pay attention to the spark ignition system. Push buttons, dials, and battery-powered ignitions are the most common. In some cases, starting the grill manually with a match is still required.
Accessories
Space is limited if you're taking an RV trip, so it's unlikely you're going to want loads of accessories for your grill. That being said, there are a few things you MUST pack when planning to grill.
Additionally, the kids will really enjoy some marshmallow skewers to play with around the campfire as well.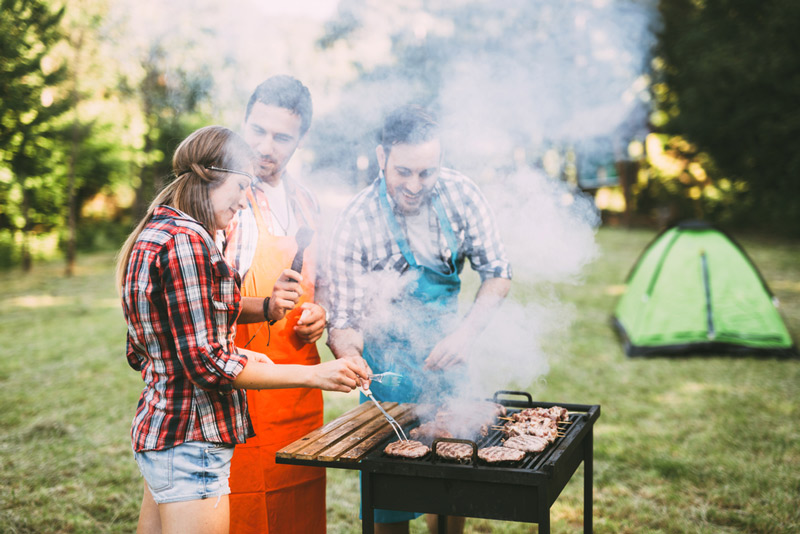 Frequently Asked Questions
How do you clean an RV grill?
Cleaning an RV grill is similar to cleaning a full-size grill you may have at home. You should start by turning up the temperature, which will help to burn off grease and residue. Then use some elbow grease and a grill brush to scrub away any remaining food pieces. You can also use a grill spray. Let it sit for some time before rinsing it off.
Are propane or charcoal RV grills better?
Charcoal grills are ideal for people on a budget and with little space since the grills tend to be lighter weight and have more basic features. A portable propane grill heats up quickly and offers excellent temperature control.
What features do RV grills have?
RV grills run the gamut from basic grilling to multi-temperature controls. You can choose from grills with one or two burners, electronic ignitions, folding tables, stands, and varying surface areas, depending on how much food you want to cook at a time.
What should I keep in mind when using my RV grill?
You should always use your grill in a well-ventilated outdoor space. RV grills work similarly to full-size grills, so you can use the grilling techniques you already know.
After you use your grill, double-check that all controls and valves are closed, especially if you're using propane. While we're on the topic of propane, it's important to keep the cylinder upright and away from heat. Before you close up your grill after using it, let it cool off completely. Make sure also to disconnect hose-end fittings and burner air intakes to prevent debris and insects from entering.
Since you'll be working with raw food, the United States Department of Agriculture offers tips for how to safely handle these items.
The Best RV Grills For Camping Reviewed
BEST PROPANE GRILL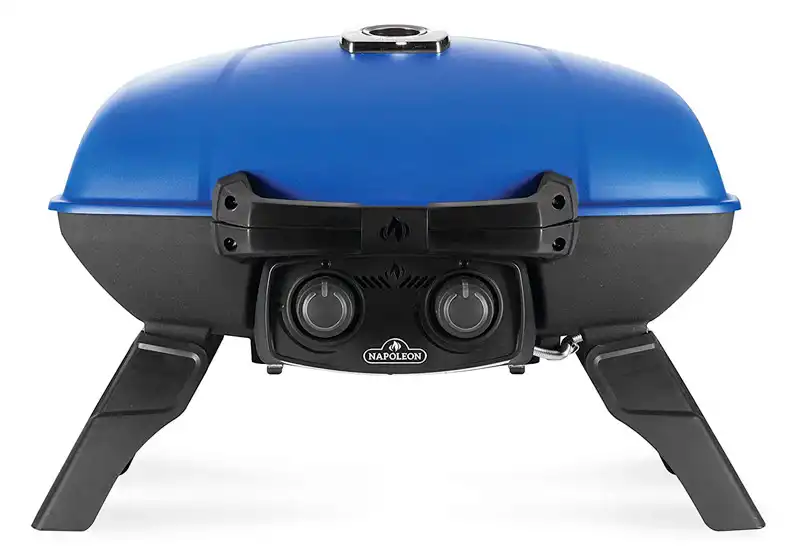 Napoleon Portable Gas Grill
With a large grilling space that can cook up to 19 hamburgers at once, this is our top choice when it comes to portable propane camping grills.
The item weighs just 28 pounds and can pack down to 22.75" x 12.25" x 19.25" for storage.
CHECK LATEST PRICE
The Napoleon TravelQ 285 is our favorite high-quality, and compact portable RV grill. It comes with cast iron cooking grids that ensure your food heats evenly every time and prevents small pieces from falling through.
The massive 285 square inch grilling space means you can grill 19 hamburgers at the same time. With the support of two separate burners, you can easily roast, smoke, or sear your food. Furthermore, a built-in temperature gauge ensures you never over or undercook your food.
The TravelQ won't take up much room in your RV and stores easily with folding legs since it's only two feet high. Despite its compact size, you can make roasts and cook whole chickens because of its high aluminum lid—a feature that's unique to this product.
Features:
Failsafe start-ups with burners that have individual controls
Sturdy cast iron grids create iconic grilled sear marks
A windproof design ensures the grill doesn't go out
Wide surface area and height for grilling large quantities of food
BEST VALUE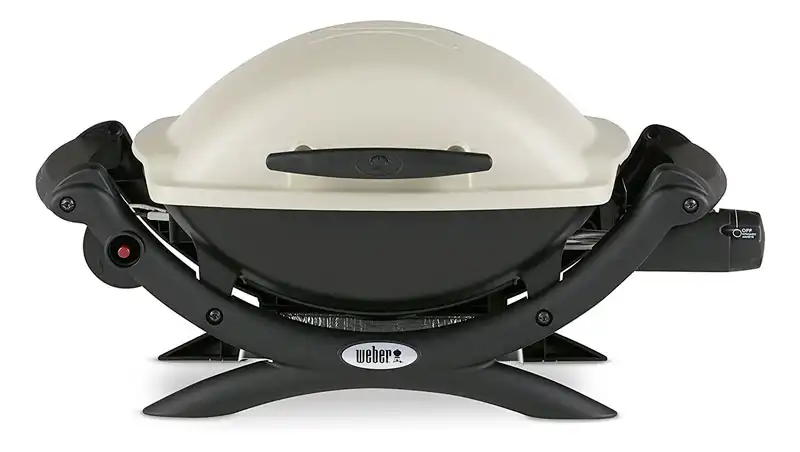 Weber Q1000 Liquid Propane Grill
An efficient and easy-to-stow propane grill that won't break the bank. The Weber Q1000 has 189 square inches of cooking space and folding side tables to give you the best bang for your buck when it comes to space.
CHECK LATEST PRICE
---
With 189 square inches of cooking space, the Weber Q1000 is a powerful portable liquid propane grill that won't break the bank. A lot of engineering went into ensuring this is a sturdy grill since it has a cast aluminum lid and body and a glass-reinforced nylon frame.
Cast-iron cooking grates give meat and veggies the perfect sear, and an electronic ignition means you won't have to worry about carrying around matches. A feature that stands out about this Weber grill is that it has folding side tables to set plates and grilling accessories.
There's one stainless steel burner that has a built-in thermometer to ensure your food cooks to the perfect temperature.
Features:
Easy to clean because of its porcelain-enamel coated cooking grates
Heats food quickly and grills evenly
Side tables make this feel like a full-size grill
---
BEST CHARCOAL GRILL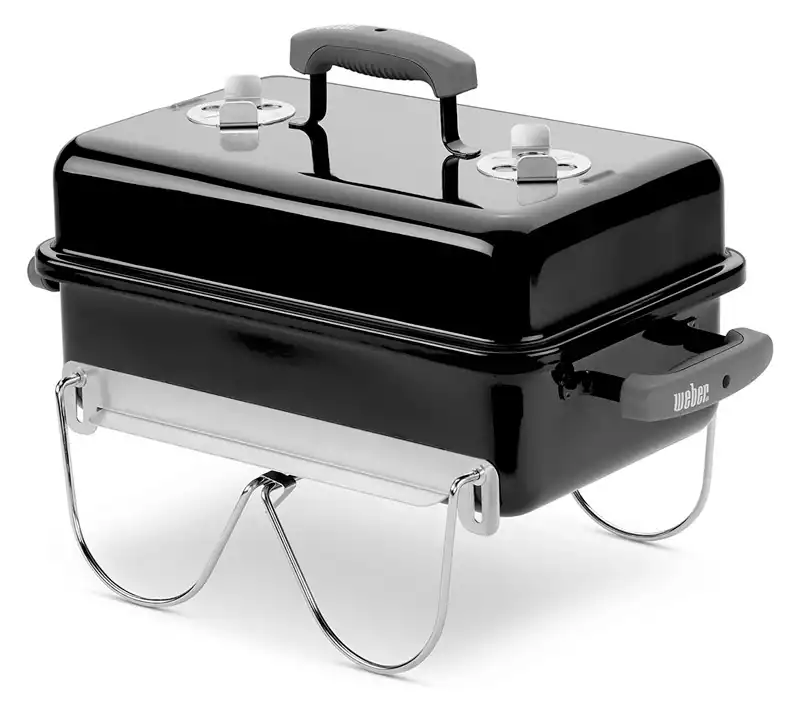 Ideal for a small group of people, the Weber Go-Anywhere Charcoal Grill is a mere 8.8 pounds. Its small size makes this an excellent travel trailer grill, but it can still cook an impressive six burgers at a time thanks to its 160 square inches of surface area.
Its porcelain-enameled exterior means you can use this grill out in the elements without having to worry about it rusting. Cleaning is easy with the Weber since the cooking grate has a triple-nickel-coated steel plating.
If you're in a windy area, simply rest the lid against the grill's side, and it creates a barrier to keep the flame from going out.
Features:
Easy to pack and transport thanks to its compact, lightweight design
Can cook six burgers or four medium-size stakes
Dampers allow for great temperature control
---
BEST VALUE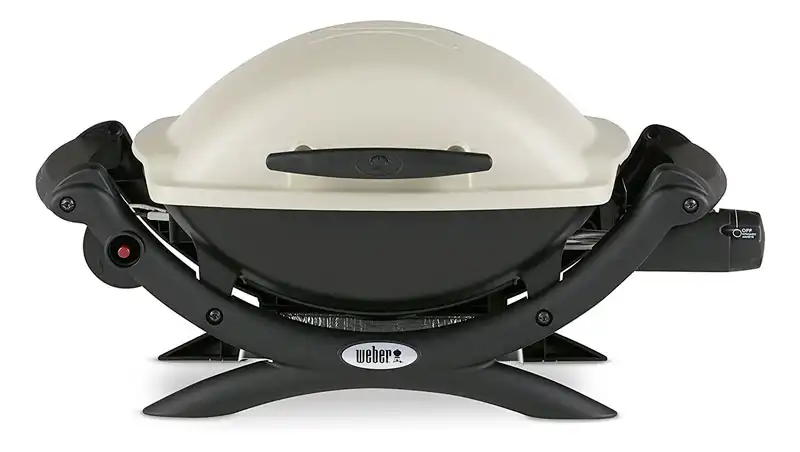 Weber Q1000 Liquid Propane Grill
An efficient and easy-to-stow propane grill that won't break the bank. The Weber Q1000 has 189 square inches of cooking space and folding side tables to give you the best bang for your buck when it comes to space.
CHECK LATEST PRICE
If you're looking for something that can be used safely both inside and out, the George Foreman Portable Electric Grill is our top choice for camping.
This grill has the surface area to serve up to 12 people which is perfect for a large RV family or tailgate party. The temperature is highly adjustable and you won't have to worry about off-gassing any dangerous fumes or toxins when cooking in small spaces.
Take the grill off the stand and it will fit perfectly on your indoor counter or dinette space. At the end of the meal it's easy to clean and pack away with a non-stick coated surface.
Features:
Fully electric so it can be used inside or out
Serves up to 12 people, perfect for tailgates
Non-stick surface makes it easy to clean
---
That's A Wrap!
Whether you're looking for a gas, charcoal, or electric grill, there are plenty of options to choose from that won't break the bank. If you're looking for the best-of-the-best with a large cooking surface and temperature precision we recommend the Napoleon Travel Q.
The Weber Go-Anywhere charcoal grill is our favorite for campers who want the toasty taste of campfire while staying within their budget.
And the George Foreman is our top choice when it comes to electric grills that can be used in any weather. Happy camping!
You Might Also Like: