Best Roof Top Tents For Overlanding & Off-Grid Camping (Review)
By
on
This post may contain affiliate links. As an Amazon Associate, I earn from qualifying purchases. Please read my full disclosure.
Roof top tents are popular in the overlanding community. This tent design allows you to set up camp and sleep comfortably on uneven or rugged terrain. They can be assembled by one person in under ten minutes and fit easily on the roof of an SUV, Jeep, truck or hatchback.
An RTT (roof top tent) keeps you high off the ground; away from critters and insulated against the cold landscape below.
If you enjoy off grid adventures and do a lot of camping, investing in a roof top tent is worth consideration. In this article, we're going to cover the different types of roof top tents, features to look for before purchase, and our top RTT picks.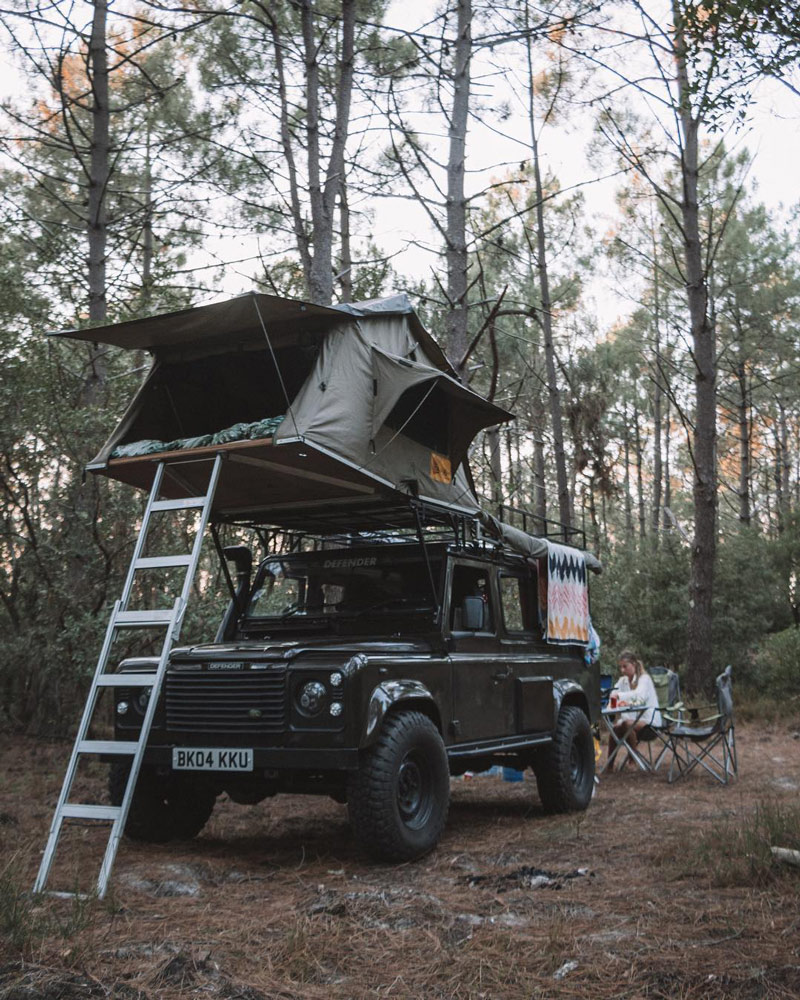 Benefits of a Roof Top Tent
Comfortable sleeping experience
Fast set up
Small campsite footprint
Durable materials
Good insulation and waterproofing
Above-ground privacy
Soft Shell vs Hard Shell Roof Top Tents
Aside from the brand name, there are major differences in tent functionality and design. The two main types of off-road RTT models to choose from are:
Soft Shell Tents
Hard Shell Tents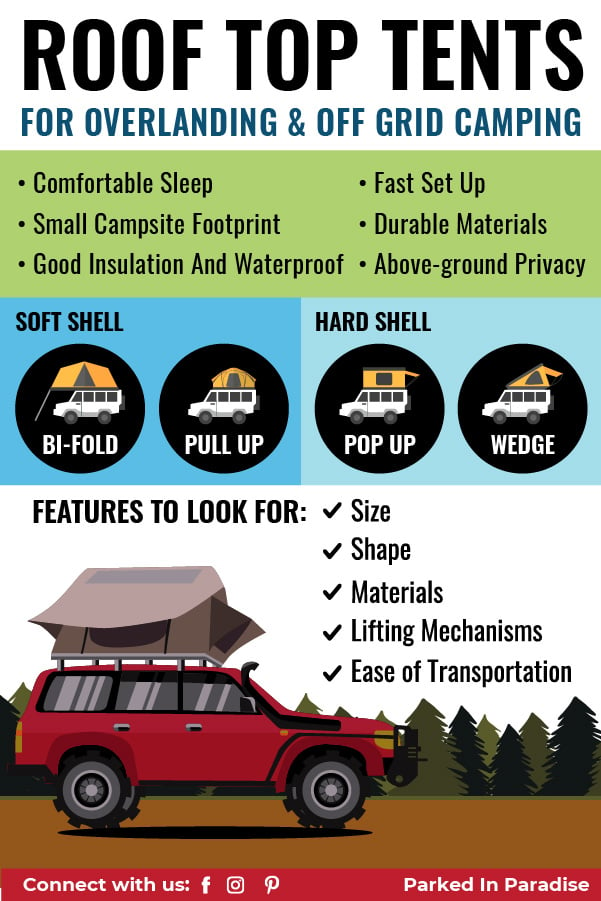 Soft Shell Tents
Softshell tents are made from weatherproof fabric like canvas. That makes them more affordable than hard shell options, but they're often less durable over years of use.
The main advantage to a soft shell roof top tent is they can fold out beyond the vehicle and often have a larger footprint then hard shell tents. Because of this, you can go camping with more people and you have a larger interior space to store gear. Consequently, that can also make it a little more difficult to find a parking spot if you're used to staying in very tight spaces.
Most soft shell tents require manual assembly which means they can take a little longer to set up and disassemble than hard shell tents once you reach the campsite. Because they have a canvas top, they also have a bit less insulation overall.
TOP CHOICE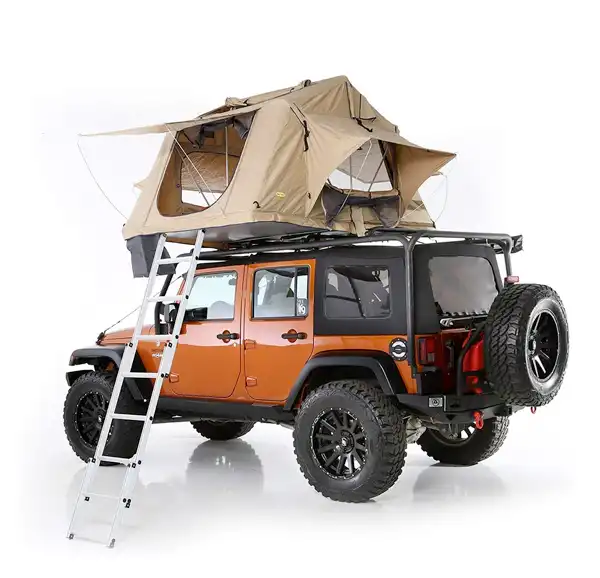 LOWEST PROFILE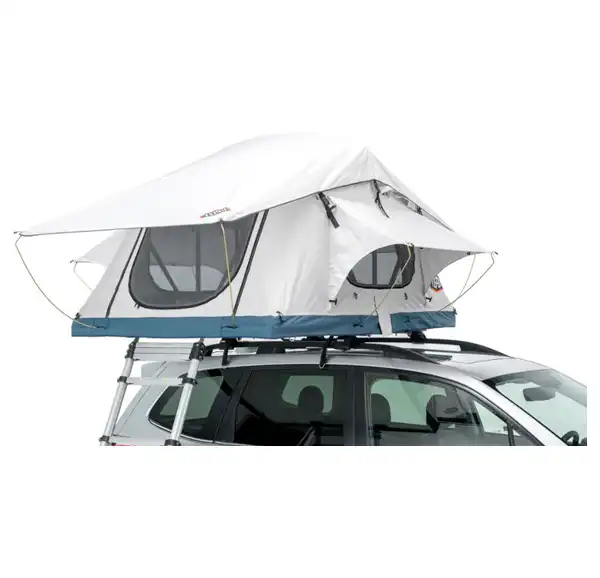 EASIEST ASSEMBLY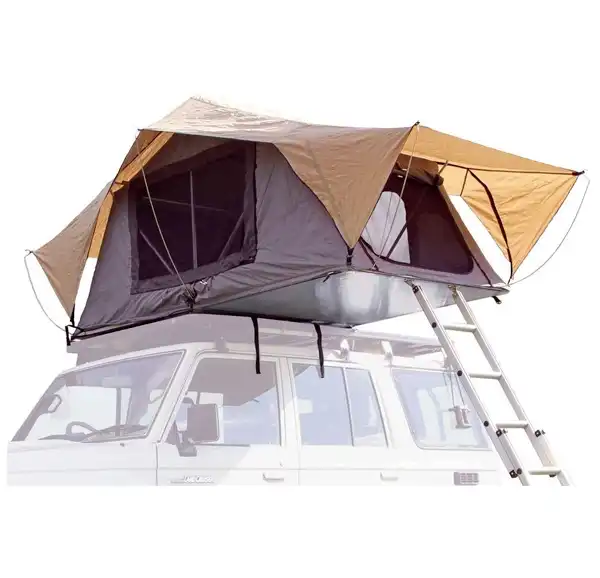 LARGEST FOOTPRINT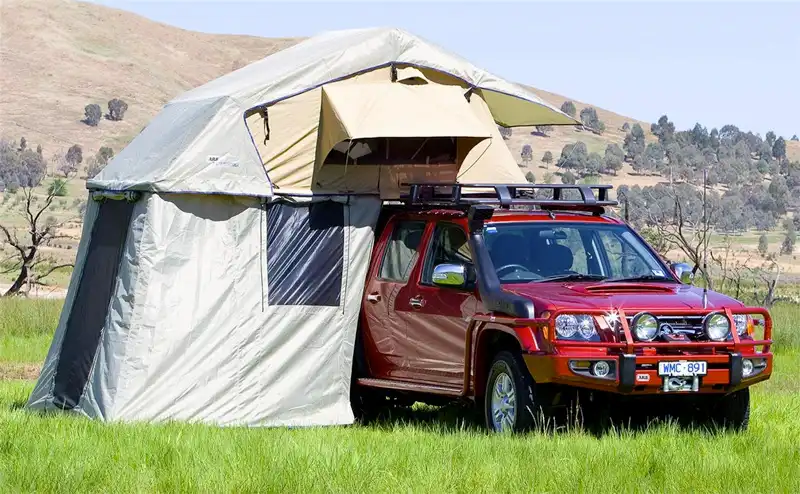 Soft shell roof top tent designs come in two main styles:
Bi-fold design
Pull up style
Bi-fold Design
The bi-fold design is the most popular. It folds in half when stored, allowing the hard base to surround and protect the canvas walls and roof inside. When unfolded, bi-fold tents are large and extend beyond the roofline of your vehicle using a built-in ladder for support. That makes them ideal for big groups of people.
This style of design also makes them a great candidate for adding an annex below. An annex is a canvas tarp that hangs down from the base of the tent creating an extra room underneath. This is the perfect place to store gear in wet weather or get relief from the wind when cooking.
Pull Up Style
Pull-up style tents are less protective but easier to set up. You can assemble the tent by merely lifting the supports and climbing inside. These tend to have a smaller footprint making them best for 1-2 campers.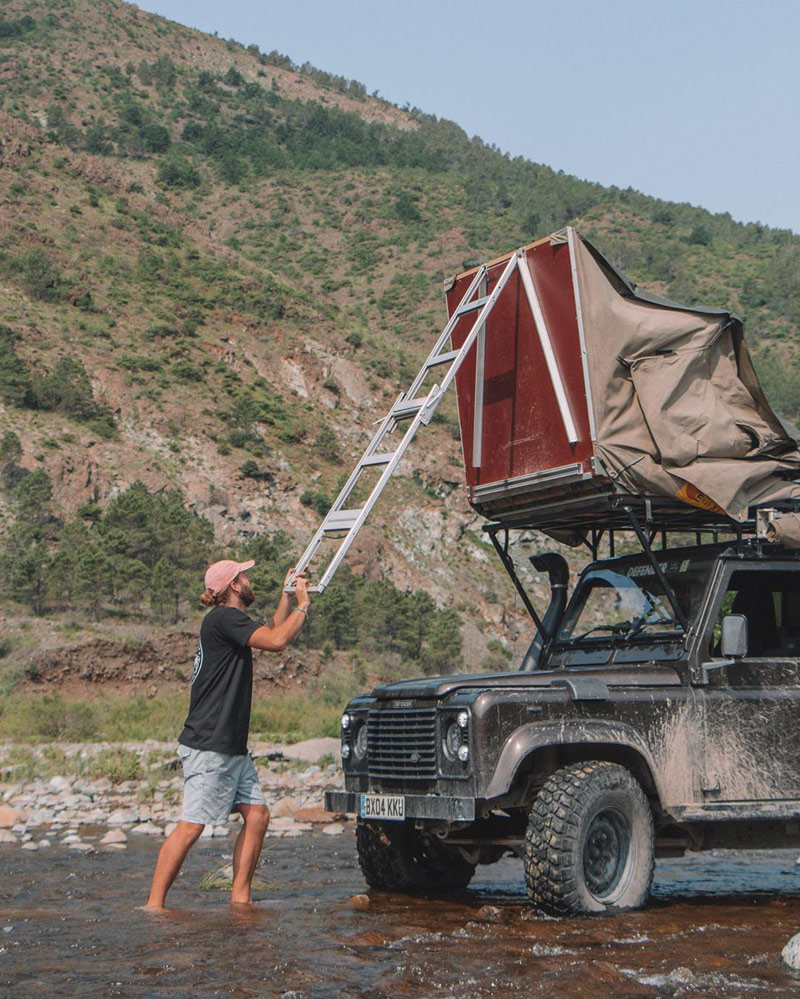 Hard Shell Tents
Hard shell tents have both a top and a bottom made of solid material. They form a protective layer around walls made of canvas or another strong, weatherproof fabric. This design is more insulated.
Hard shell tents tend to have a longer life than soft shell models. Thanks to a hard exterior casing, they're resistant to wind, weather, and other wear and tear both when in use and when stored.
It's usually easier to assemble a hard shell tent than a softshell one. They have either a manual or automatic lifting mechanism that sets up and folds the tent out using the push of a button.
MOST VERSATILE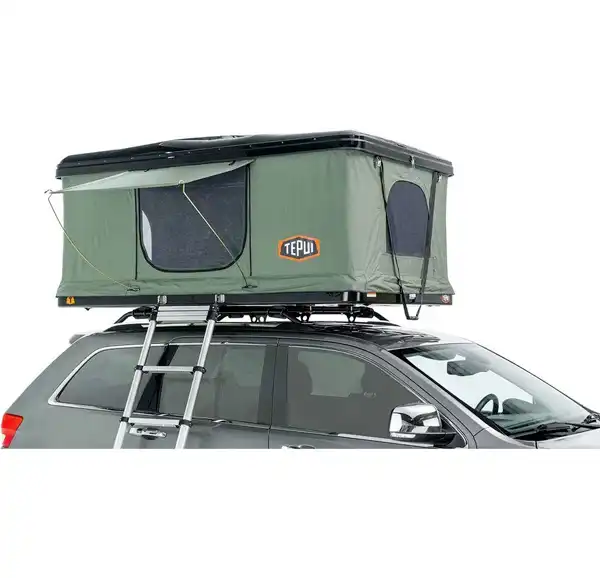 Tepui HyBox
Dual purpose gear box and roof top tent
Easy assembly
Shell combines both ABS and aluminum
Breathable yet insulated design
CHECK LATEST PRICE
BEST FOR SMALL VEHICLES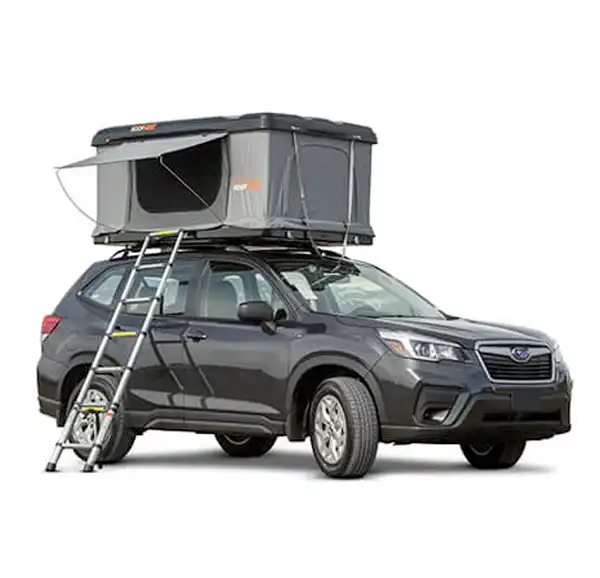 MOST SPACIOUS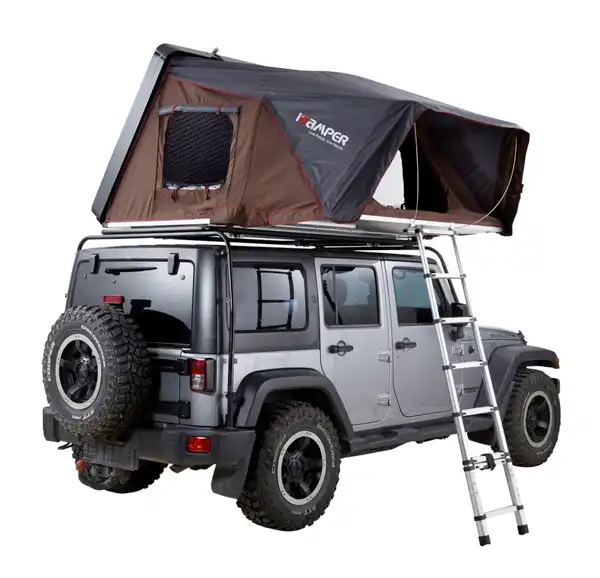 Hard shell RTT designs come in two main styles:
Wedge design
Pop up style
Wedge Design
With the wedge design, the tent is hinged at the foot and lifted at the head. This shape gives the design its name. Wedge tents are ideal for taller campers thanks to more headroom, but it can be a challenge to fit more than one or two people in these models.
Pop Up Style
The popup style lifts both sides equally to give more vertical space. It's best for multiple campers. While there may not be as much headroom, popup tents offer more useable interior space.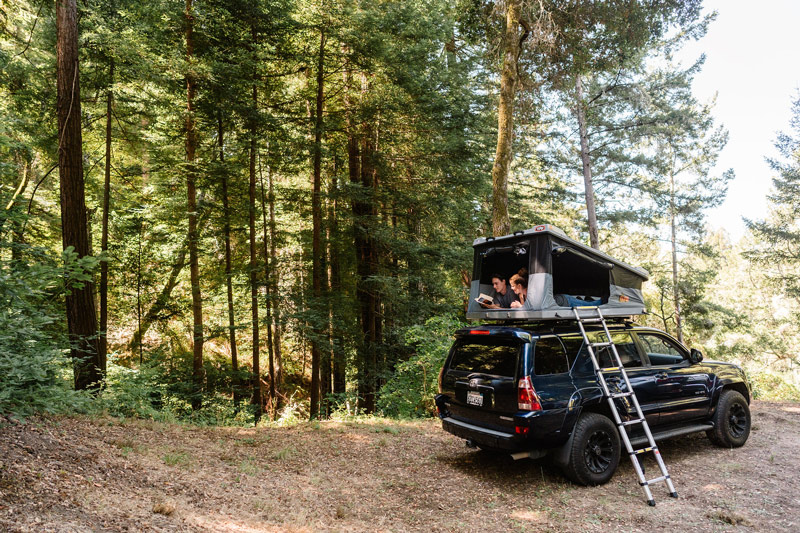 Features To Look For In A Roof Top Tent
Size and Shape
If you're camping by yourself, tent size may not be a top consideration. For many people though, camping is a group activity.
If you typically go on excursions with a partner, friends, or family, you should look for a tent with a larger capacity. For three or more occupants, consider a bi-fold tent which can extend past the vehicle roof to create a bigger space. These tents can also come with an annex which extends down along the side of the car, giving you another sheltered area where you can cook, lounge, or fit more campers.
Materials
Hard shell tents will naturally be more waterproof than canvas tents. The shell is typically made of either fiberglass or aluminum. Fiberglass is lightweight, but also brittle. A hard impact can cause cracks to the shell that are difficult to repair.
Aluminum withstands abuse better than fiberglass, however it is also significantly heavier which can hinder your gas mileage.
Choosing the best material is a balance between your gas mileage and perceived wear and tear.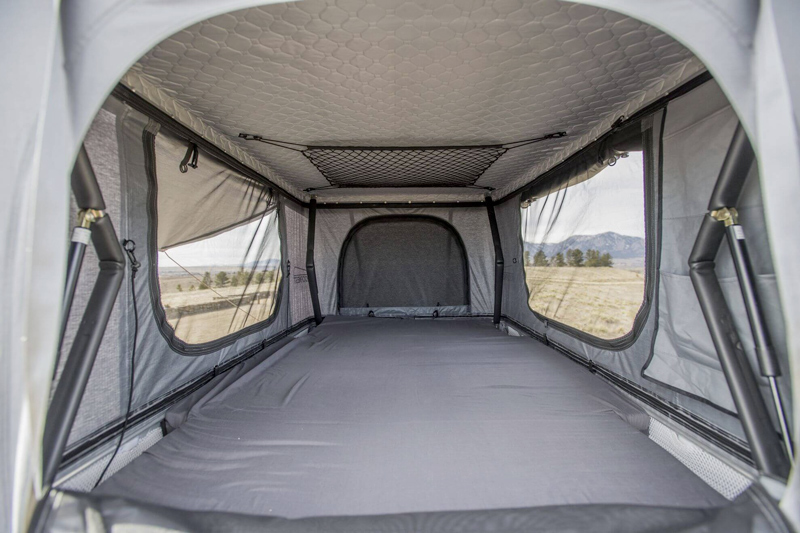 Ease of Transportation
Regardless of how big or small an off road roof top tent is when erected, it should be able to fit down into a compact space for convenient storage.
Hard shell tents can be bulky and add hundreds of pounds to your vehicle. This affects not only your ride's aerodynamics but also gas mileage.
Softshell tents are lighter, but they can be just as bulky. You may want to look for models that pack into a streamlined orientation to reduce wind resistance during travel.
If you're interested in a softshell model, make sure it includes a weatherproof carrier bag that can fit the tent when dismantled and folded. A carrier will protect the material inside and ensure you get a long life out of your tent.
Lifting Mechanisms
Hard shell tents, unlike traditional and softshell tents, come with lift systems that allow you to erect your tent in just minutes. There are two types of lift systems: mechanical and gas-assisted. Mechanical lifts are reliable, durable, and rarely prone to failure. They can also support more upper shell weight, making them ideal for heavier aluminum setups.
Gas assist lifts can assemble the tent with the push of a button requiring no extra strength from you. This is the fastest and easiest option, but they are less robust, and may have difficulty pulling the canvas all the way tight in extremely cold conditions.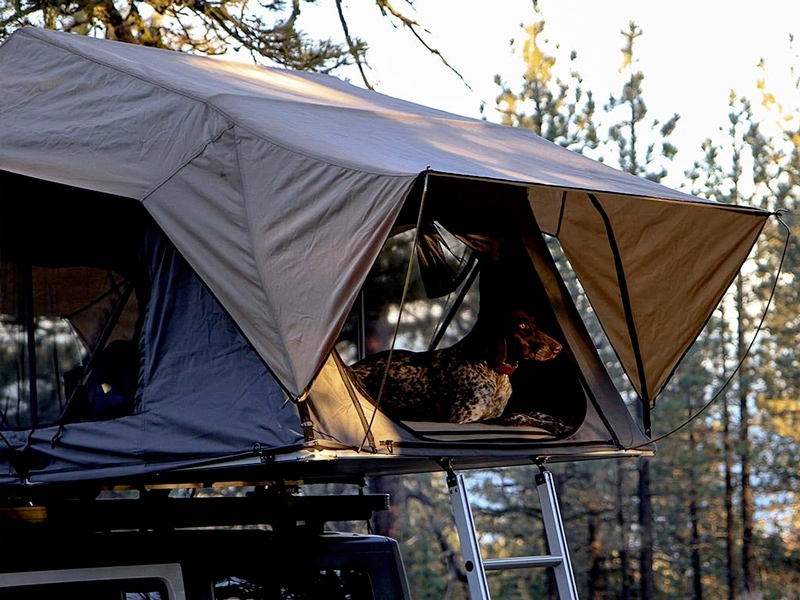 Frequently Asked Questions
How Do You Set Up A Roof Top Tent?
For the most part, roof top tents attach to the roof racks of larger cars such as Jeeps, trucks, SUVs, and other 4X4 models. Initial installation can take quite a bit of time and may require more than one person because of the heavy weight. It's important to check the manufacturer requirements for your roof rack to make the tent is compatible before purchasing. Once installed, the tents are quick and easy to set up.
Below is a good video example of how to install your roof top tent by Tepui.
Can My Car Support the Weight of a Roof Top Tent?
Not all tents are created equal, and what's suitable for one car may be damaging or even dangerous when used with a different vehicle. Most roof top tents weigh between 100-200 pounds.
Jeep ready RTT designs tend to be too heavy for smaller sedans, though you can find specialized hard and soft shell models. When in doubt, always check your car's manual to see if the roof is rated to hold the weight of the tent in question.
How Many People Can Sleep In A Roof Top Tent?
Most tents are designed to house 2-4 campers.
What RTT Accessories Do I Need?
You'll need a sturdy roof rack to install a tent on your adventure vehicle; most other accessories are optional. With a soft shell tent, you may want to consider adding an annex which hangs down from the tent creating extra space.
An awning always a great accessory to bring along to contribute extra shade and rain protection.
With a hard shell tent, you have the option of bringing your own telescoping ladder. These can be more durable and have higher weight ratings than the provided ladders.
Best Soft Shell Rooftop Tents Reviewed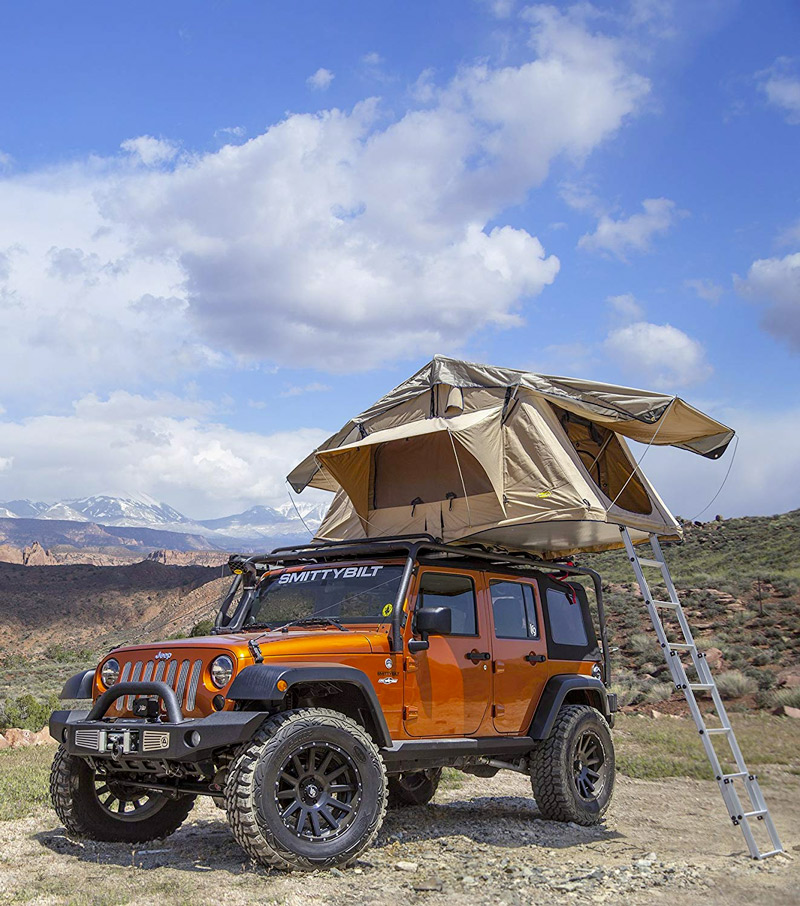 The Smittybuilt Overlander tent is inexpensive compared to the competition and designed for 4 season camping.
The canvas is made of 600D heavy-duty ripstop polyester and includes two large, zippered windows and two doors that are fitted deep beneath rain flys for a completely watertight seal. The support poles are lightweight aluminum that's been anodized for extra durability. Stainless steel hinges ensure that the setup is stable as you sleep.
What we like about the Overlander is the extensive list of extra features you won't find in many other tents. External shoe storage bags, interior LED light strips, 12v cigarette lighter power adaptors, and extra wide telescoping ladder just to name a few.
This tent fits three campers comfortably and you can purchase an optional detachable annex for more space. That's a good option if you want to fit more campers or need an area for cooking, changing, or setting up a toilet.
Affordable price
Designed for 4 seasons
Made of heavy-duty polyester and anodized aluminum
Extra features like LED lighting and external storage bags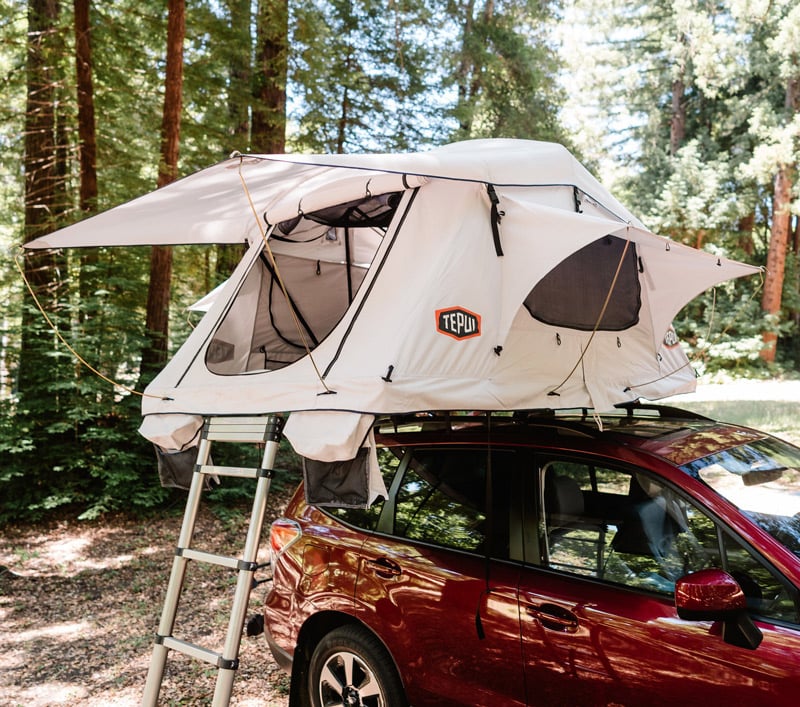 The Tepui Lo Pro is just 7 inches tall when compact and weighs 105 pounds. That makes it lightweight and one of the lowest profile designs of any RTT on the market.
The tent comfortably fits two adults and uses a curved frame design; giving more headroom to taller campers. Two doors and two large windows keep the bugs out while providing plenty of ventilation and views from the roof of your camper.
The frame is made of wrapped aluminum and then tent also includes a foam mattress and a telescoping aluminum ladder. We like this design because the weight and profile won't hinder your gas mileage like some of the others and it still provides lots of headroom without feeling cramped.
Lowest profile tent
Lightweight design; 120 pounds
Aerodynamic profile
Curved frame with lots of headroom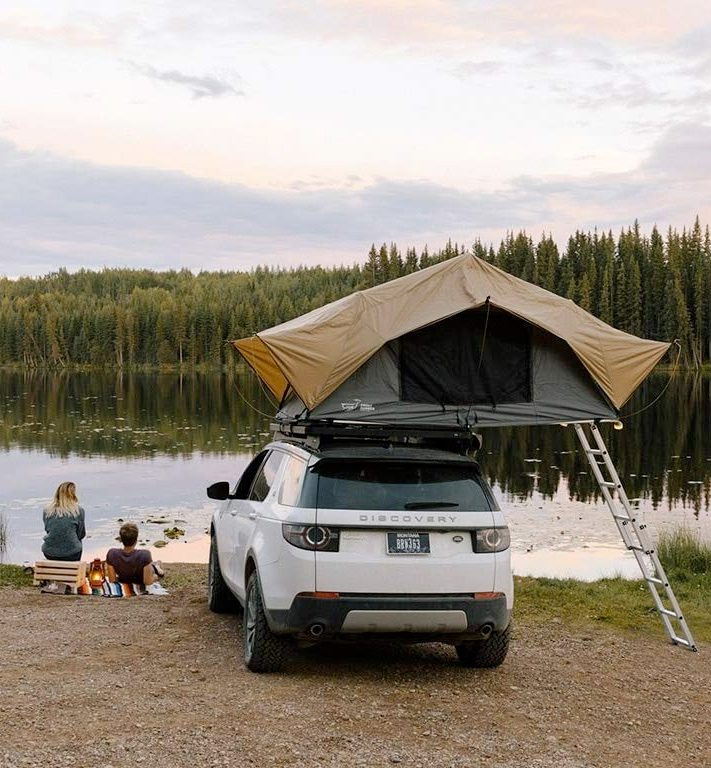 The Front Runner Roof Top Tent weighs just 88 pounds and collapses to 7.8 inches tall making for a quick installation. It's compact and lightweight, but still able to fit two people comfortably. It has a large footprint of 4.3 feet x 7.9 feet when unfolded. The tent is designed for easy assembly; you can set up and take down the structure in a single motion.
There are three mesh-covered windows for better airflow, all with zip-up privacy screens. It also has a roof ventilator opening with a mosquito screen attached. A full size mattress comes included for comfortable sleep.
What we like about the front runner is it's minimal design and ease of use. It still comes with features like interior pockets for gear and velcro straps for overhead lights; but it doesn't go overboard with accessories.
Lightest weight design
Easy to assemble
Large footprint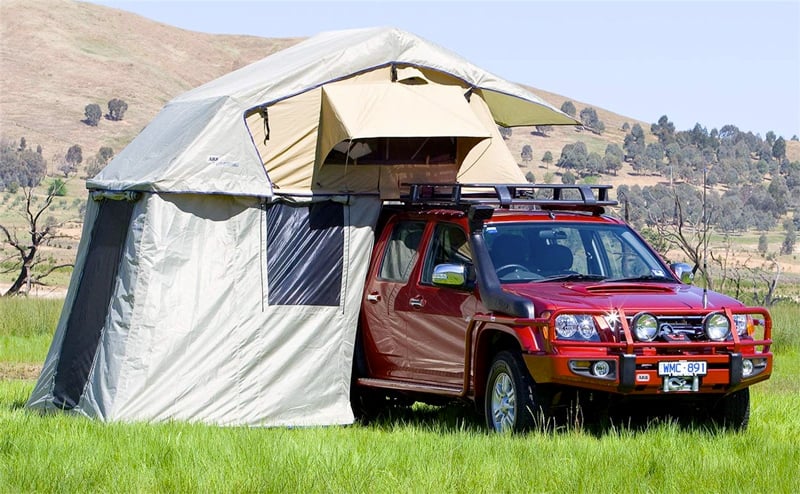 The ARB Simpson Series III works well with large sports vehicles, Jeeps, and trucks. While it's pricier than similar models, it has the largest footprint in our review and offers top-of-the-line features.
Supported by robust, yet lightweight 1-inch anodized aluminum poles this tent is durable and resistant to rust and corrosion. The fabric is made of high-quality poly/cotton and has an Oxford polyester flysheet for extra protection against the elements.
The Simpson is heavier and bulkier than some of the other tents we've reviewed but it comes with a fully enclosed annex which maximizes interior space. If you're looking for a place to stay comfortable in all of the elements this is our top choice.
Durable, corrosion-resistant materials
Fully enclosed annex
Large, comfortable interior
Best Hard Shell Roof Top Tents Reviewed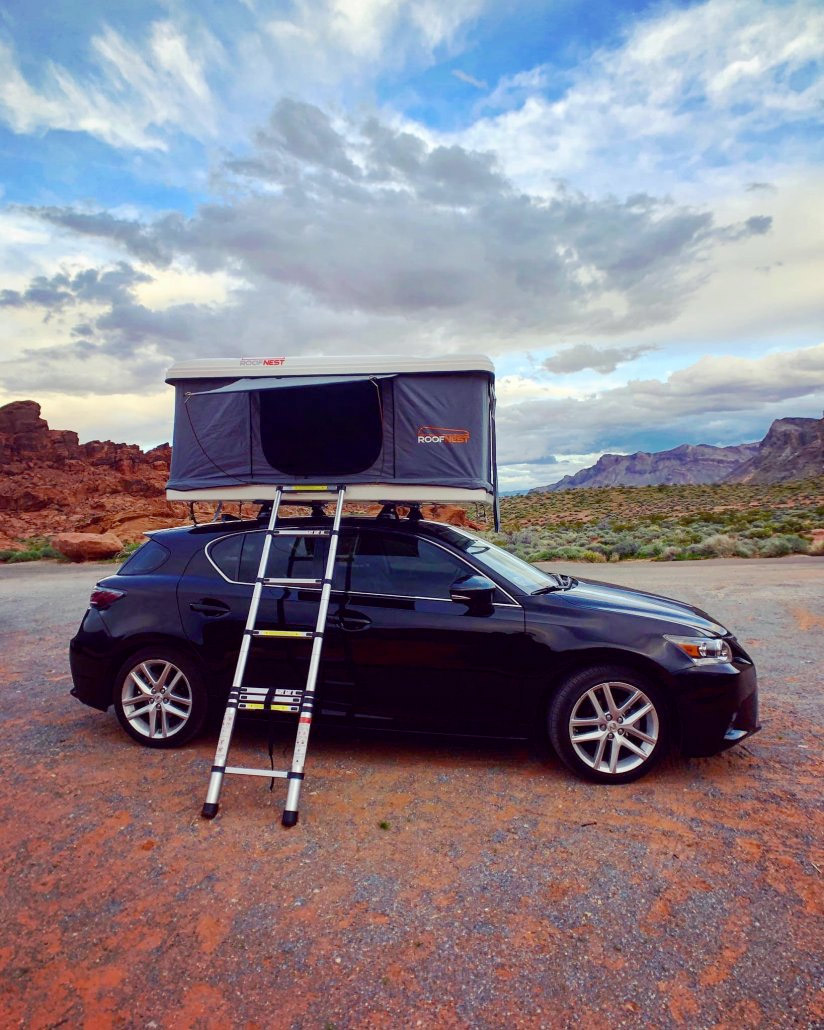 The Roofnest Sparrow weighs just 130 pounds which is very lightweight for a hard shell tent. That makes it perfect for small and medium sized cars.
A universal mounting system makes the Sparrow easy to install on just about any vehicle with an appropriate rooftop weight rating. It pops up in less than a minute using a gas-assist lift.
Like many rooftop popup tents, the Sparrow is designed to fit two people comfortably. Zippered openings on all sizes allow for optimal airflow through the tent, preventing the buildup of heat and moisture. The shell is made of sturdy, lightweight ABS fiberglass; while the walls are made of a waterproof polyurethane-coated polyester and cotton blend to protect you from the weather.
Lightweight
Gas assist lift
Small footprint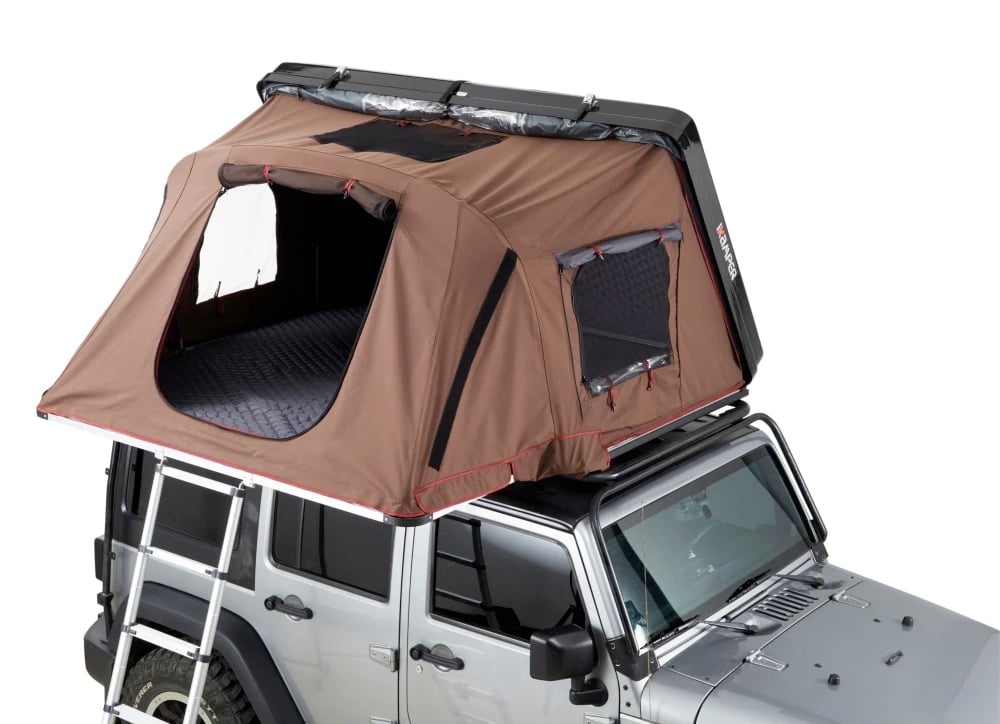 The iKamper Skycamp hit the North American market relatively recently, quickly gaining a name for itself as setting the standard for family hard shell campers. Unlike many similar models, the Skycamp is expandable. Its king-sized mattress can sleep up to four people, making this an ideal choice for those traveling with children.
The tent has a simple, elegant design that's easy to set up on the go. The Skycamp can be ready to go in under minute thanks to its lift system system. A Poly-Cotton Canvas body makes the tent both breathable and insulating, keeping you warm during cold weather. Windows on either side and at the foot of the tent allow for plenty of ventilation when it's hot out; and a detachable mesh tent is also available for hot or humid weather.
The Skycamp is designed to be durable, with honeycomb aluminum panels that protect the interior from extreme weather and other damage. The top shell is double-layered both for protection and extra insulation, though this does make the assembly heavier.
Expandable for up to four people
Easy to set up in just one minute
Both insulation and ventilation for any weather
---
That's A Wrap!
There are plenty of reasons to switch to a roof top tent when camping; from a more straightforward setup to a more comfortable sleep. If you're looking for a tent with the largest footprint for family camping, consider a soft shell tent. The Smittybuilt Overlander is our top choice and the Tepui Lo Pro is the lowest profile to conserve gas mileage.
When it comes to durability and insulation, hard shell tents are your best bet. We recommend the Roofnest Sparrow if you have a smaller vehicle.
Continue Reading: