The Best RV Coffee Maker For Travel (Review)
By
on
This post may contain affiliate links. As an Amazon Associate, I earn from qualifying purchases. Please read my full disclosure.
Every camper knows that coffee is a requirement, but stopping at a shop every morning gets pricey! Plus, a standard coffee maker might not fit in your motorhome's kitchenette.
The best RV coffee maker will save you money and fit in a small space. It should be efficient and easy to operate. Fortunately, there are plenty of coffee makers that fit those specifications; and more. If you're looking for a compact coffee maker for your camper, keep reading!
BEST 12V COFFEE MAKER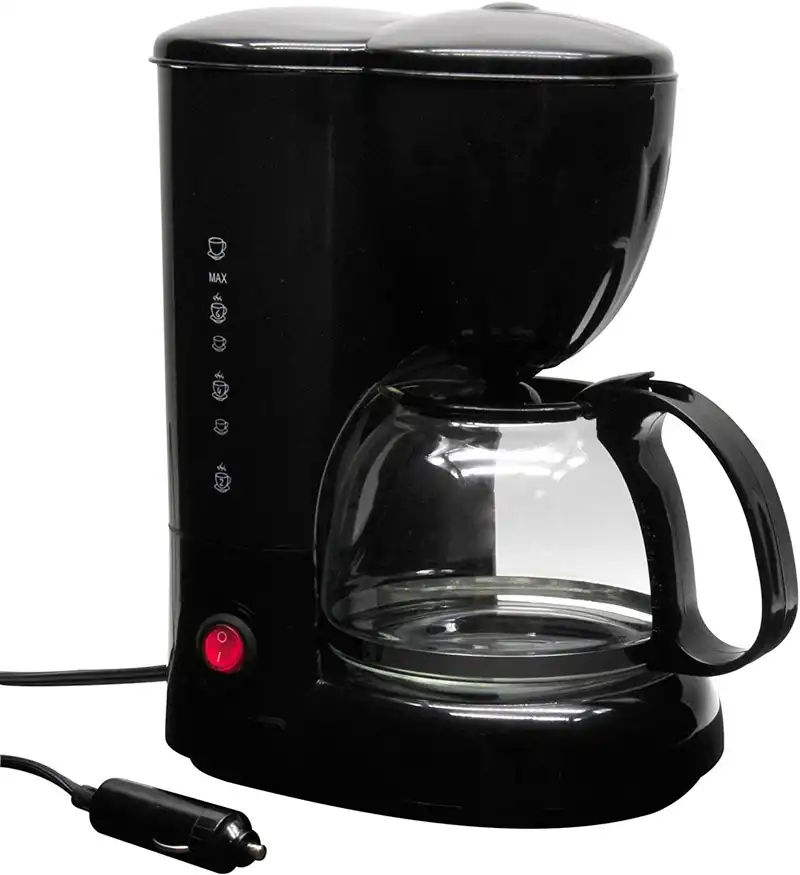 BEST SINGLE SERVE MAKER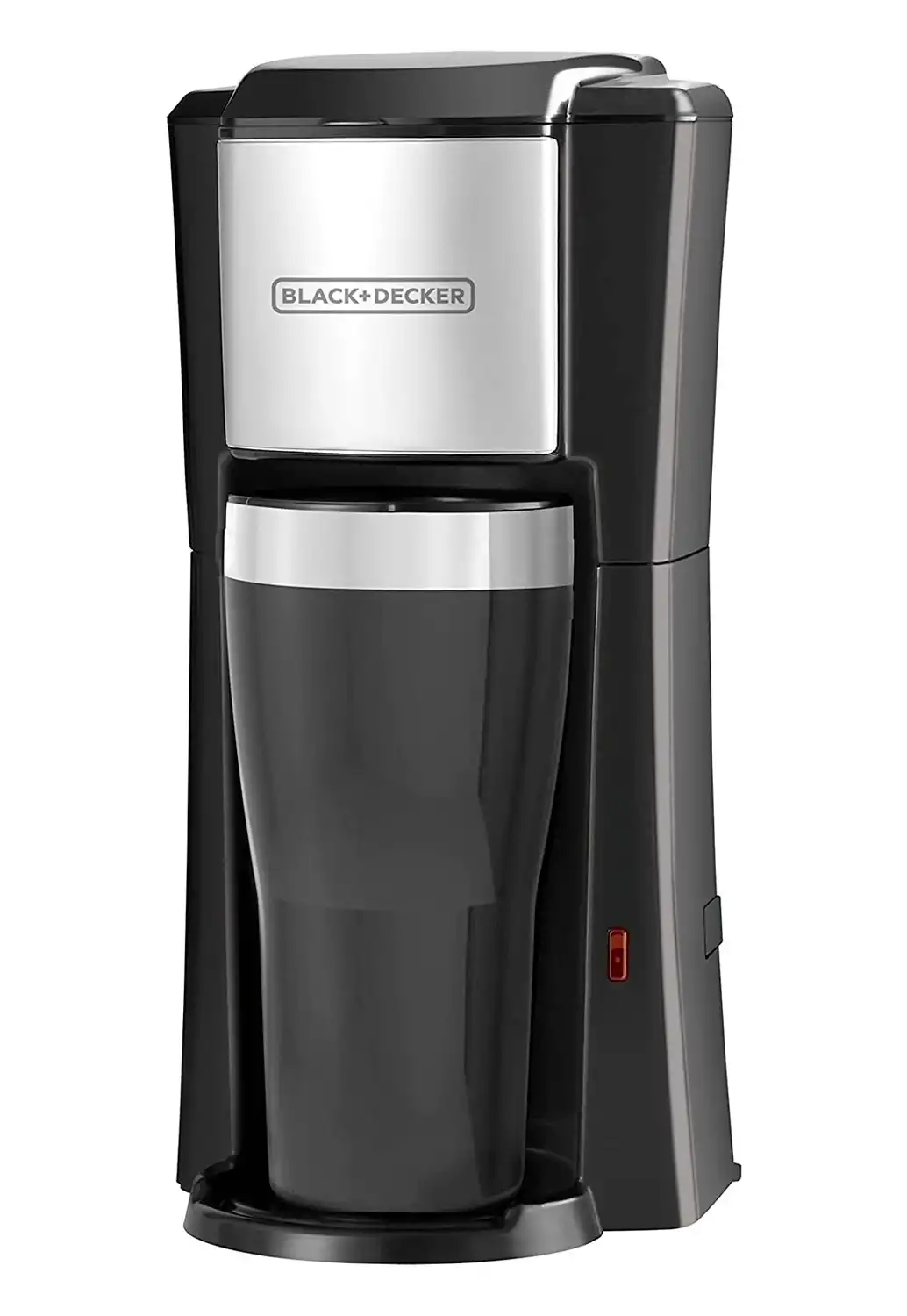 BEST POD COFFEE MAKER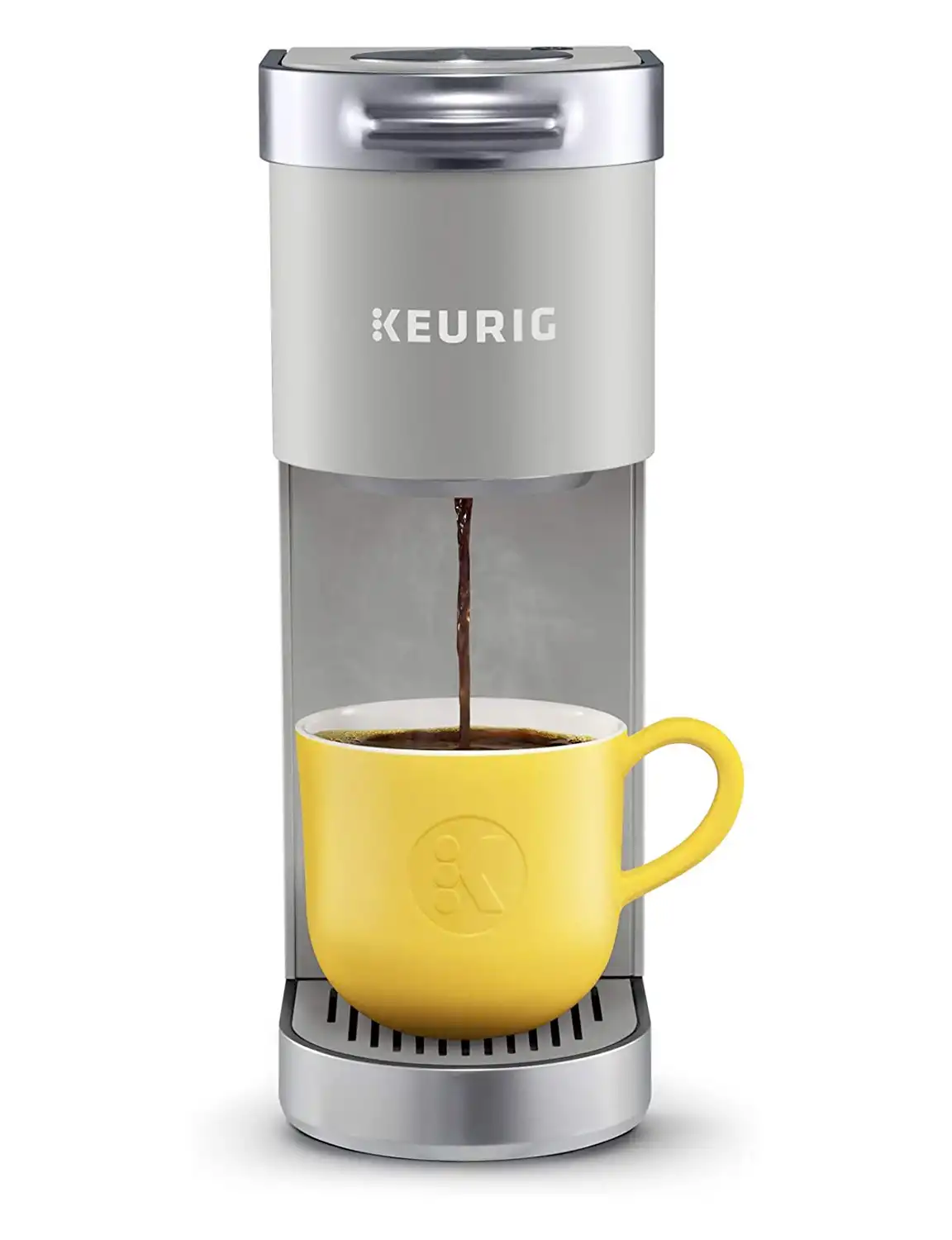 The Best Type Of RV Coffee Maker
Making coffee on the road presents a few unique challenges. Some of them are obvious, but others you might not have thought about. Let's go through the different things you need to consider before traveling with your coffee maker.
Space
Take a look around your RV. There's probably not a ton of space! That's the first consideration you need to make.
Where will your new favorite morning machine reside? Do you need an under cabinet coffee maker? RVs sometimes have a special space to fit one there. Or maybe it's going on the counter. Either way, when it comes to kitchen appliances, the smaller the better in a motorhome or travel trailer.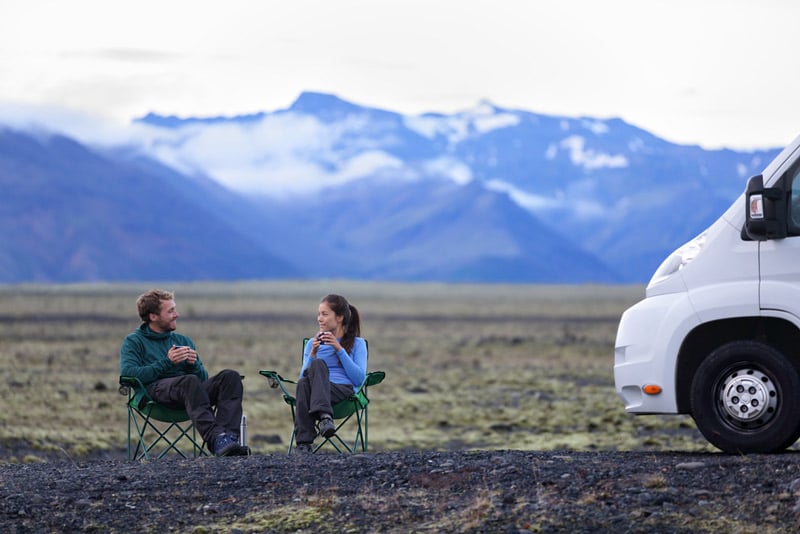 Number of Servings
Of course, compact designs come at a cost. They often can't serve very many at once. If you're traveling with a partner, family, or friends, finding a coffee maker that can serve more than one at a time might be important.
Consider how many people you generally go camping with; then double it! Because there's nothing more fulfilling than a hot cup of coffee at the campsite.
Access to Power
On top of that, you'll need to consider your power options. Many RVs allow you to plug into standard outlets. But that's not always the case. Some of us need to use our RV's 12-volt outlet instead.
12-volt coffee makers for RVs exist, but they can be tricky to find. They also tend to take a long time to brew a cup. Sometimes that can mean waiting up to 20 minutes for your cup.
That's because even large RVs typically have 12 volt DC power outlets that are only rated for 20 amps. That means they can generate 240 watts.
Let's put that into perspective.
A regular automatic drip coffee maker uses 700-1000 watts on average. So a 12-volt coffee maker will typically end up taking a long time to brew a couple of cups.
Bottom line: if you're going to be regularly using an RV coffee maker, it's best to have a shore power connection. Of course, you can always brew your coffee using manual options, which brings us to our next point.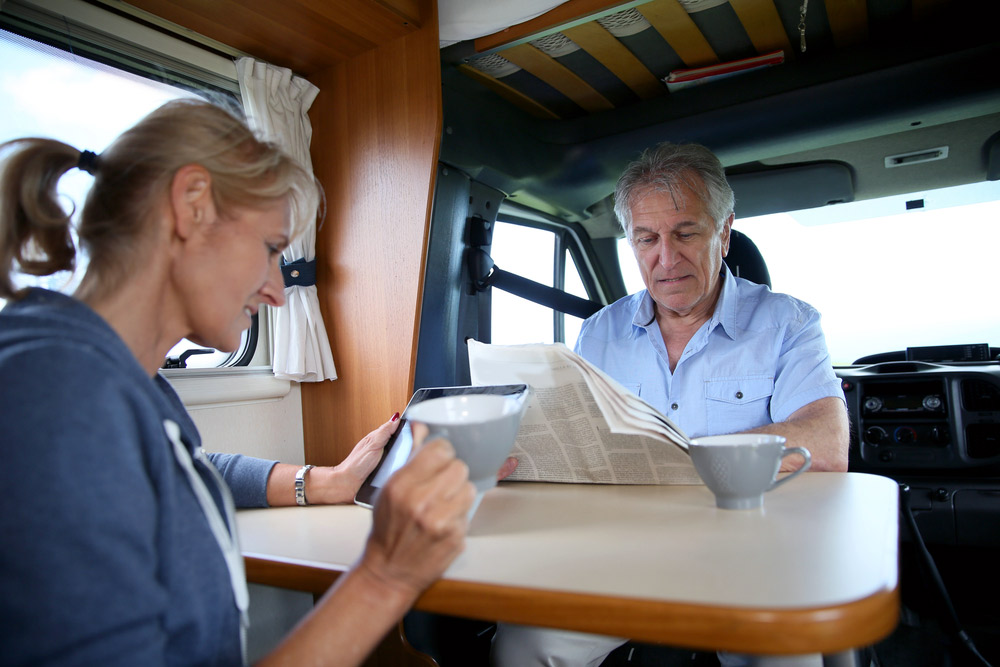 The Many Ways to Brew Coffee in an RV
There are lots of ways to brew your morning cup of joe, even when you're on the road. We can divide them into automatic and manual methods.
For the purpose of this article, we focused on automatic options when it came to ranking the best RV coffee makers because of their convenience. But we'll discuss manual options here in case you're curious.
Automatic Machines
Most of us brew our coffee using automatic machines. Some of us opt for automatic drip machines, and others prefer their espresso makers. What you pick is a matter of personal preference.
That said, it's essential to understand that the coffee makers with higher-end stainless steel builds aren't nearly as portable as their plastic-made cousins. They're heavy and made to live permanently on one kitchen counter.
A smaller automatic option will likely be less expensive and a better fit for your RV. Plus, if anything happens to it while you're on the road, it's easier to replace.
Within the world of automatic coffee makers, you have a choice between single and multi-serve options.
Single-Serve Machines
Single-serve options are super convenient and tend to be very slim. They'll fit in tiny spaces, and their operation is simple. Most of them work with pods, though many offer refillable baskets too.
The downside, of course, is that you can only serve one cup at a time. If you're traveling with a partner or friends, that may or may not work.
These coffee machines also tend to build up an excessive amount of trash which can be a pain to store in your travel trailer. Not to mention, the environmental impacts.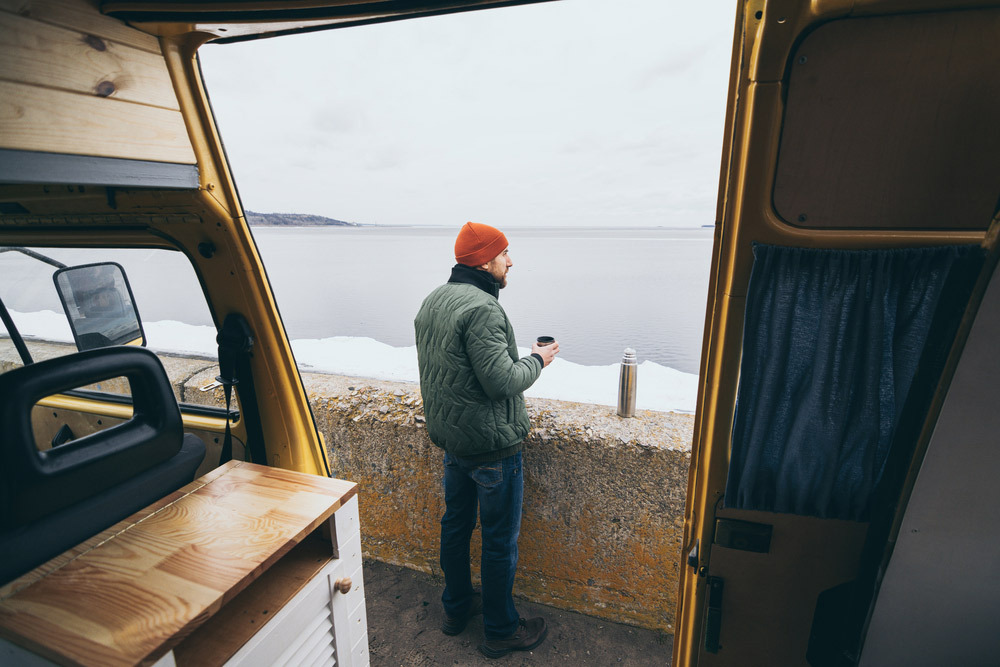 Multi-Serve Options
Multi-serve coffee machines tend to be larger, which can be a problem in an RV. But if you have family and friends traveling with you, it may be ideal. Brewing several cups at a time is a lot faster and easier than making each cup separately.
And, there are campers who prefer to keep their lives simple. They want one coffee machine for both home and RV use. In that case, the multi-serve option might be best. We simply suggest you look for one that's not heavy and is obviously on the compact side.
Manual Methods
If you're roughing it or don't want to use up a bunch of your motorhome power supply on the morning brew, there are plenty of options to make coffee with minimal or no electricity.
To make coffee manually, you'll have to boil water either on your RV's stove or over a campfire outside. From there, the process is up to you!
There are a variety of methods to brew coffee sans electricity. You could use a French Press, Aeropress, Pour-over, Percolator or any number of methods.
French Press
Advocates of the French Press method claim it produces a superior cup of joe. They'll tell you it gently nudges the flavor out of your finely ground beans.
Buying a French Press is affordable, and they're easy to store. To use it, simply add hot water to ground coffee and let it sit. After a few minutes of brewing, you press down on the lid to filter out the beans. Then serve!
Pour-Over Method
The pour-over method is similar, but it takes more hands-on work. You have to stand there and pour hot water over the grounds in short intervals.
The technique is great if you're a coffee aficionado that enjoys taking their time in the AM hours. But if you lack patience in the morning, this might not be the best option.
Aeropress
An Aeropress works similarly to a French Press, but it was designed with camping and backpacking in mind. It's typically made to serve one person and is very compact. It's fast and easy to use, but it's not as convenient as the automatic machines. You still have to boil water separately!
Our Favorite RV Coffee Makers
BEST 12V COFFEE MAKER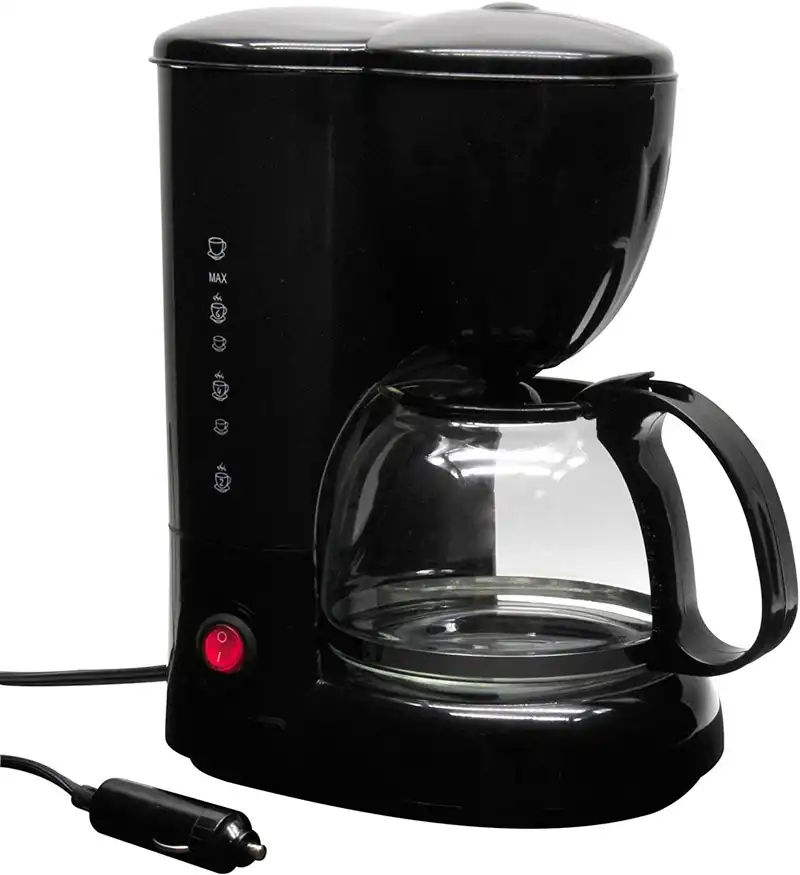 We love the RoadPro coffee maker for a couple of reasons. For one thing, it has a 20 oz carafe, which means you can make more than one cup at once.
Beyond that, this model works in a 12 volt DC power outlet, which is vital in some situations. It takes some time to brew, twenty minutes to be exact. So it requires a little patience, but it's easy to use and comes with all the standard features.
A reusable brew basket allows you to use whatever coffee you like best. And it comes with a mounting bracket so you can secure it to a flat surface. That means it's not going to slide around while you're on the road!
Features:
20 oz carafe serves more than one person
12 V DC power connection means you don't need electricity hook-ups
Reusable brew basket so you can brew your favorite coffee
Mounting bracket keeps machine stable while you're driving
---
BEST SINGLE SERVE MAKER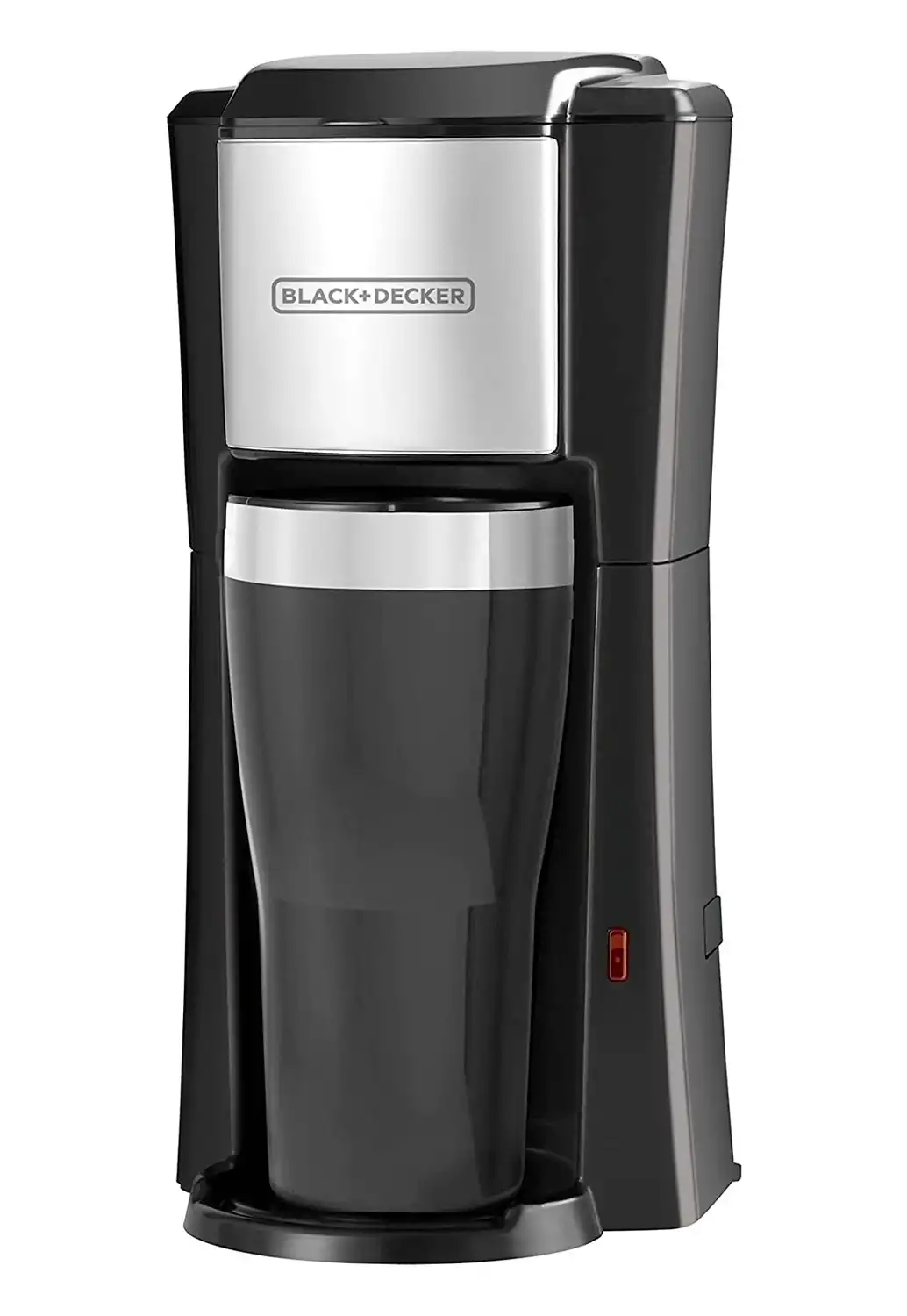 Small and affordable, the Black+Decker Single Serve Coffee Maker is perfect for taking on your next adventure. This machine is tall and narrow, so you can use a variety of mug sizes. And it features an automatic shut-off, which is ideal for life on the road.
We love how simple this coffee maker is to operate. There's literally one button to press, and you're off the races!
You can use your favorite ground coffee in the machine, or you can use pre-packed coffee pods, whichever you prefer. The brew basket is dishwasher safe, which we find extra convenient. And it comes with a 16 oz. travel mug that keeps your coffee hot!
Beyond that, this machine also features a permanent filter. You won't have to carry paper filters with you. We think that's a huge plus!
Features:
Tall and narrow design allows you to use any mug
Dishwasher safe brew basket
Thermal travel mug included
Permanent filter means you don't have to bring paper filters along
---
BEST POD COFFEE MAKER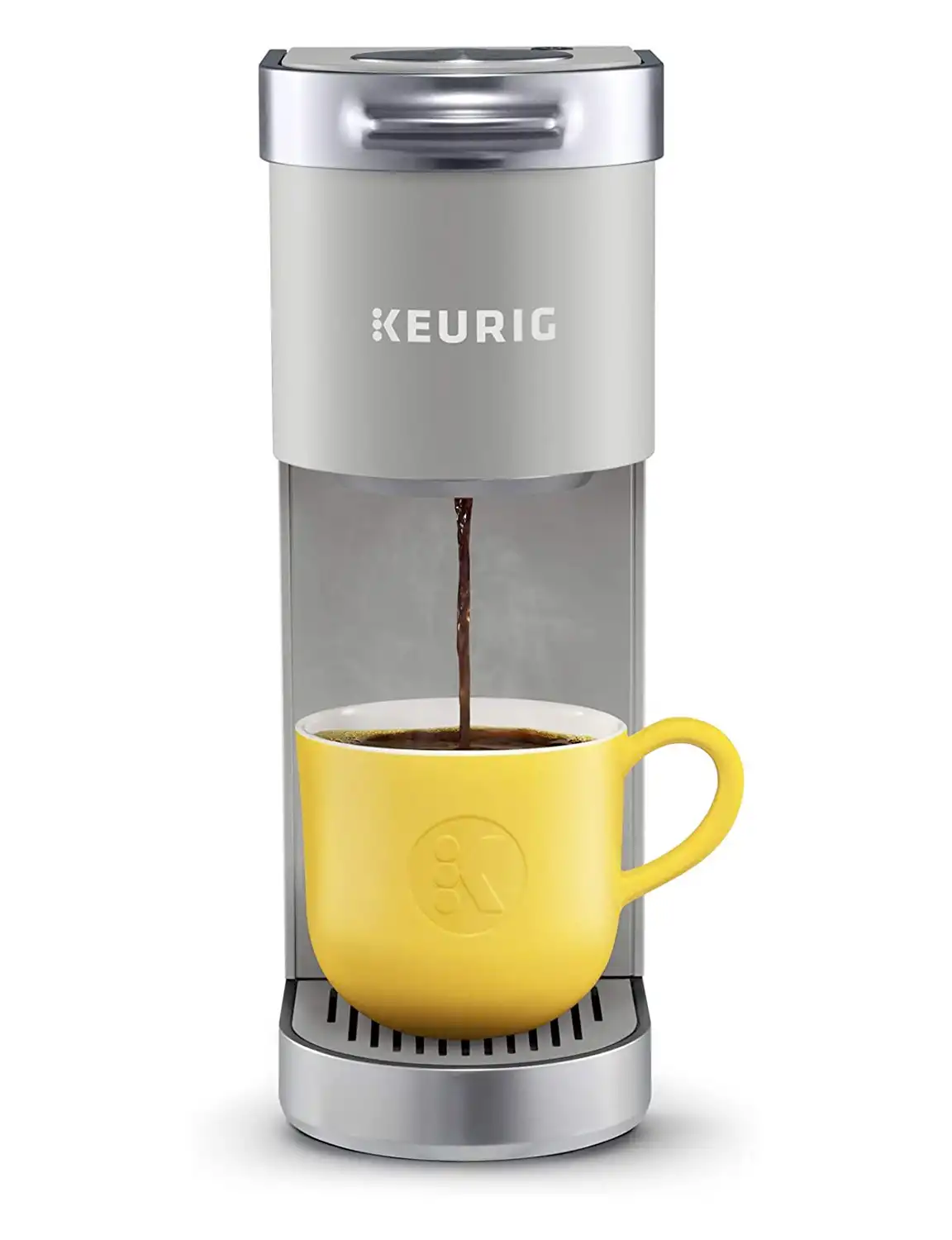 Our favorite coffee maker for RV travel is the Keurig K Mini Plus. The design is super compact and yet somehow includes coffee storage.
You can stack nine K pods inside of it! On top of that, the cord coils up inside the machine. Anything that saves space in an RV is ideal in our minds.
The machine works fast and brews up to a 12 oz cup. Plus, it comes with a thermal travel mug and has an auto-off feature perfect for life on the road.
If you don't like using pods, this machine also works with the universal k-cup. You'll have to buy it separately, but it's not expensive.
Keurig has its opponents as a brand, typically because the pods become pricey compared to drip coffee. But we think the speed, efficiency, and sleek, minimalist design on the Keurig K Mini Plus makes it perfect for RVs.
Features:
Compact design includes pod and cord storage
Brews up to 12 oz cup
Includes thermal travel mug
Works with Universal K-cup
---
That's A Wrap!
There's nothing like a hot cup of coffee when you're on the road, but taking a regular coffee maker in the RV isn't always ideal. Of course, neither is stopping at an expensive coffee shop every time you need a caffeine boost!
That's why finding the best RV coffee maker is vital! If you need to use your 12V DC outlet for coffee or want to serve more than one person at once, we suggest the RoadPro 12V coffee maker.
However, if it's just you and you have a standard outlet to work with, consider the Black+Decker Single Serve Coffee Maker. And if you want to go all out with a sleek design, excellent storage capabilities, and a speedy brew time, then consider the Keurig K Cup Mini.
No matter which model you pick, you'll be happy to have your coffee in hand the next time you hit the road. No RV adventure is complete without a cup of joe!
You Might Also Like: