The Most Compact And Portable RV Dishwashers (Review)
By
on
This post may contain affiliate links. As an Amazon Associate, I earn from qualifying purchases. Please read my full disclosure.
A dishwasher is a luxury appliance in a home, and even moreso in an RV. But that doesn't mean you shouldn't consider purchasing one! RV dishwashers will do the work of cleaning the dishes for you which leaves more time to relax in nature and hit the trails.
Compared to hand washing, RV dishwashers use less water. These small devices are compact, and energy-efficient compared to a home dishwasher. And they are designed for a life of travel!
RV dishwashers are easy-to-install. So if you have the space, and the funds, consider adding one in your camper or travel trailer.
What Hookups Are Needed For An RV Dishwasher?
At a minimum, RV dishwashers require power and water. Portable dishwashers can use water directly from your sink faucet, and some models even have a reservoir built-in. This allows you to pour water directly into the unit–no hookups required! That being said:
In addition, you should make sure there is enough gray water capacity for your dirty water after the wash. Portable units come with a waste line that can drain directly into the sink.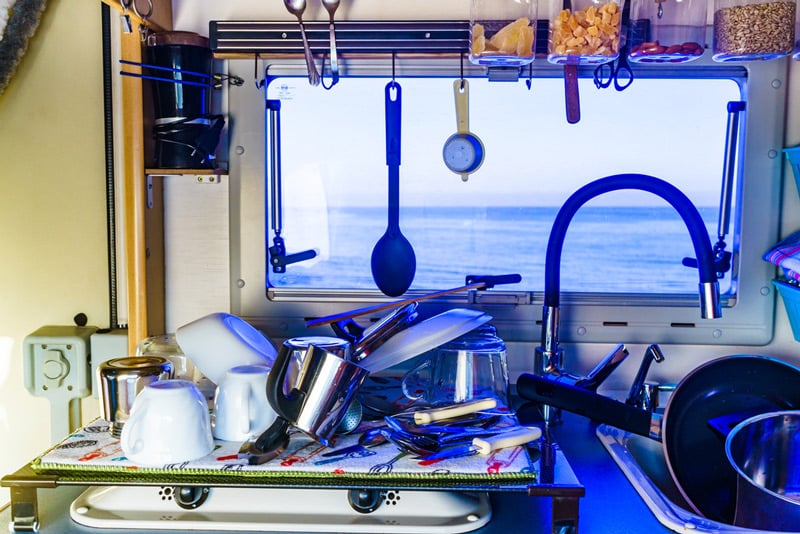 Types of RV Dishwashers
There are three main types of RV dishwashers. Installation varies depending on the model.
A slimline, or narrow dishwasher, is most similar to your washer at home. They can be built directly into your cabinetry to save counter space. Slimline dishwashers are compact, but also have the capacity for a larger load.
Narrow, built-in dishwashers consume a lot more water than other types. However, they are quieter than countertop dishwashers, allowing for a better RV ambiance. Professional installation is recommended for a narrow dishwasher because these are designed to be tapped into your plumbing system.
Portable, countertop dishwashers are roughly the size of a microwave. These can be stored during travel and placed on the kitchen countertop when it's time to clean the plates. These machines have all the standard features of a regular dishwasher, but they are significantly more compact.
Installation is simple because they can draw water from your sink faucet and drain back into the sink. These RV dishwashers are easy to use and install, but they do take up a lot of space.
RV dishwasher drawers use very little water and many models can dry dishes as well as wash them.
The drawer style makes them compact, and they can be installed in your cabinetry like the slimline models. Dishwasher drawers often require professional installation and require both shore power and freshwater hookups to operate.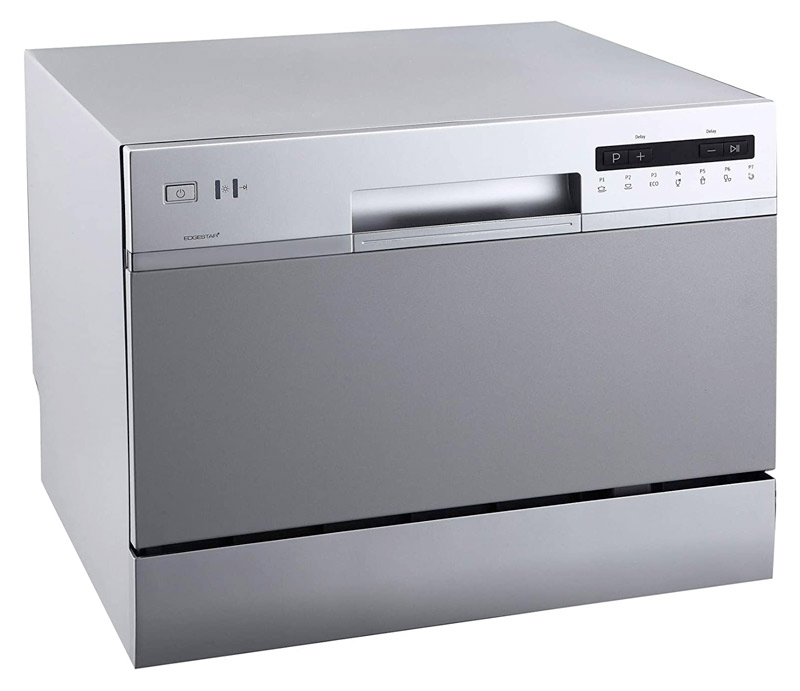 How To Set Up A Portable RV Dishwasher – Countertop Style
Anyone can set up a countertop-style dishwasher without the help of a professional. This makes them ideal aftermarket items for rigs that didn't previously come with a dishwasher built-in.
Most portable, countertop style dishwashers come with three hookups in the back:
120V Power Cord
Freshwater intake
Wastewater drain
To use the dishwasher, simply place it on the counter and plug in the 120V power cord.
Then, supply the freshwater. Some models have a freshwater reservoir that can be filled with a pitcher. Others come with a hose that can attach the dishwasher unit directly to your RV sink faucet.
Finally, run the wastewater drain from the back of the unit to your sink. That's all it takes to wash some dishes!
Frequently Asked Questions
How Power Will Your RV Dishwasher Require?
A compact built-in dishwasher such as the popular Vesta Model, uses 5.7A and runs for up to 2-hours, consuming roughly 2050W through a 120-volt power source.
Countertop models like the EdgeStar require 1160W of power.
How Much Water Does An RV Dishwasher Use?
RV dishwashers typically require 1.3-1.7 gallons of water per wash.
How Much Water Pressure Is needed?
Built-in dishwashers like the Vesta require at least 10 PSI of water pressure.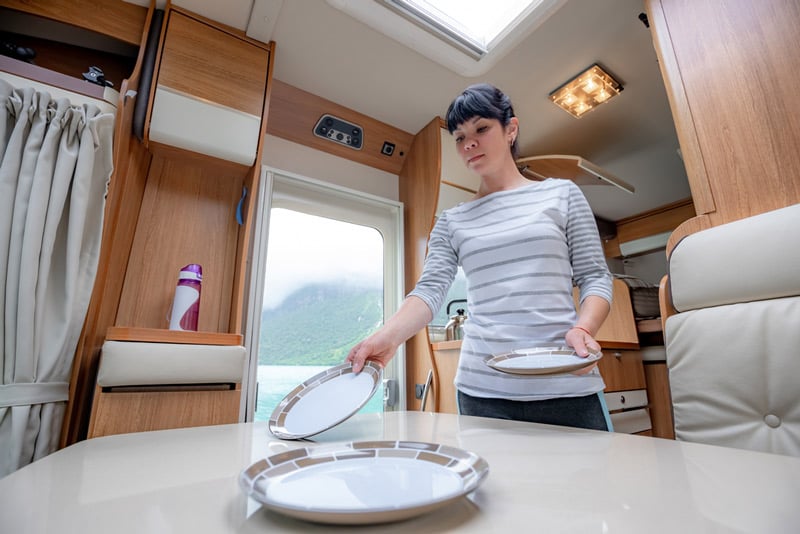 How Long Do RV Dishwashers Run?
Depending on the model and settings, portable countertop dishwashers can get your kitchenware clean in under 30 minutes. Larger, built-in dishwashers can run up to 2-hours.
How Much Space Does An RV Dishwasher Take Up?
By definition, a camper dishwasher is not supposed to take up a lot of space. However, you should decide whether you'll want one for your counter by the sink or beneath the counter, like a regular dishwasher.
Most compact dishwashers take up no more than 21″ long by 19″ wide. This is comparable to a standard microwave.
How Quiet Are RV Dishwashers?
Some RV drivers prefer a quiet ambiance, and a dishwasher might disrupt that ambiance. Most compact RV dishwashers do operate much more quietly than home dishwashers, and most brands do have a noise rating so that you can match it with your preference.
Built-in dishwashers can operate as low as 49dB. Countertop style dishwashers can produce up to 53dB when running.
Do you need to winterize an RV Dishwasher?
Yes! Any appliance that uses water should be winterized for storage.
Countertop models are extremely easy to winterize. All you need to do is drain and dry the unit before putting it away for storage. Built-in models can be a little more difficult since they are connected directly to your RV plumbing system.
Follow these steps to winterize your RV plumbing system and protect your dishwasher when temperatures drop below freezing.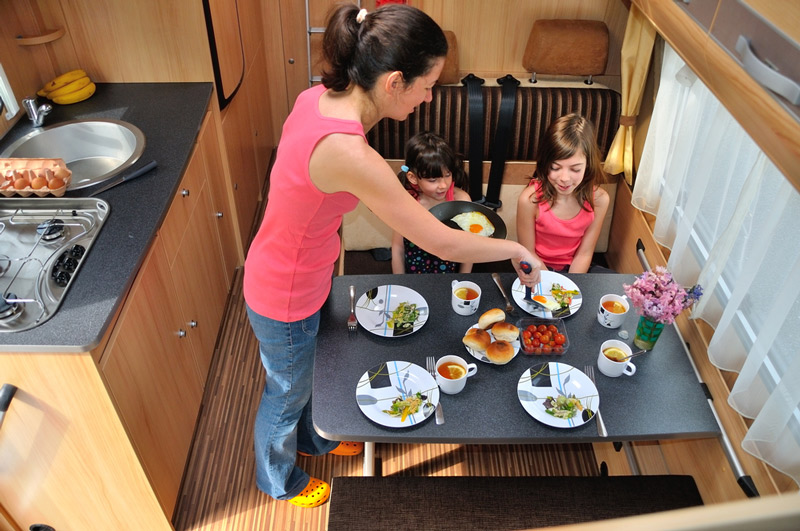 Do RV Dishwashers Let off Steam or Hot Air?
Sometimes, yes. We recommend you turn on your exhaust fan, so no vapors linger inside the RV.
Can You Use Regular Dishwasher Detergent with Camper Dishwashers?
This depends on the type of camper dishwasher you have. Most will require a mild detergent. Regular dishwasher pods often require too much soap for the tiny units so you may want to travel with a liquid detergent.
Can Only Small Dishes Fit into Camper Dishwashers?
Fortunately, an RV dishwasher drawer can fit a wide range of dishes. Most can accommodate plates between 10 and 12 inches and come with a cutlery basket for better organization.
4-6 place settings is a common capacity for an RV dishwasher.
You can also wash larger pots and other dishes, but it may require you to clean them by themselves since there won't be much room for other dishes. You might have better luck with larger dishes in a compact drawer dishwasher.
Do all Camper Dishwashers Require a Faucet Hookup?
Luckily, no. Some models have a tank that you fill up before you use it. However, those models still come with hookups and faucet adaptors if you decide to use your sink in place of the tank.
That said, while having a faucet hookup is convenient, it does not allow you to use the hooked up sink while the dishwasher is running. Depending on the hookup, it can be hard to undo everything just to use the tap.
What Unique Features Do Camper Dishwashers Come With?
Delayed start, for one, is a nice feature since you can set a timer for when the dishwasher runs. Some machines come with unique cycles that clean glass or china, or even baby toys and bottles.
We've even seen countertop models that come with a disinfectant function for fruits and vegetables! That's perfect after a day at the dirty campground.
The Best RV Dishwashers Reviewed
BEST BUILT-IN DISHWASHER
If you want a narrow dishwasher built right into your RV kitchen, the Vesta stainless steel dishwasher is a popular choice among travelers. It's got a quiet noise level and consumes just 1.7 gallons of water for each load.
This dishwasher comes with the capacity to clean 6 place settings so you can take care of the whole family.
Electronic controls and a stainless steel design give this model a modern look to match your kitchen design. This dishwasher does not come with a heat dry setting so there will be less water vapor released into your rig.
49 dB noise level
Consumes about 1.7 gallons per wash load
Electric controls
Stainless steel design
---
MOST PORTABLE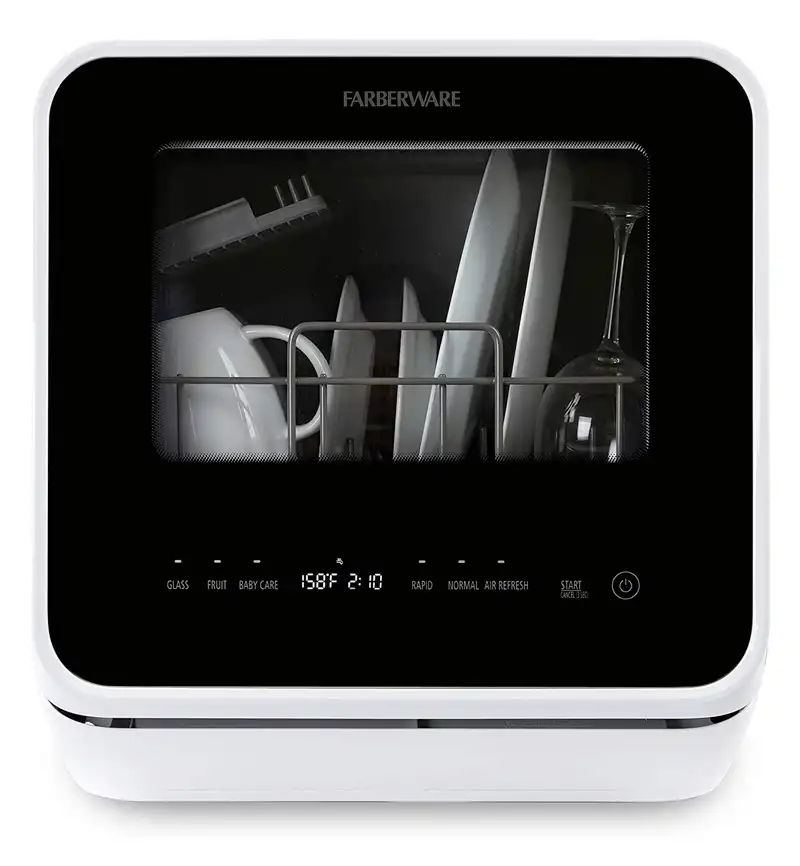 The Farberware dishwasher is compact and fully portable. It was designed to be used in boats, RVs, and campers without water hookups.
You can fill the freshwater tank using your sink faucet or with a pitcher. The unit uses just 1.3 gallons of water and can clean your dishes in under 40 minutes.
Measuring 17.3 x 16.5 x 17.3 inches, this is the smallest portable dishwasher we've reviewed. It includes five wash cycles: normal, rapid, baby care, glass, and fruit wash.
Washing cycles include fruit wash and baby care
5-liter built-in water tank eliminates the need for hookups
You can use detergent pods for cleaning, unlike other countertop dishwashers
The glass window allows you to watch the wash cycle
---
BEST WASH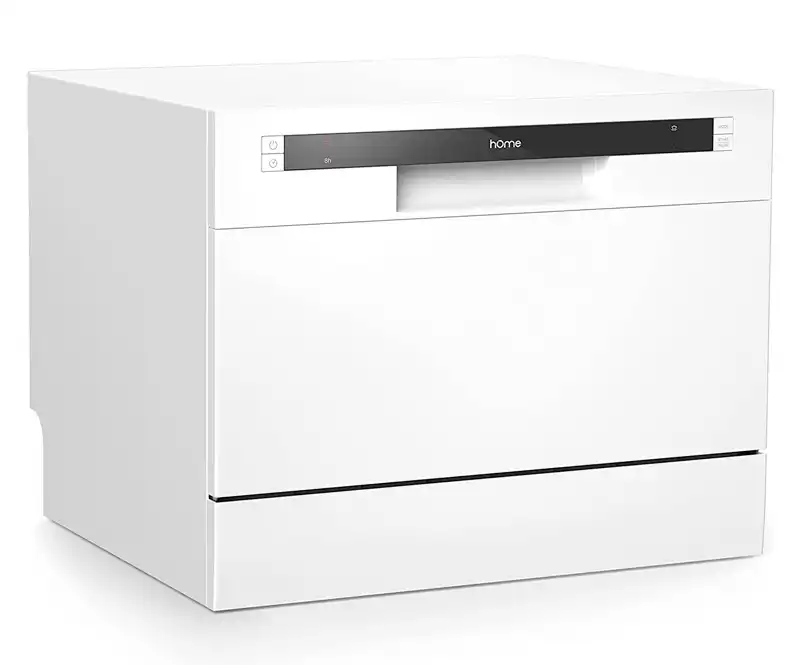 The hOmeLabs dishwasher measures 19.6 wide by 21.6 inches long. It's designed for tiny living spaces and uses 3.1 gallons of water per wash.
The dishwasher comes with six cycle options including heavy, normal, eco, glass, speed, and rinse. It also has an easy-to-use control panel with light indicators.
A delay settings allows you to time the load so your dishes can get clean while you're out on a hike for the day.
Six wash cycle options: heavy, normal, ECO, glass, speed, and rinse
Indicator lights let you know when the cycle is complete and to refill the dispenser
Comes with six standard place-setting capacity
Easy to set up to kitchen sink
---
BEST VALUE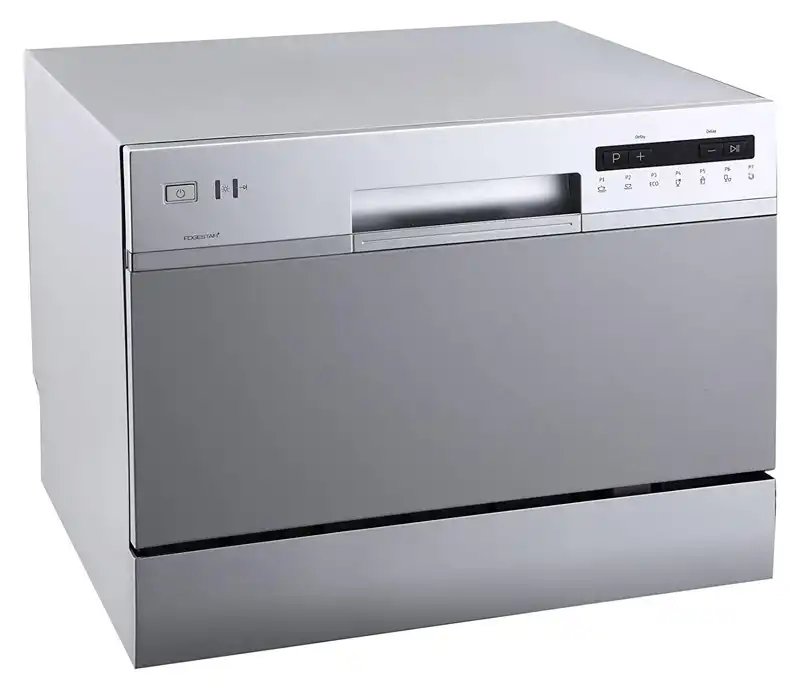 Thanks to the EdgeStar dishwasher's portable nature, you can move it anywhere around your kitchen. You will only use about 2.85 gallons of water at about 61% less energy than similar countertop dishwashers.
As usual, the EdgeStar has seven wash cycles and six place settings with a cutlery basket. A powerful spray arm gives your dishes a deep and thorough clean. Plus, an internal water heater gets the water temp up to 149 degrees, minimizing germs, bacteria, and spotting on dishes.
The quick connect faucet adapter allows you to hook the dishwasher to any faucet, along with a five-foot hose for better portability. You can even plug the dishwasher directly into the water line for better drainage.
Uses about 1160 W and about 2.85 gallons of water
Noise level of about 52.3 dB
Seven wash cycles with a quick connect adaptor for easy install
Dimensions of 21 5/8″ wide x 19 ⅝" long x 17 5/16″ tall can fit under most cabinets
---
That's A Wrap!
If you're planning on buying an RV dishwasher, there are a variety of factors to choose from.
We recommend the Vesta as the most popular built-in model. The Farberware countertop dishwasher is designed specifically for campers and RVs.
HOmelabs will give you the best clean, and Edgestar model is our top choice when it comes to value.
You Might Also Like: