RV Furniture – Everything You Need to Know
By
on
This post may contain affiliate links. As an Amazon Associate, I earn from qualifying purchases. Please read my full disclosure.
There are many things to consider when furnishing your RV. From comfort and functionality to style and storage. And if you're not careful, the process can end up costing a lot more than you anticipated.
In this blog post, we will explore everything you could possibly need to know about RV furniture. From where to buy it, to what kind of planning you should undertake beforehand. So read on and get started furnishing your home on wheels!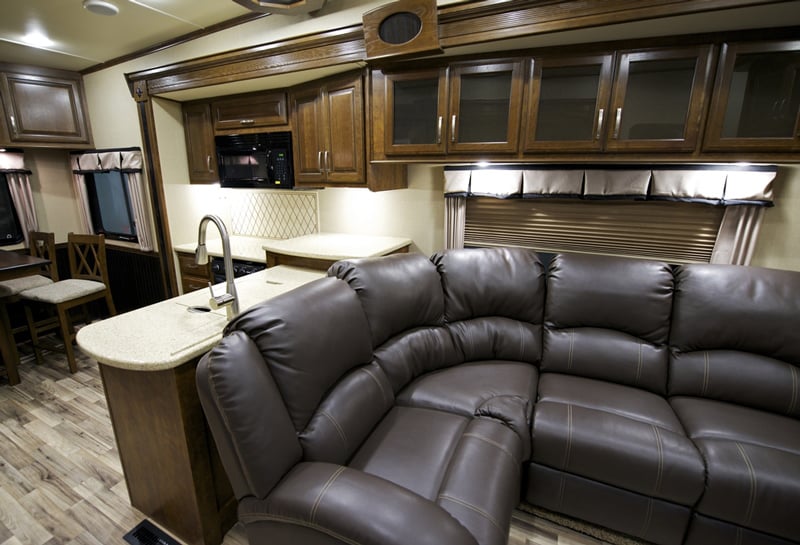 How Is RV Furniture Different?
RV furniture is not like household furniture. Instead, it's constructed for use in RVs, campers, and other mobile homes. It is typically made from lightweight, durable materials that can withstand the vibrations of life on the road.
Furniture designed for an RV is also usually made to be especially easy to clean and maintain. That's because it's often subject to spills, mishaps, and a wide range of temperature fluctuations.
There are many different types of RV furniture available, including loveseats, chairs, beds, and tables. It's often sold in sets that include all the pieces necessary to outfit an entire RV.
Some RV furniture is even designed to fold up, collapse, or be easily removed when not in use, making it even more convenient for those on the go. With the often limited space inside an RV, this can make much more efficient use of what is available and leave your mobile home feeling a lot roomier.
There are a few different types of RV furniture, depending on what you need it for. The most common type is the stereotypical dinette set, which includes a small table accompanied by chairs or benches. This furniture is perfect for dining in your RV, playing games, or working on a laptop, and most RVs will include one.
When it comes to the living area, something like an RV recliner or loveseat immediately comes to mind. These chairs are designed to slide forward on a track system, freeing up valuable floor space during the day.
No matter what your needs may be, there is sure to be RV furniture that will suit your taste and budget. Read on to find out about some of the key things to keep in mind when planning, and where you can go to get the best deals and widest selection.
Benefits of RV Furniture
Lightweight
Durable
Easy to clean
Withstands vibrations
Small or collapsible
Can be secured to the floor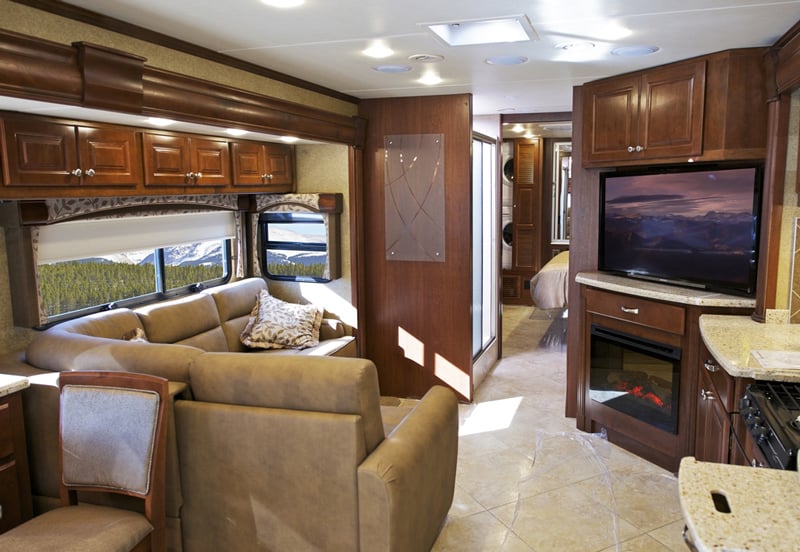 Why Is RV Furniture So Expensive?
RV furniture is often more expensive than comparable furniture for a home because it must be able to withstand the rigors of travel. It must be durable enough to withstand being jostled around on bumpy roads, as well as able to withstand being moved, folded away, bumped, and knocked.
Another reason is that RV furniture is designed to be compact and lightweight so that it doesn't add too much weight to the RV. This means that the materials used in RV furniture are usually more expensive than those used in regular furniture.
In addition, RV furniture manufacturers usually build on a smaller scale than traditional furniture, so there are fewer economies of scale to work with, which can drive up the price – this is particularly true if you're investing in custom-made furniture.
But just because RV furniture manufacturers typically make more expensive products, it doesn't mean that you have to overspend on them. There are plenty of ways to get high-quality, durable RV furniture at a price that fits your budget.
You can shop around for deals or look for used or gently used pieces that will still serve you well for years to come. With a little patience and effort, you can find the perfect RV furniture for your needs without breaking the bank.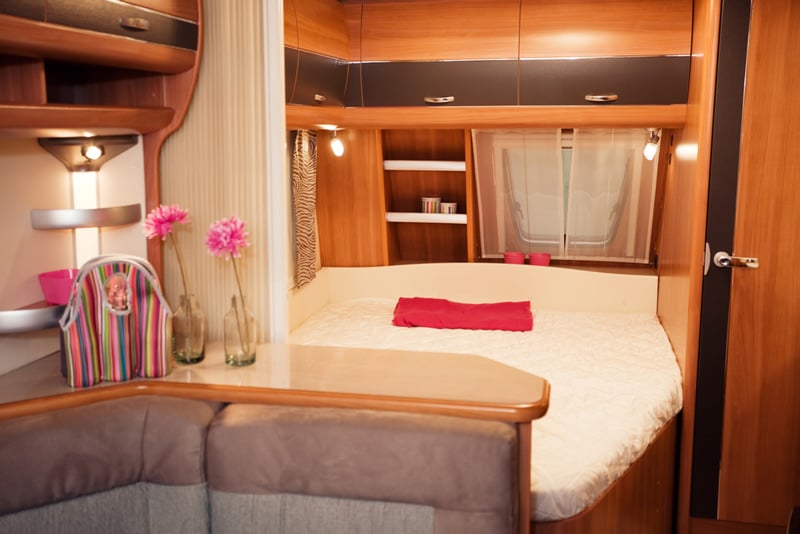 The Different Types of RV Furniture
When putting together a plan for fitting out your RV furniture perfectly, you need to make sure all the bases are covered. Here is a quick guide to the different types of RV furniture you'll come across:
Sofas – Sofas are a great option for RV furniture as they provide a comfortable place to sit and can be used as an extra bed if needed. There are a few different types of RV sofas that you might find in your search, including fold-out RV sofas and jackknife RV sofas.
RV Beds – Beds come in all shapes and sizes, from twin to king. You can choose from a variety of mattress types, including memory foam and air mattresses.
Bunk beds – Bunk beds are another popular option for RV furniture, especially if you have kids. They provide a place for everyone to sleep without taking up too much space.
Dinettes – Dinettes can prove invaluable if you're looking to save space in your RV while still providing a place to eat and socialize. Dinettes typically consist of chairs or benches and a table that can be folded or stored away when not in use.
Recliners – Recliners are a great way to relax after a long day of travel. They can also be used as extra sleeping space if needed. Recliners generally come in both manual and electric options.
Where to Buy RV Furniture?
There are a few different places where you can buy RV furniture. Usually, there are three main options – online, at an RV dealership, or at a store that specializes in selling RV furniture.
Camping World is one of the largest online retailers of RV furniture in the USA. They're known for their wide range of RV furniture manufacturers, types, and styles, as well as their generous after-sales service. A lot of their products also have a range of in-depth reviews from other customers, which should help you out in deciding if they are right for you.
Qualitex.com has a wide range of stylish and high-quality RV furniture ready to ship. They also have showrooms located in California and Texas, which you can arrange to visit. On top of great quality products, their experienced and knowledgeable customer service reps are on hand to answer any questions you might have.
Does exactly what it says on the tin – RV Furniture Center is an RV furniture market that has a range of sofas, mattresses, chairs, dinette booths, and more that would fit perfectly into an RV. They can deliver anywhere on the US mainland and also have a pretty cool clearance section.
IKEA
If you're looking for affordable and stylish RV furniture, then IKEA is a great option and can be ordered online as well as picked up from their stores. IKEA has a wide range of furniture for every room in your RV, from sofas and chairs to beds and storage solutions, sometimes even more suited to this purpose than what you would find in the RV furniture market.
IKEA furniture is a popular choice for RVers because it is designed to be easily assembled and disassembled. This makes it perfect for small spaces like RVs. IKEA's furniture is also known for its durability, which is important when you're on the road.
When shopping for RV furniture at IKEA, keep in mind that some pieces may need to be modified to fit into your space. For example, many IKEA sofas come with removable legs so that they can be shortened to fit into a smaller space. IKEA also offers a wide range of storage solutions for RVs, including shelves, cabinets, and bins.
Amazon & eBay
This list wouldn't be complete without a couple of notable mentions – Amazon and eBay. On both these sites, you can find a range of very reasonably priced RV furniture. eBay has the added benefit of featuring a lot of second-hand items, which can be great value for your money.
Provided you do your research well and take a deep dive into any reviews you can find, we think there are a lot of hidden gems to be found on both of these sites. Plus, sellers on both websites usually ship pretty fast, so make sure to check both out before making any major purchasing decisions.
RV Dealerships
RV dealerships themselves will often have a small range of individual furniture options available to pick from, or have custom options available for fitting out their own RVs before purchase. While this is often convenient and can save you a lot of time, it's usually not the best option in terms of value for your money or range of choice.
If you want to buy RV furniture from a store that specializes in selling RV furniture, they will likely have a much larger selection than an RV dealership. They will also be able to help you with any questions that you might have about the furniture.
RV Furniture Stores
If you know someone who has an RV in your local area, a great way to find out about RV furniture stores near you is to ask them where they bought their furniture. They might be able to recommend the best RV furniture stores for you to check out.
This also comes with the added benefit of them being able to give you a full rundown of the experience they had, including the after-sales service. Equally, they can also steer you away from any businesses where they've had a particularly bad experience.
The best RV furniture stores will sell both new and used furniture. New furniture can be expensive, but it will usually last longer and be of higher quality than used furniture. Used furniture can be a good option if you're on a budget, but it's important to inspect it carefully for any damage or wear before making a purchase, especially considering the returns policy on these items is usually less generous than for new furniture.
How to Choose the Right RV Furniture for You
RV furniture is a vital part of the whole RV experience. It should be comfortable, stylish, and functional. When we first started out on our van life adventure, it became clear very quickly that while our furniture all looked amazing and was perfect for Instagram pics, there was definitely a little work to do when it came to comfort and functionality.
The important point is, creating the perfect RV for you takes time and is a continuous process of making the small adjustments that make the big differences. If you can't find furniture within your budget that is perfect for you, don't fret! Think about the changes and alterations you can make after purchase to turn it into the perfect furniture for you. Rome wasn't built in a day.
When heading out to purchase RV furniture, we always recommend focusing on a few key aspects.
Size
Make sure to measure your RV before buying any furniture, as well as the furniture itself, if possible. You can't always trust the manufacturer when it comes to listed measurements. You want to be sure the furniture will fit comfortably in your space and that all the different elements you are pulling together will complement each other in terms of efficient space usage.
Keep in mind that many RVs have quite limited floor space, so you may need to purchase smaller pieces of furniture or look for multipurpose pieces that can be used as both seating and storage.
Style
Do you want a modern look or a more traditional style? Consider what kind of overall aesthetic you are going for in your RV. Then, take some time to plan a color scheme or general theme that pulls all your furniture and decor together. Just a little bit of planning can pay off hugely in terms of the overall look when all is said and done.
Comfort
Comfort is key when it comes to RV furniture. You'll be spending a lot of time sitting and relaxing in your RV, so make sure the furniture is comfortable for you. If you're purchasing your furniture online and won't get a chance to try it out before you buy it, make sure the company you're buying from has solid returns or exchange policies. This way, if your furniture turns up and is really not what you expected, you can make changes until you find the perfect setup for you.
Functionality
Think about how you'll be using your RV furniture on a daily basis. If you plan on entertaining guests, you'll need seating that is both comfortable and stylish. But if you're mostly using your RV for storage, then functionality may be more important to you than style.
Each piece of furniture you invest in should be picked to serve your tastes and your needs. After all, it's no use fitting out your RV with a selection of bunk beds if your guests will mainly consist of elderly parents!
Weight
When it comes to RV furniture, one of the most important considerations is weight. Unlike traditional sticks-and-bricks homes, RVs have limited space and need to be lightweight to be able to move around easily (and save on gas). That's why many RV furniture pieces are made from lighter materials like aluminum or composite wood.
But just because a piece of furniture is light doesn't mean it's not well-made or durable. In fact, some of the best RV furniture on the market today is designed to be both lightweight and long-lasting. When shopping for RV furniture, be sure to look for items that are specifically designed for RVs and that have a reputation for being high quality.
Durability
Choose furniture that is durable and will last for a long time. Remember, you're going to be using this furniture on a regular basis, so it needs to be able to withstand wear and tear. On this front, there will always be trade-offs to make when it comes to price vs quality. It's almost never a good idea to simply choose the cheapest pieces available so that you can get on the road – in the long run, you will have to repair or replace this kind of furniture much more often.
Investing in as high a quality furniture set as you reasonably can from a reputable seller will ensure that you can trust your furniture to keep you satisfied and comfortable for years to come.
Easy Care
Choose furniture that is easy to care for and clean. You don't want to have to worry about breaking, tearing, or staining your furniture every time you use it. Look for furniture that is easy to clean and doesn't require a lot of maintenance.
Soft fabrics and mesh-type materials are notorious for being vulnerable to tears and being a total pain to clean. When we're looking for new furniture, we always aim for materials such as vinyl, polyester, or wood if we're feeling fancy.
Easy-to-clean materials won't always look the best, but with the stress they could potentially save you from, we think it's usually the right choice. This is especially true if you have pets who love to get muddy!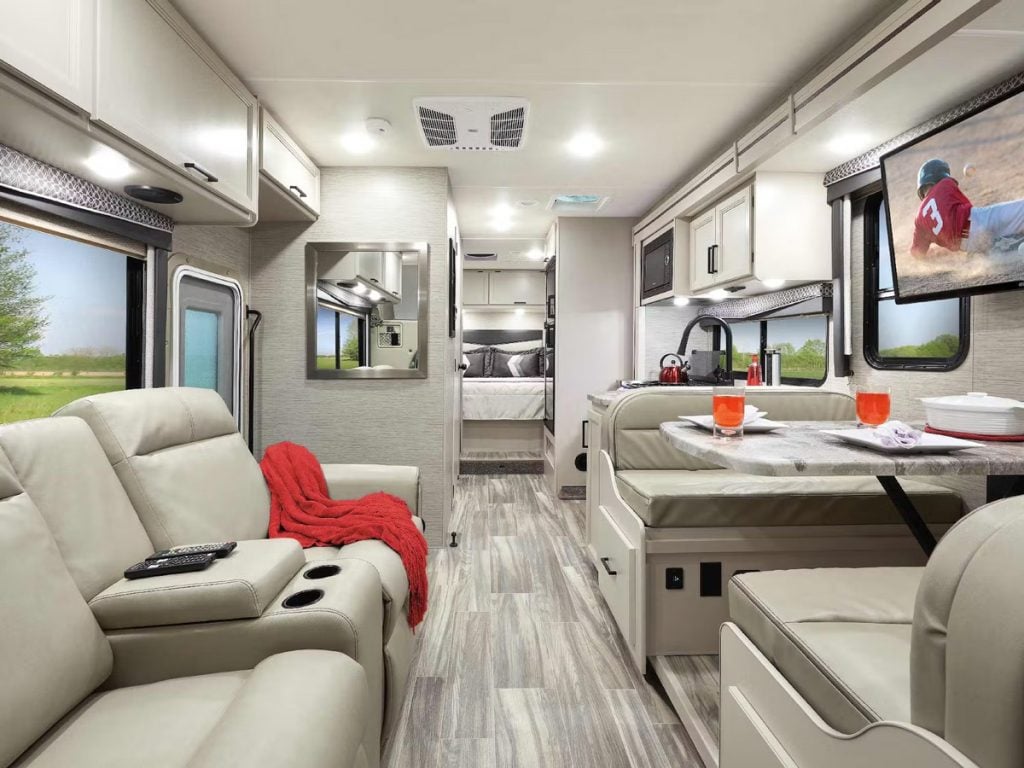 Can You Use Regular Furniture in Your RV?
If you're looking to save money on furniture for your RV, you may be wondering if you can use regular home furniture in your RV. After all, when it comes to second-hand home furniture, there's usually a huge amount of it available in any given town or city. The answer is yes, you can, but there are a few things to keep in mind.
First, make sure that the furniture will fit through the door of your RV. You may need to disassemble larger pieces of furniture to get them inside.
Second, keep in mind that most RV furniture is designed to be lightweight and easy to move around. Regular home furniture may be too heavy or bulky for your RV.
Third, make sure that the furniture is safe for use in an RV. Some materials, like fabric, can easily catch fire if they're exposed to heat or flames. Look for tags that confirm the materials used in the construction of the furniture are fireproof or flame retardant.
So, while you can use regular home furniture in your RV, it's important to be mindful of these potential problems. With those factors in mind, here are a few tips on using regular home furniture in your RV:
Choose pieces that are simple in design and construction, as these will be easier to move and set up
Avoid anything with fragile details or glass surfaces, as these can easily break during travel
Stick to neutral colors and fabrics that won't show dirt or wear easily
Look for multipurpose pieces that can serve more than one function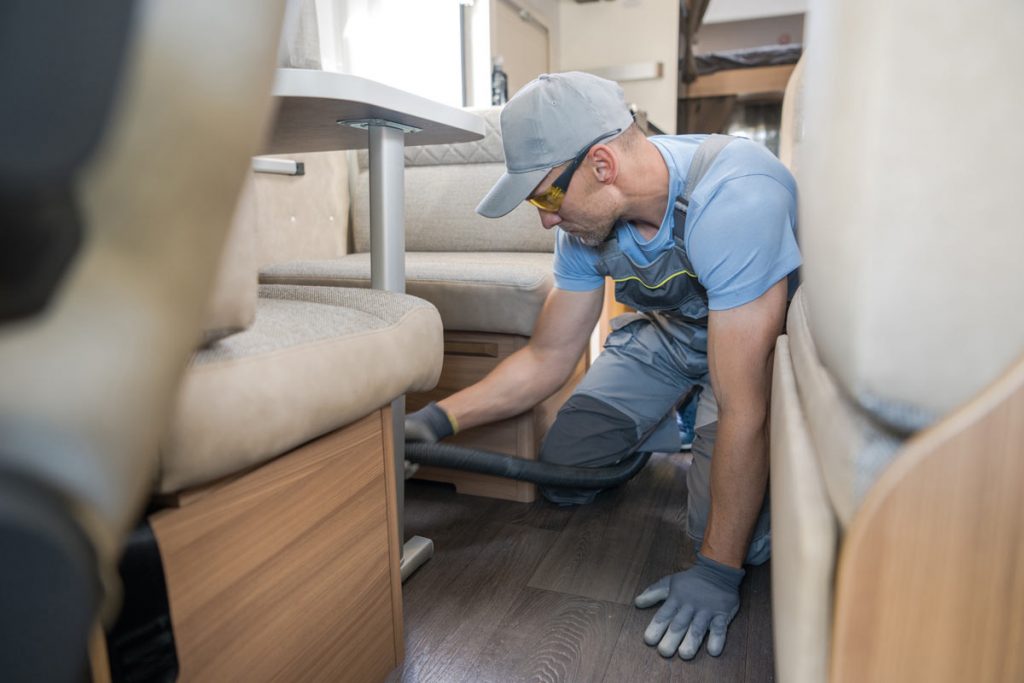 How Can You Secure Furniture in an RV?
There are a few different methods you can use to secure furniture in your RV by yourself. The most common way is to use straps or tie-downs that are specially made for securing furniture in RVs.
These straps typically have hooks or loops on one end that you can attach to most RV furniture, and then the other end attaches to a point on the floor or wall of the RV. This method is great for keeping things like chairs and tables from sliding around during travel, and the components are available in pretty much any hardware store.
Another option for securing furniture in your RV is to use bungee cords. These can be wrapped around furniture pieces and then hooked onto something nearby, such as a door handle or another piece of furniture. This method is less secure than using straps, but it's still better than nothing if you're in a pinch, so make sure to keep some handy.
Finally, you can also use Velcro strips to secure furniture in your RV. These strips can be attached to both the furniture and the floor or walls of the RV, and then pressed together to create a tight bond. Of course, velcro is more suited to securing light objects such as storage boxes, utensils, and appliances. If you're trying to secure a bed or a cabinet, a more secure method will be necessary.
It's important to make sure that furniture is securely fastened and will not move around during travel. This includes making sure that any drawers or doors are closed and locked, and that any loose items are stored away so they don't become projectiles in case of sudden stops.
The Bottom Line
RV furniture is a great way to add a touch of home to your RV. It can be tricky to find furniture that fits well in an RV, but with a little bit of planning, you can easily find the perfect pieces for your space.
The main points of contention that will usher you into furniture heaven rather than furniture hell are planning in terms of size, style, comfort, functionality, weight, durability, and ease of care. Along with shopping at one or more of the trusted sources set out in this post, you'll be well on your way to a perfect home on wheels!
Be sure to measure your RV before you start shopping so that you know what size furniture will fit, and take into account the type of furniture that will be most comfortable for you and your family/guests. With a little bit of effort, you can easily turn your RV into a personalized and cozy home away from home.