The Best RV Appliances For A Comfortable Road Trip
By
on
This post may contain affiliate links. As an Amazon Associate, I earn from qualifying purchases. Please read my full disclosure.
RV appliances can be a real lifesaver–or, at the very least, a major convenience. But which ones are worth your investment?
From refrigerators to dishwashers to recliners, these gadgets can keep you comfortable and entertained while you're on the go.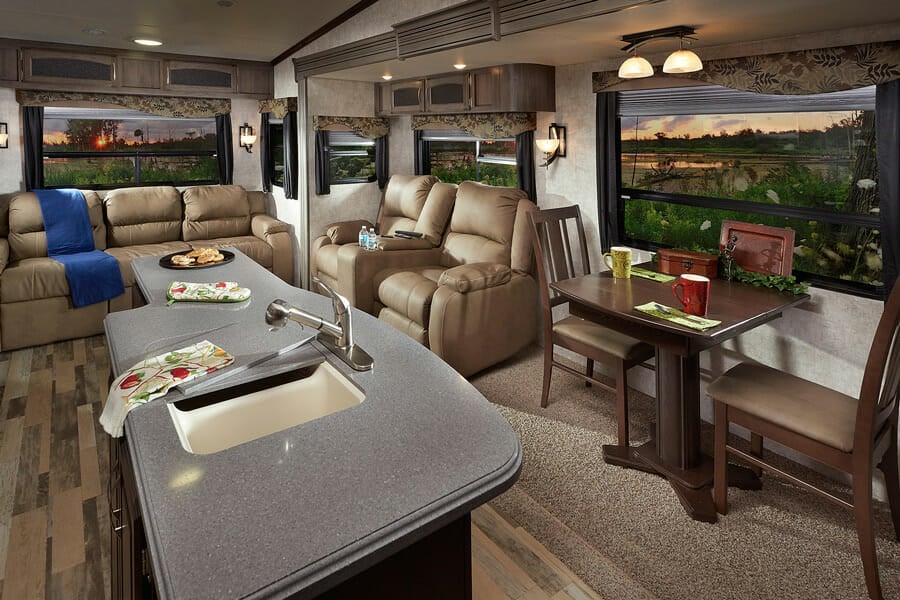 Best RV Appliances For Full Timers
There's a big difference between camping full-time and heading out on a weekend road trip. While some appliances may seem over the top, they are truly a lifesaver for those living the mobile lifestyle.
A portable washer and dryer is one thing that many full-timers swear by. Not only is doing laundry on the road convenient, but it also saves you a lot of moolah.
Instead of stocking up on quarters and spending hours inside a laundromat, why not just buy one of your own?
These RV washers and dryers are highly rated and designed to conserve water and energy.
Many campers are surprised to find that affordable RV dishwashers are even an option. But compared to hand washing, RV dishwashers use less water and are significantly more convenient.
Imagine finishing up with breakfast and hitting the trails without having to worry about cleaning up your mess and attracting bugs.
RV dishwashers are easy to install, energy efficient, and once you use one you'll never go back!
People who are camping for a weekend generally don't put much thought into keeping their RV clean. It's easy enough to wait until you get home to tidy up.
But for those who live on the road full time it's essential to clean as you go.
That's where a great RV vacuum cleaner comes in handy. Automotive vacuum systems can be installed right inside your cabinet to keep debris out of sight.
They have a long hose that can easily reach every corner of your RV without taking up a lot of space. And you don't have to deal with power cords!
RV Kitchen Appliances
You might be wondering who the heck would need an ice maker in an RV?
But as it turns out, there are a ton of reasons to use one! These things are surprisingly efficient. They can produce the first cubes in under 7 minutes!
A portable RV ice maker is simply convenient. They can freeze anywhere from 25-50 pounds of ice per day and do it on demand.
No more trips to the gas station or soggy sandwiches.
When it comes to the kitchen, no appliance is more important than your RV refrigerator.
Camping refrigerators are designed to operate in a variety of ways so they can keep your food cold at the campsite or while boondocking.
They're built to be jostled around, and switch automatically between electricity and LP gas operation.
If there's one thing most campers can't enjoy the road without – it's coffee.
Sure, there's plenty of different ways to make camping coffee, but why bother? An energy efficient RV coffee maker can get the job done in a fraction of the time with very little effort.
Most Comfortable RV Appliances
Just because you're parked at a campsite doesn't mean you need to sit in a flimsy camping chair. RV recliners are designed to be space savers.
How does it work?
They use a track system to move the chair portion forward before leaning back. These are called "wall-huggers" and they are perfect for a tiny camper.
Not only that, but RV recliners are lighter than a standard recliner. And they're built to be anchored to the floor.
Most people don't think about how important a dehumidifier is until they actually need one. If you've ever tried to camp in Florida, then you'll know what I mean!
Not only will an RV dehumidifier make your trip more comfortable, but it can prevent mold from growing in your walls over time.
Add a dehumidifier to your list of must-have RV appliances if you plan to spend a significant amount of time in the south!
The best camping takes place during summer! Unfortunately, that also makes it the most difficult time of year to cool down at then end of the day.
An RV appliance that you cannot camp without is an AC unit.
Whether you have an air conditioner or not, a vent fan is another must-have RV appliance.
The best RV vent fans serve multiple purposes, to cool you down and circulate the air. That can eliminate smells, moisture, and create a comfortable crosswind throughout your camper.
Many RV travelers prefer to install two vent fans because they are so effective at making a comfortable environment. Vent fans are also much more energy efficient than an AC unit and they work well off battery power while boondocking.
RV Bathroom Appliances
Long hot showers may seem like an impossible luxury if you're living in an RV, but they don't have to be. Tankless water heaters are a practical way to get on-demand hot water to your faucets with an unlimited supply.
These units are retrofit and easy to install. They'll allow you to get unlimited hot water with no recovery time. And you won't waste propane heating water in a tank that may never get used.
Having to break up your trip and head to an RV dump station is one of the most annoying parts about travel.
Regular RV toilets are notoriously bad for filling up your waste tank and wasting precious cargo space. Enter the composting toilet.
RV composting toilets can allow you to travel for weeks without stopping by a dump station. They use no chemicals and they can free up your black tank to use as a secondary gray-water tank.
Needless to say, this RV appliance is perfect for people who want to travel far off the beaten path.
Must-Have RV Appliances
Whether you are driving a Class A motorhome, or a 5th wheel trailer, every person should have a tire pressure monitoring system installed in their camper. In fact, it's required.
TPMS sensors will let you know when the tires are running low on air so you can pull over before you can pull over before a major accident.
These little appliances can be installed right on the valve stem of your vehicle and let you know if there's too-little or too-much pressure in realtime.
While we're on the subject of safety and convenience, why not throw a portable jump starter into your glove box?
These little devices can quickly get your motorhome RV started in the event that you've worn the battery out.
Not only are they helpful in a pinch, but they'll also provide excellent peace of mind during your travels.
That's A Wrap!
If you're in the market for a new RV, or just need to replace some old appliances, be sure to check out our top picks. Not only are they some of the best on the market, but they're also affordable and easy to install.
Happy travels!