Best Tent Heater For Cold Weather Camping
It can be a challenge keeping yourself warm when camping in cold weather. Beyond bundling up in layers, sitting close to the fire, and investing in the proper sleeping bag; tent heaters are another way to keep your body temperature in check.
In this article, we're going to cover a few basic tricks to stay warm when winter camping. Then, we'll review some tent heaters that work well in the coldest of temperatures. You'll learn what features to look for in a portable heating system for tents.
How To Stay Warm When Winter Camping
Whether you're camping in the snow or the temperature took an unexpected dip, no one likes going to bed frozen. Packing proper equipment is the best way to get prepared for a winter camping trip. Before you head off on your adventure, these are a few things to consider:
Dress in layers: Even in the coldest of temperatures, the sun is going to heat your body during the day; especially if you spend a lot of time moving around. Layers are the easiest way to stay comfortable. The layer closest to your skin should be a moisture wicking fabric like lightweight wool. On top of that you can wear a sweater or down jacket. The outermost layer should be a windproof or waterproof shell; preferably with a hood.
Wear a hat: Body heat can easily escape from your head. That means that hats will make the most noticeable difference in your comfort level. In winter weather we recommend sleeping with a warm hat that covers your whole head and ears.
Pack wool socks: Wool is a great material that wicks moisture away from the body while still leaving room for ventilation. Pack a few pairs of long wool camping socks to wear both during the day and at night.
Bring gloves and mittens: You may not want to sleep with mittens on, but they are a must-have for setting your tent up at night and cooking breakfast in the morning. Make sure to pack a durable pair that can handle firewood, rocks and dirt.
Chemical heat packs: Hand warmers are an inexpensive and often-forgotten piece of equipment that can make a huge difference in your comfort level. You can pick up hand warming packets at most outdoor stores and stuff them in your gloves when your fingers start to get cold.
Invest in a winter sleeping bag: Many campers invest in a high-quality sleeping bag that is rated to zero degree weather. One thing to be aware of, is these sleeping bags are rated for survival not based on comfort level. That means you'll still have to take extra precautions like wearing layers and a hat to get a good night's sleep.
Pack extra blankets: If you're car camping, you probably have the luxury of a little extra space in your trunk for blankets. Take advantage of this and bring multiple large, thick outdoor blankets. You can use them on the ground underneath your sleeping bag so less heat will escape when you're sleeping; or pile them on top of your body for maximum comfort.
Cuddle up: When camping with a partner that you feel comfortable with, body heat can be the cheapest and easiest way to raise your body temperature a few degrees. Don't be afraid to sleep close together at night. You might even consider a double sleeping bag!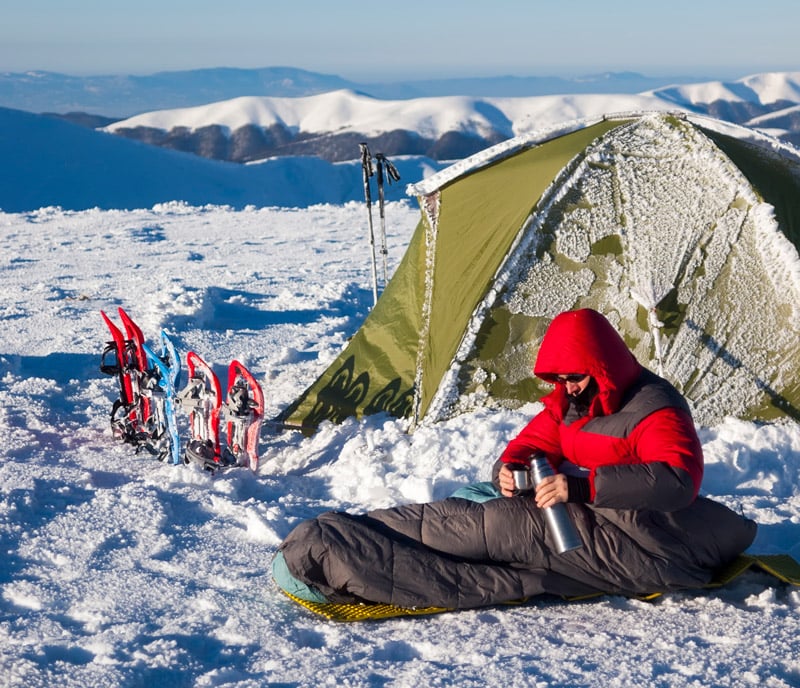 Hot Water Bottle Method
One trick we used to stay warm when winter camping in our camper van conversion was the hot water bottle method. It's a cheap and easy way to heat your body without electricity or fuel. The method works like this: boil some water over a campfire and pour it into a water bottle or covered container. Filling the container 3/4 full is all it takes. Wrap the bottle with a towel or cloth while pouring and be careful not to burn yourself. Seal the lid tightly, then store it in your sleeping bag next to you at night.
The water bottles can stay warm for 6-8 hours making it perfect for a night of sleep.
FIND FREE CAMPSITES
The Dyrt Campground Finder
This is our favorite app for finding free campsites & public campgrounds.
Download offline maps with Public Lands, National Forest, and Bureau of Land Management boundaries.
44,000+ public and private sites listed. Over 1 million campgrounds reviewed.
TRY 30 DAYS FREE
Winter Sleeping Bags
You'll want to pack for a 4-season sleeping bag for winter camping. Down sleeping bags with waterproof and breathable fabrics are going to be the most comfortable. A high volume of loft and fill material will keep you the warmest overall. That's because there will be more insulation between you and the outside air.
Winter sleeping bags with high quality down (measuring over 800) are going to be able to withstand the coldest weather. But they're also going to be the most expensive. Picking the right sleeping bag that fits within your budget and temperature constraints is a bit of a balance. If you pack lots of layers and consider the hot water bottle method you will be able to get away with a less insulated bag. These are our top choices for winter camping sleeping bags:
Double Sleeping Bags
Two person sleeping bags are another practical method to stay warm in the tent. Similar to winter sleeping bags, the warmest ones are going to be filled with breathable down fabrics. Double sleeping bags are bulkier than single sleepers–so they're more difficult to pack. But they work especially well with families or couples that enjoy camping together. These are our top recommendations for double sleeping bags: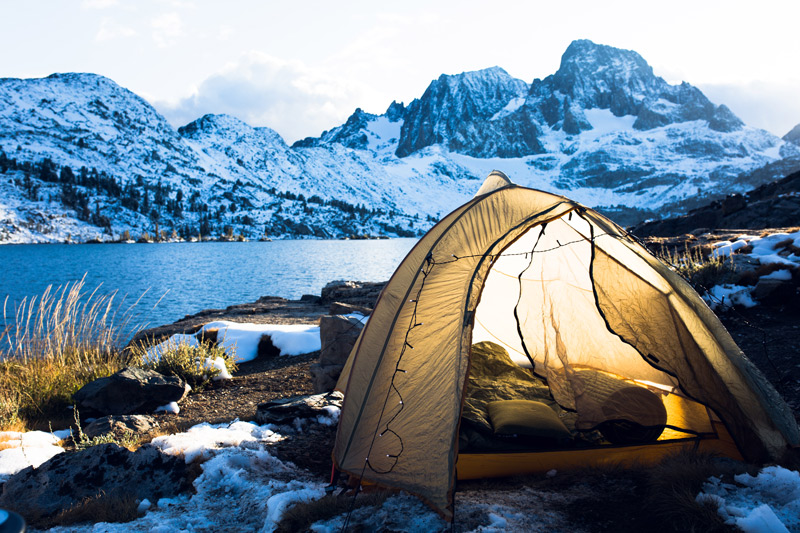 Tent Heaters
In the most extreme conditions, a tent heater is worth consideration.
Tent heaters aren't a common piece of equipment for campers, but there are circumstances in which you'd want to use one. Family camping trips are the perfect example. You might not be able to get the spouse or the kids to "buy-in" to a winter camping adventure without the promise of a heater.
Car campers and RV travelers can benefit from a heater because they have the space to pack one.
If you're camping at an established campground with hookups, a portable electric heater is a safe and convenient accessory thing to bring along.
Finally, it's good to remember that portable heaters can be used outside the tent as well. With the luxury of a heater, you can set up a warm area next to your picnic table or chair and play cards comfortably; even in cold weather.
Types Of Portable Camping Heaters
Electric Heaters
When it comes to portable outdoor heaters, electric heaters are by far the safest. They don't put out any dangerous gases so you don't have to worry about carbon monoxide buildup in your tent. You can run them all night long without concern. Electric heaters are also easy to adjust so you can keep the temperature consistent.
Some might consider this the best type of heater for a camping; but there is a caveat. Electric heaters take a lot of energy to run. You should only use an electric heater for winter camping if you're spending the night somewhere with electrical hookups.
Electric Heaters and Solar Power
Often van life travelers will inquire about using an electricity to heat a camper van. Unfortunately, that's not a very practical solution. Most electric heaters use between 500-1,500 Watts of power. And if you stick those numbers in our solar calculator you'll quickly notice how big of a solar system that would require.
Electric heaters are power hogs. They are not the type of heater you can take too far off grid without draining batteries. For that type of camping experience, you'll want to look into gas heaters–which are next on our list.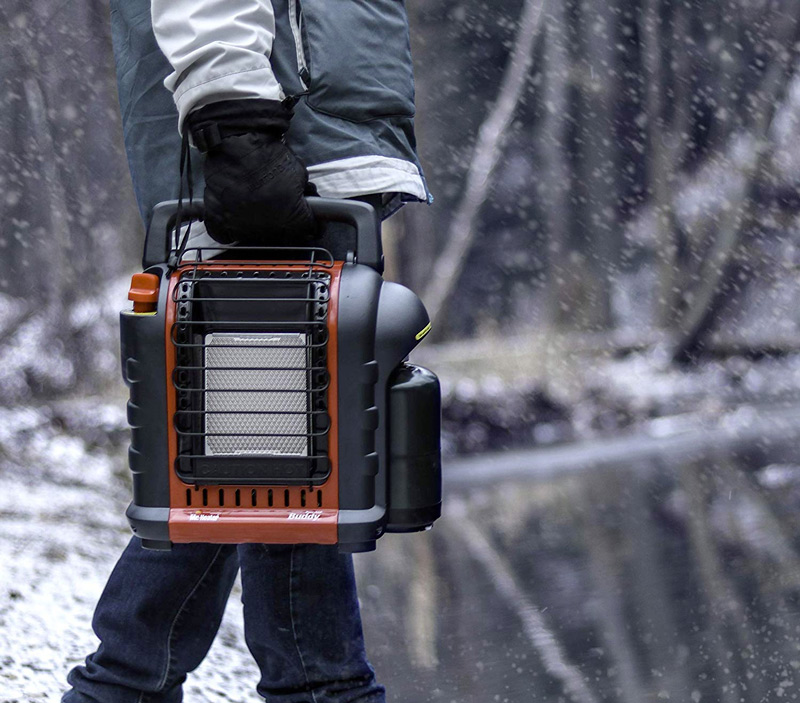 Gas Heaters
Portable propane and butane gas heaters are the best for primitive camping. They require no electricity to operate, the fuel is inexpensive, and they can get burning hot.
Unfortunately, they do release harmful gases such as carbon monoxide so it's extremely important to take proper precautions when it comes to ventilation. If you use a gas heater inside a tent, you should have all windows open to allow for proper airflow.
Gas heaters are best for outdoor use or ventilated spaces. They can heat a room up to 300 square feet so people like to use them in small cabins or ice fishing houses. Another great use is when you want to keep warm while sitting in a chair or hammock at the campground.
Propane vs Butane Heaters
Propane and butane heaters work similarly, but there are a few key differences to keep in mind. For one, consider the type of fuel you're traveling with. If you are already using propane for cooking, it would make sense to use the same type of fuel for your heater. Propane fuel can come in individual canisters or in larger tanks that can be refilled during travel. Butane canisters are disposable and cannot be refilled.
Butane fuel is denser making it slightly more expensive per BTU to heat. It also does not work as propane in temperatures below 30°F. You may need to warm a butane canister before the flame will ignite.
Both types of gas work well in portable heaters. Generally, butane stoves have a clip-in connector and propane stoves have a screw on connector.
Battery Powered Tent Heaters
Battery-powered heaters might seem like the best option for camping. They would require no electricity or gas and they wouldn't off-gas carbon monoxide. But as we mentioned earlier, heaters require a lot of power. At this point in time, battery powered heaters are simply too impractical and cumbersome to use for any reasonable length of time.
Until batteries become even more advanced, it's best to stick with an electric or gas heater.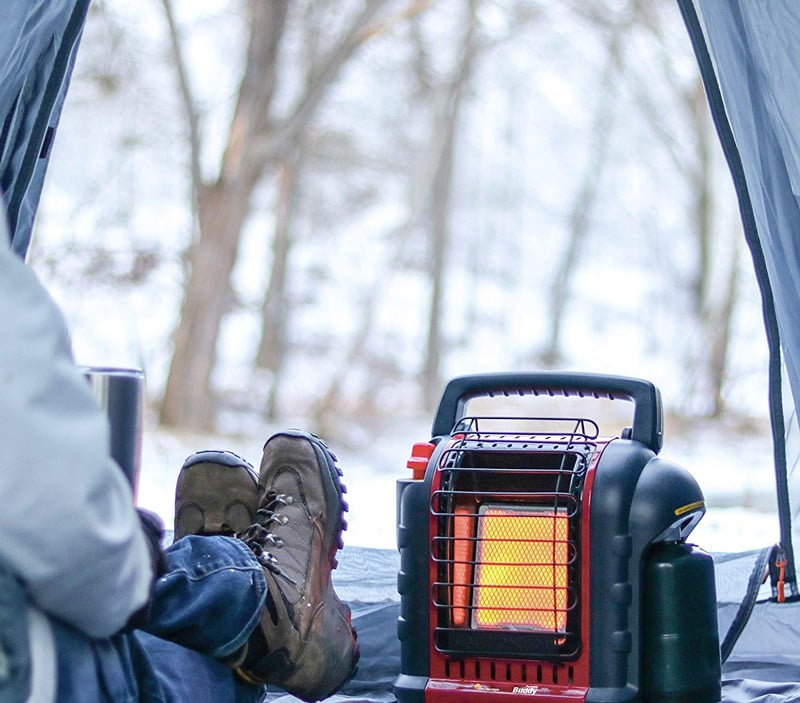 Features To Look For In A Tent Heater
Once you decide on the type of heater that's best for your trip, it's time to start looking into specifics. Listed below are some of the main considerations to keep in mind.
Size
While it may be tempting to get the biggest heater possible for your tent, it's important to consider space constraints and your use case.
Heaters are fire hazards, so they should never be touching you or any linens as you sleep. It's best to get a unit is small enough to stay away from you and other campers during the night. When in doubt, opt for a smaller heater. Small heaters are also going to use less fuel and they'll be more portable.
BTUs
Heat output is measured in British Thermal Units or BTUs. For most RVs and campers, an output of 1,000 to 5,000 BTUs is plenty for a camping heater to keep your rig warm on a chilly night. Many tent heater models have an adjustable climate control setting. The lower the heat output, the less electricity or gas it's going to use.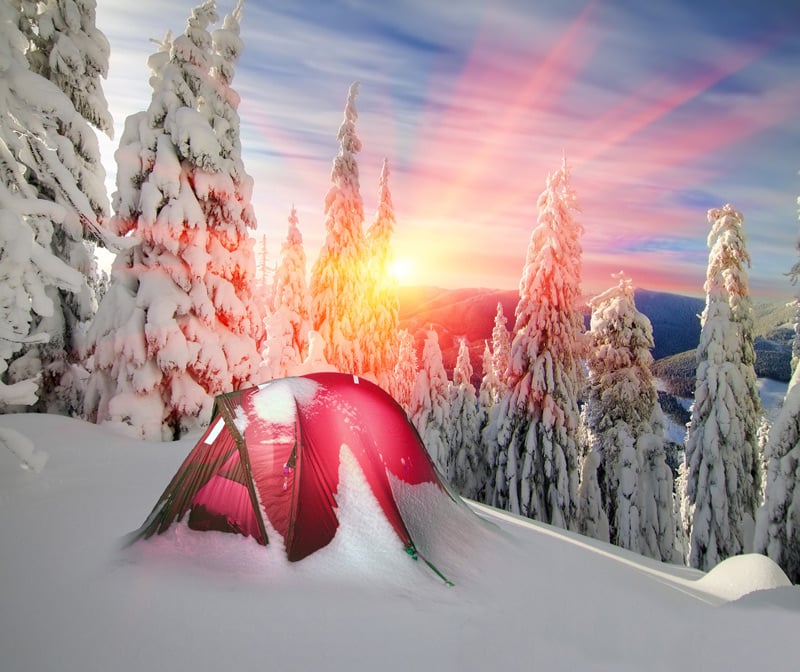 Safety Features
It's always crucial to take safety into consideration when using a heating device. Gas heaters can produce carbon monoxide, which is tasteless and odorless. When inhaled, it can lead to symptoms such as headaches, weakness, dizziness, blurred vision, nausea, and even loss of consciousness. For that reason, gas heaters should always be used in a properly ventilated space.
Many gas heaters have safety features that prevent them from causing problems such as carbon monoxide poisoning. Look for heater with an automatic shut off mechanism. These will turn off the device when oxygen levels drop too low. Some offer a built-in carbon monoxide detector.
Whether you're using a gas or electric, check to make sure the heater has a tip-over shut off. That can prevent burns or fires by shutting down the heater if it's not placed in an upright position.
Using A Tent Heater
Every tent heater is different, and the assembly manual should give you detailed instructions as to how to set up your unit. It's best to place your heater in an area with little foot traffic and well away from any bedding, clothing, or other flammable objects.
Always use your heater at the lowest setting that's comfortable for you.
Best Tent Heaters Reviewed
We've put together a list of our favorite tent camping heaters based on performance, affordability and features. These heaters are going to make a big difference when it comes to camping in the coldest of temperatures.
BEST PROPANE HEATER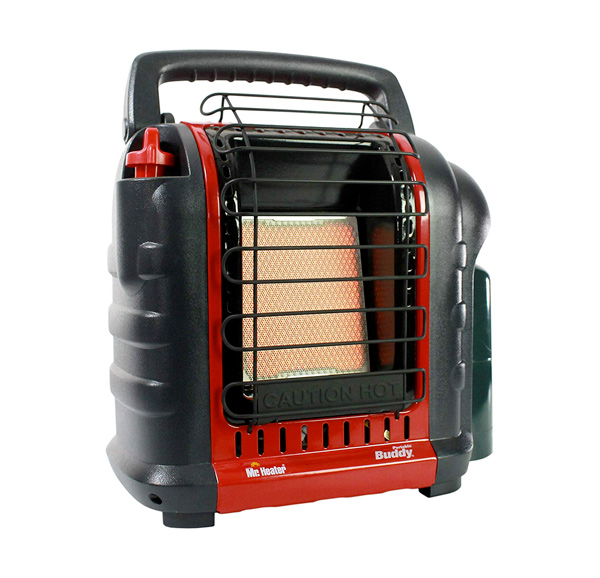 The Mr. Heater Buddy portable propane tent heater is the best value when it comes to propane. This heater has two heat settings up to 4,000 and 9,000 BTU per hour. It can efficiently heat spaces of up to 225 square feet which is more than enough for a campsite.
This propane heater has a variety of safety features including a high-temperature wire guard to help protect against accidental burns. There's also a safety shutoff mechanism to guard against carbon monoxide poisoning, and an anti tip over shutoff switch.
This heater is compact and has a handle, making it easy to transport and store when not in use. It makes for a great heater when boondocking or camping off grid.
One thing to keep in mind with this heater, is the low oxygen shut off switch can be triggered by high altitude. You may encounter performance issues when using it above 7,000 feet elevation.
BEST ELECTRIC HEATER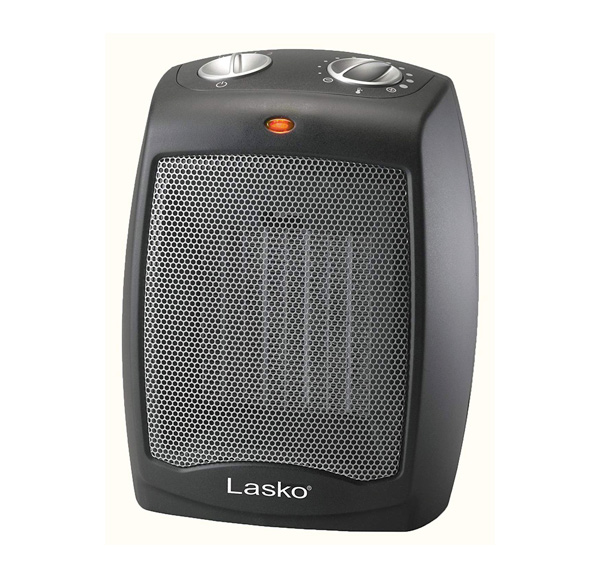 The Lasko electric heater is the most adjustable on our list with eleven different temperature settings at the turn of a dial. You can also switch it to fan only depending on the outside temperature.
This heater has no chemical off-gassing and features overheat protection, reducing the risk of fires with prolonged use. A cool-touch exterior helps to ensure that you don't burn yourself when using the unit.
It can quickly heat a room using up to 1500 Watts of electricity making it ideal inside an RV or tent camping site with hookups.
BEST BUTANE HEATER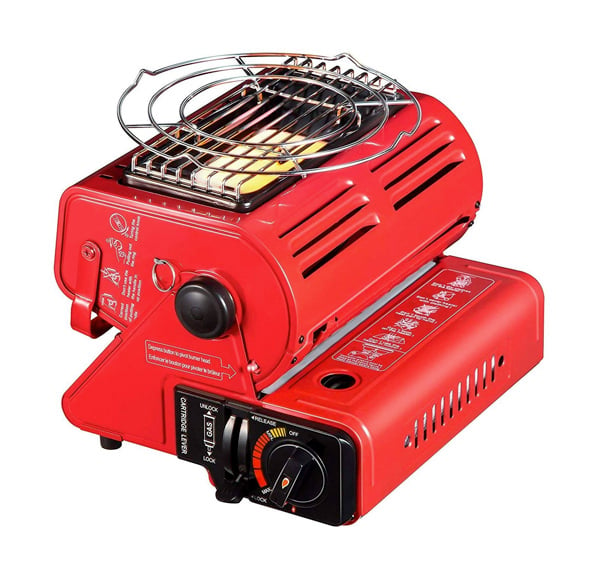 Camplux
Functions as both a heating a cooking system
Heats a large space for up to five hours
Built-in pressure sensor safety system
CHECK LATEST PRICE
Best Butane Heater: Camplux
The Camplux Portable Butane Heater has a heat output of 4,400 BTU per hour and can reach its full heating capacity in as little as five seconds. One can of butane can heat your space for up to five hours.
The heater is easy to set up, and it works at multiple angles. The Camplux is versatile, functioning not only as a heater but also a stove, a toaster, and more. It allows you to both warm your space and cook meals at the same time. Just be careful, as there's little to protect you from burns.
A built-in pressure sensor canister ejection system along with a gas flow cut off mechanism ejects the butane canister at overheating, helping to keep you safe.
While this heater is more expensive than the Mr. Buddy models, it offers everything that you need in a heating source with a highly efficient design. The Camco Olympic Wave 6 is uses a catalytic heating system, making it over 99.9% efficient to help you save money and reduce your carbon footprint.
The heater is adjustable between 3,200 and 6,000 BTU, producing enough heat for up to 200 square feet of space. It operates on low-pressure HD-5 propane gas to ensure safety.
The Olympic Wave 6 also boasts a safety shutoff valve. This prevents accidental non-ignition fuel discharges, keeping your camper safe, secure, and above all, cozy.
BEST PERSONAL PROPANE HEATER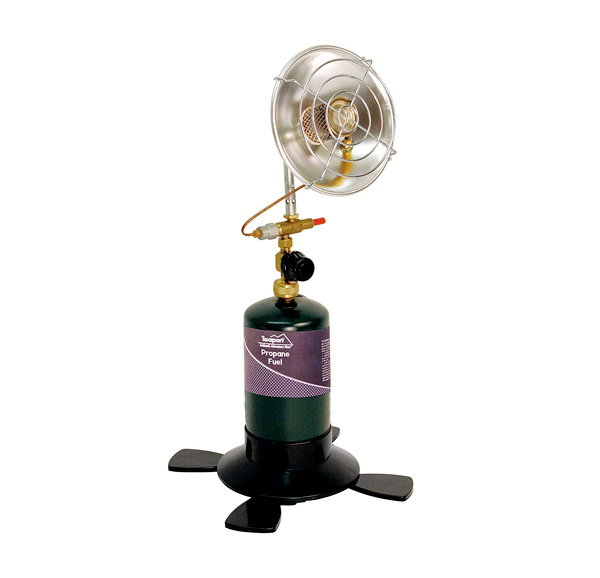 Best Personal Propane Heater: Texsport
The Texsport propane tent heater is the smallest and most compact heater on our list. You can use it as a handheld device, or it can attach to a fold-away plastic base for heat from above. It's designed for the outdoors, adjusting up to 2,890 BTUs making it best for personal use.
It can attach to both 16.4 oz and 14.1 oz propane fuel cylinders. The burner is made of stainless steel for durability, and has a built-in safety grid for ease of use.
While the Texport does have a few safety features in place it does lack a tip over switch or low oxygen shut off. That means you'll have to pay close attention to your surroundings.
That's A Wrap!
If you're struggling to stay warm, you may want to invest in a camping heater. When it comes to electric heaters, the Lasko Ceramic heater is our top choice. Mr. Heater Buddy is a great all-around propane heater for off-grid camping. And the Camco Olympic Wave 6 is a good choice when it comes to efficiency.
On a budget? The Texport is the most affordable choice, while the Camplux is the most versatile and can be used for both cooking and heating.
Continue Reading: