The Best RV Sewer Hose For Your Black Water Tank (Review)
By
on
This post may contain affiliate links. As an Amazon Associate, I earn from qualifying purchases. Please read my full disclosure.
When it comes to RV equipment and accessories, you tend to get what you paid for. More often than not, this equipment will come with pieces that don't live up to the quality of the product as a whole.
That being said, one of the most common accessories that tends to go wrong is the RV sewer hose.
No one gets excited over an RV sewer hose, but many people definitely get frustrated and angry over this necessary item. Save yourself the stress and buy the right one on the first try. With this guide, we'll help you nail it and check it off your list.
TOP CHOICE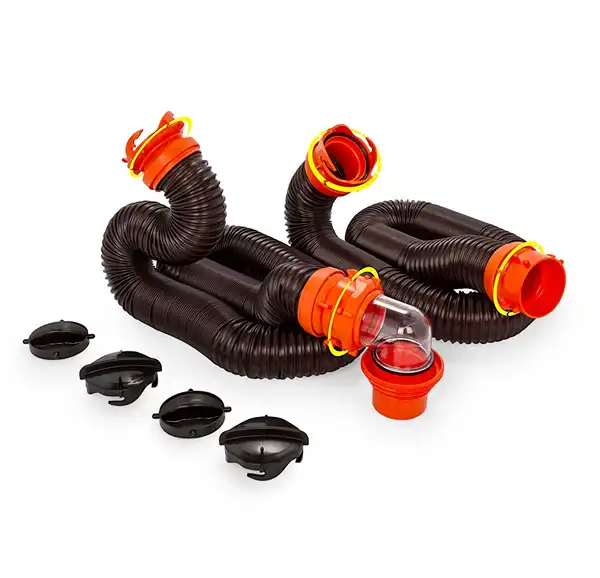 MOST VERSATILE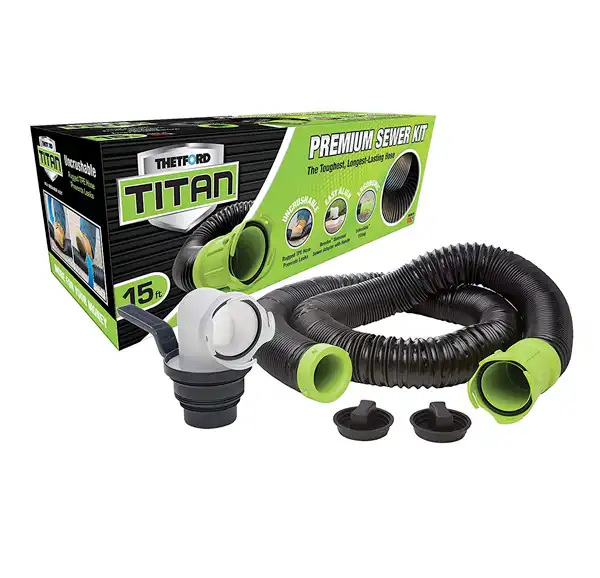 GREAT VALUE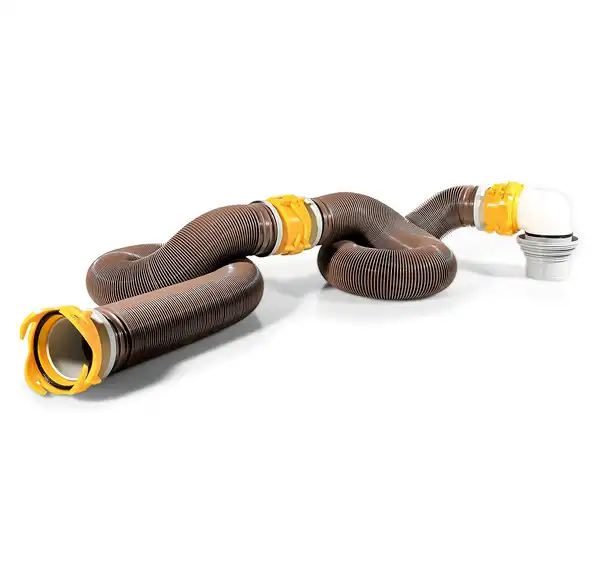 Features to Look for in an RV Sewer Hose
A hose seems like a pretty basic item to purchase. After all, how many different RV waste hoses can there be? You'd be surprised to see all of your options.
Since there are so many to choose from, we put together a buying guide to tell you what you should be looking for. Read through and use this information to help you make an informed purchase for your RV dump hose.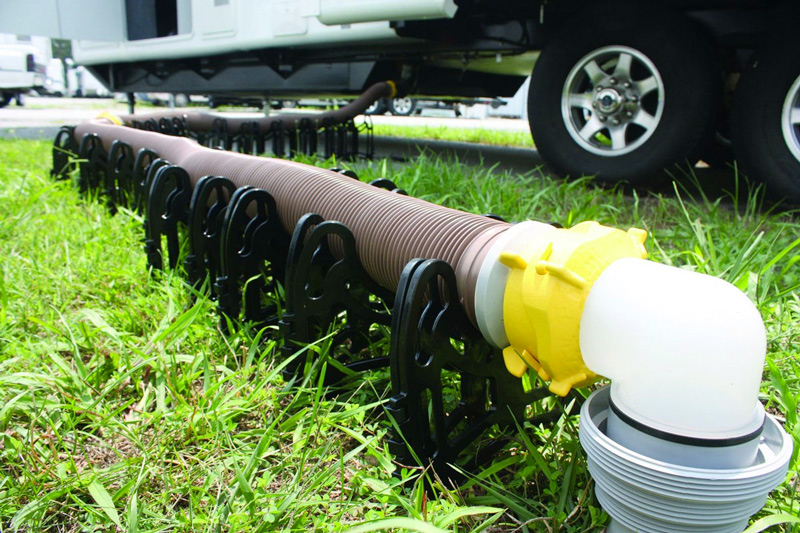 Length & Thickness
The size of your RV waste hose is probably the first thing you should consider. The most common lengths are 10, 15, and 20 feet. In addition, you can also purchase extension pieces to make your hose longer.
The length of your hose depends on where you intend on taking your RV. If you're going to have immediate access to a dumpsite, you shouldn't need a hose that's too long. However, no one wants to be standing directly next to a dumpsite, so most people aim for 14 to 20 feet.
As for the thickness of your RV hose, that depends on how often you need to use it. Those who are using their hose very frequently should aim for a higher thickness, while those who don't use it very often can use less-thick hoses.
The average size is 23 millimeters, or just under an inch. Thicker models may be a bit heavier and harder to store, but they last longer and hold up during frequent use.
Storage & Portability
It can be difficult to find a balance between a good size and the ability to store your sewer hose. Larger hoses make it easier to empty your waste quickly, but they can also be bulky and hard to put away.
The best solution to this problem is to find a sewer hose that is collapsible. There are many of these types of hoses on the market that are quality products. A collapsible hose will take up much less space than one that doesn't collapse.
Though they tend to cost a little more, they're worth it in the long run. Make sure you check out your storage space and take some measurements before you buy your hose. Remember that a lightweight hose will also be easier to move around and setup.
Flexibility & Flow
A good flow rate is what helps you avoid clogs and trust us; no one wants to deal with a clog in an RV sewer hose.
The size of your hose's diameter will determine your flow rate. Most people go with a 4-inch by 4-inch opening. Of course, like the thickness of the hose, someone who plans on using their hose frequently might want to consider a wider opening. This will help move along the process.
Flexibility is also important as it keeps your hose from breaking or tearing. The more flexible the hose, the easier it is to handle. It will also hold up better during the colder months in the winter. Finally, you need to be able to stretch out your hose easily to reach the dumpsite.
The best way to determine hose flexibility is to view it in person (if possible). If not, you can look into the product's FAQs or customer reviews for answers.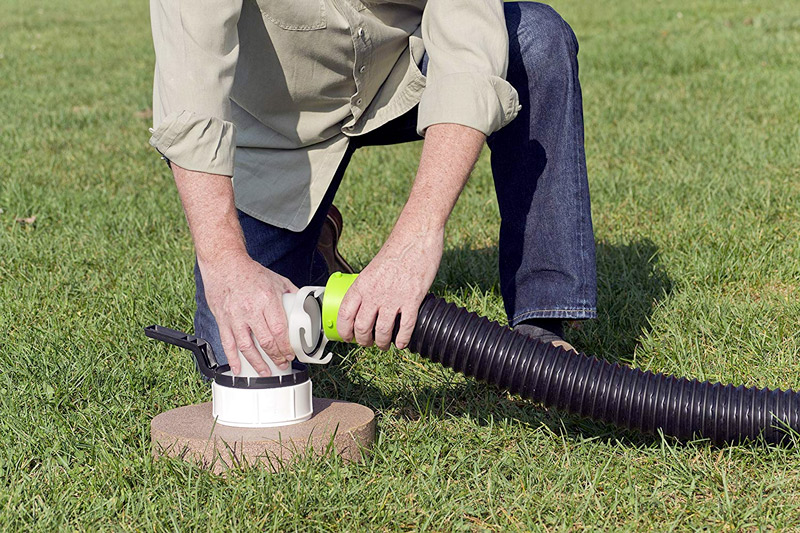 FAQs
I would be surprised someone who is new to RV waste disposal didn't have any questions. Below, I have some common questions that I frequently hear about RV sewer hoses. Take a look in case you still have some lingering thoughts.
How important is a good RV sewer hose?
If you don't have a quality sewer hose, you are more likely to deal with a frustrating, gross process rather than a smooth, clean one. Think about the kind of wastewater you're removing from your RV. No one and nothing should ever come into contact with that waste.
When you buy a low-quality RV dump hose, you heighten the risk of leaks and malfunctions, which can lead to a huge, unsafe, and quite frankly gross mess. A high-quality hose ensures that your waste removal process is as clean and seamless as possible.
How do you connect an RV waste hose?
Connecting your RV waste hose is a fairly simple process. All you have to do is attach one end of the hose to your RV's tank, and the other to the dumping area. Some RV sites have specific openings where you can attach your hose, while others pour into a dumping site.
What accessories should you get?
While you technically don't need to purchase any additional accessories to use your RV sewer hose properly, there are a few things you can get to make the process easier on yourself.
How to dump your RV black water tank
Park your RV next to the dump station
Place one end of the sewer hose into the sewer connection on the ground
Connect the other end of the hose to the dump fitting on your RV
Open the black water dump tank valve
Let the tank empty then rinse the sewer hose with clean water. You can do this by flushing your toilet or running a sink sprayer into the toilet.
Close the black water valve and open the gray water valve
Again, let the tank drain then follow up by rinsing the hose with clean water from your sink
Shut both valves and lift the hose so any remaining liquid drains into the sewer
Wash out the sewer hose with clean water – do not use your potable water hose!
Put the caps back on and store the hose
Best RV Sewer Hoses Reviewed
If you're still uncertain about what to buy and aren't quite ready to jump in on your own, take a look at these highly-rated products. Each of these sewer hoses are designed by reputable companies in the RV world and come with high ratings from long-term campers.
TOP CHOICE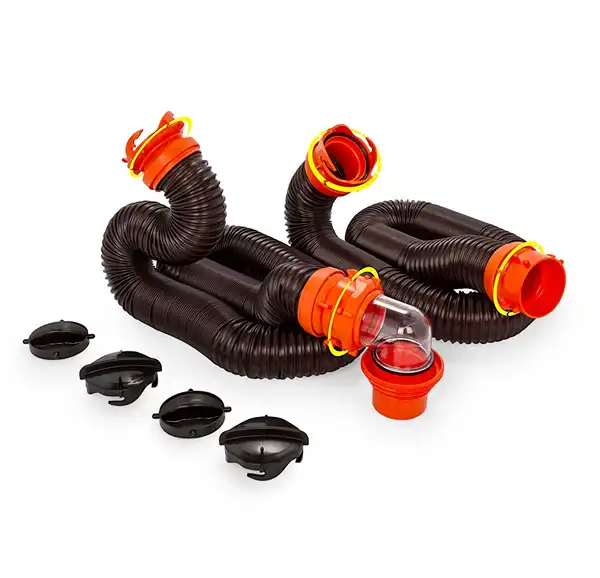 The Camco RhinoFLEX RV Sewer Hose is a best-seller for a reason. This easy to use and hassle-free product comes in three lengths: 10 feet, 15 feet, and 20 feet. It includes everything you need to rid your RV of waste with zero frustration successfully.
For an excellent price you get not one, but two sewer hoses in a package with pre-attached bayonets and lug fittings, a translucent elbow piece, and four storage caps. The twisting lock connectors and swivel fittings make it easy to attach and detach so you won't have an issue with this hose.
Made from polyolefin, this 23-millimeter hose is made to last with durable construction. It's also reinforced with steel wire to ensure it doesn't lose its shape or interrupt the flow. It folds down to a compact size for easy storage and connects to 3-inch, 3.5-inch, and 4-inch sewer connections.
MOST VERSATILE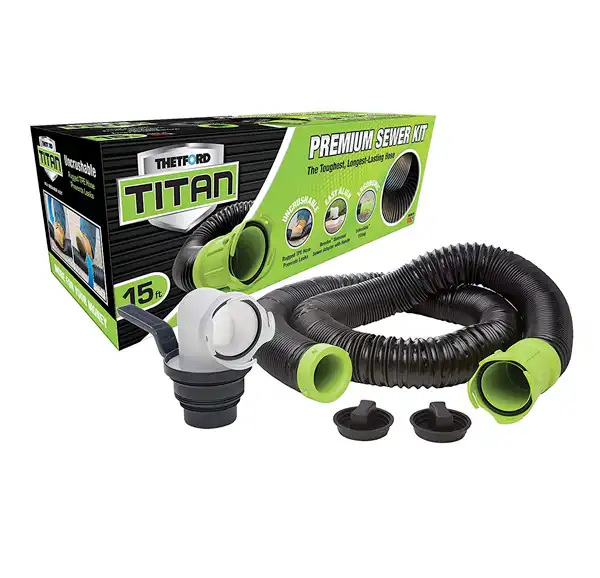 With 15 and 20-foot sizing options, the Titan Premium RV Sewer Hose kit makes it very easy to mount and dispose of your RV's wastewater.
This durable product is designed to prevent leaks and maintain its shape. Even after being stepped on, stuck under something, or run over by a car, this hose pops back into shape, ready for continued use. It's temperature-resistant and combats punctures and abrasions.
The universal adapter features a convenient handle and easily connects to dumpsites and dump stations, hassle-free. With the two included ends caps, you can store your Titan hose without any dripping or mess.
If this hose isn't enough, you can purchase an additional 10-foot extension to create a hose as long as 25 feet.
GREAT VALUE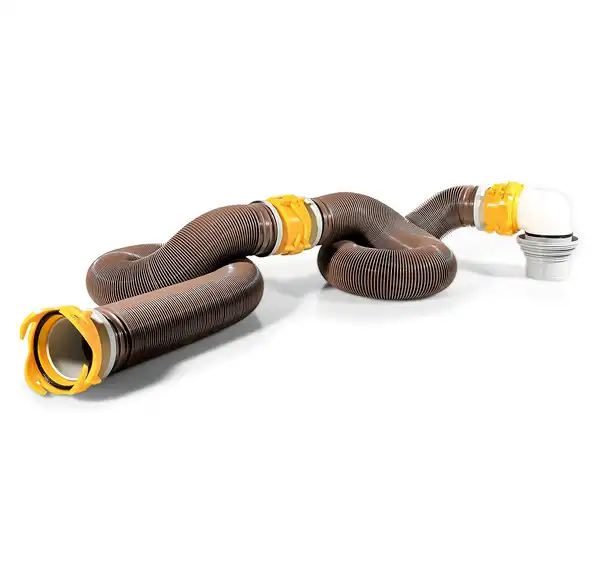 This 20-foot sewer hose kit is a great choice because of its 360-degree swivel design. With this RV hose, there's no fussing over hose positioning or where to park your RV because you can swivel it in any direction you need.
Not only that, but heavy-duty vinyl construction uses a 4-in-1 elbow adapter that is super easy to use. This adapter is removable, making storage much easier. In fact, you can fit this hose in 4-inch square bumpers. The sections compress to 2 inches, making storage simple.
The reliable hookup gives you a tight, secure connection to avoid leaks and messes. You also get a translucent attachment that helps you better monitor the process. Finally, the wire guards protect your hands and maintain the hose's shape.
Final Thoughts
An RV dump hose can make or break your vacation time with your family. Go with the lowest cost, and you will probably end up with the cheapest product. Spend a little more money, and you'll find yourself much happier and less stressed.
The three products above are all excellent choices for any RV owner. The Camco RhinoFLEX has always been our of my favorites because of its durability, ease of use, and all of the accessories that you get with it for a great price.
Continue Reading