The Best RV Portable Waste Tank (Review)
By
on
This post may contain affiliate links. As an Amazon Associate, I earn from qualifying purchases. Please read my full disclosure.
When thinking of a fun family RV trip, the waste tank probably isn't the first thing that comes to mind. But it's something you need to consider.
RV black water tanks are designed to last a family of four 1-2 weeks at most. That might be sufficient if you are spending time in an RV park with a dump station nearby; but what about the longer trips?
TOP CHOICE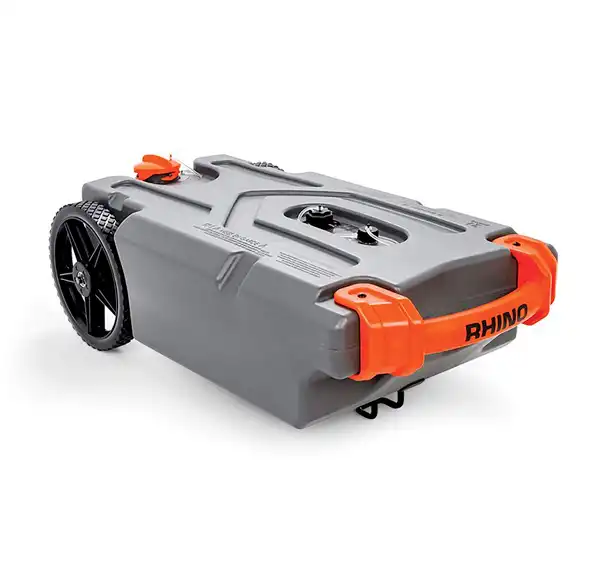 BEST 4-WHEEL TANK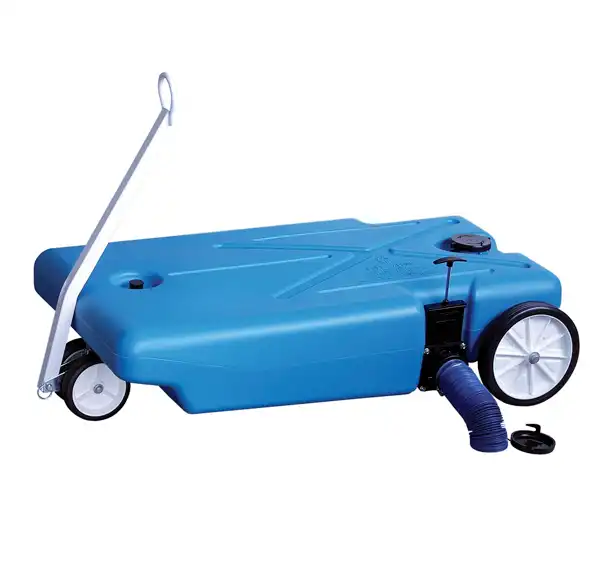 BEST BUDGET PICK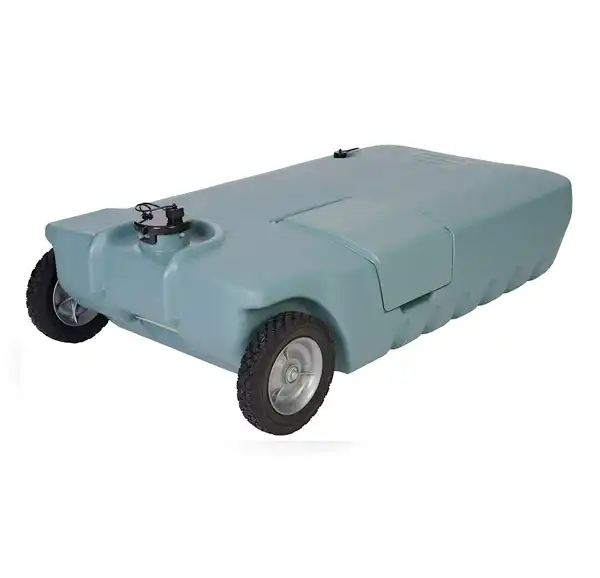 RV Septic System
An RV septic system is simply a holding tank used to store and treat sewage from the camper. It contains liquid and solid waste. Some campers add a mild detergent to reduce smells as well.
RV portable waste tanks (often called black water expansion tanks) let you increase the capacity of your septic tank.
Put simply, this is a portable container in which you can dump the black water tank then continue further with the trip. Expansion tanks come in a variety of sizes and can effectively double your black water tank capacity. That is especially useful if you spend a lot of time boondocking or camping with large groups of people.
Benefits of a Black Water Expansion Tank
Not only does a portable waste tank let you camp longer, but it's also useful if you're not parked near a dump station. When you camp in the same spot for weeks at a time, an expansion tank allows you to dump your waste and transport it to the dump station without having to pack up the whole RV. With a portable waste holding tank, you also get these benefits:
Increased black water tank capacity
Take longer RV trips between dump stations—this is especially useful when boondocking
Camp at unestablished campsites
No need to pack up RV and drive it to a dump station
Great for large families
Are waste tanks necessary?
It's false to say that you always need to have a portable RV waste tank because many campsites allow you to hook your black water tank directly to their sewer system. However, if you spend any significant amount of time camping far from civilization, an expansion tank is a must-have accessory!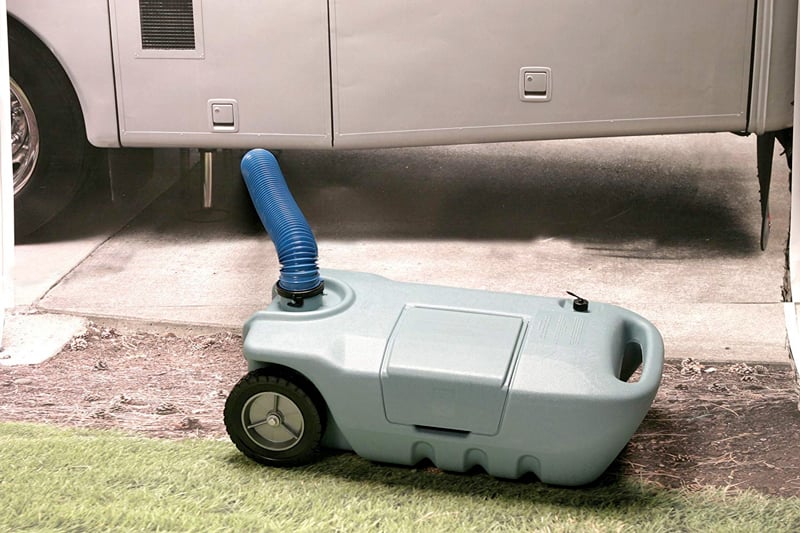 Features to Look for in an RV Waste Tank
Finding a portable RV waste tank might sound complex, but there's only a few critical factors to consider. With just a bit knowledge and someone to point you in the right direction, you'll soon be on your way to an extended vacation.
Capacity
The capacity of your current black water tank is a big factor to consider when choosing an expansion tank. Ideally, you would choose a portable waste tank the same size or bigger than your current black water tank. That's because you'll be able to empty the entire contents of your tank without risking overspill. If you choose a portable tank that's smaller, you'll need to keep track of your tank levels and make sure you stay within the container's limits.
Small campers and travel trailers will have tanks as small as 20 gallons. Class A motorhomes on the other hand, can have up to 100 gallons of tank capacity. Black water tanks and grey water tanks often come in varying sizes—even within the same rig.
Along with holding capacity, physical size of the tank is something to be considered. If you're planning to store the tank inside the RV or in an exterior compartment you'll need to make sure you have the space available. Many campers choose to secure their portable tanks to the ladder outside the rig while others place it in the cargo bay.
The larger your tank, the longer you'll be able to travel without stopping at a dump station. That is especially handy when you're camping with large groups of people. In that same breath, waste tanks get heavy! You should look into how far you'll need to travel from the RV to the dumpsite. If you're expecting a good trek, you may want to compromise and get a smaller tank that's easier to pull.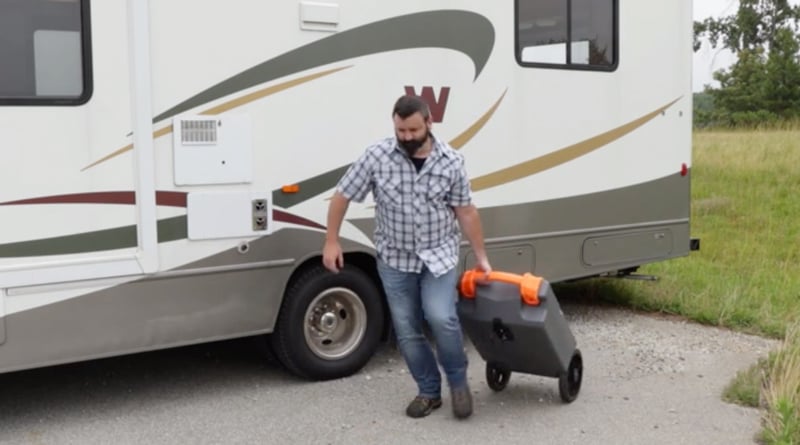 Two wheels vs Four Wheels
Capacity and weight play a big role in whether you want a tank with two wheels or four. A gallon of water weighs just over 8 pounds. Even with the benefit of wheels, a 25 gallon tank will be pushing 200 pounds! That is not something the average camper is going to want to pull very far. Not to mention, you'll need to vertically tip the waste tank when emptying it at the dump station. For that reason, our recommendation is to avoid the mess and go with a four-wheeled tank if you need something large.
Some four wheel tanks are designed with tow brackets that can be connected to the ball hitch of your car. This method lets you use a bigger tank size without having to worry about whether or not you can physically pull it.
Types of Tanks & Materials
RV portable waste tanks usually come in two types: polyethylene and polypropylene. They're great for both warm and cold weather and tend to hold up in even the roughest situations. Polyethylene is solid and high quality, while polypropylene is extremely lightweight. Another plus is that these materials are non-toxic and good for the environment.
You really can't go wrong with either of these two choices. Be on the lookout for tanks that use other materials as they may not hold up as long.
Holding Tank Components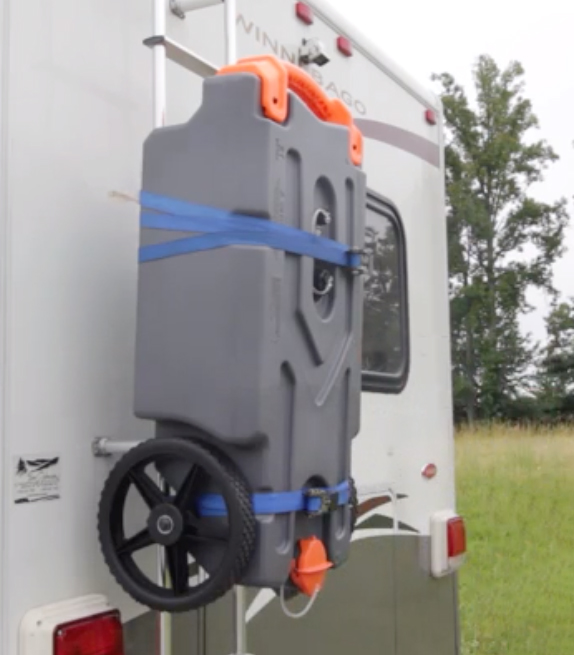 Expansion tanks come with a variety of features that can make them easier to use and more sanitary to clean. While not all of these features are necessary, many fall into the nice-to-have category if you have the budget. These are some things we like to look for in a portable waste tank:
Handle design: Perhaps the most noticeable feature—especially during transport is the handle design. Holding tanks with four wheels should have a long handle so you can tow it like a wagon or attach it to your trailer hitch. A durable short handle should also be attached to the waste tank. This is to help you tilt and lift the tank vertically when emptying the contents.
Sturdy wheels: Depending on the size of your tank, wheels will have to transport hundreds of pounds. For that reason, you want to look for quality components that won't crack over time. Bonus points if the wheels can swivel making it easy to maneuver.
Ladder attachment: A common place to store your waste tank during travel is on the RV ladder. Some brands come with a sturdy attachment hook so you don't have to purchase separate accessories.
Indicator fill: Because most waste tanks are opaque, it can be difficult to see how full it's gotten—before it's too late. Some tanks come with either an indicator fill line or a bobber gage that will rise as the tank reaches capacity.
Clean out valve: This is an extra cap on the end opposite the sewer connection. It will allow you to fit a fresh water hose into the tank to clean it out more easily. Some of the higher end brands have backflow preventers and multi-directional spray to assist in keeping the tank clean.
Sewer hoses: You don't want a waste tank with a cheap sewer hose included. This is the most important connection in the product so you should look for something that clamps on tight and is long enough to accomodate the trek to the sewer connection. Tanks that come with transparent gooseneck connectors are especially useful when determining if it's fully emptied at the dump station.
Dump valve: To prevent messes, a properly sealed dump valve is one of the most important factors in a portable tank. Some tanks come with screw connections while other have integrated gate valves which open and close with the pull of a handle.
Expansion Tank Accessories
Most holding tanks will come with everything you need to hit the road, but there are a few nice-to-have accessories to use along the way.
How do you fill a portable RV waste tank?
To empty a black water tank into a portable waste tank you'll follow similar steps as you would at a dump station.
Connect the expansion tank sewer hose to the dump fitting on your RV
Open the black water dump tank valve
Let the tank empty then close the valve tightly
Put the caps on the sewer connection and store the hose
Transport the tank to the dump station
How do you empty an RV expansion tank?
Once your holding tank is full, it's easy to transport to a dump station to be emptied. If you have a four-wheel holding tank you can connect it to your trailer hitch and slowly drive the unit to the dump site. After you arrive at the sewage station:
Connect the portable waste tank hose to the sewer connection at the campground
Open the valve to empty the contents
Open the air valve on the opposite end of the tank to speed the process and improve flow
Tip the waste tank vertically to finish draining
Flush the tank with a water hose (do no use your potable water hose!)
Close and cap off all connections

Best Portable RV Waste Tanks Reviewed
While information is certainly helpful and can assist you in choosing the best RV waste rank for you and your needs, we decided to make it a little easier by offering up our favorite models. Take a look through the products below – maybe you'll find your new waste tank there.
TOP CHOICE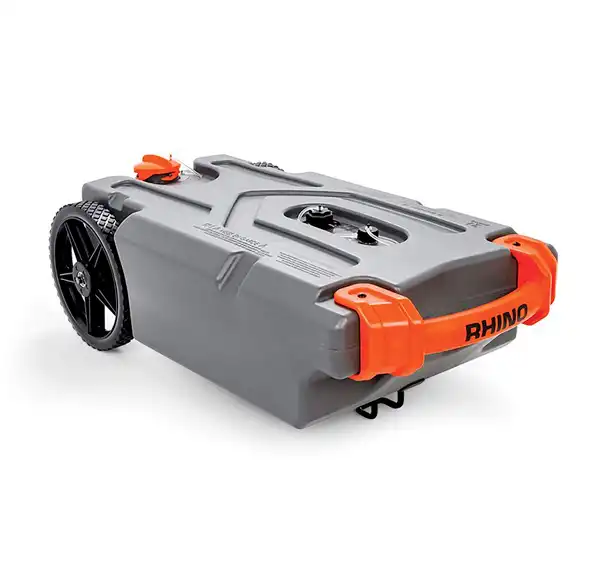 Coming in 15, 21, 28, and 36-gallon sizes, the Camco Rhino comes jam-packed with everything you need for smooth use of your RV waste tank. From cleaning and maintenance supplies to storage and adaptors, you're all set. It even comes with clear gooseneck connectors so you can easily tell when the tank has fully emptied.
Movement is especially simple with this tank. The heavy duty handle allows you to pull it behind. There is also a steel-tow adaptor included to hitch it to a tow vehicle. One of the things we like most about this tank is the built-in ladder hook so it can be secured while driving.
When it comes time to emptying the tank, Camco has a low-sitting drain hole and sloped sides to minimize the mess. The larger sizes also come with a waste outlet gate valve so there's no spillage. On the fresh water end, this tank has a large intake valve with multi-directional spray and a backflow preventer.
BEST 4-WHEEL TANK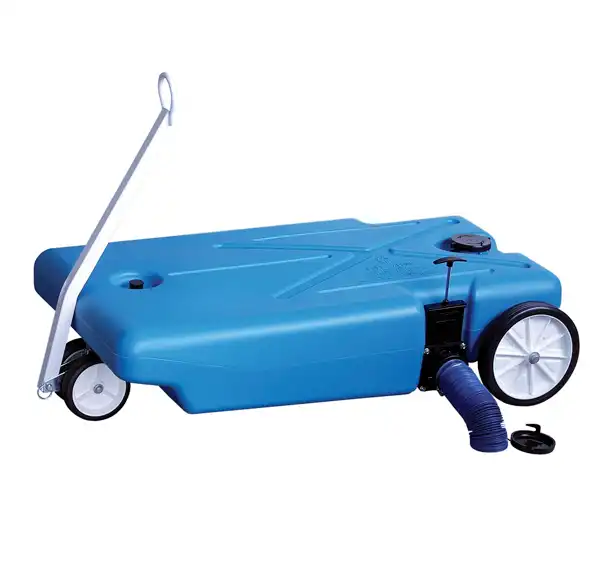 One of the most popular portable waste tanks out there is the Barker 4-wheeler. It comes in three different sizes: 25, 32, and 42 gallons.
Not only is this tank easy to transport with its swivel designed wheels and extra long handle; it also comes with all of the adaptors and connections you need including a 5-foot sewer hose. The blow-molded polyethylene, zinc-plated steel, and aluminum construction make the tank durable and long-lasting.
This is a simple tank design but the others on this list, there is a bobber fill gauge to let you easily see when the tank getting full. That eliminates the guessing game of maintenance.
BEST BUDGET PICK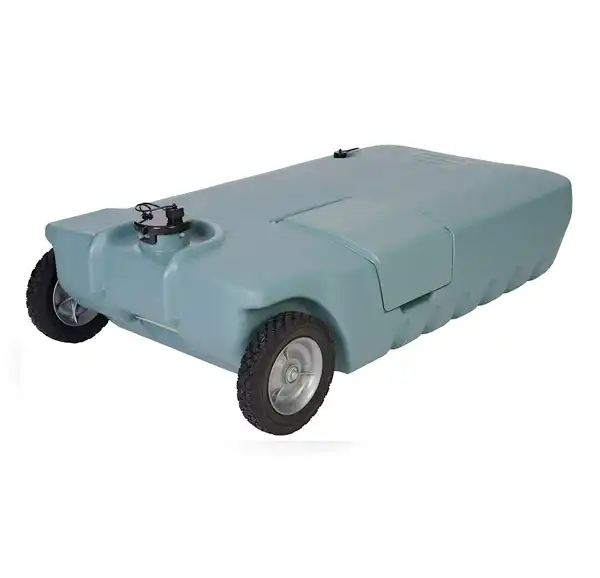 If you're looking for the best in value, you don't have to look much further than the Tote-N-Store Portable Waste Transport. This model has a basic look but delivers excellent performance. With up to 32 gallons of storage, you get great use out of this tank.
Along with this tank, you get all the basic accessories needed to fill and empty wate. That includes a 3 foot drain hose, hose clamp, and a tow bracket. All of these accessories fit very nicely in the built-in storage compartment, keeping all of your necessities together.
The rubber wheels are solid and easy to pull, and with them comes a full wheel kit. Simply take this tank to the waste site and use the 3-inch hole to empty the tank quickly.
---
Final Thoughts
Picking out a portable RV waste tank may not be the most glamorous purchase you'll make, but it's an important one. Nothing is worse than black water tank lacking in storage capacity. The best thing you can do to avoid a big headache (and a big mess) is to get your purchase right on the first try.
The three products listed above are excellent choices. If you're on a budget, you can't go wrong with the Tote-N-Store. Its basic features are all you need to get your through, and it's durable on top of that. Need something bigger? We suggest going with the Barker 4-Wheeler. You won't be disappointed when you see how easy it is to pull this tank by hand. Overall, the Camco is our top pick because of its durability, and quality materials.
Whatever tank you choose, make sure you hook it up and test it out before you get on the road. From there, you're free to enjoy your trip with peace of mind.
Continue Reading: