By
on
This post may contain affiliate links. As an Amazon Associate, I earn from qualifying purchases. Please read my full disclosure.
If you've ever wanted to take an RV off-grid, then the first thing you need to consider is power.
But if you're new to solar energy, you may be wondering which type of RV solar panel kit is the best. After all, there are many different sizes and types of panels out there, and the choice can be overwhelming.
The good news is that we've done the research for you! In this article we'll tell you everything you need to know about RV solar panels and help you decide which one to buy.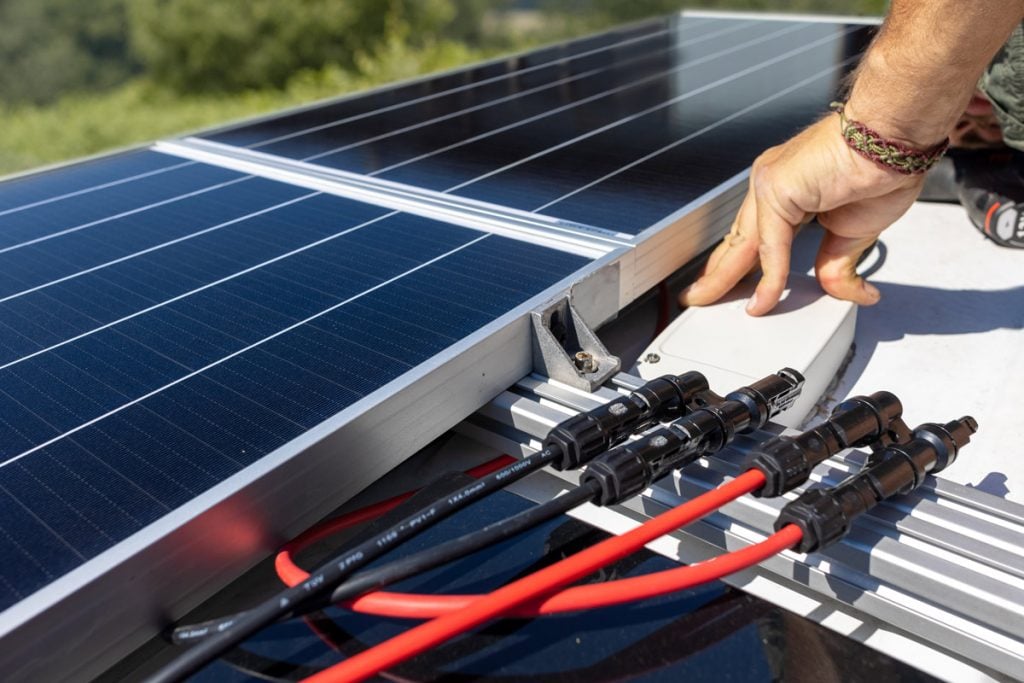 How many solar panels do you need for an RV?
The number of solar panels you'll need for your RV depends on a few things, such as how much power you want to generate and the size of your battery bank.
Typically, a 100-watt panel is enough to power only the most basic RV elements like lights. If you want more energy, then you'll need to add more panels in order to increase the wattage of your system.
A RV solar kit typically comes with 400-800 watts of power, which is enough to run most energy-efficient RV appliances.
If you want an accurate estimate, then you should calculate the wattage of all the appliances, lights, and other devices in your motorhome. You can use a solar panel calculator to determine the solar panel system size that you need.
What can you power with RV solar?
RVs have both AC and DC power systems. Solar panels produce DC electricity and can be used to power small appliances and entertainment devices such as:
Lights
Water pump
Vent fan
TVs
Computers/tablets
Stereo systems
Cell phone chargers
Larger AC appliances – which plug in using a household wall socket – are not a good choice for RV solar systems because they require a lot of power. Even with a large solar panel setup, you will want to limit using power-hungry appliances. This includes:
Hair dryers
Air conditioners
Vacuum cleaners
Coffee pots
Dishwashers
RV generators are best for powering energy-intense appliances off-grid.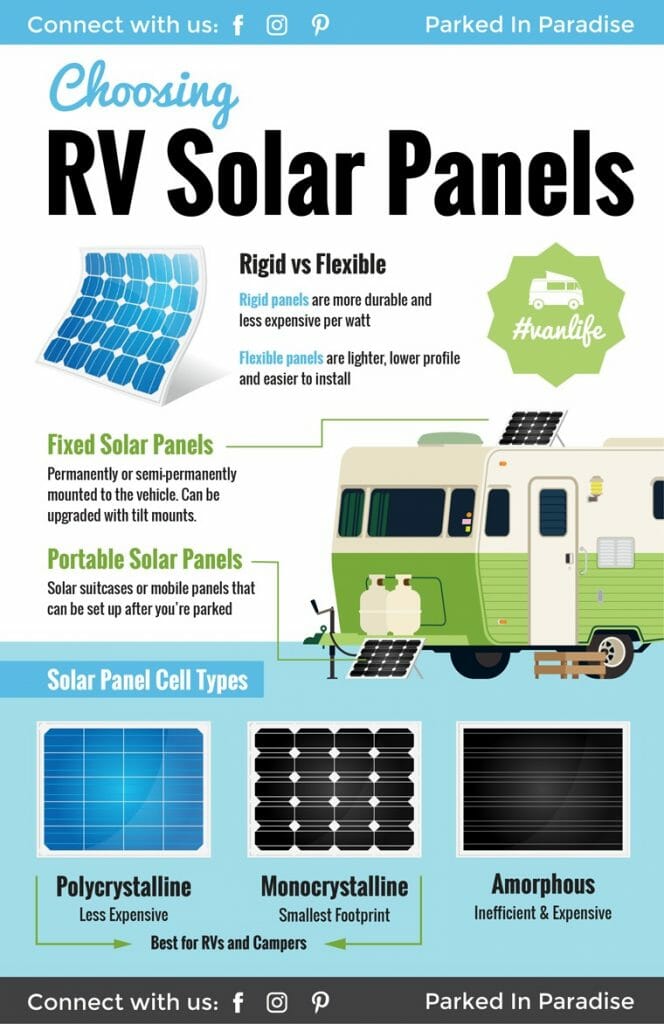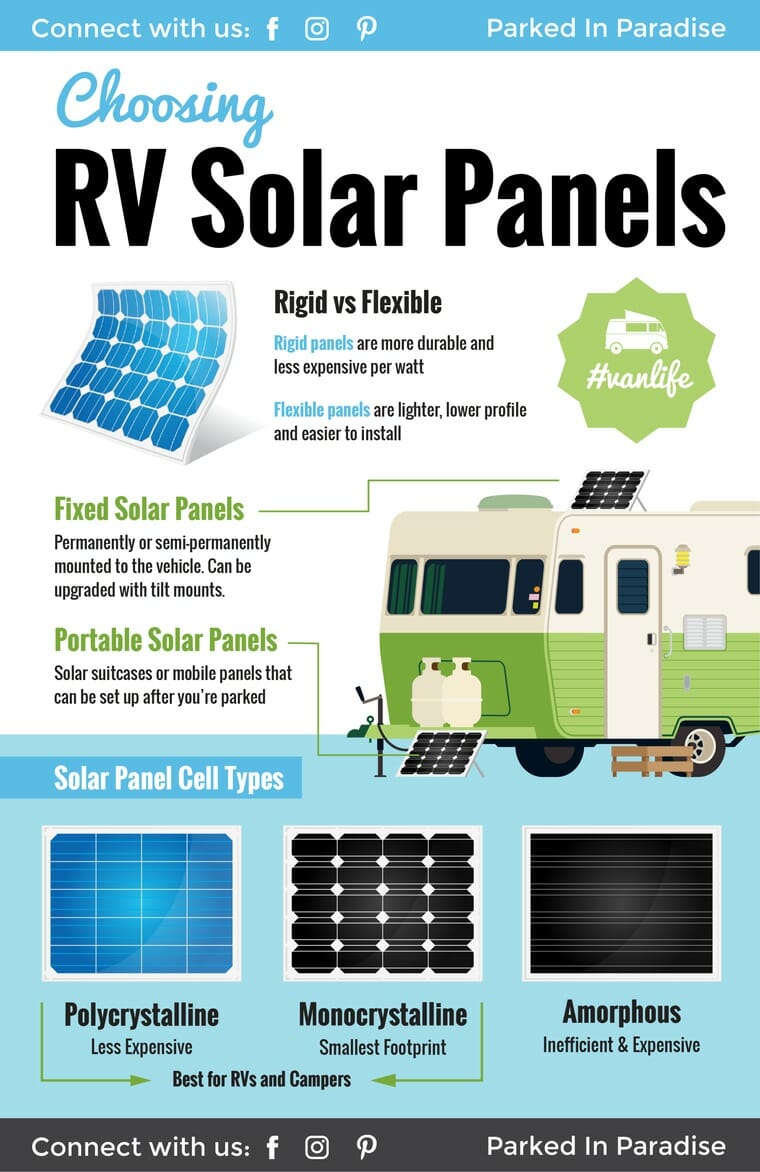 What are the different types of RV solar panels?
When it comes to RV solar panels, there are three main types: monocrystalline, polycrystalline, and amorphous.
Monocrystalline panels are the most efficient and hold up well in high temperatures. They tend to be the more expensive option, but they'll also last longer and provide you with more energy.
Polycrystalline panels are less efficient but more affordable. They're slightly less durable than monocrystalline, but they're still a reliable choice for RV solar systems.
Amorphous panels They are significantly less efficient- taking up more weight and space- and are more expensive per watt. They are durable, even when flexible, so you can often see them sewn into backpacks and cloth items.
The best solar panels for a motorhome are monocrystalline or polycrystalline panels because they are the most efficient and reliable.

What comes in an RV solar kit?
An RV solar kit typically comes with the following components:
Solar panels
Charge controller
Mounting brackets
Solar cables
Some RV solar kits come with batteries included, but that is not the norm. You may also want to purchase an inverter if you want to power AC appliances using a household wall socket.
Should you purchase a Solar kit with batteries?
If your RV already has a battery bank: There's no need to upgrade. Batteries are expensive and have plenty of life. You can always do that at a later date.
If your RV does not have a battery bank: It makes sense to purchase a solar panel kit with batteries included. This is helpful because you'll know all of the system parts are sized correctly and compatible.
Must-Have RV Solar Kit Accessories
RV solar panel kits come with nearly everything you need to power your camper. But if your motorhome is not pre-wired for solar, you may need to purchase some longer wires to run between the components.
There are also a number of other parts that will make the install process cleaner and improve solar panel efficiency.
Solar panel extension cable: Extra wire used to connect the solar panels to the charge controller.
Solar cable entry glands: These are little weatherproof parts that help route solar panel cables through the RV roof. They clean up the install by holding the wires in place and preventing leaks from getting inside.
Lap Sealant: Use this to weatherproof your install and fill any gaps or holes you may have made in the roof.
Cable clamps: Help with cable management on the roof and throughout your motorhome.
Adjustable tile mounts: Give you better solar panel efficiency. If you can tilt your panels directly towards the sun throughout the day, you can gain as much as 20% more energy out of the solar panels. These can be mounted with or without z-brackets.
Telescoping ladder: Use this to get on the roof of your RV or camper van if you don't have a ladder installed. This is useful when tilting or cleaning the solar panels.
Extendable scrub brush: It's imperative that the solar panels be kept clean from dust and debris to continue working properly. Extension brushes make this much easier to do.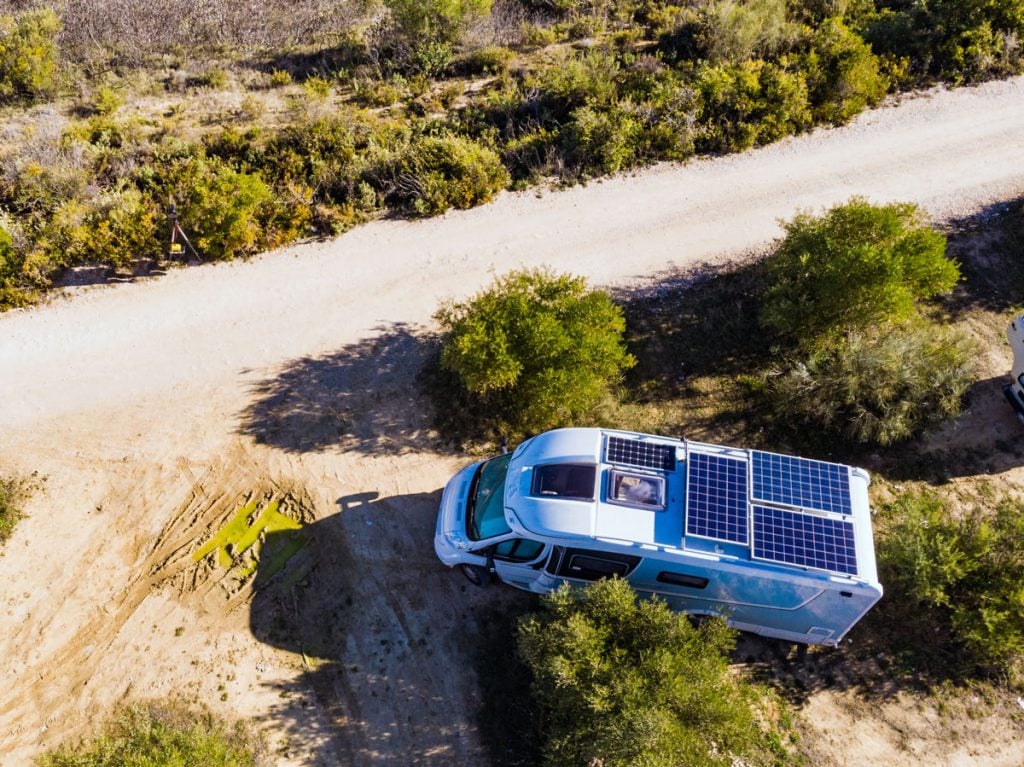 What is RV-ready solar?
Newer RVs come pre-wired for solar. That means the internal wiring between the solar panel to charge controller, and charge controller to battery are already in place.
You still need to purchase a solar panel kit for these to work. Essentially, this type of system just makes solar panels easier to install.
Can you make your own DIY solar panel kit?
Yes! You can make your own DIY solar panel kit for an RV. You'll need to purchase the individual components from a hardware store or online and assemble them yourself.
This will require some lots of research and some electrical skills, so it's not for everyone. But it is an option for those who are comfortable with electrical work and want to get the best bang for your buck.
How much does an RV solar Panel kit cost?
The price of an RV solar kit varies widely. Basic kits with a small panel and controller can cost a few hundred dollars. Larger systems with 600-800W, charge controllers, and batteries can cost up to $2,000 or more.
Ultimately, the cost depends on the size of your rig, how much power you need, and the type of components you're using.
Where to place your solar panels on an RV
Solar panels are extremely sensitive to shade. Each of the little squares on your panels are wired in a way that if one of them is shaded, the whole row can't produce energy. That means energy can be reduced by up to 90% if a certain 10% of the panel is covered.
Solar panel placement is critical in an RV. Make sure they are placed in a way that any vent fans, roof boxes, chimneys or air conditioners will not be casting a shadow on them throughout the day.


How to wire your RV solar kit: Series vs Parallel
Solar panels are wired either in series or parallel.
Wiring solar panels in parallel keeps the voltage the same but increases the amperage going into the charge controller.
Wiring in series increases the voltage but keeps the amperage the same.
In most cases, by default, we recommend wiring your solar panels in series as long as your charge controller is able to handle high voltages (an MPPT controller).
Read this article to see some complete RV solar panel wiring diagrams.
FAQs
Best RV Solar Panel Kits Reviewed
WindyNation Solar Panel Kits
WindyNation is more popular with the RV community. What we like most about their solar kits is that they come with battery upgrades. This ensures that all of your components are designed to work together without having to worry about incompatible components.
While their solar kits do not allow you to upgrade the charge controller, we think the kits are a great value for someone new to solar and the easiest way to get your system up and running.
Renogy RV Solar Panel Kits
Renogy makes a large selection of solar panel kits. They are one of the most popular companies for van lifers and offer different sizes and upgrade options.
You can pick the solar panel type, charge controller type and choose kits that come with more or less components.
One of the things to pay attention to is whether you're buying a starter bundle, or a full RV kit. The starter bundles normally do not come with mounting brackets or connectors. They have the bare minimum of components and are the cheapest.
Renogy RV kits come with pretty much everything you need except the batteries.
One of the things we like most about Renogy is their straightforward instructions. Their kits come with simple wiring diagrams that lay out all of the components and they have excellent customer support to help you connect your system.
Installing a solar panel kit on your camper van or RV should follow the same steps as installing rigid solar panels listed above.