The Best Portable RV Generators For Dry Camping
By
on
This post may contain affiliate links. As an Amazon Associate, I earn from qualifying purchases. Please read my full disclosure.
There are three main ways to power your RV: shore power (city power), generators, and solar power. In this blog post, we're going to focus on generators. If you want to learn more about shore power or solar panels take a look at these articles:
Generators can bring the most power to your camper when boondocking. With a portable generator, you can run AC units, microwaves, and charge your battery bank; all while camping off-grid! We're going to discuss the different types of generators, what size to get, and how to connect the generator to your RV.
Note: When we say "generator" we are referring to traditional gas-powered engines that create electricity. This is different from a solar generator, which is a somewhat mislabeled battery box that must be charged to give you electricity.
Who Should Use A Generator?
Generators are powerful pieces of equipment that can make your camping experience feel more like living in a house. If you do a lot of boondocking, they are the most reliable way to power your camper off-grid. These are the top reasons to add an RV generator to your packing list:
Reliable power while dry camping
Supplies enough energy to run large electronics
Provides AC power and DC power
Charges your battery bank
Generators vs Solar Panels
Solar panels can get you through small electrical demands, but they aren't effective at night or on cloudy days. Solar can't provide enough electricity for AC units or power-hungry equipment unless you have a very large array and battery bank (we're talking thousands of dollars in initial setup).
Overall, generators are the best bang for your buck.

Disadvantages Of Using A Generator
Even with all of the benefits, it's important to note that not everyone needs a generator. Travelers who regularly spend the night at established campsites with electric hookups can get by with shore power alone.
Generators are noisy. If you've spent any significant amount of time at a campground, you know how annoying generators can be. For that reason, we recommend purchasing the quietest generator you can buy; we'll cover that later in this article.
They use fuel. The longer you run a generator, the more fuel it's going to consume. That means you're going to have to travel with a larger supply of gas; which of course takes up more space.
Generators are heavy. Even portable generators are going to add a lot of weight to your camper. Add in some fuel and this could be upwards of 100 pounds. If you're small-framed it can be difficult to maneuver your generator around the campsite.
They pollute the air around you. When setting up a generator, you should always be aware of placement. Never position your generator near an open window. In campgrounds with tight spaces, you have to be extra aware of your generator, and everyone around you.
Generators should not be run in foul weather. Using a generator in rain or snow is not recommended because some of the internal components can corrode. Awnings, generator tents, and homemade shelters are all effective workarounds, but it is something to be aware of.

Generator Types
There are a few different types of generators available. We're going to talk mainly about portable inverter generators, but we'll quickly mention the other types as well. Generators fall into three main categories:
Permanent vs Portable
Standard vs Inverter Generators
Solar Generators
Permanent generators are larger, supply huge amounts of power, and are extremely heavy. These are usually installed by professionals, or come included with your RV during purchase. Permanent generators are fixed on-board and tie directly into your fuel source. Oftentimes they can be operated using the control panel inside your RV.
Portable generators are smaller and lighter. They can be bought as aftermarket items to supplement your power supply. We like portable generators because they can be used for camping, backyard tailgates, or using power tools in the garage as well.
Standard generators are also known as contractor generators. These are the ones you'll find at construction sites supplying power to tools. Contractor generators are not enclosed, the engine is exposed making them very loud. They're also susceptible to creating sudden changes in current which could damage sensitive electronics like laptops. You should not use a contractor generator to power your RV.
Inverter generators are the best type for RV campers. They have enclosed bodies to keep the sound under control and are quiet enough to run at a campground. Inverter generators are 'smart' with microprocessors built-in. This regulates the current so they won't damage your electronics.
Solar generators do not generate power; the name is actually a gimmick. These devices are essentially a power bank with a solar charge controller, battery and inverter. These are more suitable for camping, or small camper van conversions. You can learn more about solar generators here.
Portable inverter generators are the best for an RV

What Size Generator Is Best For An RV?
When you look at generators, each one is listed with surge watts and continuous watts. These are the two numbers you'll want to focus on.
Surge watts are also known as peak watts or starting watts. When you turn on something like an air conditioner, the unit can require a bit of extra power to kick into gear. It will then settle into a lower continuous power draw.
Peak watts indicates the maximum power that a generator can supply in one short burst.
Continuous watts are also called running watts or rated watts. This is the amount of power that a generator can sustain over a long period of time.
When it comes to finding the best size for your RV; the most accurate answer is to do the math. You should estimate the max amount of watts that you will use at one time and size the generator based on that number. We've built a calculator to help you do this.
Our Estimate: 2,000 Watts
The most common RV generators are between 1,500–4,000 watts. Most people dry camping will want to charge a few basic appliances like a 12v water pump, television, microwave, lights, laptop, and mobile phone. You might also want to use a coffee maker or blender.
If you are conservative with your power use and only use one big item at a time (like a microwave or hairdryer) then a 2,000-watt generator should be plenty of power.
Air Conditioners Require Bigger Generators
To run an air conditioner, you'll most likely need a generator bigger than 2,000 watts. To find out how big, you should know the starting watts and continuous watts of your air conditioner.
To give an example, the Dometic Brisk Air is a 13,500 BTU air conditioner. It uses approximately 3000W starting, and 1670W continuous. To use this air conditioner, you would need a generator with at least 3,000 watts of peak power.
If 3,000 watts is the max generator output, you'll want to go even larger. That's because you should leave some wiggle room to run other electronics alongside your air conditioner. In this example, we might consider a 3,500W peak rated generator.
How To Charge RV Batteries And Electronics
Some generators have 120v household wall sockets included so you can plug electronics directly into the unit. But more commonly, generators will have 15 amp, 20 amp, or 30 amp sockets.
If you're familiar with shore power, those are the same hookups you would use at a regular campsite.

Simply take your RV power cord and plug it into the generator. This will charge your battery bank, and supply electricity to the wall sockets within your camper.
If your RV power cord is not compatible with the generator, you can purchase adapters.
What Is An RV Ready Generator?
RV ready generators have a TT-30 RV outlet like you find on a campground pedestal. This is the same outlet you would plug a 30A shore power cord into. Some RV ready generators also have surge protectors built-in.
Features To Look For In An RV Generator
Once you know what size and type of generator to buy, you can get into some of the specifics. Listed below are a few features to pay special attention to.
Fuel Type And Efficiency
The easiest fuel to travel with is the stuff you're already using. If you're driving a Class A diesel pusher, you should consider purchasing a diesel generator because then you'll only need a single fuel source.
Diesel Generators burn cleaner and more efficiently than gasoline. But, they are more difficult to find, heavier, and louder.
Gas Generators are the most common type. These are the most convenient, but also burn dirtier than diesel.
Propane Generators use the cleanest and cheapest fuel. These are becoming increasingly more popular but are still difficult to find compared to gas generators.
Altitude Kits
Higher elevation means less air for the engine to breathe; that means your generator is going to be consuming more fuel to operate. Most generators have a recommended altitude for peak performance. This typically maxes around 4,000–5,000 feet.
If you frequently travel to altitudes higher than recommended, it might be worth purchasing a high altitude kit. Altitude kits are brand-specific and will adjust the fuel flow making your generator run better.
Noise
Loud generators can make or break your camping experience. We recommend using generators that produce less than 60 decibels of sound. Decibel levels increase exponentially. A generator with a 70dba noise level will sound about twice as loud as one with a 60 dba rating.
Cheaper generators are usually louder generators, but you shouldn't sacrifice price for sound quality.
Emissions And Warranties
Over time your generator will get less efficient at producing power and with that, the emissions will begin to rise. The generator owner's manual will list an Emission Compliance Period which is the minimum hours a generator can run while still meeting emissions requirements.
The best generators can last 250 hours or more. Many times you will find these Emission Compliance Periods correspond with warranties. Generators with longer warranty periods tend to have more robust and quality parts.
Popular brands like Honda and Yamaha may be more expensive than some of the Chinese knock-offs, but the parts are easier to find if something goes wrong. You can also feel assured that they'll meet emission standards.
What Are The Best Inverter Generator Brands?
Honda and Yamaha have always been the gold standard when it comes to generators. These two companies are top-rated in terms of quality and availability of service.
Recently, there have been a number of other brands coming out that are comparable in price and specifications. Some of our favorites are Champion, WEN, and Westinghouse.
The Best RV Generators
TOP CHOICE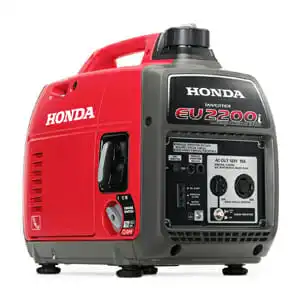 Honda has always been one of the most well-known brands when it comes to generators. The Honda EU2200IC is one of our favorite products because it's lightweight, quiet, and has a number of safety features built-in.
Honda is fuel-efficient–producing 8 hours of power on just one gallon of gas. It's also unique because it's designed to be paired with a companion generator using a parallel connection.
1800 Rated Watts and 2200 Peak Watts
120V 30A, 120V 20A (x2)
48-57dBA
46.5 pounds
MOST VERSATILE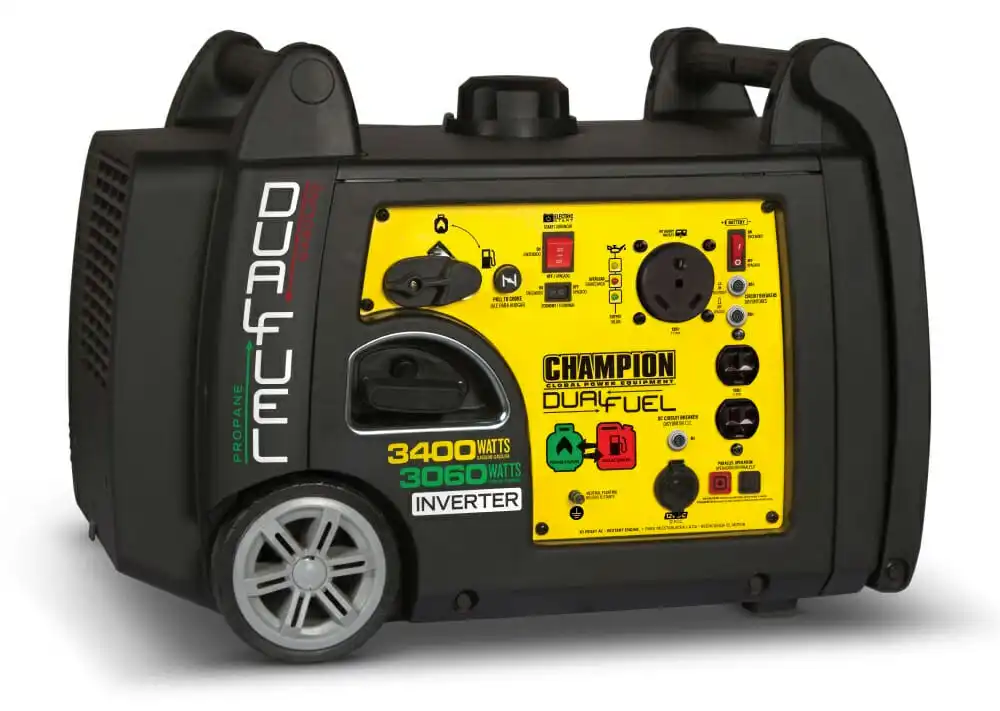 If you're looking for a slightly larger generator that won't break the bank, the Champion 3400W is our favorite. This product can operate on either gasoline or propane making it the most versatile of the generators we've reviewed. Some cool features in this product include an electric start, a touch panel with easy access to all the controls, and wheels for portability.
Another great thing about this product is that it's large enough to power many RV air conditioners.
3100 Rated Watts and 3400 Peak Watts
120V 30A, 120V 20A (x2)
Gas or propane
59dBA
95.7 pounds
BEST VALUE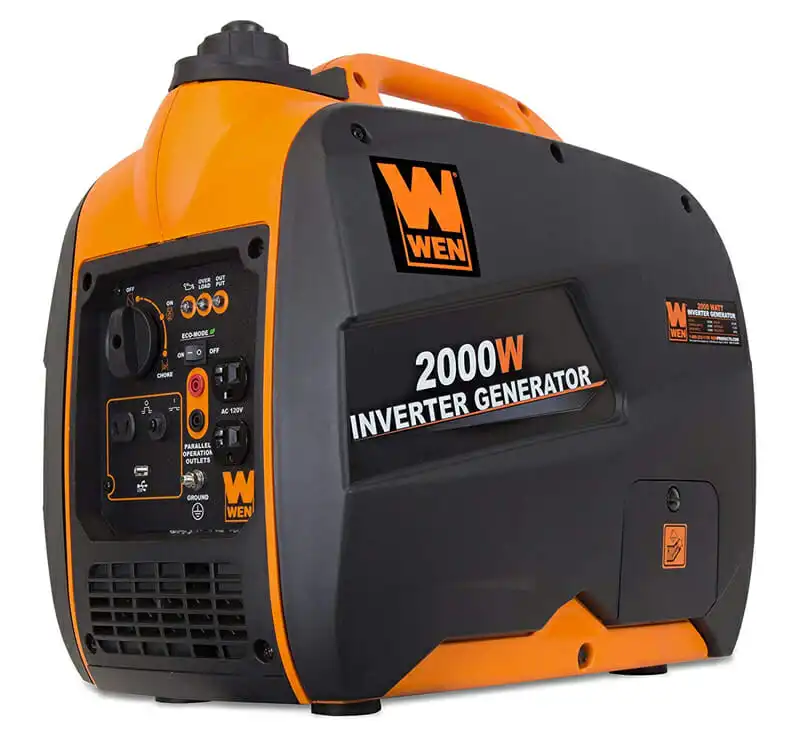 WEN generators are one of the newer brands on the market. The WEN 56200i is significantly cheaper than the Honda generators but still offers many of the same features like a lightweight design and a pure sine wave inverter.
One noticeable difference you will find is that WEN runs louder than more expensive models like Honda.
1600 Rated Watts and 2000 Peak Watts
120V 20A (x2)
51dBA
48 pounds
MOST POWERFUL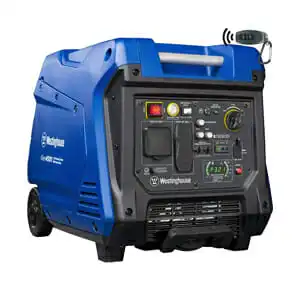 When it comes to large generators that can power every electronics in your camper, the Westinghouse iGen 4500 is our top choice. Westinghouse generators have a variety of outlets and are very fuel-efficient. The wheel and extendable handle make it extremely portable.
This is another RV ready generator built to handle sensitive electronics and accommodate any type of camper.
3700 Rated Watts and 4500 Peak Watts
120V 30A, 120V 20A (x2)
52dBA
48 pounds
That's A Wrap!
There are many generators on the market to choose from. The best RV generators are portable, inverter generators. If you're looking for a quality, long-lasting product our top choice is the Honda EU2200IC. For something slightly larger, take a look at the Champion 3400W.
WEN 56200i is our favorite budget generator. And if you need something powerful enough to multiple large electronics in your RV, we prefer the Westinghouse iGen 4500.
Continue Reading: