Best Steps And Stairs For RV Campers (Review)
By
on
This post may contain affiliate links. As an Amazon Associate, I earn from qualifying purchases. Please read my full disclosure.
RV steps are not an accessory that most campers think about, but you use them multiple times per day. Steps are normally overlooked until they get rusted or fail–at that point, it becomes a safety concern.
You might be surprised by the many styles and designs that are out there when it comes time to replace your camper steps. In this article, we're going to discuss the different types of steps, what size to get, and how to install them on your RV.
Why Do You Need RV Steps?
Often campers will assume that steps are not necessary to get into their RV. You might be young and active with no mobility issues. But an RV door height rests anywhere between two and four feet off the ground. Climbing in and jumping out can quickly wear down your body–especially after a long day of hiking.
Simply put, traveling too long without steps is going to be uncomfortable, inconvenient, and potentially dangerous in the long run.
If you own an RV, you need steps. They are the safest and easiest way to enter and exit your camper. Even if you're in great physical shape, you'll still need steps. And they're especially important if you're a senior citizen or have impaired mobility.

How Many Steps Do You Need?
If you're going to invest in steps you might as well get the proper size. It's an easy measurement to take and will end up saving you a lot of headache in the long run. Improperly sized steps can give you a false sense of security. Walking down them, especially in cold and wet weather, can cause slippage risks.
Correct measurements ensure a safe, secure fit. Fortunately, fitting your RV for steps is usually a simple process involving three measurements:
Measure the width of the stair assembly
Measure the stair height
Measure from the center of the step assembly at the crossbar diagonally to the edge of the bottom stair
When measuring an RV that doesn't currently have steps, measure from the two mounting bolt holes to the ground at approximately a 30-degree angle.
RV staircases typically have between one and four steps.
Single-step platforms are a common accessory among smaller campers and travel trailers. Normally you would use these if you're active and willing to make a bigger leap into your camper and just need something to give you a boost.
A two-step staircase is the most common type. Two steps provide enough stability for most able-bodied folks. They're also the most compact and portable option.
A three-step staircase is another popular choice. It allows for shallower steps, which is often easier and more comfortable for anyone who can't lift their knees very high. It's also well-suited for use with a walker or cane.
Four-step staircases are only used on especially large RVs. As you'd expect, a four-step staircase is very large.
Generally, five-step staircases are too large and unwieldy for most types of RVs. They're mainly used as a ramp for wheelchairs.

Types of Steps
RV steps are either portable or permanent. Portable steps require no installation and are often the most inexpensive option. However, they do require storage space. At times, you'll likely have to climb in or out of your RV without steps, because they are stored inside your RV or in your car.
Permanent steps require installation, which can be a time-consuming or costly investment. On the plus side, you don't have to worry about storing the steps inside a vehicle. They fold up into the side of your RV when not in use.
There are three main types of RV steps: Platform, steps with handrails, and mechanical steps.
Platform
Platform steps are a popular portable option. These types of steps are nice because you can use them in other areas of the camper or outdoors to reach or climb.
They are similar to a stool; you can place them outside the door when needed, and store them away when not.
Platform steps have either fixed or adjustable legs. A staircase with fixed legs is usually cheaper, but adjustable legs allow for great stability when placed on uneven terrain.
Steps with Handrail
RV steps with handrails provide additional stability. They're ideal for use by kids, the elderly, and others with mobility issues. However, handrails do increase the overall size of the steps, even if they fold down.
Steps with handrails are also a good solution for campers who park in the same spot for extended periods of time and want the convenience of a rail.
Mechanical
Also called electronic steps, mechanical steps are permanently attached to the RV. They're wired into the vehicle's electrical system, so you can set them and take them down with the press of a button. When not in use, they fold into the side of your vehicle.
Where to Store Your Steps
Mechanical steps are the easiest type to store because they fold right into your vehicle. Portable steps are often a bit more complicated to store.
Most people store portable steps in the exterior compartment of the RV, but sometimes they'll place them in a cabinet near the door. Either way, you'll likely have to crawl into your RV or jump out of it at times to retrieve your steps. That's probably the biggest disadvantage of portable steps.
Always remember to put your steps away before driving! Not only will you be losing out on some money, but steps accidentally left attached to the RV are a cause of many accidents.

Features to Look For:
Overall, steps are a simple design with a simple function. But there are a few features to recognize when comparing them. Listed below are a couple of considerations to keep in mind.
Portability
Portable stairs should be light enough to carry around and small enough to store. The lightest options are one or two-step stairs. Materials can make a big difference in how much the steps are going to weigh. Aluminum, for example, is very lightweight compared to steel.
Adjustability
Feet that adjust independently of one another provide greater stability on uneven surfaces. However, if you mainly plan to use the steps on relatively flat land, fixed feet are often a cheaper option.
Materials
Most steps are made from steel, although you can also find some lighter weight aluminum options. You'll want to make sure you're purchasing stairs with a waterproof coating to help protect against rust.
Also, the steps should have some type of grip made from rubber or a similar tacky material. Metal stairs get slick in wet weather.

Stair Step Accessories
If you have existing steps that need an enhancement, or if you don't want to replace the entire staircase. Stair step supports or slip-proof covers are a good way to upgrade your current staircase.
Best RV Steps Reviewed
BEST PERMANENT STEPS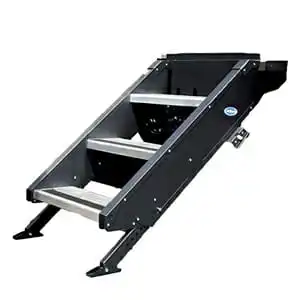 MOR/Ryde
Multiple size options
Easy to install
Folds up inside the RV for travel
Adjustable feet keep stairs steady
CHECK LATEST PRICE
If you're looking for a more durable replacement for your permanent RV steps, the stairs from MOR/ryde are our favorite choice.
We like these because they're simple to install and fold into the RV during travel. A twist handle allows you to release them when it comes time to exit. These stairs adjust between 34 and 36 inches high making them compatible with many types of campers. They also have adjustable feet allowing the staircase to sit securely on uneven ground.
MOR/ryde steps are durable and waterproof; they also have anti-slip strips.
Features:
Multiple size options
Easy to install
Folds up inside the RV for travel
Adjustable feet keep stairs steady
BEST SINGLE STEP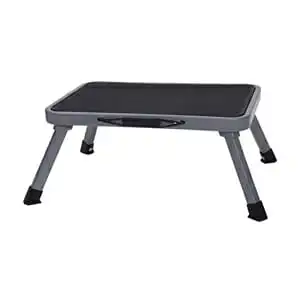 Ollieroo's folding steel step ladder might not look fancy, but it's extremely portable and can be used as more than just a stair step.
The platform measures a wide 15 by 10 inches and supports up to 330 pounds. We like this step because the legs can fold into itself and there is a carry handle on the side. Because it doesn't take up much space, the stool can be stored in the smallest of spaces.
The platform has a plastic covering that provides traction even in wet and snowy conditions. Plus, it's a lightweight four pounds. Overall, it's a good choice for smaller RVs that need a single step. It's especially useful for seniors and others who don't want to lift a heavy step.
Features:
Durable single step
Lightweight and extremely portable
Good surface traction
MOST HEAVY DUTY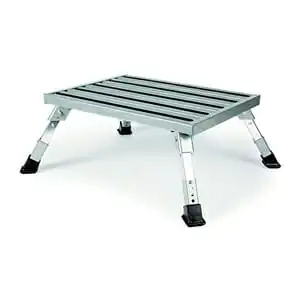 Camco
Supports up to 1,000 pounds
Made from durable and lightweight aluminum
Feet have adjustable lengths and non-slip rubber coverings
CHECK LATEST PRICE
If you need a step that can support a lot of weight, the Camco Aluminum Platform Step is our top choice. This single-step platform supports up to 1,000 pounds which should be more than enough for any human. The surface measures 19 by 14.5 inches and has an adjustable height between 7.5 and 9 inches.
Despite its weight capacity, the aluminum construction is lightweight and durable. It weighs only 8.5 pounds. When not in use, the platform folds down to a three-inch square for easy storage.
Features:
Supports up to 1,000 pounds
Made from durable and lightweight aluminum
Feet have adjustable lengths and non-slip rubber coverings
BEST HANDRAIL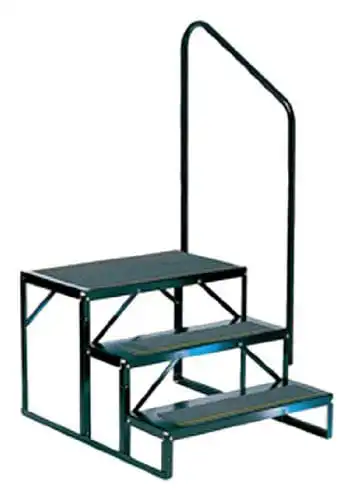 Seniors or young children might appreciate the convenience of a handrail. At 20 pounds, this two-step staircase from Stromberg Carlson is a bit bulkier than the other options on our list. However, it's also one of the most stable thanks to its large steps and tall handrail.
Even though it's labeled as a two-step staircase, the top platform acts as a third step. Each step is 27 inches wide with a no-slip surface. The staircase is 20 inches tall. Although it's not the easiest to store, it's the best choice for anyone who needs extra support when navigating stairs.
Features:
Includes handrails for extra stability
Features two steps and platform
Wide steps
That's A Wrap!
Entering and exiting an RV is probably not something you think about often, but it's noticeable when you don't have the right kind of stairs.
Overall, the MOR/ryde 3-Step is our top choice because of the excellent stability and durability it offers.
If you're looking for the simplest and most portable option, consider either the Ollieroo Folding Steel Step Ladder or the Camco Aluminum Platform Step Support.
Finally, if you have mobility issues or need something more stable, the Stromberg Carlson 2-Step with handrail is our favorite.
Overall, there's no one best set of steps. Instead, you want to find the steps that work best for your trailer, mobility, and needs. All of the options on the list above have different benefits.
Continue Reading: