Best Anti-Slip RV Step Covers (Review)
By
on
This post may contain affiliate links. As an Amazon Associate, I earn from qualifying purchases. Please read my full disclosure.
RV steps don't have much traction, and they are especially slippery when entering the camper with wet shoes. Step covers give your feet something to grip, and also help remove dirt and debris from your shoes so the inside of your vehicle won't get messy.
Step covers are inexpensive, and simple to install. They're comfortable to climb for humans and pets. Overall, the addition of carpeted covers will make a big difference in the comfort level of your camping trip.
BEST WEATHER RESISTANCE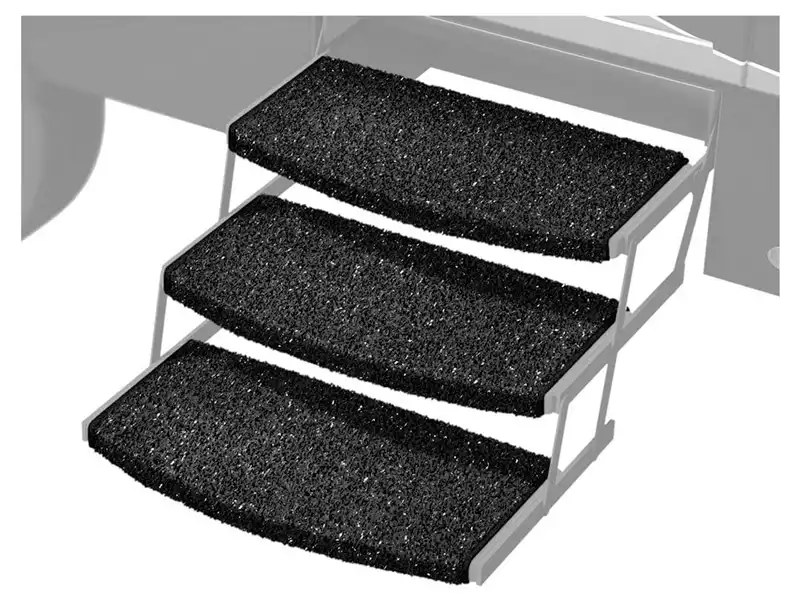 MOST COMFORTABLE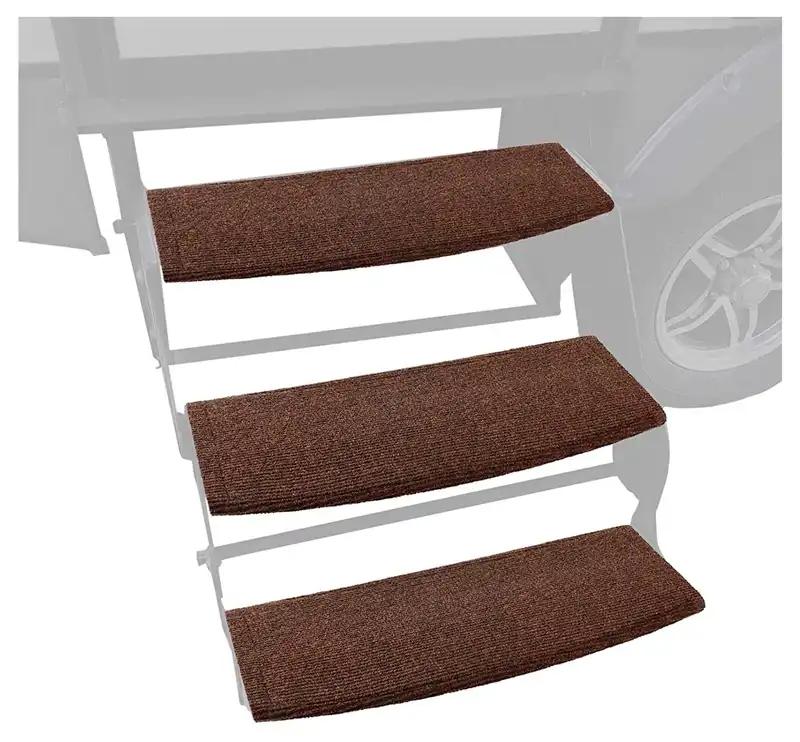 Kohree RV Step Rug
Washable, polyester step covers that trap dirt so it can easily be scratched off. Comfortable for pets and barefoot campers climbing in and out of the RV.
CHECK LATEST PRICE
BEST VALUE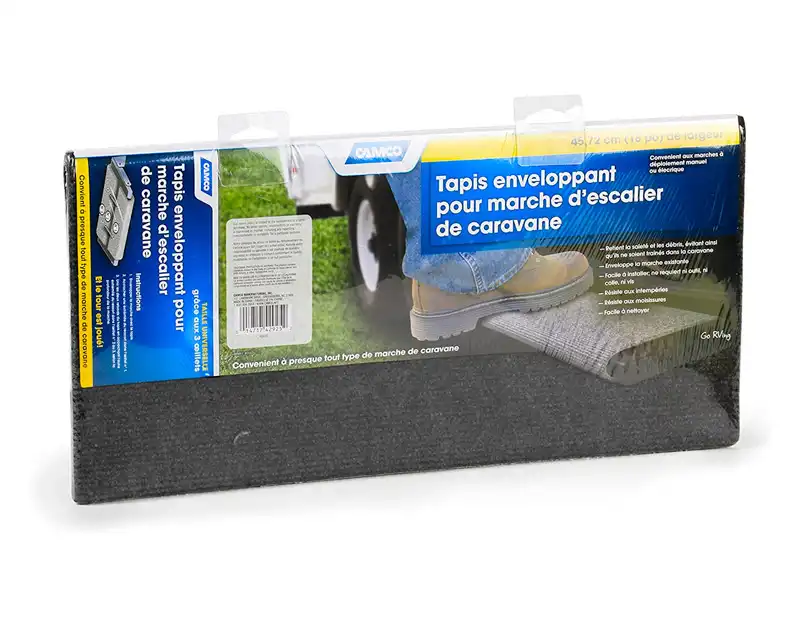 Camco RV Step Rug
Our favorite choice for an anti-slip RV step cover that is affordable and easy-to-attach. Two grommet options are included to adjust the fit. These covers come in 4 different colors to match your camper.
CHECK LATEST PRICE
Are RV Step Covers Necessary?
Nearly any RV that comes straight out of the factory lacks step covers. Typically, camper stairs and steps are made of a hard plastic or metal. Some designs have small drainage holes to help whisk away rain water.
The problem with factory RV stairs, is that they're extremely slippery in inclement weather.
The holes can also become a problem if you have pets leaping in and out of the rig because their nails or paws can get caught on the rough surface.
Step rugs cushion the surface so it's comfortable to climb in and out of your camper in bare feet or with wet shoes. The rugged nature also helps to prevent dirt from getting tracked into your travel trailer.
Because these covers are so inexpensive for the benefits, yes–we recommend them for campers!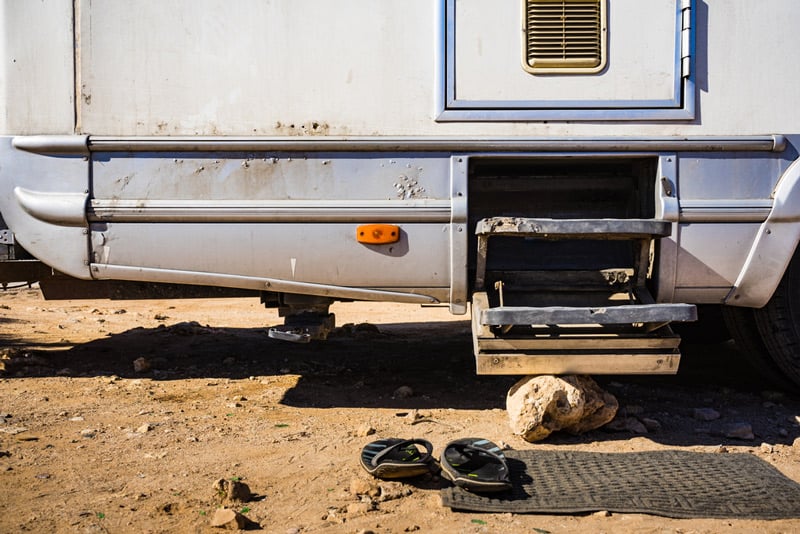 How To Install An RV Step Cover
Step covers aren't challenging to attach to your RV. Which is another reason we recommend them. There are no special tools or skills required.
The two most common attachment types are: zip ties and springs.
Zip ties are something that we recommend keeping in your RV toolbox. So it's something you should already have on-hand. These covers have grommets so all you need to do is add zip ties to hold them in place.
The downside to zip tie attachments is that if you need to remove them for cleaning or folding up your stairs, you have to cut through the zip tie and then reattach it with a new one.
We recommend these types of covers if you're buying a material that won't mold or mildew. That way, you can leave the covers attached while you hose them off.
Spring attachments make your step covers easier to adjust and remove. Covers that include spring attachments have sturdy metal grommets where you hook them into place. Springs offer a bit more flexibility than zip ties, so the covers can bend when you put pressure on the step.
Most springs are rust-proof, so you don't have to worry about keeping them from exposure to the weather. Some campers have said that their springs wear out, but you can always use zip ties as a temporary fix if this happens to you on the road.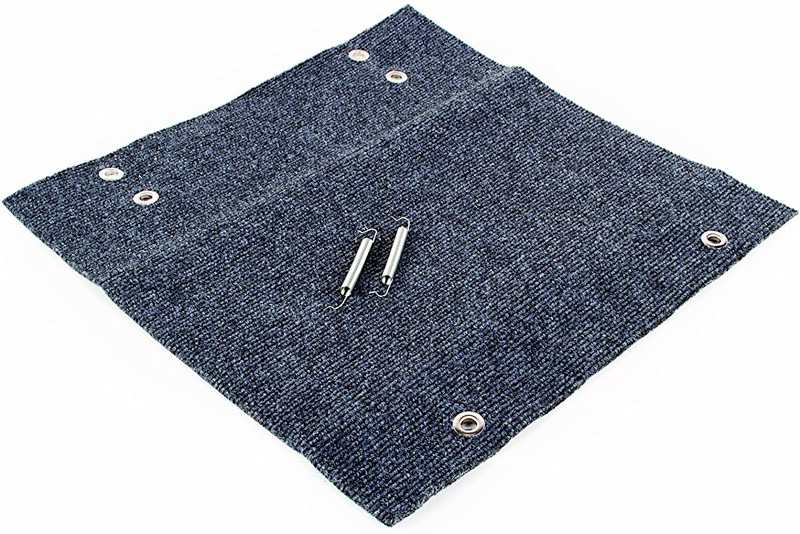 Types of RV Stair Covers
Material
RV and travel trailer step covers come in various materials, such as PVC, rubber, carpet, and turf. There are pros and cons to every material. You need to think about the type of coverage you want for your stairs and what you need the cover to do.
PVC and Rubber
PVC and rubber provide a good grip and last awhile, but they don't offer wraparound coverage. These models typically sit on top of a stair, similar to non-slip mats resting at the bottom of a bathtub. They're effortless to clean because you can hose them down, and mold won't grow on the material.
If the mats are too thick to be folded up on your stairs, it's no problem to remove them and stack them up off to the side. Covers made of these materials effectively keep you from falling off the stairs, but they're not the most luxurious option.
Carpet
Carpet is an ideal material for RV step covers because it provides traction while looking homey. Some brands even offer a selection of colors so you can match your RV's decor. The carpet is thin enough that you can keep it on your stairs when you fold them up for travel.
If you get carpet covers, you might have to clean them with soap and water. If so, make sure you use a blow dryer or heat gun to dry the covers thoroughly. If you wash them and leave them in place, expecting them to air dry, you might find that they not only take ages to dry, but mold and mildew may grow in the meantime.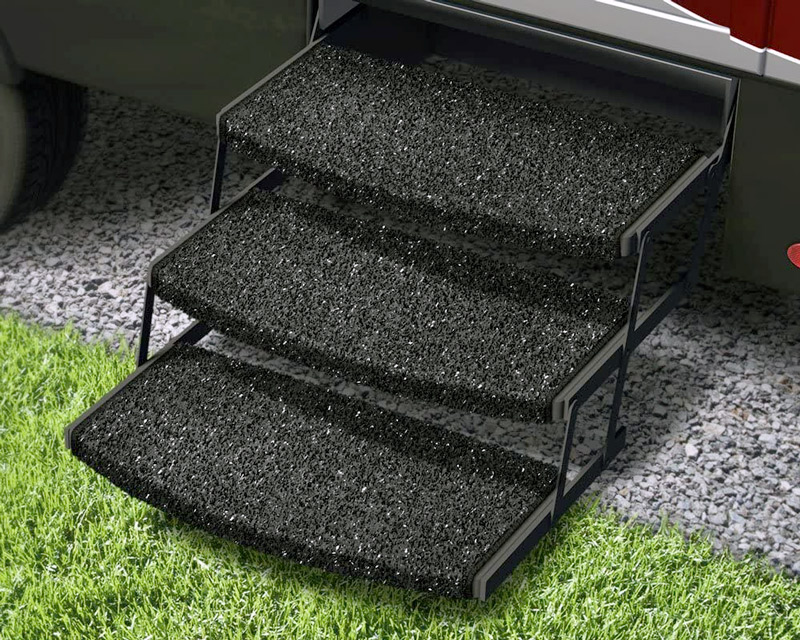 Turf
There are different kinds of turf, such as astroturf and the turf used to make welcome mats. Both can wear out, but astroturf usually lasts longer. If your turf starts getting matted or worn out, the dirt stays on top of the mat, so you track it back into your RV. They might still provide traction, but they're not doing what you need covers to do.
Durability
Durability goes hand in hand with material because you want to make sure your covers will last. You don't want to have to buy a new set for each trip or season. PVC, rubber, and turf are the most durable materials. Carpet can last a long time if you care for it properly.
PVC and rubber covers can wear down with use and might become slippery over time. Both turf and carpet can wear down, causing them to offer less cushion and also not clean your shoes as well as they once did.
Waterproofing and mold-resistance are also important considerations when it comes to durability. You don't want a cover that will get bleached by the sun or will deteriorate if it's exposed to cold, heat, or water.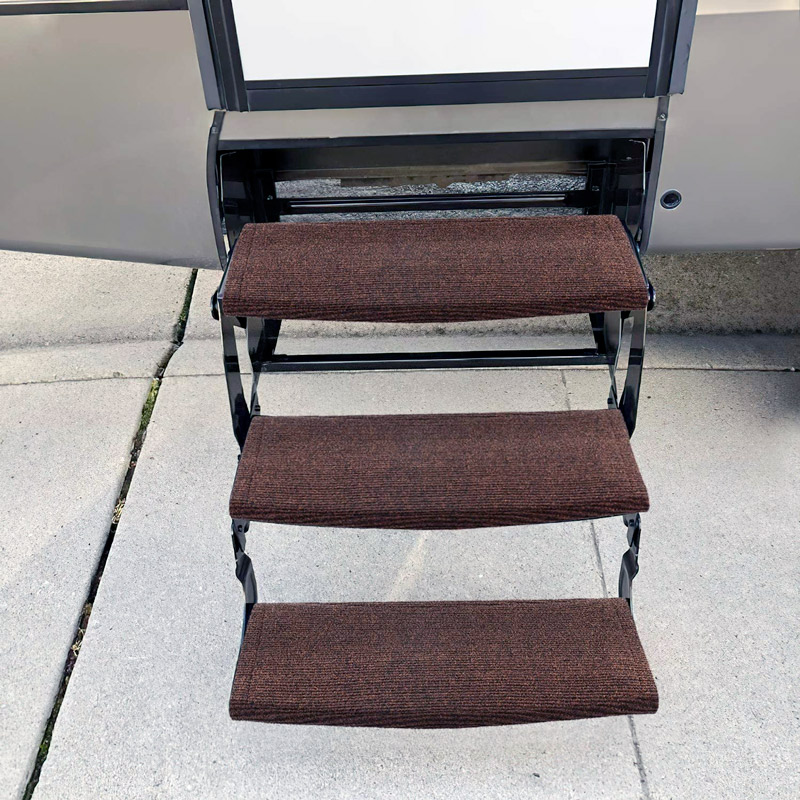 What Size Step Cover To Buy
Before you buy any step covers, make sure you know the measurements of your stairs. Use a measuring tape to get every dimension of your steps: width, depth, and height. You want to make sure the covers you buy will be big enough to wrap around your steps to provide the best coverage.
Step covers will come in fixed widths, though most brands will have at least two options according to the most common step sizes. There will be different lengths for the covers, though some of the top brands place grommets in multiple locations so that you can adjust them for steps of assorted sizes.
If your steps have rounded edges, make sure you search for RV radius step covers. There are also curved step covers for the best fit on unique stairs.
In terms of size, you'll also want to consider how the stairs fold back into your RV. Some step covers are too thick to stay on when you travel; if you don't mind taking them on and off, you'll have many options. But buying covers that can easily fold up into your RV is usually the most popular choice.
The Best RV Step Covers Reviewed
BEST WEATHER RESISTANCE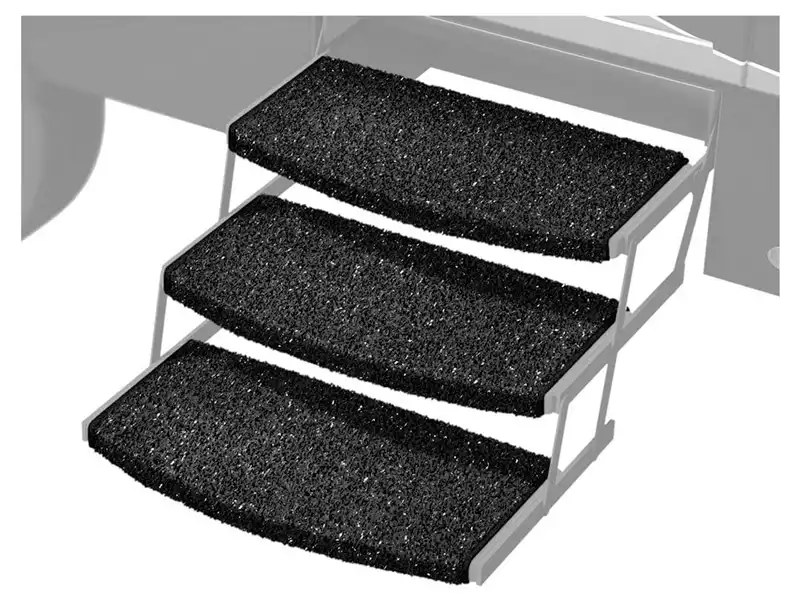 If you are looking for RV step covers that can withstand the snow and rain, you'll want to look at the Prest-O-Fit Wraparound Radius RV Step Rug. One pack includes three covers, so you'll be able to outfit your entire RV. These RV step covers are curved and have a wraparound design that will cover steps 8 to 10 inches in depth.
The Prest-O-Fit Step Rugs come with rust-resistant springs that will let you adjust the cover to fit tightly on your steps. They incorporate outdoor turf within as their component that's finished around the edges so that they won't fray.
The turf is also UV-protected and resistant to both mildew and mold. They'll remove dirt from your shoes as you step on them, and then you can clean the rugs off with a hose.
Key Features:
Good for either manual or electric multi-step entrances
Made of sturdy turf that is resistant to damage caused by sun exposure, as well as wear and tear
Easy to wash with a hose
Comes in packs of three
---
MOST COMFORTABLE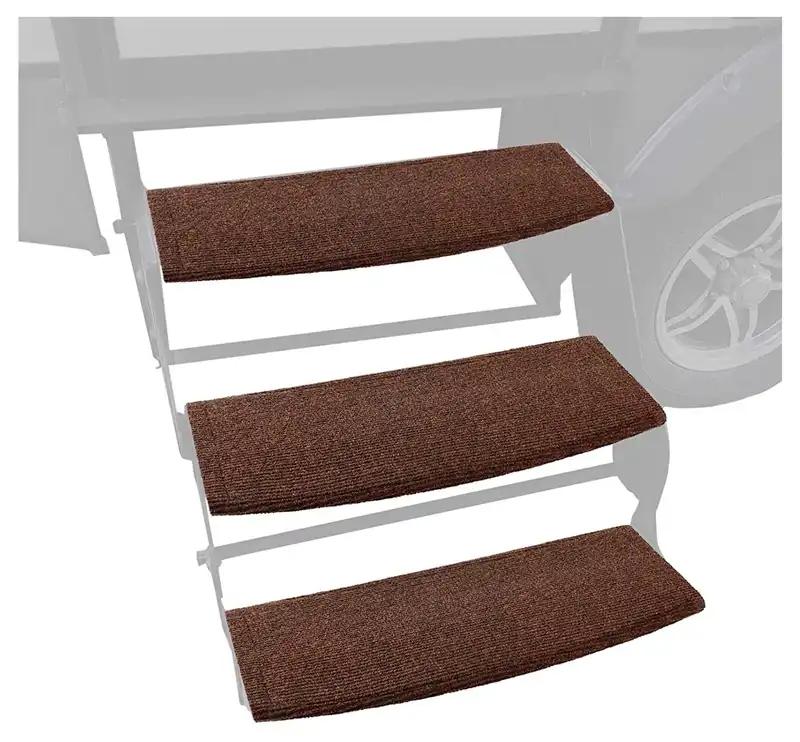 Kohree RV Step Rug
Washable, polyester step covers that trap dirt so it can easily be scratched off. Comfortable for pets and barefoot campers climbing in and out of the RV.
CHECK LATEST PRICE
The Kohree RV Step Rug is made from washable polyester that won't fray with use. It has special ridges in the material that help clean your shoes and keep the dirt trapped when you walk on them.
These covers are fully adjustable, with three different grommet options for the most secure fit. There are also four sets of grommets to hold it in place so it won't shift as you step on it. Since they attach so firmly to your steps, you can wipe your shoes on them as you would a welcome mat, ensuring that they're clean before you step foot into your RV.
The grooves in these covers make them a bit thicker than the other options on the list. Some campers said they had to remove them before closing up the stairs, which added about five minutes to their take-down time. Other reviewers said they got easier to close up on the stairs after a bit of use.
Key Features:
Scrapes dirt off with unique deep ridges set into the material
Choose from brown or black carpet
Fits curved RV steps
Several grommet options for the best fit
---
BEST VALUE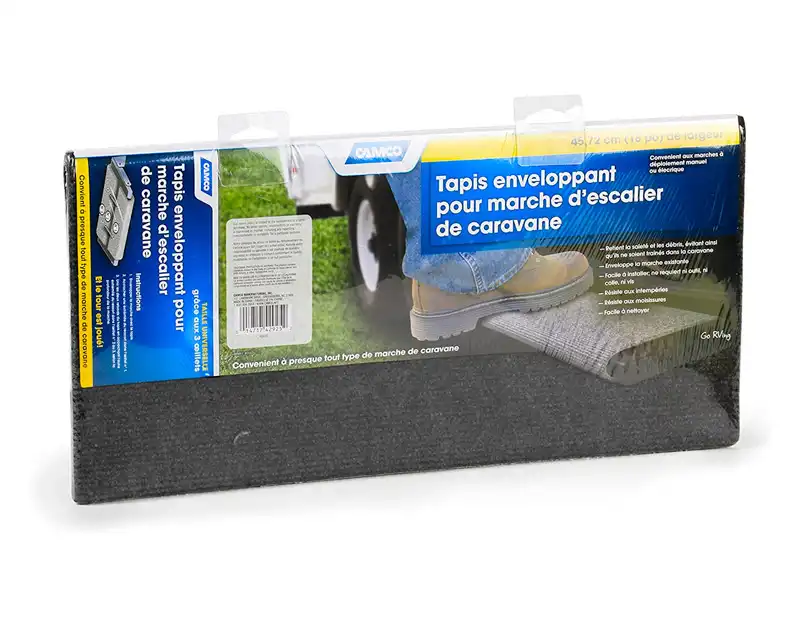 Camco RV Step Rug
Our favorite choice for an anti-slip RV step cover that is affordable and easy-to-attach. Two grommet options are included to adjust the fit. These covers come in 4 different colors to match your camper.
CHECK LATEST PRICE
If you're looking for something to add a bit of traction to your stairs so that you're not stepping on metal, the Camco 18 Inch RV Step Rug delivers the best value. These wraparound covers come in two different widths, 18 or 23 inches, and fit steps 8 to 11 inches deep.
The step covers are made from carpet, which looks nice and doesn't add too much height to your steps. You can keep these covers on at all times and still be able to fold up your stairs.
The rugs attach to your step with grommets and springs, though it only has two springs, compared to the more secure Prest-O-Fit's three springs. Campers have said these covers don't last as long as other options, but they're not a bad choice for the price.
Key Features:
Two grommets give you options to adjust the rug's fit
Comes in two different sizes: 18 or 23 inches wide
Choose from four colors: brown, gray, blue, or green
One rug included in each pack
That's A Wrap!
If you're looking for a weather-resistant option made from turf, the Prest-O-Fit covers are the best you can find. They don't add too much thickness so that you can still fold up your stairs, but they're long-lasting and provide excellent traction.
The Kohree RV Step Rugs are the way to go if you're looking for comfort. The material has special ridges made to clean your shoes as you walk on them, ensuring that the inside of your RV will stay spotless.
If you're shopping on a budget but don't want to cut corners when it comes to quality, you can't go wrong with the Camco RV Step Rug. It securely wraps around your stairs and comes in various colors.
Adding RV step covers will enhance your overall camping enjoyment and safety, so it's definitely worth the investment.
You Might Also Like: