Best Portable Hammock Stands (Review)
By
on
This post may contain affiliate links. As an Amazon Associate, I earn from qualifying purchases. Please read my full disclosure.
There's nothing worse than pulling into a campground expecting to sleep in a hammock, then realizing there are no suitable trees.
Packing a portable hammock stand will allow you to tie your hammock anywhere. You can relax off the ground while desert camping, on a beach, or in your own backyard.
Hammock stands can pack down small and won't damage the environment. In this article, we're going to discuss what to look for in a hammock stand and our favorite choices when it comes to portability.

Why Use A Portable Hammock Stand?
Stretching out in a hammock is one of the most comfortable ways to relax outside. It may not seem necessary to buy a hammock stand, but they have a wealth of advantages compared to tying one to a tree.
Versatile Hanging Options
Traditional hammocks are often difficult to set up. You need to find an area with two trees or similar objects spaced apart at an appropriate distance. Even if you can find two perfectly placed anchors, many campsites and parks prohibit the use of traditional hammocks, as they can damage the natural environment.
A portable hammock is much simpler to set up and use. You can use it in a space that doesn't have any trees or anchors. Some designs can even set up safely on sloped terrain or in cramped locations.
Portability
Because portable stands are lightweight and easy to move, you have the option of repositioning your hammock multiple times throughout the day. That means you can keep you can continue to relax in the shade even as the sun moves throughout the day.
At night, you can easily move closer or further from the campfire to stay warm and comfortable.

Environmentally Friendly
Hanging a rope around a tree often damages it by affecting its ability to absorb nutrients and moisture. Although you can take certain precautions to minimize damage, the best way to prevent tree problems is to avoid hanging hammocks from them. A stand is an environmentally-friendly way to use a hammock.
Additionally, many camping areas, including National Parks, prohibit or restrict the use of hammocks. You could get a large fine if caught tying a hammock to a tree. However, a hammock stand is allowed just about everywhere because it doesn't damage the surrounding environment.
Fun for Festivals and Non-Traditional Camping
A hammock with a portable stand helps you stay comfortable at festivals, concerts, and other outdoor events. They're often easier to set up and manage than a tent. Plus, most outdoor venues don't have poles or other structures to attach the hammock.
Along these same lines, hammock stands allow you to camp in any flat, open area. They work great for camping in deserts, at the beach, or on other less-than-stable surfaces.
Set Up On Uneven Surfaces
Some hammock stands work well if you're setting up need to assemble it on uneven surfaces. Take canoe camping for example; terrain near rivers and lakes is often wet, rocky, and uneven – but that's no problem for a hammock stand.
Plus, these stands don't take up much space when packed down small so you can carry them through the woods or store them in your trunk for car camping.

What To Look For In A Hammock Stand
Although a camping hammock stand seems like a simple design, there are vast differences in quality between brands. Here are a few features we like to consider when selecting a hammock stand:
Weight Capacity: Of course before purchasing any hammock stand, you'll want to make sure it can support your weight. You'll want the weight limit to be significantly more than your actual weight, just to stay safe. Don't forget if you want to fit two people on the hammock at once you'll need to account for that as well.
Stand size: Generally, portable hammock stands are very lightweight and easy to transport. While heavier stands can provide some added stability, even lightweight ones are surprisingly strong.
Depending on your camping style, you'll want to pay more attention to its size when the stand is packed down. If you do a lot of car camping you can get away with a larger stand. But if you're backpacking or canoe camping you'll want to look for an option that folds up tiny.
Footprint: You should buy a stand to fit the hammock you want to use, otherwise you can risk collapse or tip-over. Don't try to fit a hammock onto improperly-sized stands. In most cases, you'll want to dedicate 12-15 feet of space to set up your stand.
Carrying Case: If you plan to take your hammock camping, chances are you'll want to purchase a brand that comes with a carry case included. That way you can keep track of all the components and it's easier to slip into your gearbox.

How to Set Up a Hammock Stand
Most stands can be set up in a fairly quick and simple way. Always defer to the instructions for your specific brand and model.
Many hammock stands use spring pin installation. The pins fit into designated holes in the stand. They produce a distinct snapping sound when securely in place.
Other stands use bolts and screws. These are also easy to set up, but you'll likely need a wrench or screwdriver. Some stands include a small Allen wrench. While these stands are secure, you'll also have to keep track of the necessary assembly tools which can be a hassle. Most portable stands come with a carrying case where you can store the assembly components.
Make sure no pins, screws, or other components are sticking out from the stand. They can accidentally tear the fabric.
Once the hammock is attached to the stand, test its stability by shaking it back and forth. It should have some leeway, but also feel steady against the ground.
Best Portable Hammock Stands Reviewed
BEST FOR BACKYARD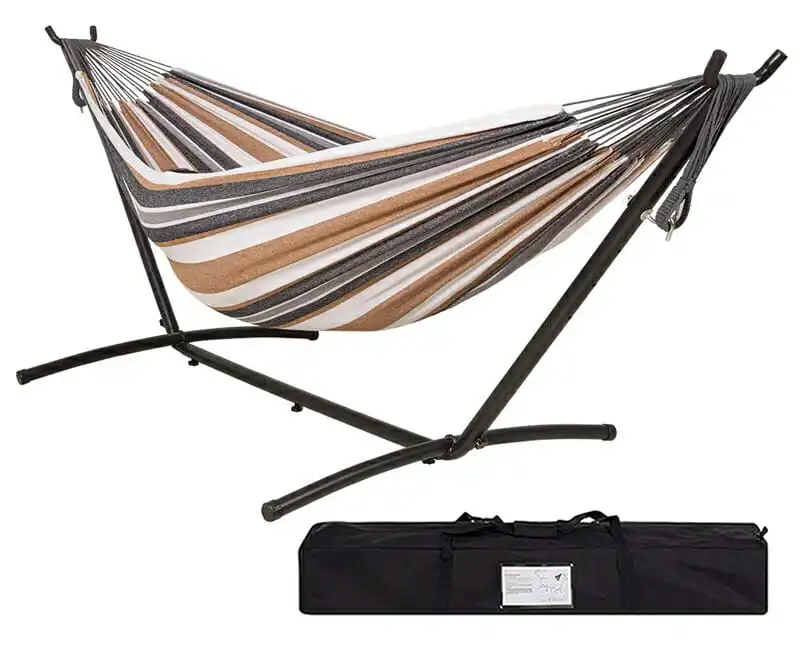 Best For The Backyard: Lazy Daze Double Hammock Stand
We think the Lazy Daze double hammock stand makes the perfect backyard accessory. It's strong and durable but also folds down into five pieces for easy carrying. The solid steel stand is powder-coated to prevent rust and weather-related damage.
This stand comes with its own hammock which is extra-wide and capable of holding up to 450 pounds. That makes it perfect for two campers. The canvas is soft but durable and measures 84×59 inches.
MOST VERSATILE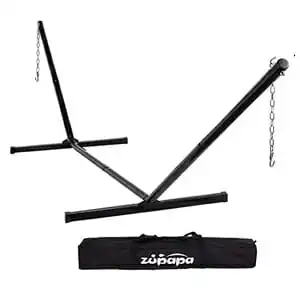 Most Versatile: Zupapa Hammock Stand
Zupapa's steel hammock frame is versatile, fitting a wide range of hammocks between 12 and 15 feet. It accommodates both double and single-person hammocks and has a total weight capacity of 550 pounds.
The frame consists of 12 gauge steel with a two-inch diameter. It has a powder coating to help protect against water damage.
This is an excellent choice if you already own a hammock or two and just want a stand. An easy-to-use spring pin interlocking system makes it simple to assemble anywhere in just minutes.
BEST FOR CAMPING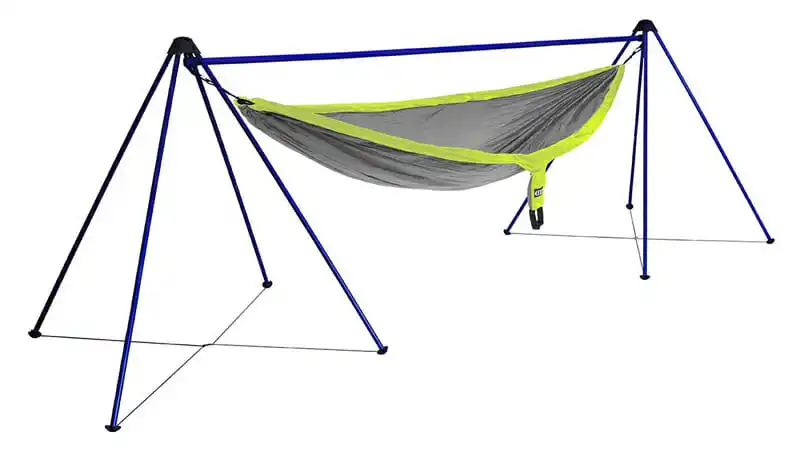 Best For Camping: Eagle Nest Outfitters Nomad Hammock Stand
If you're looking for a lightweight stand to take camping, our favorite choice is the Nomad stand from Eagle Nest Outfitters. With lightweight aluminum construction, it weighs only 15 pounds making it easy to transport anywhere. One great thing about this stand is that you can easily use it on uneven surfaces unlike some of the others.
Even though the materials are lightweight, the stand can still support an impressive 300 pounds. The total dimensions of the frame are 13 by four by four feet when assembled.
This stand uses shock cords and cargo loops for set up so it's similar to putting together a camping chair. It also includes a carrying case. Overall, this stand is a great choice if portability is your main need.
GREAT VALUE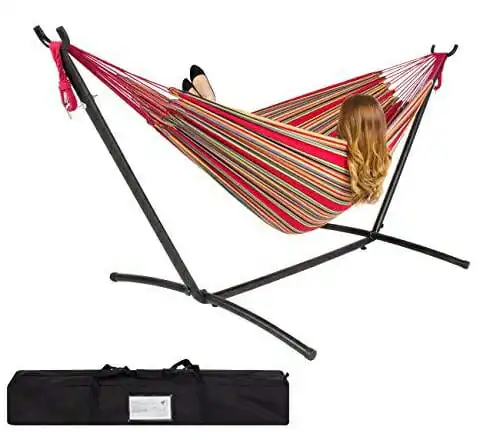 We like the Best Choice Products Double Hammock Stand because it's inexpensive and durable. This stand measures 115 inches long by 48 inches wide and 43 inches high when fully assembled. It has a weight capacity of 450 pounds so it can support most couples without a problem.
You can choose from a variety of hammock colors to fit any setting. And it comes with an included carrying case so you can take it to the beach or the desert. Everything folds down small for simple storage in a trunk or under the bed.
Features:
Supports a double hammock
Weight limit of 450 pounds
Includes carrying case
That's A Wrap!
The key to finding the best portable hammock stand is understanding where and how you like to use your hammock. If you're a solo camper looking for a lightweight stand to carry with you in a backpack, we recommend the Eagle Nest Outfitters Nomad Hammock Stand.
The Lazy Daze double hammock stand is durable for backyards. If you want a stand that holds a variety of different hammocks, the Zupapa Hammock Stand is versatile to fit any size.
With a hammock, you can enjoy an entirely new level of relaxation in the outdoors.
Continue Reading: