Best RV Vacuum Cleaners For Camping
By
on
This post may contain affiliate links. As an Amazon Associate, I earn from qualifying purchases. Please read my full disclosure.
RV campers get notoriously dirty on the inside. Things like pets, tracking in mud, pollen from new areas quickly attach to carpeting or find their ways into tiny nooks and crannies.
If you're traveling for days or weeks at a time you won't have the opportunity to detail your RV in-between trips. That's where a portable RV vacuum comes in!
RV vacuum cleaners are lightweight, easy to store, and designed with compact canisters that won't take up much space.
Why Are RV Vacuums Different From the Household Kind?
Between mud, pet dander, leaves and brush, sand, and fast food crumbs, living in an RV is a different beast than living in a house.
Not only do you have to find something powerful enough to pick up the large variety of dirt that makes its way in, but size and functionality are a huge concern.
Campers and travel trailers are tiny.
You won't have the same amount of storage space. Plus, every extra pound is going to work against your gross vehicle weight limit.
Power and outlet placement are also limiting factors in a motorhome.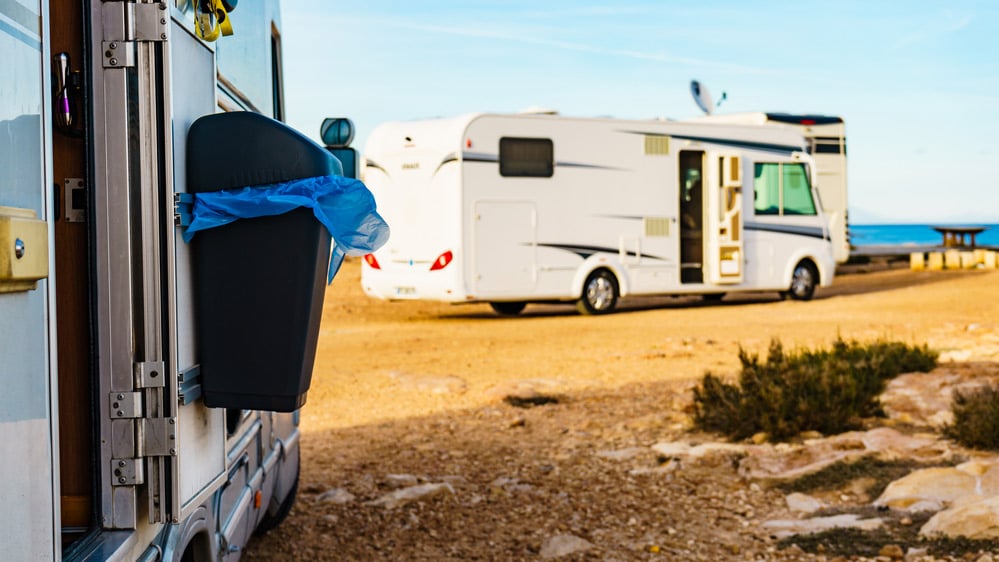 Types of RV Vacuum Cleaners
Central vacuums
Handheld vacuums
Wet/Dry vacuums
Canister vacuums
Stick vacuums
Central Vacuums
Some campers come with a central vacuum built-in; you can also chose to install your own aftermarket version. These systems have a canister placed somewhere in the RV (usually in a cabinet or under a bed) where debris is stored.
Central vacuum cleaners have one hose that is long enough to span the entire length of your RV. The power source is embedded within the canister so there are no cords to move around. These cleaners are great at fitting into the tiniest corners of your trailer because of the slim design.
Storage for the vacuum itself is simple. You can attach it to a wall or stuff it in the tiny confines of a closet. They do have a large hose however, which you'll need to find storage space for as well.
Best built-in style unit. They are easy to store and you don't have to deal with power cords.
Handheld vacuums
The smallest type of vacuum you can find is the handheld style. These come either corded or battery-powered and have a canister attached. Handheld vacuums are great for smaller rigs where you don't have the luxury of extra storage space.
There are a few downsides to this type of cleaner. For one, they're not really designed for cleaning floors so it would be best for campers who have vinyl floors that can be swept leaving the upholstery for vacuuming. They also don't have a long lever arm so you'll have to rely on your own physical ability to reach and crawl to low areas.
Finally, these types of vacuums have small canisters that will need to be emptied on a frequent basis.
Best for small campers with limited storage and vinyl flooring.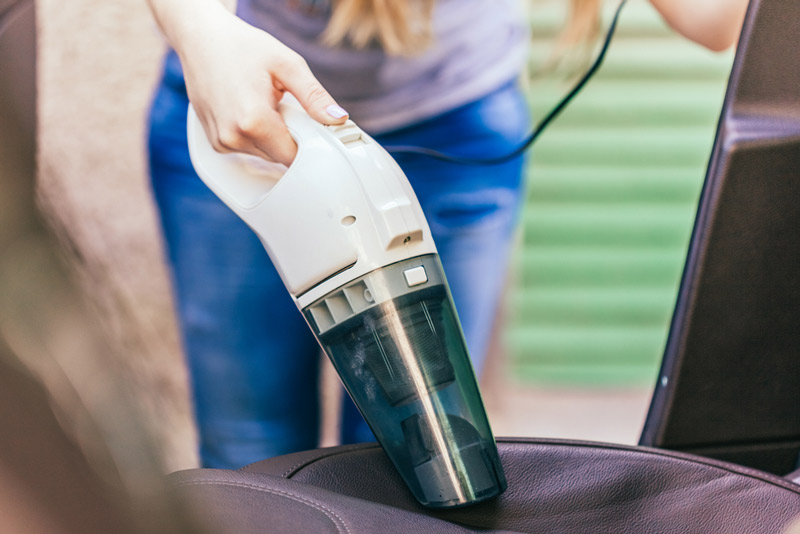 Wet/dry vacuums
Campers with pets will appreciate wet/dry vacuums that are designed to clean up every type of spill. If you have a dog that is frequently over-splashing his water dish than you understand the annoyance of wet and dry messes. These vacuum cleaners are effective in picking up every type of spill.
They are the most versatile vacuum but the design is often heavier and bulkier than other types on this list.
Good choice for RV full-timers with pets and a large motorhome.
Canister vacuums
In this design, the debris bucket is located separately from the vacuum suction. That gives you the space to move around more freely throughout your RV and adjust vacuum heads and attachments based on the surface you are cleaning. This is one of our favorite combinations when it comes to ease of use and capability.
They overall product may be bulkier than some of the others but they have a powerful suction that can't be beat.
Most powerful suction and perfect for hard-to-reach places.
Stick vacuums
Designed to be either corded or battery-powered, stick vacuums are popular among RV campers because they are one of the most compact cleaners. The vacuum "hose" resembles a stick with the canister located at the top. This means it can fit into the tightest of corners and you won't have to worry about storing a large hose attachment.
The downside to stick vacuums is the canister tends to be small so you'll need to empty it frequently. They also are a little more top-heavy because of the design so they require a bit of muscle power to get the job done.
Great all-around vacuum that is extremely compact and will fit into any closet.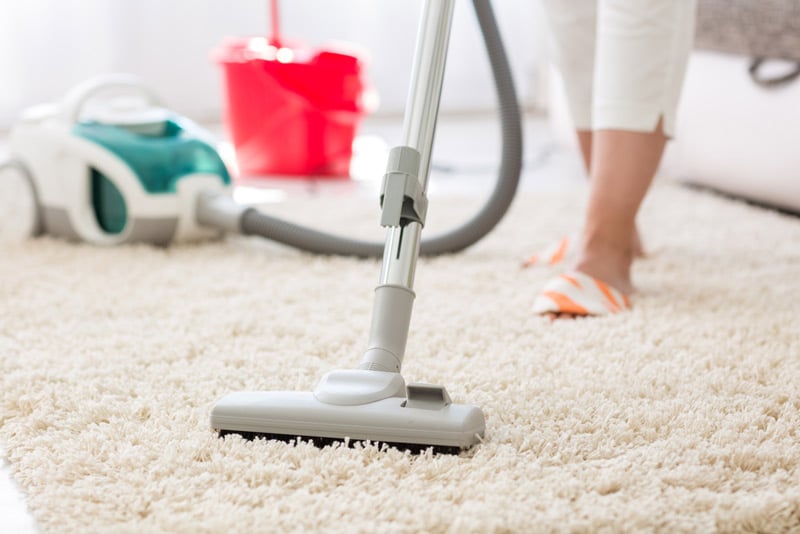 Features Of The Best RV Vacuum Cleaners
Weight
Weight is a big consideration to take into account when it comes to RV vacuum cleaners. While heavy versus light often comes down to a matter of personal preference, remember when choosing an RV vacuum that you'll have to maneuver it around the cramped confines of your RV, and you'll want to do so comfortably. You'll also want to be able to take it out and store it with minimal fuss.
When choosing an RV vacuum, it's always best to go with a lighter model because a more lightweight vacuum is more comfortable to store and won't take up as much space in transport.
Power Source
The next question you'll want to ask has to do with your vacuum's power source. As you'll see in our review, there are plenty of corded RV vacuums out there that are packable, storable, and will do a good job cleaning your RV while you're on the road.
But a crucial consideration with corded vacuums is their amperage. Depending on what other appliances you're operating at the same time, switching on the vacuum could drain your RV battery or cause an outage. Consider the power source and the power draw on the model you're considering.
Or, consider a cordless vacuum. Cordless vacuums can be a little more expensive but are excellent at cleaning upholstery and getting into all the little nooks and crannies of your home on the road.
Flexibility
When it comes to an RV vacuum, you'll also want to get a versatile one. When choosing a vacuum for your travel trailer, make sure to pick one that's capable of cleaning carpet, upholstery, and hard surfaces. If you have a larger RV with several built-ins, you might want to buy a larger RV vacuum with separate attachments for cleaning different parts of your RV.
Don't get too fixated on cleaning the floors; remember you'll also need to clean the baseboards, corners, ceilings, and inside closets and cabinets.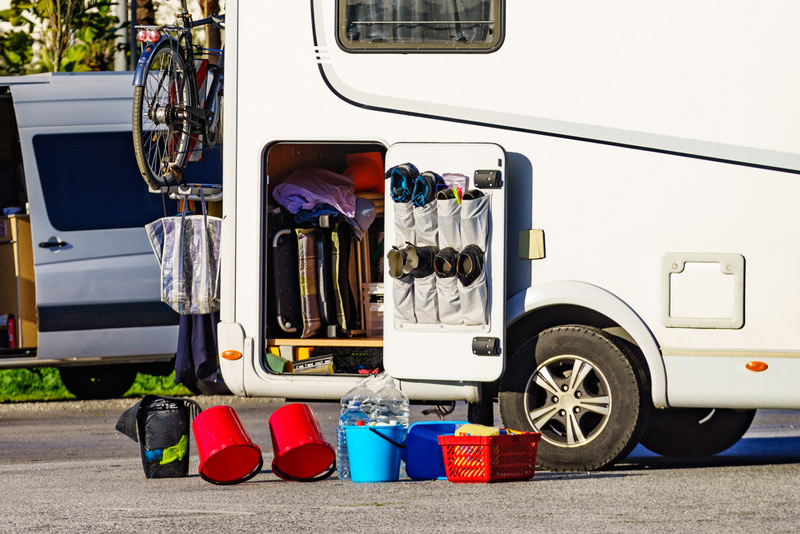 Storage Capacity
If you're traveling with a large party or you're bringing pets, then another issue you'll want to consider when buying an RV vacuum is its storage capacity. If you know you're going to be generating more dirt on the road, then you'll probably want a vacuum with a higher storage capacity.
You'll want an RV vacuum that you won't have to empty every time you use it, and that can handle the amount of dirt you and your traveling companions generate.
Noise Level
We all know vacuums are noisy, with the average decibel level around 75. At home, that might be manageable, but picking an RV vacuum is a little more challenging because RV walls are paper-thin. In the interest of being courteous to your family members and your neighbors, try and choose an RV vacuum that's a bit quieter; your family members and neighbors will thank you.
The Top RV Vacuums Reviewed
---
BEST CANISTER VACUUM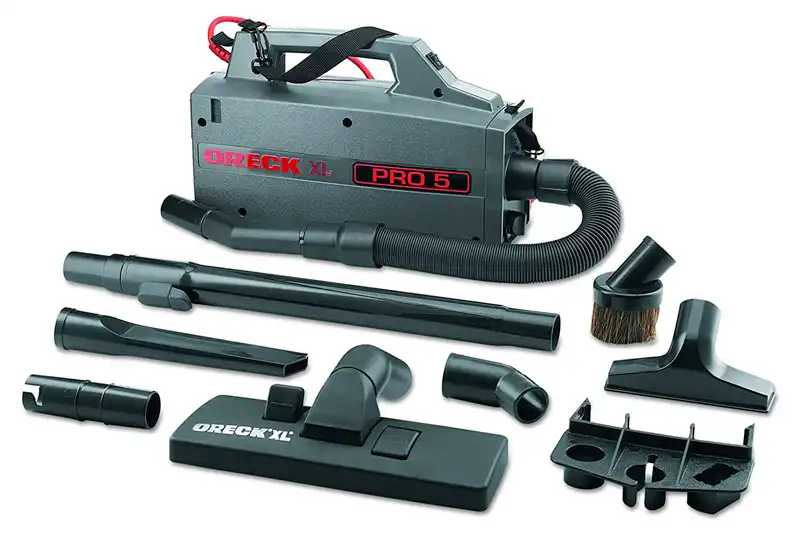 Oreck XL Pro 5 Canister Vacuum
A powerful vacuum that can pick of any type of debris. It comes with a full set of attachments and detailing tools included. Holds up to five fluid ounces of debris and comes with a 30-foot power cord.
CHECK LATEST PRICE
For those who prefer a powerful canister vacuum, the Oreck Commercial XL Pro is our top choice. This vacuum is super compact and has the power to clean your RV from top to bottom. You can easily carry the lightweight canister as you tend your RV, and it allows you to easily clean tables, chairs, shelves, cabinets, and ceilings.
With the included attachments and detailing tools, you can even clean curtains, bathroom fixtures, and light fixtures. This unit can be carried by hand or on the shoulder. This is a portable and compact RV vacuum that is easy to store and easy to use. It weighs five pounds and comes with a one-year warranty.
The powerful vortex motor will pick up anything, and it will last a lifetime. This RV vacuum was made in America using components sourced from other countries.
Full set of attachments and detailing tools included
The included power cord is 30 feet long
Dirt canister holds five fluid ounces of debris
Disposable bag and filter also included
---
BEST CENTRAL VACUUM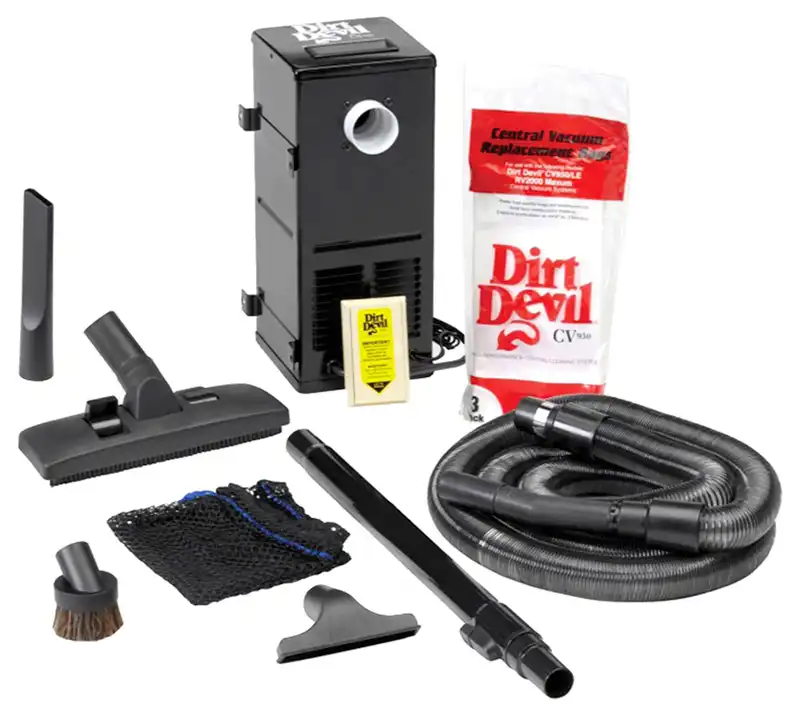 HP Products' Dirt Devil Automotive Vacuum System is a favorite among RV campers. In fact, this model comes built-in to some factory motorhome designs such as the Keystone.
The central vacuum features all-metal construction and a state-of-the-art HEPA filtration system. There are also six different vacuuming accessories included. It's simple to install under a cabinet or bed; all you need is a standard 120-volt power outlet.
While this unit is a little more expensive relative to some of the other others in our product roundup, the bonus with a central RV vacuum like this one is that it will also add resale value to your RV. The HP Dirt Devil comes protected with a five-year manufacturer warranty and won't take up space in your RV.
Unit is portable, lightweight, and easy to store
The included hose expands to a length of 35 feet
The debris tank has a capacity of one gallon
Airflow rate of 100 cubic feet per minute
---
BEST STICK VACUUM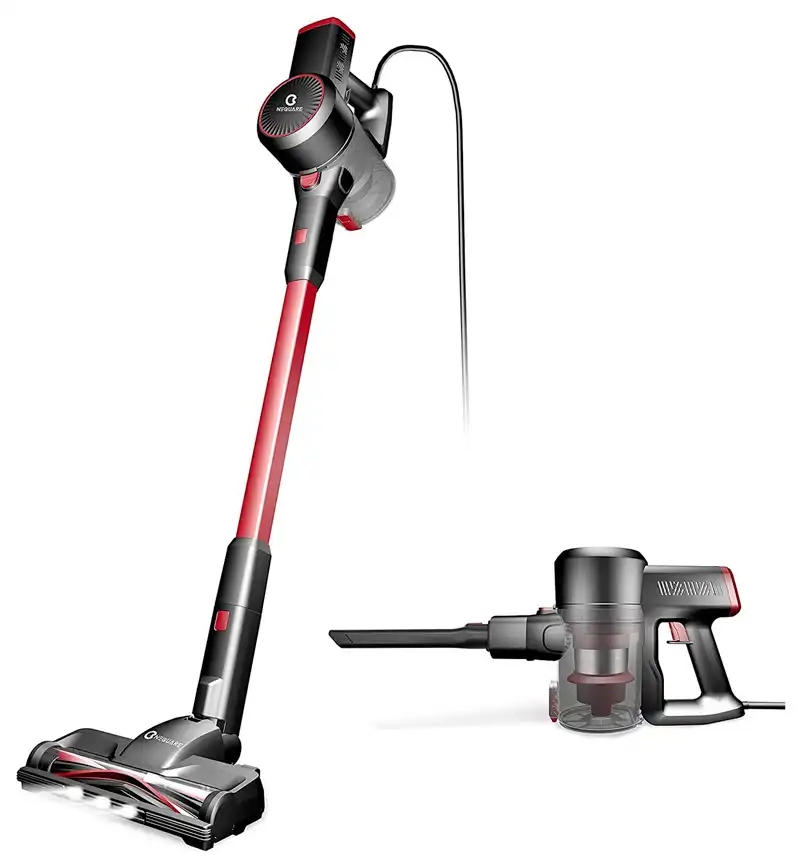 Nequare 4-In-1 Vacuum
Compact stick vacuum that is easy to store and offers super quiet operation, 55 dB. This model is extremely lightweight, weighing just 2.5 pounds. It comes with a versatile 2-in-1 soft brush for all surfaces.
CHECK LATEST PRICE
For those of you who are looking for a compact stick-design RV vacuum, Nequare's 4-in-1 corded stick vacuum wins a spot on our product roundup. This corded vacuum cleaner has a high-speed 600-watt motor that runs at 100,000 RPM. This is another RV vacuum that cleans everything, hard floors, carpets, ceilings, walls, and curtains.
You can quickly turn this unit into a hand-held vacuum for cleaning stairs and other hard-to-reach areas. This model also features a 1-click foot release and a 2-in-1 motorized brush head that's equipped with LED lights for extra illumination when you're cleaning hard to reach areas of your RV.
Nequare's 4-in-1 corded stick vacuum is available in either red or grey and promises to capture 99.99% of dust particles, down to a size of 0.3 microns. This vacuum can rotate at angles of 180 degrees and features a dustbin that you can empty with the press of a button.
Vacuum is super quiet, measuring only 55 decibels when on
2-in-1 soft brush gets hard surfaces super clean
Vacuum is lightweight, weighing only 2.5 pounds
Vacuum comes with a 12-month customer service contract
---
BEST CORDLESS VACUUM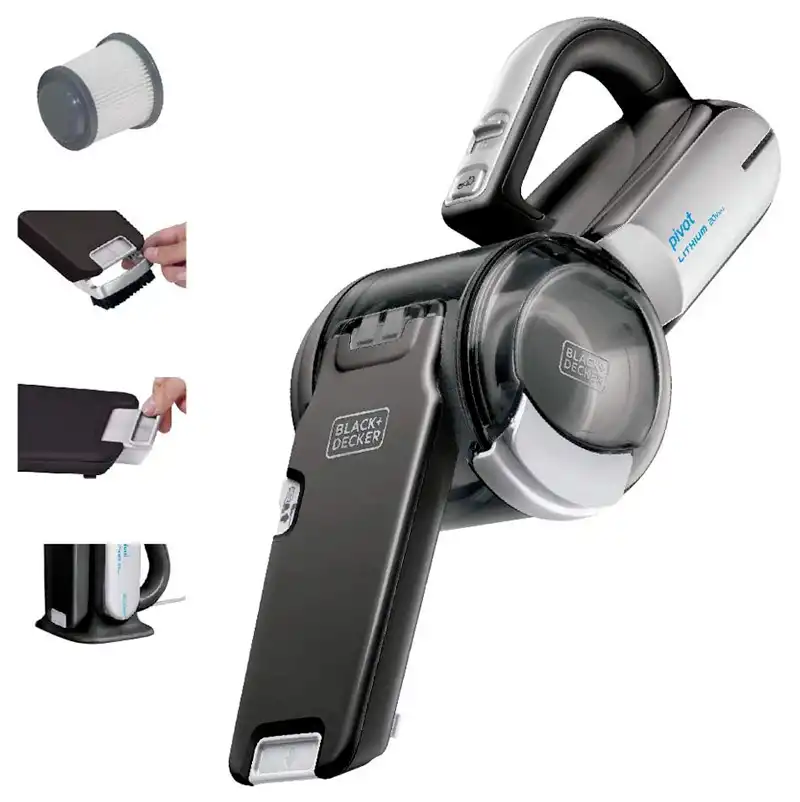 BLACK+DECKER Max Handheld Vacuum
Hand-held and cordless to take up less space. Advanced lithium battery provides power and fade-free suction. Patented cyclone system forces dust and grime from the filter. Advanced three-stage filter system.
CHECK LATEST PRICE
If you're in the market for a tiny, handheld vacuum design the Black + Decker's RV vacuum is our favorite choice. This hand-held cordless vacuum has a capacity of 15 ounces, and with a state-of-the-art lithium battery, you can clean the inside of your RV with no power cord. With its high-powered motor, it will get all of your RV's most challenging surfaces clean.
Since this is a hand-held RV vacuum, it comes from the manufacturer with its free-standing charging station and comes with a pivoting nozzle that lets you clean hard-to-reach spots such as on top of the fridge or under tables. The dirt receptacle and filter are reusable, and you can clean them with water.
When you have fully charged this vacuum, the 20-volt ion battery should provide around fifteen minutes of vacuuming time. The three-stage filtration system cleans the air and removes even the smallest particles. This unit also comes equipped with a brush and a crevice cleaning tool to get dust and crumbs out of upholstery.
Hand-held cordless vacuum lets you clean your RV with ease
Advanced lithium battery provides power and fade-free suction
Patented cyclone system forces dust and grime from the filter
Advanced three-stage filter system picks up dust and germs
---
How To Store Your RV Vacuum
After you've got your vacuum, we thought it was worth it to take just a few minutes to discuss the best way to store your RV vacuum while you're on the open road. Knowing how to keep your RV vacuum is essential because you don't want it to get damaged and because when you're in an RV, space is at a premium.
Find Closet Space In Your RV
If you're lucky enough to have an RV that comes with a full closet, then your best bet is to save some closet space for your RV vacuum.
Use Your RV's Basement
For RV enthusiasts who don't have a full closet, your next best option is to set aside space in your RV's basement storage area. While this will keep your RV vacuum out of the way, it won't be as easy to access.
Other Storage Options
If neither one of the above options work for you, then your best bet is to get creative and look for other places in your RV where you can safely stow your RV vacuum when it's not in use. Popular options include inside an ottoman, under a bed, or in an under-the-couch storage space.
Some vacuum cleaners come with attachments that allow you to hang the unit on the wall.
That's A Wrap!
If you're new to RV life, we know how stressful it can be when you're trying to make sure your rig is adequately equipped and outfitted. When choosing an RV vacuum to help you stay tidy on the road, pick one that works with the interior of your family's RV. Make sure to select an RV vacuum that is portable, easy to store, and not too noisy.
If you want a powerful central vacuum cleaner that will stay out of the way and store a massive amount of debris, we recommend the <aclass="moneylink" href="https://www.parkedinparadise.com/dirt-devil-automotive-vacuum-system/" target="_blank" rel="noopener">Dirt Devil Automotive Vacuum System.
The Black + Decker Handheld vacuum and Nequare 4-in-1 are our top choices when it comes to compact design for easy storage.
Finally, if you're looking for the most powerful option on the market the Oreck canister vacuum is one that you can't miss.
You Might Also Like: