Battle Born Lithium Batteries Review LiFePO4
By
on
This post may contain affiliate links. As an Amazon Associate, I earn from qualifying purchases. Please read my full disclosure.
Battle Born batteries are one of the most popular brands of LiFePO4 for van life, RV travelers, and marine applications.
Lithium batteries can be charged with solar panels or shore power and provide electricity to mobile electronics. Battle Born batteries can be used as a drop-in replacement for old, lead acid batteries or incorporated into a completely new DIY solar panel system.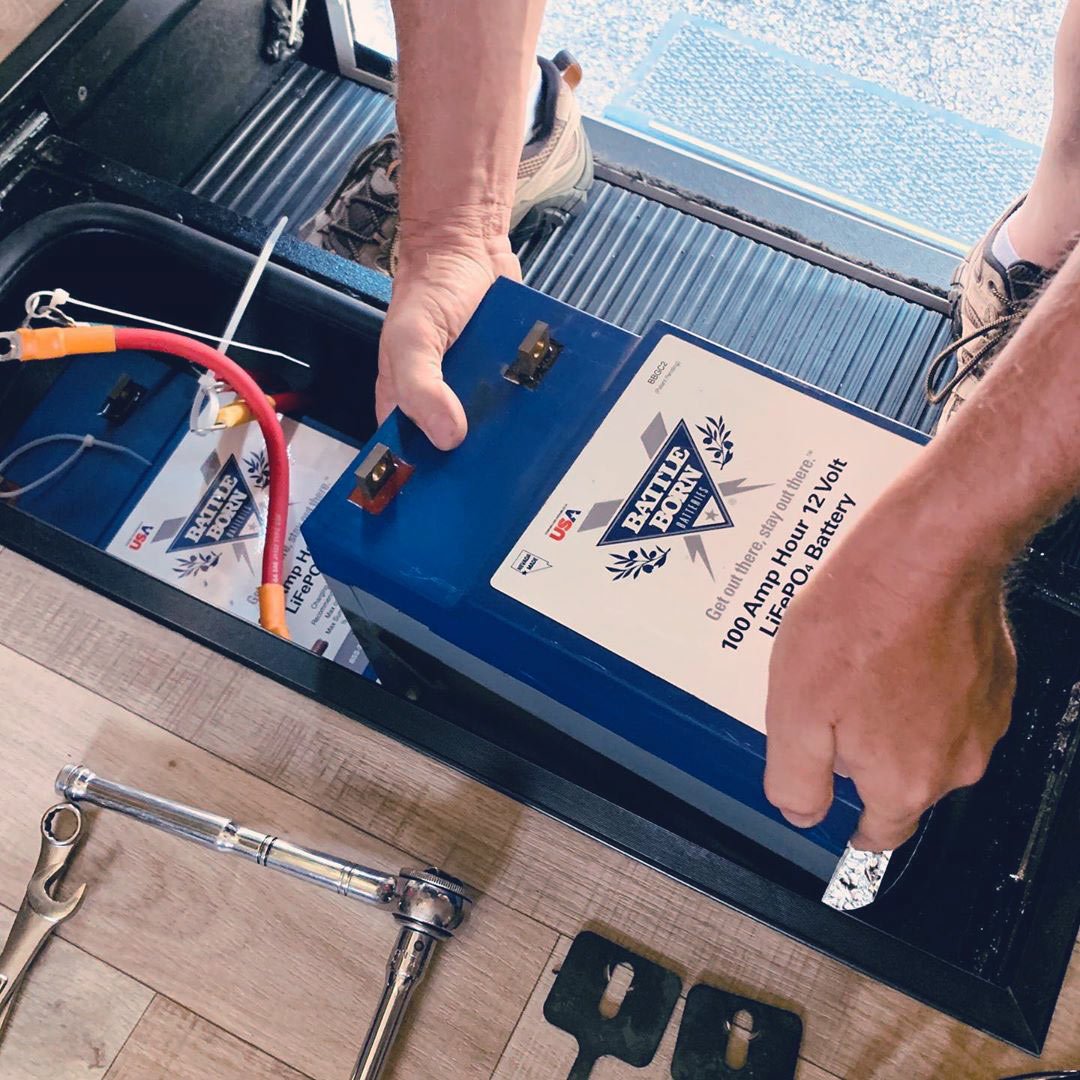 These are some of the top reasons customers choose Battle Born:
LiFePO4 Battery chemistry
3,000 – 5,000 Charge cycles
Internal battery management system (BMS)
Low temperature safety cutoff
Great build quality for the price
Battery terminals cannot be over-torqued
Can be wired in series or parallel
Easy future expansion if you want to add more later
Long-lasting, 10 year warranty
Great customer service–designed and assembled in Reno, NV
100Ah Battle Born Battery Specifications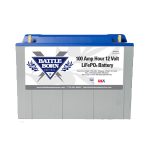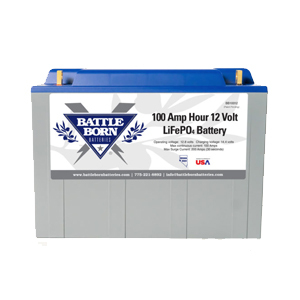 The most popular battle born product is the 12V 100Ah LiFePO4 deep cycle battery:
Capacity: 12V, 100Ah
Weight: 31 pounds
Dimensions: 12.75" x 6.875" x 9"
Terminals: (includes bolt set)
Charge and Discharge
This battery has a 100Ah continuous current, and a 200Ah surge current (up to 30 seconds). There is automatic cell balancing for optimal charge and can be fully discharged without damage.
The lifespan is rated at 3,000-5,000 cycles with approximately 75%-80% of capacity remaining after 3,000 cycles when charging at 0.5C or lower.
Temperature
An internal battery management system (BMS) allows you to safely charge between 25°F-135°F (-4°C-57°C) and discharge between -4°F-135°F (-20°C-57°C). The BMS also protects against ground faults and other unsafe conditions.
Warranty
One of the top reasons people choose to purchase Battle Born over other brands is their warranty. They currently have a 10 year warranty–which is one of the longest you'll find. These batteries are designed and assembled in the USA, and they are built to last.
Choosing Battle Born Over Other Brands
Most LiFePO4 batteries are built in a similar fashion. The reason customers lean towards Battle Born is because they are designed and assembled in the USA and they have the longest warranty.
The Battle Born customer service team is superior to the non-domestic brands, and the price point is comparable with similar batteries of the same size and composition. They have a noticeably better build quality than cheap Chinese brands, meaning they have good internal components and assembly practices.
Battle Born sells other battery sizes including 12v, 50Ah and 24v, 50Ah. They also sell a battery called the GC2 (12v, 100Ah) which is made to replace standard 6V batteries that RVs come with.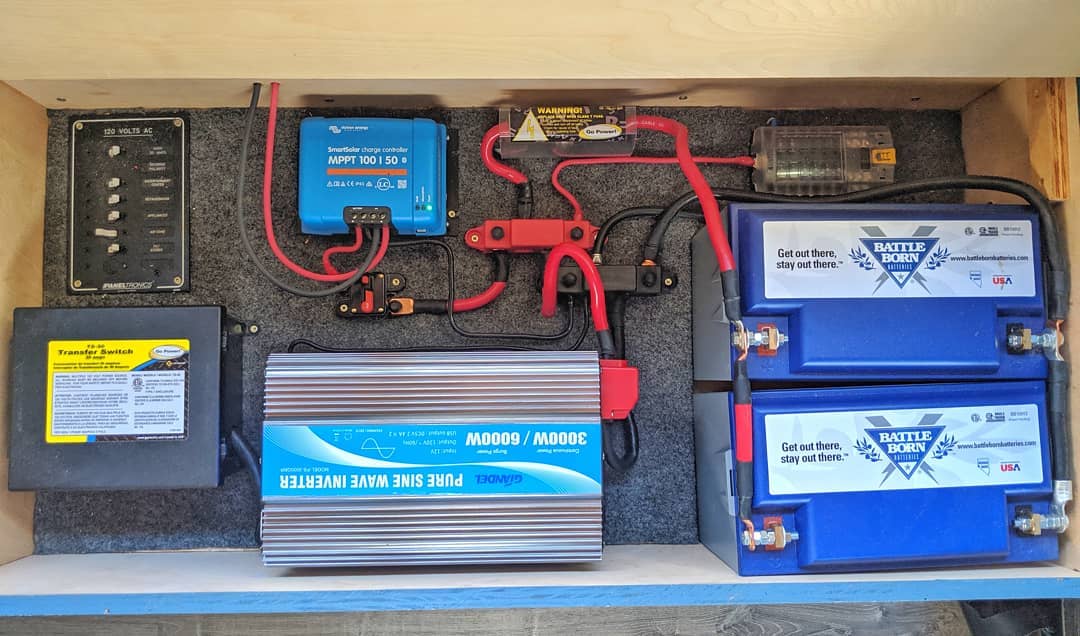 Common Uses
Lead acid battery replacements: Generally, no new hardware is required to replace an existing lead acid battery with a Battle Born in your RV, camper van or boat. When your AGM batteries become old or damaged over time you can easily swap them out.
If you are replacing a battery bank for auxiliary electronics, make sure that your battery charging devices can work with Lithium chemistry.
DIY solar panel systems: Batteries are the most important component in a DIY solar panel system. We have wiring diagrams and installation examples to do this yourself.
Solar Panel Kits: Most pre-configured solar panel kits come with solar panels, a charge controller, mounting equipment and connectors. Often, batteries for these kits are sold separately. For that reason, we recommend purchasing LiFePO4 batteries to round out your system.
Where To Buy Battle Born
These batteries are sold both on Amazon.com and BattleBornBatteries.com. If you choose to purchase from Amazon, the pricing is the same and they honor the 10-year warranty. All ground shipping in the USA is free.
Purchasing In The United States
Purchasing Battle Born In Canada
Importing lithium batteries is difficult as they are considered hazardous materials. Commercial delivery companies are restricted on what Canada/US border crossing hazardous materials can be brought over to protect bridges and railways. While some DIY builders dedicate the time to travel to the US and self-import to Canada there are a select few Canadian companies with dealership status and established importation solutions.
Ray Outfitted is a mobile mechanic and off grid installation specialist – they live and work from their own DIY campervan and offer services including dial a DIY'er telephone consultations, custom designed electrical systems and installation services.
Ray Outfitted works with DIY builders and RV owners to suit their goals and invites clients to work alongside so they can learn and remain self-sufficient on the road. They travel coast to coast in Canada and can offer remote support on projects based outside of Canada.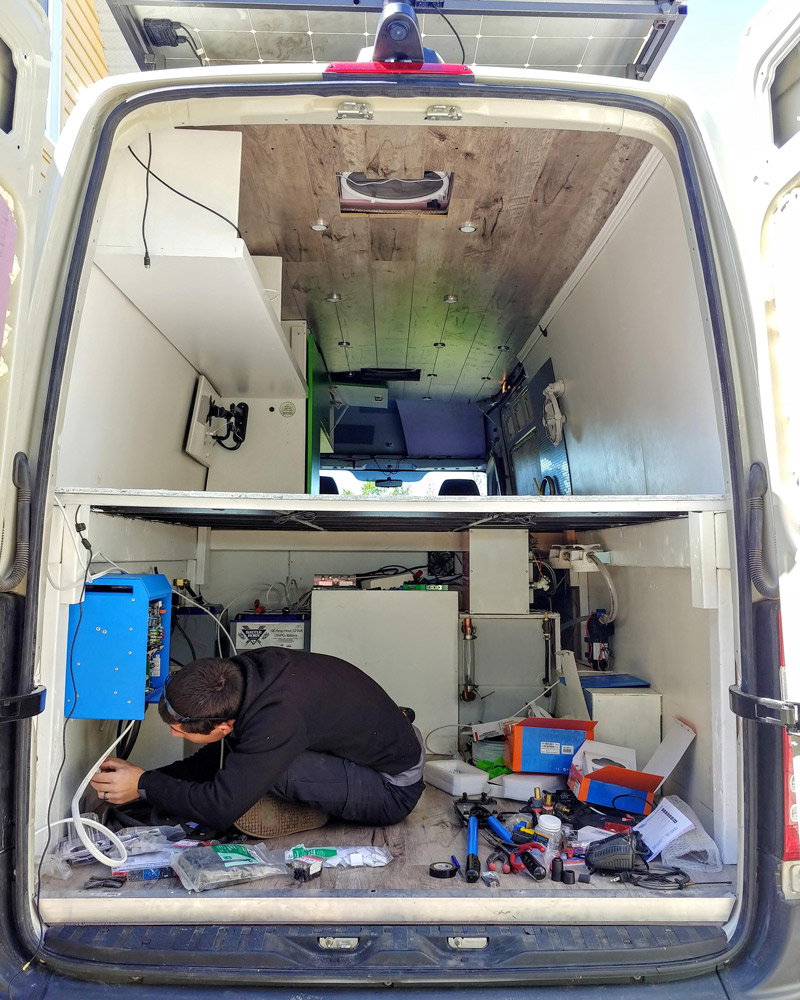 How Many Batteries Do You Need?
One of the most frequently asked questions we get is "How many batteries do you need to power your camper?"
Batteries are the limiting factor in your solar panel system. To find out how many you need, you should start by making a list of all the electronics you intend to power. You can input these items in our solar panel calculator along with your estimated hours of use.
Select "lithium" in the battery section of our calculator and you'll get a conservative estimate of how many batteries you need. The calculator also includes estimates for solar panels, charge controller and inverter size as well as wiring diagrams.
Depth of Discharge (DoD)
Lithium batteries differ from AGM batteries because they can be almost fully discharged without damage. The BMS will prevent over discharge damage, so you do not need to be as careful about electronic use (although you can still run out of juice!). They can last over 3,000 cycles when properly maintained. You can keep track of voltage using a battery monitor.
These are the ideal charging parameters for 12V Battle Born batteries:
Bulk/Absorption: 12V – 14.6V (ideal charge balance is 20 minutes per battery)
Float: 12V – 13.4V (when connected to shore power)
Equalization: Not recommended
Installation
Not all lithium batteries can be wired in both series and parallel. Battle Born batteries are designed to safely handle both. They can also be dropped in to replace existing AGM batteries.
Because they come in 12V, you will most likely be wiring your batteries in a parallel configuration with the Battle Born option. You can read more about why in our post: best batteries for solar storage.

Why Choose Lithium?
Storage Capacity
Perhaps the biggest advantage to LiFePO4 batteries over others is the fact that they can be safely discharged all the way. With an AGM or FLA battery, the safe DoD is 50% so you would need twice the battery capacity to achieve the same amount of usable energy storage.
That means you can pack more capacity in a smaller amount of space with lithium. Overall there will be less weight and a smaller footprint to add to your RV.
Charging
Due to the chemical makeup of lithium, these batteries can be charged and discharged more quickly than FLA and AGM. They can also be stored at a partial charge without doing measurable damage to the cells. This is contrary to Lead Acid batteries, which must be charged and stored to 100% capacity frequently; something that is hard to do off grid sometimes.
Battery Management System (BMS)
Unlike AGM and FLA, you can purchase lithium batteries that contain a built in battery management system. These systems are designed with a temperature sensor inside to cut-off operations in the event of extreme temperatures, poor grounding, or over discharge. This makes the lifespan more predictable and the system safer.
Lifespan
LiFePO4 batteries can last 10 years or longer. Top brands have a life cycle of 3,000 charges. Comparatively, here is the average for other battery types:
Flooded lead acid: 500 cycles (2-4 years)
Gel lead acid: 1,000 cycles (5 years)
Absorbed glass mat: 800 cycles (4 years)
Lithium iron phosphate: 3,000 cycles (10 years)
Expandable Battery Bank
Another major advantage of lithium over AGM is the ability for future expansion. If budget limits your battery bank size during the initial build, it's easier to wire more lithium batteries in parallel the future.
Low Maintenance
FLA batteries require constant maintenance like refilling distilled water. AGM batteries are also finicky because you have to keep careful track to not allow them to discharge too far. None of these are an issue with Lithium.
Safety
Lithium batteries have no external combustion so they can safely be stored under your bed, or in the tight confines of a van. You don't have to worry about off-gassing or breathing in unsafe chemicals like in a FLA or AGM battery.
LiFePO4 batteries are also highly resistant to heat (unlike lithium-cobalt, the battery in cell phones and Tesla vehicles) so there's less chance they'll get damaged under high temperatures.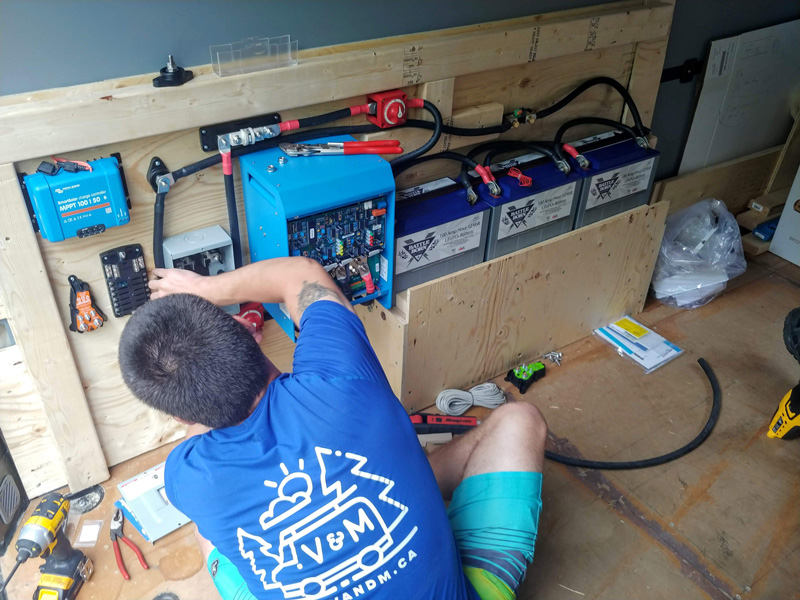 Lithium Batteries At A Glance:
Smaller, more useable capacity
Less expensive over long periods of time
Charges and recharges faster
Self balancing cells
Built in battery management system
Longer lifespan
Expandable battery bank
Little to no maintenance
Can be used sideways or at an angle
No external combustion or off-gassing
Lithium battery Disadvantages:
With all of the advantages that lithium offers, there are two main reasons you might want to use AGM or FLA batteries instead:
Large upfront cost
Lithium cannot charge below freezing temperatures
Cost Comparison
Prices for lithium are getting cheaper, but they are still very expensive compared to AGM or FLA batteries. If you plan to use your batteries for many years, lithium is the most economical.
That said, if you only plan to use batteries for a shorter 2-3 year van life trip, then AGM or FLA chemistries are going to be the best bang for your buck.
Below is a cost comparison of LiFePO4 vs a Lead Acid Battery over a full life cycle:
| | 100Ah LiFePO4 Battery | 200Ah AGM Battery |
| --- | --- | --- |
| Useable Capacity | 100 Ah | 100 Ah |
| Weight | 30 lbs. | 144 lbs. |
| Lifespan | 10 years | 4 years |
| Cycles | 3,000 cycles | 800 cycles |
| Upfront Cost | $950 | $450 |
| Cost Per Cycle | $0.32 per cycle | $0.56 per cycle |
| Cost Per Year | $116 per year | $204 per year |
Low Temperatures
Aside from upfront cost, the biggest disadvantage to lithium batteries is their poor charge performance in freezing temperatures. Battle Born LiFePO4 batteries for example, will not charge in temperatures below 25°F (-4°C). The battery management system will prevent charging below this temperature to inhibit damage.
AGM and FLA batteries can work in a larger range of weather conditions. They are usually a better technology for a cabin backup power source or as a vehicle starter because lithium cannot be relied on in those cases.
For RV and van travel, this more often than not isn't an issue because the heat from the living area can keep your auxiliary batteries warm. As a side note, use a controlled climate if your batteries are not going to be used for long periods of time. This is an important step in winterizing your RV.
Continue Reading: