Best RV Wheel Chocks And X-Chock Stabilizers
By
on
This post may contain affiliate links. As an Amazon Associate, I earn from qualifying purchases. Please read my full disclosure.
After a long day of travel, the last thing an RV owner wants to deal with is their motorhome rocking and rolling every time they take a step. That's why it's a good idea to invest in a quality set of RV wheel chocks.
There are two main types of wheel chocks, but their function remains the same; keeping your RV stable and in-place! In this article, we'll explore the different types of wheel chocks and take a look at some of the best models available.
TOP CHOICE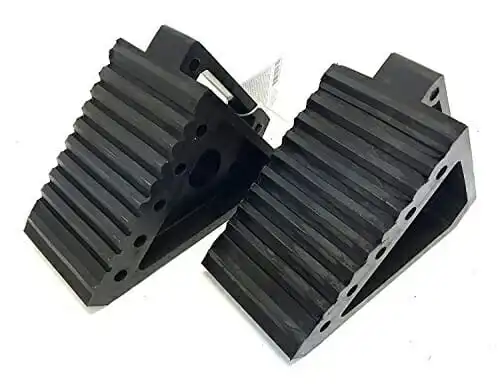 BEST X-CHOCK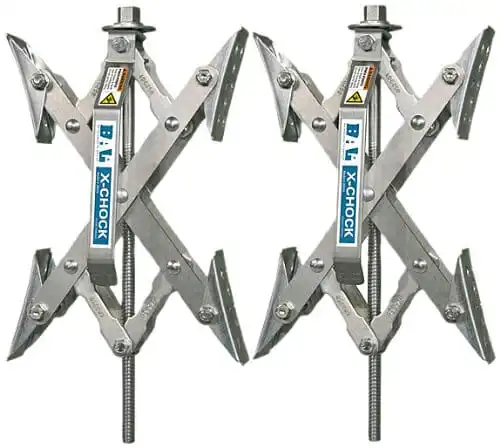 Why Use Wheel Chocks?
Because RVs are literally more massive than the average minivan or sedan, they are more affected by the pull of gravity. This can become a problem when parking on an incline, as campers and RVs are more likely to roll away if improperly secured and stabilized.
Wheel chocks can help prevent such disasters by locking or supporting the vehicle's wheels. These practical devices are not only a great choice for RV owners, but they can potentially save lives and thousands of dollars.
Every RV owner should educate themselves on the various safety protocols they can take to keep themselves and their property free from harm.

What Is The Difference Between Wheel Chocks and X Chocks?
RV wheel chocks come in two very different and distinct styles.
Standard wheel chocks are ramp-shaped devices that wedge against a tire to keep it in place.
X-chocks–also known as wheel stabilizers–are metal devices that squeeze between tires, typically dual tires, and they prevent them from rocking. These help to stabilize your camper, but they should be used in addition to wheel chocks.
The function of these RV wheel chocks is the same, even if their design and implementation are different. If you have multiple sets of tires, x chocks and wheel chocks may be the most effective to prevent rocking. With a smaller rig, standard wheel chocks will be all you need.
How to Use Wheel Chocks
RV wheel chocks are reasonably straightforward pieces of equipment. One simply places a wheel chock against the tire they wish to stabilize, and walk away. But for greater clarity, here is a step-by-step guide.
1. Identify The Direction Of The Incline
After parking and employing the emergency brake, exit the RV and identify the direction of the incline.
2. Place Wheel Chocks Against Wheels In Direction of Incline
Wielding your wheel chocks, place them snuggly against the tires of the RV. The wheel chocks should be placed in the direction of the incline. For example, if the road is sloping downward toward your right, the wheel chocks should be placed on the right side of the tire.

How to Use Wheel Stabilizers (X Chocks)
X chocks are only slightly more complicated to use than standard wheel chocks. Rather than being made of hard plastic of sturdy rubber, x chocks are typically made of metal. Installing them requires a little more time and patience than installing standard chocks, but practice makes perfect.
1. Level Your RV
Before using x chocks to stabilize a vehicle, you must first ensure that your vehicle is level. This will require standard wheel chocks and levelers. Once the vehicle is as level as possible, x chocks can be applied.
2. Place the X Chocks and Tighten
Place the x chocks between closely-spaced tires. Tighten the top nut with a ratchet until the sides of the chocks are firmly secured against the sides of the tires. Then, tighten a few more times to ensure a proper fit.
After stabilizing your camper, apply wheel chocks to make sure that the rig is fully secure.
3. Reverse Direction to Free Your Wheels
When it's time to get going, you only need to reverse the ratchet direction on the top nut to loosen the x chock's hold and remove them.

Features to Look For
Trailer chocks come in many different shapes and sizes, and some are built with specific purposes in mind. It is a great idea to be aware of the most valuable features of camper wheel chocks in order to save time, money, and energy when navigating the purchasing process.
Type
As mentioned above, wheel chocks can be either ramp-like devices or metal clamp-like pieces. These designs reflect two different methods of stabilization.
Wheel Chock: Common wheel chocks are made of either hard ABS plastic or thick rubber. They are ramp-shaped and easy to use. They can become an expensive option for larger rigs with multiple sets of tires.
Stabilizer (X Chock): Stabilizers, also known as x chocks, fit between wheelsets to provide the optimum amount of wheel stabilization and locking possible. However, they are only truly effective when paired with wheel chocks. These are a fantastic option for owners of large RVs with multiple sets of tires.
Size and Portability
An RV can become a cramped place in no time. That's why all necessary items should be lightweight and compact. The lighter the load, the less money spent on fuel in the long run. This includes RV wheel chocks. Heavier, heftier models may be able to handle larger weights, but they are also bound to consume more interior space and add to the overall weight of the rig.
Wheel chocks should always rise to at least 25% of the tire height for safety purposes. Smaller and lighter models are easier to keep out of sight but may not be able to withstand more massive vehicles. These chocks may be more portable, but you'll also have to pack more of them if there are a lot of tires on your camper.
X-chocks all have a gross vehicle weight rating (GVWR) that they can safely handle so you should know how much your camper weighs. You'll also want to be aware of how far apart your tires are spaced. Stabilizers have a limit to how far they can stretch so it's important to keep that distance in mind.
Durability
Keeping your RV from taking a dive off the scenic cliff you are camping near should be a top concern. Luckily, RV wheel chocks don't cost a fortune. However, some of the cheaper models may not be extremely durable, which means they'll have a shorter lifespan.
If camping is something you do on a daily or weekly basis, you should purchase a wheel chock made of durable materials that can handle extreme weather conditions.
Ease of Use
Standard wheel chocks are an absolute breeze to use. X chocks can be a tad more complicated, though they only require approximately 10-20 extra seconds per wheel. Still, this time does add up, especially with multiple tire sets.
How Many Wheel Chocks Do You Need?
The number of wheel chocks you need depends on the number of wheels your RV has! The more wheels, the more wheel chocks. In an ideal world, owners would have one wheel chock per tire, however, it is usually fine to own one wheel chock per two tires.
Rigs with dual sets spaced closely together could benefit from the added stability of a pair of x chocks, though this will naturally require the owner to spend more time installing the wheel chock system.
Best RV Wheel Chocks Reviewed
TOP CHOICE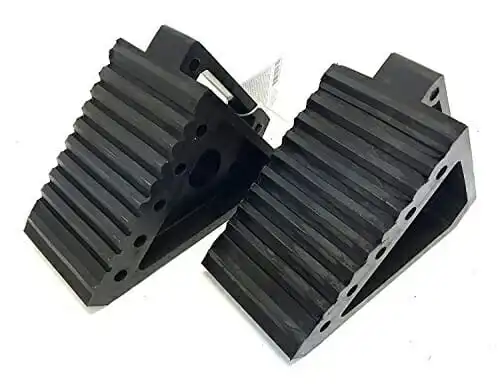 For buyers in search of the most durable, rugged, and long-lasting set of standard wheel chocks, the MaxxHaul Heavy Duty Wheel Chocks are our top choice.
These chocks come with a built-in handle that makes them even easy to install and maneuver. Though these trailer chocks are heavier than plastic versions, they are also capable of supporting far heavier vehicles. And even so, they are about as heavy as standard metal x chocks.
Overall, they're a great choice for heavier RVs or trailers that often find themselves parked on an incline.
Durable, solid rubber material
Built-in handle
Easily handles thousands of pounds of weight
Initially emits a strong rubber odor, which takes time to dissipate
Only 4 inches wide, making it incapable of supporting extra-wide tires or dual sets without adding additional chocks
RV owners on a budget should consider the Camco Wheel Chock set because it's one of the most economical options available. These wheel chocks are compatible with wheels up to 26 inches in diameter, so they're ideal for smaller campers and trailers.
The hard plastic is resistant to UV damage, and the bright colors will ensure you'll never leave them behind.
Affordable
Lightweight and easy to store
Can only be used on tires up to 26 inches
BEST X-CHOCK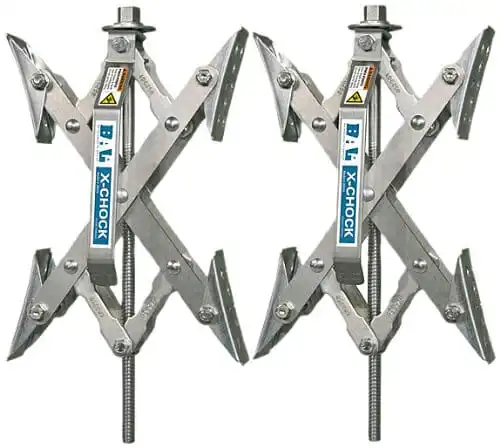 Top X-Chock Stabilizer: BAL X-Chock Wheel Stabilizer (2 Pack)
Owners of larger RVs or campers with tandem tires may want to consider the X-Chock Wheel Stabilizer. These stabilizers are affordable and can expand to fit between wheels up to 10 inches apart.
Though these wheel stabilizers are heftier than other models–weighing 11.2 lbs–they make up for it in strength and capability. Owners of multiple types of RVs, campers, or trailers can benefit from the stability these tiny metal chocks can provide.
Fits tire gaps between 1⅜ inch and 10 inches
Coated to help to prevent rust
Heavier than standard wheel chocks
More costly than comparable models
Must be used in conjunction with wheel chocks
That's A Wrap!
There are very few reasons not to own a set of RV wheel chocks, especially considering the price and peace of mind that a set will bring. Standard sets, such as the Camco Wheel Chock, are easy to install and affordable. For those with larger campers, we prefer the MaxxHaul Heavy Duty Chocks.
X-Chock Wheel Stabilizers like the pair from BAL are built to handle massive amounts of weight and are perfect for those with large campers or tandem tires.
Continue Reading: