7 Best Dog-Friendly Hiking Trails In Saguaro National Park
By
on
This post may contain affiliate links. As an Amazon Associate, I earn from qualifying purchases. Please read my full disclosure.
National Parks are not known to be pet friendly. But Saguaro National Park in Tucson, Arizona has several dog-friendly hiking trails that you can enjoy with your best friend.
Hiking is the best way to stretch out your legs, get some exercise, and enjoy the outdoors.
In this article we're going to cover 7 hiking trails where it's legal to walk you dog in Saguaro National Park.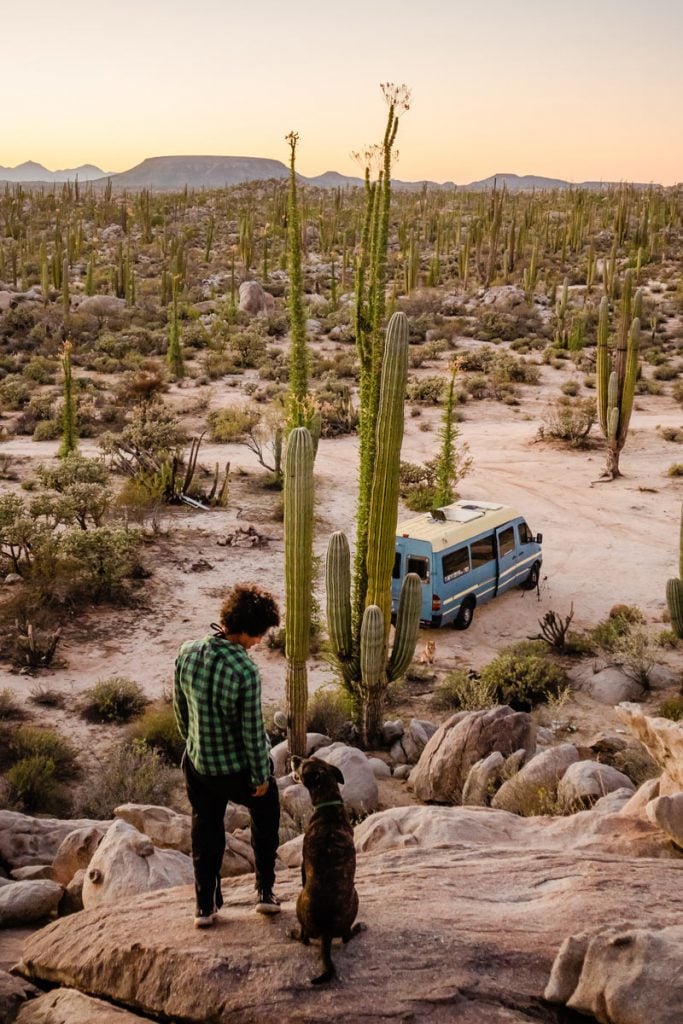 Dog-Friendly Hiking Trails In East Saguaro National Park
The east side of Saguaro National Park is often referred to as the Rincon Mountain District. This area has four beautiful paved and un-paved hiking trails to enjoy with your pet.
The Mica View Trail
If you want to step off the pavement, the first section of the Mica View Trail is the perfect place to do it.
The path begins at the Broadway Trailhead on East Broadway Boulevard. This is the starting point for the Sanchez Trail and the Cactus Forest Trail as well.
The first 0.7 miles of the Mica View Trail from the Broadway Trailhead to the Mica View Picnic Area is dog friendly.
Out-and-back the trip is almost 1.5 miles long with a nice spot to rest at the Mica View Picnic Area where you'll find tables and restrooms.
From there, you can continue down the Mica View Dirt Road to extend your hike.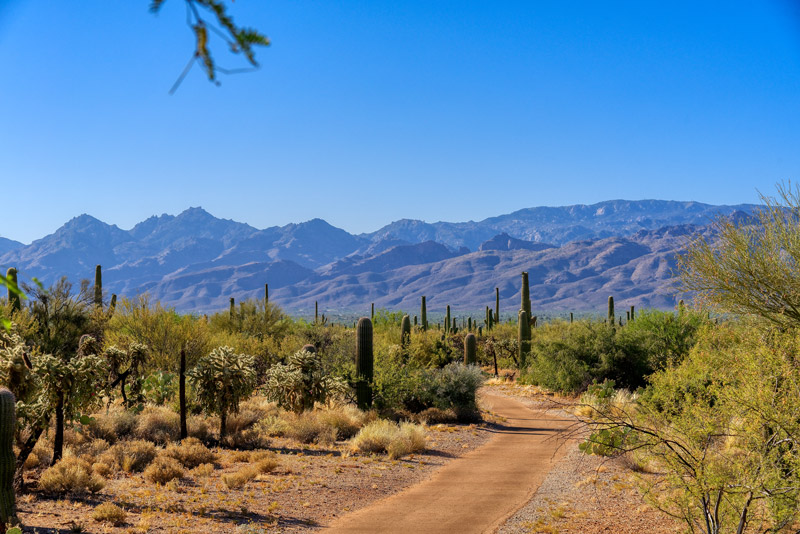 The Mica View Dirt Road
If you're looking for a wider path that has plenty of space to play with your dog, the Mica View Dirt road is the perfect place. Here, you'll get to enjoy a trail-like experience without disrupting native flora.
The 1.5 mile out-and-back hike goes from the Mica View Picnic Area to Cactus Forest Drive. It's wide, and lightly trafficked so you won't feel like you're walking in the street.
During the hike you'll be surrounded by a lush cactus landscape and mature saguaros. Views of Mica Mountain and the Tanque Verde Peak will be within sight.
The Mica View Picnic area has lots of tables to relax. And there are restroom facilities as well.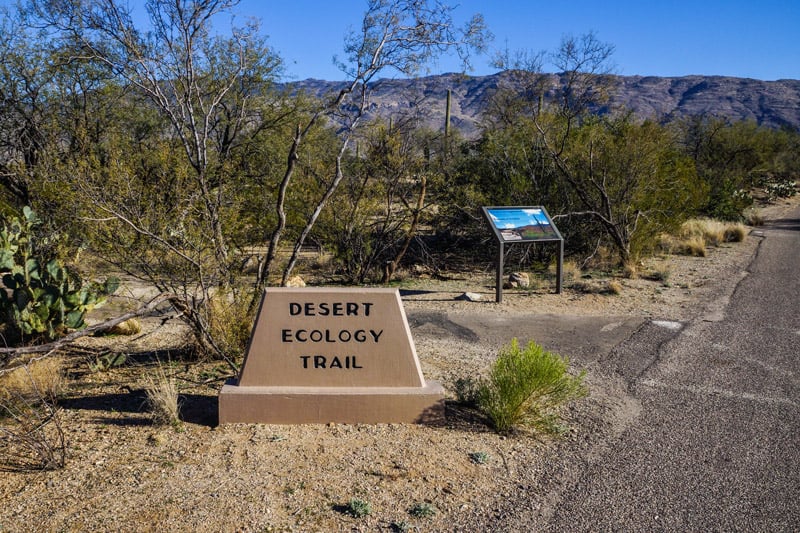 The Desert Ecology Trail
A short, dog-friendly hike that will also add to your education is the 0.3 mile Desert Ecology Trail Loop.
This path is paved, so you'll want to make sure to cover up your dog's paws or go early in the morning (or later at night).
The fascinating trail has lots of signage so you can learn about native plants and wildlife along the way. You'll find great descriptions of desert flora and fauna.
Plus lots of interesting native plants which continue to bloom year-round.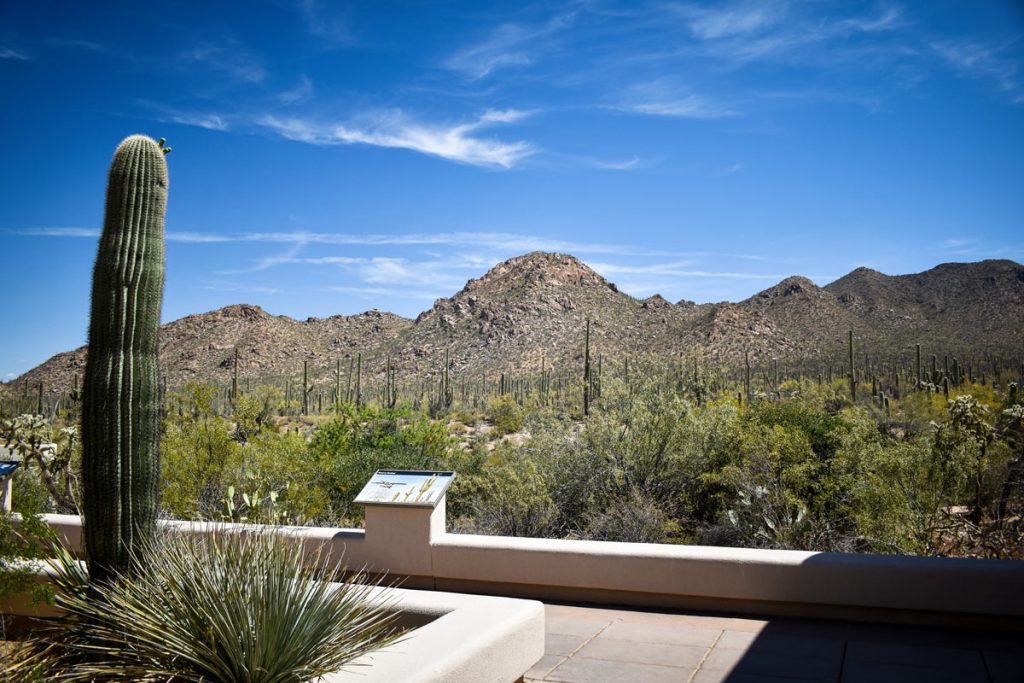 Cactus Forest Loop Road
The entirety of Cactus Forest Drive is dog-friendly. Even though the loop is paved, the road is only a single-lane wide and lightly trafficked which makes for a comfortable walking experience.
Along the route, you can stop by multiple trailhead areas where there are restrooms and picnic tables covered in shade.
You'll also be able to enjoy the views from the Cactus Forest Overlook, Loma Verde Trailhead, and Rincon Mountain Visitor Center which are all accessible from the roadside.
Dog-Friendly Hiking Trails In West Saguaro National Park
The roads within West Saguaro National Park (also known as Tuscon Mountain District) are more heavily trafficked than those in the east Rincon Mountain District.
So it's not recommended that you walk your dog around those routes because it won't be as quiet and enjoyable.
However, there are three areas in Tuscon Mountain District that are convenient hiking spots for pets.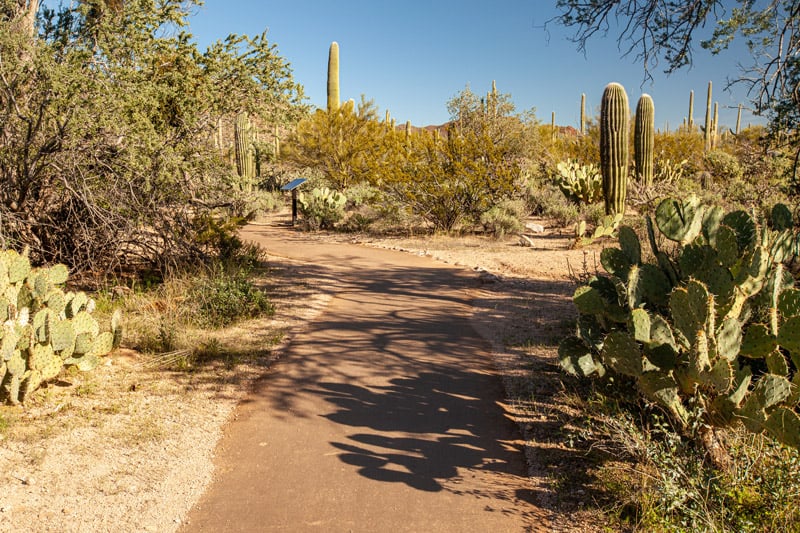 Desert Discovery Nature Trail
A short, but beautiful hike that is dog friendly in the Tuscon Mountain District is the Desert Discovery Nature Trail.
The hike is only 0.4 miles long, but you could loop it over and over again because there are so many interesting plants to enjoy. Desert wildflowers and Saguaro Cacti are the highlights of the hike.
The trail surface is wide, paved, and gets hot in the middle of the day so you'll want to protect your pet's paws. There is no water in the area, but there are plenty of benches to stop for a rest and relax under a ramada.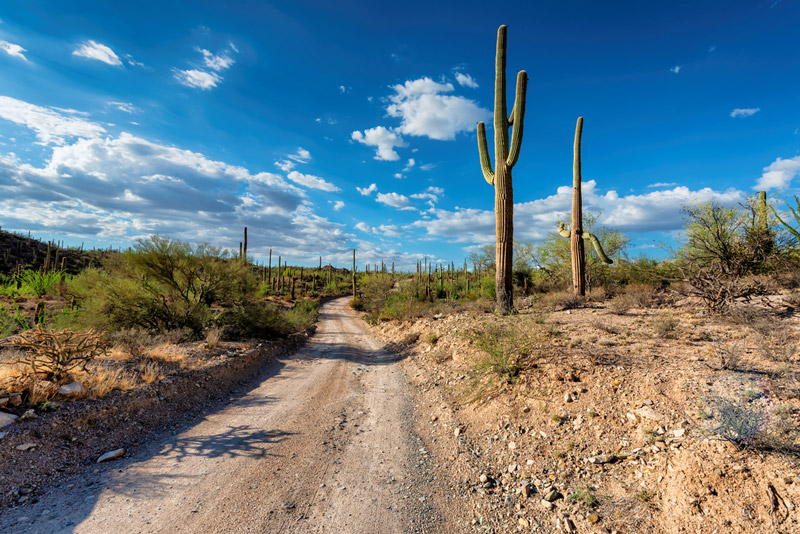 Bajada Loop Drive
Located nearby the Desert Discovery Nature Trail, the Bajada Loop Drive is an un-paved and dog-friendly road which you can enjoy.
The dirt road loops only in one direction and has mature trees growing on both sides of the narrow street.
Traffic in the area is light so you won't feel overwhelmed by loud cars during the walk.
Golden Gate Road
Golden Gate Road is another great place to walk your dog in the Tuscon Mountain District. The section of road between the Bajada Loop and Picture Rocks Road is unpaved and lightly trafficked.
In this area, you'll find hundreds of mature Saguaro Cacti, and every type of desert cactus species imaginable.
The plants grow high alongside the narrow road so it gives the appearance of hiking along a wide trail rather than a car-friendly street.
Other Pet-Friendly Places in Saguaro
Pets are allowed on all paved trails, roadways, and picnic areas with the exception of Mam-A-Gah picnic area in west Saguaro.
Hiking with your dog is a great way to experience the scenery so don't let the fact that you have a pet hinder your travels!
Pet Safety In Saguaro National Park
The desert is both a fragile, and harsh environment. Dog restrictions were put into place to protect both your pet and the landscape.
Use a leash: The park service requires that you use a maximum 6-foot leash when walking your dog. This is so it's easier to keep your pet under control and also ensure that they stay on the path and don't get stabbed by a cactus.
Don't go off-roading: Always stay within the bounds of the trail or road. This is especially important in the desert because not only can you disrupt the landscape, but cactus spines, and poisonous reptiles could be lurking anywhere.
Pack lots of water: Not only should you bring a lot more water than usual for yourself, but don't forget to bring water for your pet as well. There are not a lot of areas in Saguaro National Park with potable water so don't rely on the park service to have it available.
And while you're packing, don't forget to bring a dog bowl or other container that your pet can drink out of during the hike.
Watch for signs of heat stroke: It can be hard to tell if an animal is getting overheated because a lot of times they will try to hide their pain. Look for heavy panting, a dry nose, and a dog who keeps trying to lay down.
Make sure you take frequent breaks and rest in the shade. Offer lots of water along the way. Sometimes pets who are unfamiliar with the area will refuse to drink even though they should.
Pour some cold water on your dog's back and plan your trip during the coolest times of day.
Cover their paws: Burned paws are the most common pet injuries in the desert. This is especially true if you're walking on a paved path. Don't go for a hike in the middle of the day. Instead, aim for the early morning or after the sun has started to go down in the evening.
Check your dog's paws frequently for cuts or burns. There are several hazards in the desert to navigate including sharp rocks, cactus spines, and thorny bushes.
Pick up after your pet: It should go without saying, but pack some dog bags and always pick up after your pet. Dog waste can easily spread disease and also annoy other hikers.
Never leave your pet unattended: Even in the coolest temperatures, never ever leave your dog unattended in a vehicle or outside. Temperatures can get dangerously hot and you would never want to risk the life of your best friend.
What to do when you can't take your dog on a hike
Oftentimes we'll visit a National Park only to find out that the trails we were dying to hike are not pet-friendly.
Saguaro National Park does not have any on-site dog kennels.
In cases like this, we have utilized the website Rover.com to find a host who can watch our pet for a few hours while we enjoy the park for a day.
Dog Friendly Hikes Near Saguaro National Park
One of the great things about Saguaro National Park is that there are so many dog-friendly areas nearby.
If you don't want to deal with the restrictions that the National Park Service has in place, a lot of the same type of terrain can be found nearby.
Coronado National Forest
Tourists visiting the Saguaro National Park should consider hiking in the Coronado National Forest. There are over 1,000 miles of pet-friendly hiking trails in the area.
Dogs are permitted everywhere in the Coronado National Forest except the Pusch Ridge Wilderness Area or the Sabino Canyon Recreation Area.
The National Forest is also a great place to go camping for free when visiting the Tuscon area.
Are service animals allowed on the hiking trails in Saguaro National Park?
Service animals are exempt from the traditional dog-friendly hikes within Saguaro and can go anywhere the pet owners can travel.
Can dogs go on trails in Saguaro National Park?
There are 7 dog-friendly trails and hiking paths in Saguaro National Park to enjoy with your pet.
Can you bring a dog camping in Saguaro National Park?
No. Even though dogs are normally permitted in National Park campgrounds, the campsites in Saguaro are all hike-in and require campers to use trails where dogs are not permitted.