10 Best Hiking Trails In Saguaro National Park (With Maps!)
By
on
This post may contain affiliate links. As an Amazon Associate, I earn from qualifying purchases. Please read my full disclosure.
Some of the best desert hiking trails in the southwest can be found in Saguaro National Park. You can zigzag through the thick cactus forest, walk alongside the blooming wildflowers, and trek to ancient petroglyphs.
Whether you're looking for a short, family-friendly hike or an all-day backpacking adventure, the park has something to do for everyone.
Printable Saguaro National Park Hiking Trail Maps
Download these printable trail maps for Saguaro National Park. The maps are in PDF format.
The Best Saguaro National Park East Trails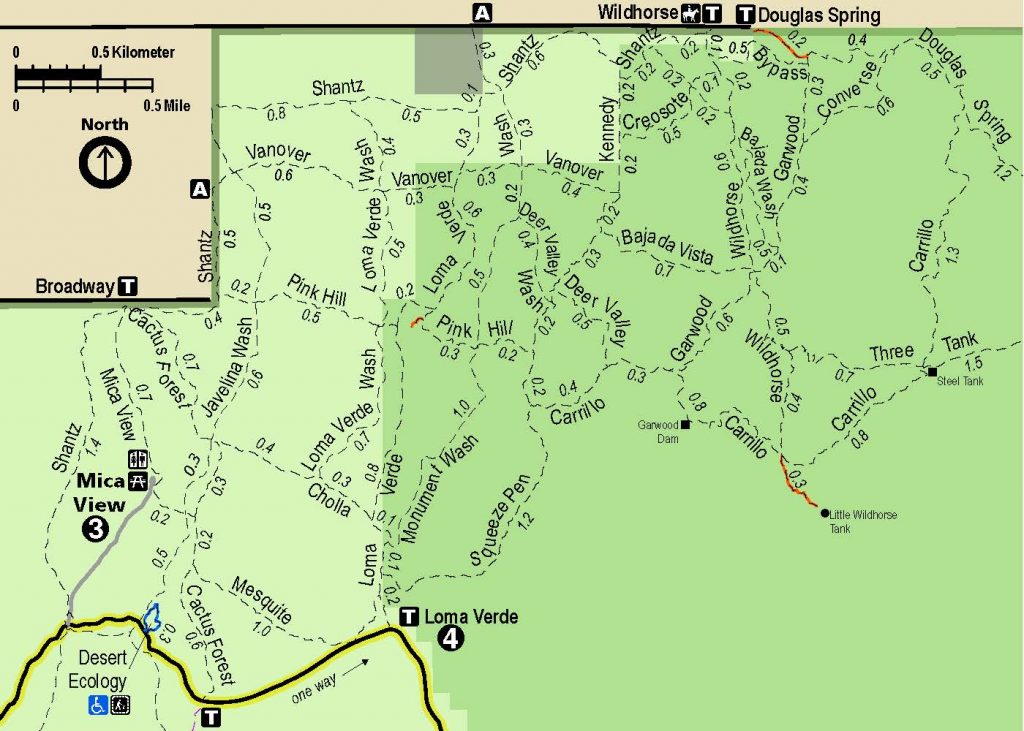 Easy Nature Trails In The Rincon Mountain District
| Easy Nature Trails | Distance | Elevation Gain | Time |
| --- | --- | --- | --- |
| Desert Ecology Trail | 0.25 mi | Flat | 20 min |
| Freeman Homestead Trail | 0.9 mi | 100 ft | 1 hr |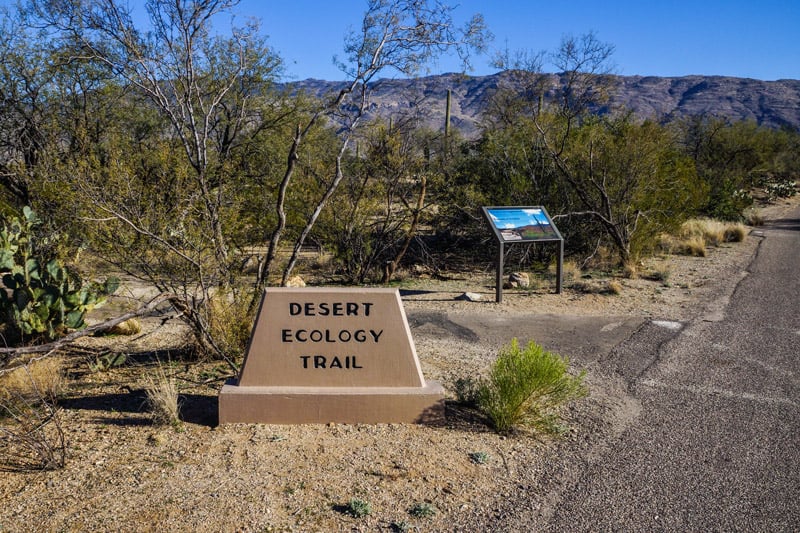 Desert Ecology Trail
The Desert Ecology Trail is one of our favorite short, nature trails on the east side of Saguaro. The paved path is short, dog-friendly, and has plenty of signage to educate yourself on desert plants and wildlife along the way.
This is the perfect trail to take kids, and it's one of the few accessible trails in the park.
One of the best places for birdwatching in Saguaro is along the Desert Ecology Trail. Keep your eyes and ears open for vermilion flycatchers and whiskered screech owls which are difficult to find anywhere else.
Freeman Homestead Trail
A longer alternative is the Freeman Homestead Trail. This scenic path is unpaved and has a few stone stairs, but it's bursting with desert flora and wildlife.
You'll find lots of interpretive signs along the way describing the trail and how it impacts life in the desert.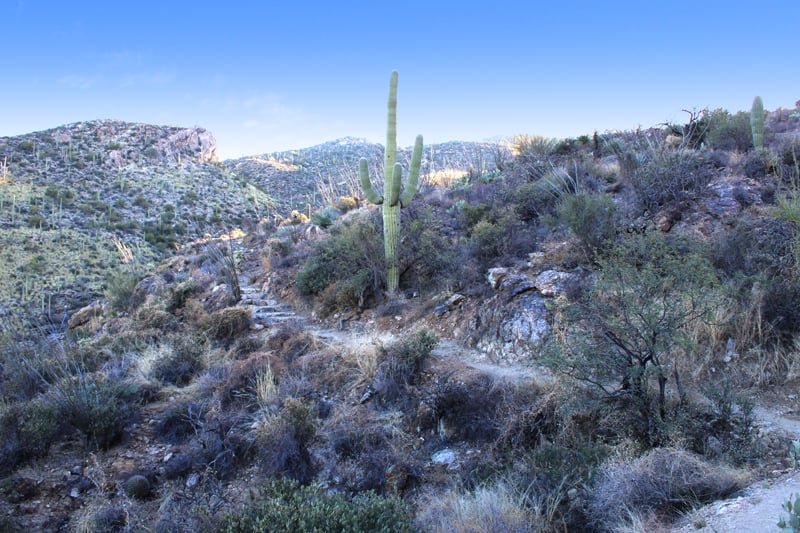 The Best Cactus Forest Hiking Trails In Saguaro East
| Cactus Forest Trails | Distance | Elevation Gain | Time |
| --- | --- | --- | --- |
| Mica View Loop | 2 mi | Flat | 1 hr |
| Loma Verde Loop | 3 mi | 60 ft | 2 hr |
| Freight Wagon Loop | 3.5 mi | 100ft | 2 hr |
| Garwood Loop | 5.3 mi | 730ft | 4 hr |
Mica View Loop
Visitors who want an easy hike with breathtaking views of Tanque Verde Peak and Mica Mountain should look no further than the Mica View Loop.
This family-friendly hike is well-maintained and easy to navigate. The path is wide, and flat with almost no elevation gain. The Mica View trail is a great place to see hundreds of "nurse trees" (young Saguaro cacti)
It's also located nearby the Mica View Picnic Area which is a popular scenic overlook and a great place to rest with some snacks.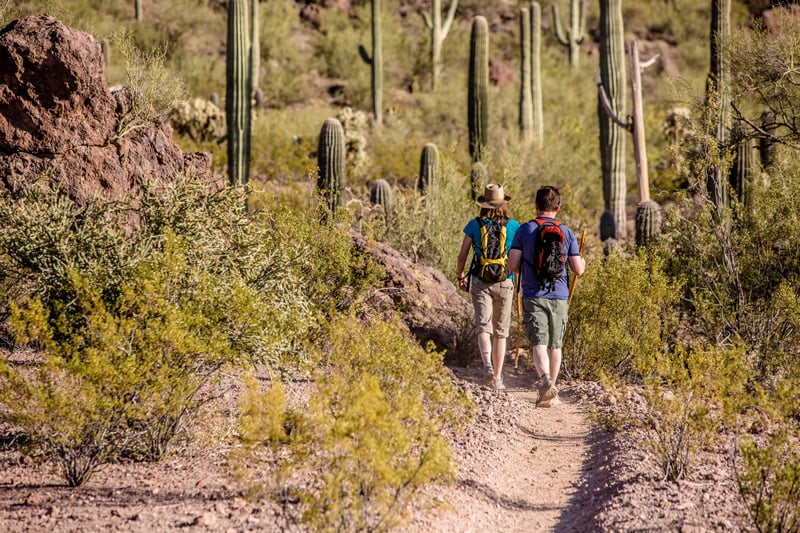 Garwood Loop
Adventurous travelers who want to get their blood flowing should consider hiking the Gardwood Loop.
Starting at the Douglas Spring Trailhead, the Garwood Loop is one of the longest loop hikes within the Cactus Forest. The path is rated difficult and takes about 4 hours to complete.
The Garwood Loop connects the following popular trails: Douglas Spring, Garwood, Carillo.
The hiking tail is wide and well-maintained. It provides picture-perfect views of the Catalina Mountains, Rincon Mountains, and the Tanque Verde Valley. You'll also get to see thousands of Saguaro Cacti along the way!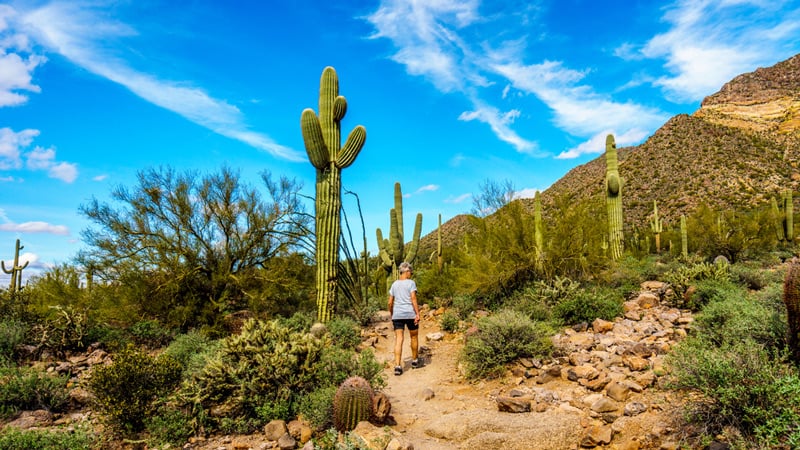 Bridal Wreath Falls Trail
When most people think of the desert, water is the last thing on their minds.
A quick step off the Garwood Loop will lead you to one of our favorite waterfall hikes in the park, Bridal Wreath Falls.
Start-to-finish, the hike is 5.7 miles round-trip, well-maintained, and rated moderate.
After a heavy summer rainfall hikers can relax next to a striking, 25-foot waterfall which cascades down the rocks to a small pool below. The waterfall appears seasonally, but the area is beautiful at all times throughout the year.
The Best Rincon Valley Hiking Trails
| Rincon Valley Trails | Distance | Elevation Gain | Time |
| --- | --- | --- | --- |
| Ridgeview Trail | 4.4 mi | 300 ft | 2 hr |
| Hope Camp Trail | 6.6 mi | 300 ft | 3.5 hr |
| North Coyote Wash/Ruiz Loop | 5.8 mi | 250 ft | 2.5 hr |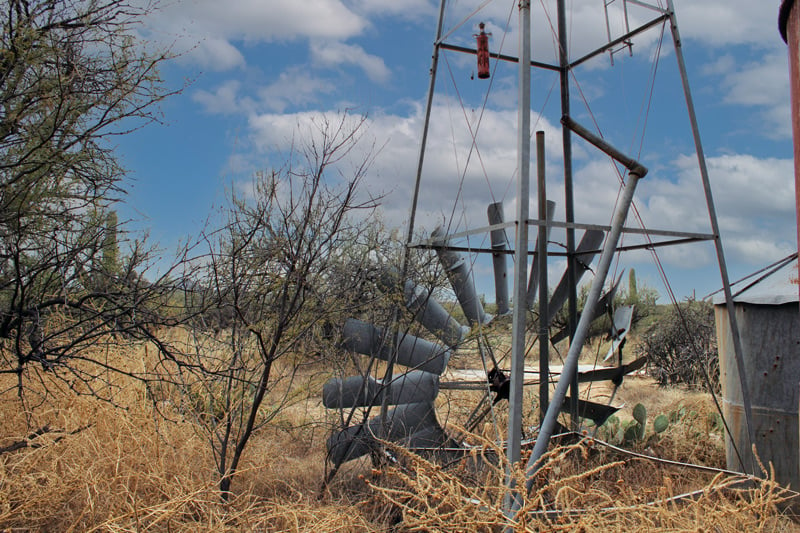 Hope Camp Trail
Following along a riparian path, the Hope Camp Trail is a picturesque road filled with blooming wildflowers and Saguaro cacti. Views of Tanque Verde Ridge and Rincon Peak can be seen throughout the entire route.
The moderate hike is has several points of interest along the way. You can stop by two abandoned line camps complete with windmills, storage tanks, and water towers.
The Best Saguaro National Park West Hiking Trails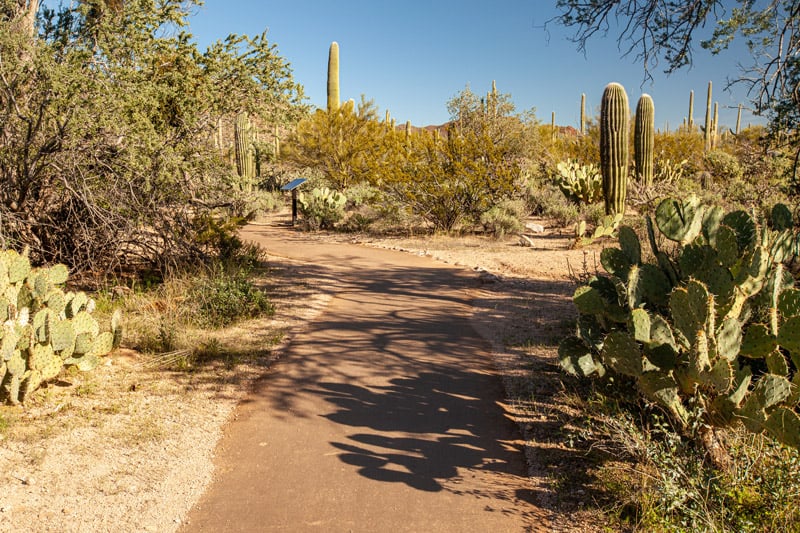 Easy Nature Trails and Short Walks In The Tucson Mountain District
| Short Walks | Distance | Elevation Gain | Trail |
| --- | --- | --- | --- |
| Cactus Garden Trail | 100 yrds | Flat | Paved |
| Desert Discovery Trail | 0.5 mi | Flat | Paved |
| Valley View Overlook | 0.8 mi | Flat | Gravel |
| Signal Hill Petroglyphs | 0.5 mi | Flat | Gravel |
Desert Discovery Trail
One short trail that cannot be missed when visiting Saguaro National Park is the Desert Discovery Trail. The paved and easily accessible trail is short and educational.
The pathway is dog-friendly and perfect for kids who will enjoy learning about the native plants and wildlife alongside the many interpretive signs.
Visitors who want to see a huge variety of cacti and blooming wildflowers are in for a treat because the west side of the park has the densest vegetation.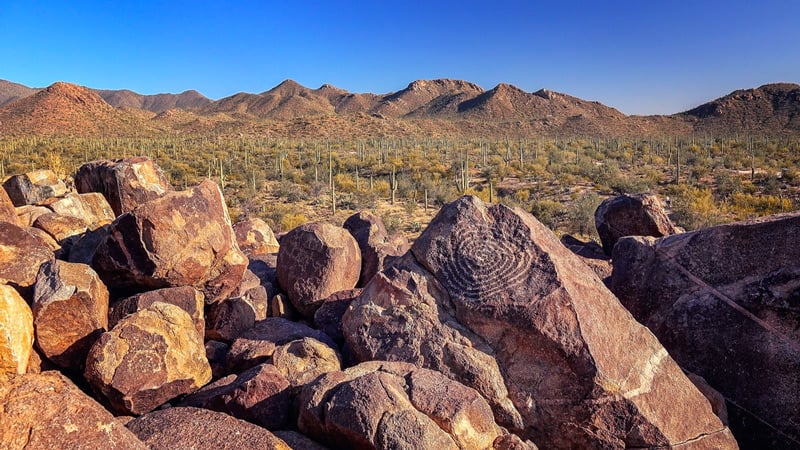 Signal Hill Petroglyphs
For tourists that are interested in history, hiking to the Petroglyphs at Signal Hill is an activity that can't be missed.
The Signal Hill Overlook is home to the largest concentration of prehistoric Native American petroglyphs around. You can find over 200 of them decorating the rocks of the Sonoran Desert alongside giant Saguaro Cacti and beautiful wildflowers.
The hike to the Petroglyphs is flat, and will take less than 20 minutes to complete.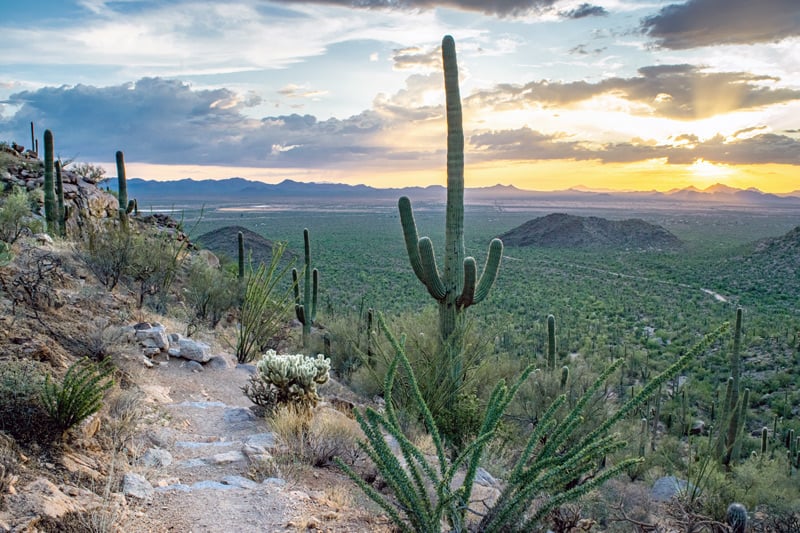 Hiking Trails In The Tucson Mountain District
| Desert Hiking Trails | Distance | Elevation Gain | Time |
| --- | --- | --- | --- |
| King Canyon Trail | 7 mi | 1,839 ft | 4-5 hrs |
| Sendera Esperanza Trail | 6.2 mi | 700 ft | 3-4 hrs |
| Hugh Norris Trail | 10 mi | 2,087 ft | 5-6 hrs |
| Cam-boh Trail | 5.4 mi | 229 ft | 3 hrs |
| Wassen Peak | 9.3 mi | 2,093 | 4-5 hrs |
| Sweetwater Trail | 6.8 mi | 2,093 | 4-5 hrs |
| Cactus Wren Trail | 3 mi | 187 | 2 hrs |
One of the highlights of the Tucson Mountain District is Wassen Peak, which is the tallest mountain on the west side of Saguaro National Park.
There are three main trails to hike to the top. The King Canyon and Hugh Norris trail from the west, and the Sweetwater trail from the east side of the mountain.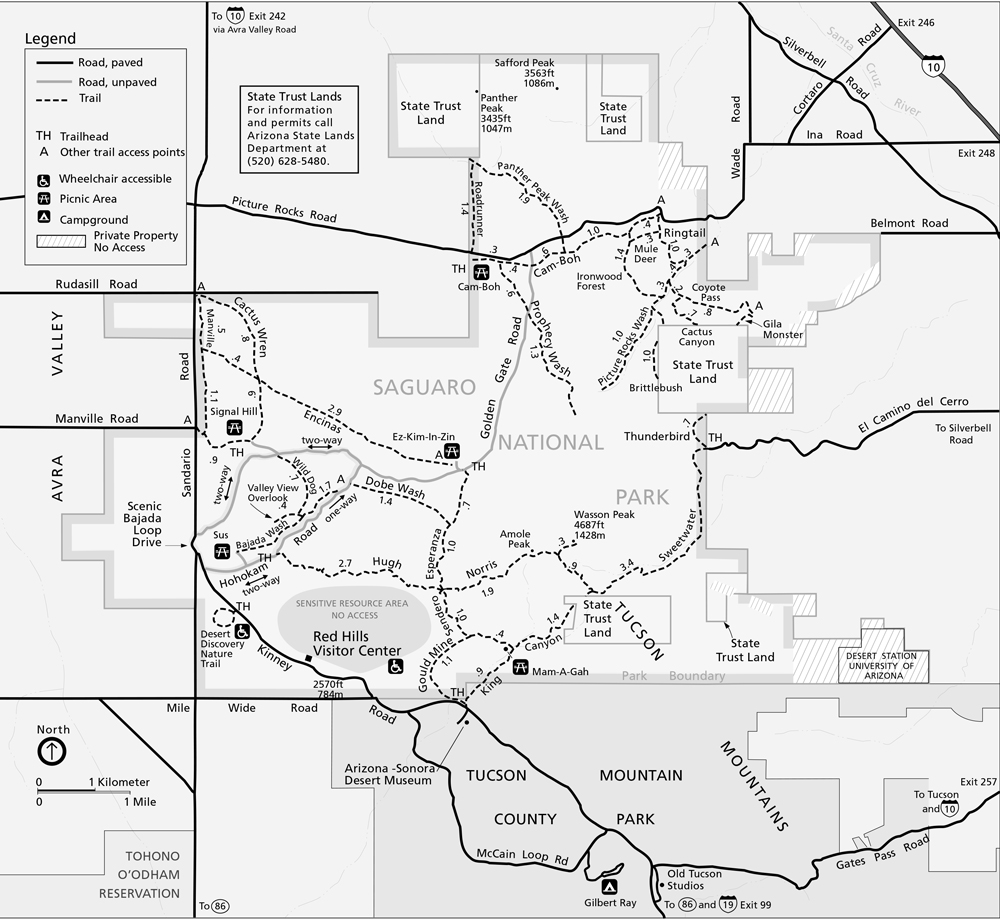 King Canyon Trail
The King Canyon Trail is the shortest route to the top of Wassen Peak. It's rated moderate, and has undeniably beautiful views.
You'll see dense cactus forests, blooming wildflowers, and even a few petroglyphs at the beginning of the hike. We love this hike because it has some of the densest vegetation in the park.
Combining the King Canyon Trail with the Hugh Norris trail you can create a scenic loop and see the best that Saguaro National Park has to offer.
Hugh Norris Trail
The longest hiking trail on the west side of Saguaro National Park is the Hugh Norris Trail. It stretches 10 miles long and rises 2,087 ft in elevation gain before reaching Wassen Peak.
The hike starts with a strenuous series of switchbacks that quickly rise above a forest of Saguaro cacti. Don't be discouraged by the first mile, because the hike gets easier as you go.
At the top of the switchbacks, you'll follow a ridge with spectacular views of the valley below. Watch out for some unique rock formations along the way.
There is stunning scenery around every corner of the hike, and its consistently rated as one of the top hikes in Saguaro National Park.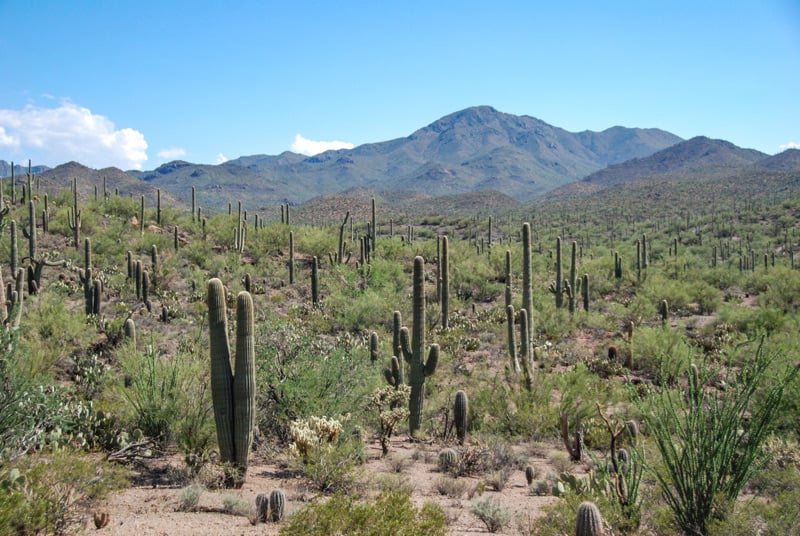 Backpacking Trails
Backpacking in Saguaro National Park is the best way to spend several days in the area and really enjoy everything that the landscape has to offer.
There are four backcountry destinations:
Tanque Verde Ridge and Peak
Douglas Spring/Cowhead Saddle/Manning Camp to Mica Mountain
Miller Creek, Rincon Creek & Peak trail
The Arizona National Scenic Trail
If you want to explore these areas, it's best to purchase a detailed map like National Geographic's "Trails Illustrated Map." It can be purchased online or at the park visitor center.
Backpackers in Saguaro can stay at one of 6 designated campgrounds in Saguaro National Park.
Dog-Friendly Hiking Trails
There are 7 dog-friendly hiking trails in Saguaro National Park that are perfect for bringing your furry friend.
The unpaved scenic drive along the Bajada Loop is also excellent for giving you a trail-like experience without stepping off the roadside.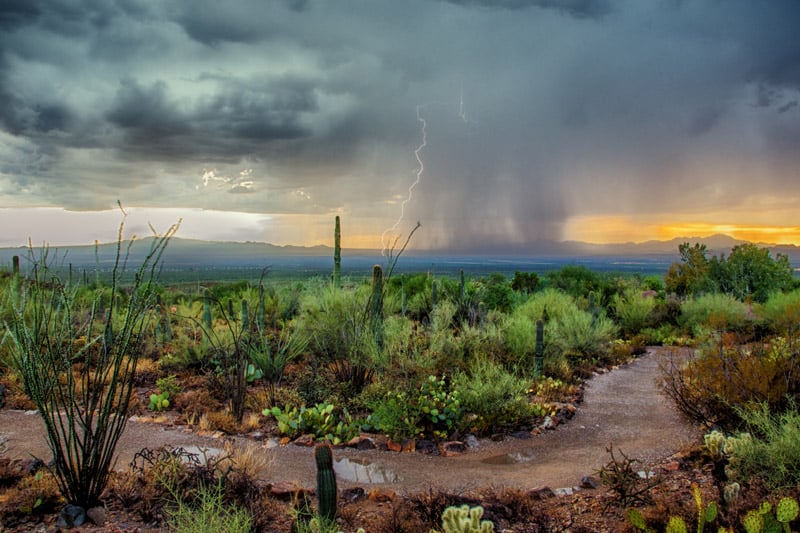 Best time to go hiking in Saguaro
Every season offers a one-of-a-kind experience when visiting Saguaro National Park. Spring is the perfect time for hiking if you want to see blooming wildflowers.
Waterfalls emerge during the summer monsoon season, and winter offers the coolest temperatures.
Mid-summer drought might be hot, but it's also the only time you can see the famous Saguaro Cacti bloom.
Even on the hottest days, you can still wake up early and head out for the perfect morning hike.
We've put together a month-by-month weather guide for visiting Saguaro National Park to help you plan your visit.