Camping In And Around Saguaro National Park What to See
By
on
This post may contain affiliate links. As an Amazon Associate, I earn from qualifying purchases. Please read my full disclosure.
Saguaro National Park has 6 primitive camping sites that are hike-in only. There are no RV campsites, cabins, or vehicle camping sites within the park.
Fortunately, there are a lot of options in the surrounding area! In this article, we're going to cover everything you need to know about camping in and around Saguaro National Park.
That includes backpacking, free campsites, private campgrounds, RV camping, and glamping locations nearby.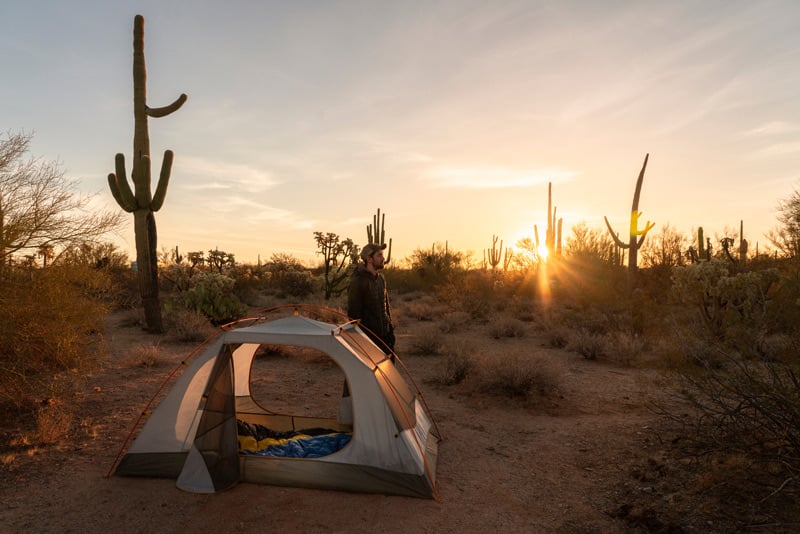 | Camp Site | # of Sites | Elevation | Distance from Nearest Trailhead |
| --- | --- | --- | --- |
| Manning Camp | 6 | 7,920 feet | 7.5 mi (Turkey Creek) |
| Spud Rock | 3 | 7,400 feet | 5.3 mi (Turkey Creek) |
| Happy Valley | 3 | 6,200 feet | 4.1 mi (Miller Creek |
| Juniper Basin | 3 | 6,000 feet | 6.9 mi (Tanque Verde Ridge) |
| Grass Shack | 3 | 5,200 feet | 10 mi (Loma Alta/Hope Camp) |
| Douglas Spring | 3 | 4,800 feet | 6.3 mi (Douglas Spring) |
Campsite statistics courtesy of nps.gov
Backpacking in Saguaro National Park
All of the campsites within Saguaro National Park are backcountry campsites. That means you need to hike-in and hike-out all of your gear. The shortest hike is 4.1 miles one-direction, so be prepared for a long day!
Backpacking in Saguaro is a great way to experience a variety of terrain and vegetation from desert cacti to mixed conifer forests.
All of the wilderness campsites are located on the east side of Saguaro. Camping outside of the designated sites is not permitted, so backpackers are limited to these established sites.
Because of the small number of campsites available, permits are required. You can obtain a permit on recreation.gov for $8 per night.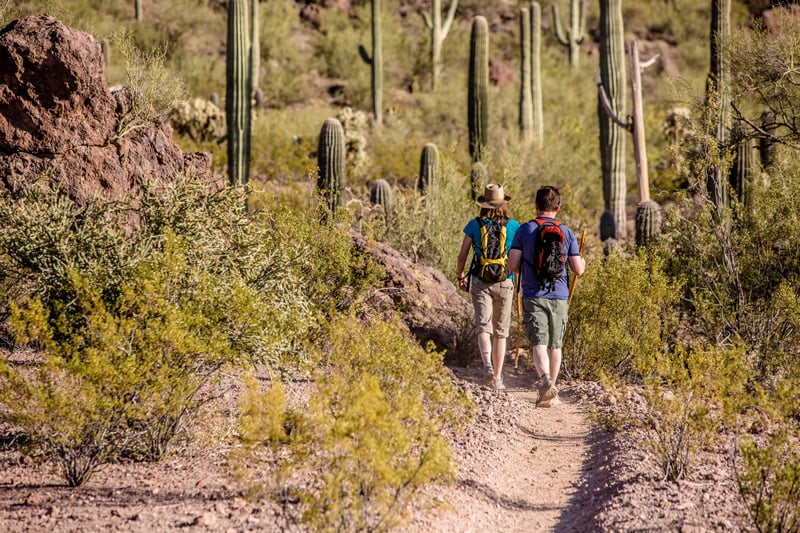 Preparing for your Saguaro Backpacking Trip
By far, the biggest obstacle to backpacking in Saguaro is the lack of water. Each campsite is situated nearby intermittent streams and springs, but the waterflow is seasonal. So you can't ever rely on water being available.
It's recommended that each camper packs one gallon of water per person per day.
Finding the right campsite
Each campsite is unique! The best part about camping in Saguaro National Park is that the barrier to entry is high–not everyone is up for a long hike! And the campsites are limited, so you're unlikely to see a lot of other visitors.
In fact, chances are good that you'll have the place to yourself!
Juniper Basin Campground
The hike to the Juniper Basin campsite takes you up the Tanque Verde Ridge with breathtaking views from every angle. Backpackers will get to trek through the scenery as it changes from desert scrub to thick woodlands.
The highlight of Juniper Basin is 360 degree views of the Sonoran Desert, with mature cacti surrounding you on all sides. At the conclusion of the hike you'll find firepits with a grill, and seasonal pools of water.
Douglas Spring Campground
The lowest elevation campground in Saguaro is Douglas Spring. It is one of the easier hikes with 1,800 feet of elevation gain. The campsites are located in a desert grassland with picture perfect views of Mica Mountain. You'll find Cottonwood and Oak trees scattered throughout the area of offer some shade.
This is the ideal location to go camping in the winter months when some of the higher altitude campgrounds are covered in snow. Seasonal water is available, but fires are not permitted.
Grass Shack Campground
Located on the popular Arizona Trail, the Grass Shack Campground is shaded with large oak and sycamore trees. During much of the year, campers can get water from the Madrona Creek and Chimenea Stream.
You'll find fantastic views of Saguaro cacti and thick grassland to the south. No fires are permitted at this campground.
Happy Valley Campground
The shortest hike to a campsite in Saguaro is the route to Happy Valley campground. Many campers use this spot as a resting point when climbing Rincon Peak. To get to the trailhead you'll need to drive over rough dirt roads and encounter multiple stream crossings.
Happy Valley rarely has water, but there are beautiful views to the east and lots of shaded pine trees.
Spud Rock Campground
The most remote campground within Saguaro National Park is Spud Rock. This is one of the most beautiful campgrounds in the area with tall pine and aspen trees as well as water availability during much of the hike.
The high elevation means that the campsite is cool throughout the year and covered in snow during winter. High clearance vehicles are required to make it to the Turkey Creek trailhead.
Manning Camp
The highest elevation campground in Saguaro National Park is Manning Camp, located at nearly 8,000 feet. The hike to get there is 7.5 miles from the Turkey Creek Trailhead and has 5,300 feet of elevation gain. But the challenge is worth it.
Manning Camp stays cool and comfortable throughout the year because of its altitude. The area is shaded in a Ponderosa Pine forest and it has water almost year-round! In the winter you can expect snow.
Best Time To Go Camping in Saguaro
Spring and fall are the best time to go backpacking in Saguaro National Park. Make sure to arrive early and start your hike soon enough to arrive at the campsite before 10am.
Maps for Backpacking in Saguaro National Park
National Geographic's "Trails Illustrated Map" for Saguaro National Park is the recommended resource for orienteering to the campsite. You can purchase the map at the park visitor center.
Can you take pets camping in Saguaro National Park?
No, pets are not permitted at any of the Saguaro National Park Campgrounds. Check out this list of dog-friendly hiking trails in Saguaro.
Can you build a campfire in Saguaro National Park?
All of the backcountry campgrounds in Saguaro have firepits with the exception of Douglas Spring and Grass Shack. Only use dead and downed wood when building a campfire in the park.
Do you need a high-clearance vehicle for camping in Saguaro?
The Turkey Creek trailhead requires a high-clearance vehicle because of the rough roads and water crossings throughout the year. The road may be impassable during winter or monsoon season. Turkey Creek is the closest trailhead to Manning Camp and Spud Rock.
Do you need a permit to camp in Saguaro National Park?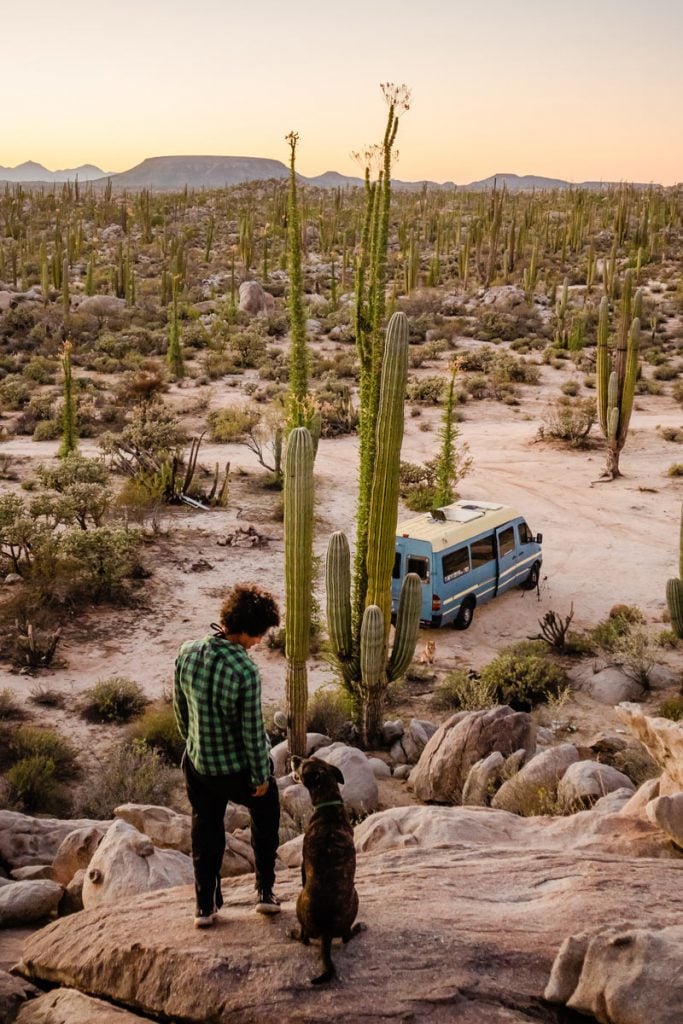 Free Camping Near Saguaro National Park
Boondocking is a great option to spend the night near Saguaro National Park without the hassle of obtaining permits. This is an excellent option for campers traveling in an RV, camper van, travel trailer, or with pets.
We use The Dyrt road trip planner to find free camping areas nearby Saguaro National Park because it easily color-codes bureau of land management areas, and National Forests nearby.
The app also has personal reviews of the campsites featured in this article.
There are two dispersed camping areas near Saguaro that are easy to access and offer many of the same scenic views found within the park.
Ironwood Forest National Monument
Coronado National Forest
Ironwood Forest National Monument
Located within the Sonoran Desert on the west side of Saguaro National Park is the Ironwood Forest National Monument. Primitive car camping is available in several areas throughout the forest.
Like other dispersed camping sites, you won't find amenities like electricity, potable water, or restroom facilities. But the views are fantastic and the area is level and easy to navigate for travel trailers, RVs or cars.
Coronado National Forest
On the east side of Saguaro is the Coronado National Forest. Dispersed camping is permitted in the Rincon Mountains and Santa Catalina Mountains.
There are also cheap campsites and cabin rentals scattered throughout the forest.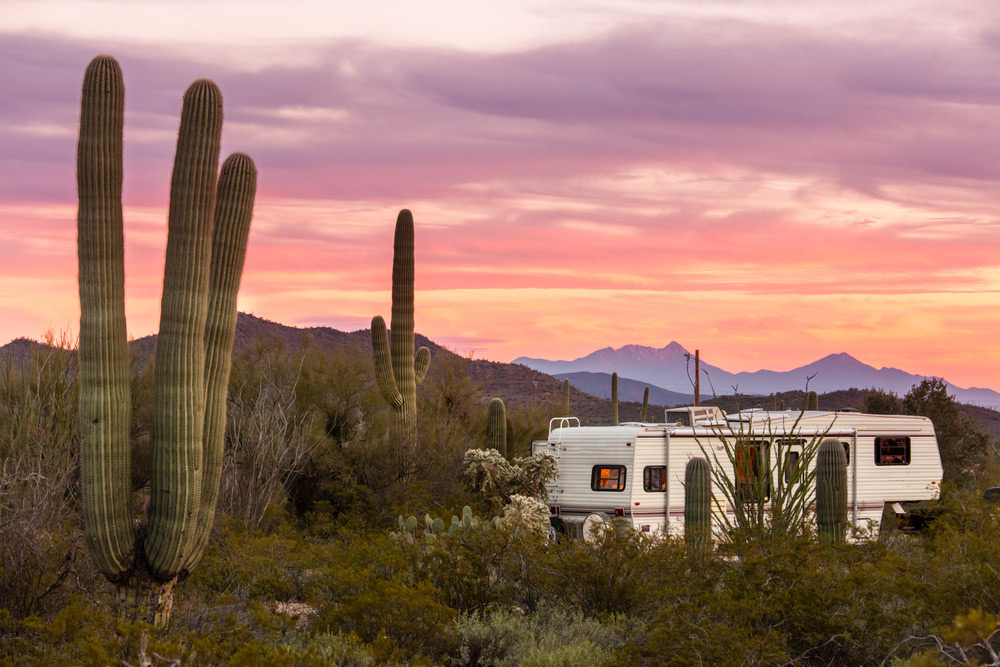 RV and Car camping near Saguaro National Park
The cheapest RV campsites near Saguaro can be found in the Coronado National Forest on the east side of the park.
Campsites within the Santa Catalina Ranger districts are $20 per night and available for tent camping, RV camping, and travel trailers. They have restrooms, picnic tables, firepits, parking, and are pet friendly.
They do not have electric hookups, showers, or potable water.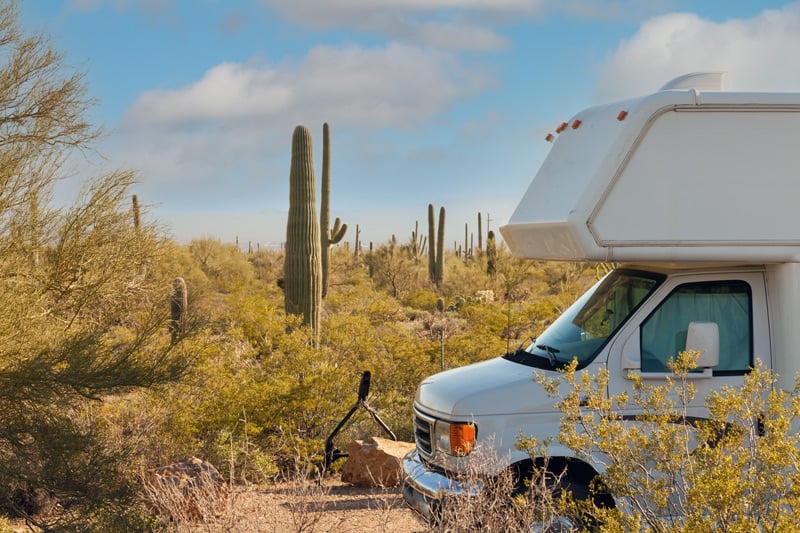 Private RV Campgrounds Near Saguaro
If you're looking for an RV park with full hookups, electricity, potable water, and all of the amenities located near Saguaro, then some of your closest options include:
All of these RV campgrounds are close enough to the city of Tucson that you can run out to grab a bite to eat, but still get an isolated night of sleep.
Cabin Rentals Near Saguaro
If you're looking for a glamping, or cabin experience near Saguaro we recommend using the website Hipcamp.com
The site is similar to Airbnb, but geared towards campers, van lifers, and travelers. You can find cabins, tiny homes, and yurts near Saguaro National Park.
Use the code PARKEDINPARADISE at checkout for $10 off your first stay.
Other Things To Do In Saguaro
While you're in the National Park, don't forget to try out the other great things to do in the park. Saguaro has two scenic drives that you cannot miss. And endless day-hiking trails that make for the perfect short adventure.