By
on
This post may contain affiliate links. As an Amazon Associate, I earn from qualifying purchases. Please read my full disclosure.
Texas offers a huge variety of parks and ecosystems to explore. You can roam through sandy deserts, climb mountains, and paddle the rivers. There are also miles of undeveloped coastline and cypress-lined bayous to experience.
As the second-largest state in the US behind Alaska, there is no shortage of activities to do in Texas.
In this article, we're going to discuss the best National Parks in Texas, and explain where to find monuments, historic sites, preserves, and trails maintained by the National Park Service in Texas.
National Parks In Texas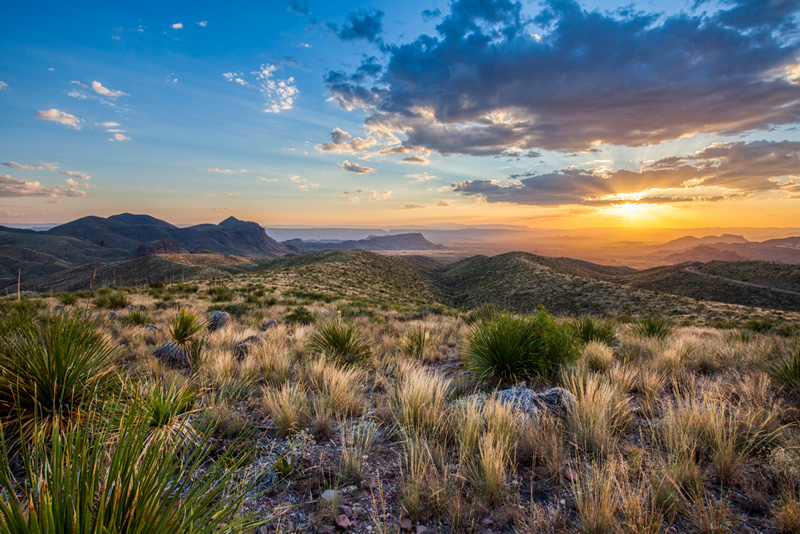 Big Bend National Park
Big Bend National Park is located in west Texas about 4.5 hours southeast of El Paso. The park includes thousands of acres of desert, mountain, and river canyon terrain. A "Big Bend" within the Rio Grande River splits the US/Mexico border within the park.
As one of the most remote National Parks in the US, Big Bend is the perfect escape from the crowds. The park boasts 200 miles of hiking trails, 150 miles of unpaved roads, and more than 100 miles of paved roads which are perfect for exploration.
Spectacular views of the Chisos Mountains and Chihuahuan Desert greet tourists. Some of the most popular attractions include the limestone cliffs of Santa Elena Canyon and the Rosee Maxwell Scenic Drive, which offers 30 miles of overlooks, exhibits, and more, including the Sam Nail Ranch ruins.
Getting There
Visitors can get to this park on several main roads, including TX 118 from Alpine, US 385 or US 90, or FM 170 from Presidio. Due to its remote location, visitors should stock up on gas and supplies in Del Rio, Alpine, or Fort Stockton before heading to a park entrance.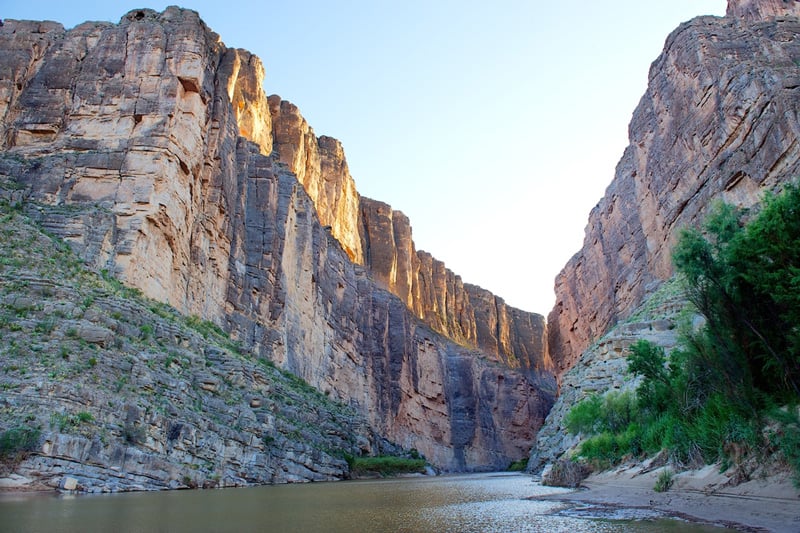 Pets
Unfortunately in Big Bend, pets are not permitted on any of the park's trails, on the river, or off roads. Essentially, pets are only allowed to go where vehicles go and must be on leashes that are no longer than 6 feet long.
Camping
Four campgrounds in Big Bend can accommodate both tent and RV campers. All of the campgrounds are open year-round. Three front-country campgrounds have dump stations for RVs.
Things to Do Nearby Big Bend National Park:
Big Bend Ranch State Park (2.5 hours west)
Amistad National Recreation Area (3 to 3.5 hours east)
Carlsbad Caverns National Park (4 to 4.5 hours north)
Downtown El Paso (4.5 hours northwest)
Brokeoff Mountains Wilderness Study Area (4.5 to 5 hours north)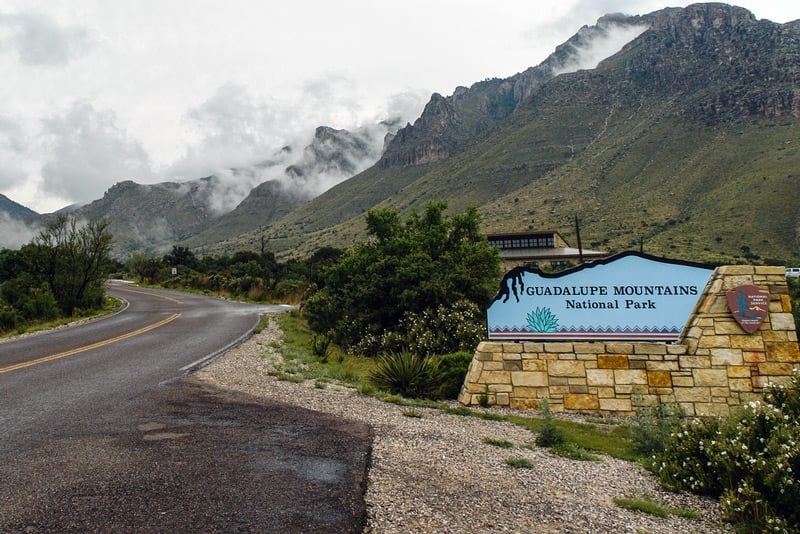 Guadalupe Mountains National Park
Located in northwestern Texas, Guadalupe Mountains National Park features the world's most extensive Permian fossil reef. It's also home to the fours highest peaks in Texas.
In the Guadalupe Mountains, hikers can enjoy 80 miles of trails with a diverse mix of springs, woodland, prairie, and desert surroundings.
Birding, horseback riding, and trekking past a varied collection of plants, flowers, and fauna are some of the most popular activities. A mix of desert, dunes, mountains and canyons makes the perfect place for various species to call home. Elk, mountain lions, and gray foxes, all live there.
Getting There
The park, which is located roughly 110 miles from El Paso, can be reached by taking US Highway 62 or 180. Those heading to the northern part of the park can get to it via NM State Road 137.
Guadalupe Mountains is open every day of the year; although certain facilities are open for day-use only including the visitor center and the McKittrick Canyon entrance road.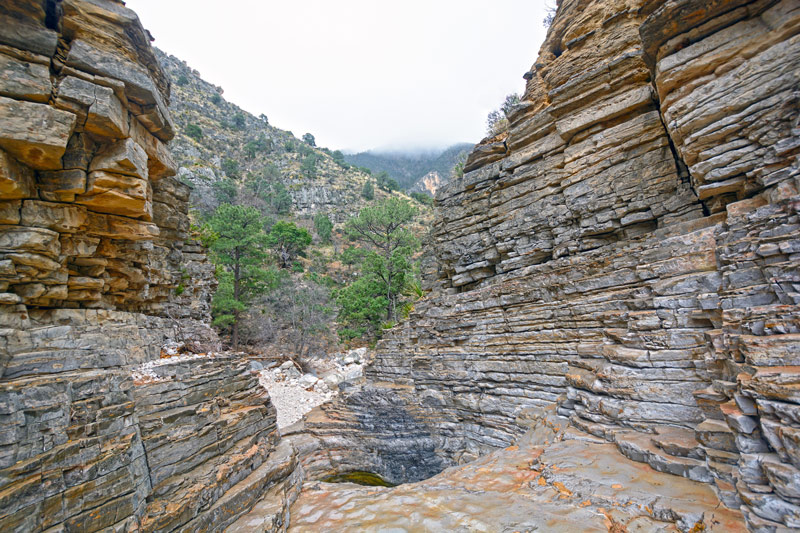 Pets
Pets are only allowed in specific areas of the park, such as front-country picnic spots and campgrounds, parking areas, and paved roadsides. Pets are also allowed on the Pinery Trail and the short trail that goes from the campground to the visitor center.
Pets are not allowed in any of the park's buildings, in the backcountry, in restrooms, and most trails.
Camping
Those who want to set up camp in the park can head to one of two Guadalupe Mountain campgrounds that are available for both tents and large RVs. Pine Springs, and Dog Canyon campground.
There are also plenty of backcountry campsites in the surrounding area.
Things to Do Nearby Guadalupe Mountain National Park:
Carlsbad Caverns National Park (30 minutes north)
Downtown El Paso (1.5 to 2 hours west)
Brokeoff Mountains Wilderness Study Area (2 to 2.5 hours north)
White Sands National Park (3 hours northwest)
Lincoln National Forest (3 to 3.5 hours north)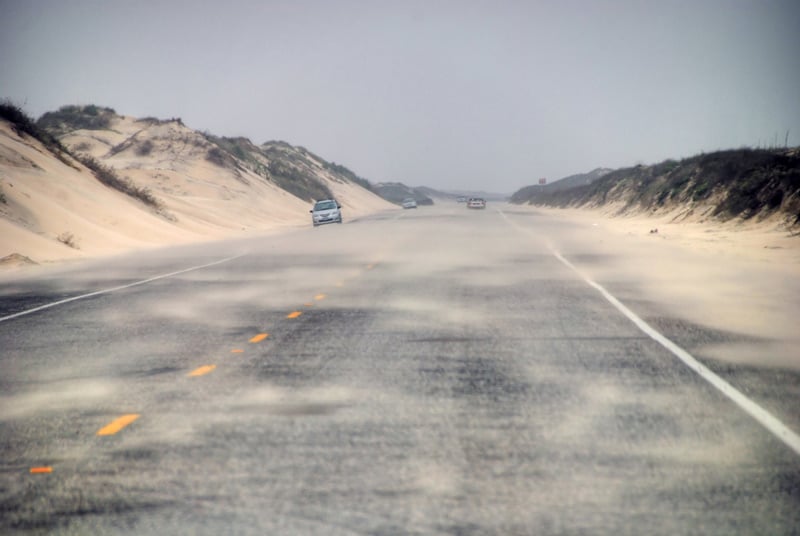 Padre Island National Seashore
Stretching across 70 miles, Padre Island National Seashore protects beaches, dunes, and shoreline where local species thrive. It's located off the southeastern coast of Texas.
The undeveloped barrier island lies between Laguna Madre and the Gulf of Mexico.
Tidal flats, dunes, prairies, and other natural features are just a few of the many areas to explore on Padre Island. For those who want to stay on the sand, beach driving, beach camping, combing for shells and going on birding tours are popular activities.
In the water, you can go fishing, swimming, windsurfing, kayaking, and canoeing in Laguna Madre. Tourists can also watch the release of sea turtle hatchlings during the summer between mid-June and August on Malaquite Beach.
Getting There
Visitors can reach the seashore via Highway 358 and Park Road 22. The seashore is open 365 days a year on a 24-hour basis, but some facilities and areas have limited hours, such as the Malaquite Visitor Center.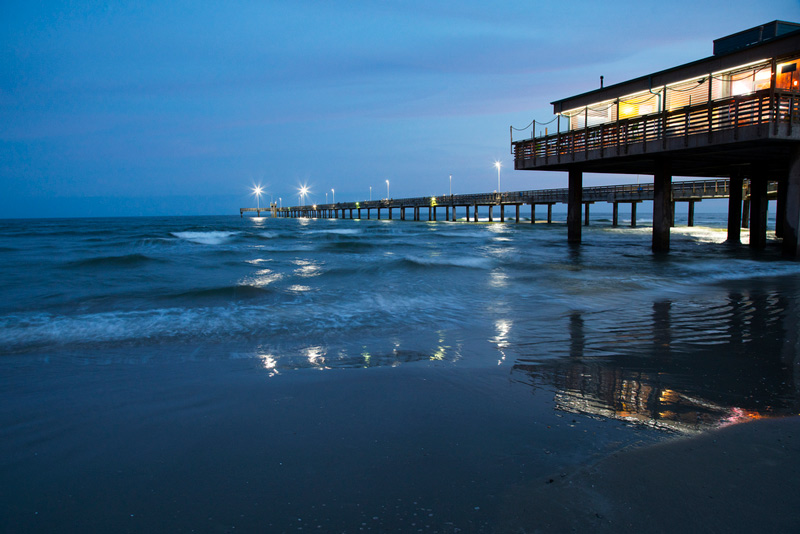 Pets
Pets are allowed in most parts of Padre Island National Seashore, including on beaches and in campgrounds. Pets must be leashed on leashes of 6 feet or less at all times. Pets are not allowed inside any of the buildings on the seashore.
Camping
Padre Island has some wonderful backcountry camping opportunities where you can spend the night right on the beach. There are five areas of campgrounds to choose from which are available year-round.
You have your pick of a beautiful sunset or stunning sunrise to wake up to depending on which side of the island you choose to spend the night.
Things to Do Nearby Padre Islands National Park:
Mustang Island State Park (30 minutes north)
Downtown Corpus Christi (45 minutes northwest)
Lake Corpus Christi State Park (1.5 hours northwest)
Aransas National Wildlife Refuge (2.5 hours north)
Laguna Atascosa National Wildlife Refuge (3 hours south)
Texas National Monuments And Historic Sites
The National Park Service also hosts a number of National monuments, memorials, and historic sites in Texas. These commemorate locations of historical significance.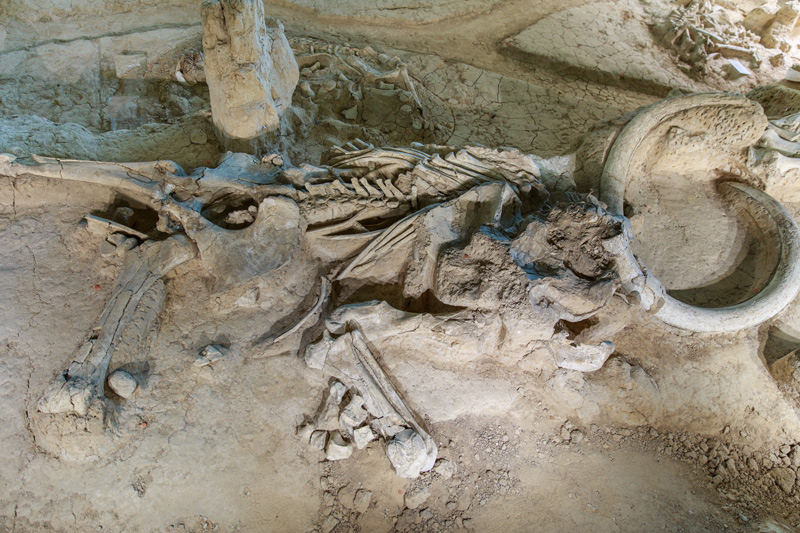 Waco Mammoth National Monument
The Waco Mammoth National Monument is a paleontological site offering dig shelter visits and nature trails.
Visitors can see mammoth fossils and learn more about the area's Ice Age history through guided tours. These tours also provide information on the importance of this paleontological site.
Hiking paths throughout the park give visitors a chance to explore the 180-acre area before or after taking a guided tour. Photographers should keep an eye out for roadrunners and other local animal species which frequent the area.
For families, there are many many picnic areas available for a quick lunch break.
Getting There
Located in Waco in central Texas, the park can be reached via I-35 North or I-35 South. Waco National Monument is open all year round except for a few holidays, including Thanksgiving, Christmas, and New Year's.
Hours of operation are typically from 9 a.m. to 5 p.m., although visitors should check before heading to the park. The dig shelter hours and days of operation may vary as well.
Pets
Pets are permitted in many areas of Waco Mammoth National Monument, including paved trails and picnic areas. They should be on a leash of 6 feet or less at all times. Pets are not allowed inside any of the park's buildings or in the dig shelter. Registered service animals are allowed in these areas of the park.
Things to Do Nearby:
Downtown Waco (10 minutes south)
Lake Waco Marina and RV Campground (25 minutes southwest)
Lake Whitney State Park (45 minutes north)
Downtown Dallas and Fort Worth (1.5 hours north)
Davy Crockett National Forest (2.5 to 3 hours east)
Texas National Preserves And Recreation Areas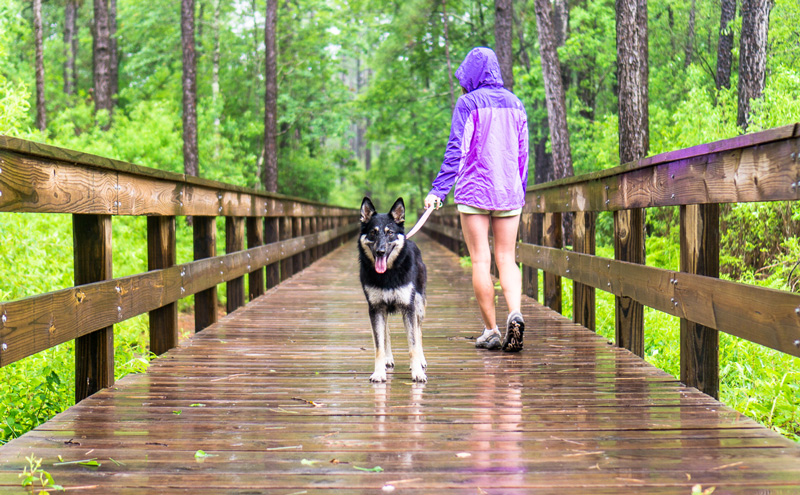 Big Thicket National Preserve
Located in southeastern Texas not far from Houston, is the Big Thicket National Preserve. Big Thicket offers over 100,000 acres of hiking trails, waterways, and multiple natural habitats and ecosystems.
The preserve features roughly 40 miles of hiking trails that wind through various ecosystems. Paddling trails are also available for those who want to explore the waterways in kayaks or canoes.
Hikers can trek through areas filled with cypress trees, bogs, and wetland pine savannah. You'll also get a chance to see local wildlife, including white-tailed deer, bobcats, red foxes, and river otters.
Getting There
Visitors can reach the preserve at several points, since it's located across seven counties in Texas. A visitor center in the central part of the preserve is located on FM 420 in Kountze.
Hiking trails and other open areas of the preserve, including the backcountry, are open to the public from dawn through dusk. The visitor center has limited hours of operation and is closed on certain holidays, including Thanksgiving, Christmas, and New Year's Day.
Pets
Big Thicket National Preserve is a pet-friendly place overall. Pets are allowed on all of the trails throughout the preserve, but they must be leashed at all times. No pets are allowed inside the visitor center. Pets are also not allowed at public programs.
Camping
Fishing and backcountry camping are available as well. Some backcountry camp areas are seasonal only, while others are open all year round.
Things to Do Nearby Big Thicket National Preserve:
John H. Kirby State Forest (15 minutes north)
E. O. Siecke State Forest (1 hour east)
Sam Houston National Forest (1.5 hours west)
Angelina National Forest (1.5 to 2 hours north)
McFadden National Wildlife Refuge (1.5 to 2 hours south)
Texas National Trails
National Parks In The Surrounding Area