Camping In Guadalupe Mountains National Park – What to See
By
on
This post may contain affiliate links. As an Amazon Associate, I earn from qualifying purchases. Please read my full disclosure.
Located amongst the highest mountain range in Texas is the Guadalupe Mountains, National Park. As one of the least-visited parks in the United States, Guadalupe Mountains is a great place to escape the crowds and hike in serenity.
Many people add Guadalupe Mountains to their road trip when visiting Carlsbad Caverns in New Mexico. The two parks are only 45 minutes away but they couldn't be more different.
Some of the highlights at Guadalupe Mountains includes the world's largest Permian fossil reef, and the signature peak of west texas.
If you're planning a trip to Texas, then camping in Guadalupe Mountains should be on your bucket list. This park has two campgrounds Pine Springs, and Dog Canyon.
Pine Springs is larger, and ideal for RV camping. Dog Canyon is suitable for tent camping. There is also an abundance of free and private campgrounds in the surrounding area that are open year-round.

At A Glance: Camping in Guadalupe Mountains National Park
Reservations: All campsites are first-come, first-serve
Seasonal Closures: Both campgrounds are open year-round.
Water and bathrooms: Flush toilets and potable water are in both campgrounds. There are no showers in Guadalupe Mountains National Park.
Electricity: There is no electricity at the campsites.
RV camping: The max RV length for Pine Springs Campground is 45 feet. There are no dump stations.
Cell phone service: Mobile coverage is spotty at the campgrounds.
Pets: Leashed dogs are welcome in both of the campgrounds.
Amenities: Before you go camping, plan ahead! The nearest convenience store is 35 miles away and there are no gas stations in the park.
Camping In Guadalupe Mountains National Park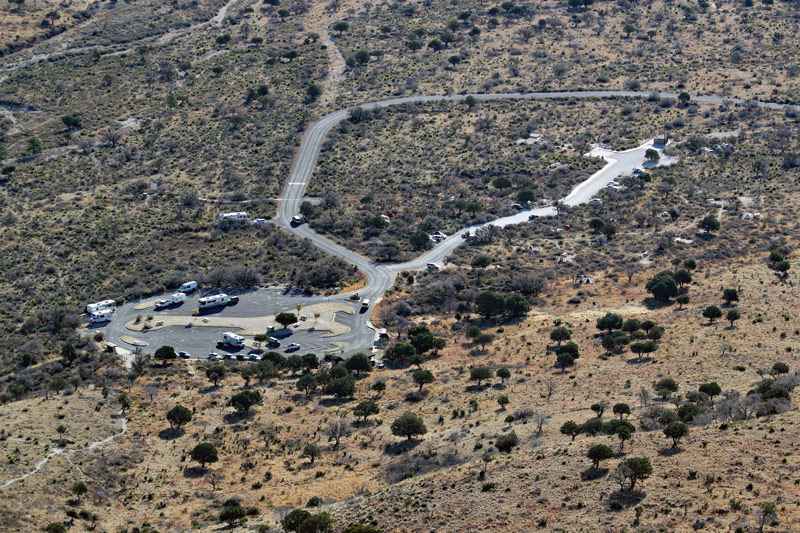 Pine Springs Campground
The largest campground in Guadalupe Mountains National Park is Pine Springs. It's located on the south end of the park at the base of the mountains–a short walk from the Pine Springs Visitor Center. Pine Springs has 40 campsites with a mix of RV lots and tent camping areas. It has flush toilets and potable water, but no showers or electricity.
Pine Springs is conveniently located near the trailheads for Guadalupe Peak, Hunter Peak, and El Capitan. It's a great place to spend the night if you want to wake up early and hit the trails. The scenery resembles a dusty desert landscape dotted with junipers.
RV Camping
The RV section of the campground is akin to a parking lot with asphault spaces marked out for motorhomes and open, pull-through areas. It may not be the most picturesque, but it's easy to maneuver. The largest sites can accommodate RVs up to 45 feet long. Campers that come to Guadalupe are there for the hiking, not the campground!
Tent Camping
The tent camping sites are much more secluded and charming. All of the sites are walk-in, but a few are located just 10 feet from the parking spot so you won't have to walk far! The campsites have incredible views of the mountains and the most amazing sunrises.
40 Tent and RV campsites
First-come, first-served only
Open year-round
Flush toilets
Potable water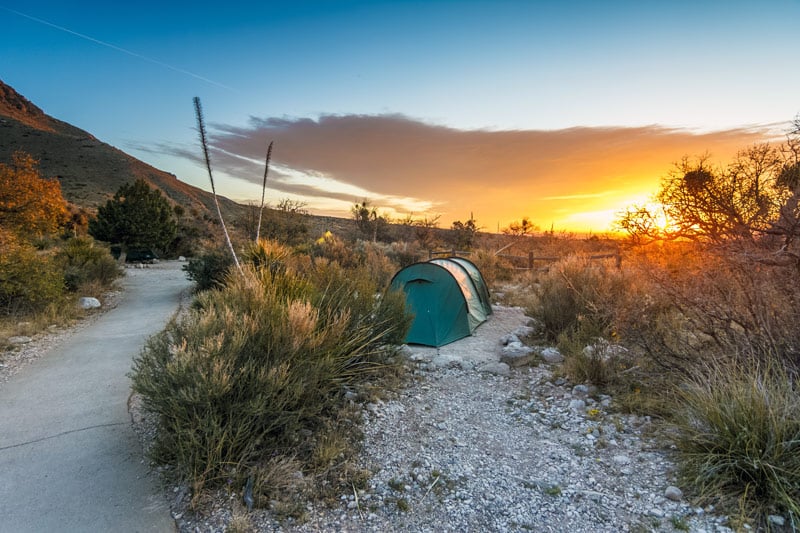 Dog Canyon Campground
Dog Canyon Campground is at the north end of the park. Its landscape has an entirely different feel than Pine Springs. This campground is at a higher elevation in a forested canyon. It has cooler temperatures and a bit more greenery.
There are 9 tent campsites in Dog Canyon and 4 small RV sites for 23-foot campers.
None of the campsites are that private and amenities are minimal. You'll find flush toilets and potable water, but there are no showers or electric hookups. You also won't find any cell phone service here!
The appeal to Dog Canyon is that it's close to Carlsbad Caverns. So it's a great stopping point if you want to visit both parks. There are also stables nearby so it's the perfect place to start horseback riding on the trail system.
9 Tent campsites
4 RV campsites up to 23 feet
First-come, first-served only
Open year-round
Flush toilets
Potable water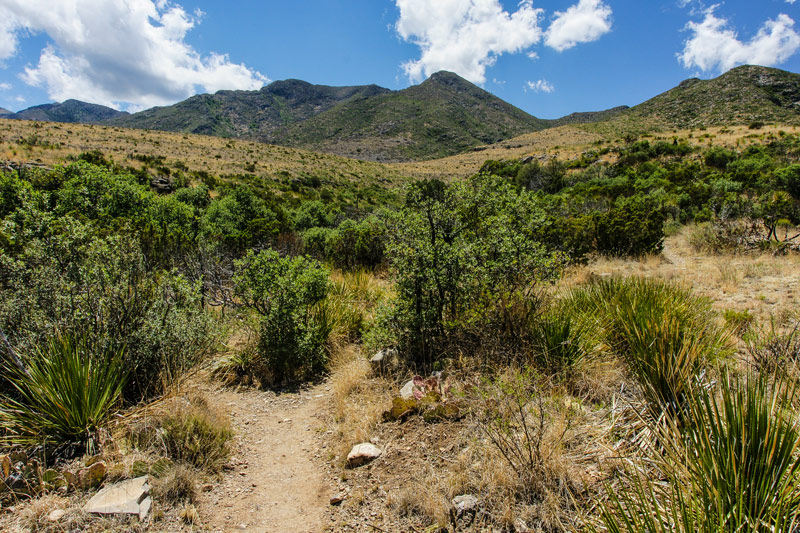 Backcountry Campsites in the Guadalupe Mountains
If you enjoy backpacking, there are 10 backcountry campsites that make the perfect rest stop for the night. These campgrounds have a mix of desert landscape and forested escapes among the pinion pines.
To stay at one of the campsites you'll need to obtain a permit. This can be done same-day at one of the park visitor centers.
Guadalupe Peak
Pine Top
Tejas
Bush Mountain
Mescalero
McKittrick
Blue Ridge
Marcus
Wilderness Ridge
Shumard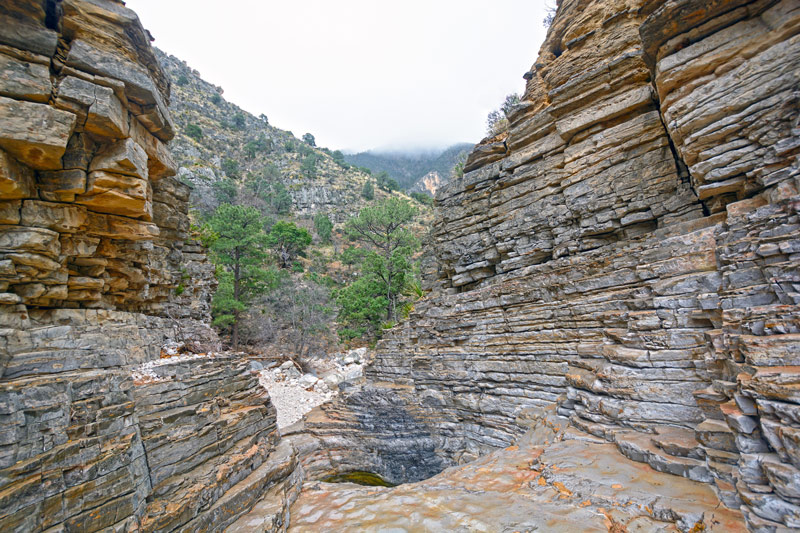 Free, Dispersed Camping Near Guadalupe Mountains National Park
Outside of park, there are many free dispersed camping sites located in the Lonesome Ridge Wilderness Study Area. This is a great place to stay if you have pets, want to save money, or if you're looking for less rigid campground regulations.
You can also go boondocking on BLM land near Carlsbad Caverns. The Chosa Campground is a free, dry campground nearby both National Parks.
Camping in Bureau of Land Managment areas requires that you follow leave no trace principles such as packing out all of your trash.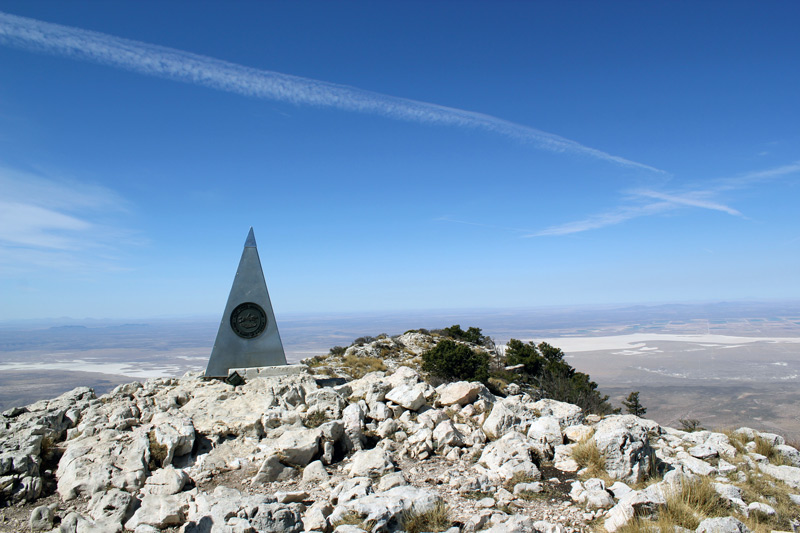 Private Campgrounds Near Guadalupe Mountains National Park
Many campers prefer to stay at private campgrounds that have more amenities like showers, electric hookups, and dump stations. Some of the most popular private campgrounds nearby the park include:
Road trippers who spend more than one week per year camping should consider joining a discount camping club. These clubs cost a small yearly fee to join and allow you to save up to 50% on participating campgrounds.
Our favorite membership clubs to join are:
You Might Also Like: