Where To Go Camping Near Carlsbad Caverns National Park
By
on
This post may contain affiliate links. As an Amazon Associate, I earn from qualifying purchases. Please read my full disclosure.
Carlsbad Caverns is an extensive cave system in the Guadalupe Mountains. It encompasses more than 100 caves including the "Big Room" which is the largest cave chamber in North America.
Visiting Carlsbad is an otherworldly experience that you can't miss if you find yourself traveling through southern New Mexico.
Unfortunately, the National Park Service does not operate any campgrounds at Carlsbad Caverns National Park. There is also no overnight RV parking allowed in the Carlsbad Caverns Parking lot.
But, there are plenty of opportunities for camping in the surrounding area. In this article, we're going to tell you some of the best places to stay nearby.
Did you know? Carlsbad Caverns National Park has a dog kennel on-site. Read more about the kennel below!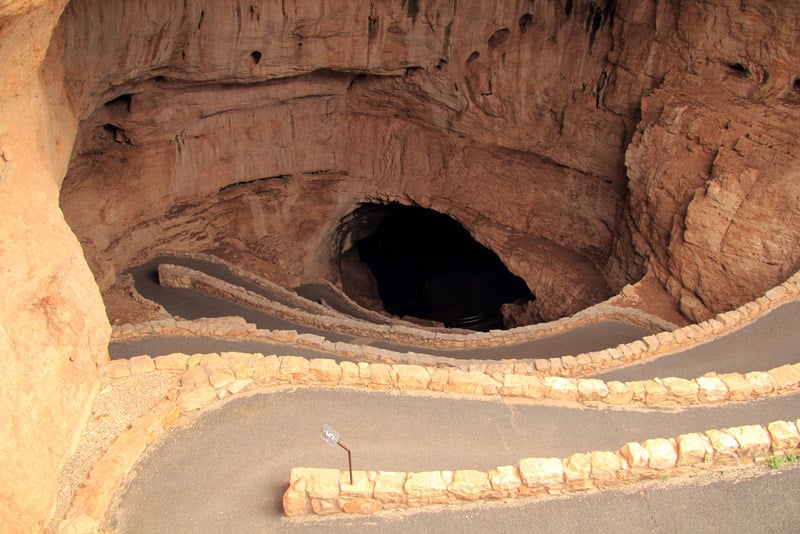 Camping Near Carlsbad Caverns National Park
Carlsbad Caverns is located:
7 miles west of White City, New Mexico
20 miles southwest of Carlsbad, New Mexico
Both of those cities have private campgrounds with amenities, but Carlsbad is larger and has more options.
Private Campgrounds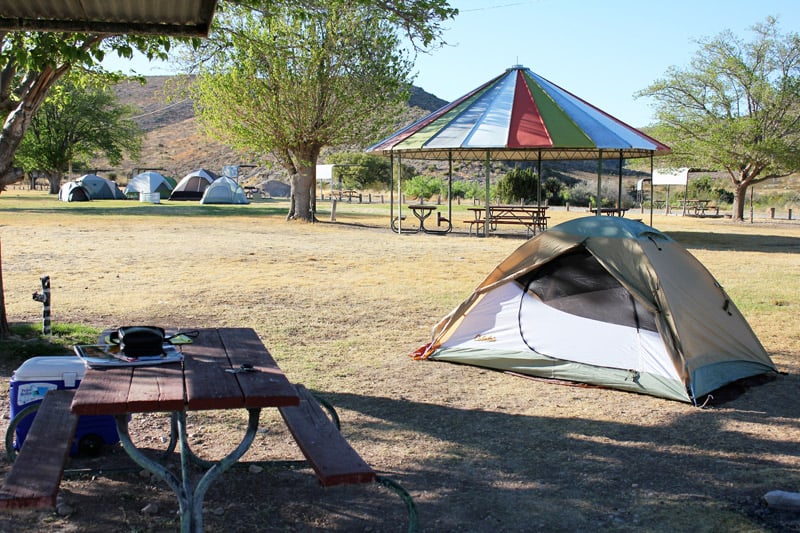 As you would expect in New Mexico, most of these campgrounds are flat, packed-dirt, and have little shade. But they are easy to maneuver and will give you a good jumping-off point for a morning adventure.
Travelers who spend more than one week per year camping should consider joining a discount camping club. These clubs cost a small yearly fee to join and allow you to save up to 50% on participating campgrounds.
Our favorite membership clubs to join are:

The Best Camping Near Carlsbad Caverns
There may be limited options at Carlsbad, but there is a campground at Guadalupe Mountains National Park which is only 40 minutes away!
This is a great opportunity to visit both parks and sleep among the mountains.
Dog Canyon Campground
In the Guadalupe Mountains, Dog Canyon Campground has 9 tent camping sites and 4 RV campsites which are suitable for RVs up to 23-feet long.
The campground may sound small, but Guadalupe Mountains is one of the least-visited National Parks in the US and it rarely gets full. The sites are first-come, first-serve only, and do not take reservations. They have potable water, flush toilets, and horse stables nearby if you want to do some riding.
The campgrounds in the Guadalupe Mountains are remote, and you're unlikely to get cell phone service at Dog Canyon. There also aren't any showers or electric hookups, so if you're looking for more amenities consider the private campgrounds nearby.

Free, Dispersed Camping Near Carlsbad Caverns National Park
One of the great things about visiting Carlsbad Caverns is that the park is surrounded by Bureau of Land Management (BLM) areas which allow for free, dispersed camping.
You can do this tent camping style, or take your RV boondocking.
The best way to get information about the area is to stop by the Carlsbad BLM office as you head towards the caves.
The Chosa Campground is a free, dry campground near Carlsbad and the Guadalupe Mountains National Parks. Camping in BLM areas requires that you follow leave no trace principles such as packing out all of your trash.
What About Pets?
Carlsbad Caverns is one of the few National Parks that have a kennel service on-site. You can kennel your dog for $10 while you explore the caves which is very convenient.
We used the kennel service for our German Shepard when visiting Carlsbad and it worked out ok. The kennels were a little bit cramped. But we did a self-guided tour and walked through the cave in about 2.5 hours.
I think the service would be more comfortable for smaller dogs. If you're looking for a private border, we recommend checking out Rover.com
The parking lot at Carlsbad gets dangerously hot no matter what time of year. So never ever leave your dog unattended in the parking lot. The caves may feel cool, but the outside temperature is not!
You Might Also Like: