Texas Tiny Houses And Shipping Container Homes for Glamping & Overnight Stays
By
on
This post may contain affiliate links. As an Amazon Associate, I earn from qualifying purchases. Please read my full disclosure.
Take a staycation in these incredible tiny house and shipping container homes in Texas.
Located nearby the major cities like Austin, Houston and San Antonio, this is a great way for a couple or small family to get away from the crowds without traveling too far.
The Lonestar state offers a mix of exciting environments for tourists and staycationers of all tastes. Whether you want to enjoy the fine dining and entertainment of a large city or the walking trails of a state park, Texas has you covered.
Despite everything being bigger in Texas, you can still access micro-real estate for a travel experience like no other.
These tiny houses and shipping container homes let you supersize your adventure while snuggling at night in compact glamping quarters.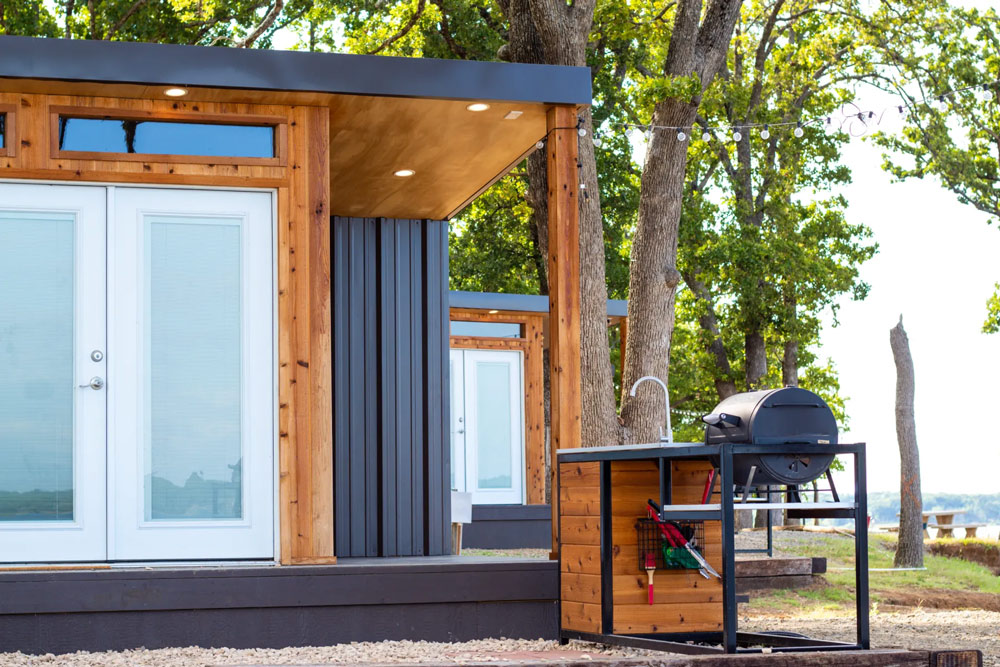 Try out the tiny life without investing in your own home! This luxurious tiny home rental on Lake Texoma is the perfect weekend getaway.
The single-room tiny home is steps away from the lake and comes equipped with a queen bed, small fridge, Bluetooth speaker, indoor/outdoor seating, super unique fire-pit, and an outdoor kitchen complete with a BBQ grill.
SPECIAL OFFER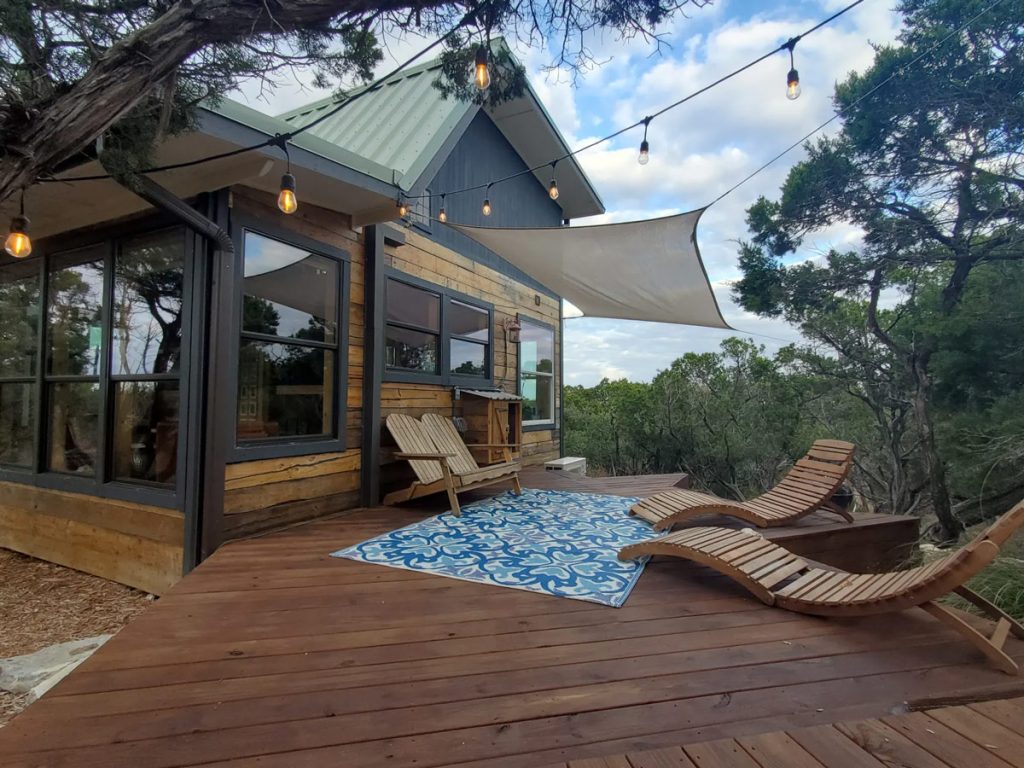 Just 20 minutes outside of downtown Austin, you can enjoy a cozy cabin nestled on acres of juniper and oak trees.
Hike the land, play games, grill, hang on the deck and enjoy nature. The cabin comes with everything you need for a comfortable trip including a kitchen, bathtub and shower, WiFi and more.
As a bonus, you can book a healing sound therapy session or a class in the nearby yurt.
Austin, Texas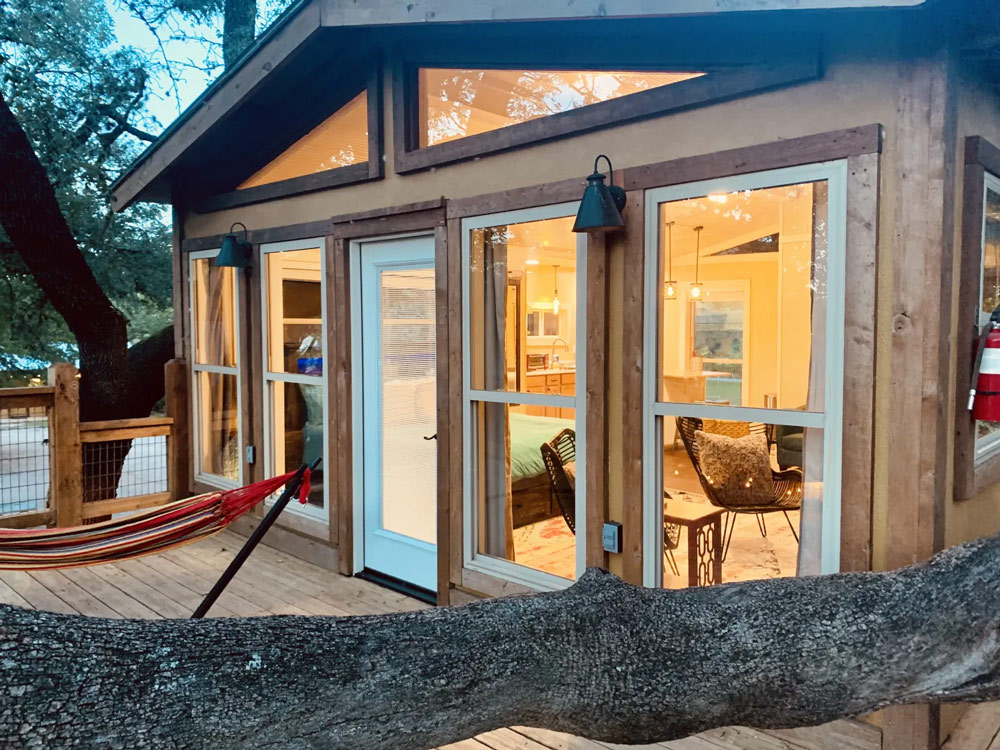 This comfy bungalow is perfect for a romantic weekend getaway! The cabin features a private deck with nature views and trail of trees that leads to the Guadalupe Riverfront.
Rent a 2-seater kayak to enjoy the river during the day, then grill on the deck or cook within the fully furnished kitchen.
The cabin may be small, but it comes with WiFi and a Smart TV so you won't feel too far removed from the grid.
New Braunfels, Texas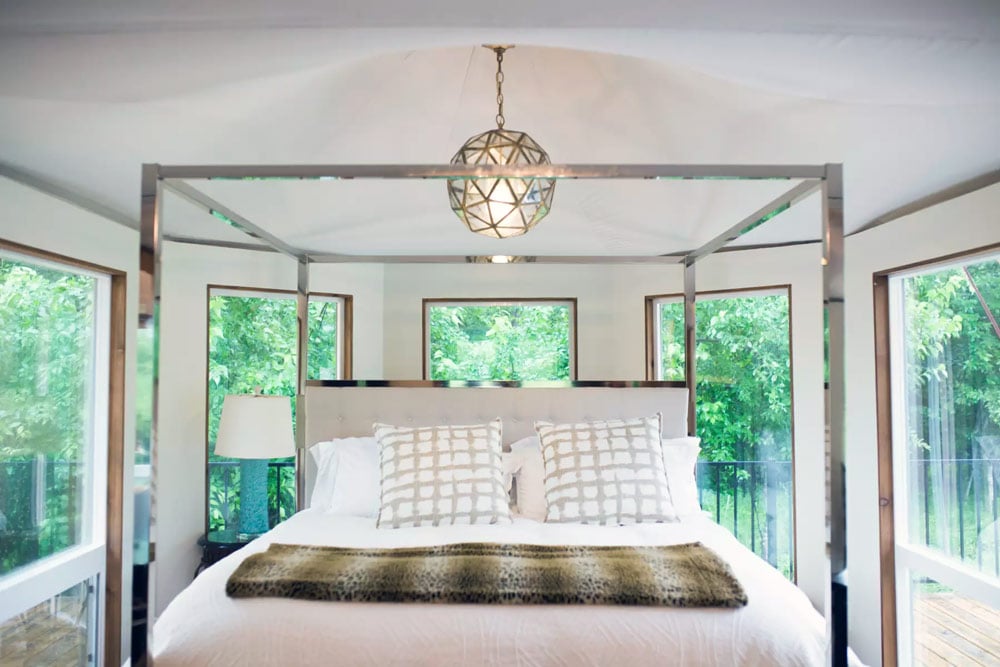 Right alongside the San Marcos River is a camping resort with luxury amenities and quick access to the great outdoors. You can spend the day experiencing nature on over 100 acres of land and extensive river frontage.
Hike the property's many walking trails, pick pecans in the 150 year old pecan orchard, or explore the numerous private beaches on the aquamarine San Marcos River.
Then at night, relax on a king-sized bed and freshen up in the modern bathroom which comes with a large shower and a spa bathtub.
Fentress, Texas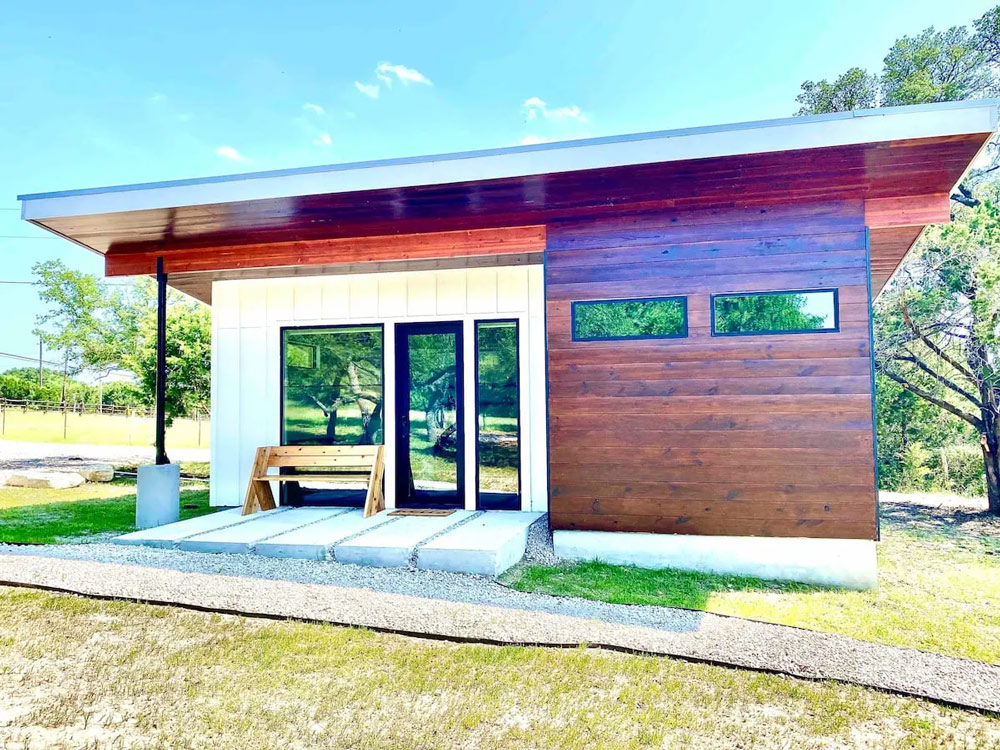 If you want to try out the tiny life without committing to your own build, then this modern tiny home near Dripping Springs is the perfect adventure!
The house comes with very basic kitchen amenities, comfortable beds, and charcoal grill for a backyard BBQ.
Dripping Springs is close by and offers a huge variety of fun activities and places to visit. Within just a few minutes you can indulge in countless local wineries, breweries and distilleries.
Guests cannot miss hiking in one of the amazing state parks nearby including: Pedernales Falls, Blue Hole, Jacobs Well and Hamilton Pool.
Dripping Springs, Texas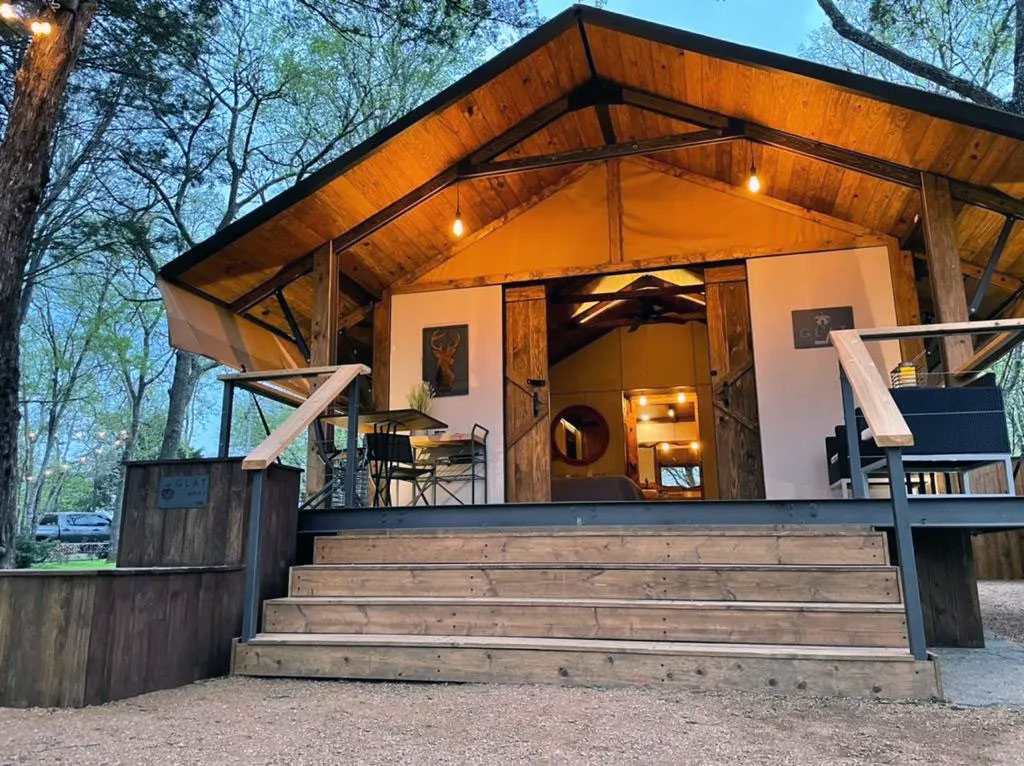 Escape from busy city life and relax in nature on the beautiful shores of Lake Bastrop.
Combining luxury with nature, this cabin allows guest to sleep comfortably without the inconveniences of camping. You get your own private restroom with a large vanity and shower.
Just outside the cabin awaits a bath tub, your own outdoor gas grill and dining table, comfy chairs surrounding a fire pit to enjoy the beautiful Texas night sky.
Bastrop, Texas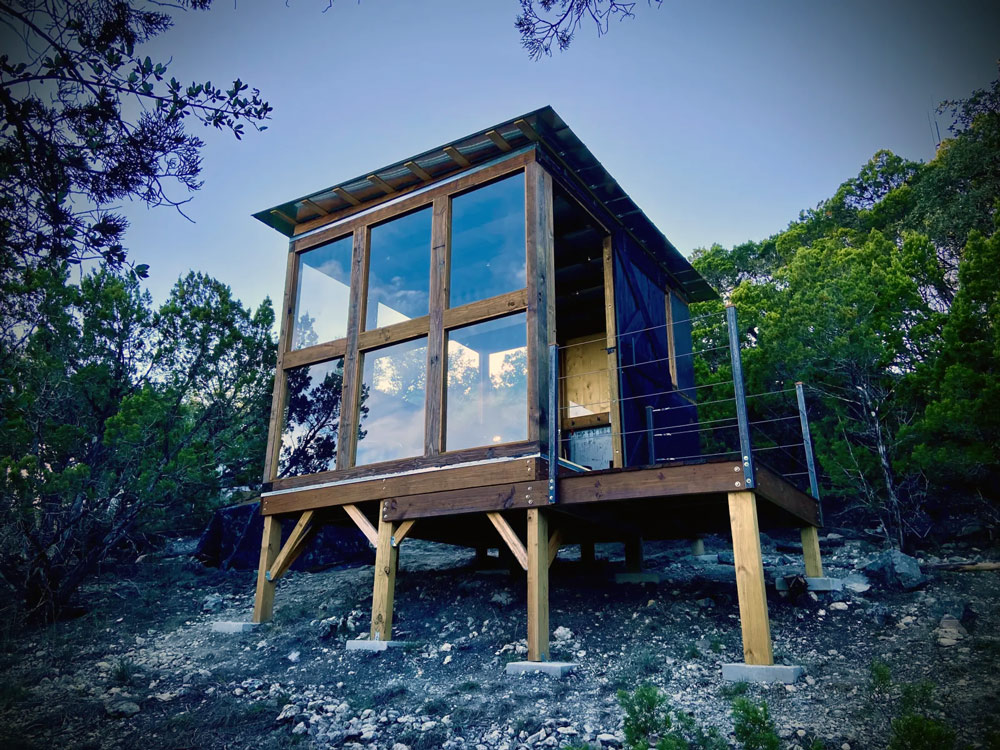 If you want to catch a break from the bustle of Austin, Texas then look no further than this simple tiny home with breathtaking views.
The off-grid cabin provides a true "glamping" experience. It's quiet and private, with minimal amenities. But it is more comfortable than a traditional camping tent.
A wood burning stove and solar lights as well as comfortable chairs come provided. Pack up your sleeping bags and get ready for a night under the stars!
Largo Vista, Texas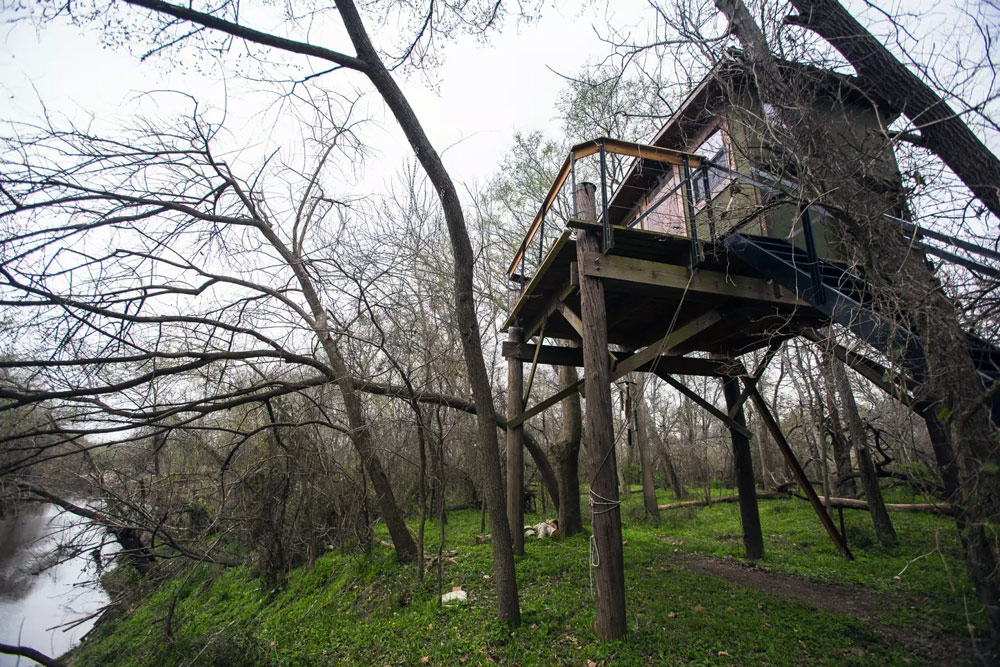 Rent this Texas Treehouse on a Creek
Have you ever dreamed of spending the weekend in a treehouse? Spending your days fishing in the river and hiking in the woods?
Well now you can!
This tiny treehouse rental nearby Columbus, Texas has everything you need for a romantic getaway. You get the entire campground to yourself including hot tub, pizza oven, fire ring, BBQ rack and of course…endless creek to explore and all to your self.
Columbus, Texas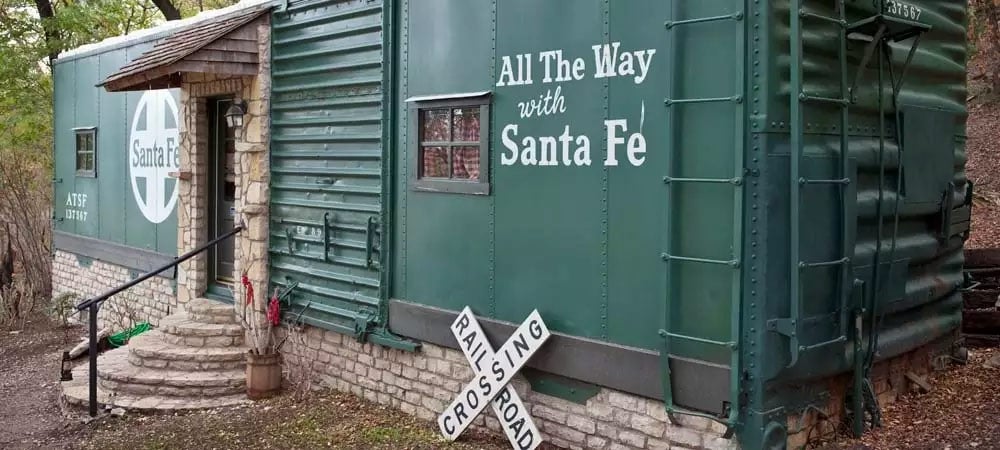 If you're looking for an experience that's truely unique, then look no further than this Santa Fe Rail Car! The renovated box car is nestled in the woods and comfortably sleeps up to four.
Guests can enjoy all the comforts of home including an old fashioned bathroom with claw-foot tub, kitchen, plenty of privacy, and even a vintage playground for the kids!
The rail car is located only 3 miles away from Dinosaur Valley State Park which makes for the perfect daytime adventure.
Glen Rose, Texas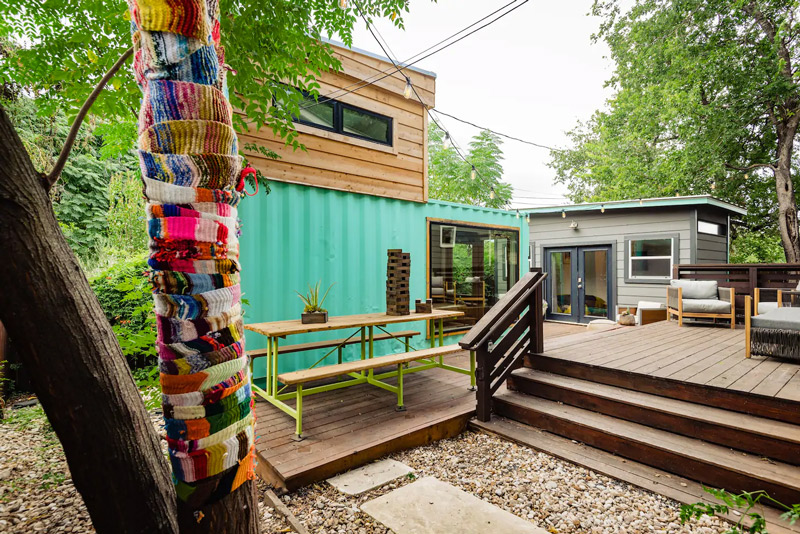 A massive color pop of teal welcomes guests to the East Atomic Ranch shipping container home on Austin's east side.
This modern home features a unique and funky aesthetic and boasts a comfy loft space for guests looking for a genuine tiny house experience.
Despite its diminutive size, the container home features a sitting area, walk-in shower, and kitchen. To stay comfortable in Texas hot and cold climate, an AC/heater combo is installed and ready for climate control.
Room darkening shades make it possible to rest off a night out through the early morning hours while a backyard deck and patio provide an opportunity to enjoy the outdoors throughout the night.
Austin, Texas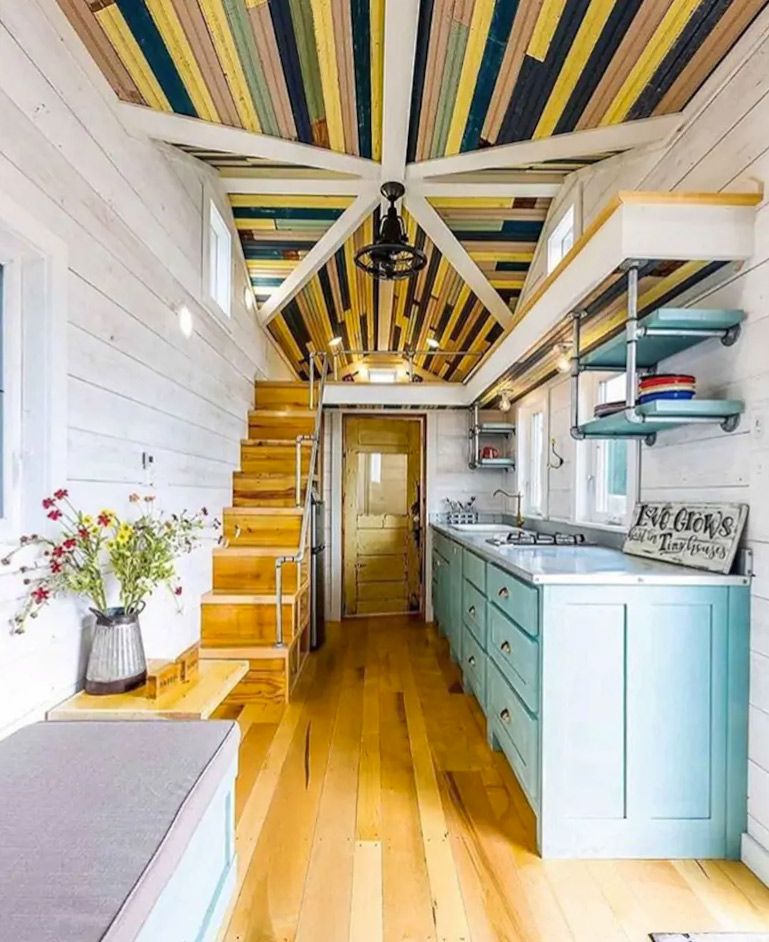 Whether you want to get away for the weekend or stay well outside the city sprawl of Forth Worth and Dallas on a trip to the region, the Farmhouse Tiny Home in Bluff Dale makes it possible with an hour-long, traffic depending, commute to the city.
The Farmhouse Tiny Home is able to accommodate four guests in a truly farmhouse chic tiny house situated on a working ranch.
A tiny home construction site is located nearby and can be toured with an appointment, and guests can also explore the ranch property and see the animals.
Features include a flush toilet, two-burner cooktop, microwave and basic kitchen tools. Shower is available.
Bluff Dale, Texas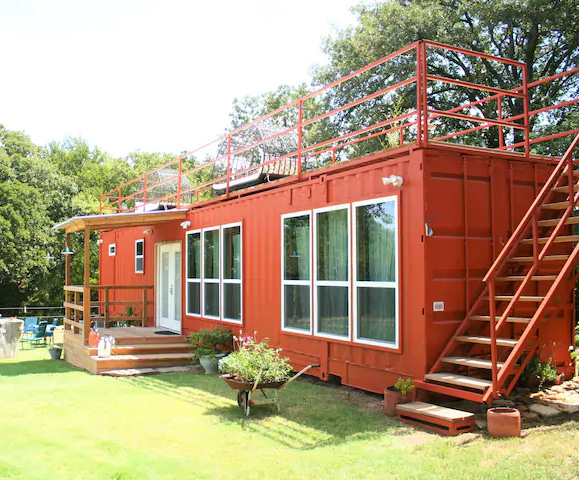 The Copper Can is a shipping container rental as bright as its name and full of aesthetic touches and amenities. Guests can enjoy lounging on a luxurious rooftop deck before retiring for an evening relaxing in a Japanese soaker tub after a meal prepared in the fully equipped kitchen.
The queen size bed allows you to choose your own adventure with adjustments and a vibrating feature while fur throws and luxurious rugs make for a comfy, cozy experience no matter the Texas weather.
Copper Can is located in a seven-acre wood pasture with excellent views of nature and pets. Breakfast is included with the rental as well as basic drinks and condiments.
This hideaway is the perfect romantic retreat or getaway spot when visiting the Dallas/Fort Worth metro area.
Pilot Point, Texas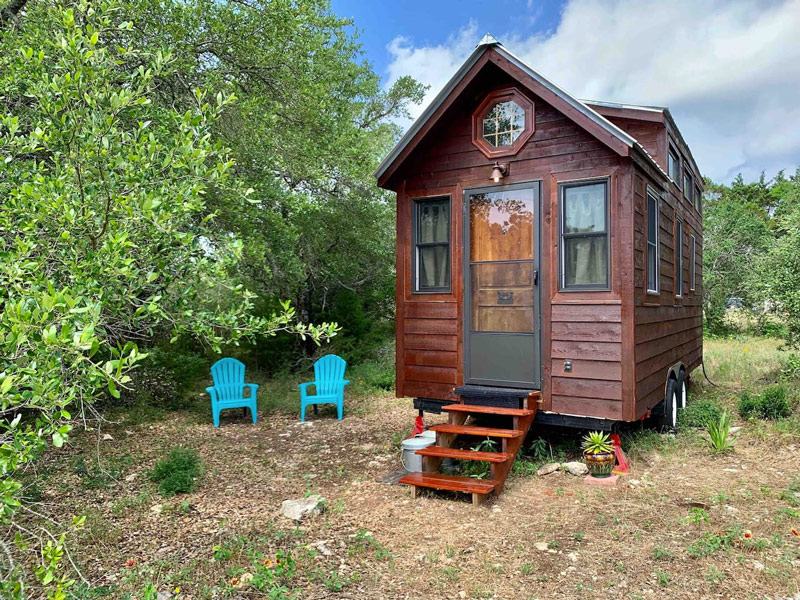 A traditionally quaint tiny home experience is offered by the Tiny Cabin in the Austin-area Hill Country. Situated on 1.5 acres, this two-guest masterpiece combines a picturesque cabin exterior with crisp white and natural wood interiors.
Guests can use the queen-size bed in the sleeping loft or stay downstairs to avoid a ladder climb. The bathroom features a cartridge toilet and a wine-barrel basin shower.
Kitchen amenities include a three-burner stove, refrigerator and compact. The working vacationer will find a desk with pull out working space in this tiny cabin, making it an accessible work retreat.
Celebrity status is also part of the experience as this Tiny Cabin has appeared on HGTV.
Austin, Texas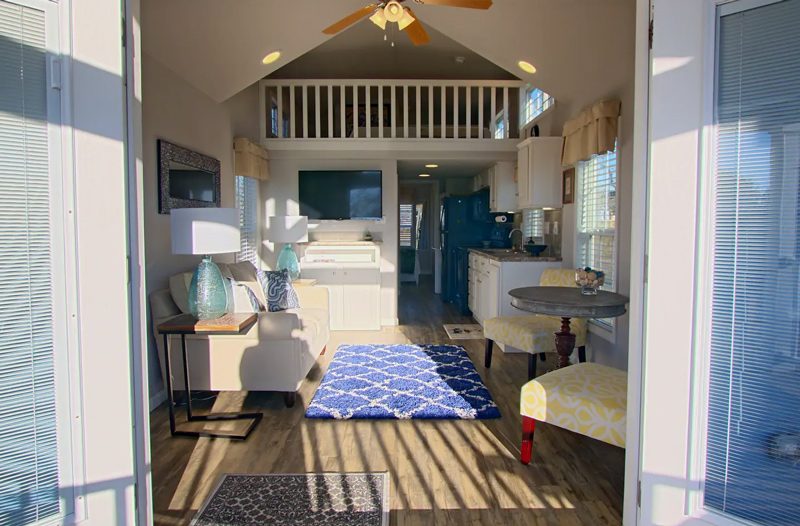 If a waterside retreat is more your speed, the Bluebonnet Tiny Home Rental provides access to a private lake and beautiful fields of bluebonnets in season.
A queen-size bed is offered downstairs or guests can opt for a twin-size adventure in the loft of this crisp blue masterpiece.
Despite the added sleeping accommodations, children and pets are not invited to this quiet retreat.
The tiny home features full-size appliances and a stunning view of the four-acre Granite Lake and its seasonal wildlife. Other tiny homes are located on the property, so you can up the social ante at the retreat based if desired.
Otherwise, enjoy solo walks and quiet lakeside seating before returning to deluxe indoor accommodations.
Kingsland, Texas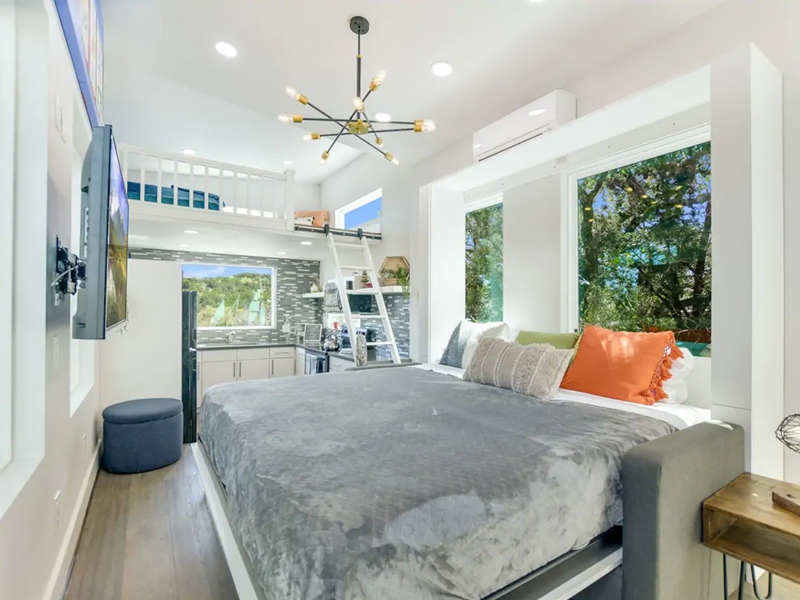 Crisp interiors and stunning views are a major selling point for the Luxury Lake Travis Hill Country Cottage — it has all the windows to add to the spacious feeling of its generous, well-appointed living space.
It's also a great retreat for families with a four-guest occupancy limit. This Spicewood tiny home is a luxury masterpiece with high-end appliances and easy access to the Briarcliff boat ramp on Lake Travis.
Only 25 miles from downtown Austin, it is a perfect option for those wanting to explore fine dining or an evening of entertainment in the capital city before returning home for a night of quiet repose.
Spicewood, Texas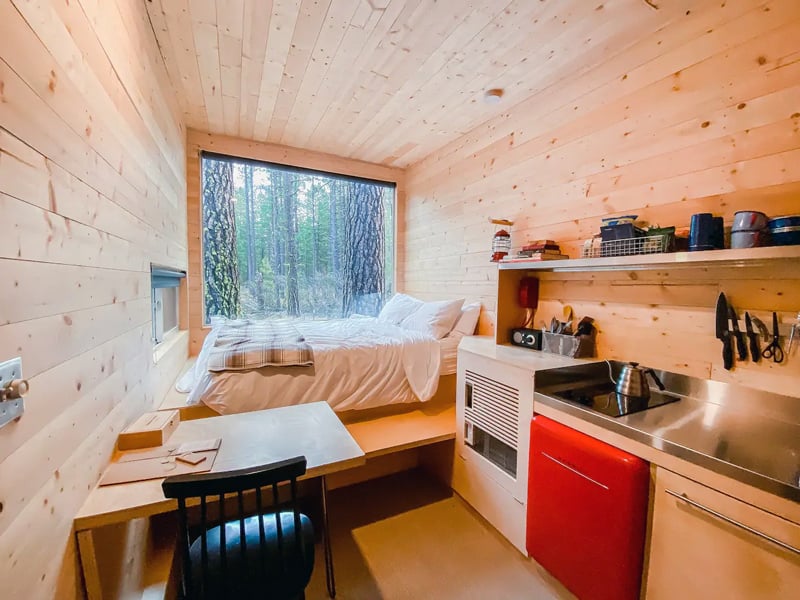 Fall asleep with your eyes toward a forest of majestic pines at the Getaway Piney Woods in Henderson County, Texas.
This tiny home features rustic trims and a huge picture window beside your queen size bed as well as a venting window near your feet.
Ready to sleep two, the Getaway also features a bathroom with a hot shower and toilet, heat and AC along with a mini-kitchen equipped with dishes and cooking supplies.
If you don't want to walk in with groceries, amenities are provided in the cabin for purchase, such as snakcs and basic meals, and the owners will send a bill at checkout.
For pet lovers, the Getaway is a rare dog-friendly option in tiny house accommodations.
Henderson County, Texas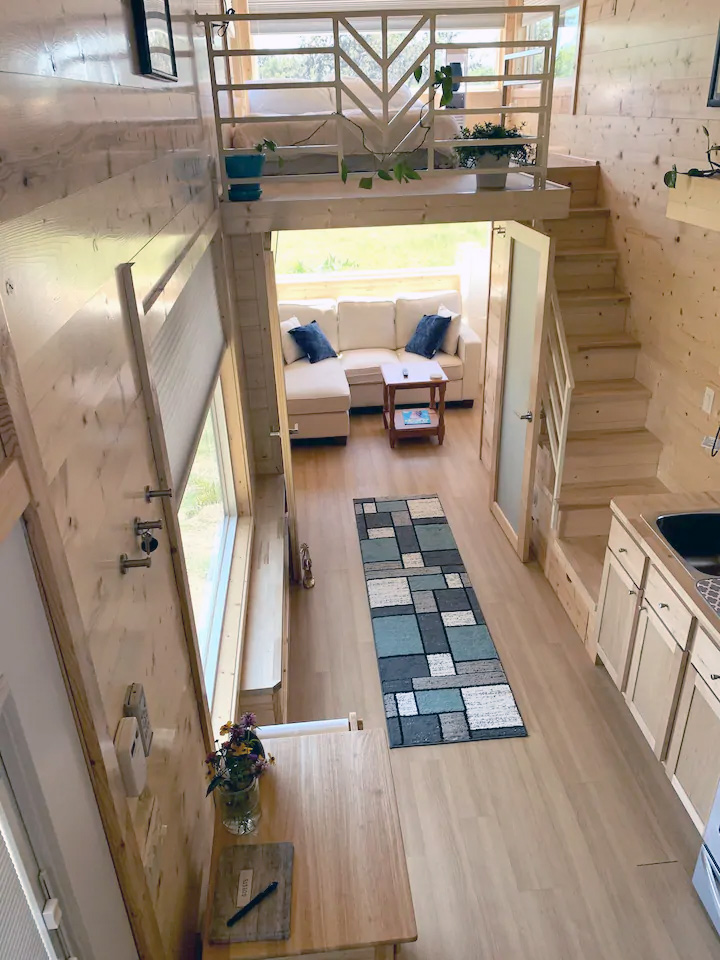 Driftwood visitors can easily access the famous Hill Country or enjoy the sights or nightlife in Austin.
For an airy tiny house experience, a stay at the Nancy Yvonne Tiny House will offer the comforts of home with the intimacy of a tiny home.
The extra-large accommodations include two lofts with generous windows, a full kitchen and a full bathroom complete with a tub.
Guests who want to getaway but stay connected can enjoy internet access and two flatscreen TVs with convenient bluetooth speakers.
For outdoor time, the house offers shared access to a backyard.
Driftwood, Texas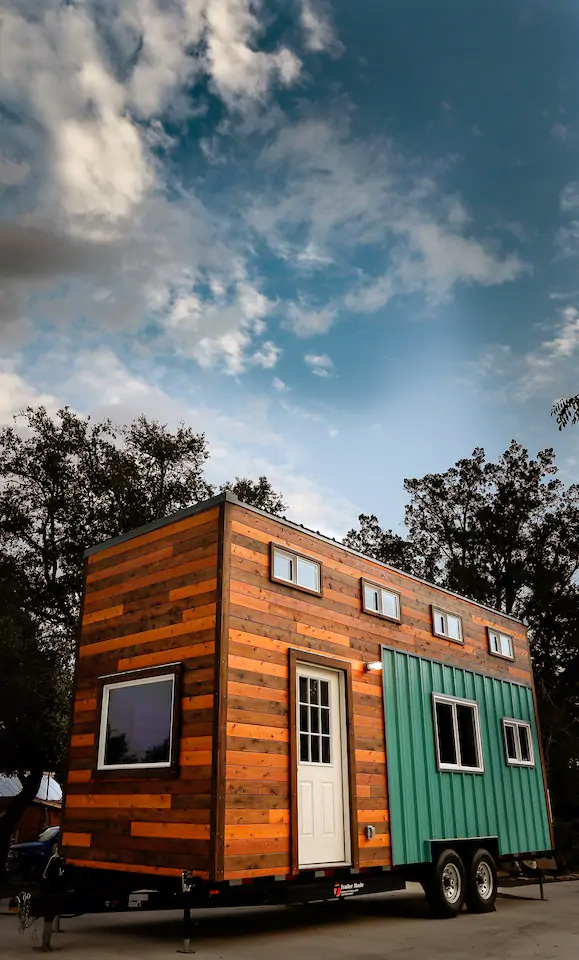 The Little Grey Fox offers a quaint space with the subtle touches tiny houses are noted for. A gentle color scheme provides a soothing atmosphere while a more spacious interior offers room for three guests.
An excellent retreat for a trio, this house provides easy access to the Texas Hill Country and the Lost Maples State Park. For travelers, Hunt provides a great jumping off point on the way to or return trip from a more urban vacation.
Both sleeping areas are accessible via ladders, so property owners request all guests be 18 or older. Bathroom accommodations include a walk-in shower, and Wi-Fi is available.
Hunt, Texas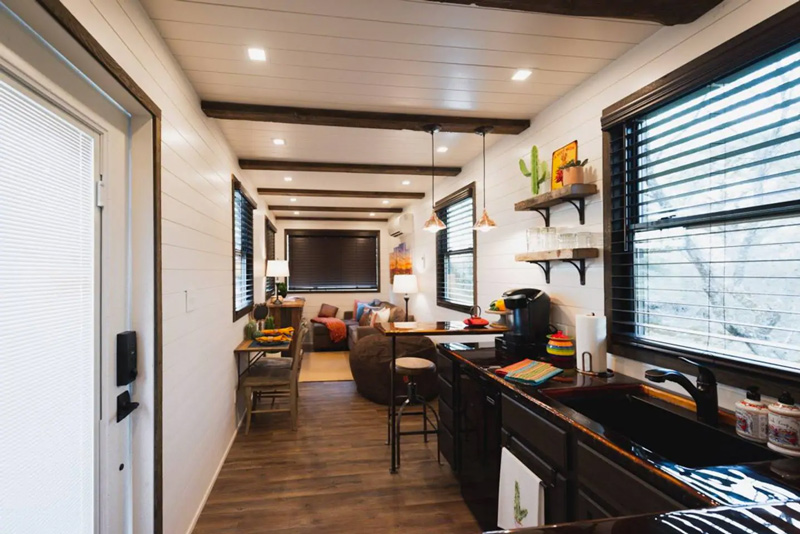 Want to try out a shipping container home with the entire family or a couple of guests?
The Hacienda makes it possible with a queen-size bed for guests and an optional air mattress in the downstairs living room.
A spacious bathroom welcomes guests to the Waco area, and a rooftop provides a comfortable destination for morning coffee or an afternoon lounge in the sun.
If you need to beat the heat after time outdoors, an air conditioning unit is ready to pump out the cool air.
Waco, Texas.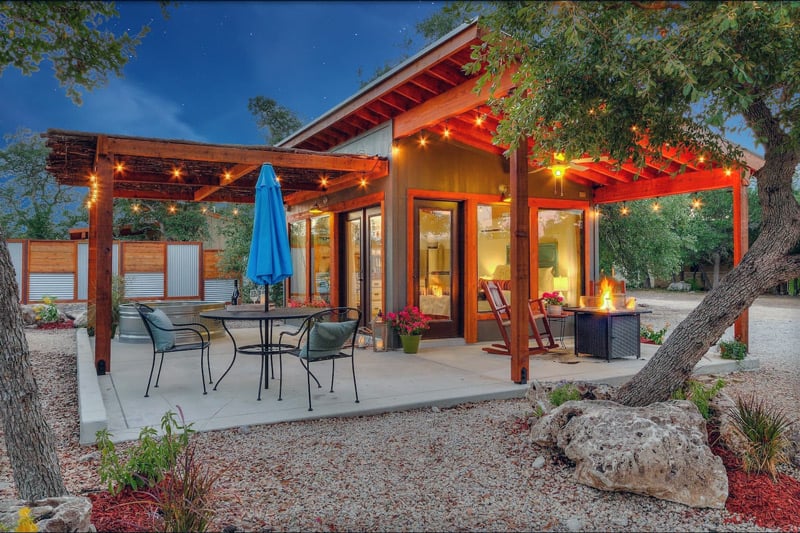 A charming lighting scheme sets the Patio House apart when it comes to romantic evenings spent outdoors on a tiny house getaway.
The Hondo area provides easy access to San Antonio for a day shopping or evening at a nice restaurant before a night of relaxing at Patio House.
A luxury style bathroom provides plenty of comforts, and indoor cooking is easy with a mini-fridge, hotplate and microwave. A gas grill is also available for outdoor cooking.
Need to cool off after a ramble around the 72-acre host property? A personal splash pool is included as is access to a shared hot tub with a view.
Honda, Texas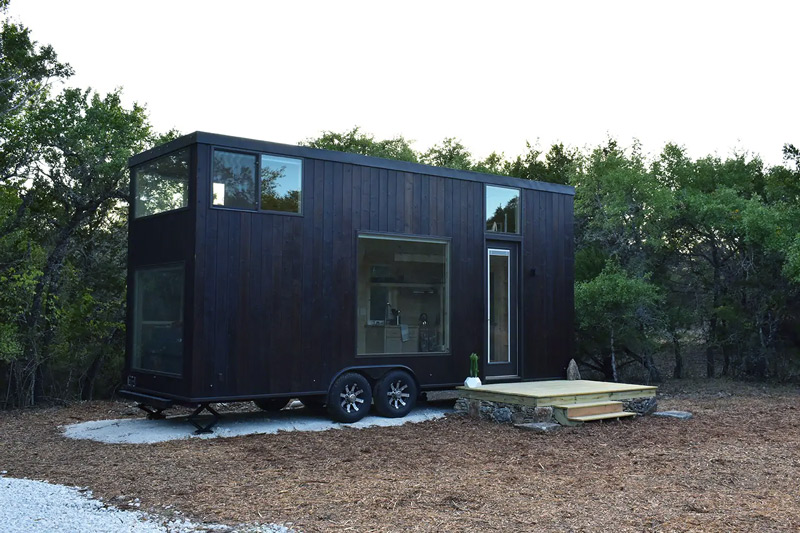 For a larger party, the Buck Moon Tiny House is a great option in Wimberley. It accommodates up to four guests with two separate beds.
Conveniently located in Texas Hill Country, the tiny house provides easy access to the Blanco, Wimberley and Dripping Springs communities.
A minimalist design scheme makes the Buck Moon house an airy and bright experience for guests. Visitors can access the surrounding wooded area for a fun walk or daytime adventures.
Internet access is available, but bandwidth may be limited.
Wimberley, Texas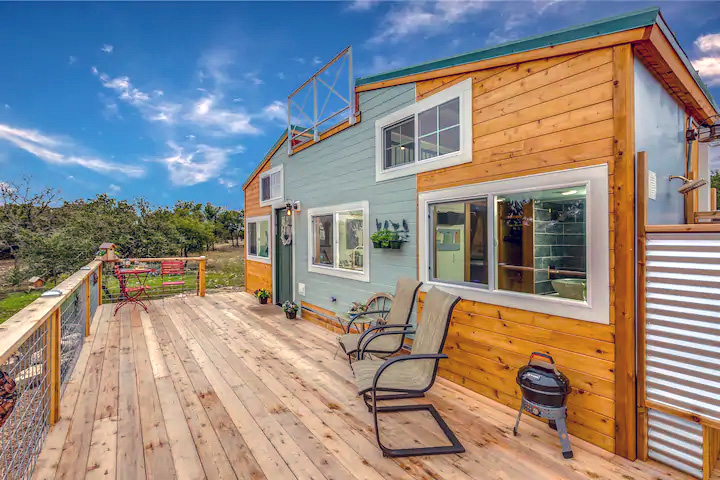 For an ultra-chic experience with plenty of outdoor oomph, the Lucky Stars Tiny House offers a bit of oomph in a tranquil seven-acre setting.
Two bedrooms are avaiable for up to two guests. You can stay connected with WiFi and a smart TV while nesting with a fully-equipped kitchen and full-size bathroom.
Added bonus: This home was built on the third episode in DIY's Tiny Luxury's third season.
Boerne, Texas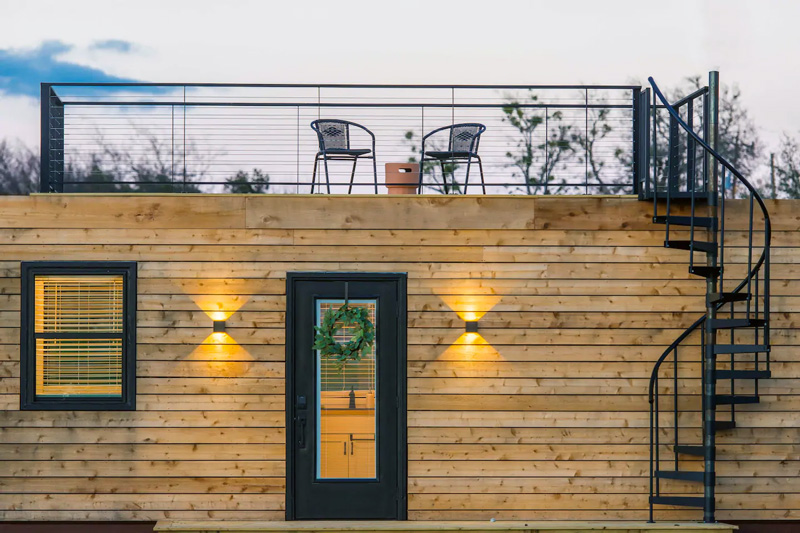 A delightfully rustic container home is available with The Meadows in the Waco area.
With easy access to the Magnolia silos and Baylor University, The Meadows is a perfect spot for an overnight stay on a larger excursion or a destination in and of itself.
The house is only 12 minutes from Magnolia so it makes for the perfect staycation.
Waco, Texas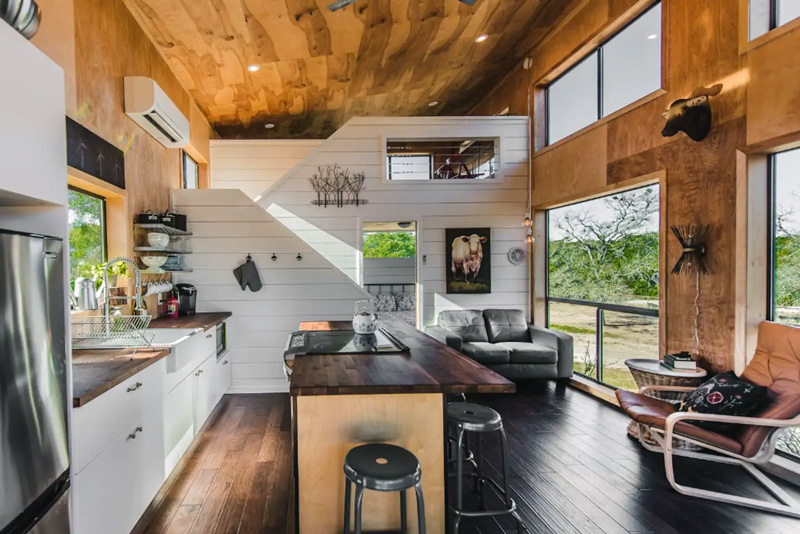 A second offering in the Dripping Springs, area, this tiny cabin allows for four guests over two bedrooms with three beds, making it perfect for a small family.
Luxurious windows bring the outdoors into a full-size feeling space with a generously appointed kitchen and lounge area. An outfitted coffee bar makes nighttime a snap.
The property is dog-friendly, making it perfect for pet lovers.
Dripping Springs, Texas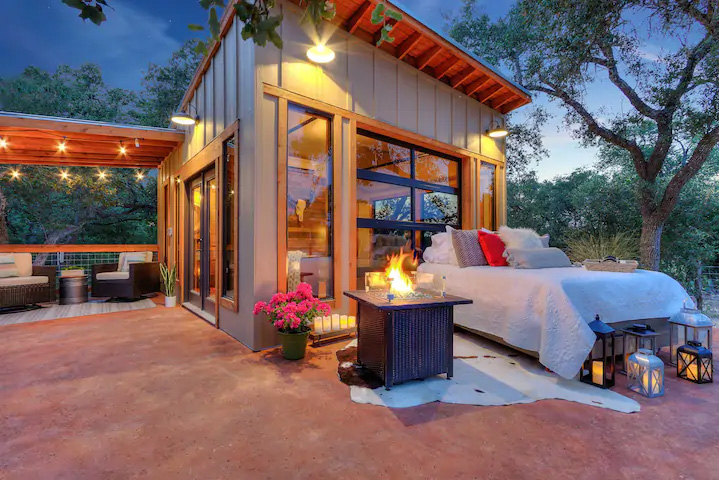 While it's not from the motion picture, the Glass House is as sleek as a film-ready home.
Glass walls provide massive views of 72 acres of rolling hills with the ultimate in privacy.
For couples, San Antonio is only an hour away to provide fine dining and nightlife options before a night under the stars. Access to a pool is provided.
Hondo, Texas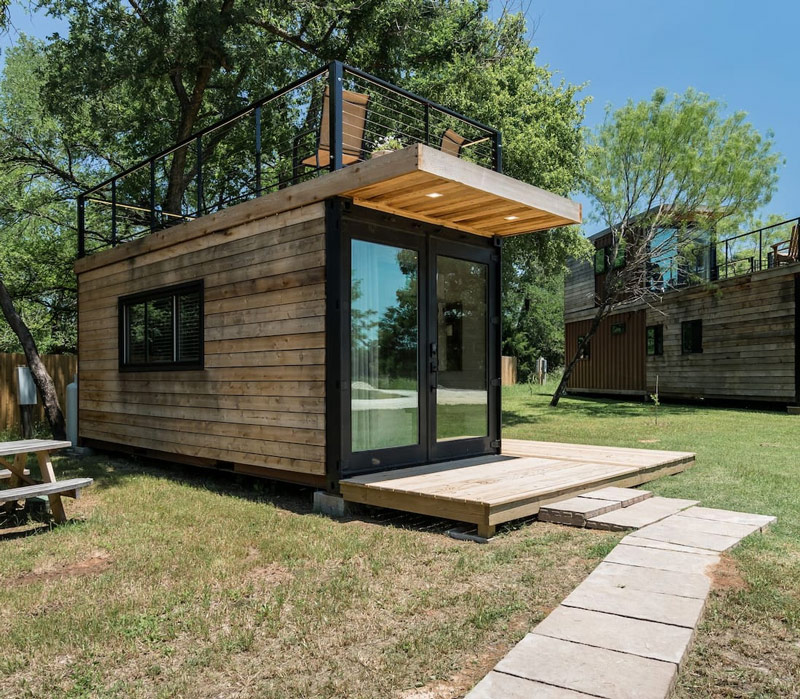 For guests ready to enjoy the Magnolia destinations or visit Baylor University, the Tiny Cargo Home provides a crisp, clean white space ready to welcome plenty of natural light.
Only twelve minutes away from the Magnolia Silos, the home is a great dropping off point for a day of shopping or a way to getaway for some "me time."
Waco, Texas
A truly tiny container home, Stilwater House also provides easy access to Magnolia and the Waco downtown.
A custom Murphy bed sleeps two, and an induction cooktop is provided in the kitchen/dining area.
A subway tile lined shower sets creates a stellar bathroom while a rooftop deck allows for plenty of communing under the Texas stars.
Waco, Texas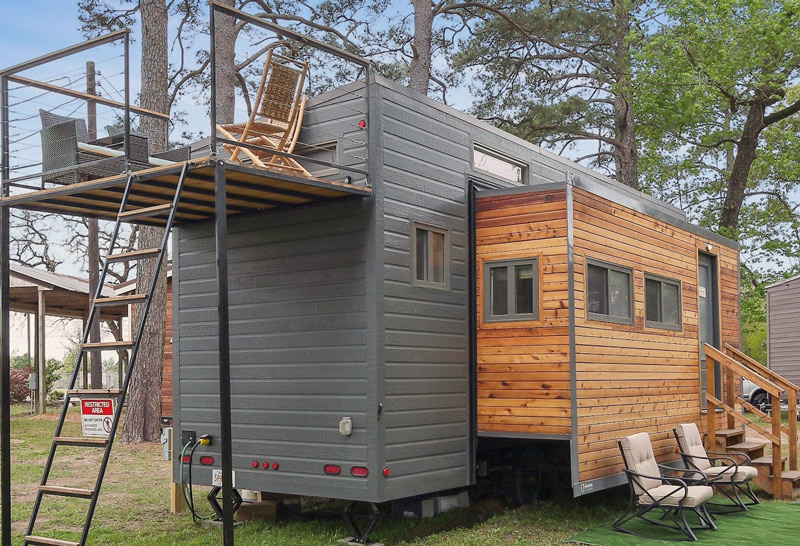 Another Tiny House with major-league star power, the Serendip Tiny House of Zen has been featured on Netflix.
With the space to accommodate four guests in two beds, the Serendip Tiny House is ready for a group trip with 400 square feet of living space all on one floor. Children are welcome, and the lack of loft space also makes this space perfect for those unwilling to crawl into loft spaces.
The 14-acre property provides easy access to a fruit orchard, fishing pond and gorgeous gardens for an afternoon of meandering.
Magnolia, Texas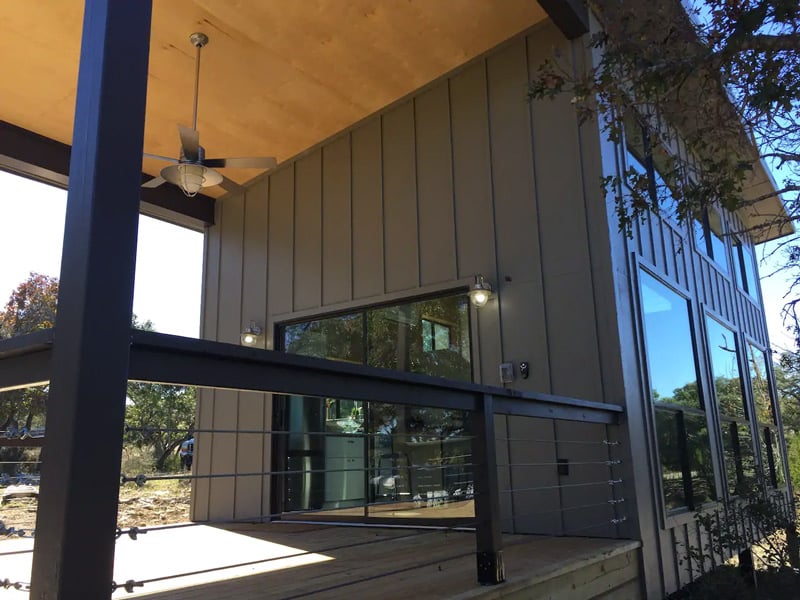 The Modern Tiny Cabin provides tranquil surroundings while keeping you plugged in with fiber internet for web browsing after a stroll around the canyon area of this property.
Dogs are welcome, so it's a great place to spend the weekend with your furry friend.
Dripping Springs, Texas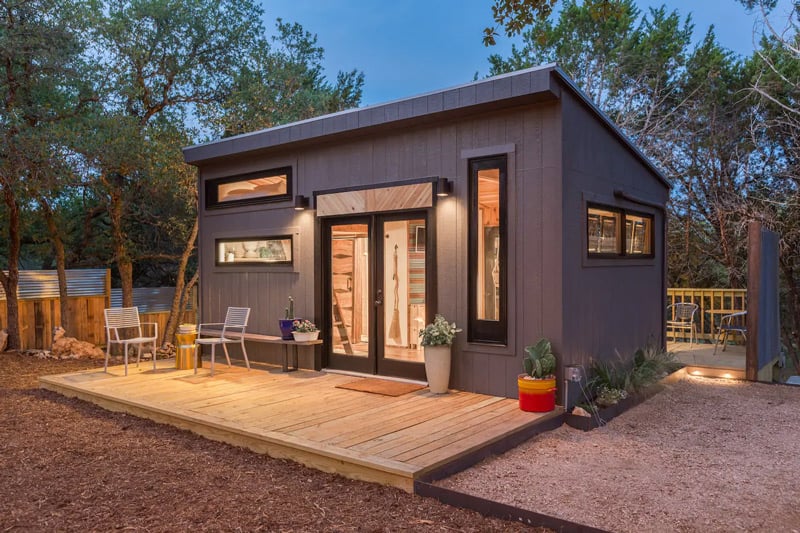 For the ultimate in romance, Sundown provides a delightful indoor and outdoor environment complete with "twinkle" lighting outdoors.
A queen bed sleep sofa and a loft area offer memory foam mattresses for rest after a relaxing soak in the outdoor hottub or a swing in the double hammock.
Perfect for a destination getaway or as a jumping off point to other locations in hill country.
Wimberley, Texas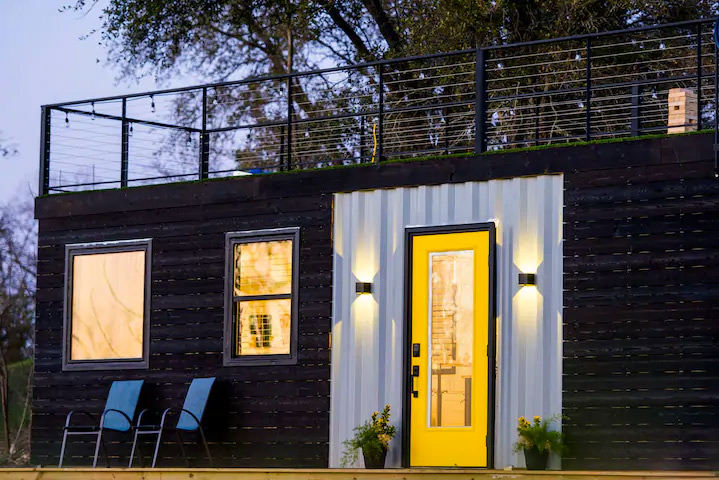 For Waco visitors, The Zephyr mixes chic container living with entertaining by providing room for four guests.
A queen bed is in the bedroom area while a large couch in the living room makes it possible to host additional guests.
A rooftop deck is perfect for a day under the sun or a night under the stars.
Waco, Texas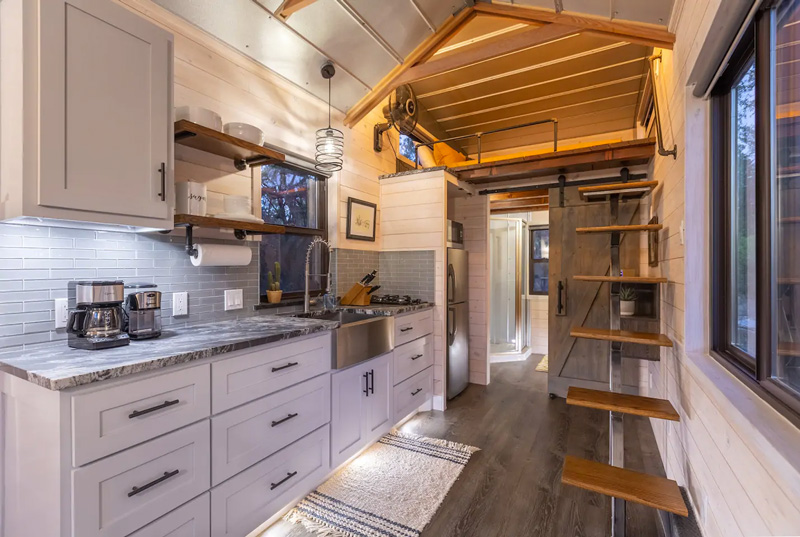 Another twinkle light haven with a hot tub, La Pettie is a perfect romantic getaway nestled in hill country.
In addition to providing the best of nature and access to the small town experience, visitors are only a short drive away from Austin.
A king-size bed makes this house a rarity among tiny home offerings for couples. A smart TV and Wi-Fi keep you connected to the outside world.
Wimberley, TexasCheck Availability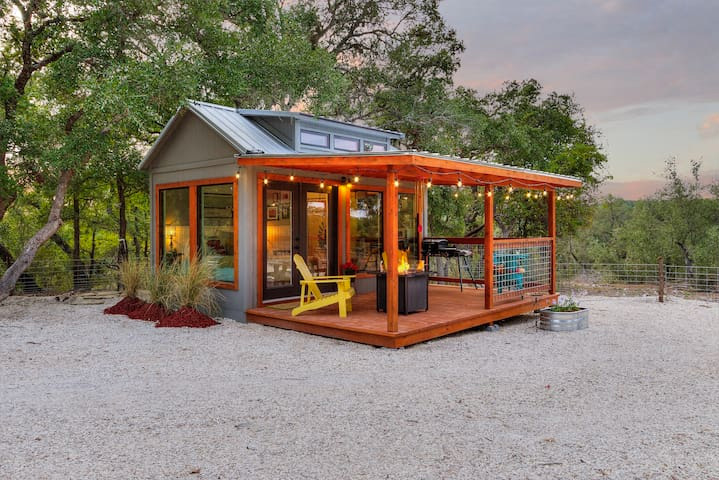 Hondo steps up to the plate again with another charming Tiny Farmhouse. This offering features a gorgeous, covered outdoor porch complete with ambient lighting and a fire pit.
Generous picture windows bring the outdoors into a home with a soft color palette and occasional pops of color.
After a day of exploring, take a dip in a private pool or enjoy an outdoor shower in your own prviate world.
Hondo, Texas
You Might Also Like: