Top 10 Things To Do In Arches National Park
By
on
This post may contain affiliate links. As an Amazon Associate, I earn from qualifying purchases. Please read my full disclosure.
Arches National Park is one of the most iconic parks in Utah. The park has over 2,000 natural stone arches, monolithic rock formations, and soaring towers of sandstone.
You'll find no shortage of hiking, biking, and camping activities. The park even comes alive at night with stargazing.
In this article, we've compiled a list of all the best spots to see, stop, hike, drive – and even snap the perfect picture.
Without further ado, here are the top 10 things to do in Arches National Park.
Arches Top 10 Things To Do
Hike the Devils Garden Trail to Landscape Arch
Bike Scenic Drive Road
Take a sunset hike to Delicate Arch
Camp in Devils Garden Campground
Stroll down Park Avenue
Go on a range-guided hike of Fiery Furnace
Stargaze at Panorama Point
Visit Balanced Rock
Get a picture of Turret Arch through North Window Arch
Stand below Double Arch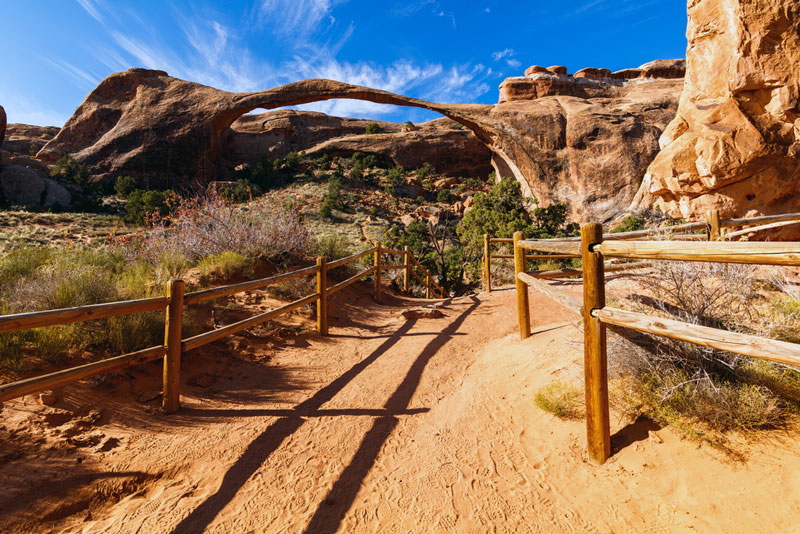 Hike Devils Garden Trail and see Landscape Arch
It's no secret that Devil's Garden is one of the best hikes in Arches National Park.
While the entire trail is about 7.2 miles long, most visitors will choose to hike the shorter 1.6 mile path to Landscape Arch and back.
The Devil's Garden area is jam-packed with impressive sandstone rock formations and zigzags past seven arches.
The main trail to Landscape Arch is rated easy. Hikers find the trail to be wide and relatively flat. Along the way you can make a quick detour to see Tunnel Arch, and Pine Tree Arch which will only add about 0.5 miles to the journey.
After reaching Landscape Arch, you can retrace your steps to get back to the trailhead, or continue onto the more challenging primitive trail which adds an additional 5.9 miles.
Along the primitive trail there are fewer markers and you'll be guided by cairns. This area has steeper slopes, rock scrambles, and a water crossing along the route.
The most famous arch on the primitive trail is the Double O Arch, but you'll also find the Partition Arch, Navajo Arch, and Private Arch along the way as well.
Dark Angel is another popular stopping point in the Devil's Garden Area. It's a 150-foot obelisk that towers over the fins, arches, and canyons below.
From Devil's Garden Trailhead:
To Landscape Arch and back: …………………………….1.6 miles (2.6 km)
To Double O Arch and back: ………………………………4.2 miles (6.7 km)
To Dark Angel and back: …………………………………………5 miles (8 km)
To Dark Angel and return via Primitive Loop: …….5.9 miles (9.5 km)
Trail to Pine Tree and Tunnel arches: ………….. add 0.5 miles (0.8 km)
Trails to Navajo and Partition arches: …………. add 0.8 miles (1.3 km)
Total distance, all trails: ……………………………………7.2 miles (11.5 km)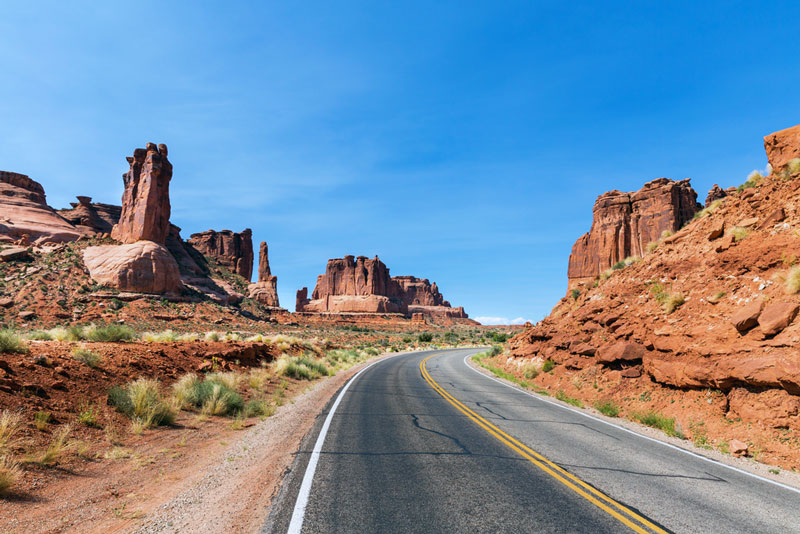 Drive or Bike Scenic Drive Road
Scenic Drive Road is one long road that stretches through the entirety of Arches National Park to Devil's Garden and back.
Biking on Scenic Drive is a great way to get your bearings on all the other things to do in Arches. Plan to take it slow if you really want enjoy all of the sights.
Along the way, you can map out which trails you want to explore later on foot.
1-2 hours is the perfect amount of time to set aside if you plan on driving. The road is only 19 miles long, but there are numerous stops and detours along the route that can keep you occupied with sightseeing for hours.
The Windows Section of the park is a great place to stop and see the area's largest arches. The hike to Delicate Arch is also easily accessible from Scenic Drive road.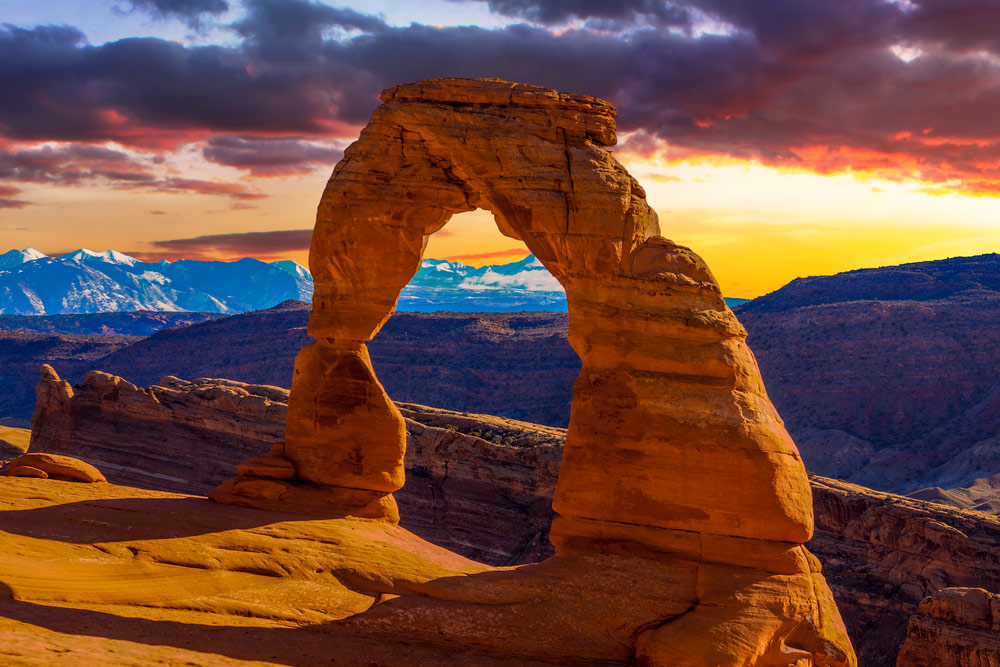 Take a Sunset Hike To Delicate Arch
If you've spent any amount of time in Utah, you'll have noticed the natural stone Arch displayed on many license plates.
Delicate Arch is the largest and most famous of the park's arches. In fact, it's one of the most prominent geological features in the world. And it's the most stunning at sunset.
Hike to Delicate Arch
The hike to get to Delicate Arch is about 3 miles round-trip. It is a strenuous trail that includes a fairly steep incline rising nearly 500 feet, but it's well worth the effort.
Sunrise and sunset are the most popular times to visit so you'll see plenty of people along the way. In the summer, the hike can get pretty hot because there is no shade on the way there.
Delicate Arch Viewpoints
For travelers who want to take a more leisurely journey, there are two viewpoints that offer stunning perspectives of the arch but aren't quite the same as getting up close.
The Lower Delicate Arch Viewpoint is an easy, 50 yard trail that is wheelchair accessible. From the viewpoint, you can see Delicate Arch from a far distance.
Upper Delicate Arch Viewpoint is located across a canyon and about a half-mile away from Delicate Arch. The hike is moderately rated and 0.5 miles long.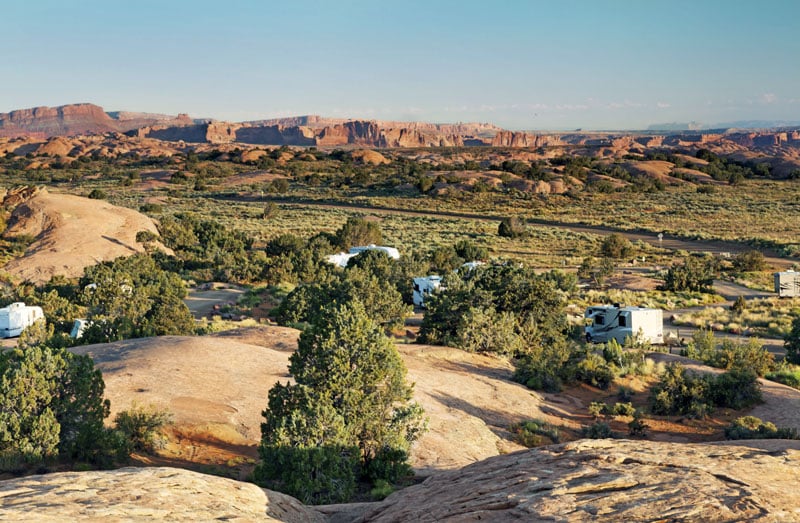 Camp in Devils Garden Campground
Camping in Arches National Park is a must. Devils Garden Campground is the only campsite in the park, and it is well worth the stay.
Spending the night under the stars and waking up to hit the trails first thing in the morning is the best way to avoid the crowds.
Devils Garden Campground is located deep in the park, right next to the trailhead of the best hiking the park.
The campsites sit at approximately 5,200 feet elevation. And they're nestled among picturesque sandstone arches and outcroppings.
You can reserve a campsite any time between March 1st and October 31st. But it's highly recommend that you book six months ahead of time because it is usually full every night of the busy season.
From November through February, campsites are first-come, first-served.
The sites include potable water, grills, picnic tables, trash collection, and a mix of pit-style and flush toilets. There is also firewood for sale year-round.
No showers or laundry are available.
If you're looking to save some money, there are a number of free, dispersed campsites scattered throughout the state of Utah.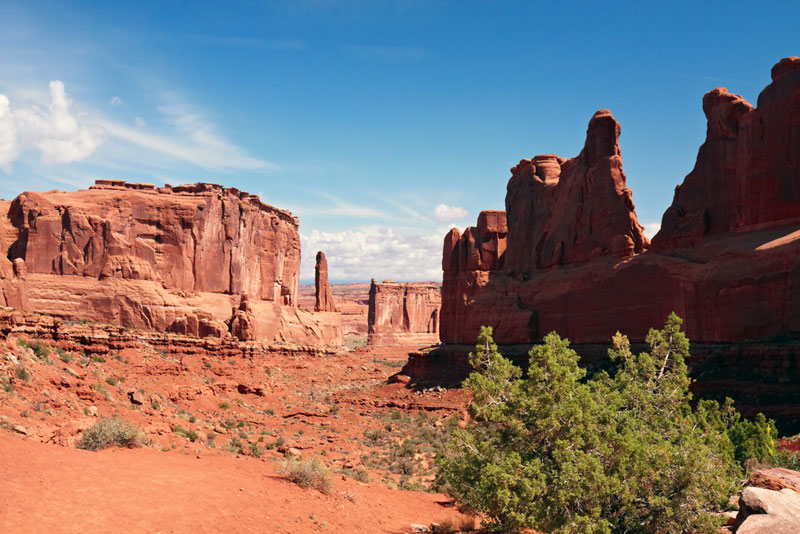 Stroll Down Park Avenue
Park Avenue is a mile-long walk near the park's entrance. It's an easy hike with no incline but gives you some of the most breathtaking views in the whole park.
The trail itself winds along the bottom of a canyon flanked by some of the park's most giant rock formations. There are no arches in this area, but there are spires and sheer cliff walls that overwhelm your sense of perspective.
You can almost imagine yourself in the bottom of the ocean looking up. You can see the layers of rock and envision how the entire canyon has been chiseled out over time.
As you walk, look for the famous sandstone monoliths such as the Three Gossips, The Organ, The Courthouse Towers, Queen Victoria Rock, Queen Nefertiti, and the Tower of Babel.
Each of these formations is famous in its own right, and walking among them is an incredible experience.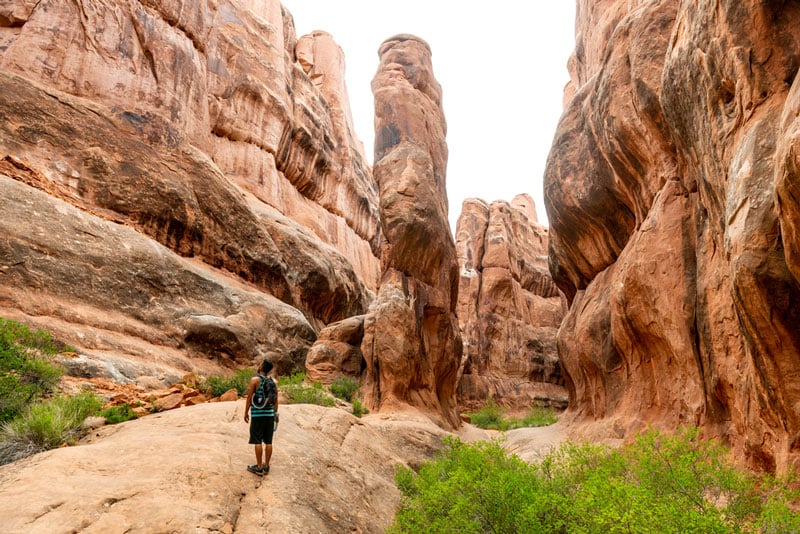 Go on a Ranger-Guided Hike of Fiery Furnace
Fiery Furnace is a hike like no other. When you think of the most challenging hikes, you probably think of an arduous climb up a mountain.
Hiking Fiery Furnace isn't quite like that. It's more like scrambling through crevices and winding along canyons on another planet.
The trail is only available to hike by guided tour, or after obtaining an exploration permit. This regulation is partially for safety and partly to preserve the delicate sandstone in its natural state.
The hike is only two miles long, but you'll need to be ready to work hard. The area contains a maze of otherworldly stone formations.
You'll have to scramble across loose sandstone, squeeze up and through narrow spaces, walk along high narrow ledges, and sometimes even jump across small gaps.
Be sure to bring quality hiking shoes with good traction. No sandals are allowed. Each hiker must bring a water bottle as well.
While it may sound intimidating, the hike is well worth it for anyone who is physically able.
If you don't have time to do the guided hike, you can check out the area from above. There is an overlook nearby the parking lot where you can witness the rocks glowing red during sunset.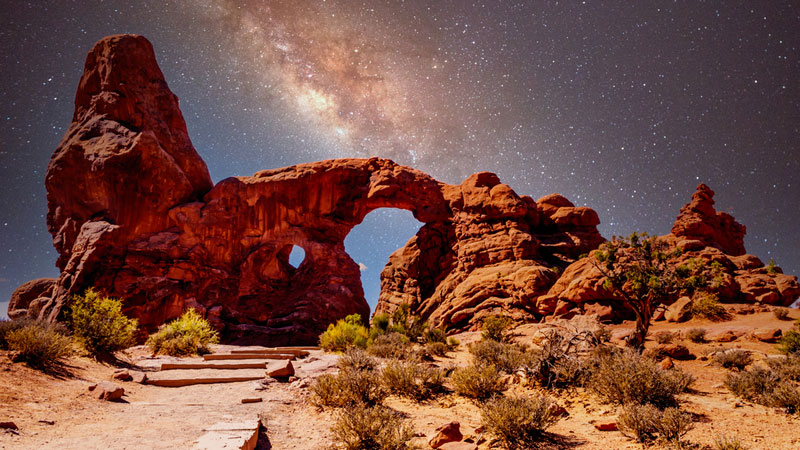 Stargaze at Panorama Point
In 2019, the National Park Service certified Arches as an International Dark Sky Park. The night sky in Arches is crystal clear, protected from both light and air pollution.
At night, you'll feel like you're out there with the Milky Way itself. When conditions are perfect, you can even see the rings of Saturn with a standard pair of binoculars.
Panorama Point is the perfect place for your stargazing adventure. It's a vast open area at the top of a hill, and you can see across the park in every direction with no obstructions.
For the best nighttime viewing, arrive on a moonless night. Allow your eyes 20-30 minutes to adjust to the dark, and if you need a light for any reason use a red light which won't impact your night vision as much.
Arches National Park hosts stargazing events several times throughout the year if you'd prefer to have a ranger point out the constellations.
Other great places to view the stars are from the Balanced Rock picnic area, the Windows section, and the Garden of Eden viewpoint.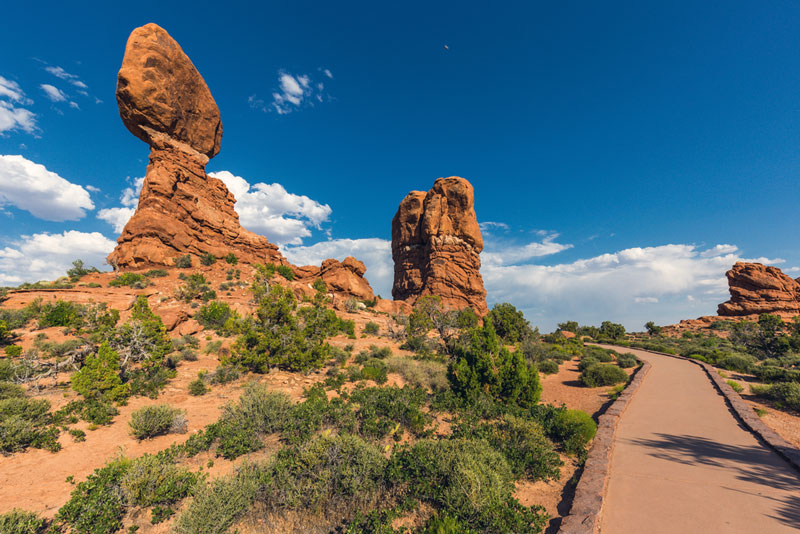 Visit Balanced Rock
After Delicate Arch, Balanced Rock might be one of the most iconic features of the park.
This mind-bending rock formation stands 128 feet tall. The structure creates an illusion that a giant boulder is balancing delicately on top of a stone column. Nevertheless, the two rocks are actually part of one connected tower.
The hike to and from the rock's base is a short 0.3 miles which is perfect for families and small children.
Like many other features of the park, Balanced Rock is especially beautiful at sunset. The sandstone burns a bright reddish-orange in the light.
A picnic area nearby provides tables, a canopy, and a vault toilet.
It's also an excellent place for stargazing. You can take a photo of Balanced Rock silhouetted against the Milky Way on a moonless night.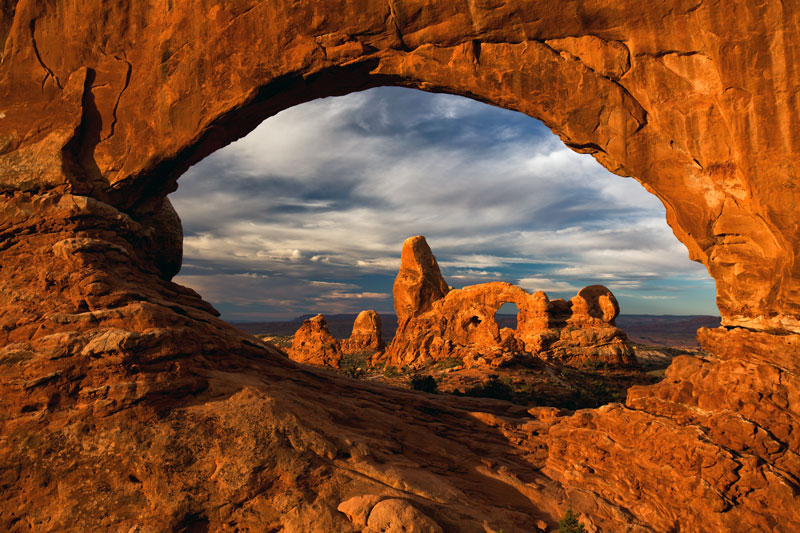 Get a Picture of Turret Arch Through North Window Arch
The Windows Section of Arches National Park is considered one of the most scenic locations in the area. Not only is there a large concentration of arches, but there are several named features as well.
North Window, South Window, and Turret Arch are three widely accessible formations that are easy to hike.
North and South Window Arches are part of the same sandstone formation. From a distance, they look small, but as you stand beneath them, you'll quickly see how massive these sites truly are.
Turret Arch is part of a castle-like formation not too far away. For the perfect photo, hike this trail near sunrise and snap a picture of Turret Arch through North Window Arch.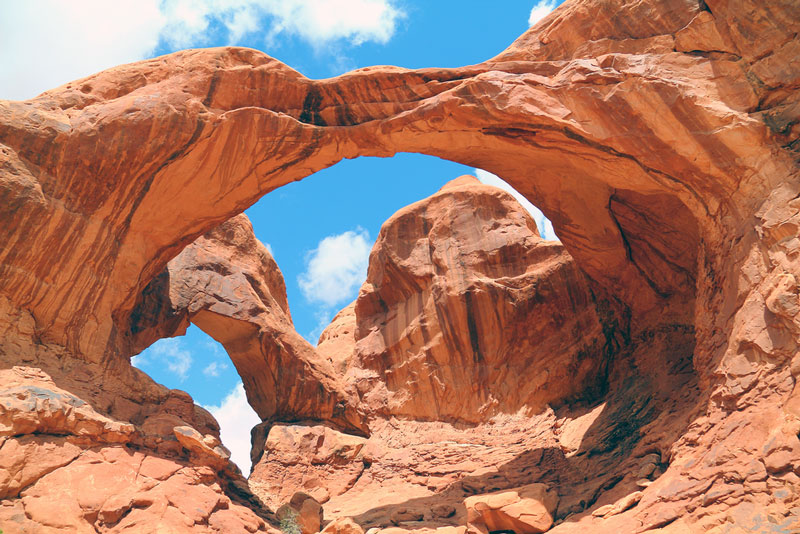 Stand below Double Arch
Double Arch is another massively popular formation in the park. It can also be found in the Windows Section.
This famous arch gets its name because it's comprised of two arches that branch from one rock formation.
Double Arch is both the tallest, and the second longest natural arch in the park. It's also one of the few places you can climb on the rocks below the arches without barriers.
You can access Double Arch from the Windows Trailhead. It's easily visible from the parking lot and only a 0.5 mile roundtrip walk to the base.
That's A Wrap!
Whether you're a seasoned hiker, RV enthusiast, or camping newbie, you'll find many incredible things to do in Arches National Park.
The park provides breathtaking sunsets, crystal-clear stargazing, and pristine landscapes to explore.
You Might Also Like: