By
on
This post may contain affiliate links. As an Amazon Associate, I earn from qualifying purchases. Please read my full disclosure.
If you only have time to visit one section of America during your vacation, then Utah is the best state for packing in a bunch of fantastic National Parks all in one short visit.
Utah is home to the Mighty Five National Parks. These geologic wonders attract travelers from all over the world.
But the sights don't stop there. Seven National Monuments in Utah stand among the most picturesque in the US.
So whether you're looking to visit the most famous parks or take a hike in a secluded National Monument, Utah has it all.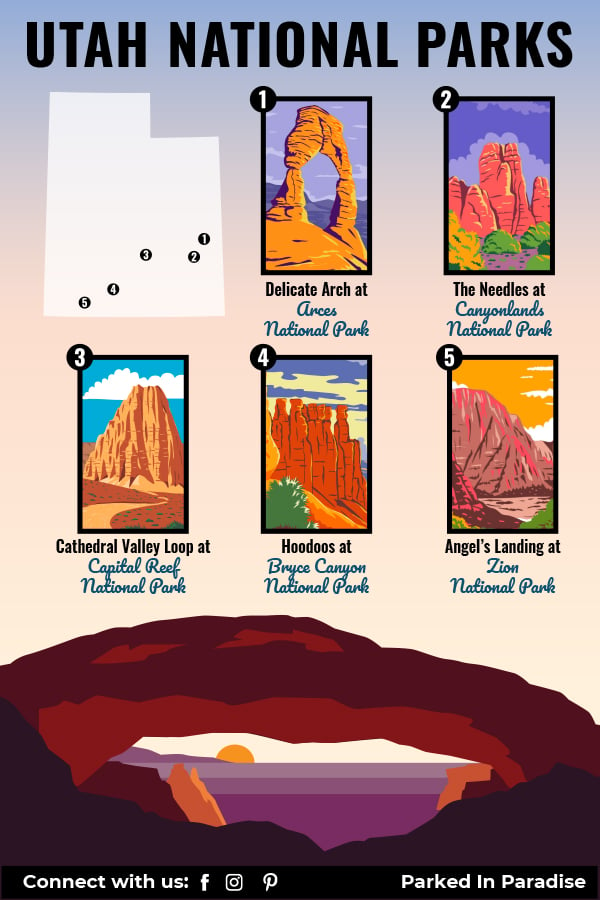 National Parks In Utah
Arches National Park
Bryce Canyon National Park
Canyonlands National Park
Capitol Reef National Park
Zion National Park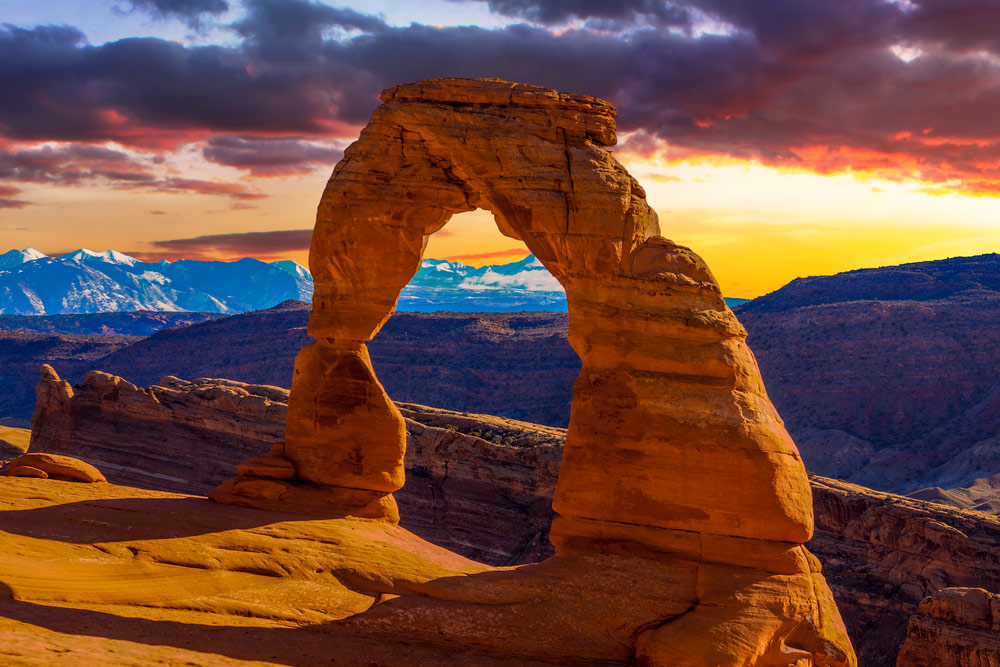 Arches National Park
Over 2,000 natural sandstone arches grant Arches National Park its name. From the second you drive past the park entrance you'll be greeted by hundreds of these arches scattered across the landscape. Massive red pinnacles and giant balanced rocks stand out against the surrounding area.
Visitors can enjoy a huge number of outdoors activities at Arches including hiking, canyoneering, climbing, cycling, horseback riding, and photography.
Miles of trails range from short and flat, to long and strenuous. One of the most famous routes is the hike to Delicate Arch, which is depicted on Utah's license plates. The hike takes roughly 2-3 hours and can get extremely hot in the summer. Delicate Arch cannot be viewed from the roadway, so it's worth the journey out of your car.
If you're willing to stay at the park after the sun dips below the horizon, you'll be rewarded with some fantastic views which include billions of stars. Arches is a favorite among astrophotographers and certified as an International Dark Sky Park.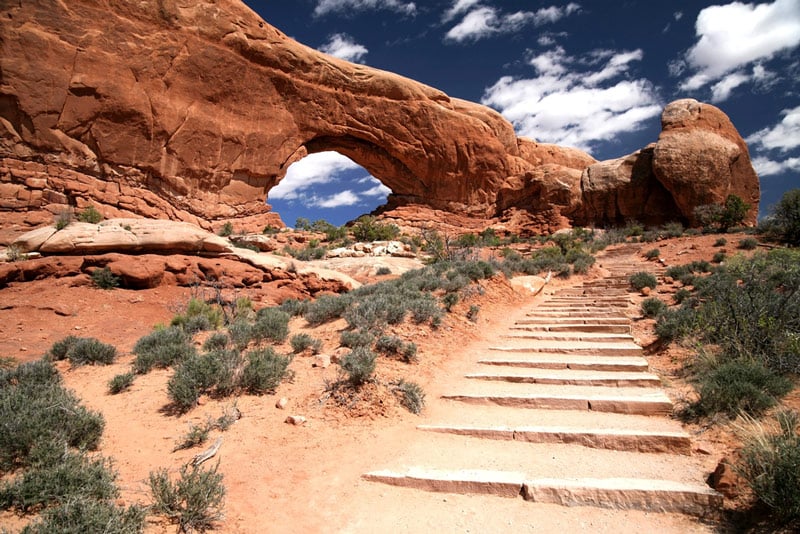 Pets
Pets are not allowed on any of the park trails or overlooks to protect the environment. This area also gets extremely hot during all times of year, so it's best to leave your pet at home.
Camping
Camping in Arches National Park can be hard to come by. There is only one established campground in the park and it is filled to capacity nearly every night of the year. There are only 51 sites and it has minimal amenities.
Luckily, there are a lot of private and free campgrounds to be found in the surrounding area so there's plenty of space for every camper to find a spot.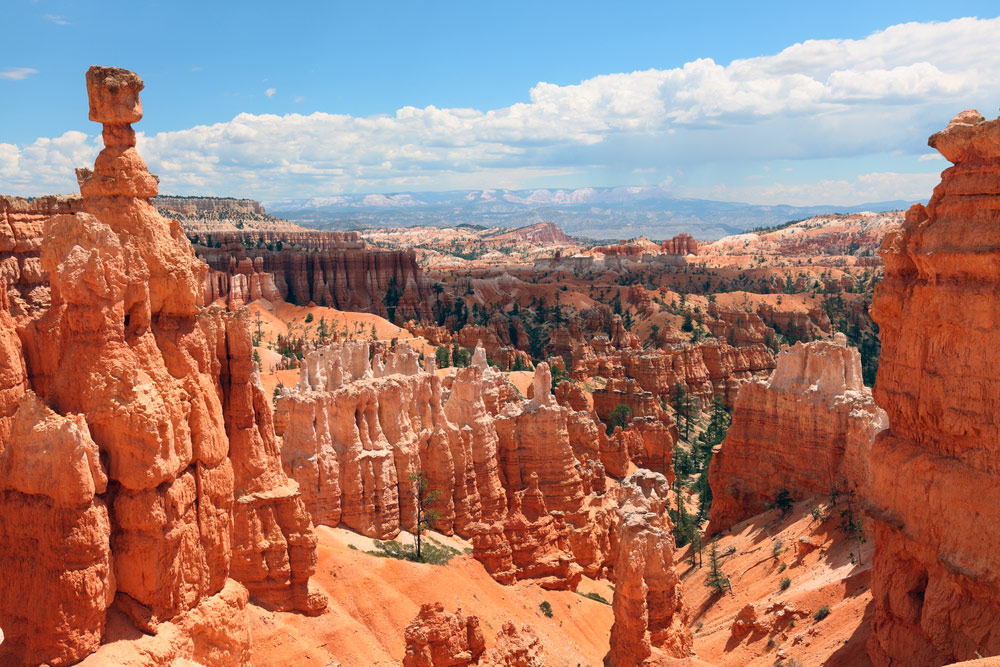 Bryce Canyon National Park
Bryce Canyon National Park is home to the largest concentration of Hoodoos anywhere in the world. While the park doesn't look like much when you first drive up, as soon as you step out of your car and peer over one of the overlooks, you'll be overwhelmed by the thousands of rock columns jutting up towards the sky.
Hiking is the most significant activity in Bryce Canyon. This is a great place for families to visit, because many of the trails are shorter and relatively easy to traverse. Longer hiking trails often encompass a string of 2-3 shorter trails combined to make for a full-day excursion.
Elevations in the park reach over 9,000 feet so you can expect snow and slippery conditions during winter. Even during the best times of year, you may want to pack some hiking boots with lugs because some of the trail surfaces are quite smooth.
Bryce Canyon is another National Park known for its intensely dark night skies. In fact, this park hosts an annual astronomy festival each summer because of its perfectly clear views.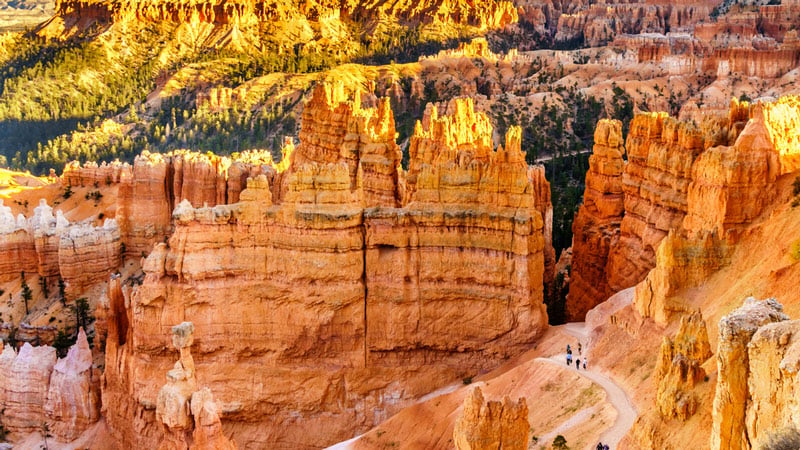 Pets
Leashed pets are not allowed on any of the trails or viewpoints in Zion. They are also not allowed to be left unattended in vehicles while the owners head out for a short hike. We recommend boarding your dog with a Rover.com host or nearby facility if you choose to visit Bryce for the day.
Camping
Two campgrounds in Bryce Canyon offer roughly 200 sites for tent and RV campers to spend the night. One of the campgrounds is first-come, first-served only which gives you a good chance of snagging a spot if you arrive extra early.
There are also numerous boondocking locations in Utah as a whole, and the surrounding area.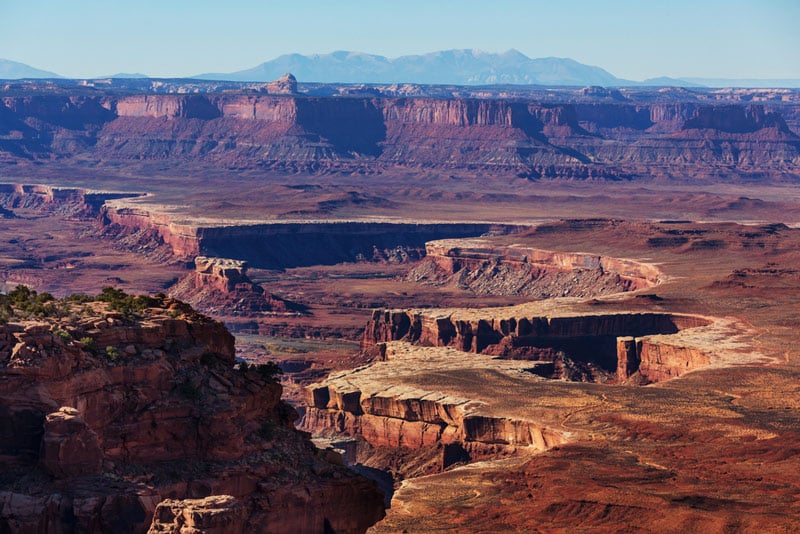 Canyonlands National Park
The largest National Park in Utah is Canyonlands. Four distinct landscapes make up the areas of Canyonlands National Park. Island in the sky, the rivers, the maze, and the needles each have their own unique feel and give this primitive desert its character.
Four-wheel driving, mountain biking, hiking, and paddling are the main activities in this park.
Island in the Sky is the best place to visit if you only have a short amount of time. This scenic drive has many overlooks scattered throughout the way which give you an overhead view of the sandstone cliffs which drop 1,000 feet below. There are multiple short hikes in the area including a trek to Mesa Arch, which is a famous position for sunrise pictures.
The Rivers include the Colorado River, and the Green River in which visitors can kayak, canoe, and ride shallow watercraft between the canyons. Guided trips are available for half-day and multi-day adventures. There are also backcountry camping areas for the most adventurous travelers.
The Maze is the least-visited section of the park. Remote trails and roads often lead people to get lost if they're not staying particularly diligent. It can be a popular place for four-wheel vehicles to travel and hikers who want to spend their day in complete solitude.
The Needles area is named after colorful sandstone spires that stretch up towards the sky. Hiking and four-wheeling are the most popular activities in this section of the park where you can find 50 miles of challenging roads.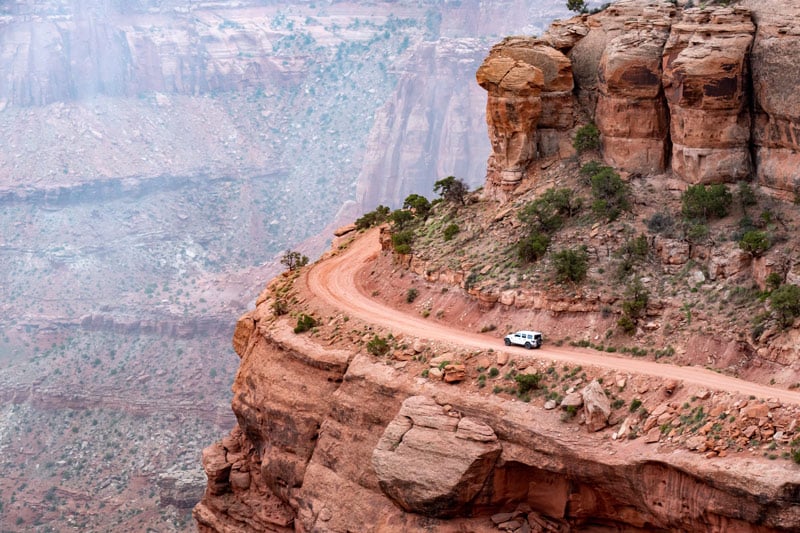 Pets
Pets are not allowed on any of the trails or in the backcountry of Canyonlands so it's best to leave them at home. Moab is the closest town and there are a number of boarding facilities there if you want to spend a day or two at the park.
Camping
There are two campgrounds in Canyonlands. One located at Island in the Sky, and the other at The Needles. Both of these campgrounds are extremely small so you're unlikely to win a space without careful planning. Fortunately, there are a lot of free and private campgrounds surrounding Canyonlands.
Backcountry camping is available with a permit.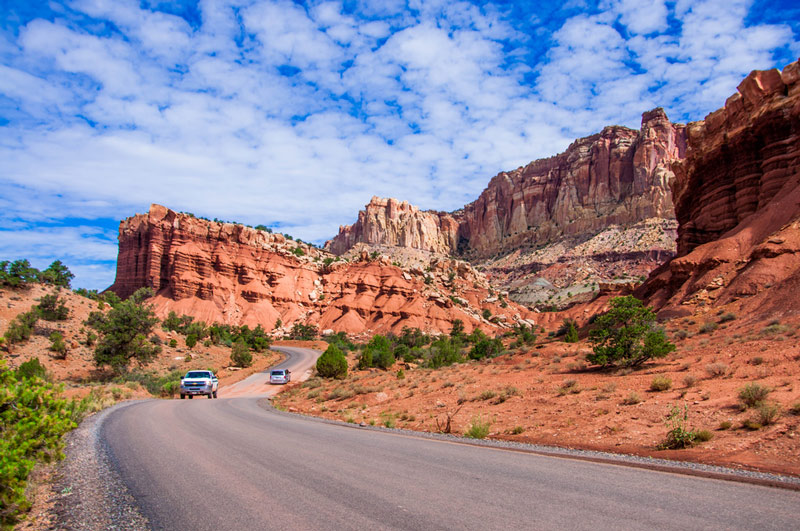 Capitol Reef National Park
Located in the south-central desert of Utah is Capitol Reef National Park. This park includes a large segment of the 100-mile long Waterpocket Fold which was formed by the Fremont River. The area is characterized by cliffs, domes, canyons, and natural bridges.
Hiking, canyoneering, rock climbing, and bouldering are some of the most prominent activities. You can find 52 climbing routes that range from 5.7 to 5.13. Most of these routes are located alongside the scenic road which makes them easy to get to.
15 day hiking trails which range from 0.25-10 miles are perfect for hikers looking to explore the area. You can find a wide range of sandy desert trails, shallow creeks, and slot canyons.
If the weather is dry and you're not claustrophobic, visiting one of the park's three narrow slot canyons is highly recommended. These unmarked trails should only be tackled by experienced hikers looking for a technical adventure.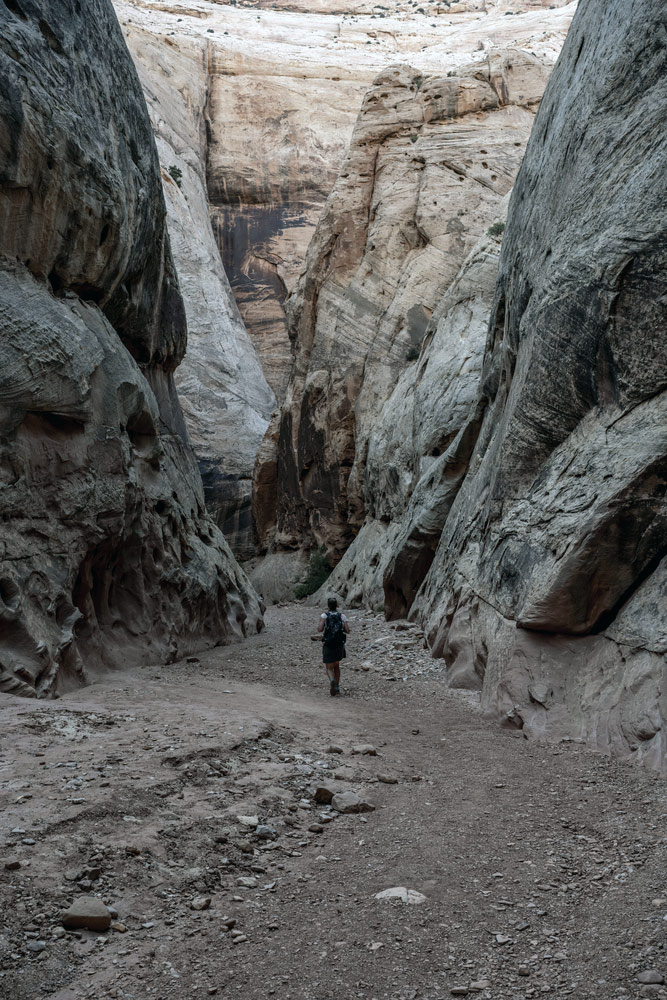 Pets
Pets are not permitted on the majority of trails in Capitol Reef. Visitors are also not allowed to leave their pets unattended in vehicles because of hot temperatures. You can find boarding facilities in the nearby communities.
Camping
There is only one campground in Capitol Reef National Park. It is a large, grassy area that can only be described as an oasis in the desert. The campsites are relatively primitive with no electric hookups and minimal privacy. Fortunately there are a lot of private campgrounds in the surrounding area.
For those wishing to save some money, there are free dispersed camping sites in the Dixie National Forest nearby.
Backcountry camping is available in the National Park with a permit.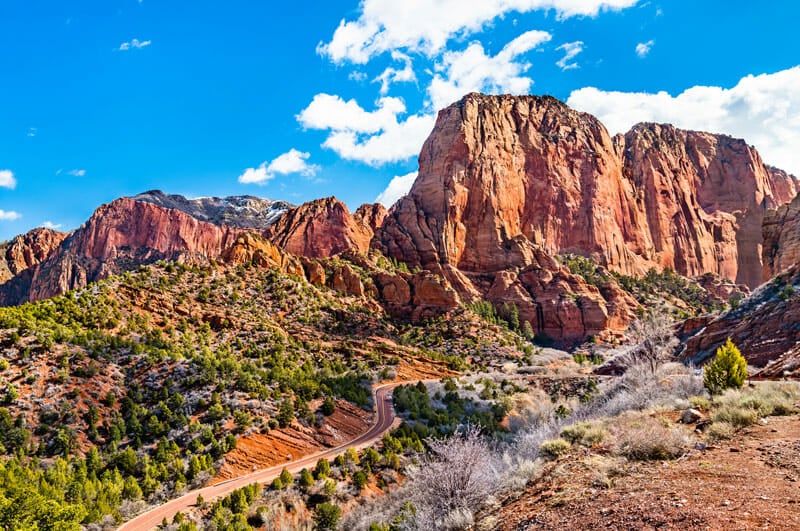 Zion National Park
Zion National Park may not be the largest, but it's extraordinary landscapes and features make this park one of the most popular in America. Colossal sandstone cliffs, narrow slot canyons, and cascading waterfalls into emerald pools are just a few of the sights this location has to offer.
Hikers can enjoy a mix of long and short routes which zigzag up the steep cliffs and offer a birds-eye view of the valley below. Nearly 300 bird species and 19 mammals call the area home which makes it a great place for photography or wildlife viewing.
One of the most picturesque and popular trails in the park is the hike to Angel's Landing. The route involves a 5.5 mile climb with nearly 1,500 feet of elevation change. The peak of the route includes lunging up a steep, narrow bridge with drop-offs on both sides. There is a series of chains to help you along the final stretch. This hike is not for the faint at heart!
Hiking The Narrows in Zion Canyon is another route that cannot be replicated. This involves wading upstream with narrow cliff walls reaching 1,000 feet tall on all sides. The height of the river fluctuates greatly and there is 100% chance you will get wet!
If you're looking to avoid the crowds, Kolob Canyon is a lesser-known and equally picturesque area of the park. Canyoneering in "The Subway" is a popular activity where you can repel 30 feet into emerald pools. There are also two unforgettable scenic drives in the area.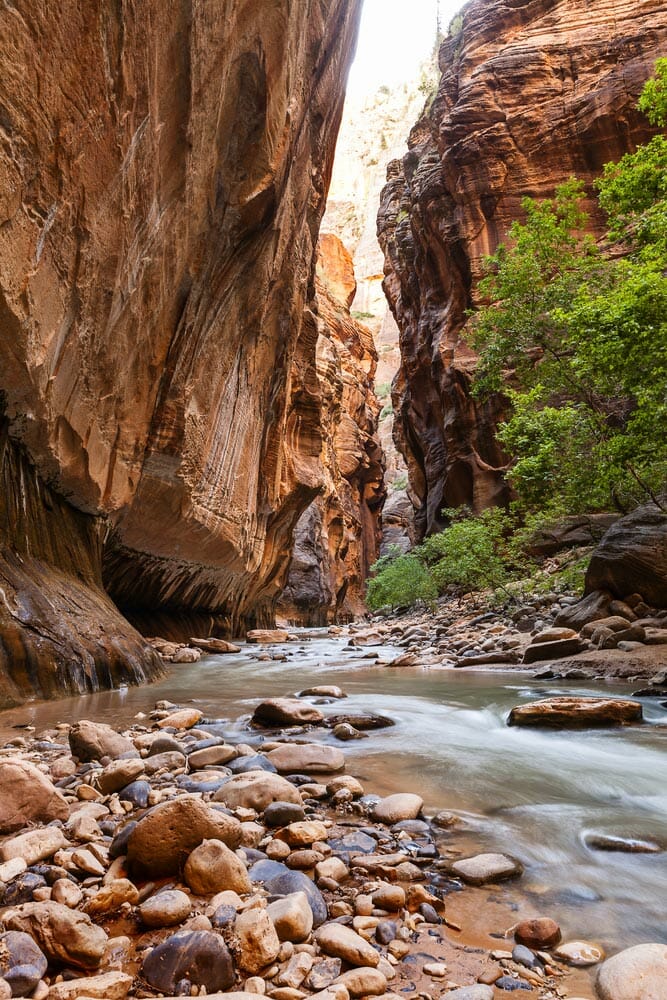 Pets
Unfortunately, there is only one trail open to pets in Zion. The Pa'rus Trail is paved and offers beautiful scenery, but otherwise it is best if you leave your furry friend at home.
Camping
Three campgrounds in Zion National Park are available for tent camping and RV travelers. The popularity of the park means that these sites fill up fast. Fortunately, the two largest campgrounds allow you to make reservations ahead of schedule and offer flush toilets and dump stations.
Primitive campsites for backpackers are also available with a wilderness permit. There are 12 walk-up sites available for camping in the Narrows as well so you can go for a multi-day hike.
If the park gets filled, you can easily find free camping and boondocking locations just outside the park in these areas.
Utah National Monuments And Recreation Areas
Cedar Breaks National Monument
Dinosaur National Monument
Hovenweep National Monument
Natural Bridges National Monument
Rainbow Bridge National Monument
Timpanogos Cave National Monument
Utah National Historic Parks
Golden Spike National Historical Park
National Trails In Utah
California National Historic Trail
Mormon Pioneer National Historic Trail
Old Spanish National Historic Trail
Pony Express National Historic Trail
National Parks In The Surrounding Area