Top 10 Things To Do In Kings Canyon National Park
By
on
This post may contain affiliate links. As an Amazon Associate, I earn from qualifying purchases. Please read my full disclosure.
Located adjacent to Sequoia National Park in California is King's Canyon National Park. Many tourists will travel back and fourth between King's Canyon and Sequoia multiple times throughout the day to experience all of the sights these parks have to offer.
Both parks are famous for the giant Sequoia and Redwood trees that cover the landscape. But aside from standing in awe beneath the trees, there are may things to do in King's Canyon National Park.
In this article we're going to cover 10 must-see attractions in King's Canyon and the best things to do in the area.
Kings Canyon Top 10 Things To Do
Trek to the General Grant Tree
Drive King's Canyon Scenic Byway
Explore Boyden Cavern
Embark on a guided horseback tour
Splash in Roaring River Falls
Backcountry Hiking in Mineral King
Stop at the Junction View Scenic Overlook
Walk to Grizzly Falls
Take a dip in Hume Lake
Stroll around Zumwalt Meadow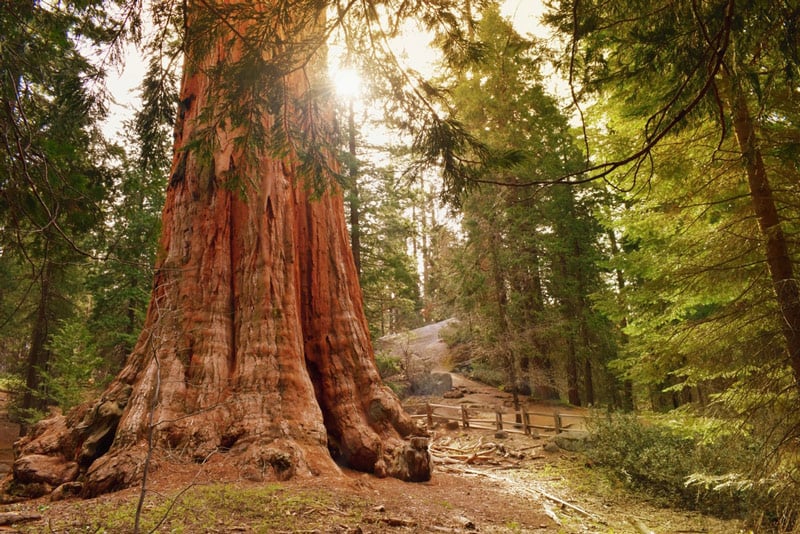 Trek To The General Grant Tree
Sequoia is famous for the General Sherman Tree, but King's Canyon has a tree of its own to boast about. The General Grant Tree is located in Grant Grove and was declared a National Shrine by President Eisenhower in 1956. It is the second largest tree in the world by volume.
This tree is the only living National Shrine in the United States. It stands 267 feet tall and is over 16 feet in diameter at the base.
Each winter, the Sanger Chamber of Commerce sponsors a "Trek to the Tree" where visitors can hike as a group through the snow to the General Grant Tree on the second Sunday of December.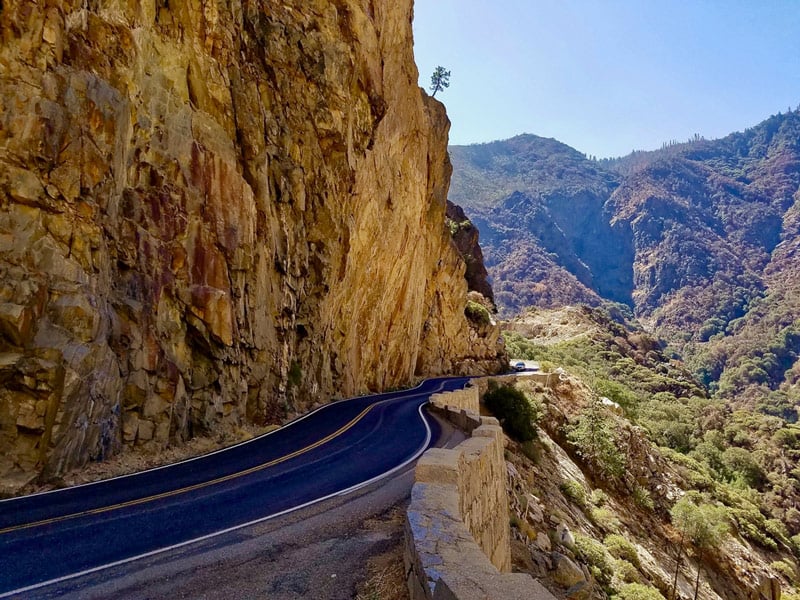 Drive King's Canyon Scenic Byway
50 breathtaking miles along Highway 180 make up the King's Canyon Scenic Byway. The route snakes alongside multiple rivers and gives you an unforgettable view of waterfalls, steep canyons, and high overlooks.
The byway begins in Fresno, California and takes you through the Giant Sequoia National Monument before arriving in King's Canyon National Park.
Along the way you can make pitstops to visit many of the area's main attractions including the General Grant Tree, Hume Lake, Boyden Cavern, Grizzly Falls, Roaring River Falls, and Zumwalt Meadow.
The scenic byway is an out-and-back drive which comes to completion at the Copper Creek Trailhead and Raes Lakes Loop. Many travelers will take this opportunity to go for a backcountry hike or stretch their legs in the nearby creek.
Explore Boyden Cavern
If you need a break from the heat, the caves in King's Canyon maintain a temperature of about 55 degrees all summer long.
Boyden Cavern is located just off Highway 180 along the scenic byway. In the spring, fall, and summer months you can embark on a 45-60 minute tour of the cave system reveling in the stalactites, stalagmites, flowstone, pendants, and shields.
The marble cave tours require a short, but steep hike to get there and you'll have to duck, stoop, and walk up and down stairs once inside. Paths along the tour route lead about 750 feet into the cave before turning around and allowing you to return at your own pace.
Depending on conditions, the Wild Cave Exit may be available. Along this path, your feet will get wet! So pack some water shoes and an extra pair of socks.
Canyoneering and rappelling tours are also offered in Boyden Cavern for the most adventurous travelers.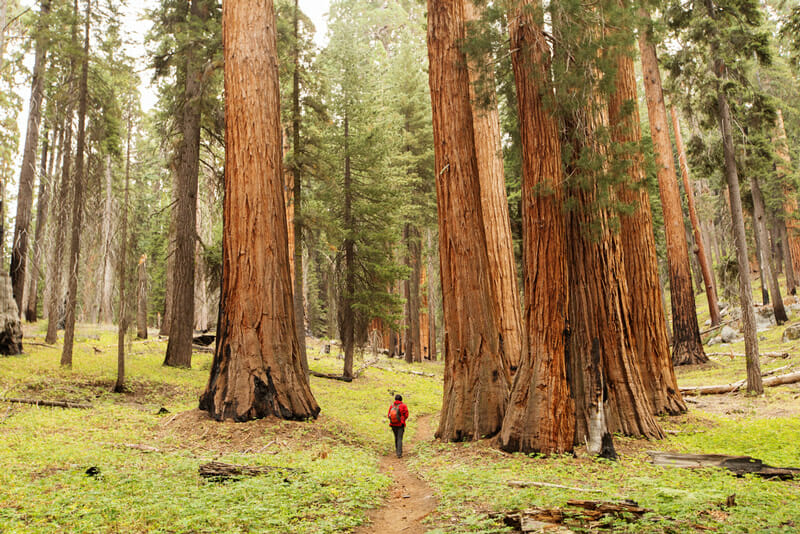 Embark On A Guided Horseback Tour
Two stables are available for guided tours in King's Canyon National Park. The Grant Grove Stable provides 1-2 hour trips that will carry you by the General Grant Tree, North Grove, Lion Meadow, and Dead Giant Loop.
The Cedar Grove Pack Station takes riders of all levels on a range of trips in the Cedar Grove area and along the Kings Canyon River.
Guided horseback riding tours are the perfect way to travel deep within the park, cross rivers, and go places that may be too exhausting to reach on foot. Riding among the giant trees makes for a great family vacation in the summer months when the more popular trails can get overrun by hikers.
If you're from the area, King's Canyon offers wilderness permits where you can travel with your own horses, llamas, mules, or burros throughout designated areas of the park.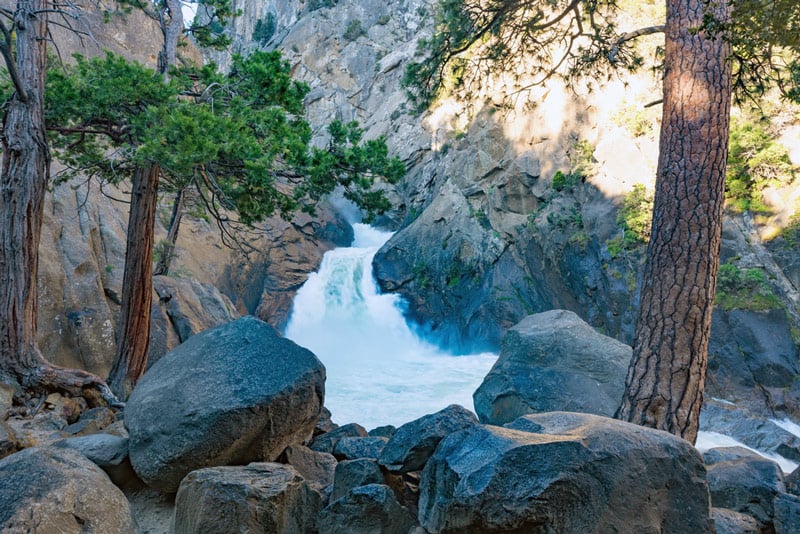 Splash In Roaring River Falls
A short walk to Roaring River Falls is the perfect activity for families visiting with young children. The hike is only 0.3 miles along a paved path with plenty of tree cover for shade.
When you reach the falls you'll get to witness the water tumbling 40 feet down over granite rocks in a beautiful display of nature.
Make sure to spend some time sunbathing on the rocks or cooling off in the mist of the waterfall while you're there. This pit stop is a refreshing addition to the longer hikes in the area.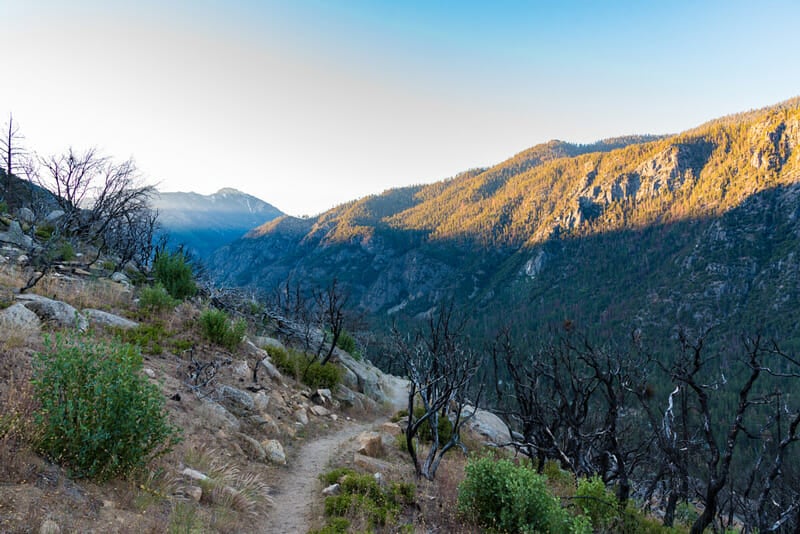 Backcountry Hiking in Mineral King
The Mineral King Area can be reached via car and offers lots of opportunity for backcountry hiking. This is a great place to visit if you want to break away from the crowds, see some wildlife, or embark on a multi-day backpacking adventure.
All hikes in Mineral King begin at 7,500 feet elevation so even the shortest trails can be strenuous.
Some of the most scenic routes include the trail to Monarch Lakes, Crystal Lake, Timber Gap, and the White Chief Trail. The best part about Mineral King is that it doesn't take long before you're walking away from the parking lot and into a secluded wilderness where you're unlikely to encounter many other hikers.
It's a great place to journey for travelers who prefer quiet and secluded destinations with plenty of wildlife and foliage to observe.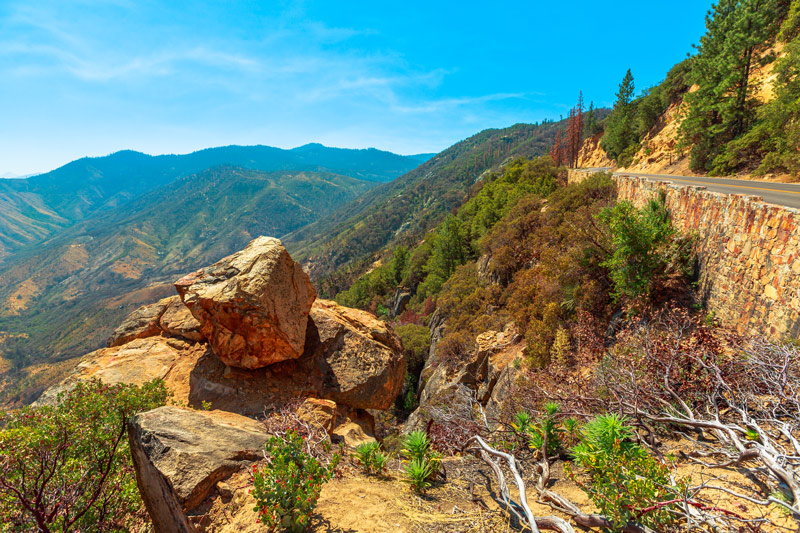 Stop at the Junction View Scenic Overlook
One of the most impressive views in King's Canyon is the Junction View Scenic Overlook. This is another stop along Highway 180 in the Giant Sequoia National Monument.
The viewpoint gives you picture perfect look of the valley below where you'll see the Middle Fork and the South Fork of the King's River converge.
Along with the river, you can also easily distinguish Spanish Mountain, Crown Rock, Obelisk, Mount Harrington, and University Peak. A signpost at the overlook will give you some geologic facts about the area and point out the prominent peaks.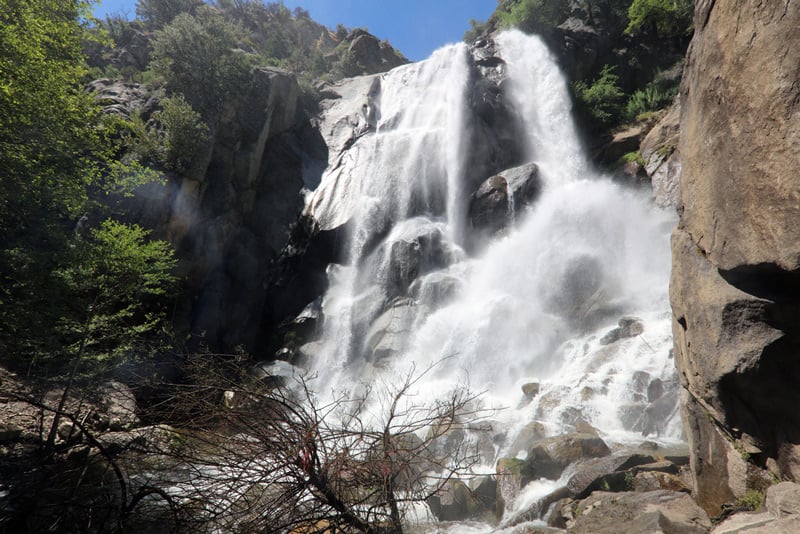 Walk to Grizzly Falls
If you're not one that likes to leave the parking lot, then you can't miss Grizzly Falls. The path takes less than 5 minutes to complete and leads to a stunning, 75-foot waterfall.
Spring is the best time of year to visit Grizzly Falls because water will be flowing at its peak. During late summer, the snow will stop melting, and the waterfall may have disappeared altogether.
Grizzly Falls is the perfect place to stop for lunch because there's a comfortable little picnic area within view of the falls. It's also one of the best kid-friendly hikes in the area.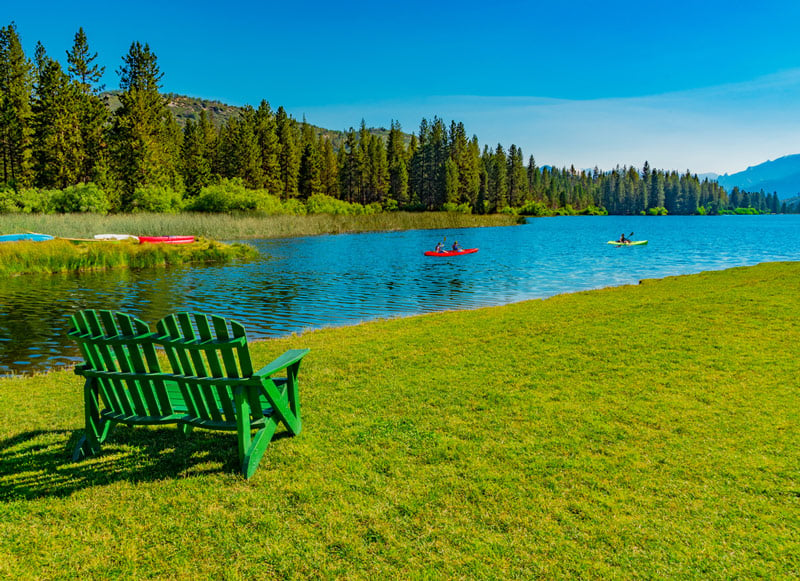 Take a dip in Hume Lake
The Hume Lake Recreation Area has sandy beaches, abundant trout, and plenty of activities to do including paddle boarding, kayaking, mountain biking, and even a high ropes course.
The lake itself is managed by the US Forest Service, but it's easily accessible from both Sequoia and King's Canyon National Park so many tourists will make a stop in the area.
Several restaurants and cafe's are located along the lake and there are plenty of places to rent watercraft if you can't travel with your own.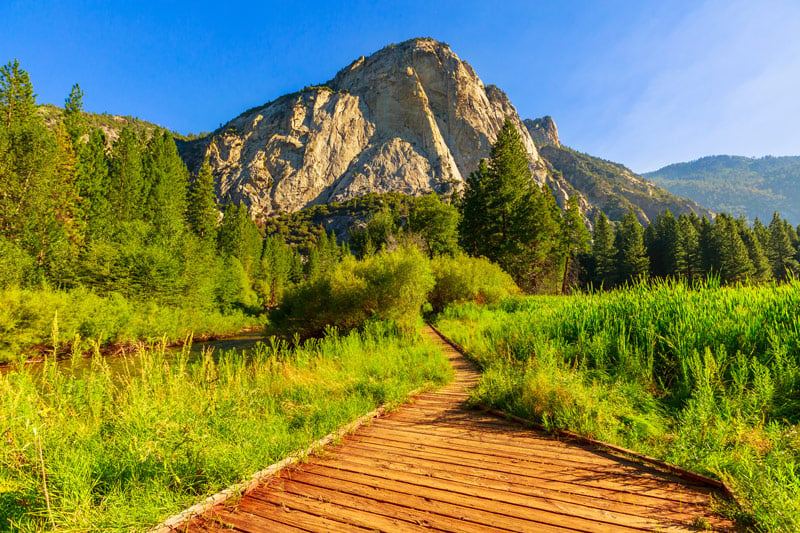 Stroll Around Zumwalt Meadow
One of the last stops along the King's Canyon Scenic Byway is Zumwalt Meadow. It's also one of the most popular day hikes in the Cedar Grove Area.
Encircling the meadow is a flat, gentle boardwalk that takes you on a 1.5 mile loop with glorious views in every direction. Granite mountains, slow-flowing rivers, and blooming fields are just a few of the views that you'll see along the way.
The meadow is particularly attractive to families who are looking for a leisurely hike with little-to-no elevation gain. You'll get to experience some of the most scenic parts of King's Canyon without having to stop and catch your breath.
Camping In King's Canyon
The Cedar Grove and Mineral Kings area in King's Canyon National Park have over 300 campsites available for travelers who wish to spend the night.
When you combine this with all of the camping in Sequoia National Park, there are plenty of sites to choose from!
Most campsites are only open during the summer months, but there are a variety to choose from whether you're looking to stay in the warmer foothills, or atop snowy mountain peaks.
All of the campsites come equipped with toilets, fire rings, picnic tables, and trash collection. There are also free campsites in the surrounding area for those who want to save some money.
You Might Also Like: