Top 10 Things To Do In Sequoia National Park
By
on
This post may contain affiliate links. As an Amazon Associate, I earn from qualifying purchases. Please read my full disclosure.
Every year, thousands of travelers visit Sequoia National Park to stand under the towering Giant Redwoods and Sequoia trees. But there are many other great things to do in the land of giants.
Sequoia National Park has a diverse wildlife presence. There are also some incredible hiking trails, rocky scrambles, waterfalls to see, and even winter activities.
In this article, we're going to break down the top 10 things to do in Sequoia National Park.
What To Do in Sequoia National Park Top 10
Stand Beneath The General Sherman Tree
Hike The Crescent Meadow Trail
Explore Crystal Cave
Scale Moro Rock
Drive Through Tunnel Log
Splash In Tokopah Falls
Climb Mount Whitney
Camp In The Lodgepole Area
Visit The Giant Forest Museum
Snowshoe Through The Giant Forest
Located in Three Rivers, California, Sequoia National Park is a popular destination with its massive trees, rolling meadows, and sprawling streams. Even if you haven't visited yet, you have likely seen pictures or videos of its beautiful landscape.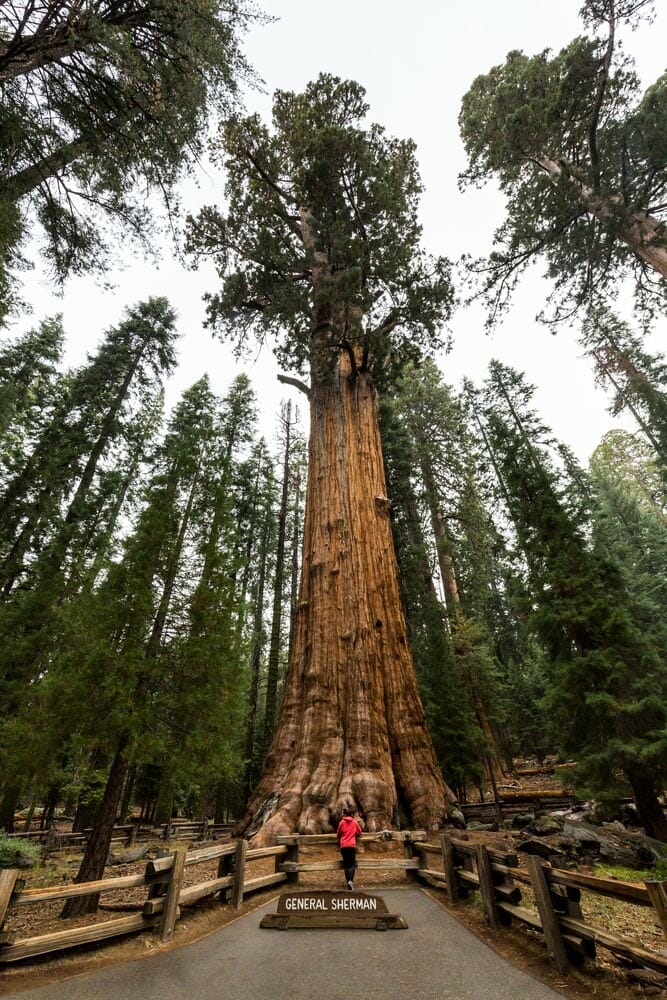 Stand Beneath The General Sherman Tree
Sequoia National Park boasts some of the tallest trees globally which makes them one of the park's main attractions.
At a staggering 275 feet tall and 36 feet in diameter, The General Sherman Tree is the world's largest tree by volume. Out of all the things to see in Sequoia National Park, this one is the most impressive. It's over 2,000 years old and has been delighting tourists at the park for generations.
Getting to the tree is a fairly easy hike. It's located in the Giant Forest Sequoia Grove just 0.5 miles off the Main Trail on Wolverton Road.
The path is paved and relatively flat. You can visit during any time of year, but the trail can get particularly icy in winter.
If you'd like to explore further, the Giant Forest Sequoia Grove offers a 2-mile loop called the Congress Trail which offers a number of other giant trees to look at. The entire route is paved which is perfect for an easy family stroll.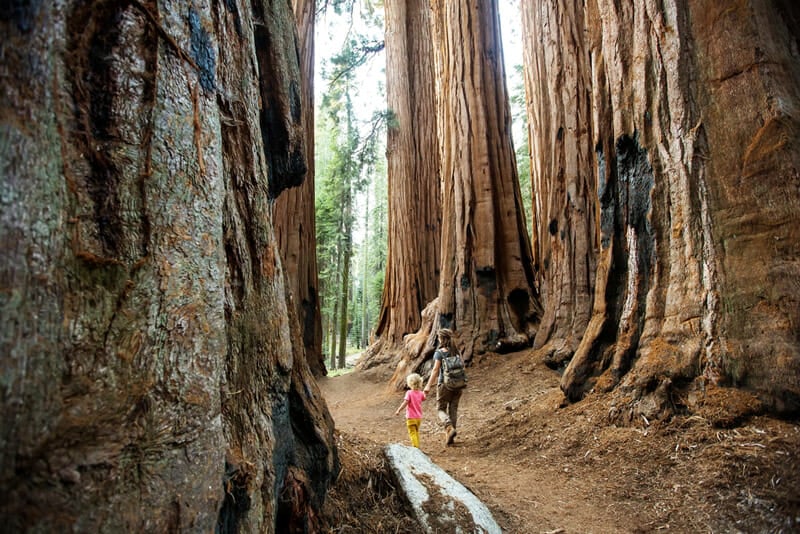 Hike The Crescent Meadow Trail
The Crescent Meadow Trail is a gentle, 1.8-mile hike lined with beautiful trees, including many Giant Sequoias. Although it's a short loop, various walkways branch away from the main path, unearthing even more sights to see.
One of the more unique stops along the route is a home built by Hale Tharp in 1861 from a fallen and hollowed out Sequoia Tree. This piece of architecture is remarkably well preserved and still has a table, bed, and bench inside.
Interestingly, Tharp welcomed many of the first pioneers into his cabin as they explored the surrounding forest. One of the most notable pioneers, John Muir, one of the great conservationists of his time, stayed in the cabin gazing upon the Giant Forest.
Continuing along the trail, you'll be sure to pass by the famous "Chimney Tree".
The chimney tree experienced a fire many years ago which created a hole in the trunk. You can stand inside the burnt out tree and observe the thick, protective bark that used to encase its massive trunk.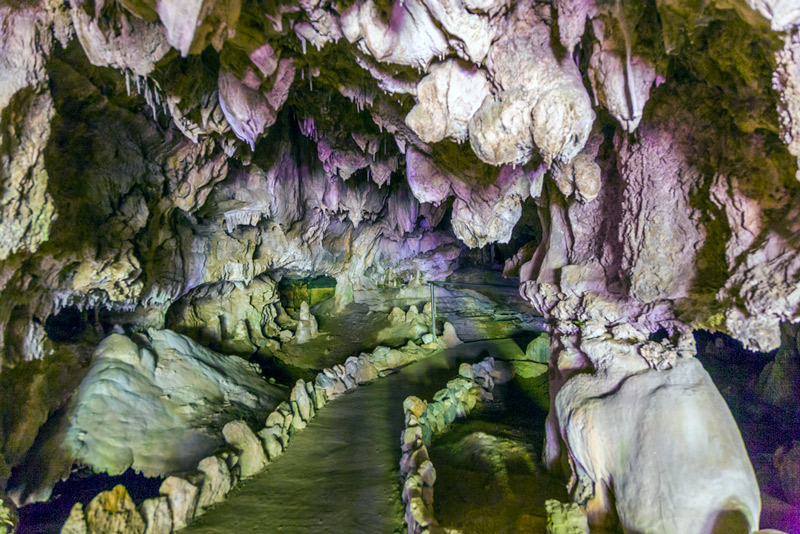 Explore Crystal Cave
Many tourists are surprised to find that Sequoia National Park is also home to a famous cave. Crystal Cave is beautiful marble cavern that has multiple chambers and hundreds of stalactites and stalagmites to walk through.
A half-mile trail loop weaves through the cave where you can embark on a 45-minute tour. Tours are conducted in the summer months from May to November.
Most visitors set aside a half a day for this activity. The cave's temperature hovers somewhere around 50 degrees Fahrenheit; which can be a welcome break from the hot sun.
Because the cave is nestled deep in the National Park, much of the tour will include hiking to the cave. Tickets can be purchased in advance, and they tend to fill up quickly.
As one of Sequoia National Parks' most sought-after landmarks, you'll want to try and book at least two days in advance.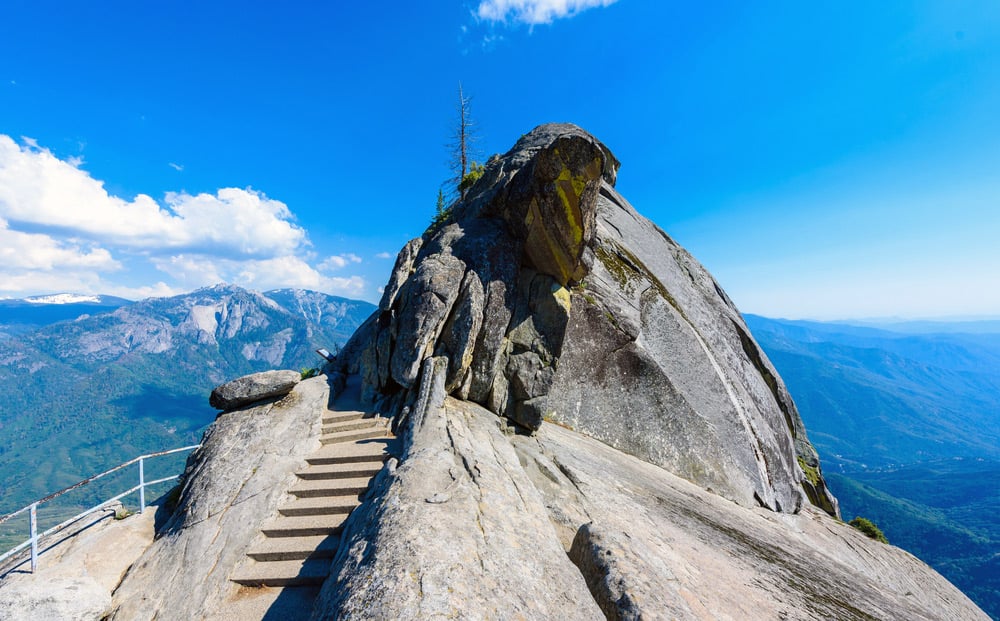 Scale Moro Rock
One of the most unforgettable overlooks that you can witness in all of Sequoia National Park is the view from atop Moro Rock.
Moro rock has been formed out of a giant granite dome and can be seen thousands of feet above the highway as you enter Sequoia. This hike is easy to access because it's located only a few feet from the Moro Rock parking lot.
The trail is completely paved with stair steps and handrails leading all the way to the top. It is a safe hike which ascends 350 steps upward until you reach the peak.
The strenuous hike may require quite a few stops to catch your breath, but in the end you'll be rewarded with spectacular views of the Great Western Divide, San Joaquin Valley, and the eastern wilderness.
Technical rock climbers like to take advantage of the undeveloped side of Moro Rock, and Peregrine Falcons use the area as a breeding ground in summer.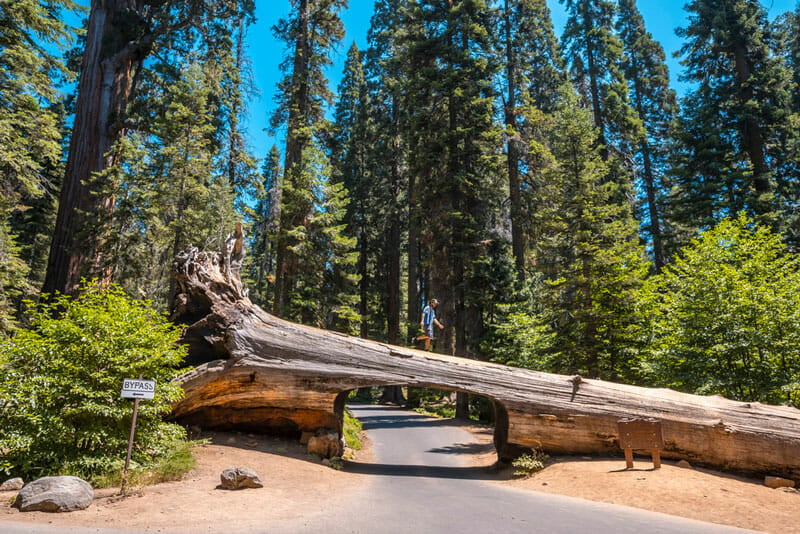 Drive Though Tunnel Log
Fallen across Crescent Meadow Road in the Giant Forest is Tunnel Log. It's only 0.5 miles miles from Moro Rock. Tunnel log was carved from a 2,000 year old Sequoia Tree that once stood 275 feet tall.
Since it's fall in 1937, a tunnel was cut through the tree as a tourist attraction and you can still drive through it today.
The tunnel itself is 17 feet wide and 8 feet high so only smaller cars can fit through it. Nevertheless it's a popular attraction among hikers, bikers, and motorists alike.
Fortunately, there is a bypass road for larger vehicles who wish to make their way through the Giant Forest as well. Tunnel log is accessible during the spring, summer, and fall months. There is no permit required but it does turn into a high traffic area during summer.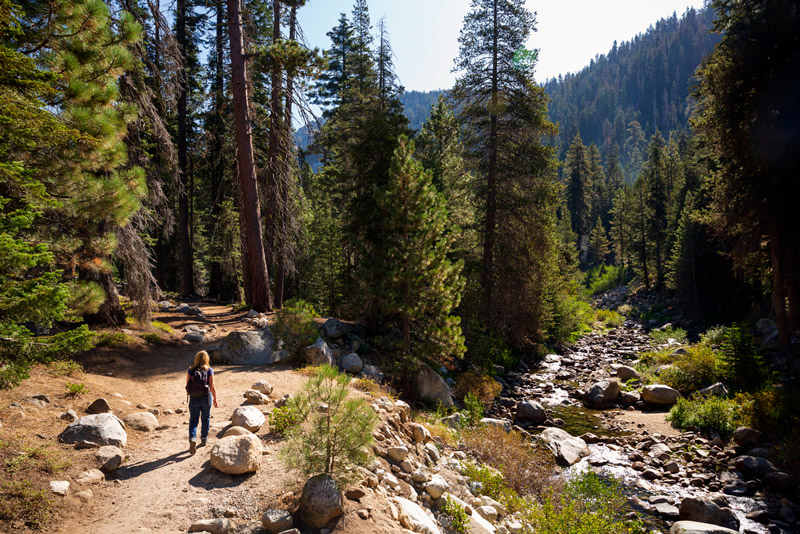 Splash In Tokopah Falls
The sheer beauty of Tokopah Falls is sure to captivate any outdoor enthusiast. The falls cascade 1,200 feet downward into Tokopah Canyon.
To get there, it's a simple 3.4-mile round-trip hike starting at the Marble Fork Trailhead in Lodgepole Campground. Although Tokopah Falls itself is a captivating experience, the views along the trail are just as stunning.
Throughout the hike, visitors will walk along the Kaweah River and get the opportunity to view marmots, pikas, and perhaps even a bear.
Shorter hikes are also available in the area such as the 0.3 mile trip to Roaring River Falls or the quick walk down to Grizzly Falls.
Spring and summertime are your best chance to view wildlife, blossoming plants, and splash in the water.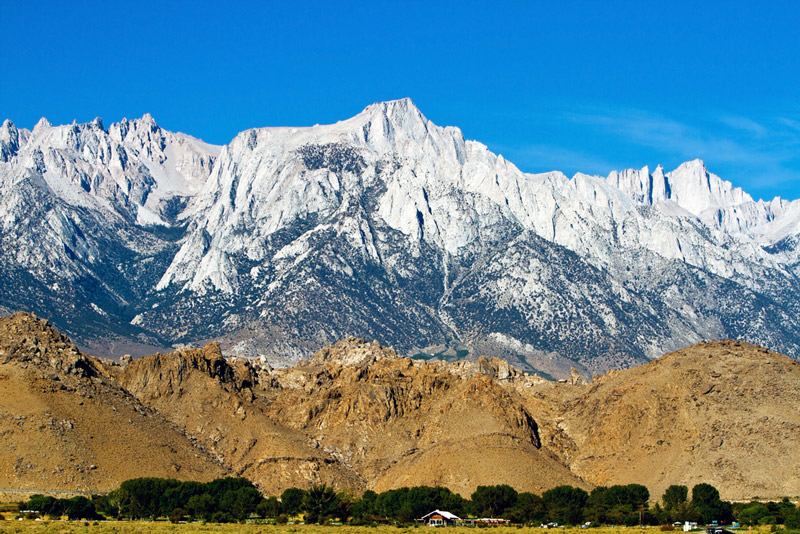 Climb Mount Whitney
Mount Whitney is the tallest mountain in the lower 48 states and is an ever-popular site when visiting Sequoia National Park.
Although a chain of mountains known as the Great Western Divide blocks views of Mount Whitney from many of the park roads, you can get a picture perfect visual of the mountain from the Interagency Visitor Center on Highway 395.
For the most adventurous travelers, hiking to the top of Mount Whitney is a bucket-list activity; but not one that's easy to achieve.
The quickest route to the top involves a 10.7-mile hike beginning at the Whitney Portal in the Inyo National Forest. This trail begins outside of the National Park and requires ice axes and crampons for assistance even in the height of summer. The trail begins at 8,360 feet in elevation and summits at 14,494 feet.
Mount Whitney can also be summited from the High Sierra Trail which leaves from the Giant Forest in Sequoia National Park. This route is 60 miles in one direction and typically requires up to 10 days to complete.
All paths to the top of Mount Whitney require a permit, including day hikes.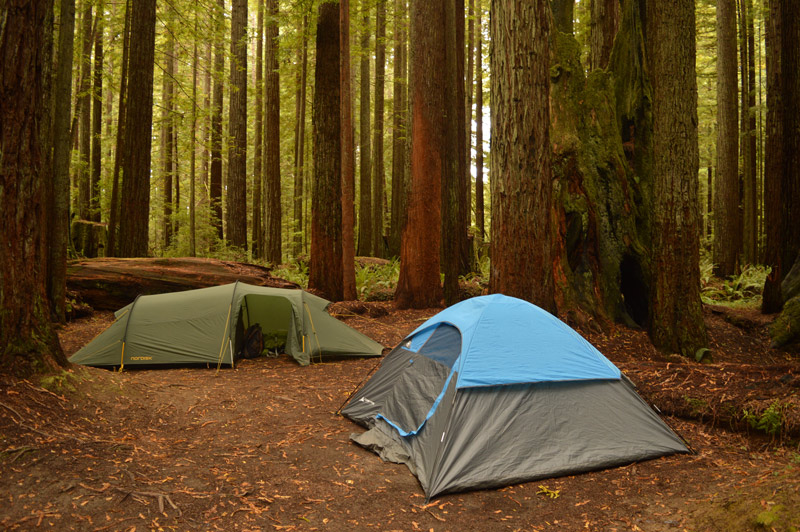 Camping In The Lodgepole Area
There are 14 campgrounds in Sequoia and King's Canyon National Park but the Lodgepole Area campgrounds are the most centrally located.
Lodgepole Campground and Dorst Creek Campground have over 200 sites each and offer a free shuttle bus which makes it easy to leisurely travel through the parks after you set up camp.
Both campgrounds have quick access to Lodgepole Village, the Giant Forest, Grant Grove, and Cedar Grove. They're also within walking distance of popular trails like Moro Rock, Muir Grove, and the Tokopah Falls Trail.
Both campgrounds have flush toilets, potable water, and RV dump stations which make them ideal for any type of camper. Reservations are recommended during peak tourist season and both sites are closed during winter.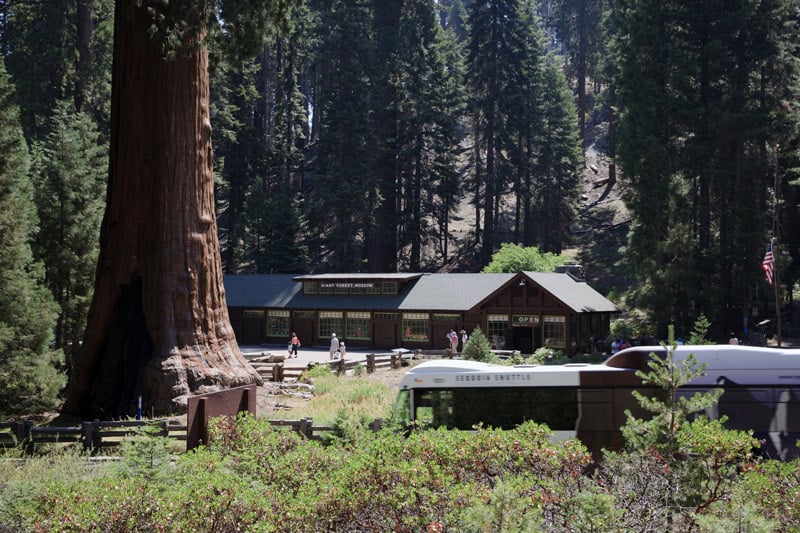 Visit The Giant Forest Museum
For a more relaxing adventure, The Giant Forest Museum is both fun and informative. Visitors will learn all about the park's ecosystem and the critical role of the giant Sequoia trees.
Expert guides will share their knowledge about the different types of trees and tourists will learn to differentiate a Sequoia from a Redwood. You'll also get in-depth research about the rolling meadows and various wildlife that inhabit the surrounding forest.
Many of the park's trails begin at the museum and stretch beyond Round Meadow and Hazelwood.
If you decide to visit the museum, it is easily accessible by road and has a parking lot that can hold over 200 vehicles.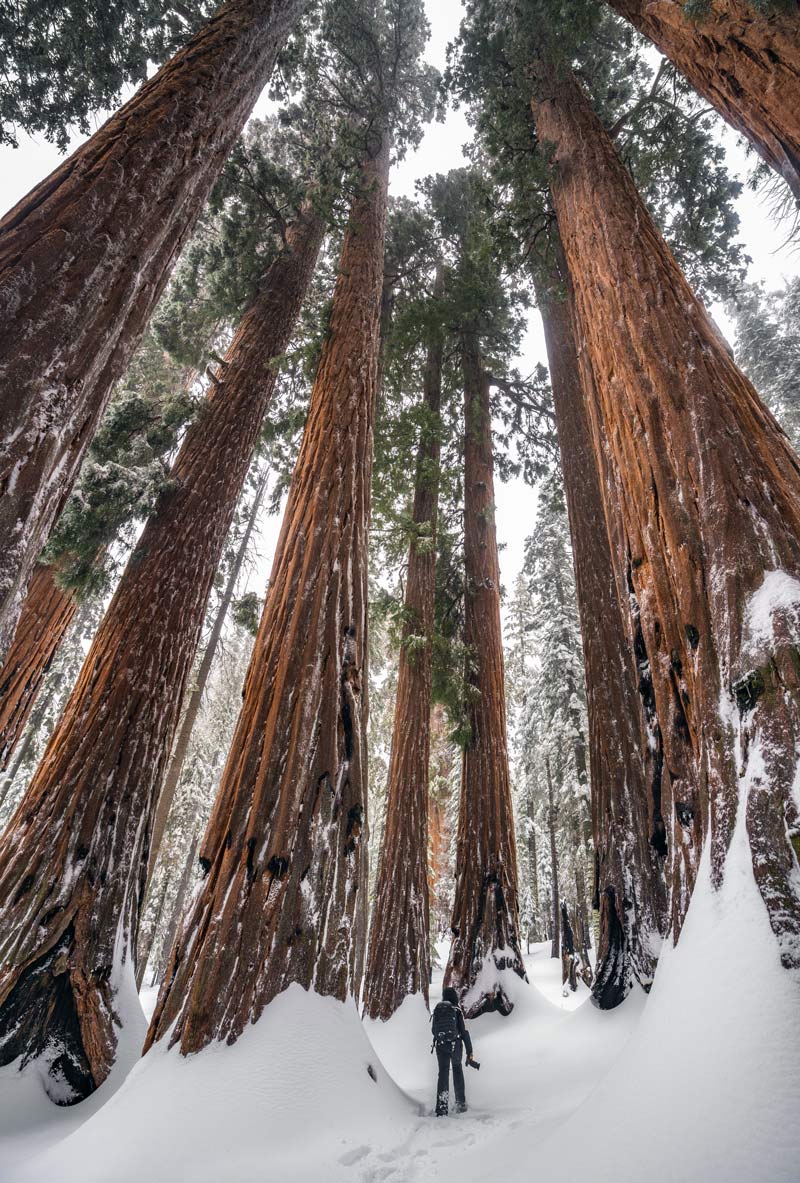 Snowshoe Through The Giant Forest
If you're not someone who likes dealing with the crowds, winter is the perfect time to visit Sequoia National Park.
During the winter months there are less tourists, but still many things to see and do in the area.
Snowshoeing or cross-country skiing through the Giant Forest is an unforgettable experience. You can trek beneath the lumbering Sequoias on a guided tour or take off on your own on one of the park's many trails.
If you visit during the winter, you will be amazed at the difference in the park's wildlife and overall appearance. Just make sure to pack your tire chains! Many roads within the park are closed for winter but you can still partake in some fantastic auto tours such as the drive from the Ash Mountain Entrance to Lodgepole.
That's A Wrap!
Whether you wish to walk beneath the giant Sequoias, take a dip in the cascading falls or scale one of the many granite domes, there are many things to do in Sequoia National Park.
Sequoia provides visitors with both an educational experience and a fun outing you will not soon forget.
You Might Also Like: