Best Truck Bed Bike Racks For Adventure Travel (Review)
By
on
This post may contain affiliate links. As an Amazon Associate, I earn from qualifying purchases. Please read my full disclosure.
Truck bed bike racks allow you to carry bikes confidently in the back of your pickup without stressing about damage to your gear. Bike racks also give you peace of mind while off adventuring or at the campsite.
There are a handful of bike rack options to consider; and browsing them all can be a hassle. We've put together a guide to shorten this process and help you find the perfect bike rack for your truck bed.
Benefits Of A Truck Bed Bike Rack
Security: Arguably the most crucial benefit of a bike rack is that your mountain bikes are now secure in the back of your truck. Do you stress when you notice scratching and paint-chipping from riding with your bikes flopping around in your truck's bed? Then a bike rack can make you feel much more at ease.
Most bike racks include security features so you can worry less about someone unethically jacking your bike. When you're at a restaurant, camping, or even fishing at your favorite lake, you can enjoy your time without nervously glancing over your shoulder.
Safety: Another huge benefit that bike racks offer is safety on the road. Imagine if you had to slam on your brakes to prevent an accident. If your bikes aren't snug in the truck, then they can pose a potential safety hazard. The safety of your passengers is the most critical thing to consider; but you could also end up with large debris scattered across the road. Bike racks can help you and your family feel much safer while driving.
Protection: High end mountain bikes and road bikes can end up costing thousands. It's silly to risk damage to a bike that could be worth more than your pick up truck. A properly installed truck bed bike rack will keep your bike sturdy and secure even while traveling off grid to the most remote locations. With a bike rack, you won't have to worry about chipped paint or damaged components during travel.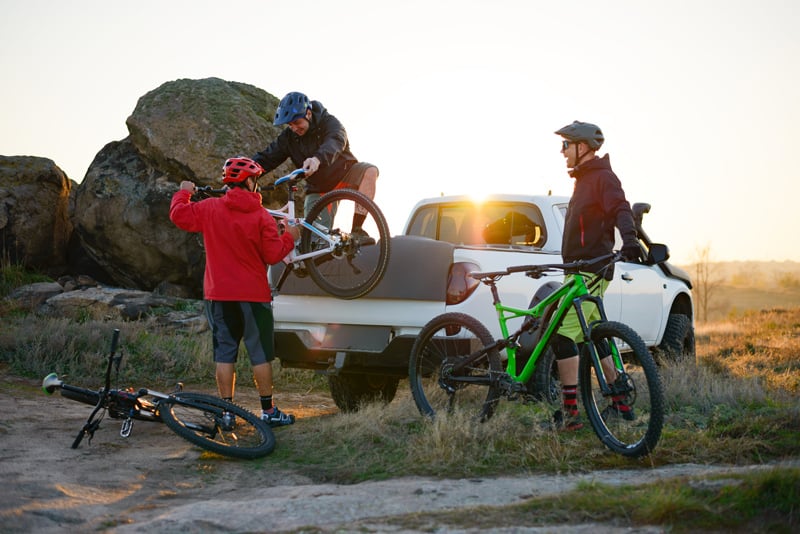 What To Look For In A Truck Bike Rack
Types of Racks
Not all bike racks are created equal. Some bike racks are large, and some are low-profile. The type of rack you choose is a major determining factor in which types of features you can expect. There are many different ways to secure your bike, but the four most common are: fork mounted, wheel mount, clamp designs, and bed rail mounts.
Fork mounted bike racks
These work by securing the front fork to your truck bed. This is going to require you to take off the front tire of your bike before travel. A benefit to these types of racks is that the bikes can't twist during transport. It also may be a larger deterrent for would-be thieves because they can't just grab your bike and go. As a downside, you're going to need to store your tire somewhere; whether that's inside the cab or in another area of your truck bed. Overall, these types of racks will end up taking more space in your vehicle when you count all of the components.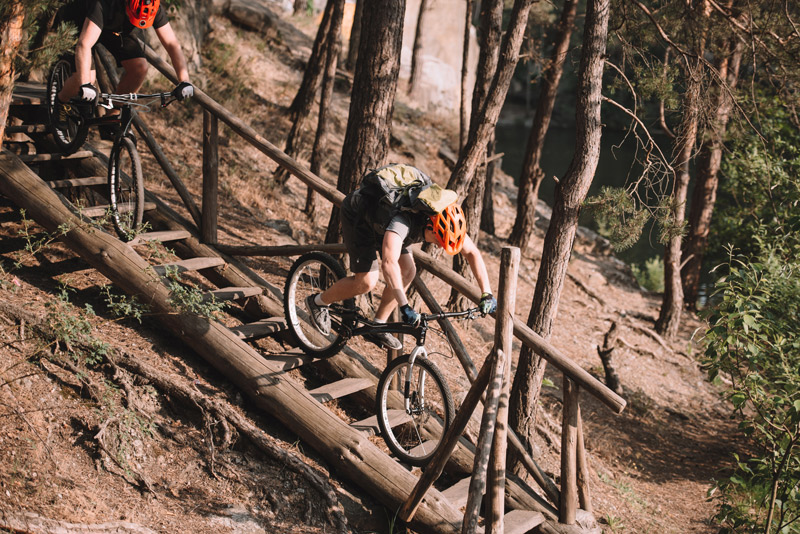 Wheel mount bike racks
These are also called roll-on mounts. A wheel mount secures one of your bike tires to the bed of your truck. They're similar to the fork-mounted version but don't require you to disassemble your bike so they take up less space. Once assembled, these are some of the easiest racks to use. You can just roll your tire into place and the rack will clamp around the sides. Many of these come with locking mechanisms that make them stable and secure. These racks do tend to be on the larger end so storage may be an issue if you want to keep the rack in your garage during the off season.
Side clamp designs
Clamp designs are the smallest type of bike racks. One of the biggest benefits to these is they can often be used for more than just bikes. The grips are extremely portable and clip onto your bed rails. Ratchet holders keep your bike in place – or can be used to secure other large objects. Aside from being small, another benefit to these types of racks is the fact that you can secure your bike without climbing into the truck bed.
Bed rail mounts
Rail mounts span the distance of your truck bed from rail to rail. These mounts are small and easy to install with no drilling required. Often times you'll find these secure your bikes with a fork mount so they share many of the same benefits and disadvantages. Bed rail mounts are nice because they can fit nearly any size pickup truck without having to research your specific brand. You can also pack a lot of bikes onto this type of mount with your major limitation being the width of your truck.
Number of Bikes
How many riders go with you when you're out biking? You should consider a large capacity bike rack if you plan to travel to the best trails with your friends. Alternatively, if you tend to ride by yourself or with just one friend, you might consider a much smaller rack.
Remember that a large bike rack capacity also means a broader profile and less room for your other gear and tools. Think carefully about how many bikes you need to transport so you can avoid over (or under) buying.
Ease of Use
The ease of securing and retrieving your bike from the rack is one of the most critical variables when choosing your bike rack. Nobody wants to use a bike rack if it's a pain to get your bike. The frustration of struggling for 5-minutes every time you arrive at your destination can steal every ounce of inspiration and adventure.
The bike racks we've reviewed are all straightforward to use. So you won't have to angrily struggle with the bike rack when it comes time to hit your favorite mountain trail or path.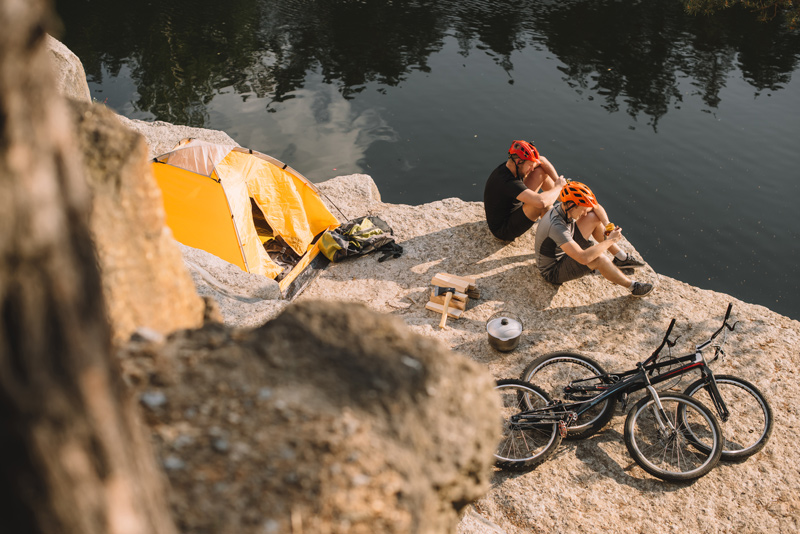 Security
The last thing you need is for a hot-handed thief to steal your bikes right from your truck. Even worse is if your bike rack sports an improper design that fails to keep your bike snug and secure.
In most cases, you can secure your bike to your bike rack with a chain and padlock if need be. However, it's always wise to look closely at the security features of your bike rack to make sure your bike is safe and sound when you're not around.
Installation
Everyone knows how much fun it is to ride your favorite trail on a mountain bike. The trouble is that if your bike rack is hard to install, you risk installing it incorrectly or even worse–procrastinating. Pay close attention to the installation features that your bike rack boasts. Does the bike racks frame require special tools or bolts? Are there safety features and rubber pads to protect your truck and bike? Will the bike rack fit your bed comfortably?
Ease of installation is essential. Big problems may arise if you flub when installing your bike rack or decide to put off installing the unit until a later date. It's critical to choose a bike rack that makes installation a breeze instead of a foreboding nightmare.
Best Truck Bike Racks Reviewed
Now you have an idea of what types of features to look for in a truck bed bike rack. Let's take a closer look at four of the best bike racks for a variety of situations. Whether you want a tiny no-frills bike rack for personal use, or if you want to load the bikes for your entire company, these are our top choices.
BEST 2 BIKE RACK

The Swagman Pick Up Truck Bike Rack might be your best bet if you want a simple and low-profile bike rack. The Swagman is a fork mount that can comfortably accommodate two bikes, snugly and securely. Both ends of the bike rack bar features a soft rubber pad to help prevent scraping or scratching your truck bed.
This rack features a telescoping style bar that makes installation ridiculously easy. There's no drilling required and you can set it up in just a couple of minutes. Because of the design, you can adjust the rack to fit nearly any size truck. The rack weighs just 12 pounds so it takes up hardly any space and will be easy to store in the off-season.
Perhaps the biggest benefit of the Swagman bike rack is the low cost. This rack won't break the bank by any stretch.
BEST 4 BIKE RACK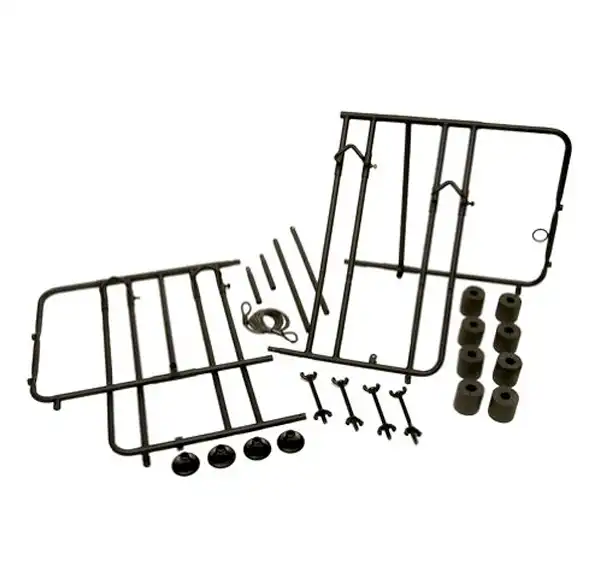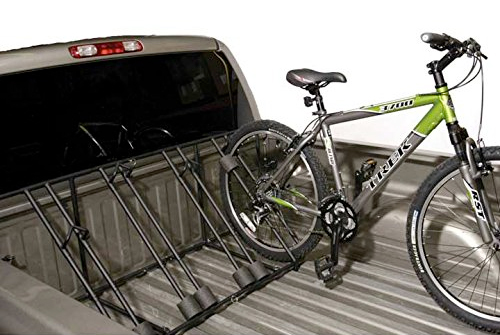 If you want a robust bike rack that can handle more than just a few bikes, then the Heininger Automotive 2025 is one of your best bike rack options. It's easy to install with no drilling required and can double as a stand-alone rack in the garage during the off-season.
A lockable cable protects bikes against would-be thieves and the ratchet system holds both road bikes and mountain bikes in place. There's no need to remove tires. The Heininger rack is one of the best values in terms of transporting a whole family of bikes.
MOST VERSATILE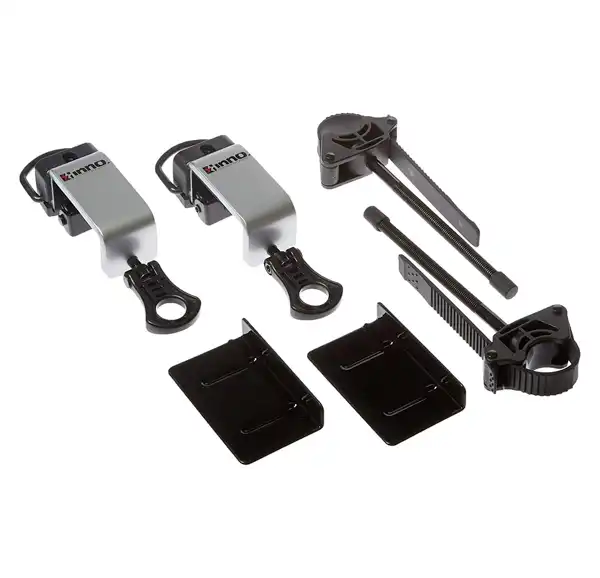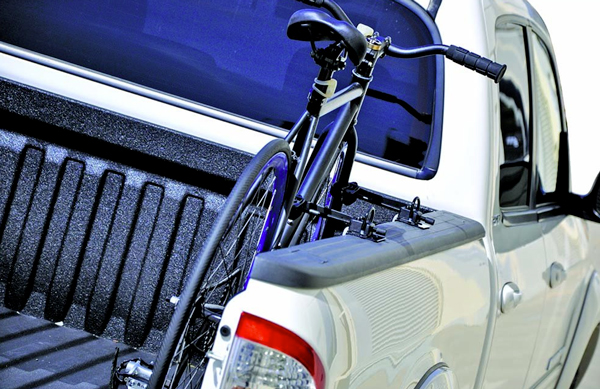 The INNO Clamping Bike Mount System made our list because it is one of the most versatile mounts out there. Not only can you use it to secure a bike, but the D-ring clamps can be used as tie downs for other bulky items as well.
How does it work? The lightweight clamps install over your truck bed rails and then you can just use the grippers to secure your bike. With the way it's set up, you can load your bike from the side of the truck which is a feature the other racks don't share.
This is a cool system because the rack is so small you can set it up once and forget it. The rack should come in handy all year round. It also takes up an extremely small amount of space so you're left with the majority of your truck bed to use for other travel items.
BEST SINGLE BIKE RACK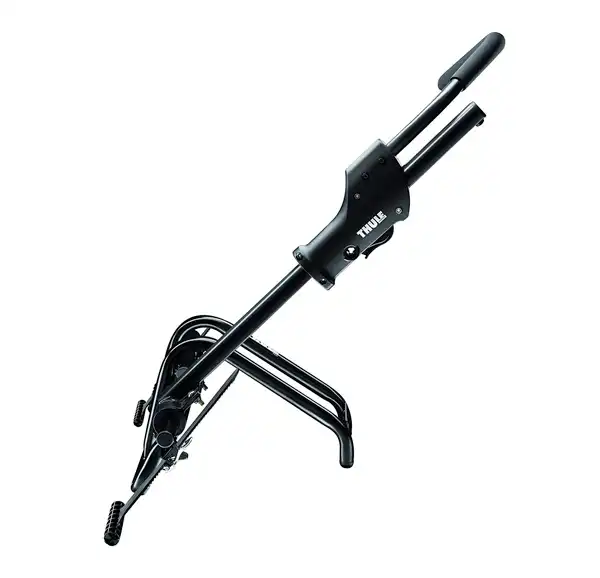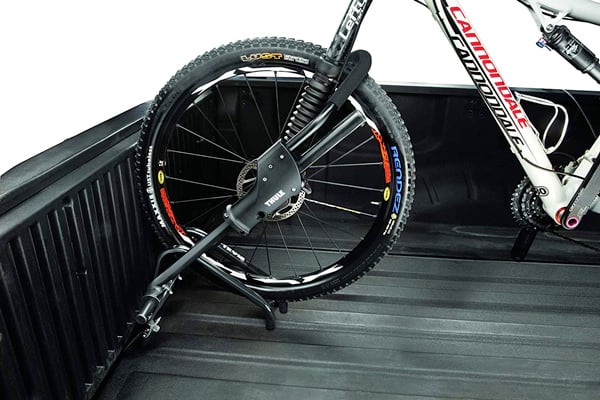 When it comes to hauling a single bike, the Thule Insta-Gator Truck Mount Rack is one to look at. It features a ratchet design that grabs hold of your bike's front wheel making it especially quick to load on and off the trail. The Thule doesn't grab or touch your bike's frame at all keeping the paint and gears in tact.
The Thule is for you if you have a high-end bike and if you don't want to scratch or roughhouse your bike's frame. While this rack accommodates one bike, you can stack up to three of them side-by-side in a truck bed.
Wrapping it Up
The next time you head out to adventure in the great outdoors, you can travel confidently knowing that your bikes, your gear, and your passengers are all safe and sound. We like the Swagman bike rack because of its inexpensive, low-profile design. If you have more bikes that you want to haul, then the Heininger is a smart choice.
The INNO clamping bike rack is ideal if you want something more versatile that can tie down more than just bikes. And the Thule Insta-Gator is best for high-end equipment that's quick to load and unload.
Continue Reading: