Best Camping In The Valley Of Fire State Park, Nevada
By
on
This post may contain affiliate links. As an Amazon Associate, I earn from qualifying purchases. Please read my full disclosure.
The Valley of Fire State Park is located 1-hour northeast of Las Vegas, and just north of the Lake Mead Recreation Area. If you find yourself in Nevada, Valley of Fire is a can't miss destination.
The park is known for fiery red sandstone rocks, petroglyphs, and petrified trees. Millions of years of shifting sand dunes have shaped the landscape forming unique wavy rocks and jagged walls. Miles of hiking trails zigzag through the landscape and you can find climbing routes, caves, and even a hot spring in the area.
There are two campgrounds in the Valley of Fire State Park with 73 available campsites for tents and RV campers. All of the campsites come equipped with toilets, fire rings, picnic tables, and trash collection. There are also free campsites and overflow campgrounds in the surrounding area which we'll cover in this article.
Valley Of Fire State Park Campgrounds
The two campgrounds in the Valley of Fire are Atlatl Rock Campground and Arch Rock Campground. Atlatl Rock is the main campground; its larger and designed to accommodate RV campers and trailers. Arch rock is smaller, more secluded and best for tent camping.
The main difference between the two is that Atlatl Rock Campground has flush toilets and showers, while Arch Rock Campground has vault toilets and no showers.
Both campgrounds are available on a first-come, first-served basis and do not take reservations. They are extremely popular so it's imperative that you arrive early if you want to snag a spot. During the most popular seasons (fall and spring) it's a good idea to arrive on Thursday for a weekend getaway.

Atlatl Rock Campground
The largest campground at Valley of Fire is Atlatl Rock. It's open year-round and within a short distance of the trail to Atlatl Rock which displays Native American petroglyphs carved up to 50 feet off the ground.
Sandstone formations surround each of the campsites and they are spaced out enough to give a bit of privacy. The tent camping sites along the back wall are especially secluded and have easy access to rock climbing areas. Antelope squirrels are frequent visitors and there's a good chance you can spot a few jackrabbits or a great horn owl as well.
Atlatl Rock Campground has 44 campsites. Twenty-five of them have electric hookups, and you'll find potable water spigots next to all forty-four. It may seem strange that there is water available in the desert, but the campground is not far from Lake Mead!
Campsites 23-44 are designed for large RVs. These can fit several cars, or motorhomes up to 35 feet. The rest are smaller and best for 1-2 cars plus tents. There are also three walk-in tent camping sites that are especially remote and perfect for photography or viewing the night sky.
Atlatl Rock has everything you would want in a campground; flush toilets and showers, shaded ramadas, fire pits, grills, and a flat spot to pitch your tents.
44 campsites
First-come, first-served only
Electric hookups at campsites 23-44
Potable water
Flush toilets
Showers
Dump station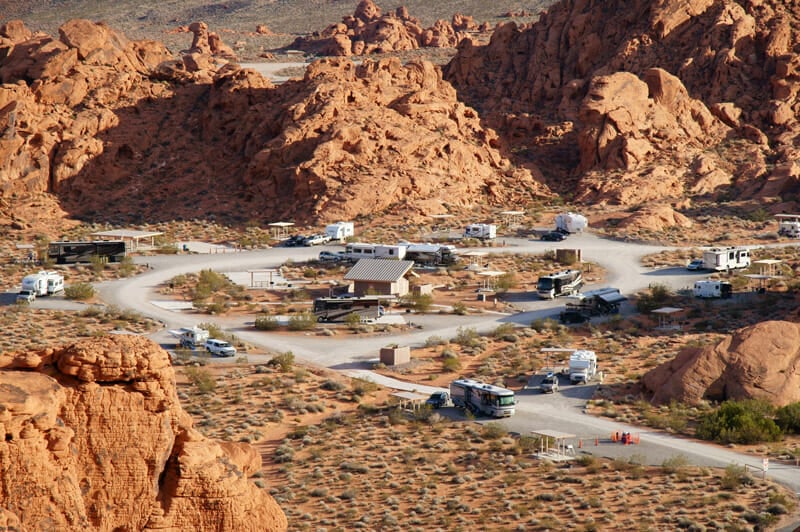 Arch Rock Campground
Arch Rock campground is smaller and a little more secluded than Atlatl Rock. In fact, some of the campsites are so private that they're not even visible from the road! This campground is not open year-round, it's closed during the slow season which typically runs from mid-June to September.
Because of the privacy, these are the best campsites for viewing stars at night and taking photos of the magnificent rock formations nearby.
The campsites at Arch Rock are smaller and designed for tent or car camping rather than for large RVs. There are no electric hook-ups and no flush toilets although you will find a dump station and potable water spigots. Each campsite comes equipped with fire rings, grills and shaded ramadas.
29 campsites
Closed mid-June to September
First-come, first-served only
Potable water
Vault toilets
Dump station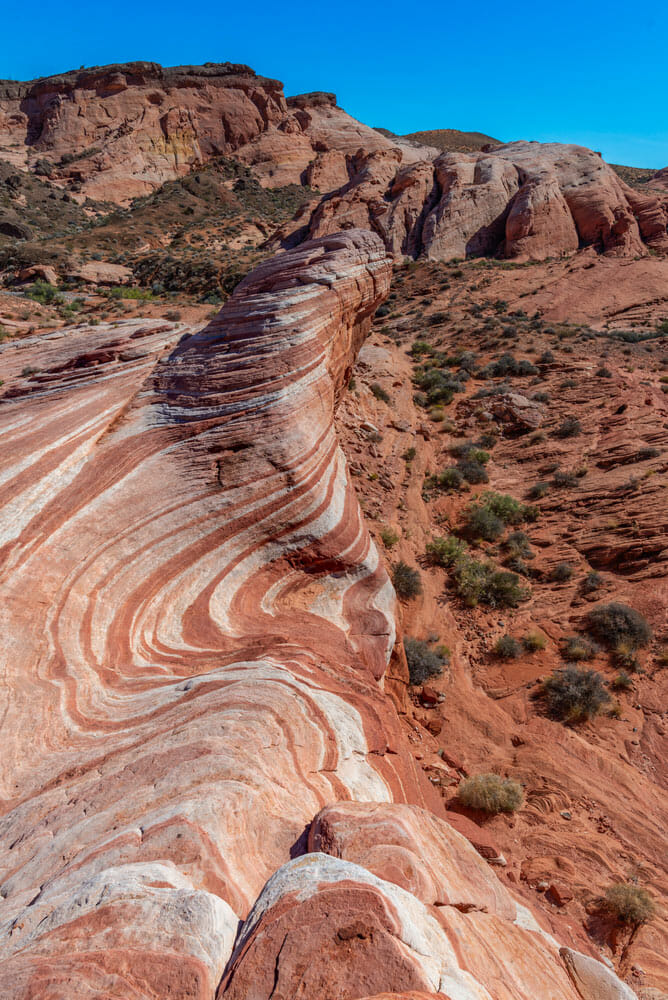 Campground Regulations At A Glance
Seasonal Closures: Atlatl Rock campground is open year-round. Arch Rock campground closes in the slower season which is typically from mid-June to September.
Reservations: All of the campgrounds are available on a first-come, first-serve basis. You cannot make reservations.
Fees: There is a $10 park entrance fee to visit Valley of Fire and an additional $20 camping fee. Campsites with electric hookups are $30.
Water: Both campsites have potable water.
Bathrooms: Atlatl Rock Campground has flush toilets and showers. Arch Rock campground has vault toilets and no showers.
RV Camping: Atlatl Rock Campground is designed to accommodate large RV campers. Some pull-through sites can fit campers up to 35 feet! 25 of the sites have electric hookups. There are also dump stations at both campgrounds.
Cell Phone Service: Cell coverage is spotty throughout the park. You can purchase WiFi plans by the hour by the day through the park visitor center but it is expensive.
Pets: Leashed pets are allowed in Valley of Fire campgrounds and on the hiking trails throughout the park. Keep in mind the sand can get very hot in the summer months so you'll want to cover your pet's paws and bring plenty of water for both you and the dog.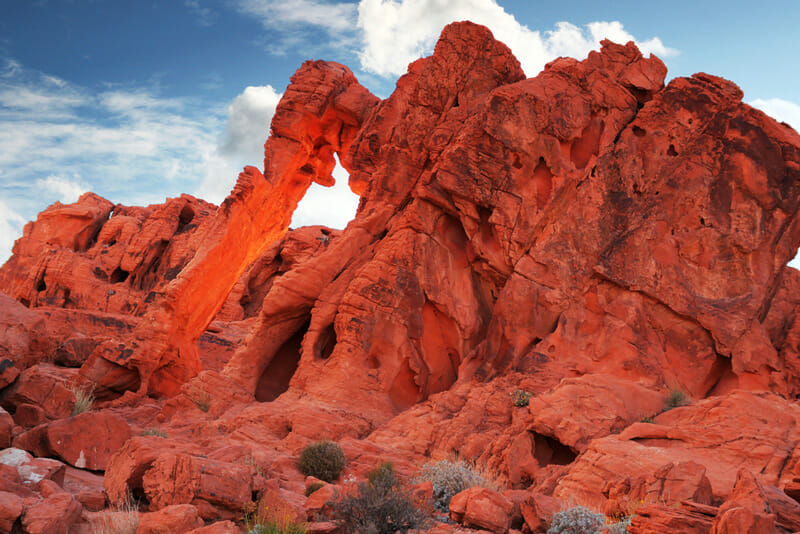 When Is The Best Time Of Year To Go Camping?
Spring and fall are the best seasons to camp in Valley of Fire State Park. In the summer, temperatures regularly top 100°F. Campsites can stay hot all night long making it uncomfortable to get a good night's sleep.
You won't find ice machines at the campground so on the hotter days you'll want to pack your own. The showers also come in two temperatures: warm and hot! So it's difficult to cool off.
Look for campsites next to large rock formations; they'll be the most likely to provide shade in the late morning and early evening hours.
During the winter months, temperatures can dip below freezing; though it rarely snows.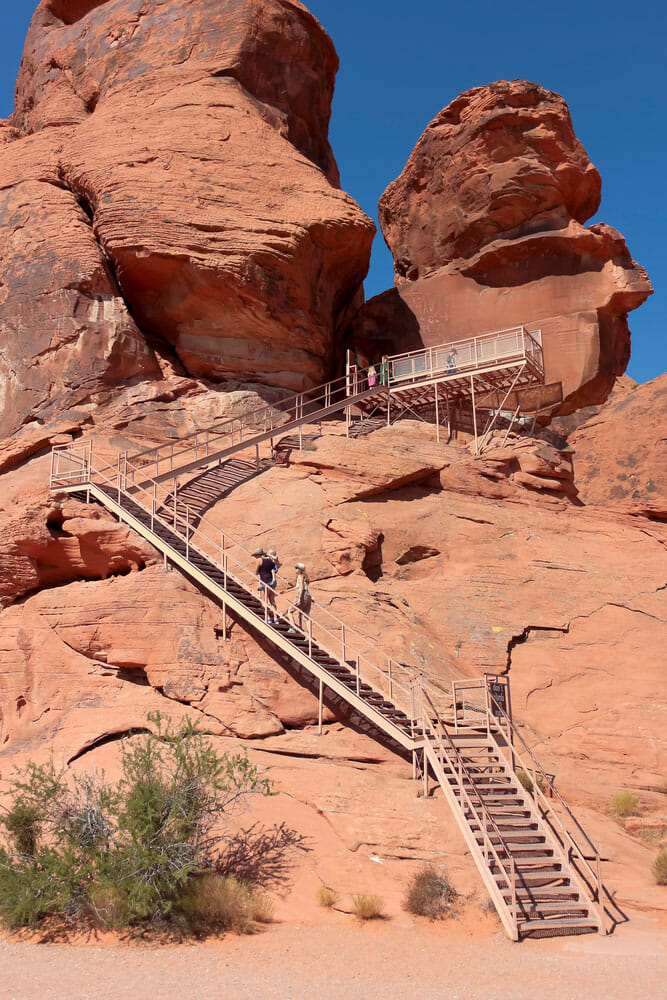 Overflow Camping
As mentioned earlier, campsites in the Valley of Fire are hard to come by. Fortunately, there's more than enough overflow camping available in the Lake Mead National Recreation Area outside the park. If you want amenities like showers, electricity, and WiFi we recommend staying at one of the campgrounds near Lake Mead.
These are located just a few miles outside of the Valley of Fire. They are inexpensive and have beautiful views of the desert terrain and Lake Mead.
Discount Camping Clubs
If you like to stay at private campgrounds on a frequent basis (more than 1 week per year). We recommend joining a discount camping club. These clubs cost a small yearly fee to join and allow you to save up to 50% on participating campgrounds.
The best clubs can pay for themselves in as little as one week.

Free Camping Near The Valley Of Fire State Park
If you're looking to save some money and can get by with no amenities, consider primitive camping. Backcountry camping involves having no potable water, toilets, or trash service. You need to follow leave no trace principles and pack out everything that is brought in.
The Valley of Fire State Park is located next to the Lake Mead National Recreation Area. Free backcountry camping is approved on permitted roads. This is the best way to find a remote camping spot away from other travelers. Pets are allowed and you'll have plenty of space to explore the area. You can find maps of the designated wilderness areas here.
Things To Do Near Valley Of Fire
Valley of Fire has more than enough hiking and picturesque rock formations to fill a day. But if you're in the area for longer, consider visiting the Lake Mead National Recreation Area. It's a popular place to go swimming, boating, fishing or hiking.
The Sloan Canyon National Conservation Area is another spot with miles of hiking trails and over 300 petroglyphs that you can hunt for among the rocks.
Don't forget to check out these two National Parks in Nevada.
And if you're new to Nevada, don't forget to visit Las Vegas. The city is less than an hour away from the Valley of Fire and is well-known as the entertainment capital of the world. Here is a long list of free and cheap things to do in Las Vegas.