Best Winter Camping Tent For 4 Season Adventure (Review)
By
on
This post may contain affiliate links. As an Amazon Associate, I earn from qualifying purchases. Please read my full disclosure.
A tent is one of the most essential pieces of gear for your camping experience. Having the best winter tent can mean the difference between sleeping comfortably and clutching to your camping partner for dear life–trying to stay warm.
A 4 season winter tent offers durability against the snow and windproofing to protect you from bitter weather.
In this article, we'll cover the differences between 3 season and 4 season tents. And we'll provide you with the most important features to look for when choosing the best cold weather tent for winter camping.
TOP CHOICE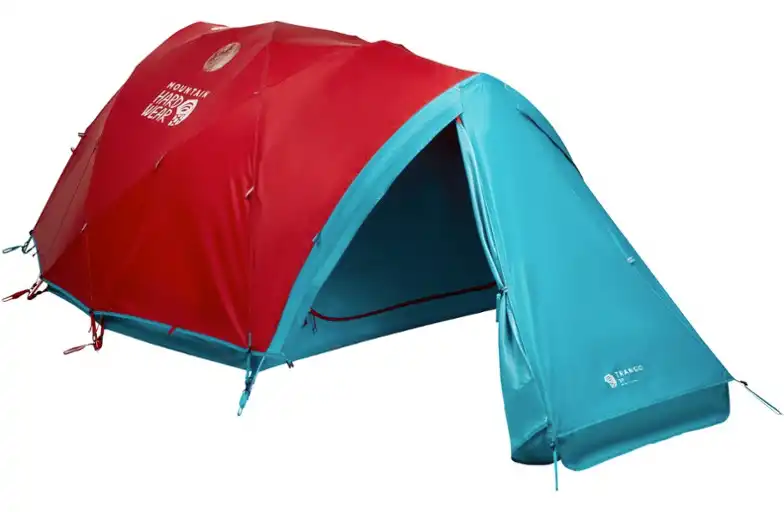 BEST 2 PERSON TENT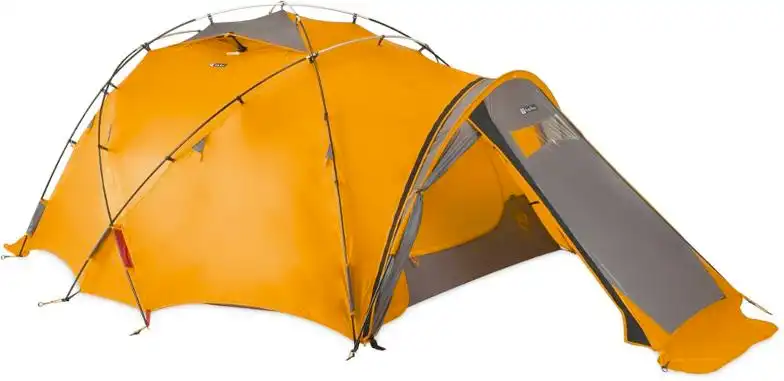 MOST AFFORDABLE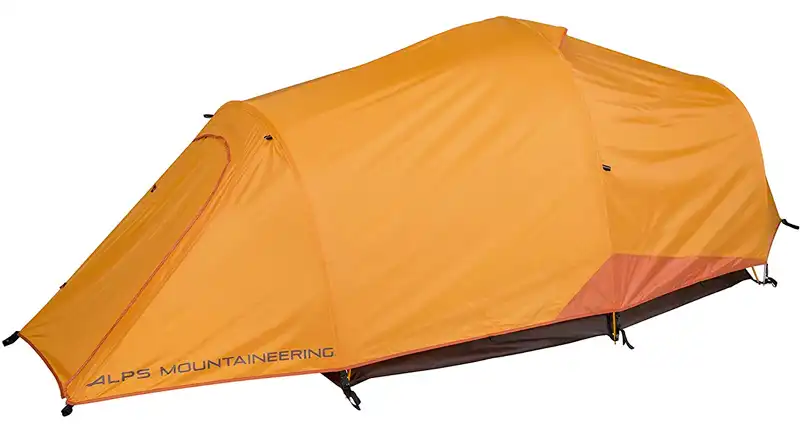 Why Take A 4-Season Tent Camping?
If you already own a comfortable 3 season tent, you might ask yourself if it's worth investing in a 4-season tent. There are a number of differences between the two, but it ultimately comes down to your camping style.
Regular winter campers can greatly benefit from a 4-season tent. These tents are made of materials that are thicker and more durable than 3 season tents. Dedicated winter tents tend to have sturdier poles and steeper sides to prevent collapse due to heavy winds and snow buildup. They also have less mesh in the fabric to weatherproof against the elements. Consequently, that also makes them warmer and stuffier during the summer months.
4 Season tents are bulkier, heavier, and more expensive than 3 season tents. Ultimately, that means if you don't do a lot of winter camping, they might not be worth adding to your gear list. But if snow camping is a regular activity for you, they are worth the extra expense.

3 Season Tent vs 4 Season Tent
| 3 Season Tent | 4 Season Tent |
| --- | --- |
| Thinner Materials | Thicker Canvas |
| Lightweight Poles | Sturdier Poles |
| Sloped Sides | Steep Sides |
| Breathable Mesh | No Mesh |
| Lightweight | Heavier |
| Less Expensive | More Expensive |
Features To Look For In A Winter Camping Tent
Winter camping tents are built differently than a traditional tent. For that reason, there's a few areas you should pay special attention to before purchase.
Insulation
Insulation and ventilation are two of the most important components in a tent. Without these, moisture builds up inside creating a wet layer on all of your gear which is the last thing you want in cold weather. Winter tents come with two types of fabric designs: single wall and double wall.
Single Wall Tents
Tents designed with a single wall are most similar to a 3 season tent. They are the lightest weight and have significantly less fabric than a double wall tent. That means they can pack down smaller and are best for backpacking.
Single wall tents tend to be less expensive than double wall tents, but they are also less versatile during extreme temperature swings.
Double Wall Tents
Double walled tents are made of two layers. The first is a lightweight breathable fabric which can be used on its own, and the second is a waterproof rainfly. These tents are bulkier and heavier because of the added fabric. They often cost more too.
When it comes to warmer weather, double wall tents are more forgiving. You can get a lot more ventilation when taking off the rainfly. Another advantage with these tents is that you can break up the layers among backpackers so one person doesn't have to bear the weight of the entire tent.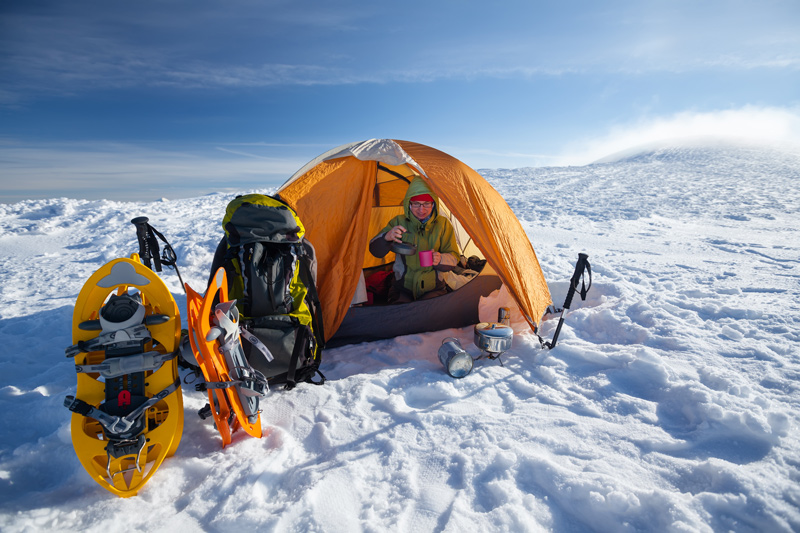 Ventilation
Most tents come with mesh window panels that can open and close based on how hot it gets inside the tent. Winter tents have limited or no mesh panels. Instead, these tents frequently come with small vent flys located near the ceiling which can be opened or closed for added ventilation.
Good ventilation will prevent condensation and moisture buildup so if the weather isn't too terrible you should aim to sleep with them open.
Waterproofing And Fabrics
If your gear or clothes become wet and you're camping in freezing temperatures, it could mean a lot more than minor discomfort; it could become dangerous and even deadly if you're camping far away from help.
4-Season tent fabrics are coated in a waterproof coating. The two most common are silicone and polyurethane.
Silicon coating is superior because it's lighter, more durable and longer lasting; but it is also more expensive. Polyurethane coated fabrics are less expensive, thicker, and easier to repair. They are more likely to be found on doors and floors.
Many tents use a mix of the two fabrics. Silicon coating on the walls and polyurethane coating on the floor is popular.
Material Strength: Denier
Fabric strength is measured in deniers which indicates the thickness of a single strand of thread.
Most fabrics range between 40d-80d. Heavy duty materials range from 100d-600d. The higher the denier, the more durable your tent fabric will be.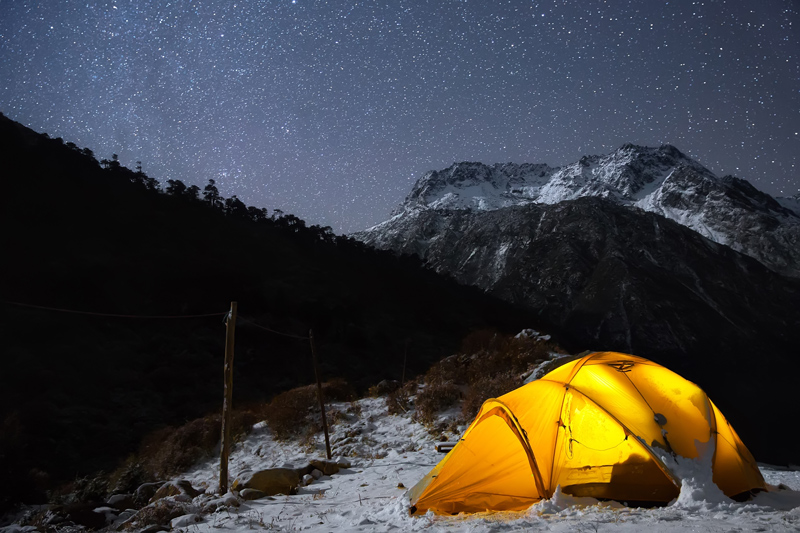 Pole Strength and Durability
Strength against wind and inclement weather is especially important in the winter. You don't want a tent collapse during the snow season. For that reason, 4-season tents come with larger and thicker poles than 3-season tents.
Winter tents come with strong aluminum poles. There are two categories to consider: freestanding tents and non-freestanding. Both work well in extreme weather so it mainly comes down to personal preference when choosing between the two.
Freestanding Tents
A freestanding tent does not require any guy lines or stakes during the setup process. They are strong and durable against the elements on their own. Aesthetically, they look more dome shaped (like an igloo). The poles are designed to cross-brace each other against blustery winds.
Non-Freestanding Tents
Non-freestanding tents require stakes and guy lines anchored to the ground. These tents are more time consuming to set up and have a more elongated profile. Their designs use less poles so they can be lighter than freestanding tents.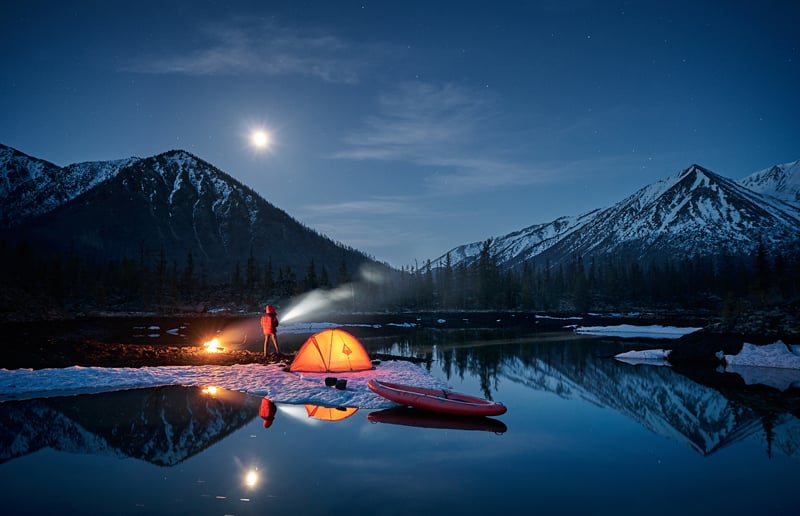 Vestibule
Having a vestibule is common in premium tents, and most winter tents will have them. A vestibule is a separate, covered entryway that can protect your gear from moisture and blocks cold air from getting into the main living area of the tent.
This is a great place to store all your snowy gear before heading to bed. You won't have to worry about bringing wet gear into the sleeping space.
As far as we're concerned, a vestibule is a near necessity if you plan on seriously camping in freezing temperatures.
Capacity
Space is important when talking about camping tents. You want to choose one based on your group size and whether or not you might need extra space for whoever is traveling with you.
Winter tents typically have larger footprints than summer tents because it's expected that you would have more gear, larger sleeping bags, and bulky boots with you in the snow. You might be used to lightweight and tighter spaces in the warmer months, but you'll want to aim larger for winter camping.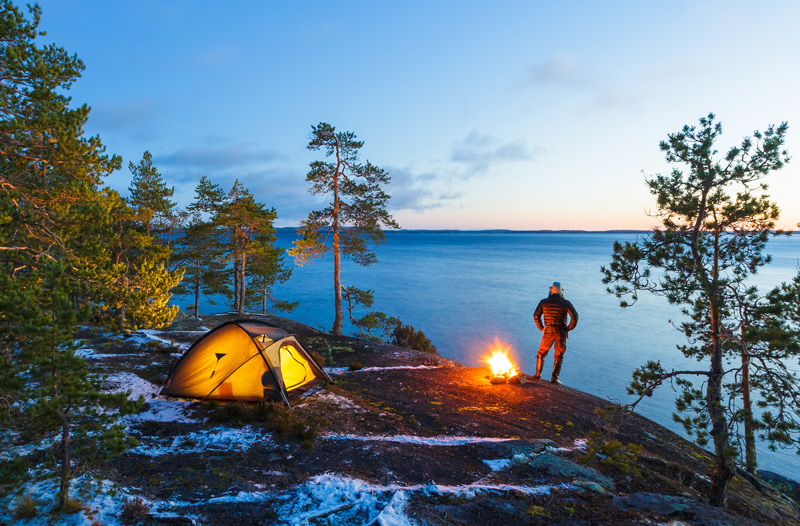 Tent Height
With the rough weather, you can expect to spend more time in the tent than you would otherwise. The height of your tent will also play a major role in how comfortable you feel. If you want to sit up straight, or even stand while changing your clothes, you'll need to step up your budget a notch.
Winter tents do have steeper sides than 3 season tents to help the snowfall slide off, so that can work to your advantage when searching for a taller tent.
Easy Access
An often overlooked component of tents is the access points. If we're talking about a 4 season tent, you want to make it as easy as possible to get in and get out. Strong winds can pile snow on one side of the vestibule. If your tent only has one entrance and it gets blocked by snow, that can become a problem.
While a single opening can be more weatherproof, we prefer tents with multiple doors. That's especially true if you're camping with a group. You don't want to have to crawl over people to get in during your middle of the night bathroom trip.
Gear Lofts
Along with a vestibule, you want to have plenty of space to store your gear. If you're traveling with a large number of people, you will need somewhere to put everything, so it isn't lying around on the floor.
A gear loft allows you to get some of your stuff up off the floor so you can have a little more legroom.
Brand Reputation
Winter tents can get pricey and should last for many years of use. For that reason, we also always recommend going with a tent that offers an extensive warranty. You want to make sure you shop from a brand with a reputation for success and positive reviews.
Best 4 Season Tents Reviewed
TOP CHOICE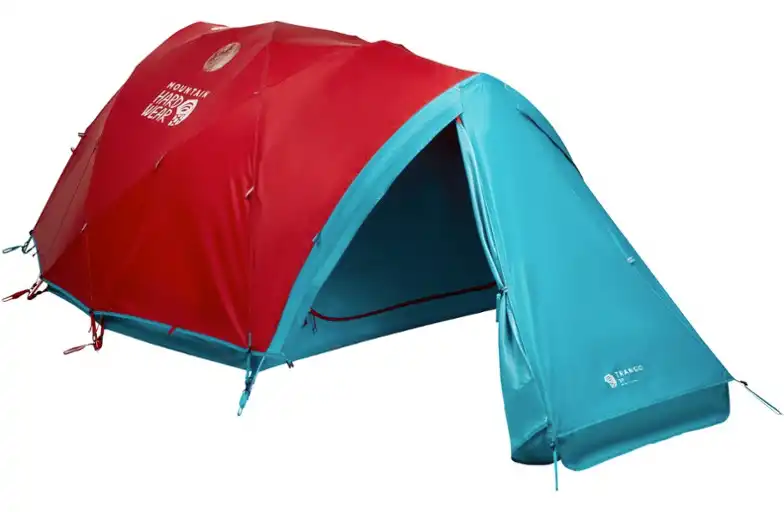 Top Choice: Mountain Hardwear Trango 3 Tent
The Trango 3 by Mountain Hardware is a formidable tent. It is a double-wall freestanding tent; and all of the aluminum poles are color coded to make set up as easy as possible. There is a direct connection between the body, frame, and fly for a solid all-around build.
The bathtub style floor is made of 70-denier nylon for snow and weatherproof protection.
What we like most about this the fact that it has many extra features which makes this the ultimate in winter camping luxury. There are two vestibules for overflow storage, internal shelving to keep gear off the floor, and light diffuser pockets to light up the tent using a headlamp.
It also has reflective guy out loops and lines for further security in heavy winds.
BEST 2 PERSON TENT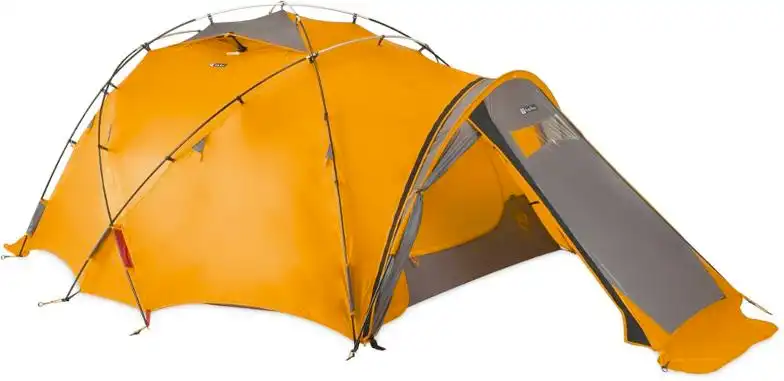 Best 2 Person Tent: NEMO Chogori 2 Tent
The NEMO Chogori 2 is one of our favorite cold weather tents because of its size and ease of set up. This is a freestanding tent with external pole structure and double wall insulation. That makes it especially easy to set up if you're in a hurry.
NEMO weighs only 6lbs. 12oz. which is lightweight enough to take backpacking. It also has a large external storage vestibule to keep all your wet gear at night.
One of the cool things about this tent is that it can be linked with other Chogori 2 tents to create a large, connected shelter.
MOST AFFORDABLE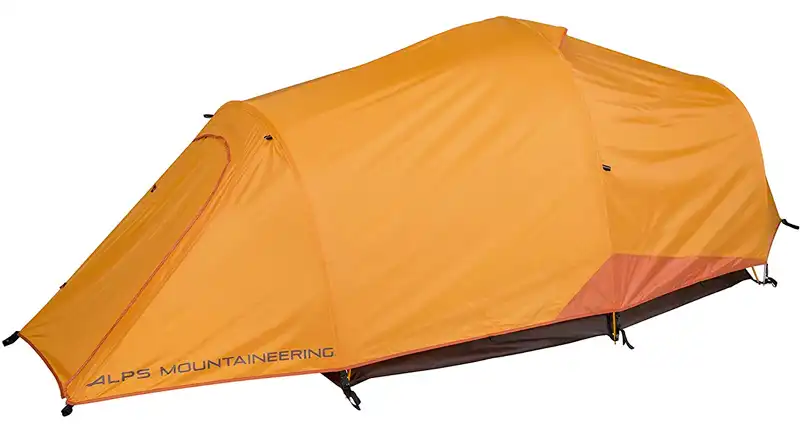 Most Affordable: ALPS Mountaineering Tasmanian 3 Person
The Tasmanian 3 person tent by ALPS Mountaineering is much more affordable than the previous tents we've reviewed. It makes for a great cold weather tent, but is not something we would recommend in the most extreme mountaineering conditions because of its minimalist materials. This tent is a single walled, non-freestanding design.
While this tent is heavier and more bulky than the others, it is the best value for a 4 season then that we've seen. The fly is water-resistant with easy entry and ventilation through two doors. It also comes with plenty of zippers, storage, and a gear loft leaving plenty of space on the floor.
Final Thoughts
The tent you choose should depend on how serious you are about your winter camping. If you plan on hiking mountains and camping at high elevations, you'll want to have the Mountain Hardwear Trango 3 Tent on your side; this tent is a beast.
If you're more of a recreational camper who is trying out winter camping but also wants to camp in warmer weather too, consider the ALPS Mountaineering Tasmanian 3 Person. This one is more affordable and ideal if you're camping close to your vehicle.
Either way, choose wisely and always stay safe out there!
Continue Reading: