You Can't Miss The 2023 Yosemite Firefall This Winter
By
on
This post may contain affiliate links. As an Amazon Associate, I earn from qualifying purchases. Please read my full disclosure.
Each year in mid to late February, Horsetail Falls in Yosemite National Park lights up to resemble a flowing waterfall of fire.
The amazing natural phenomenon can be viewed from multiple spots within the park, and multiple evenings throughout late February.
This year, California received a record rainfall, and 2023 is shaping up to be an outstanding year for Firefall watching.
Seeing the Yosemite Firefall in-person is a bucket-list experience that you don't want to miss.
When To See The Firefall In 2023
It's impossible to nail down a specific date that the Firefall occurs because the conditions are entirely dependent on Mother Nature. But the last two to three weeks of February is generally when the fire fall happens.
The Yosemite National Park website posts updates on the status of Horsetail Falls throughout the winter.
This year, the National Park Service predicts that the Firefall will occur sometime between February 10-27 in 2023.
If your schedule is flexible, it's best to visit Yosemite during a weekday because the area gets extremely crowded during the natural event.
You'll especially want to avoid President's Day weekend because the place becomes a zoo.
Making Reservations
Because of heavy overcrowding, reservations are required at the Yosemite park entrance to see the Firefall on weekends in 2023.
Reservations can be made on Recreation.gov beginning 2-days prior to your visit at 8:00am. The following weekends will require reservations when entering Yosemite National Park to see the Firefall:
February 10–12, 2023
February 17–19, 2023
February 24–26, 2023
Campgrounds reservations required February 1-28 at Camp 4, Wawona, and Hodgdon Meadow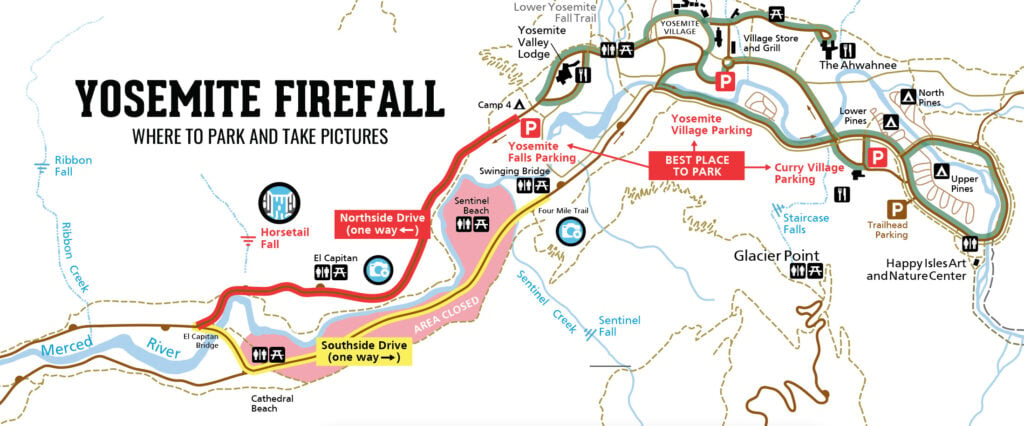 Maps and Parking
Parking in Yosemite valley can get tricky this time of year. The most convenient location to park is in the Yosemite Falls Parking lot.
But if the area is full, you can park at Yosemite Village, or Curry Village instead. There is a free shuttle that runs between these parking lots and Yosemite Lodge.
From there, it's a 1.5 mile walk along Northside Drive to the El Capitan Picnic Area. One lane of traffic on the north side is closed so pedestrians can easily walk there.
Southside drive is open to vehicles but stopping or unloading passengers is prohibited between El Capitan Crossover and the Swinging Bridge Picnic Area.
Unfortunately, the space between the road and the Merced River is closed as well as the Cathedral beach picnic area and Sentinel beach picnic area because of the delicate vegetation.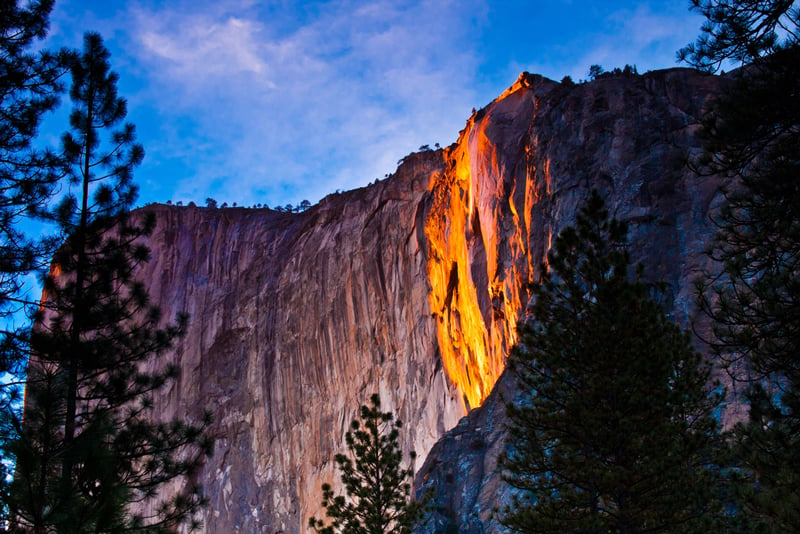 Best Place To See The Firefall
Fortunately, the Firefall can be seen from several areas throughout the park so you can pick whichever one is most convenient for you.
The most popular locations for photography are along Northside Drive, the El Capitan picnic area, and 4-Mile Trail.
South view near Cathedral Beach used to be the most popular and crowded area to get Firefall photos, but the park service recently began closing this stretch along the Merced river area in February because too many tourists were damaging the vegetation.
Northside Drive
You can see the Firefall all along Northside Drive so there are plenty of angles to choose from. The roadside is also light on trees which makes it easy to get a clear view.
At the El Capitan picnic area, you'll find the biggest crowds so it might a little harder to move around.
But this area also gives you the closest view of the falls so you won't need a fancy zoom lens to take a good picture.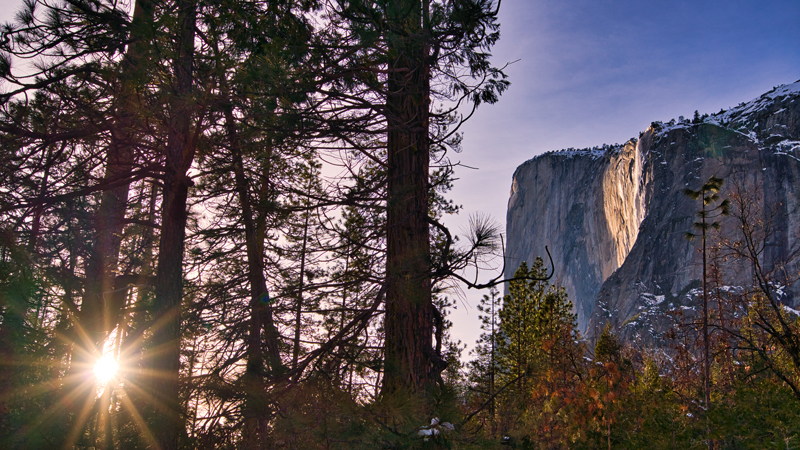 Four Mile Trail
If you're looking for a great angle of Yosemite Valley alongside the firefall, then hiking up Four-Mile trail is the best place to get a picture.
It's a bit of a walk and can get very icy, but above the tree line you'll have far less tourists to deal with and more natural scenery.
The park service keeps the first 1.5 mile stretch of 4-mile trail open for hikers throughout the winter.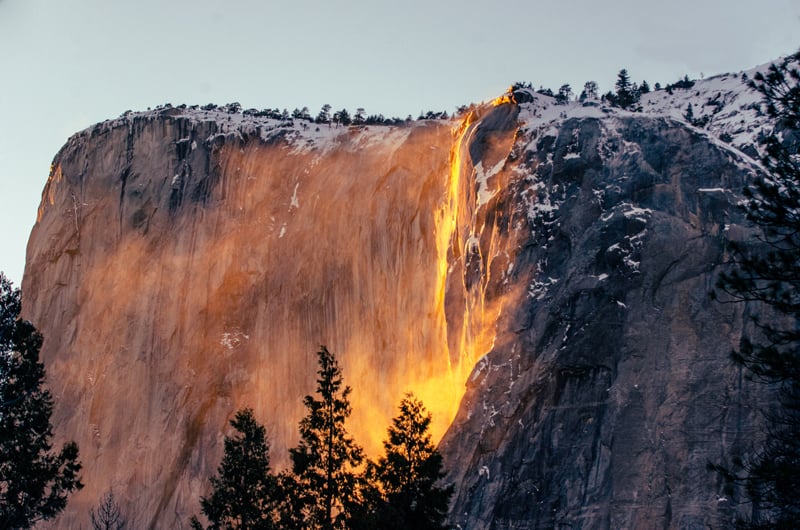 Weather Conditions
To catch a firefall photo conditions need to be perfect. First, Yosemite needs to receive enough snowpack during winter to provide lots of water flow down El Capitan.
Horsetail falls is a temporary waterfall, so without enough precipitation, there won't be anything to view.
Second, the lighting needs to be perfect. Cloud cover is arguably the most critical element.
Too many clouds can prevent sunlight from hitting the waterfall and kill the phenomenon. You want to visit Yosemite during a clear afternoon.
Third, wind is an important element for getting the best view of the Firefall.
A little bit of breeze can exaggerate the phenomenon. But on days that are too windy, the water that is supposed to flow down Horsetail fall will just blow right off the top of El Capitan and never cascade down the side.
So to guarantee the best photos, you want to visit on a clear, windless day.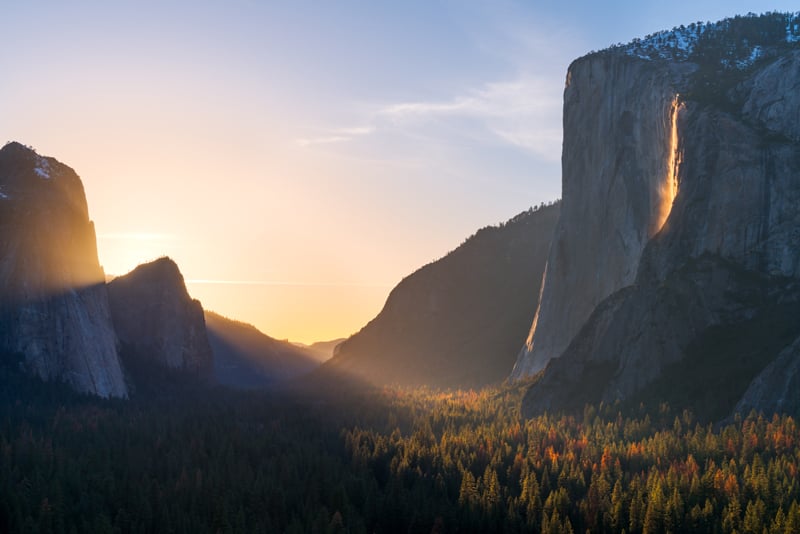 The Best Time To See The Firefall
Sunset occurs between 5:30-5:45 in Yosemite National Park in February.
And the best time to view the Firefall is about a half hour before sunset so you'll want to set up your camera no later than 4:30.
Make sure to stay well past the setting sun. You never know if a sliver of clear sky is going to appear and light up the Yosemite National Park Firefall.
The park gets extremely crowded during this time of year with so many tourists looking to take great photos in front of horsetail falls. So it's best to arrive in early afternoon to avoid traffic jams and find parking.
Join The Crowds
While visiting Yosemite in mid to late February, heavy crowds and traffic jams are just part of the game.
To get the best experience, you should just try to embrace the atmosphere instead of looking for solitude and ending up with disappointment.
Being surrounded by other tourists can turn out to be pretty fun when everyone gets to witness the spectacular natural phenomenon together.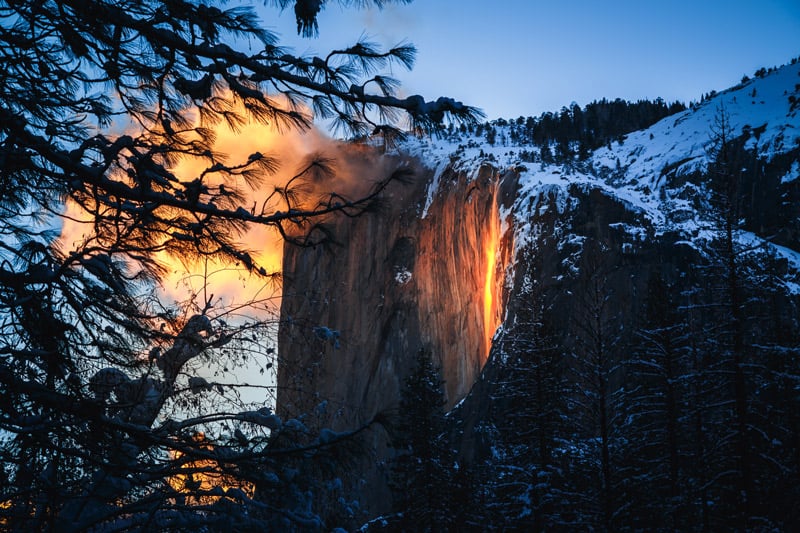 Tips For Visiting Yosemite's Firefall
February in Yosemite can get pretty cold so it's important to pack warm clothes and maybe a warm drink to go along with it.
Don't forget to pack a flashlight for your walk back to the car.
A 1.5 mile walk takes about 30 minutes at a brisk pace so you should be prepared to stay in the area for several hours.
Winter weather is unpredictable so you shouldn't bank on being able to see the firefall even if you show up at the perfect time of year.
The Sierra Mountains can get extremely snowy so you should bring tire chains with you on your trip and know how to put them on.
Even though the the firefall at horsetail fall generally occurs the half hour immediately before sunset, you should make sure to stay all the way until the sun goes down.
Sometimes the cloud cover disappears at the last second to show off the brightly colored waterfall.
Avoid busy weekends if at all possible and be aware the Northside Drive may close completely for about 30 minutes after sunset when crowds are particularly dense.
Unless you have vehicles displaying a disability placecard, don't expect to drive to the El Capitan Picnic Area.
Yosemite Valley has many great easy hikes and activities to do in winter. Don't limit yourself to just watching the firefall!
The free shuttle service can take you all around Yosemite after you park and its the perfect way to view Glacier Point, Nevada Falls, or Half Dome.
Don't forget to respect nature and stay safe by staying on the trails, avoiding undeveloped areas, and giving wildlife plenty of space.
Do you need reservations to see the Firefall?
In 2023, reservations are required on weekends to see the Firefall in Yosemite National Park.
Can you see the Firefall from El Capitan Crossover?
Stopping is prohibited between El Capitan Crossover to Swinging Bridge Picnic Area. Instead, you should view the Firefall from the El Capitan Picnic Area.
Where is the best place to see the Firefall?
Along Northside Drive, the El Capitan Picnic Area, and on 4-Mile Trail.
That's A Wrap!
This one of a kind experience known as the Yosemite Firefall only happens during a two week period. So don't miss it!
I'm not telling you to rearrange your schedule, drop what you're doing and head out to Yosemite right now.
I'm just saying that the Yosemite Firefall is something you don't want to miss if you happen to be in Yosemite – or even California – during the winter.